The 12 Best Things to Do in Pokhara, Nepal (That Isn't Trekking)
What to do and unique places to visit in the adventure capital of Nepal
Relax and rejuvenate
If you just stay for a day or two on each end of a trekking trip or decide to stay for longer (as many do!), Nepal's oasis city of Pokhara has you covered.
While the actual city is quite big, most tourists congregate around the small, walkable district of Lakeside.
Though full of tourist-oriented offerings like restaurants with western food and tour operators, there's a certain charm in the air here and you can't help but feel relaxed.
There's no doubt that trekking is the highlight of most trips to Nepal and that Pokhara is the perfect jumping-off point for some of the best of them.
But you already knew that, right?
That's why we won't cover trekking in this guide – instead, we'll guide you to the best things to do and the coolest places to visit around Pokhara.
Where to stay in Pokhara:
Read more about the hotels here or search for the best value accommodation in Pokhara here.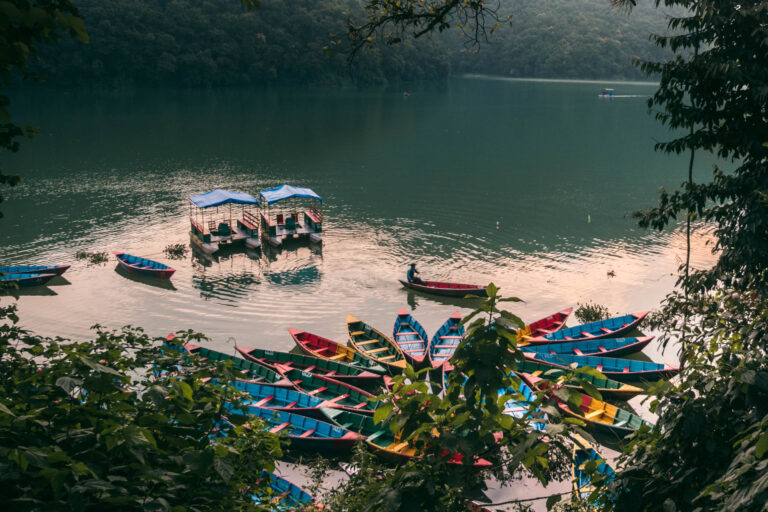 1. World Peace Pagoda
The lake. The town. The hills. And the Himalayas. All possible to see from the World Peace Pagoda on top of Anadu Hill.
It's a glorious sight.
The Shanti Stupa, which was a gift from Japanese monks to Nepal, is located just a short drive from Lakeside Pokhara – or reachable by sailing across the lake and hiking up (which is what we did).
The World Peace Pagoda is free to visit and one of the most popular activities in Pokhara.
To walk on the stupa itself, you need to take off your shoes. Also, remember to be quiet and respectful.
We visited the World Peace Pagoda at the beginning of our Panchase Trek and it was a beautiful way to start it.



2. Walk along the shores of Phewa Lake
Phewa Lake (also known as Fewa Lake) is the centre of attention for most tourists in Pokhara.
Walking along the shores is both free and a (mostly) tranquil experience.
The walkable path along the lake in the Lakeside district stretches from the boat dock opposite Tal Barahi Temple in the south and until the lakeshore takes a turn to the left about a kilometre north.
Enjoy a fresh cold-pressed juice from The Juicery along the way.

3. Sail on Phewa Lake
Actually going out on the lake beats just looking at it.
There are lots of boats and hiring a skipper is an organized experience.
While sailing on the lake, check out the Tal Barahi Temple located on a small island.
You can also sail all the way to the other side of the lake and take the stairs leading to the World Peace Pagoda.



4. Sarangkot Viewpoint
Sarangkot is a small ward in Pokhara located at the top of a hill offering stunning views of the Himalayas.
One of the best things we did while visiting Pokhara was hiring a taxi to take us up there for an unforgettable sunrise view of the Annapurna Range.
We paid around 2,000 Nepalese rupees (~ 16.7 USD / 14.9 EUR) for the taxi to take us there from Lakeside and back. There's a small admission fee to the top of the hill as well.
Catch glimpses of Dhaulagiri (8,167 m – 7th highest mountain in the world), Machhapuchhare aka Fishtail (6.997 m), Annapurna II (7,937 m) and Lamjung (6,983 m) among other giants.



5. The Movie Garden
We were so glad we visited the Movie Garden in Pokhara even though we had already seen the film of the night (Baraka) before.
Watching a movie outside with others is a cherishable experience and the whole setup is very charming.
It's probably the most romantic "cinema" we have been to.
The Movie Garden is actually an old rice terrace but don't worry – the seats are comfortable.
Drinks, food and popcorn are available.
We paid 795 Nepalese rupees (~ 6.7 USD / 5.9 EUR) for the both of us + popcorn.
Check out their Facebook page to see which films are screened. Plan to be there around 18.30 as the movie starts at 19.00.
Oh, and be careful walking up there. It's not far from the road but it's not super easy to find in the dark.

6. Seeing Hands Massage
Few things feel as good as getting a proper massage. Especially if you have been trekking in Nepal.
Seeing Hands consist of trained Nepali massage therapists who are either visually impaired or blind.
The masseuses were so kind and the massage was great!
Make sure to book in advance to secure your spot!

7. Paraglide
Watching the Himalayas while soaring like a bird high in the sky surely must be an experience like no other.
Paragliders usually descend from Sarangkot and land near the northern shore of Phewa Lake.
As far as we could tell, the prices of all the paragliding companies were fixed at:
Normal flight lasting 30 minutes: 7,500 Nepalese rupees (~ 63 USD / 56 EUR)
Cross-country lasting 40-60 minutes: 11,000 Nepalese rupees (~ 92 USD / 82 EUR)
GoPro footage including 5 minutes video and 30 stills: 1,700 Nepalese rupees (~ 14 USD / 13 EUR)
8. Adrenaline-filled outdoor activities
There are possibilities for exhilarating activities in Pokhara like white water rafting, zip-lining and bungee jumping.
You could also go on an Ultralight Flight.
Contact one of the many tour operators to see what options are available.
Also, make sure insurance is included if you aren't covered by your own travel insurance.

9. Yoga and meditation
Pokhara is a great place to work on your flexibility and spirituality.
There are plenty of places in town offering yoga and meditation classes as well as teacher training.
Some places offer direct lake views and easy access while others are located in the nearby hills.
Consider diving extra deep by going on an extended retreat.
Here are some (!) of the options: Tribikram Yoga Center, Kamala Yoga Nepal, Annapurna Yoga Ashram, Atmashree Yoga, Osho Divine Zone, Himalayan Yogini, Sadhana Asanga Yoga, Purna Yoga Retreat and Tushita.
For a delicious treat after your class, visit one of the amazing vegan places in Pokhara.
10. Devi's Falls
If you visit Pokhara during monsoon season, the sound coming from the popular Devi's Fall is supposedly deafening.
Devi's Fall marks where the Pardi Khola stream vanishes underground.
The waterfall is known locally as Patale Chhango and sometimes referred to as David's Fall.
11. Explore caves
Gupteshwar Mahadev
Gupteshwar Mahadev is located very close to Devi's Falls on the road leading up to the World Peace Pagoda.
This is (probably) Nepals' longest cave at 2,950 metres and inside there are shrines and statues dedicated to Shiva and Hindu deities.
At the end, there's a waterfall which is actually the lower part of Devi's Falls.
We didn't visit ourselves but heard that the cave is poorly lit and that it gets very narrow. The limestone formations are supposedly cool, though.
Bat Cave (Chamere Gufa)
Bat Cave is full of bats, just like the name suggests.
Claustrophics should also steer clear of this one – but if you're on the other end of that spectrum you can pay a guide to help you find the tiny chute that takes you back to the surface.
Mahendra Gupha
Mahendra Gupha or Mahendra Cave is located very close to Bat Cave and is known for its stalagmites and stalactites.

12. Museums
The International Mountain Museum and The Gurkha Museum are both located in Pokhara.
The International Mountain Museum has exhibits about the Himalayan peaks with tales of expeditions as well as information about the culture and lifestyle of the Nepalese people living in the mountains and hillsides.
There's also a 10 metres high model of Mount Manaslu which you can scale for yourself.
The Gorkha Museum is dedicated to Nepal's Gurkha soldiers and their fascinating history.

Our best tips for visiting Pokhara
The electrical outlets in Nepal generally feature two or three round prongs, fitting most European appliances. The standard voltage is 230 volts and 50Hz. We always travel with a universal power adapter (adlink).
How long to stay in Pokhara really depends on your travel tempo. We really loved the city and decided to stay longer than we intended. Spend at least two days here and more if you use it as a base to some awesome treks in the area. If you're a digital nomad looking for a temporary home in Nepal, Pokhara is a great bet.
Pokhara (or mostly Phewa Lake) is beautiful. Make sure to bring a good camera! Here's our guide to lightweight photography gear for high-quality travel content.
Wifi in Pokhara is widely available. Most hotels and restaurants are connected but it's not super fast. If you need to stay connected while on the road, consider buying a local SIM card with data.
Credit cards are mostly used at upscale places, so you'll need to carry cash for restaurants, shops and services. You'll seldom be far away from an ATM and/or a place to exchange money.
Pokhara sometimes experiences power outages/blackouts. Most hotels have backup generators but it's worth planning to charge both the camera and phone when the power is on.
The tap water in Pokhara is not drinkable. It's fine for showering or brushing your teeth but for drinking water, you can bring your own water filtration system (adlink) or buy filtered water. If you go for the latter, we recommend you have a refillable bottle (adlink) and then buy the biggest water containers (to save on the plastic).
Respect the local culture and remember to be respectful when photographing people, especially people in the mountain villages and around places of worship.
Don't support animal exploitation. You can also go vegan (it's really easy in Nepal). Start by visiting some of these amazing restaurants and cafes with vegan options.
Thanks for reading
We hope this guide to the best things to do in Pokhara has been useful.
What do you think about Pokhara?
If you've been, it would be awesome to hear your best tips in the comments.
If you haven't been yet, please don't hesitate to ask us anything! We're glad to help.


Our favourite travel resources:
Our camera gear: