Review of Dwarika's Resort, Dhulikhel: Relax Body and Mind Near the Himalayas
We review our stay at Dwarika's Resort in Dhulikhel, Nepal
A resort with a mountain view
After a few days at the lovely Dwarika's Hotel in Kathmandu, we visited Dwarika's Resort in Dhulikhel.
Surrounded by nature and jaw-dropping mountain-views, the resort is the perfect place to relax and unwind.
If you have a spiritual side you will love Dwarika's Resort (adlink).
And if you're not feeling especially spiritual, we're pretty sure you will like it anyway.
It must be the most beautiful resort in Nepal.
Scroll down if you don't believe us and let the pictures speak for themselves…


The location
Dhulikhel is about a one hour drive east of Kathmandu.
The Newari town is one of the more popular towns to go to for observing the mountains but you can still experience the authentic culture in the area.



The room
We stayed in one of the Junior Suites.
Spread over 56 square metres, it was really spacious and it had the most amazing view.
We had a comfortable bed, a small "kitchen", a desk, some chairs and a huge open bathroom.
Besides that, there was a lovely divan (day bed) right next to the windows from where we could look at the mountains.
Just splendid!
Upstairs (yes, there was a second floor!), we had an outdoor living space on the roof with yet another romantic bed.
See the different room types and prices here (adlink).







Activities and facilities at the resort
First of all, the infinity pool with Himalaya views is absolutely stunning!
But what truly sets Dwarika's Resort apart from every other hotel we have been to are the facilities and activities.
Victoria's favourite was definitely the Crystal Healing Room. With crystals from floor to ceiling and the faint sound of relaxation music, the room is the most wonderful place to meditate.
Close to the Crystal Healing Room, there's a Himalayan Rock Salt Room which can help to balance energy in a room or in the body.
Another incredible feature that we haven't seen anywhere before was the Meditation Maze. It's used to deepen concentration, strengthen the heart and lungs, relax the body and counter mental fatigue.
After sunset, we attended a blessing ceremony with a Brahmin, which is a Hindu priest. It was truly a spectacular experience.
Chakras are believed to be centres of energy in yogic philosophy and Buddhist medicine, so of course, Dwarika's Resort (adlink) has Chakra Sound Therapy Chambers – seven chambers in different colours dedicated to each chakra.
We tried a pottery class and loved it! It was much more difficult than expected but much more fun too.
Besides that, you can attend yoga classes, singing bowl meditation, art and painting sessions, cooking classes, work out in the fitness centre or even consult with an Ayurvedic Doctor.
We didn't try the spa but it offers a wide range of relaxing treatments inspired by the ancient wisdom of the Vedas, Buddhist medicine and rare medicinal herbs of the Himalayas.

















Restaurants
Dwarika's Resort in Dhulikhel (adlink) has its own eco-organic farm, so most meals are prepared with their own fresh, seasonal produce.
We visited the farm with one of the chefs to pick some vegetables and herbs for dinner.
Nature's Flavours offers a wide range of culinary experiences from the Himalayan region, and it's where the breakfast buffet is served as well.
Inspired by the diet originally followed by monks in training, Mako's Zen is a Japanese Zen Buddhist restaurant.
We had a very aesthetic and healthy all-vegan dinner. It was delicious!
Besides the infinity pool, there's Ananta Poolside Restaurant and furthermore, there are three lounges on the premises.









Who should stay at Dwarika's Resort?
For one, we would love to stay there again!
People who appreciate a slower pace and spiritual activities will want to move here.
But it's also perfect for romantic couples or newlyweds, friends who enjoy being mindful and active together or for solo-travellers wanting to connect deeper with themselves.
In fact, we can recommend the resort to anyone who enjoys nature, peace and picturesque surroundings.
Check out their website or search for prices and availability here (adlink).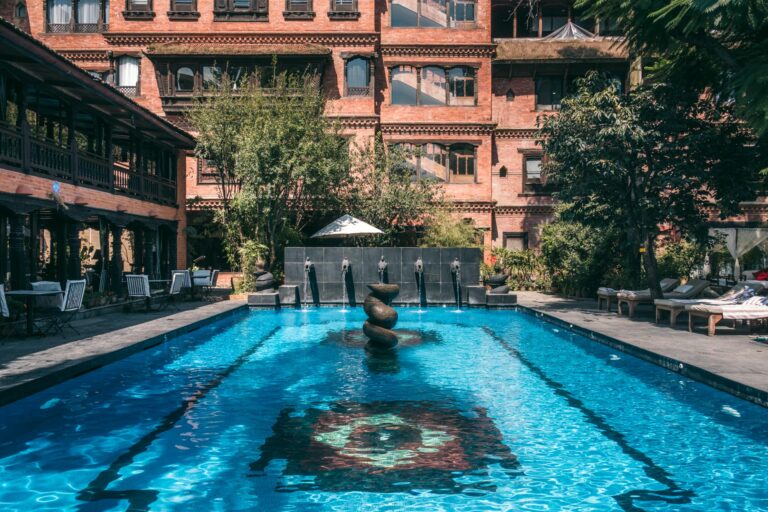 Our favourite travel resources:
Our camera gear: