What's in Our Camera Bag? Lightweight Photography Gear for High-Quality Travel Content
What camera, drone and accessories we use to capture life on the road
The evolution of our photography gear
Alex' first camera was a Canon 550D (adlink). That got stolen. Then he got a 60D (adlink). And later on a 5D Mark III (adlink).
Until mid-2017 we travelled with both the 5D and 60D and have shot countless images and videos on those two bodies.
That all changed when we rethought all of our travel gear.
The 5D body alone weighed 950 grams, and with a 24-70mm Tamron lens (adlink) + battery, the total weight was more than 1,850 grams.
Ouch.
We also travelled with a Mavic Phantom 3 Pro, which is not exactly known for being tiny.
Instead of working for our gear, we would rather have the gear work for us.
So we sold the heavy stuff and bought new shiny (and much much lighter) equipment.
This has made travelling so much more enjoyable.
Read on to discover what's in our camera bag today.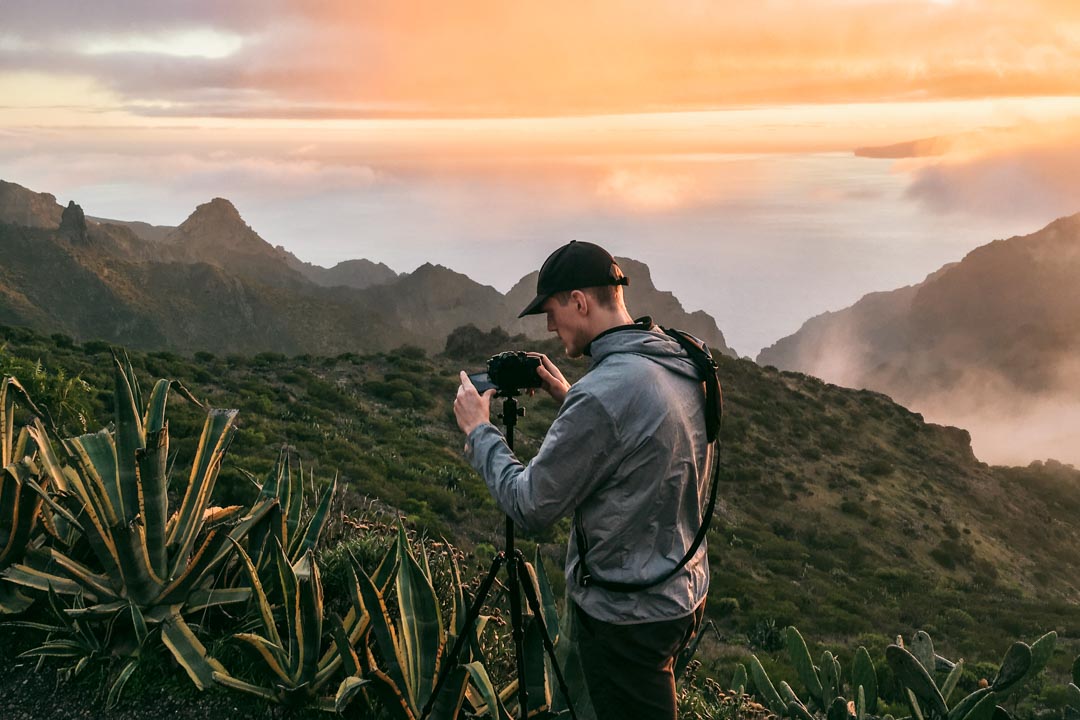 Panasonic GH5: A perfect camera for travel
At around 650 grams, the Panasonic GH5 is noticeably lighter than the Canon 5D Mark III. And when we get to the lenses (next) it wins the weight battle easily. And it's much smaller.
But the real deal with the GH5 is its incredible video capabilities.
10-bit recording, 4K slow motion, 180fps, in-body stabilization… The specs are pretty mind-blowing.
It takes great photos, too. And works very well in low light.
There are lots of fantastic mirrorless cameras on the market today, but the GH5 looked optimal on paper and after months of travelling with it + several professional shoots, it proved to be a winner.
If considering the GH5 but need better low-light capability, check out the newer GH5s (adlink).
View pricing & specs of the Panasonic GH5 (body only) on Amazon (adlink).
Lenses for the GH5
We travel with three lenses that currently fit our needs perfectly.
Panasonic Lumix 12-35mm f/2.8 Power OIS (All-around zoom)
This beast of an all-around zoom lens is on the camera 80% of the time.
It really can do it all. 12mm is wide enough to get it all in and 35mm is nice for portraits and details.
The zoom range is equivalent to 24-70mm on a full frame camera, which is also the lens we used to carry around (Tamron 24-70mm 2.8 for Canon) (adlink).
The image stabilization on the lens works well with the in-body stabilization of the camera and coupled with the 2.8 aperture it excels in low light. It's possible to take handheld shots at shutter speeds of 1/10 or even ⅕ of a second. And it helps smooth out video.
If you get just one lens for the GH5 it's easy to recommend the 12-35mm.
We use the old version. There's also a version 2 (adlink).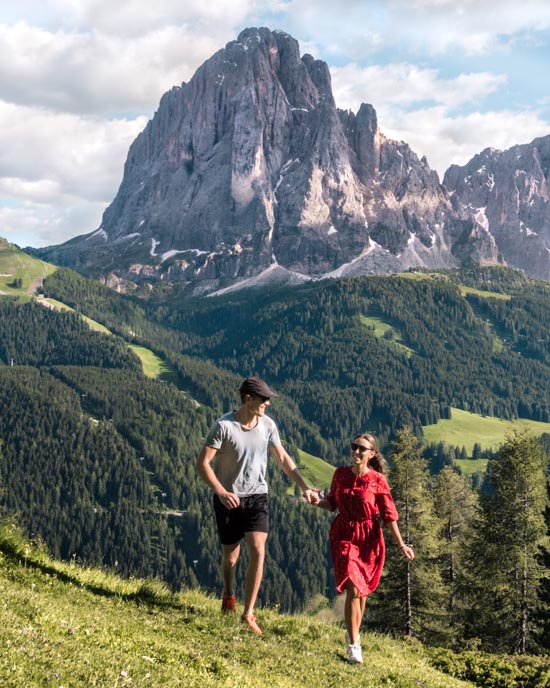 View pricing & specs of the Panasonic Lumix 12-35mm f/2.8 Power OIS on Amazon (adlink).
Panasonic Lumix 7-14mm f/4 (Wide-angle zoom)
Even though 12mm is pretty wide, the difference between 7mm and 12mm is drastic.
7mm is unrealistically wide. Which is a lot of fun to play around with.
Timelapses, moving shots, interiors, sweeping landscapes… For that kind of shoots, this lens holds an edge over the 12-35mm.
It's not necessary to own a zoom this wide, but it does provide a very unique perspective.
Update: To carry even less, we now use the tiny SLR Magic 8mm (adlink). 7mm is noticeably wider, but we didn't need the extra zoom range. It's very cheap but doesn't offer auto-focus.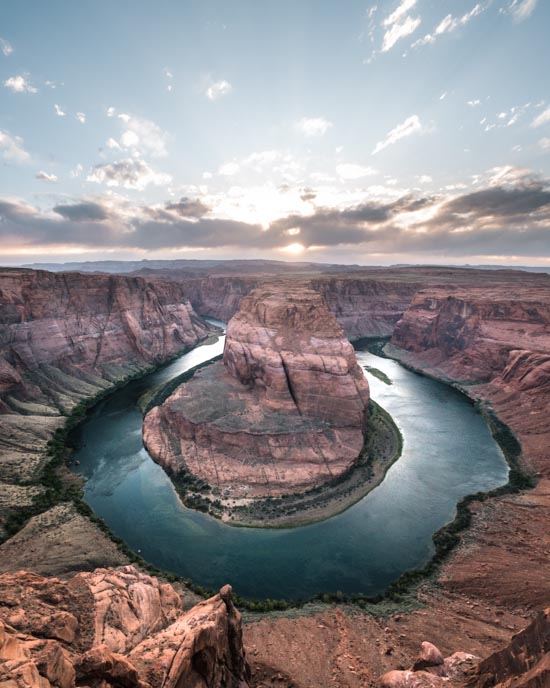 View pricing & specs of the Panasonic Lumix 7-14mm f/4 on Amazon (adlink).
View pricing & specs of the SLR Magic 8mm f/4 on Amazon (adlink).
Olympus 40-150mm f/4-5.6 (Telephoto zoom)
This is not the highest quality telephoto lens fit for the GH5 available, but the zoom range is awesome, it's really light and the price is fair.
We pop this lens on for wildlife, spying (jk) and lately also for more of our Instagram photos.
When you zoom in this much (150mm is equivalent to 300mm on a full frame body), it compresses the scene and exaggerates the size of the background. This fills out the frame nicely.
With the in-body stabilization of the GH5, it's not a problem to handhold this lens, even in low light.
Update: After the Olympus got stolen 🙁 we bought the Panasonic 45-150mm (adlink) instead because of its extra stabilization + we got a sweet deal.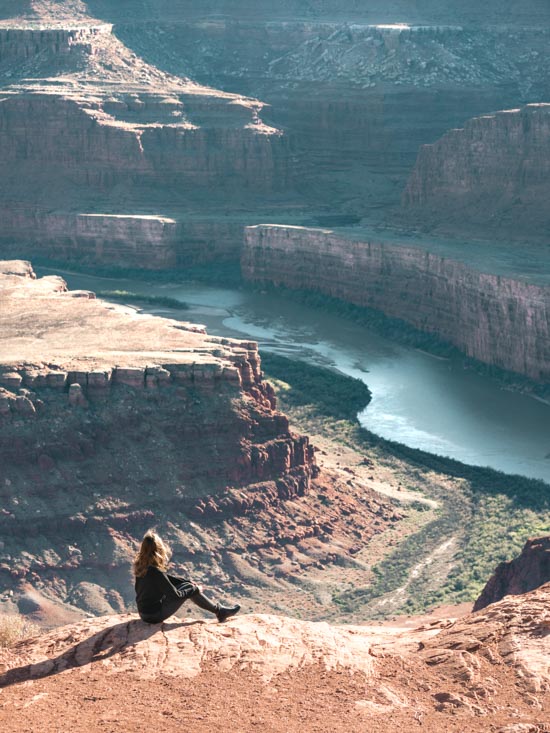 View pricing & specs of the Olympus 40-150mm f/4-5.6 on Amazon (adlink).
Camera accessories
Batteries + charger
The GH5 batteries hold their charge well, but it's still nice to carry an extra battery or two – just in case.
A charger (adlink) is also a must.
View pricing of the GH5 battery on Amazon (adlink).
Tiffen Variable ND filter
If you want to shoot timelapses, long shutter speed type stuff and/or video, a good ND-filter is a must.
We use a variable ND filter from Tiffen. It acts as sunglasses and can minimize the light entering the lens without sacrificing on image quality.
It's way too big as it originally fit the huge Tamron lens, but we just haven't switched it for a smaller model yet.
Make sure to buy one that fits your biggest lens.
View pricing of the Tiffen Variable ND filter on Amazon (adlink).
SanDisk Extreme PRO SDXC Memory Card – 64GB
To capture the super high-quality video the GH5 spits out you need a fast memory card.
We use a Sandisk Extreme Pro SDXC with 64GB of storage.
This is fast enough and also holds enough footage for us to keep shooting for a while.
View pricing of the SanDisk Extreme PRO SDXC Memory Card on Amazon (adlink).
Sun-Sniper Camera Strap
A comfortable way to carry your camera is important if you plan to travel with it and especially if you like to hike.
We use a very comfortable strap from Sun-Sniper along with a belt clip that holds the camera in place.
An added bonus is the strap's steel cable that prevents thievery.
View pricing of the Sun-Sniper Camera Strap on Amazon (adlink).
Sirui T-005KX Tripod
Sturdy, lightweight and cheap. Three things that usually don't go together with tripods.
Admittedly the Sirui T-005KX tripod is not the cheapest one around, but it's stable, weighs in at just 860 grams, fits into every bag and folds out to be tall enough (54.5" or about 140 cm).
Prior to this tripod, we used a Hahnel Triad 30 Lite tripod, but it more or less fell apart on our trip to Central America.
And before that, we lumped around a colossal tripod weighing more than 2 kilograms.
Needless to say, we're very happy with our tripod from Sirui. After almost two years of heavy usage, it's still as good as new.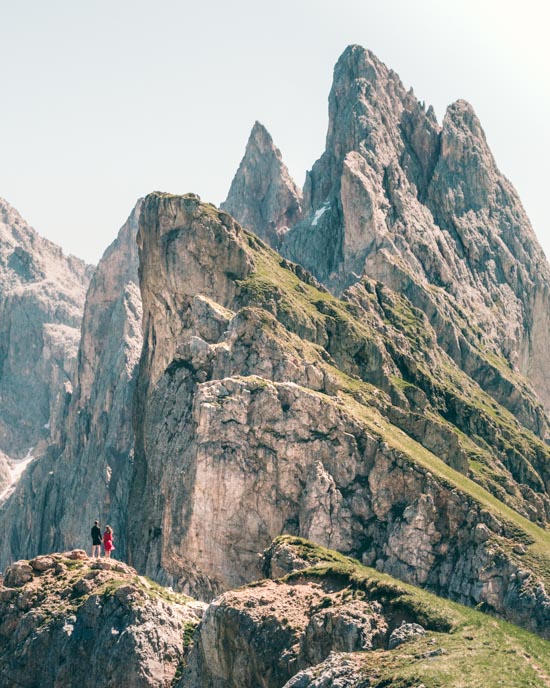 View pricing of the Sirui T-005KX Tripod on Amazon (adlink).
Zhiyun-Tech Crane v2 3-Axis Handheld Gimbal Stabilizer
We don't bring the Zhiyun Crane on every trip as it does take up some room, but the possibilities with this gimbal are endless.
A few years ago, we could only dream of the shots we're able to get with the crane and GH5. The movements are so smooth, it kinda feels like sorcery.
It's easy to use and works exactly like you'd hope. It's on the expensive side of things, though.
You can see some of the moves in our video from Greece.
View pricing of the Zhiyun Crane on Amazon (adlink).
Microfiber Cleaning Cloth
We use a microfiber cloth to gently clean the front elements of our lenses almost daily.
View pricing of microfibre cloths on Amazon (adlink).
Maxtor M3 Portable External Hard Drive
To back up photos while on the road, we use a Maxtor hard disk with a USB 3.0 connection that also powers it.
It's light, cheap (per GB) and holds everything.
With this beast, we never run out of storage.
View pricing of the Maxtor M3 Portable External Hard Drive on Amazon (adlink).
Jottacloud / cloud backup
A great strategy to minimize the risk of losing data is to also do a backup to the cloud.
We use Jottacloud and backup everything here as well. The service is incredibly easy to use and provides unlimited storage for a flat fee of 7.5 EUR per month.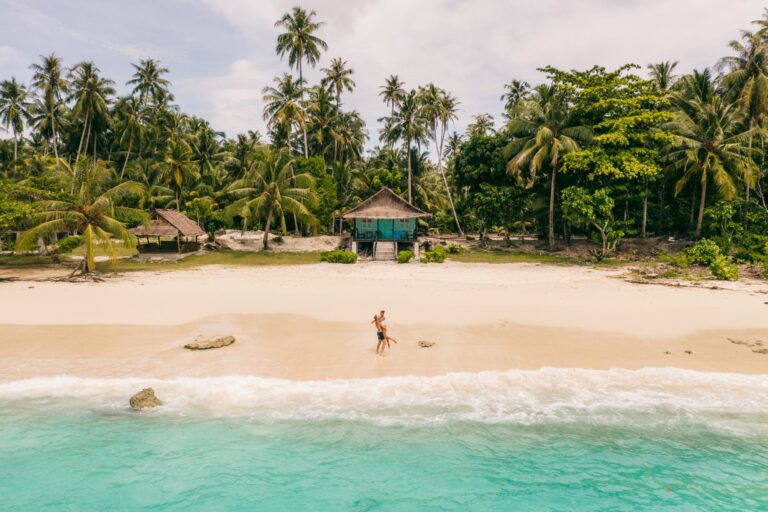 Mavic 2 Pro: A small love affair
Our first drone was a Phantom 3, but she was just such a pain to travel with.
Then we upgraded to the original Mavic Pro. The smaller size was a huge relief! Many of our aerial shots are shot with that drone.
Now we travel with a Mavic 2 Pro. We love it and consider it family.
The stability and image quality on the original Mavic Pro was already excellent, but the Mavic 2 Pro is just crazy good for its size (it's slightly larger than the original but totally worth it).
This is the perfect drone for us, and DJI keeps on making them better all the time.
The Mavic Air (adlink) also looks amazing if you want an even smaller package.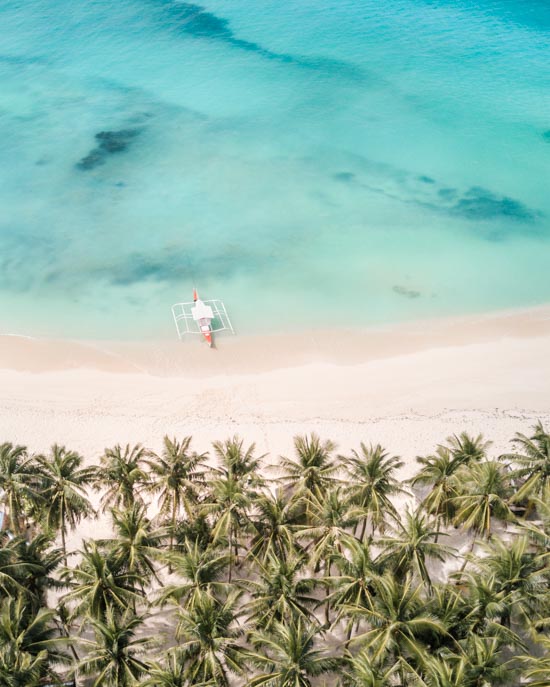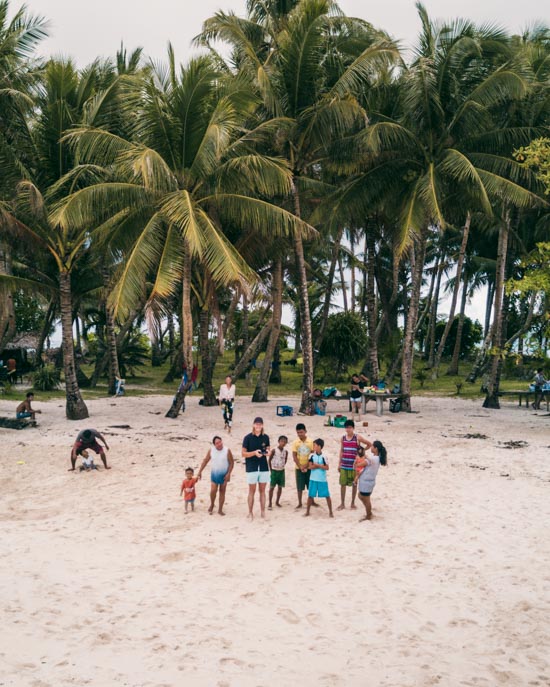 View pricing of the Mavic 2 Pro on Amazon (adlink).
Important accessories for Mavic 2 Pro
PolarPro ND filters
To get smooth drone footage in bright conditions, you need to put on an ND filter.
We use the ND filters from PolarPro. They fit the Mavic perfectly and are of very high quality.
With the ND4, ND8 and ND16 filters we're able to capture drone shots in all kinds of weather. The polarizing effect is an added touch.
View pricing of the PolarPro ND filters on Amazon (adlink).
Extra drone batteries
One battery is never enough to capture everything.
We own three DJI batteries but usually just carry two at a time.
Extra propellers
Even though you're a seasoned pilot, it never hurts to bring extra propellers just in case…
We got the Fly More Combo (adlink) which is a really good deal if you want spares and a carrying bag.
View pricing of the Mavic 2 propellers on Amazon (adlink).
GoPro Hero9 Black
Ever since its inception, GoPro has been the king of action cameras, and that fact still reins true today.
Carrying a GoPro means you'll be able to get shots in places and situations where you just wouldn't bring your main camera – or even your phone.
We have used the GoPro underwater, for Alex' mountain bike and race bike as well as while canyoning and skiing.
The photo and video quality with this thing is amazing and the stabilisation is truly next level.
For even more features, check out the new GoPro HERO10 Black (adlink) on Amazon.
View pricing of the GoPro Hero9 Black on Amazon (adlink).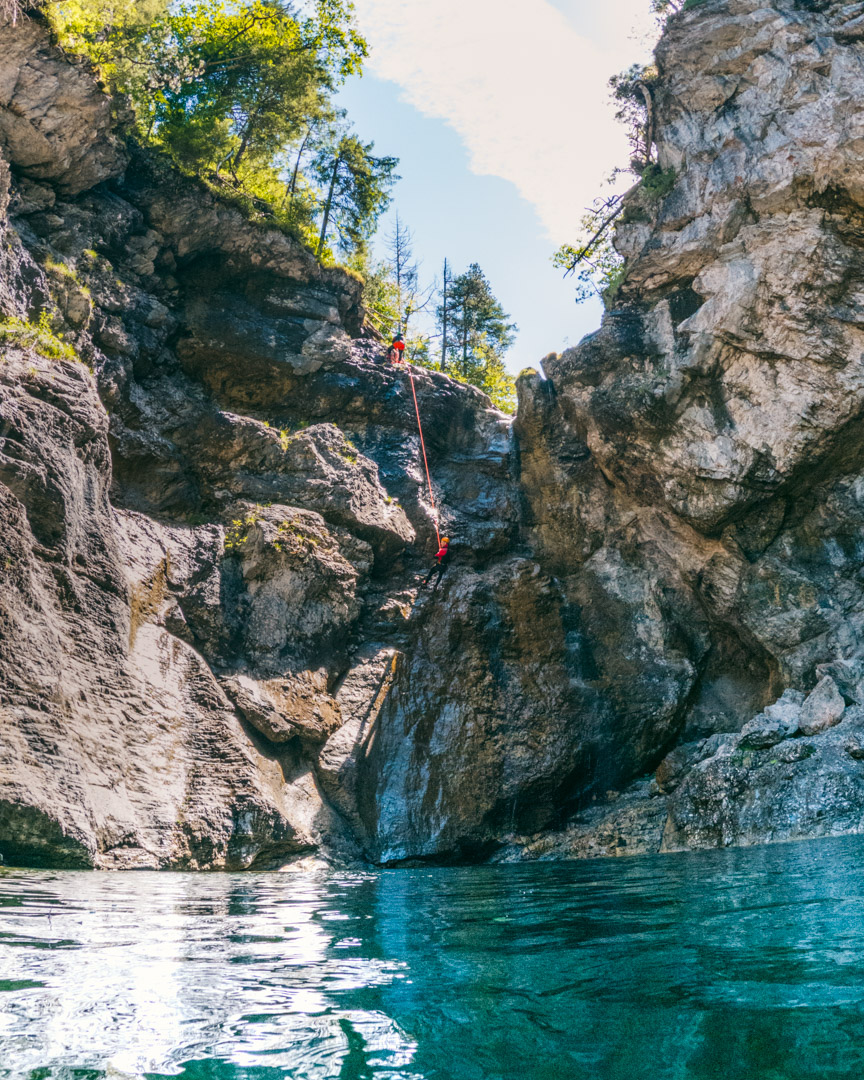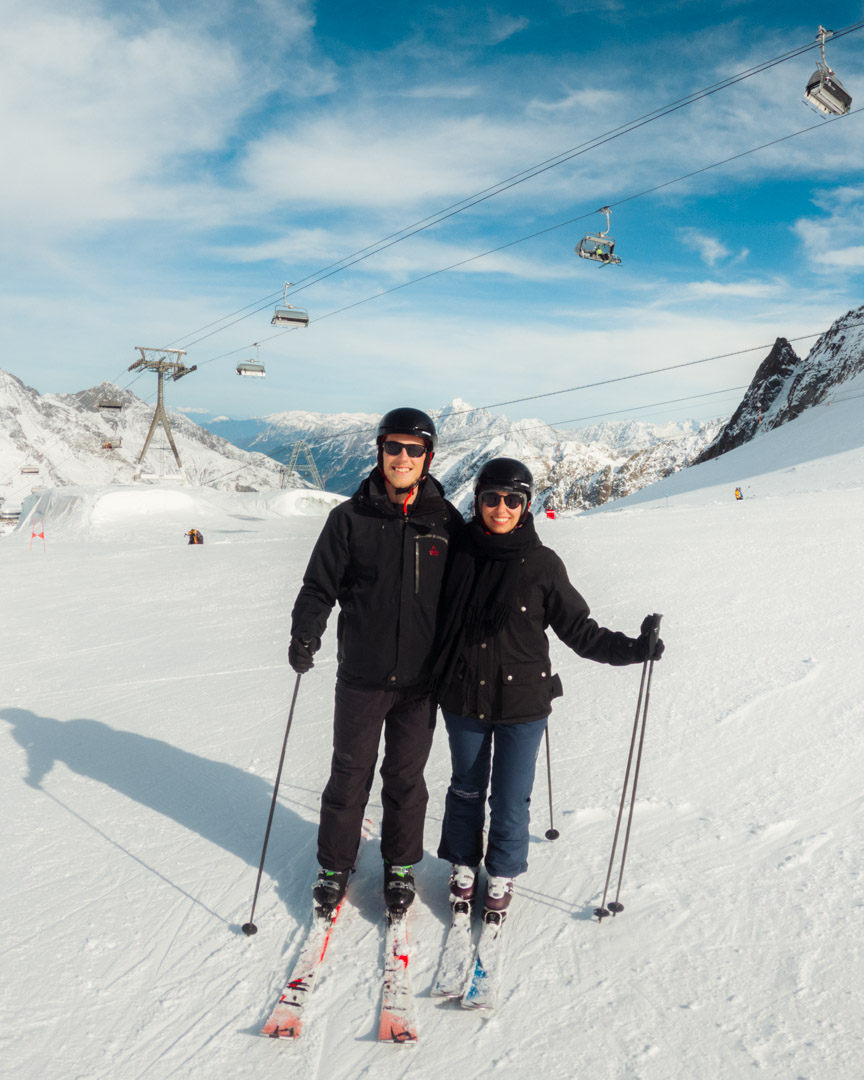 Photo and video editing with the Adobe family
Not technically gear, but we primarily edit our photos in Adobe Lightroom and videos in Adobe Premiere Pro.
Which camera gear should you choose?
What photography gear works for us might not work for you and vice-versa.
So many factors go into it.
When it comes to gear, what's most important to us is high quality and low weight/size.
If weight and size were not an issue, this list would have looked very different.
In the end what gear you use are just that – gear. Tools.
What really matters is the stories you tell and the emotions you capture.
That can be done on any camera.
…With that said, it's a lot more fun to work with great tools.
What camera do you use? And why? What's most important to you when picking up new gear?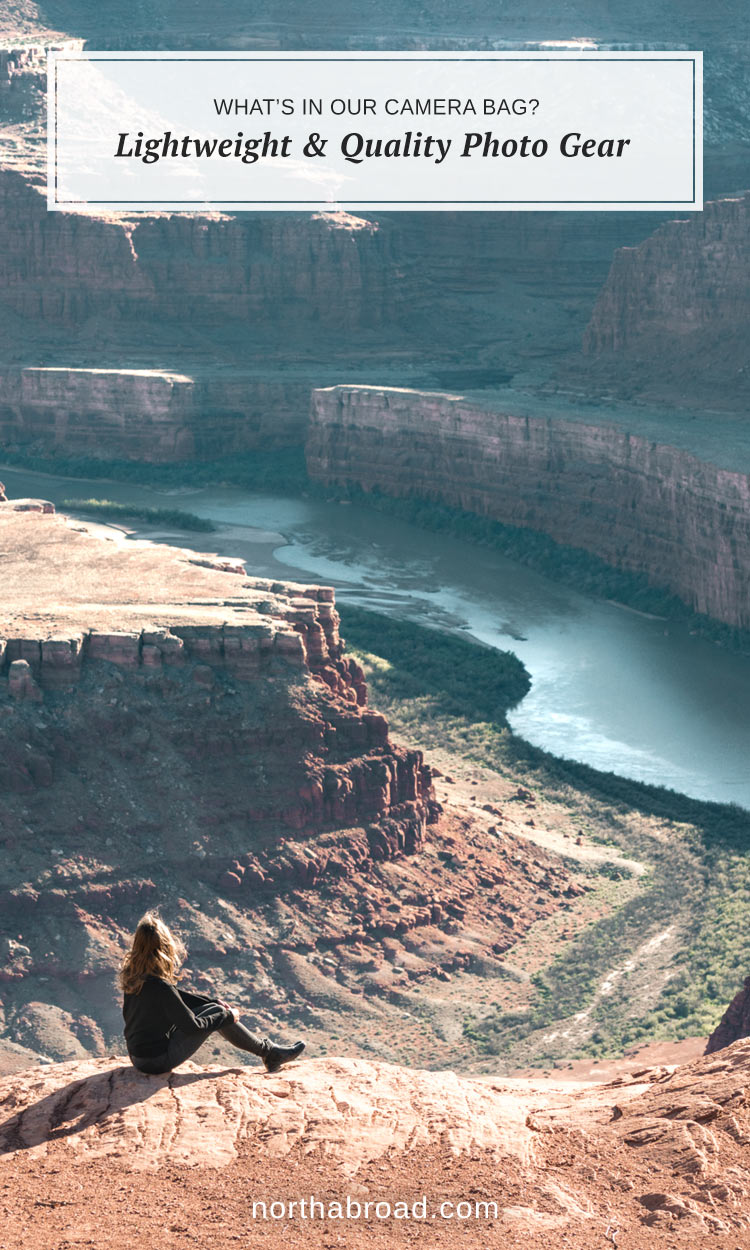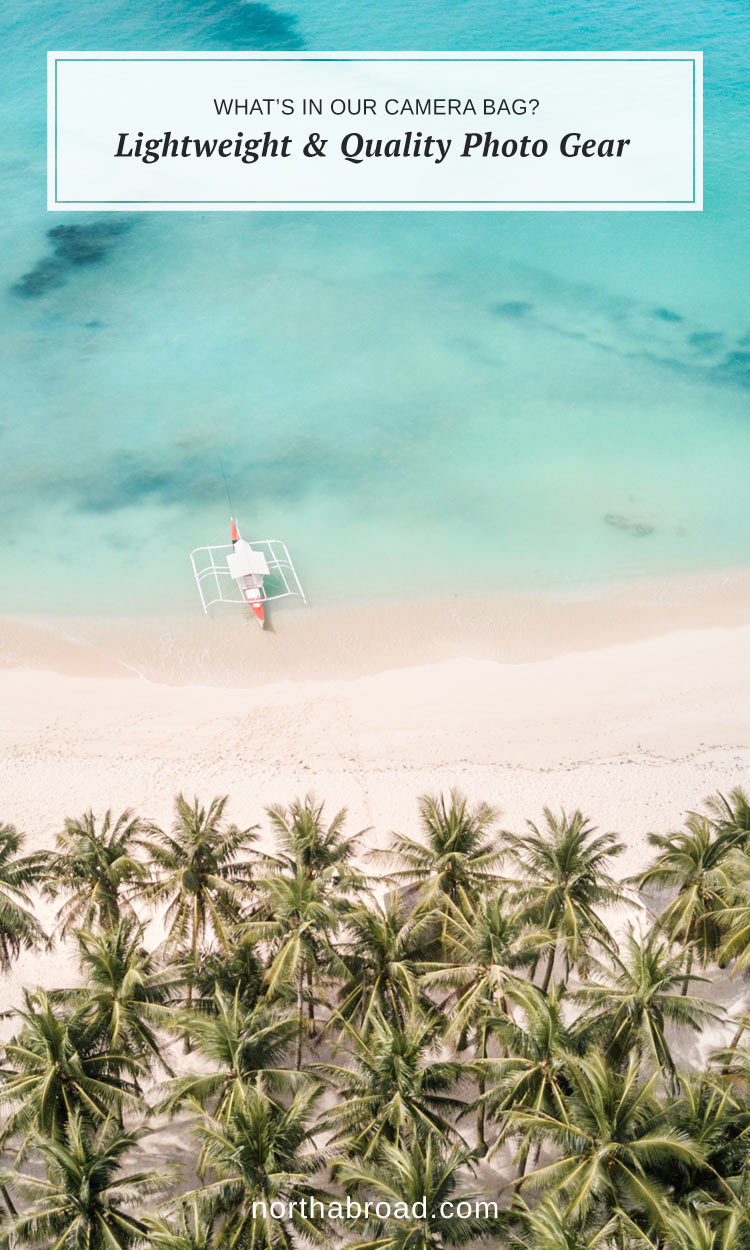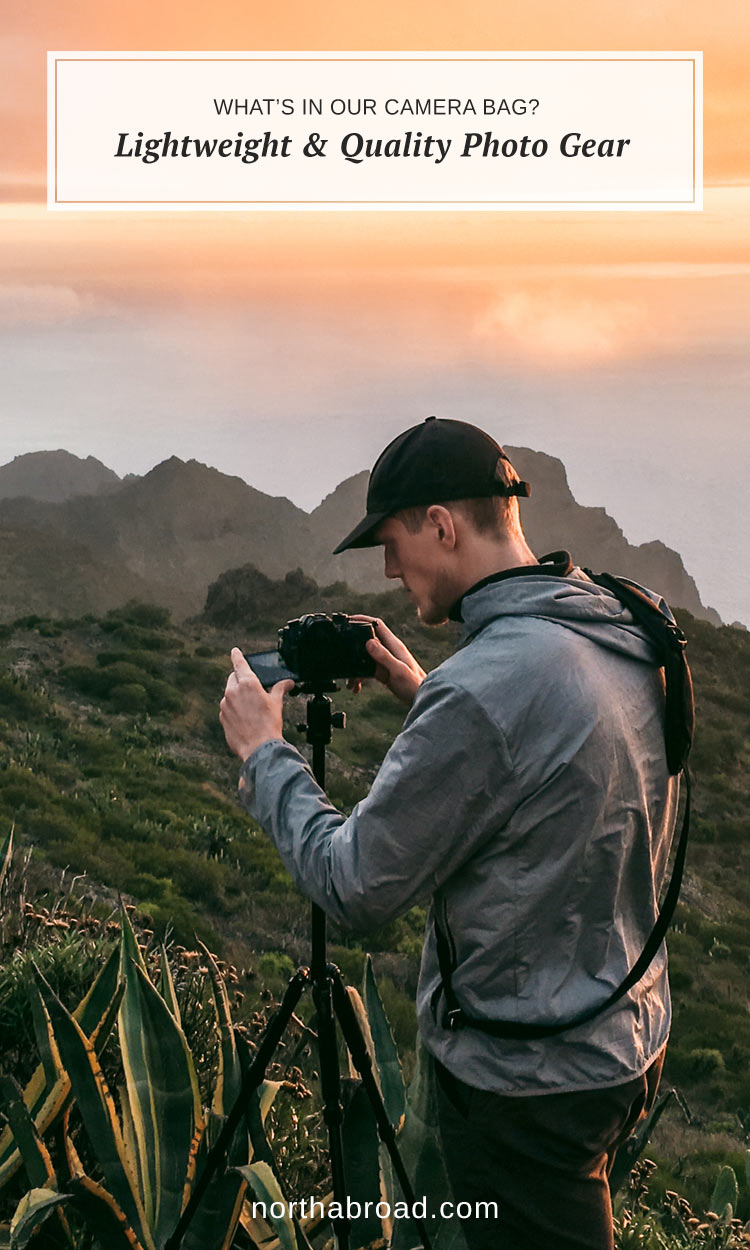 Our favourite travel resources:
Our camera gear: