Hand Luggage Only: Our Packing List for Travelling in Southeast Asia for Several Months
Yes, it's possible! Clothes, gear for photography and endless adventures… All in two small bags
Once upon a time…
…Alex and Victoria carried around huuuuge backpacks.
But that was all about to change.
When travelling to Asia for three and a half months in 2017-2018, we got our hands on very cheap plane tickets from Copenhagen to Singapore.
But there was a catch: we had to pay for checked in luggage. Which cost more than ⅓ of the ticket price!
So we decided to challenge ourselves. We only packed hand luggage.
And we loved it!
It was so easy to get around.
We didn't have to pay excess baggage fees.
Our luggage couldn't get misplaced or delayed.
And we didn't have to wait at the baggage carousel when we landed – we could just walk straight out of the airport.
When going to Asia for several months in January 2019, we were confident that hand luggage would suffice once again.
Here's what we are bringing with us.
Hand luggage bags
Alex' backpack
Alex really likes his Gregory Compass 40L backpack (adlink).
It's mainly comprised of a single compartment with back panel access which makes it really easy to organize the luggage; you don't have to take everything out to get to those socks at the bottom.
And your stuff is a little safer from opportunistic thieves.
The main compartment is huge and fits everything Alex travels with.
There's also a laptop compartment, a zippered mesh compartment, an accessory pocket on top and an extra pocket on the bottom.
Gregory Compass (adlink) is relatively light at around 1 kilogram (~ 2 pounds) and comfortable to wear, though unfortunately there's no belt strap.
The backpack easily fits in most overhead compartments.
Alex has added a rain cover from another bag for some extra monsoon protection.
All in all, Gregory (as it has been cleverly named in our daily speak) just does what it does very well.
View pricing of the Gregory Compass 40L backpack on Amazon (adlink).
Victoria's backpack
Wanting a simple, yet stylish backpack, Victoria has been travelling with the Fjällräven Travel Pack (adlink) in black since 2017.
She loves the basic Scandinavian design and all the compartments for organizing luggage.
It's supposed to be great for business trips or short holidays – but it works very well for long-term travelling as well!
Most airlines accept the dimensions as carry-on (we haven't been denied by anyone yet) and it has an official packing volume of 35 litres.

View pricing of the Fjällräven Travel Pack on Amazon (adlink).
Travel necessities
Day bag
In our hand luggage, we also pack a smaller bag for day trips.
The rePETe from Chicobag (adlink) is made from 100% recycled PET, 100% recycled nylon and the carabiner is made from 78% recycled aluminium.
It's able to compactly fold in on itself and become very small. Which makes it rather surprising that it's so spacious!
We routinely pack our camera gear (including tripod), extra clothes, water and other small things like sunglasses, keys and sunscreen and there's still room left.
The official capacity is at 15 litres and it only weighs about 200 grams (~ 0.45 pounds).

View pricing of the rePETe day bag from Chicobag on Amazon (adlink).
Waterproof dry bag
When travelling in Asia last time, we found our dry bag (adlink) pretty useful for boat trips.
It protected our electronics and weighed almost nothing.
Alex even swam with the bag to some of the hidden beaches we visited in The Philippines (this is not officially endorsed, but possible if you're careful and a bit daring).
Needless to say, we brought one with us again this time.
We have a 20 litre Ultra-Sil Dry Sack from Sea to Summit (adlink), weighing an incredible 50 grams only.

View pricing of the 20 litre Ultra-Sil Dry Sack from Sea to Summit on Amazon (adlink).
Money belt
A money belt (adlink) you can hide under your pants is absolutely essential when travelling.
It has saved some of our most valuable belongings twice already!
We carry a thin money belt from Osprey called the Stealth Waist Wallet (adlink).
It's very comfortable to wear, easy to adjust and holds everything we need (credit cards, passport, money, keys).
Alex also sometimes wears it while running.

View pricing of the Stealth Waist Wallet on Amazon (adlink).
Sarong or quick-dry towel
We're both huge fans of sarongs and we never go on a trip without them.
A sarong can be used in so many ways!
As a beach towel, skirt, scarf, curtain, blanket or pillow. We sometimes use them to cover our knees or shoulders in religious places too.
Our sarongs were bought in Brazil and Belize but it's pretty easy to get one when you're travelling.
If you like to be prepared, you can buy sarongs here as well (adlink).
Not all budget places or hostels provide towels, so if you're not a sarong person, you might want to bring a quick-dry towel (adlink).
They're smaller, less bulky and dry faster than a regular bath towel.
We used to travel with both a sarong and a quick-dry towel, but now we find it unnecessary to bring both.

Packing cubes
When living out of a backpack it's important to stay organized – at least for us.
Victoria's bag already has compartments for organizing luggage, but Alex uses packing cubes (adlink) for some of his clothes and they're wonderful.
It's so easy to find a fresh pair of socks or a new t-shirt.
We also carry a few plastic bags for dirty or wet clothes.

Water filtration system
Our planet and the environment is something we care deeply about.
For this trip, we decided to minimize our use of plastic bottles.
When you can't drink water from the tap, you'll end up using soooo many of them.
Planning and thinking ahead usually mean you can say "no thanks" to the plastic without dying of thirst.
We now carry a Survivor Water Filter PRO (adlink) which gives us purified, tasteless drinkable water (almost) for free.
In goes undrinkable water (most often we use tap water) and out goes the safe and clean water. Pumping is not without effort, but it works well.
It's better for the environment, it's cheaper and you'll get strong upper arms from all that water pumping. Win-win-win!
If a water filtration system sounds a bit too ambitious for you, then bring a refillable bottle (adlink). You can also get some pretty rad bottles with built-in filtration (adlink).
In many places like cafés and dive shops you can get a refill at a small cost (sometimes even for free), or you can buy bigger jugs of water, like 5 or 10 litres, and refill the bottle in your room.

View pricing of the Survivor Water Filter PRO on Amazon (adlink).
Carrying water
For longer runs, Alex wears a Salomon ADV Skin 12 running vest (adlink).
Two soft water bottles came with the vest and he has also added a Salomon hydration bladder (adlink).
Combined, they make it possible to carry around 3 litres of water.
These also work really well for taking water along on day trips.

View pricing of the Salomon ADV Skin 12 running vest on Amazon (adlink).
Food containers and sporks
As we already mentioned, we want to minimize our use of plastic and, besides water bottles, takeaway and street food can be a big sinner.
Disposable plastic, Styrofoam, aluminium foil and paper seem unnecessary.
That's why we decided to bring our own food containers (adlink).
There was no need for us to buy new ones, as we already had two perfectly fine IKEA food containers.
Otherwise, it's possible to find some travel friendly food containers here (adlink).
We brought our own meals in them during the long flight from Denmark to Thailand, we get our takeaway food served in them and we use them to store leftovers in our fridge (when we have a kitchen).
How do we eat the food then?
Well, we found out about something really cool called a spork (adlink).
It's a spoon AND a fork!
We use the Kupilka Spork 225 (adlink), made from Kareline Natural Fibre Composite Material.

View pricing of Kupilka Sporks on Amazon (adlink).
Headlamp or flashlight
Most of us have a flashlight app on our phone, but for some occasions, it's actually really handy to have a headlight (and be able to use both hands).
It could be during an early morning hike to a mountain peak, a late afternoon hike down from a volcano or simply when the electric power fails… Which we experienced a lot in The Philippines, for example.
We have the rechargeable Suprabeam V3 Pro LED Headlamp.
Search for rechargeable LED headlamps here (adlink).
Books and notebooks
We know a Kindle (adlink) is super smart, but we're kind of old school when it comes to books and we always bring one or two paperbacks with us to read on the beach or during transportation.
When finishing a book, we can often exchange it in hostels or cafés for another preloved book.
Usually, we carry a notebook (adlink) and a pen as well – for bright ideas, to-do-lists or whatever comes to mind.

Alex brought a lightweight travel pillow (adlink) and earplugs (adlink) for our long haul flights.
On our initial flight from Denmark to Thailand, we also had a lot of snacks!
We don't want to eat boring (and expensive) flight meals, so instead, we had pasta with vegan pesto and fruits, nuts, vegan chocolate (adlink) and muesli bars.
As frugal vegans, it's often the best option to simply bring food along on long rides.
Travel essentials
Passports! Including visas, if needed.
Passport photos for visas on the go.
Flight tickets – usually electronic tickets.
Credit cards and cash in the local currency. For longer trips like this one, we also bring backup dollars or euros to exchange later on.
Alex' driver's license plus his international driver's license. Victoria doesn't have one – yet!
Travel insurance. It's definitely not the most interesting part of planning a trip, but please, don't travel without proper insurance.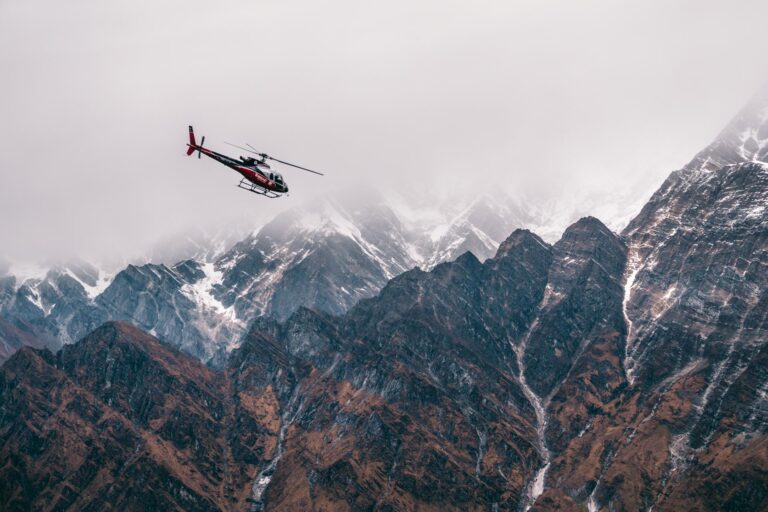 Injuries, illnesses and other troubles occur to even the most cautious travellers. We have been in need of travel insurance more than once…
We have travel insurance included in our Danish home insurance, covering us for up to three months of travel.
After that, we use day-to-day travel insurance from SafetyWing (adlink) which is super easy and flexible to buy on the road – especially when you don't know for how long (or where) you want to travel.
We have previously bought travel insurance from World Nomads and True Traveller (adlinks) with great success.
Note: True Traveller is only available for Europeans.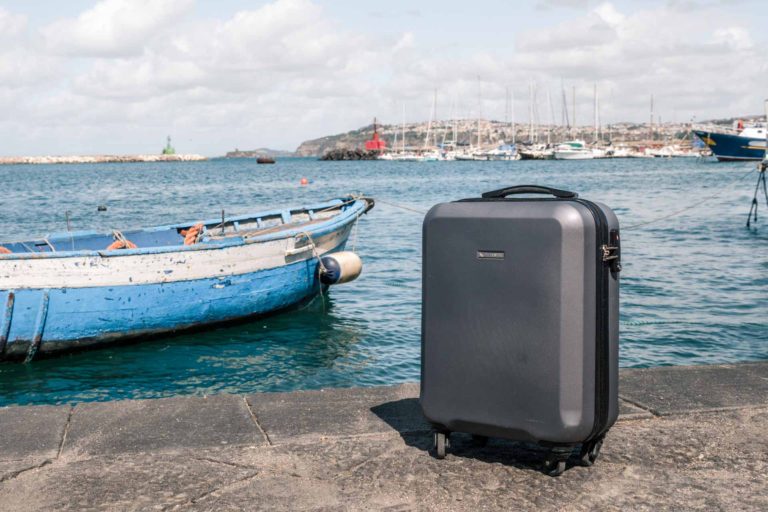 Electronics
Power Adapter
We always bring a universal power adapter whenever we travel outside of Europe.
Buy a nice quality adapter, and it will last a lifetime.
Search for universal travel adapters here (adlink).
Extension cord
Having one power adapter is fine if you only need to charge a phone or perhaps a camera.
But we need to charge computers, phones, camera, drone batteries and even Alex' running watch, so we make sure to always bring an extension cord.
Headphones and headphone splitter
Victoria just uses the EarPods that come with an iPhone.
Alexander is more quality-minded when it comes to sound.
He uses a pair of Sennheiser HD 380 Pro headphones (adlink) which fold up nicely and produces great neutral sound.
We make sure to always bring a headphone splitter (adlink).
We love this small, but handy item when we're watching movies on planes or on longer bus rides on the same laptop.
Sometimes we use it for listening to meditation or podcasts together as well.
Computers, phones and chargers
We work while travelling, so of course, we have our laptops, phones and chargers with us.
Victoria loves her MacBook Air 13" (adlink).
Alex carries an ASUS Zenbook UX310UQ 13.3″ (adlink), which he uses to edit 4K videos in Premiere and handle all of our photo editing in Lightroom and Photoshop as well.
A portable hard drive for backup is crucial for all that data. We are very happy with ours; a Maxtor 4TB USB 3.0 portable hard drive (adlink).
It checks all the boxes: plenty of terabytes, small and sleek form factor, pretty light, speedy transfers with USB 3.0 and USB powered. Great value!
Victoria has the iPhone XR (adlink) and Alex inherited her iPhone 6S (adlink) when she upgraded.

View pricing of the MacBook Air 13" on Amazon (adlink).

View pricing of ASUS Zenbooks on Amazon (adlink).

View pricing of the Maxtor 4TB USB 3.0 portable hard drive (adlink).

View pricing of the iPhone XR on Amazon (adlink).

View pricing of the iPhone 6S on Amazon (adlink).
Camera gear
Camera
The Panasonic Lumix GH5 (adlink) is the perfect camera for us.
It's lightweight, durable and absolutely great for both photo and video.
We used to lug around a Canon 5D Mark III (adlink), making the smaller and lighter GH5 a dream to travel with in comparison.
We also carry spare batteries and a charger.
In 2017-2018 we didn't have an underwater camera, but now we travel with a GoPro (adlink)!

View pricing & specs of the Panasonic GH5 (body only) on Amazon (adlink).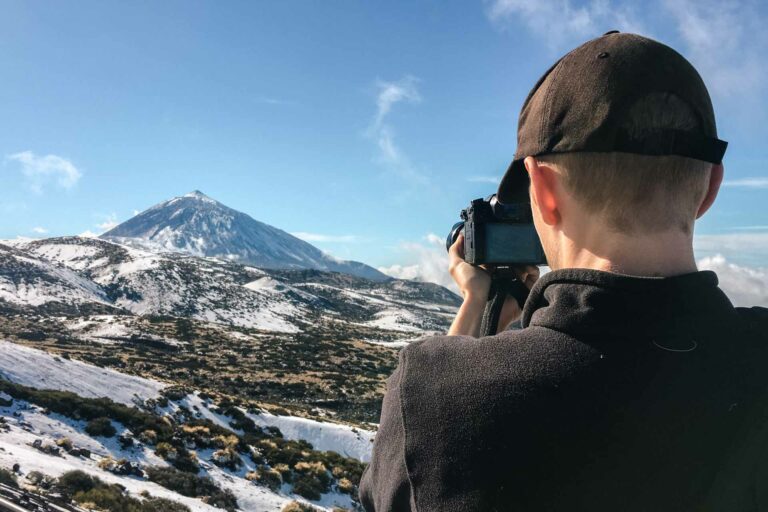 Camera lenses
We carry three camera lenses: Panasonic Lumix 45-150mm, SLR Magic 8mm and Panasonic Lumix 12-35mm (adlinks).
The latter is on the camera 95% of the time, but with the addition of a long zoom and a wide-angle, we can pretty much get any shot we want.

View pricing & specs of the Panasonic Lumix 45-150mm on Amazon (adlink).

View pricing & specs of the SLR Magic 8mm f/4 on Amazon (adlink).

View pricing & specs of the Panasonic Lumix 12-35mm f/2.8 Power OIS on Amazon (adlink).
Camera accessories
To capture all that footage, we use the Sandisk Extreme Pro SDXC memory cards (adlink) with 64GB of storage.
We carry a Tiffen variable ND-filter (adlink) for sunny days and timelapses.
Our trusted tripod is the Sirui T-005KX (adlink).
A Sun-Sniper Camera Strap (adlink) makes carrying the camera around very comfortable.
Drone
DJI Mavic 2 Pro (adlink) is pretty much the best drone ever.
Due to its compact size, it's relatively easy to travel with. It flies like a charm. And its photo and video quality is stunning. What more can you ask for?
Consider the Mavic Air if you want something even smaller that still produces quality shots.
Don't forget ND filters (adlink) for drone videography.

View pricing of the Mavic 2 Pro on Amazon (adlink).
Toiletries
Toiletry bag
We have all of our toiletries in one big toiletry bag. It's great when we don't move around that much.
For previous backpacking trips, we used a hanging toiletry bag (adlink), which is super convenient when staying in dorm room or smaller rooms without shelves.
Dental care
We use bamboo toothbrushes (adlink) as they're biodegradable and eco-friendly. You can find them in health food stores or online here. (adlink)
They're protected with toothbrush covers.
Our toothpaste is organic and vegan (adlink). There are tons of different brands. We just make sure it contains fluoride.
Oh, and we bring some dental floss to make our dentist happy, too.
Hair
Instead of shampoo, Victoria washes her hair with rhassoul (adlink).
Rhassoul (or ghassoul as it's also called) is a type of natural mineral clay from Morocco.
The clay is mixed with warm water and that's it.
Victoria uses a travel-sized toiletry bottle and shakes it.
Her fine, straight hair feels thicker, volumized and healthier than ever – and now she only needs to wash her hair once a week. Most of the time water is just fine.
Rhassoul is incredibly gentle to the hair and scalp, and it can also be used as a make-up remover, facial mask and body wash.
It's natural, it's cruelty-free and it's cheap. What's not to like!
Check out different types of rhassoul here (adlink).
A bonus reason to love rhassoul when travelling without checked baggage: it doesn't count as liquid, so you can bring as much as you want.
For brushing that long, straight hair, Victoria uses an eco-friendly bamboo hairbrush from Olivia Garden (adlink).
And bringing a few extra hair elastics is always a good idea.

View pricing of Olivia Garden Healthy Hair Paddle on Amazon.
Skincare
Victoria uses organic argan oil (adlink) as a skin moisturizer.
The plant oil is extracted from the kernels of the Moroccan argan trees and it's filled with vitamins, minerals, antioxidants and fatty acids.
It can also be used as a hair conditioner, a lip moisturizer and as a treatment for hands and feet. It's anti-ageing, it can protect from sun damage and so much more.
Argan oil is extremely versatile and we could go on and on about how awesome this oil is.
Make sure to buy 100% pure argan oil from Morocco (adlink) and avoid fake argan oils.
It smells a bit earthy and nutty, so Victoria mixed a few drops of essential oil with citrus (adlink) in it.
For the daily face wash, she brings a konjac sponge (adlink).
Konjac sponges are made from the natural konjac root from Asia and they're marvellous for cleansing and exfoliating dead or dry skin.
Put the sponge in water, scrub gently in circular motions and it will remove grease, dirt, make-up, sunscreen etc.
The sponge will start to biodegrade over time – usually, you'll need a new one after six weeks.
It's sustainable, cruelty-free and biodegradable.
The konjac sponges come in different colours (adlink) depending on what kind of active ingredients they contain.

View pricing of konjac sponges on Amazon (adlink).
Body care
In Copenhagen, Victoria makes her own deodorant from coconut oil and baking soda, but it's too difficult to travel with so instead she brings a scentless one.
At the moment she also wears a bit of Flowerbomb Eau De Parfum from Viktor & Rolf (adlink) on special occasions.
Most of the time we don't wear anything – in fact, Alex doesn't at all.

View pricing of Flowerbomb Eau De Parfum from Viktor & Rolf on Amazon (adlink).
Protection
Living under the sun in Asia means that we have to take care of our skin.
We always buy organic and vegan sunscreen. For this trip we packed a Green People Organic Sun Lotion SPF15 (adlink).
We also bring mosquito repellent and alcogel hand sanitizer.

View pricing of Green People Organic Sun Lotion SPF15 on Amazon (adlink).
Trimming
The only type of razors permitted in hand luggage are disposable razors, so we travel with those and use them for several months, haha. We don't mind a bit of body hair.
We also pack a pair of tweezers and a beast of a nail clipper.
The Mehaz 668 Pro Angled Wide Jaw Toenail Clipper (adlink) is an absolute godsend if your nails won't budge with standard nail clippers.

View pricing of Mehaz 668 Pro Angled Wide Jaw Toenail Clipper on Amazon (adlink).
Makeup
In tropical weather, it's not really pleasant to wear a lot of makeup.
Victoria brings cruelty-free makeup for festive occasions, like a mascara, a foundation and a brow pencil (adlinks).
Feminine products
A menstrual cup (adlink) is brilliant when travelling!
It's healthier for the body as it doesn't contain chemical additives like BPA, bleach and fragrance.
And it's better for the environment as it creates less waste.
There is more time between changes as it holds more blood than pads or tampons.
It's cost-saving – a cup can usually be used for 5-10 years. You need to sterilize it with boiling water after a cycle, though.
Instead of a box full of tampons, you only need to bring one item. Super practical!
And people won't notice it when you swim in a pool (unlike that tampon string).
Victoria recommends OrganiCup (adlink).

View pricing of OrganiCup Menstrual Cup on Amazon (adlink).
Prescriptions and medicine
This is the boring, but necessary stuff.
Medicine, birth control and painkillers fall into this category.
Sometimes we bring band-aid as well.
Supplements
We supplement with B12 vitamins (adlink) as we eat plant-based – though deficiencies occur in many non-vegans, too.
Every other day, we take a meltable 1000μg B12 pill in the form of methylcobalamin from Biosym, 100% certified vegan.
Clothes
As we expect to be in Southeast Asia for most of this trip, we've mostly packed for warm weather and beach days.
But if we want to climb a mountain or stay a few days in a colder place, we would like to be prepared as well. Here's what kind of clothes we have packed.
Outerwear
We both carry light water- and windproof jackets as well as a fleece or sweater we can wear underneath.
Apart from on cold and/or rainy days, we usually wear our jackets when moving from one place to the next, as it can get really chilly on buses and planes.
We both have a thin pair of gloves with us as well.
Upper parts
We pack tops and t-shirts that we wear on most days.
It's also good to have a few shirts or blouses for evenings, windy days and for visiting religious sites where you must wear appropriate clothing – meaning the shoulders and knees should be covered.
Alex has four cotton t-shirts, a synthetic one for running, a sleeveless shirt and a white shirt for date nights and natural shielding against the sun on scooter rides.
Victoria has packed too many uppers – both tops, t-shirts, shirts and even a lace shrug.
Lower parts
Alex has those practical pants (Fjällräven High Coast Zip-Off Trousers) that can be transformed from long pants to shorts.
His one pair of long johns prepares him for cold weather.
He also brings two pairs of shorts and a belt, but that's about it.
Remember, he has to carry aaaall the camera equipment…
Victoria loves wearing dresses and on the last trip to Asia she brought a few, but it takes up a lot of room in the bag.
This time she packed a light sundress, one long skirt, four pairs of shorts plus a pair of sports shorts that can be used for yoga, hiking or simply be more comfortable to wear at "home".
She has a long, thin pair of pants for evenings and a thicker pair of pants for travelling by plane or in case of cold weather.
A pair of leggings are packed as well. They're great for yoga and can be used underneath the pants instead of long underwear.
Almost every upper and lower part can be put together which makes it possible to create many different outfits.

View pricing of similar zip-off trousers from Fjällräven on Amazon (adlink).
Underwear and swimwear
5 to 8 pairs of underwear will do just fine. We hand wash continuously.
Victoria has three bras: a black one, a white one and a sports bra.
We pack 2 to 3 pairs of socks (most of the time we walk around barefoot). Victoria also has a thicker pair of socks to wear on cold planes or on air-conditioned buses.
Victoria has one bathing suit and two sets of bikinis. A last minute decision, as there was room enough in the backpack for all three of them. One would have been fine though!
Alex just has one pair of swim shorts. It's so easy being a man.
Shoes
We both wear sneakers when we travel. They're comfy plus they can be used for walking around in big cities, hiking and running.
A pair of sandals or flip-flops is essential for beach days, going to the market, basic explorations etc.
Also, it's common to take off shoes in most religious places and in some restaurants, and it's so much easier if you wear sandals or flip-flops.
Alex travels with one pair and Victoria may or may not have packed three pairs (which is totally unnecessary)…
Alex's shoes are the amazing, vegan, recycled Primus Lite from Vivo Barefoot (adlink).
His sandals are the (also amazing and vegan) Z-Trail from Xero Shoes (adlink).
View pricing of the Primus Lite from Vivo Barefoot on Amazon (adlink).

View pricing of the Z-Trail Sandals from Xero Shoes on Amazon (adlink).
Accessories
One or two pairs of sunglasses are enough. Alex brings a cap as well.
He has a Garmin Fenix 3 HR Sapphire running watch to keep track of his workouts.
Victoria carries a few pieces of jewellery (nothing too valuable!). For this trip, it's six pairs of earrings and a single necklace.

View pricing of Garmin Fenix 3 on Amazon (adlink).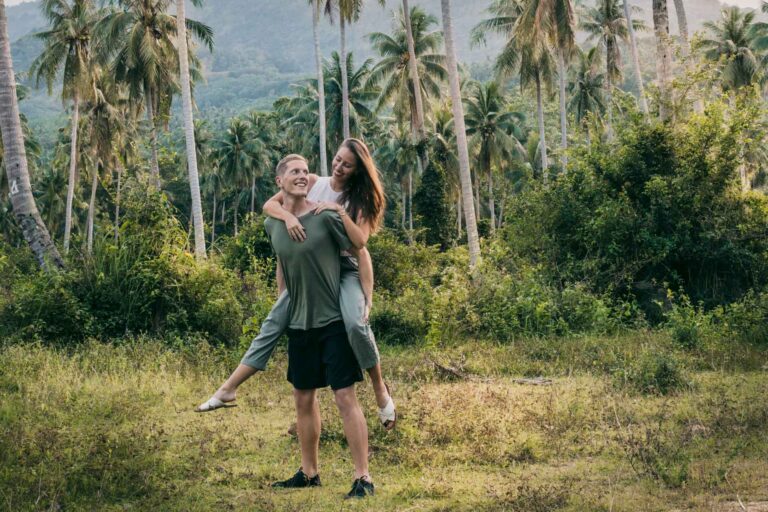 Other items to consider packing
Proof of vaccinations. If you're for example travelling from a country with the risk of yellow fever to a country without, it might be necessary to show documentation.
Small padlock (adlink). Protect your valuables – padlocks are great if you're staying in hostels.
Powerbank (adlink). Phone batteries die so fast! We sometimes use our drone batteries to charge our phones on day trips.
Diving certificate + log book. If you love spending time below water and already have a certification, remember to take it with you.
Snorkelling equipment (adlink). Most boat tours will provide underwater gear, but if you prefer your own (quality) snorkelling set, make sure to bring it.
Underwater camera (adlink). Go capture those colourful fish and corals!
Card games. A deck of playing cards can be a fun way to get new friends or pass waiting time.
Swiss Army Knife (adlink). It's super practical, but it might not be a good idea to bring one if you only travel with hand luggage.
First aid kit (adlink). A kit containing bandages, cleaning wipes and swabs is useful for some. We used to bring this but never really got to use it.
Motion sickness pills and anti-diarrheal pills. For you know… Motion sickness and diarrhea…
Glasses or contact lenses. If you use those.
Toilet paper. It's not always provided in public toilets. We recommend bringing half a roll if you're going to India or some other country without that many, ahem, western toilet facilities.
9 things you definitely shouldn't bring
Drugs. Don't do them – and definitely don't bring them with you to Asia if you want to avoid spending your life behind bars.
Mosquito net. It takes up an excessive amount of space. Bug spray and long-sleeved shirts will do the trick, and in places with malaria and dengue fever, the nets are usually provided. Discard this advice immediately if someone with local knowledge of the area you're travelling to recommends you bring one.
Too many books. They're heavy and it's easy to buy new books or exchange books along the way. E-readers or tablets are great and provide a useful and lightweight alternative to ink and paper.
Sleeping bag. Unless you have your own tent and plan to go camping, you can count on most hotels, hostels and homestays to provide bedding. A thin liner can be useful, though.
Bath or beach towels. Use a sarong, a quick-dry towel (adlinks) or hotel towels.
Heavy clothes. Jeans are not comfortable in the heat plus they're heavy and bulky to pack. The same goes for winter coats, woollen scarves etc.
Expensive jewellery or clothes. When travelling, stuff can get dirty, wet, lost or stolen. Don't bring valuable heirlooms or your favourite *insert fancy brand* dress.
Hairdryer. Such a waste of space! Your hair will easily dry in the hot climate. And the same goes for straightening and curling irons.
Umbrella. It might rain, but you either don't care because it's for such a short amount of time, or you stay inside if it's pouring.
Thanks for reading all the way to the end
Hopefully, our packing list can inspire you to pack lighter.
Travelling with hand luggage only is definitely possible.
Did we forget anything? Or are you ready to pack your own bag now?
Let us know in the comments and please do share your best packing tips!

Our favourite travel resources:
Our camera gear: