3 Big Pros (and 3 Big Cons) of Being a Vegan Digital Nomad
Travelling as a vegan is more difficult but so much more fulfilling
Vegan traveller or digital nomad?
Since 2017, we have more or less lived on the road as digital nomads while eating an exclusively vegan diet (from 2018).
We won't lie. It hasn't always been easy and at times we have faced difficulties.
All in all, though, this lifestyle has been so very good to us.
Here are our personal pros and cons of being a vegan digital nomad.


Pro 1: Find community
Finding ourselves in the "niche" of being not only vegan but also living as digital nomads, we have been pleasantly surprised how easy it has been to find community wherever we go.
Sure, some places are easier than others for vegans to thrive (Bali, Koh Phangan…), but even on remote islands (like Rarotonga in the Cook Islands), we have found amazing vegan places to eat and great community.
Vegans generally seem passionate and are very often open to new people and cultures. This has been amazing to experience in countries like Nepal, Malaysia and New Zealand.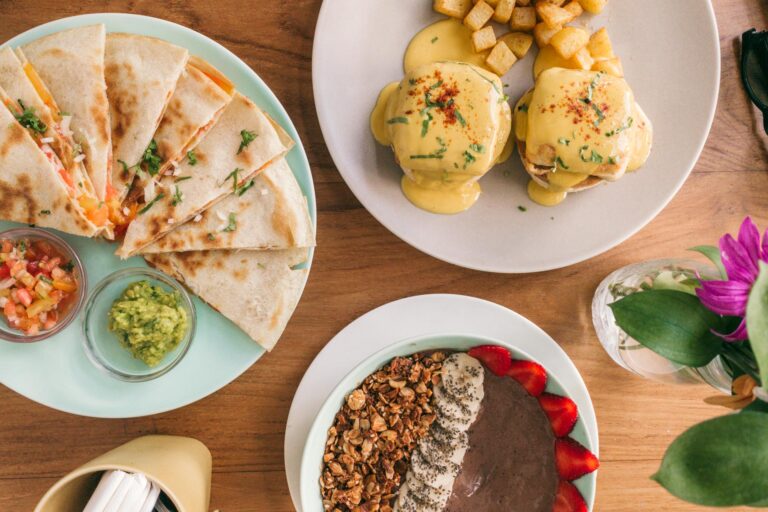 Pro 2: Eat more healthy
As vegans, we have learned to think about what and how we eat in entirely new ways.
Researching restaurants and cafés. We often use HappyCow to find the best vegan options in a new city. This means we'll often go "off the beaten path" and eat amazing home-cooked vegan meals.
Planning ahead means we make more of our food choices on full stomachs instead of in the heat of the moment where we're more susceptible to choosing less healthy options. We like bringing apples, nuts like peanuts and almonds as well as vegan snack bars on hikes and tours. Plus lots of water, of course.
Cooking for ourselves. As options for vegan food are often more limited, we have learned to rely less on eating out and more on cooking for ourselves. This cuts food costs so much when travelling and we eat way healthier (less oils and salt, for example).
Staying locally. Cooking more for ourselves while travelling has been a game-changer on so many levels. For example, to find budget places with a kitchen we often stay in local communities and get to shop for groceries at exciting markets.


Pro 3: Support sustainable alternatives
Helping to make vegan food options more normal and easy by asking for them and supporting them will make more people interested in trying out animal-friendly foods as they become readily available.
We all need to help places in making that transition and learning to cook plants in an exciting way.
And it's not just food.
When we now go on a tour (that we know is ethical to go on), we feel so good about supporting something that helps move the world in the right direction.
By asking the right questions and demanding sustainable alternatives, you can help push the travel industry to create those options.

Con 1: Limited food options
In general, vegans have fewer food options. This won't be a surprise to anyone.
Although many cafés and restaurants around the world are adding vegan options to their menus (and lots of dishes already are naturally vegan), there are still many places where all dishes include some type of animal product.
Being limited has an upside, though.
By actively seeking out vegan-friendly restaurants, you'll not only support great businesses but also get to try new foods and eat at places you probably wouldn't have found otherwise.
We travelled a lot as non-vegans. And we have travelled a lot as vegans.
By and large, we'd reckon we've eaten more varied, tasty, healthy foods as vegans simply due to the fact that we have eaten from more restaurants that put heart and soul into their food.

Con 2: Less snacking
Eating a vegan or plant-based diet generally makes it more difficult to snack on the road while travelling.
Most easily available snacks are simply off-limits due to very often including non-vegan ingredients like egg, dairy and honey.
Lots of snack-type foods also include palm oil which is often considered not really vegan. Although it doesn't directly contain any animal products, the devastating effects palm oil production has on rainforests is indirectly killing animals (like orangutans).
Having a harder time finding snacks may be both a pro and a con depending on who you ask as cutting down on snacking also means you'll probably drop some body fat!
Just remember to bring your own (healthy) snacks for those times where your blood sugar gets critically low.
An unexpected upside to this "problem" is the pure joy of finding an easily available local snack that's vegan. For example, we have some very fond memories of vegan coconut pancakes in Thailand. Yum.
Also: Although we have never faced such a situation (because of luck + preparation), we think that you shouldn't beat yourself up about ever eating something non-vegan in an emergency situation.

Con 3: Stricter requirements for tour operators
When taking into account not only your own enjoyment but also the potential suffering of animals, you will quickly realise that many tours simply aren't really "vegan".
The difference between a tour operator exploiting animals for their own financial gain or helping with eco-conservation is slim.
Ethical tours do exist, but you need to be very strict in your research before going.
Especially if animals are directly involved – like if you're going dolphin watching, or similar.
If animals aren't directly involved in a tour you still need to get answers to questions like if there is any chance animals will be used to transport people or goods and which kind of food will be served.
So yeah, this rules out quite a few tours!
But just like with the "snacking problem", this isn't truly a bad thing as we never wanted to exploit animals even as non-vegans. We just didn't really know as much about animal suffering back then (and how easy it is to avoid it).

What about you?
Are you already vegan? What's your biggest challenge and what do you love about it?
And if you're not yet vegan but considering it, what are you worrying about the most?
Let us know in the comments and feel free to ask us anything.
We would love to help!


Our favourite travel resources:
Our camera gear: