A Vegan Eating Guide to Pokhara, Nepal: The Best Restaurants & Cafés
Everything you need to know about finding the most delicious vegan and vegetarian places in Pokhara, Nepal
Are you a vegan or vegetarian visiting Pokhara?
Pokhara was our base for the treks we did in Nepal.
We fell in love with the charming city by the lake and had a good time eating at the many great cafés and restaurants.
The traditional dish dal bhat is (almost) always vegan and you can find it everywhere!
But if you want to get a break from dal bhat or simply try something different, check out the delicious places in this guide.
Find all of the mentioned restaurants and cafés on a map at the bottom of the article.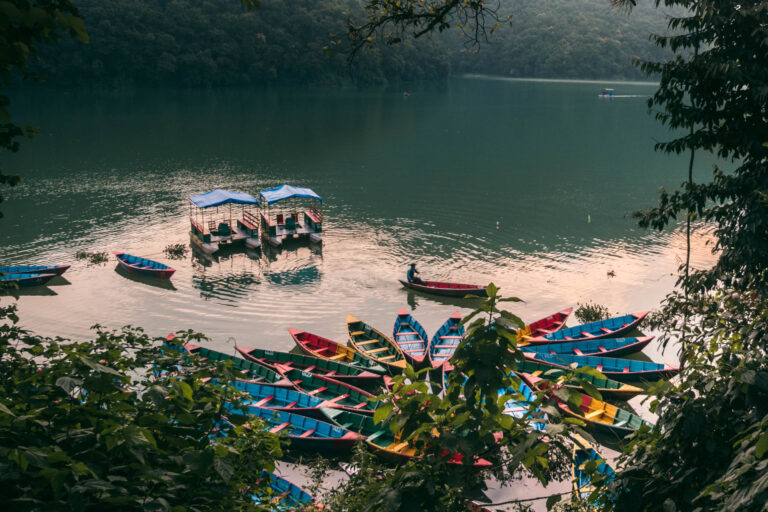 Where to stay in Pokhara
am/pm organic cafe
am/pm organic cafe quickly became our favourite place as they had the best smoothie bowls in Pokhara.
The chocolatey one was heavenly.
At one point we to am/pm for breakfast and then returned for lunch.
As their name suggests, am/pm organic cafe tries to source local and organic ingredients as much as possible. They don't use any chemicals or preservatives and treat water with reverse osmosis and UV.
Their coffee was also really good.
am/pm organic cafe serves meat but vegan options are available.
Open every day from 06.00 am to 10.00 pm.
Located centrally lakeside at Shiva Mandir Marg, Lakeside Rd, Pokhara.



Umbrella Cafe
The hippy-friendly Umbrella Cafe has a huge vegetarian menu with plenty of marked vegan options.
The diversity of their offerings is close to paralyzing (in a positive way, you'll just spend some time browsing through the menu!)
Himalayan pink salt is used to cook with and they never add sugar to fresh juices.
2% of the profits from the café is donated to "Kopila Nepal" – a girls health and education NGO.
Umbrella Cafe is vegetarian and offers vegan dishes.
Open every day from 07.00 to 23.00.
6 Lakeside, Pokhara.



Little Windows
We visited Little Windows after having returned from our Panchase trek and over-indulged ourselves in their vegan delicacies.
It's a tad more expensive (or less cheap, depending on how you look at it!) than some of the other vegan-friendly eateries in the area, but the quality of the cooking is good and the space is cosy.
Little Windows is vegetarian and offers vegan dishes.
Open every day from 07.00 to 22.30.
St 17, Lakeside, Pokhara.





The Juicery Cafe
The Juicery Cafe has a large backyard with a lovely view of the lake.
Cold-pressed juices are (of course) offered as well as a whole range of vegan dishes.
Many of the dishes are made from ingredients sourced locally and organically and some are even grown in the café's own garden.
The Juicery Cafe is vegetarian and offers vegan dishes.
Open every day from 07.30 to 19.00.
6 Lakeside, Pokhara.




Ayurvedico Cafe
Healthy cooking is the name of the game here with a lot of ayurvedic dishes.
Ayurvedico also serves lots of delicious cakes and make drinks with nut milks.
The space is simple but we felt very comfortable and at ease. We only had time to visit once but would definitely return!
Ayurvedico Cafe is vegetarian and offers vegan dishes.
Open every day from 08.00 to 18.00.
Lakeside Khahare (at Phewa Marga), Pokhara.



OR2K
OR2K is a big restaurant with lake views and a Middle Eastern inspired menu.
This is where to go in Pokhara for falafels, hummus and the like but they also serve great smoothie bowls and huge portions of Nepalese and other Asian dishes.
OR2K also has a restaurant in Kathmandu.
OR2K is vegetarian and offers vegan dishes.
Open every day from 08.00 to 23.00.
Center Point complex, Baidam 6, Lakeside, Pokhara.





Marwadi Restaurant & New Marwadi Restaurant
We love masala dosa.
If you do too, do yourself a favour and visit the all-veg Marwadi Restaurant(s).
The two restaurants both serve primarily Indian and Nepali foods. It's all cheap, very tasty and filling.
Having eaten at quite a few "tourist-oriented" restaurants in Pokhara, the more local vibe at these two places felt authentic and we liked the service at both places.
As always with Indian-type places, make sure to specify to avoid milk and ghee (clarified butter) if you're fully vegan.
Marwadi Restaurant and New Marwadi Restaurant is vegetarian and offers vegan dishes.
Both open every day from 07.00 to 22.00.
They're both located on Baidam Rd, Lakeside Marga, Pokhara.

Punjabi Restaurant
Punjabi Restaurant is another Indian/Nepali restaurant in Pokhara with plenty of vegan options.
Punjabi Restaurant is vegetarian and offers vegan dishes.
Open every day from 08.00 to 22.00.
Middle Path St, Lakeside, Baidam Road 6 (at opposite Hotel Mountain Top), Pokhara.

Map
Here's our Pokhara, Nepal map with all of the restaurants and cafés mentioned in the vegan eating guide. They're all marked with a light green icon.
Click the icon in the top left corner of the map to navigate using a list.
Hungry for some vegan food?
We hope this guide has made you hungry for the vegan and vegetarian food in Pokhara, Nepal.
Make sure to read our vegan eating guide to Kathmandu as well.
Check out the Pokhara, Nepal map on Happycow for an updated overview of all the animal-friendly places to eat.
Have you tried any of the above-mentioned places? Or do you know of any restaurants or cafés in Pokhara that we should visit next time?
See you in the comment section below!



Our favourite travel resources:
Our camera gear: