A Vegan Eating Guide to Kathmandu, Nepal: The Best Restaurants & Cafés
Everything you need to know about finding the most delicious vegan and vegetarian places in Kathmandu, Nepal
Are you a vegan or vegetarian visiting Kathmandu?
No doubt, Kathmandu is crazy.
From the moment you set foot in Nepal, all of your senses come alive.
Thankfully, the food is equally flavoured.
And if you wish, you can retreat from the buzzing streets into one of the following restaurants for some much-needed relaxation and recovery.
There are lots of Nepali restaurants options if you want dal bhat – a traditional dish with steamed rice, cooked lentil soup and vegetables.
Dal bhat is everywhere, it's usually vegan and often quite good.
But if you ever get tired of dal bhat or just want to try something different, we have a few recommendations for you in this guide to delicious vegan places in Kathmandu.
Find all of the mentioned restaurants and cafés on a map at the bottom of the article.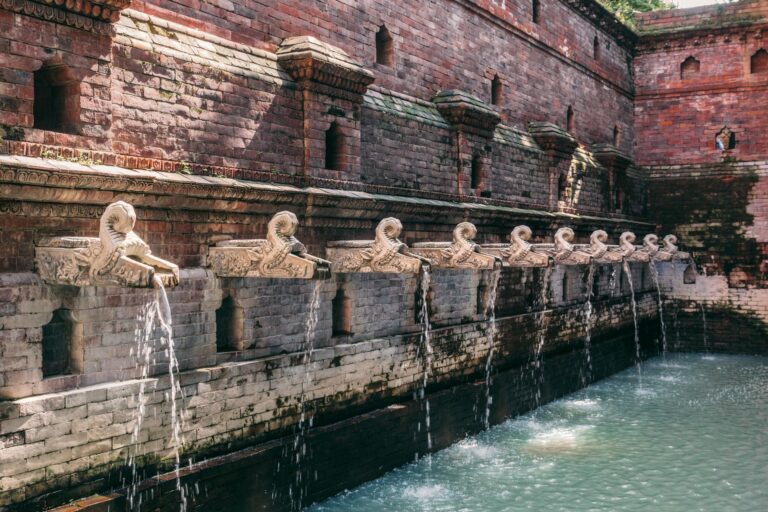 Loving Heart
Loving Heart is located in Hotel Avataar in Thamel in the quiet end of Z-Street.
The restaurant offers both Nepalese and international cuisines and is the "home base" for some of Nepal's most passionate vegans.
Try their meat-substitutes and contact them if you're interested in Vegan Trail – the first vegan trail in the Himalayas.
Loving Heart is 100% vegan.
Open every day from 09.00 to 21.00.
Z-Street, Thamel, Kathmandu.

Sprout
Sprout is one of the small food stalls inside the Astrek Climbing Area in central Thamel.
It's all vegan and we enjoyed a smoothie bowl, a healthy buddha bowl and a brownie.
Sprout is 100% vegan.
Open every day from 10.00 to 21.00.
Astrek Complex Amrit Marg, Bhagawan Bahal Marg, Kathmandu.


La Pizza Point
Just next to Sprout there's a small pizza place serving vegan pizza.
They use vegan cashew cream cheese and the pizza was actually really good.
La Pizza Point serves meat on most pizzas but they offer vegan versions, too.
Open every day from 11.00 to 21.00. Open until 23.00 on Fridays and Saturdays.
Astrek Complex Amrit Marg, Bhagawan Bahal Marg, Kathmandu.

Vegetarian Happiness
We visited Vegetarian Happiness as it's very conveniently located to the amazing Boudhanath Stupa – you see it through the windows!
The food was great, too.
The owner is Chinese and there's a nice variety of vegan dishes on offer. We can easily recommend the cast iron dish with potatoes and eggplant.
Vegetarian Happiness is vegetarian and offers vegan dishes.
Open every day from 08.00 to 21.00.
Boudha Road, Boudhha, Kathmandu.



Places Restaurant & Bar
Places is located in Thamel and offers a nice refuge from the busy streets.
We sat directly on the floor (on cushions and pillows) and enjoyed the cosy atmosphere. Chairs and tables are also available.
Places offers a mix of Nepalese, Italian, Mexican, Middle Eastern and Asian fusion food.
Open every day from 09.00 to 23.00.
Places Restaurant & Bar is vegetarian and offers vegan dishes.
Saath Ghumti Marga, Thamel, Kathmandu.




OR2K
OR2K is a three-floor vegetarian restaurant located in Thamel.
We actually didn't visit OR2K in Kathmandu but we tried OR2K in Pokhara and it was great!
The menus are similar and there are lots of vegan options (with clear vegan labels).
It's Middle Eastern-inspired with dishes like falafels with hummus, tahini and naan bread but there are also plenty of international, Nepalese and other Asian meals.
Just don't expect it to be as cheap as getting dal bhat.
OR2K is vegetarian and offers vegan dishes.
Open every day from 09.00 to 23.00.
Mandala Street, Kathmandu.

Map
Here's our Kathmandu, Nepal map with all of the restaurants and cafés mentioned in the vegan eating guide. They're all marked with a light green icon.
Click the icon in the top left corner of the map to navigate using a list.
Hungry for some vegan food?
We hope this restaurant & café guide has made you hungry for the vegan and vegetarian food in Kathmandu, Nepal.
Make sure to read our vegan eating guide to Pokhara as well.
Check out the Kathmandu, Nepal map on Happycow for an updated overview of all the animal-friendly places to eat.
Have you tried any of the above-mentioned places? Or do you know of any restaurants or cafés in Kathmandu that we should visit next time? We're sure we must have missed some goodies!



Our favourite travel resources:
Our camera gear: