Sarangkot Sunrise Viewpoint Travel Guide: How to Visit
All you need to know about the sunrise view of the Himalayan peaks from Sarangkot, including how to get there from Pokhara
A sunrise you won't forget
Even if you aren't a morning person, watching the sun rise behind some of the world's tallest mountains is an experience worth getting up early for.
Sarangkot Hill is famous for its breathtaking sunrise views of the Annapurna Range and Fishtail Mountain (Machhapuchhare).
And for a good reason.
It's glorious!
Climb the stairs to get a panoramic look of the Himalayan peaks all the way from Dhaulagiri (world's 7th highest mountain) in the west to the peak of Annapurna II in the east.
This is an epic way to start the day.
We stayed in Pokhara and drove to the Sarangkot viewpoint early in the morning but you can also book accommodation much closer to Sarangkot.
Where to stay near Sarangkot:
Or search for the best value accommodation in Pokhara here.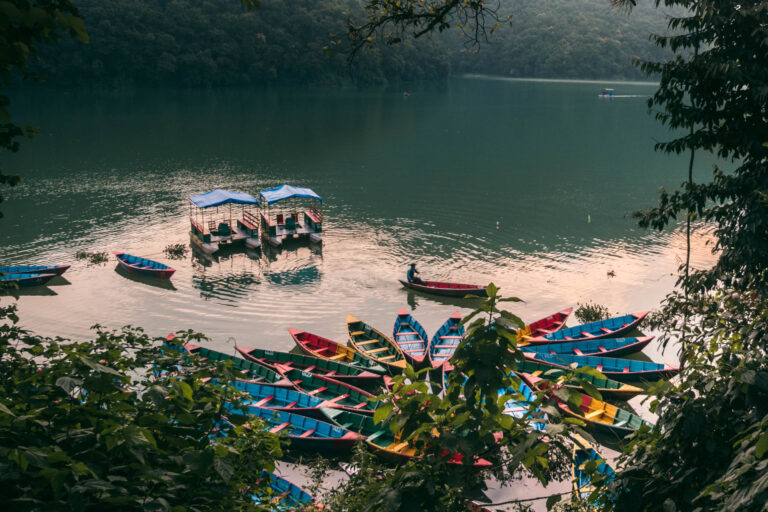 What to expect of the Sarangkot Hilltop
You can visit Sarangkot at all times of day but it's most remarkable at dawn or dusk when the beautiful pastel colours light up the mountains.
There are two places you can visit: the viewpoint and the summit.
From the viewpoint, you can see some mountains in the Annapurna range and Dhaulagiri range.
From the summit, there's a 360-degree view. This is what we did
Price and entrance
On the way to both the viewpoint and the summit, the car stops so you can buy a ticket from a guy on the road.
We paid 60 Nepalese rupees per person (~ 0.5 USD / 0.5 EUR). Keep the ticket as it might get checked later.
Getting to the Sarangkot summit
There's around 50 metres up to the observation deck from the summit parking lot and it will take around 5-10 minutes to walk. The stairs are in quite good condition.
The summit observation deck is situated at 1,592 metres above sea level.
If you stop at the first viewpoint and walk from there to the observation deck (instead of driving to the summit parking lot, it takes about 40 minutes to an hour.
Arriving at the Sarangkot summit
On the way up to and around the summit, it's possible to buy tea and breakfast. Small shops and restaurants are open in Sarangkot when you go down again.
We arrived at the summit quite early and had enough time to walk around and find a good photo spot.
The closer we got to sunrise, the more people showed up – both tourists and locals.
When the sun rose we were perhaps 200 people around the observation deck at the summit.
It is quite a lot of people but it didn't feel that crowded as everyone is looking at and photographing the mountains.
Get ready for some magic when the first rays of the sun hit the mountains.







Sarangkot map
The summit observation deck is called "Sarangkot View Tower" on Google Maps.


How to get to Sarangkot from Pokhara
By private car or taxi
From Pokhara, you have to drive for about 30 minutes to get to Sarangkot if you're going with an SUV-type of car.
The more "local" cars or taxis are not that fast so they will take a bit longer.
The roads are actually pretty good most of the way and when you are driving early in the morning there is not much traffic.
Towards the end, they are bendier and a little bumpy.
You can either book a private car or find a taxi driver yourself.


Price for a private car or taxi from Pokhara
We asked around and got different prices depending on who we talked to. It seemed like most of them told us a price they thought we were willing to pay – and then we could negotiate a little bit.
The taxi drivers we asked were actually the most expensive, telling us anything from 2,000 to 3,500 Nepalese rupees (~ 17-30 USD / 16-28 EUR).
The taxis don't do those kinds of trips normally so we guess they just saw a golden opportunity. However, some taxi drivers might be willing to drive you for less – you can try and ask at least.
We heard about somebody paying 1,800 Nepalese rupees for a taxi from Pokhara that waited for them for two hours before heading back to the city again.
What we did
We ended up choosing a local travel agent as he was a very nice and honest guy.
He immediately told us a price of 1,500 Nepalese rupees (~ 13 USD / 12 EUR) to the viewpoint or 2,000 Nepalese rupees (~ 17 USD / 16 EUR) to the summit as it's a longer drive.
And that was even with a good car!
We drove from Pokhara around 4:45 in the morning and arrived at the bottom of the summit at 5:10.
By tour
Most tour companies or hotels can arrange a trip to Sarangkot for you but it might be a bit more expensive than if you get in contact with a driver yourself.
You will be picked up and dropped off at your hotel in Pokhara and some tours include tea and/or breakfast. Make sure to check what's included and what's not included in the tour.
On a tour, you will usually be accompanied by a guide. In our opinion, it's not really needed, though. The mountains speak volumes by themselves.


By walking
If you can't get enough of hiking, you can walk all the way to Sarangkot from Pokhara.
It's free!
But you also need to get up veeeery early if you want to make it for sunrise.
The hike takes between 3 and 5 hours. If you start by the lake in Pokhara, you're looking at about 11 kilometres and 800 metres of gained altitude to the top.

When to visit Sarangkot Hilltop
Opening times and price
The viewing platform in Sarangkot is technically open from 5:00 in the morning to 8:00 in the evening – although it didn't seem like there was a gate or anything that could be locked at night.
The entrance fee to the observation deck is 60 Nepalese rupees per person (~ 0.5 USD / 0.5 EUR).
If you go with a tour, the entrance fee might be included in the price. If you hire your own transportation, it's normally not included.

Seasons and time of day
Clear skies are most ideal for a beautiful sunrise in Sarangkot (or at least good visibility) and the chances for that are best in autumn (September, October, November) and spring (March, April, May).
The risk of cloudy or hazy weather is bigger in the monsoon season (June, July, August) which can make it difficult to see the mountains.
But the weather is unpredictable and the sky can clear up quite fast.
Around sunrise or sunset is the best for photos and visibility.
Depending on the season, the sun rises between 5:10 and 7:00.
When we visited in October 2019, the sun hit the mountains around 6:20.

Where to stay near Sarangkot
To wake up and go to bed with these spectacular mountain views, you can choose to stay in Sarangkot for a night or two.
The food options and shops are limited compared to what Pokhara offers.
On the other hand, it's definitely more peaceful to stay up in Sarangkot.
(Read our vegan eating guide to Pokhara right here).
Hotel Annapurna View Sarangkot
Hotel Annapurna View Sarangkot looks like a great place to stay in Sarangkot with a nice restaurant and a garden with a mesmerizing view.
Just imagine having your breakfast here!
Check prices and availability at Hotel Annapurna View Sarangkot (adlink).

Sarangkot Mountain Lodge
Sarangkot Mountain Lodge offers charming, spacious rooms, free breakfast buffet as well as spa services in Sarangkot.
And the coolest thing about the lodge? The mountain view from the outdoor pool!
Check prices and availability at Sarangkot Mountain Lodge (adlink).

Staying in Pokhara
Of course, you can also stay in Pokhara which was what we did.
We had to wake up a little earlier in the morning to get to Sarangkot for sunrise.
Pokhara is a really nice city and many people stay for a few nights or even weeks.
Where to stay in Pokhara:
Search for the best value accommodation in Pokhara here.
What to bring for a trip to Sarangkot
A good camera – here's a guide to the gear we use. You will want to take a lot of photos! A lens with zooming capabilities is great to have.
Warm clothes to wear before sunrise or after sunset.
Rain gear if you go in the summer.
A torch, headlamp or phone with light for when it's dark..
Water and snacks.
Travel insurance. Never travel without it!

Minimise your impact
To minimise your impact, follow these guidelines:
Bring your own drinking water in a refillable bottle (adlink).
Avoid single-use plastics, including straws.
Dispose of waste properly. While putting your trash in a nearby trashcan is convenient, wrappers and other small items are prone to get taken by the wind and end up in the ocean.
Take only photos, leave only footprints. Let shells and corals stay in their natural home.
Be considerate of other visitors.
Respect wildlife.

Thanks for reading
Thanks for reading our travel guide to Sarangkot View Point. We hope it has been useful!
What do you think about it?
If you've been to Sarangkot it would be awesome to hear your best tips in the comments.
If you haven't yet been, please don't hesitate to ask us anything! We're glad to help.



Our favourite travel resources:
Our camera gear: