A Complete Travel Guide to Nusa Penida: 11 Best Beaches & Things To Do
Everything you need to know, including what to do, where to eat and where to sleep
An island full of adventures
Nusa Penida is just a short 30-minute speedboat ride from Bali, yet its palm tree-lined roads are a world away from the hustle and bustle of Bali's south coast.
It's only recently that tourism has really picked up in Nusa Penida (at least compared to busy Bali), and it's obvious that the industry hasn't fully developed yet. Thankfully!
Lots of day-trippers make the trek across the strait, but if you choose to stay overnight on the island, you'll find the tourist hotspots like Broken Beach, Angel's Billabong, Kelingking Beach, Atuh Beach and Diamond Beach much calmer at sunrise or sunset.
We stayed 4 nights in Nusa Penida and loved the fact that we could take it slow and experience the sights at a leisurely pace.
In this travel guide, we'll show you the highlights of Nusa Penida, how best to visit them, when to go, what to avoid, where to eat, where to sleep and share all of our best tips on visiting the island.
Where to stay in Nusa Penida:
Search for the best value accommodation in Nusa Penida here.


Why you should visit Nusa Penida
Nusa Penida is spectacularly beautiful.
The southern and eastern coastlines are rugged with steep cliff sides offering drop-offs of hundreds of metres; full of viewpoints to white sandy coves with azure waters.
Kelingking Beach (or T-Rex as its popularly called) is the absolute highlight of Nusa Penida, and even if you don't wish to climb down to the beach via the steep "stairs", the views from the top are itself worth the trek to the island.
Broken Beach is a marvel of nature, as is the dangerous but fascinating natural pool Angel's Billabong.
Atuh Beach and Diamond Beach on the east-coast stun you with their sunrises behind rock formations placed in the perfect water.
Best views ever
These must be some of the most magnificent views on offer in Southeast Asia – which is also evident from the amount of tourists during the day.
To get to these epic sights, you sometimes need to navigate through hilly, pot-holed roads not suitable for novice drivers.
You need patience and a strong stomach – all adding to the allure and adventure of visiting Nusa Penida now before the island gets fully developed.
Experience Mother Nature at her finest
The waters aren't just pretty from above. Some of the region's best snorkelling is done from Nusa Penida and its two smaller neighbours Nusa Lembongan and Nusa Ceningan.
Stepping away from the coast, you'll find small villages where local residents are happy to smile and wave, and journeys inland can reward you with jungle viewpoints and strange hilly formations like the funnily named Teletubbies Hills.
All in all, Nusa Penida is an adventure-lovers paradise with endless opportunities to venture off the path, hike staircases cut into rocks and experience the grandeur of Mother Nature at her finest.




Map of Nusa Penida
Nusa Penida dwarfs its neighbours Nusa Lembongan and Nusa Ceningan with its 202.8 km2 compared to just 8 km2 for Nusa Lembongan and even less for Nusa Ceningan.
Nusa Penida is much smaller than Bali's 5,780 km2, though.
You'll first arrive on the northwestern part of Nusa Penida at the harbour of Toyapakeh.
The biggest (not big…) cities are found on the northern part of the island.
A ring road stretches around Nusa Penida.
Going east, the road hugs the shore until it reaches its most southeastern part, and then it goes inland back to Toyapakeh.
Driving off this road is where Nusa Penida's adventures begin.
What to do in Nusa Penida
Kelingking Beach
We were stunned by Kelingking Beach and its natural beauty on Nusa Penida's west coast.
The T-Rex viewpoint is the most iconic spot in Nusa Penida for good reason.
Visiting Kelingking Beach is definitely a must-do on the island.
Read our Kelingking Beach Guide and learn all about what to expect including how to get there, going down to the beach itself and how to beat the crowds.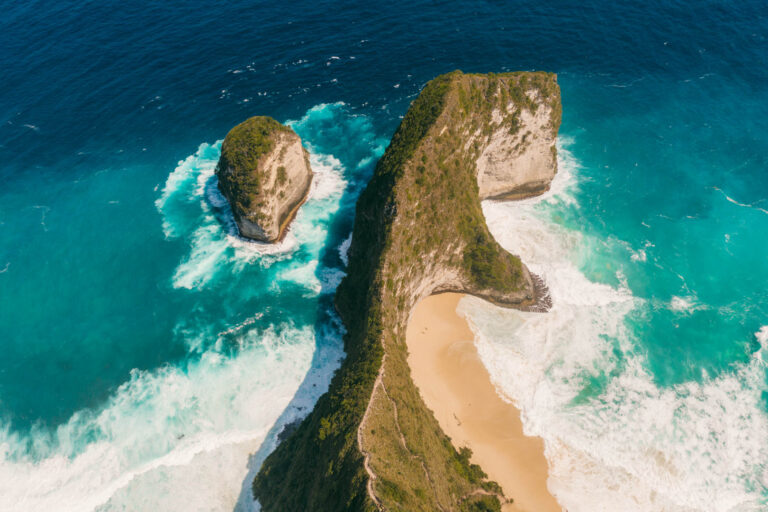 Broken Beach & Angel's Billabong
Broken Beach and Angel's Billabong are two marvels of nature on Nusa Penida's west coast.
Angel's Billabong is a small but supremely beautiful natural pool, while Broken Beach is a much larger (albeit unreachable) pool with a beach and a hole in the rocks where the waves sweep in.
The two attractions are just minutes of walking from each other.
Read our Broken Beach & Angel's Billabong Guide and learn all about what to expect including how to get there (and how to avoid getting swept out at sea!)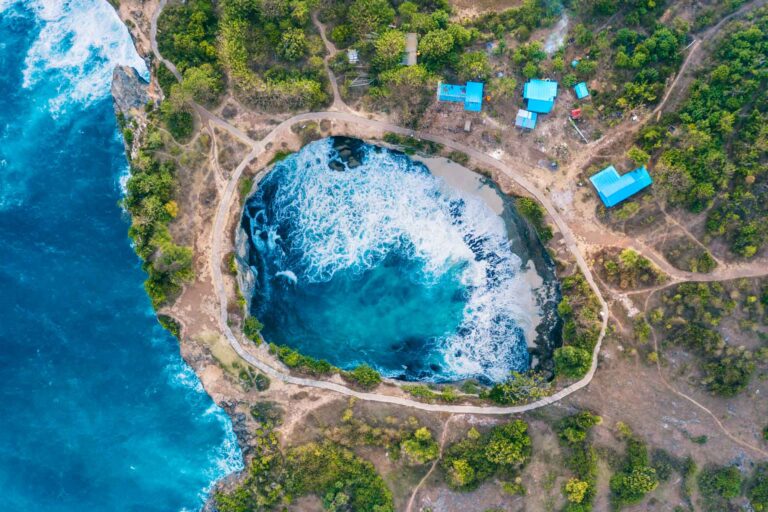 Atuh Beach
Atuh Beach is located on Nusa Penida's east coast, known for the peculiar rock formations in the water – including a cool arch.
The beach is tidal, so timing your visit with high tide is crucial unless you like stones more than azure blue water. At high tide it's swimmable.
A few metres from the shore, you can chill out in sun loungers and bean bags.
They're in front of a whole range of warungs offering coconuts, cold drinks and Indonesian food.
When we visited Atuh Beach, we had two coconuts, nasi goreng and mie goreng (fried rice and noodles) all for IDR 100k (~ 7 USD / 6.2 EUR).
As there is steep cliff at both sides of the beach, you can reach Atuh Beach from two different parking lots.
The walk down isn't strenuous.
We parked at the southern parking lot, which also provides access to Diamond Beach.




Diamond Beach
Diamond Beach is one of the most impressive beaches we've ever laid our eyes upon.
It's just so perfectly pretty.
If you have the time to visit the east coast of Nusa Penida (and you should!), Diamond Beach is the absolute highlight.
It's not great for swimming – in fact, we strongly advise against it.
Atuh Beach, which is just a few minutes of walking away, is better for cooling down.
Read our Diamond Beach Guide and learn all about what to expect from your visit and how to make the most of it.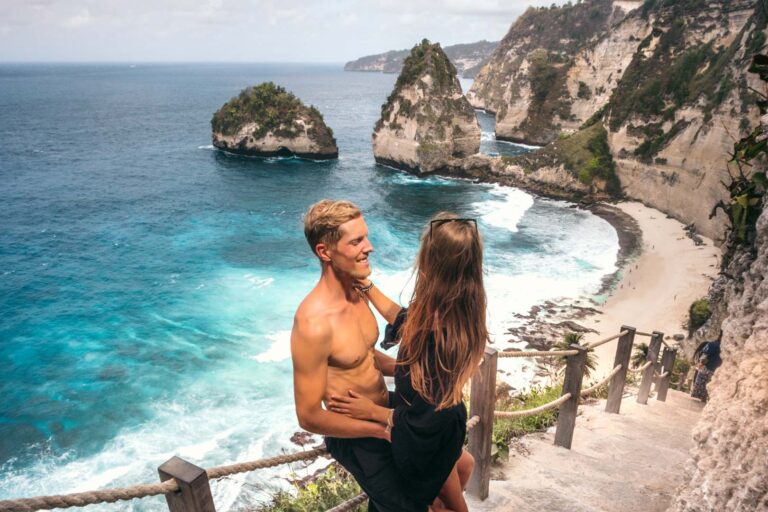 Crystal Bay
The road to Crystal Bay is paved all the way, making it quite a bit easier to reach than some of the other beaches on the island.
It's also from here than many snorkelling and diving trips start, making it a pretty busy spot.
Lying on the island's west coast, it's a perfect place to witness the daily show of the sunset, and the small island in the bay just adds to the already stunning views.
We visited in the afternoon and hung around for a few hours on a sunlounger. Lots of locals played in the water and the vibe was very lively.
The waves were pretty big, but Crystal Bay is a lot more swimmable than some of Nusa Penida's other beaches.
Of course, you'll find warungs offering coconuts, Bintangs and nasi goreng beachside.
Parking at Crystal Bay is just IDR 1k (~ 0.7 USD / 0.6 EUR).





Teletubbies Hills
Teletubbies Hills (Bukit Teletubbies in Indonesian) is more of a landscape than a single highlight, but don't let the silly name scare you away.
If you want to see a different side of Nusa Penida, the Teletubbies hills are quite a captivating sight with their round shapes.
We visited the hills at sunset and enjoyed exploring the area on foot for a bit.
There's absolutely nothing in terms of tourist facilities here and most of the land is actually agriculture, so remember to tread carefully and respect the locals.


Volunteer
Friends of the National Parks Foundation manages community development programs and holistic conservation in Nusa Penida.
If you want to lend a hand, this is a really cool way in which to get locally involved and help the island.
One of their key projects is protecting the world's second most endangered bird – the endemic Bali starling, among other birds.
FNPF also manages a Sea Turtle Saver program for the endangered marine turtles.
Read more about volunteering with Friends of the National Parks Foundation in Nusa Penida on their website here.
Snorkelling and diving
As we prioritized experiences on land, we never ventured out into the sea to get a closer look at its marine life.
It's supposedly nice – and tour operators, guesthouses and dive shops all over the island can help you arrange a trip.
Manta rays are the big drawing card, but please inquire carefully about the company's policies.
Just like with the Lovina dolphins in Bali, we got the impression that tourist selfies might get put quite far ahead of concerns about animal welfare and sea pollution.
If you choose to go, never chase the animals and instead let them come to you.

Temples
Just like in Bali, the people in Nusa Penida predominantly practice a form of Buddhist Hinduism.
Nusa Penida is known as the place where you send away your bad spirits, but we felt no presence of dark magic.
This lore is one of the reasons that tourism has only picked up in recent years on the island, though.
There are several temples scattered around Nusa Penida offering a glimpse into the daily life of ceremonies and prayer.
If you visit Bali on the same trip as you visit Nusa Penida, we won't highlight visiting the temples here as a must-do, but stopping in for a quick look when passing them roadside is an easy recommendation as they're so intrinsically carved and decorated.
There are two temples on the island which could be of special interest:
Goa Giri Putri Temple is a unique temple in that it's cut into a cave. It looks pretty awesome.
The sacred water temple at Peguyangan Waterfall isn't so impressive by itself, but its location by the ocean certainly is. And the blue stairs you have to climb to get down there are super cool.


Other sights
Nusa Penida is a big island and there's plenty more to explore than what we have mentioned here – including lots of both named and unnamed viewpoints scattered around the rough coasts.
Thousand Island Viewpoint (Pulau Seribu in Indonesian) is famous, but we cheated a bit and got the view as seen from our drone at Diamond Beach. This is where the Airbnb tree house is located.
Saren Cliff Viewpoint and Banah Cliffs are two other spectacular viewpoints.
On the top of the list for adventurers is Seganing Falls (not for the faint of heart) along with Tembeling Beach.

Where to stay in Nusa Penida
In which area should you stay in Nusa Penida?
On which part of Nusa Penida you want to stay depends entirely on your itinerary.
We recommend choosing accommodation as close as possible to whatever you want to experience.
It should be noted, though, that food options are generally best near the speed boat harbour in Toya Pakeh in the northwest and in the main town of Sampalan a little further to the east.
If being the first one for sunrise at a spot isn't a priority for you (or you don't mind waking up even earlier), you can easily spend all of your nights in just one place in Nusa Penida as the island isn't too big to drive around.
Where we stayed in Nusa Penida
We stayed for two nights at WK Gamat (adlink) on Nusa Penida's western side, situating us closer to Broken Beach and Kelingking Beach.
We then stayed two nights on the eastern side at You & We House (adlink) so the drive to experience sunrise at Diamond Beach wasn't as long.
Search for the best value accommodation in Nusa Penida here (adlink).
Luxury
As far as we can tell, there aren't really any luxury hotels in Nusa Penida.
If you're looking for top-of-the-line accommodation, you'll be better off basing yourself on nearby Nusa Lembongan and taking day trips from there to Nusa Penida's attractions.
Aqua Nusa – Boutique Lembongan Villas
Aqua Nusa is located on Nusa Lembongan.
Two of the four villas at Aqua Nusa have private pools, and they all feature grand ocean views (including Mount Agung in the distance).
Wifi is offered, as is air conditioning and daily housekeeping.
Check prices and availability at Aqua Nusa (adlink).
Semabu Hills Hotel Nusa Penida – Nusa Penida's best hotel
Semabu Hills Hotel Nusa Penida is probably your best bet for a luxurious hotel in Nusa Penida.
The view is amazing, there's an infinity pool and the rooms look really nice.
Check prices and availability at Semabu Hills Hotel Nusa Penida (adlink).
Value for money
As new hotels, homestays and guesthouses pop up regularly in Nusa Penida these days, there are lots of places to stay in the value for money category (which could also easily be called the budget category as it's so cheap).
You can generally get a nice double room in the two to three-star category with A/C, wifi and private bathroom – plus perhaps a pool, all at a very fair price.
Road Beach Premier
This 3-starred hotel is one of Penida's only beachfront places to stay.
It's located on the island's north coast, close to lots of dining options.
The double room comes with free wifi, air conditioning and a private bathroom – plus direct access to the sea.
Check prices and availability at Road Beach Premier (adlink).

Budget
WK Gamat
It's a few minutes of driving on a gravel road, but once you reach WK Gamat, the outside world can just melt away.
The hotel is located in a very rural area with charming views and the sounds that follow.
Chilling out in the pool after a day of exploring is just perfect, and the rooms offered a comfortable double bed, desk, wifi, air conditioning and a roofless private bathroom.
The staff was so service-minded and we felt very welcome at WK Gamat.
WK Gamat is located in Nusa Penida's western part, about 45 minutes of driving from Kelingking Beach and just 15 minutes from the harbour.
Check prices and availability at WK Gamat (adlink).

You & We House
You & We House is located in a small village in Suana (just 30 minutes from Diamond Beach), where the locals still look at foreigners like rarities and smile and wave eagerly.
There's just one other hotel and no shops here – not even a warung.
The hotel is newly built and offers a pool, breakfast, double rooms with A/C, wifi and private bathrooms for a very fair price.
We loved the ocean views.
The guy managing the place was just lovely and spoke English while his wife was just learning.
We were able to fill our water bottles from their water dispenser for free, which is always a plus.
Driving here ourselves, Google Maps gave us some strange directions and we wound up driving through really narrow passageways between the local houses. Don't do that – insist on driving on the wider road and just ask a local for directions if you need it. Simply turn right at the volleyball court and follow the road for two minutes.
Check prices and availability at You & We House (adlink).


Atuh Forest Cottage
For staying on Nusa Penida's east coast, just 10 minutes from Atuh Beach, Atuh Forest Cottage looks like a very promising bet.
The four guest rooms designed with wood and bamboo all include wifi, air conditioning, a private bathroom as well as mountain views.
There's no pool, but you can enjoy the scenery from the porch or soak some sun in the sun beds.
Check prices and availability at Atuh Forest Cottage (adlink).

Friends of the National Parks Foundation
If you're volunteering with the Friends of the National Parks Foundation in Nusa Penida, you'll get to stay in their traditional cottages while proceeds go directly to their important conservation projects.
Prices are pretty low, starting at IDR 182k (~ 12.8 USD / 11.3 EUR) for 1 person staying in a dormitory. Prices get lower the longer you stay. There are also twin rooms.
Read more about volunteering in Nusa Penida here.
Jevon Cottage
Jevon Cottage is a great budget find close to the harbour in Nusa Penida.
The rooms look very clean, come with air conditioning, private bathroom and the location is very convenient, especially for shorter stays in Nusa Penida.
Check prices and availability at Jevon Cottage.

Where to eat in Nusa Penida
The amount of restaurants in Nusa Penida isn't overwhelming, and the options for food except for the ubiquitous standard Indonesian fare are quite limited.
There are some international dishes on offer, though. Including lots of smoothie bowls.
And if you like nasi goreng, you won't have any problems at all as there are local warungs all over the island.
Most eateries are concentrated around the towns on the west and north parts of Nusa Penida.
Food prices are generally low compared to Bali. Taxes and service charge are usually not included in the bill.
For more photos and food tips, check out our Vegan Eating Guide to Nusa Penida.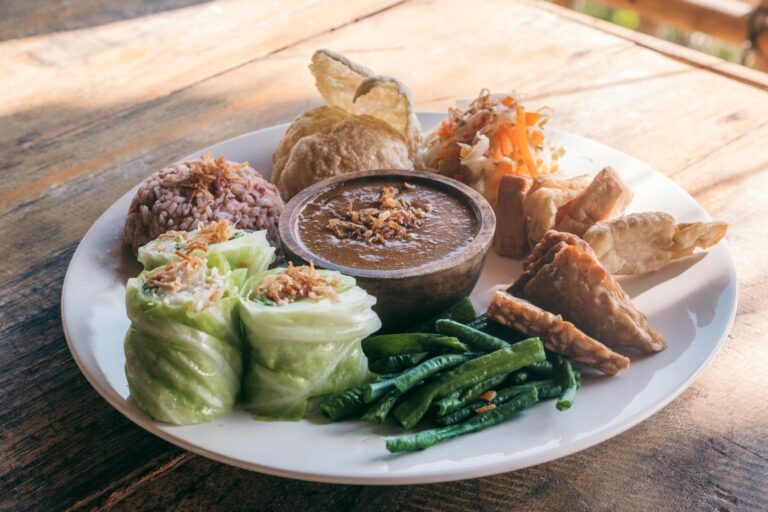 Vegan Soul Kitchen
To get to Vegan Soul Kitchen, you'll have to endure a few more minutes of steep-ish gravel roads away from the main road – but the reward is so worth the journey.
Vegan Soul Kitchen is – as the name suggests – 100% vegan, and the views from the restaurant's patio over the surrounding jungle are spectacular.
We visited twice and had great food at really low prices both times.
If you've grown accustomed to Bali's vegan kitchen standards, you won't be blown away by the quality, but everything was tasty and arrived quickly.
Even if you're not vegan or vegetarian we can wholeheartedly recommend Vegan Soul Kitchen for a nice meal.
It's possible to stay here at the super budget-friendly Echo Alam Nusa Lodge (adlink). Vegan Soul Kitchen is the accommodation's on-site restaurant.



Warung Tu Pandeh
Warung Tu Pandeh is a local restaurant catering mainly to tourists.
We had the Eggplant Curry with rice and thought it to be tasty. Service was quick, prices low and all of the portions looked quite big.
The following morning we had a smoothie bowl (not really good) and a serving of Nasi Goreng with extra vegetables (always good).
There's wifi and you can refill water bottles at Warung Tu Pandeh.

Penida Espresso
Just a few minutes of scooter riding away from the harbour, you'll find Penida Espresso on the side of the road.
Here you can get a shot of caffeine (including options for soy or coconut milk), juices, smoothie bowls and a few simple dishes including avocado toast.
The Mixed Fresh Fruit Juices priced at just 30k are easy to recommend for that daily shot of vitamins.


The Gallery
The Gallery is just next door from Penida Espresso, and as the sign outside says "vegan options", of course, we had to give it a try.
On a separate occasion – don't worry!
Victoria thought the soy milk in the caffe latte to be overly sweet, but the Vegan Banana Pancake was quite nice.
We also had the Vegan Burger in a ciabatta bun. It was more like a sandwich; with eggplant, bell pepper and tempeh, but the taste was good and the bun surprisingly soft, served with fries.

How long to stay in Nusa Penida
How long to stay in Nusa Penida entirely depends on how many activities you want to do and the tempo in which you wish to do them.
Day trips from Bali usually cover either:
A western itinerary with Angel's Billabong, Broken Beach and Kelingking.
An eastern itinerary with Atuh Beach, Diamond Beach and Thousands Island's viewpoint.
Or focus entirely on snorkelling or diving.
If you want to do more than just one of these three (and we definitely think you should!), staying overnight in Nusa Penida makes a lot of sense.
Sleeping here for at least one night is also a great idea if you want to experience the main attractions at sunrise or sunset without the crowds, making for a much more serene setting.

Nusa Penida itinerary ideas
While we really enjoyed staying four nights in Nusa Penida, four nights certainly isn't necessary to see the highlights of the island.
If you arrive early on the first day and leave late on your last, you can pack in a lot of experiences with a one, two or three nights stay in Nusa Penida.
If you want to see the sights when they're at their finest (and least crowded), think about where you want to be for sunrise and sunset each day.
Intend on snorkelling or diving? Remember to factor in that, too.
One night itinerary
With one night, we would choose to go to Broken Beach and Angel's Billabong during the day and then head for Kelingking Beach in the afternoon and stay for sunset.
The next morning we would recommend heading to Diamond Beach for sunrise.
Two-night itinerary
With a two night stay in Nusa Penida, you can extend your stay on Diamond Beach and hang out on Atuh Beach on day 2 – or explore some of the viewpoints on the east coast for the rest of the day, hanging around to also catch the sunset.
If you've had enough of the shore, take the short drive to Teletubbies Hills.

Three-night itinerary
Three nights in Nusa Penida should be enough time for most people to see the island's top attractions.
Choose what you want to see the most and then spend more time there, for example spending a whole day at Kelingking Beach and/or Diamond Beach.
Or try to pack in as much as possible if you have the stamina – with three nights it's definitely do-able to see everything we've written about in this guide + more!
We just chose to take it rather slow with our four nights and also spent time lazing by the pool and having long lunches.

When to visit Nusa Penida
Generally speaking, Nusa Penida and its many attractions can be visited year-round.
All year, the average temperature hovers around 27°C/80°F in the day and 22°C/72°F at night. In other words, a very pleasant climate!
The seasons can roughly be divided into a dry season and a rainy season.

Dry season
Dry season equals high season, and it spans from around May to October.
July and August are the most popular months for travelling to Nusa Penida.
In these months you can expect mostly sunny skies and relatively little rain.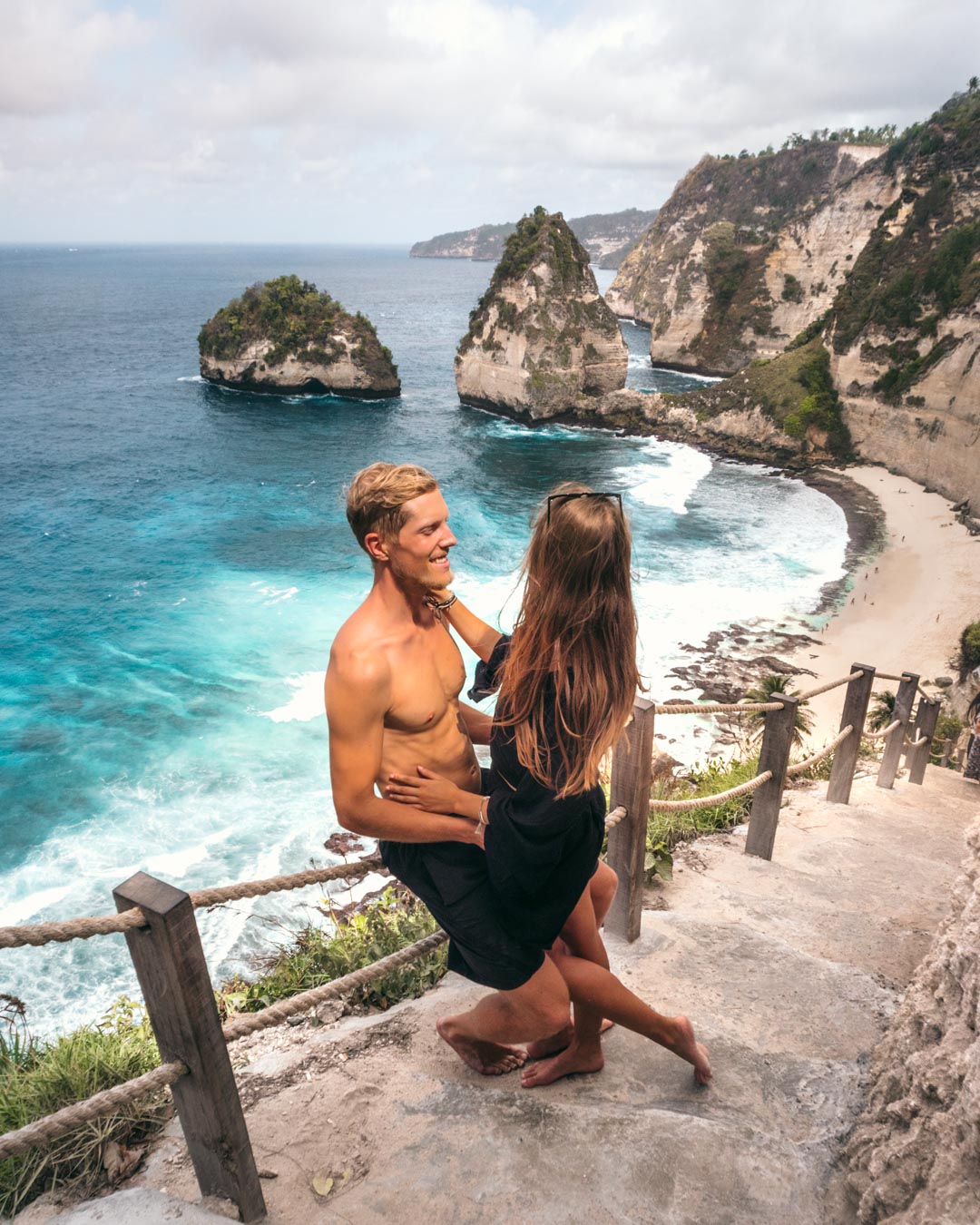 Rainy season
Nusa Penida is at its wettest from November to April with most rain usually falling in January and February.
Don't digress if you're visiting Nusa Penida in the rainy season; prices on accommodation are lower and there will be fewer tourists visiting the island.
Rainfall is generally short and intense.

How to get around Nusa Penida
There is no public transport in Nusa Penida, so to get around the island you'll have to arrange your own mode of transportation.
If you're going to a day tour from Bali, a driver will be included in the price.
Independently arranging a car with a driver including gas will usually cost around IDR 600k per day (~ 42 USD / 37 EUR).
If you feel up to driving yourself, renting a motorbike is the best option.
Though neither easy to get nor cheap, a motocross-type bike will be awesome to drive on (if you have experience).
Renting a regular scooter (125cc) is the most common way to get around.

Renting a scooter in Nusa Penida
Scooters can be rented from the harbour or usually also from your hotel/guesthouse.
We paid IDR 300k for 4 days of rental (IDR 75k per day ~ 5.3 USD / 4.7 EUR).
We have heard of rental prices between 70k and 100k per day, so don't expect prices to be as low as on Bali.
You'll soon understand why when you realize how much maintenance these scooters have to have to survive the road conditions!
The first guy we talked to at the harbour didn't have any helmets, so we just walked a few metres further and the next one was eager to help.
That "there is no police on the island" is not a good reason to avoid wearing a helmet. Don't be stupid.

Driving a scooter in Nusa Penida
The main roads on the island are paved and in good condition.
It's once you get off these roads that things get interesting.
If it's your first time driving a bike or you feel uncomfortable with huge potholes, gravel and inclines all mixed in one, consider hiring a driver instead of a scooter.
If it rather sounds like an adventure to you, you're in for a blast.
The worst road we encountered was fittingly enough the one leading to Broken Beach and Angel's Billabong.
Going to Kelingking Beach was less stressful but still quite a bit more difficult to navigate than the road leading to Atuh Beach and Diamond Beach on the island's east side.

Nusa Penida traffic
Apart from the road conditions, another factor in driving yourself in Nusa Penida is handling the oncoming traffic.
SUV's swerve around the island with tourists, and they won't necessarily slow down just because there's less than one metre of room between the car and the shoulder of the road (with you in the middle).
So drive slowly and non-aggressively, especially around tight corners, and you will most likely love exploring Nusa Penida on a scooter.
As traffic becomes close to non-existent pretty fast once you head east, driving (and running!) here is a real delight.


How to get to Nusa Penida
With no airport, the only option to get to Nusa Penida is by boat.
The most common option is to take a speedboat from Sanur harbour in southern Bali.
It's also possible to travel from Lombok (and the Gili islands) or from Nusa Lembongan or Nusa Ceningan to get to Nusa Penida.
How to get from Bali to Nusa Penida
The crossing from Bali to Nusa Penida by speedboat only takes around 30 minutes, making it feasible to visit the island on a day trip – though we recommend staying a few nights.
There are loads of boat companies offering the trip, with different prices and standards.
It seems that the best option is to book your boat in advance as that will usually include some kind of transport to the harbour as well as the transport to your accommodation in Nusa Penida.
If you just show up on Sanur, expect to get hustled. At least a little bit.

Our personal experience
We went with Crown Fast Cruises.
The night before we wanted to visit Nusa Penida, we called them up and arranged the details of our hotel pick-up through WhatsApp. Their English was excellent.
For a return ticket, we paid IDR 600k each (~ 42 USD / 37 EUR).
We also paid 150k extra for pickup (each way), making the total price for both of us to get from our hotel in Canggu to Nusa Penida and back IDR 1,500k (~ 106 USD / 93 EUR).
Pick up is free from certain pickup points.
There are certainly cheaper options, but we felt safe with Crown and can easily recommend them.
The whole operation felt very professional.
The boat was in good condition, seats were comfortable and there were lifevests enough for everybody onboard.

The experience at Sanur harbour
After a traffic-filled journey to Sanur from Canggu, we got shuffled to Crown's small open-air "office" on the harbour.
Here we got checked-in by a lovely lady who confirmed our itinerary.
From this point, we waited around 30 minutes before actually leaving. There are seats in the shade.
Small cafés offer drinks and it's possible to pay for toilet and shower facilities at Sanur.
Be aware that if you opt to go by speedboat from Sanur to Nusa Penida, your feet will get wet as there is no pier and you have to wade through knee-high water to get to the speedboat.


Other ways to get from Bali to Nusa Penida
Public ferry
We heard that there is a public ferry that transports people, cars and goods between Bali and Nusa Penida.
It leaves from Padang Bai, takes 1-2 hours and costs around IDR 40k (~ 2.8 USD / 2.5 EUR).
You can bring your own scooter for IDR 50k (~ 3.5 USD / 3.1 EUR).
Its schedule is seemingly erratic, so this is only for the very budget-conscious.
From Kusumba or Tribuana
Speedboats leave to Nusa Penida from the two ports at Kusumba and Tribuana from Bali.
This might be more convenient if you're staying in Bali's east.
The trip from here is also around 30 minutes.
Bali – Nusa Lembongan – Nusa Penida
As there are lots of boats going from Bali to Nusa Lembongan, sailing here first is also an option.
The trip from Nusa Lembongan to Nusa Penida by boat is just 10-15 minutes.
It should be possible to arrange to arrive from Bali on one island and departing from the other.

Our best tips for visiting Nusa Penida
Trash is, unfortunately, a huge issue in Nusa Penida. Try to do your part to reduce your environmental impact by minimising your use of single-use plastics while on the island.
The electrical outlets in Nusa Penida generally feature two round prongs, fitting both most European and Asian appliances. The standard voltage is 220 volts.
Bring Indonesian rupiah in cash (preferably small bills). Credit cards are only accepted at more high-end places. ATMs do exist in Nusa Penida but we wouldn't depend on them.
Be sure to book your accommodation well in advance if you're travelling in the high season (July, August and December to March). There will always be beds available, but many of the best accommodations get fully booked.
Sun protection is important; Apart from clothes and shade, we use this eco-friendly sunscreen (adlink).
Wear proper shoes if you intend to climb down to Kelingking Beach.
Wifi in Nusa Penida isn't great. Most places it's not even good… So don't count on doing too many uploads from here.
A good camera is essential for visiting Nusa Penida – here's our guide to lightweight photography gear for high-quality travel content.


Thanks for reading
Thanks for getting all the way to the end!
We hope this guide to visiting Nusa Penida has been useful.
What do you think about the island?
If you've been to Nusa Penida, it would be awesome to hear your best tips in the comments.
If you haven't yet been, please don't hesitate to ask us anything. We're glad to help!



Our favourite travel resources:
Our camera gear: