Diamond Beach, Nusa Penida: How to Visit & What To Expect
Everything you need to know, including the best viewpoint & how to stay safe
Diamonds are forever
Let's just say it right from the get-go: Diamond Beach is one of the most incredible beaches we have ever had the opportunity to visit.
…And we have been blessed with some very beautiful beaches in our lives!
The ocean at Diamond Beach is stunning with all shades of turquoise and dark blue waters.
The sand is fine and free from footprints.
The palms sway lightly.
And the cliffs frame the whole setting perfectly.
We loved visiting Diamond Beach, and if you're a self-proclaimed beach lover, you will too!
Read on to learn about what to expect from visiting the amazing Diamond Beach in Nusa Penida.
Where to stay in Nusa Penida:
Search for the best value accommodation in Nusa Penida here.

What to expect at Diamond Beach
Looking down at Diamond Beach from above, the view is nothing short of striking.
Rugged cliffside leads down to a fine-sanded white beach, continuing out into the gorgeously coloured ocean.
Palms provide the perfect foreground to the cliffs protruding from the sparkling water, shaped like diamonds placed upside down.
This is definitely one of the most beautiful beaches we've ever seen.
There are a few viewpoints from the top if you walk from the parking lot past the staircase and further out providing great views of the beach.
Look for the "Jogglo Viewpoint" on Google Maps.
Be careful! There's no railing here and strong winds are common.




Walking down the stairs to Diamond Beach
You descend to the beach by a staircase cut into the cliff, where some parts are overhanging making for really cool photo opportunities.
The walk down to Diamond Beach is very easy compared to going down to Kelingking Beach, but at the bottom part, there's a short section where you have to tread carefully.
There's also a short section where it's possible to use a rope.
Most people should be able to do it, but if you don't feel comfortable going down to Diamond Beach, enjoy the views from the top and head left instead of right to Atuh Beach.
It's better for sun lounging and swimming anyway.
As with all other attractions in Nusa Penida, visiting Diamond Beach is not wheelchair-friendly.


The beach experience
Swimming at Diamond Beach isn't advisable as the current and waves are rather strong.
Instead, chill out in the sand and enjoy the incredible views.
We walked all around the beach trying to find the best spots for photos.
Naturally, you'll get more sand to yourself the further you head from the entrance.
The Diamond Beach swing
At the entrance is where you'll find the few facilities Diamond Beach offers as well as a popular swing.
Getting a photo taken while you're on the swing costs a fee like everywhere else in Bali.
The swing at Diamond Beach is hung up between two palm trees which makes for some pretty cool shots.
There's also a "bird's nest" right next to the swing.




Can you swim at Diamond Beach?
We strongly recommend not swimming at Diamond Beach.
The waves here are rough. And the tides are strong.
If you're a very confident swimmer, you probably won't be swayed by this. But to all mere mortals: Please swim at Atuh Beach instead. It's super close and much safer.



Diamond Beach practicalities
Facilities at Diamond Beach
There's a toilet down at Diamond Beach (don't expect a western-style experience…) and a small warung selling snacks and drinks.
There are more food options on Atuh Beach, just over on the other side.

Diamond Beach opening times
It's possible to visit both Diamond Beach around the clock as there is no fence or real official entrance.
The people working there probably show up around 07.00 and leave after the sun has set.

Diamond Beach price
Entrance to Diamond Beach and Atuh Beach together including parking costs just IDR 10k per person (~ 0.7 USD / 0.6 EUR).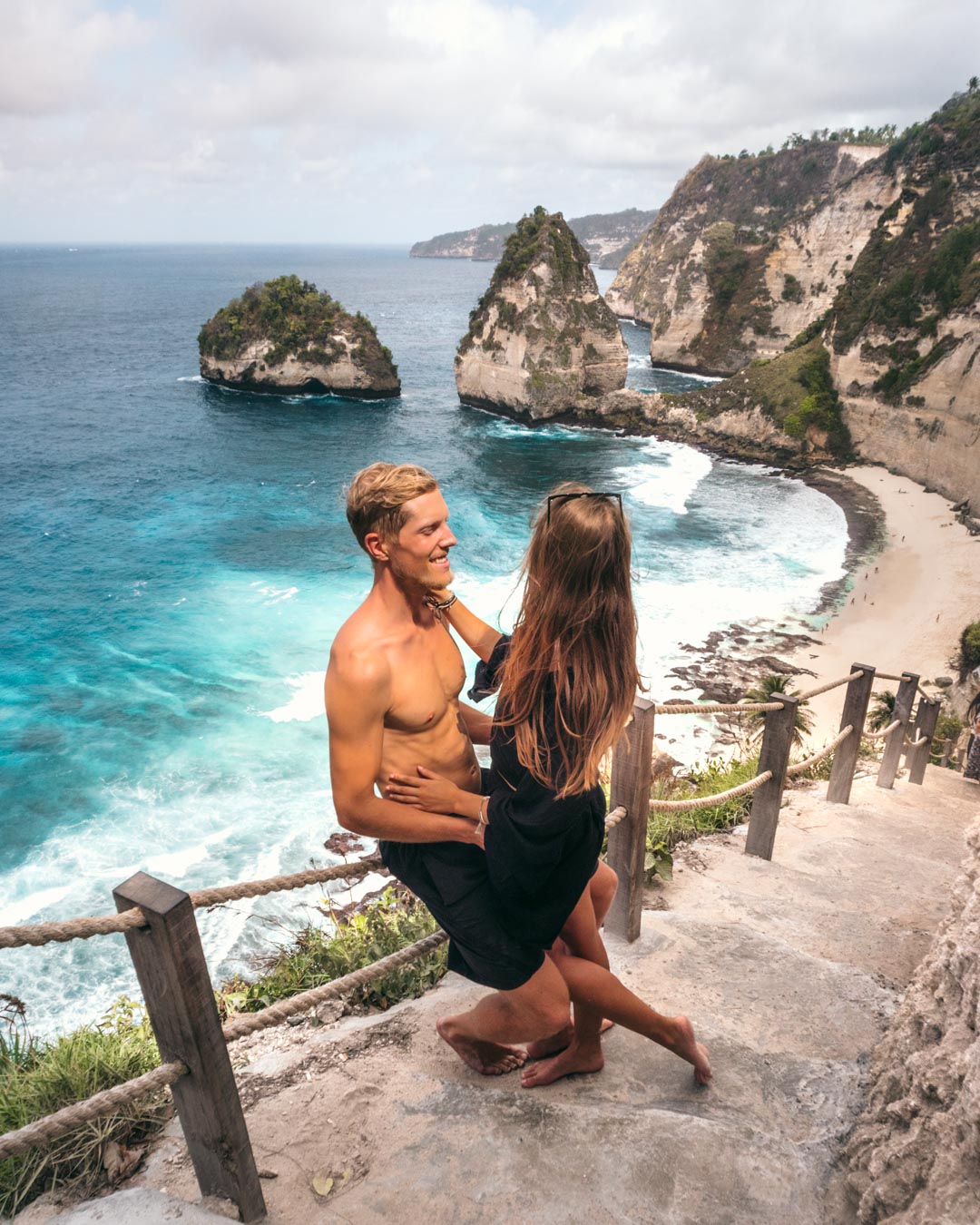 How to get to Diamond Beach
By scooter
When we visited Diamond Beach in June 2019, we had rented our own scooter and drove there ourselves.
The road leading to Diamond Beach is so much more accessible than the roads leading to Kelingking Beach and Broken Beach in the east.
For the most part, the road leading to Diamond Beach is paved, but there is a short gravelled part where you have to drive extra carefully.
We rented our scooter from the harbour when we arrived at Nusa Penida.
We paid IDR 75k per day (~ 5.2 USD / 4.8 EUR) for four days of rental. Remember to ask for a helmet.


With a driver
It's possible to arrange a car with driver for about IDR 600k per day (~ 42 USD / 37 EUR) in Nusa Penida.
This is a great option if you're more than two people travelling together to Diamond Beach or if you're not comfortable on a scooter.
With a tour company
It's very popular to visit Diamond Beach in Nusa Penida as a part of a day trip from Bali.
Most of these tours also include a trip to Atuh Beach.
If you choose to go this route, expect to arrive at Diamond Beach when it's at its most crowded.
Don't mind the crowds? Then a tour is definitely one of the more comfortable and easy options for experiencing Diamond Beach.
Map
Diamond Beach is located on the eastern part of Nusa Penida, about one hour of driving away from the harbour.
When to visit Diamond Beach
Time of day
We visited Diamond Beach both at sunset and again the next morning at sunrise.
The weather was pretty rough with high winds, but we still enjoyed the quietness of the sunrise even though there really wasn't any colour in the sky.
As Diamond Beach is facing east, watching the sunrise is popular here.
If you want to experience Diamond Beach without too many other people, try to avoid visiting at midday. Though this is when the ocean is at its most saturated.
We recommend going for sunrise and then just sticking around for a few hours.

Seasons
Generally speaking, Nusa Penida and its many attractions and beaches can be visited year-round.
All year, the average temperature hovers around 27°C/80°F in the day and 22°C/72°F at night. In other words, a very pleasant climate!
The seasons can roughly be divided into a dry season (May to October) and a rainy season (November to April).
Though it rains quite a lot more in the rainy season, you can still have plenty of sunshine.
Christmas, New Year's, July and August are the most popular times to visit Nusa Penida and Diamond Beach.

Where to stay near Diamond Beach
The eastern part of Nusa Penida (where Diamond Beach is located) is much calmer than the rest of the island.
If you wish to truly get away from it all, staying near Diamond Beach is a great option.
When we visited Diamond Beach at sunrise, we stayed at the nearby You & We House.
You & We House
You & We House is newly built and offers a pool, breakfast, double rooms with A/C, wifi and private bathrooms for a very fair price. We loved the ocean views.
It's located just 30 minutes of scooter driving away from Diamond Beach.
Check prices and availability at You & We House.


Where else to stay in Nusa Penida
Search for the best value accommodation in Nusa Penida here (adlink).
What to bring when visiting Diamond Beach
Indonesian rupiah in cash (preferably small bills).
Sun protection; a hat, sunglasses, light covering clothes and an eco-friendly sunscreen (adlink).
Proper shoes aren't strictly neccesary but might be nice for climbing down to the beach.
Plenty of water.
A sarong or a quick-dry towel (adlinks).

Minimise your impact
To minimise your impact when visiting Diamond Beach, follow these guidelines:
Bring your own drinking water in a refillable bottle (adlink).
Avoid single-use plastics, including straws.
Dispose of waste properly. While putting your trash in a nearby trashcan is convenient, wrappers and other small items are prone to get taken by the wind and end up in the ocean.
Check your sunscreen. Many brands contain oxybenzone and other chemicals that are harmful to corals.
Take only photos, leave only footprints. Let shells and corals stay in their natural home.
Be considerate of other visitors.
Respect wildlife.

Want to go beyond leaving no trace?
Join the Adventure Bag Movement!
One Adventure = One Adventure Bag of trash.
The next time you head out to explore, pick up some of the trash you find on your way. And make sure to tag The Adventure Bag Crew to spread the message.

Thanks for reading
We hope this travel guide to Diamond Beach in Nusa Penida has been useful.
What do you think about the beach?
If you've been to Diamond Beach it would be awesome to hear your best tips in the comments. If you haven't been yet, please don't hesitate to ask us anything. We're glad to help.



Our favourite travel resources:
Our camera gear: