A Vegan Eating Guide to Gili Meno in Indonesia: The Best Restaurants & Cafés
Everything you need to know about finding the most delicious vegan and vegetarian places on Gili Meno, Indonesia
Are you a vegan or vegetarian visiting Gili Meno?
We spent two nights on Gili Meno – also known as the honeymoon island – and it was a very peaceful experience.
Gili Meno is smaller and definitely more quiet than Gili Trawangan and Gili Air.
There aren't a lot of restaurants on Gili Meno and most of them are local warungs.
However, we did manage to find some great vegan food!
In this vegan eating guide, we'll tell you all about the places we visited on the island so you can get some inspiration for where to eat yourself.
Find all of the mentioned restaurants and cafés on a map at the bottom of the article.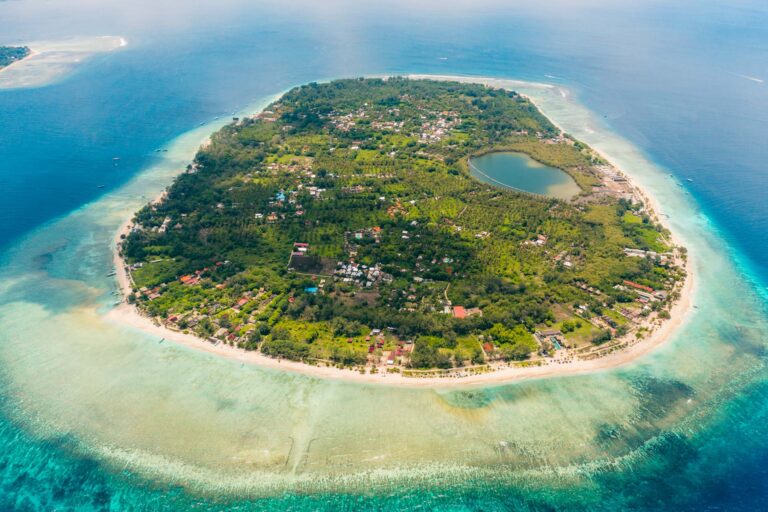 Where to stay on Gili Meno
Search for the best value accommodation in Gili Meno here.
MAHAMAYA
MAHAMAYA is a beautiful oceanfront restaurant and hotel.
We got a table in the sand with a view of the most spectacular sunset. Very romantic!
The menu had clearly marked vegan and vegetarian options.
For starters, we shared the rice paper rolls with peanut sauce (yum!) and for the main courses we had chana masala with rice (Indian dish with chickpeas) and gado gado (Indonesian salad with steamed vegetables and peanut sauce dressing) presented as rolls.
Compared to an Indonesian standard, the restaurant is quite expensive but the food was really flavourful and the location was great.
You can stay at MAHAMAYA Boutique Resort (adlink) as well and it looks amazing!
Check prices and availability at MAHAMAYA Boutique Resort (adlink).
Mahamaya serves meat but they have vegan options, too.
Open every day from 07.00 to 22.00.
Turtle Point at the northwestern part of Gili Meno.



The Bamboo Restaurant
If you walk into the Seri Resort property, you will find a vegetarian bamboo hut called The Bamboo Restaurant and they have a lot of vegan options.
Here, they offer a mix of Indonesian, Indian and western food and we ate lunch there (not sure if they are open for dinner).
We tried the sandwiches, rice with vegetables and a fresh young coconut and it all lived up to our expectations.
The highlight was the dessert though – a vegan coconut salt caramel ice cream!
It did not come cheap (same price as some of the main courses), but wow it was good.
Consider staying at Seri Resort (adlink) if you like four-star beachfront accommodations with a swimming pool (and vegan ice cream).
Check prices and availability at Seri Resort (adlink).
The Bamboo Restaurant is vegetarian and offers vegan dishes.
Open every day from 11.00 to 16.00.
Seri Resort at the northeastern part of Gili Meno.




Nourish Restaurant
The only completely vegan restaurant on Gili Meno, Nourish Restaurant, is located in the middle of the island.
We were pretty excited that the place is 100% vegan and went here for breakfast but to be honest, we were a bit disappointed.
It took a long time to prepare our dishes; a smoothie bowl and a pancake.
Having tried our fair share of smoothie bowls in Bali, we can easily say that the smoothie bowl from Nourish Restaurant was one of the lesser good ones we have had. It was too liquid and not at all frozen.
The pancake with coconut and chocolate sauce was okay and pretty average.
However, Alex decided to try an Indonesian dish; rice with vegetables and tempeh and it was good! The chocolate cake looks good too.
We really hope that the kitchen will improve with time because we love 100% vegan restaurants.
The area where Nourish Restaurant is located is very lush and there are a lot of mosquitoes. Cover your skin or use repellent (we got some from the friendly staff).
Nourish Restaurant is 100% vegan.
If the owner is travelling, the restaurant might be closed.
Next to Meno Island Villas in the middle of Gili Meno.



Grilled corn
In the northeastern part of Gili Meno we met a guy from Lombok selling grilled corn from a tiny food stall.
A nice snack on a hot day!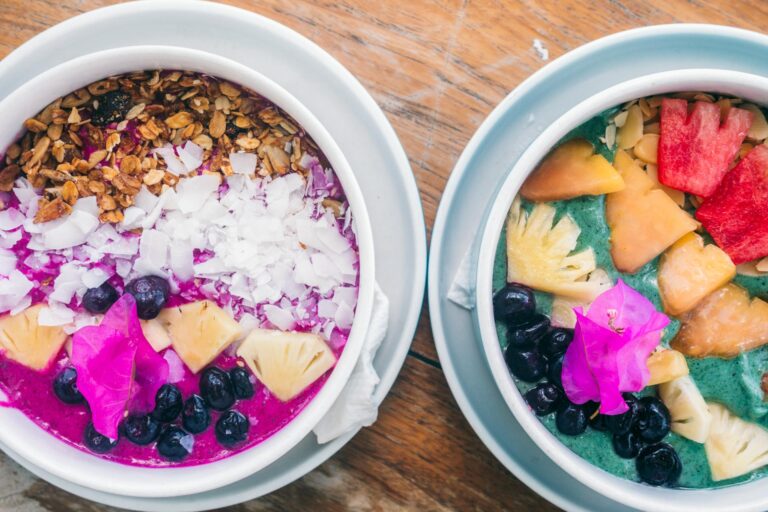 Warungs
If you aren't tired of Indonesian food, you can almost always get a vegan nasi goreng (fried rice) or curry in one of the many warungs.
Just ask for tempeh or tofu instead of meat and make sure they don't add fried eggs. Most times the crackers aren't vegan either.
Alex had a really good curry from Yaya Bungalows Blue Coral (adlink) where we stayed.
Map
Here's our Gili Meno map with all of the restaurants and cafés mentioned in the vegan eating guide. They're all marked with a light green icon.
Click the icon in the top left corner of the map to navigate using a list.
Hungry for some vegan food?
We hope this restaurant & café guide has made you hungry for the vegan and vegetarian food on Gili Meno.
Check out the Gili Meno map on Happycow for an updated overview of all the animal-friendly places to eat.
Have you tried any of the above-mentioned places?
Or do you know of any restaurants or cafés on Gili Meno that we should visit next time?
Let us know in the comments.
Thanks for reading!


Our favourite travel resources:
Our camera gear: