A Complete Travel Guide to Gili Meno in Indonesia: A Peaceful Island Close to Bali
Everything you need to know including what to do, when to visit, where to eat and where to stay on Gili Meno, Indonesia
The overlooked Gili Island
Gili Meno is one of the three small Gili Islands between Bali and Lombok.
Every Gili Island is unique and the middle one, Gili Meno, is the smallest and most quiet one.
It is the perfect escape for honeymooners which is why it's also known as honeymoon island.
Longing for some laid-back island vibes, we decided to visit Gili Meno for two days. We had a lovely time and enjoyed the slow-paced lifestyle.
Where to stay on Gili Meno
Search for the best value accommodation in Gili Meno here.
Why visit Gili Meno
Gili Meno is often overlooked for Gili Trawangan or Gili Air and that is actually great if you are looking for a secluded and peaceful island.
It's not crowded at all and it's for you if you want to avoid the crowds and nightlife and instead chill out and relax.
Snorkelling and scuba diving are popular activities here as you easily can spot turtles from Gili Meno!
There are no cars on the island but you can rent a bicycle to bike around or simply walk.
The island is only two kilometres long and one kilometre wide and you can walk around the island in less than two hours.
As in the rest of Indonesia, you will encounter the most friendly people!



Map
Gili Meno is the middle island of the three Gili Islands that are located just off the coast of northwestern Lombok in Indonesia.

Click the icon in the top left corner of the map to find the places we have mentioned in this guide.
What to do on Gili Meno
Relax on the beach
Beach days are waiting for you!
Gili Meno is surrounded by tranquil beaches and you will find great ones along the northern stretch.
On the south, you will find one of the longest and also nicest beaches and it is beautiful in front of the turtle hatchery, although it can be busy because of the ferry traffic.
The white sand is a bit rough as it's mainly consisting of coral and the water has a perfect turquoise colour.
Unfortunately, there is a lot of trash… Help pick it up if you can!







Snorkelling
Snorkelling is a popular activity on the Gili Islands. From Gili Meno, you can go on a group tour, hire a private boat or you can just swim out directly from the beach.
Most places rent out snorkelling equipment.
You can snorkel with sea turtles, especially close to Sea Turtle Point off the northeast coast of the island.
The underwater statues are also a big attraction and snorkel tours from all three Gili Islands sail there so it can be extremely crowded at popular times.

Scuba diving
The Gili Islands are famous for amazing scuba diving and you can spot hawksbill and leatherback sea turtles, stingrays, batfish and of course, beautiful varieties of corals.
You can go on day trips or even get a certification with a diving course.
Turtle hatchery
Gili Meno has a turtle hatchery.
The baby sea turtles are adorable, but the practice is (probably) not great for conservation.
Whether or not to support it is up to you. But we encourage you to do some research first.
You can read more about sea turtles in our article "Why You Shouldn't Pick Up Baby Sea Turtles".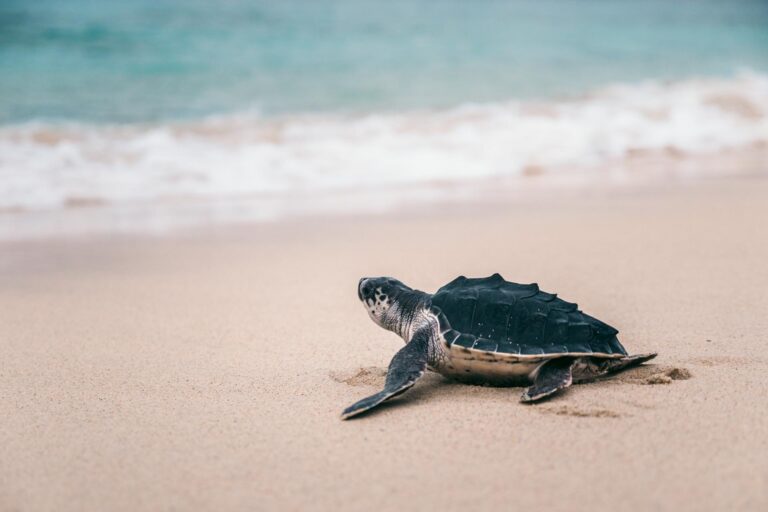 Saltwater lake
On the west side of Gili Meno, there's a saltwater lake and a mangrove forest you can stroll around. Be careful as the boardwalk isn't in the best condition.
Birds and big lizards hang out here (and mosquitos too, unfortunately).

Watch the sunrise and sunset
Gili Meno is such a small island that you can easily enjoy both the sunrise and the sunset every day.
You won't be disappointed!


What not to do on Gili Meno
Horse carriages
The horses on Gili Meno and on the other Gili Islands are treated badly.
Please, do not ride them for fun or use them as taxis to carry your luggage.

Where to stay on Gili Meno
Many accommodations on Gili Meno are oceanfront and there are lots of charming and affordable options.
Be aware that it is normal to use salt water for the showers as freshwater is a rare commodity on the islands.
Search for the best value accommodation in Gili Meno here (adlink).
Luxury
Seri Resort
The four-star beachfront Seri Resort has an amazing swimming pool and free wifi in all areas of the property (although we expect it to be a bit slow like on the rest of the island).
We had lunch at the onsite vegetarian Bamboo Restaurant and especially loved the vegan ice cream.
The cosy bungalows or rooms have air-conditioning and either a sea or garden view.
And even though we have listed it as a luxury resort, it's actually quite affordable (and breakfast is included).
Check prices and availability at Seri Resort (adlink).

AVIA Villa Resort
We love the rustic decor at AVIA Villa Resort which has bungalows with pools right on the beach.
The four-star resort is designed in a natural style and every bungalow is air-conditioned and has wifi (again, we doubt the speed but it's cool anyway).
We would love to stay at this beautiful resort!
Check prices and availability at AVIA Villa Resort (adlink).

Value for money
Gili Meno Escape
Gili Meno Escape is an adults-only accommodation in the middle of the island.
The air-conditioned bungalows are gorgeous and they surround the outdoor pool in the garden.
The hotel offers an à la carte or vegetarian breakfast and we actually came by to see if we could order food here, but unfortunately, the restaurant is only for the lucky few guests.
Check prices and availability at Gili Meno Escape (adlink).

Gili Meno Getaway
Gili Meno Getaway looks a lot like Gili Meno Escape but it is located more north.
The shared swimming pool is surrounded by colourful flowers and sun loungers and it only takes a few minutes to get to the beach.
The beautiful and spacious bungalows all have air-conditioning and an Asian breakfast is included in your stay.
The hotel offers free bikes, snorkels and kayaks to guests.
Check prices and availability at Gili Meno Getaway (adlink).

Budget
Yaya Bungalows Blue Coral
We stayed at Yaya Bungalows Blue Coral for two nights.
It is not as beautiful as some of the other places mentioned in this guide, but it was one of the cheapest bungalows with air-conditioning that we could find (with short notice).
And it was right on the beach!
Breakfast was included but as vegans were a bit limited as many dishes contain eggs and/or milk. We ended up getting a fresh fruit platter which was delicious. Also, the breakfast restaurant was located at another place around 5 minutes from the hotel.
The staff was super friendly and the location was great.
Check prices and availability at Yaya Bungalows Blue Coral (adlink).


Exotic House
Another good and cheap option for staying on Gili Meno is Exotic House which is located in the middle of the island.
The charming thatched roof bungalows are air-conditioned and have water coolers (yay, free water).
The place has a nice garden and everything on the island is within walking distance.
Check prices and availability at Exotic House (adlink).

Where to eat on Gili Meno
There are a lot of Indonesian warungs on the island but when it comes to western food (and vegan options) Gili Meno is not as developed as Gili Trawangan or Gili Air.
The lack of development is one of the things that makes the island so charming though.
We did find some good places to eat and our favourites were MAHAMAYA and The Bamboo Restaurant.
Read more about vegan and vegetarian food on Gili Meno in this guide.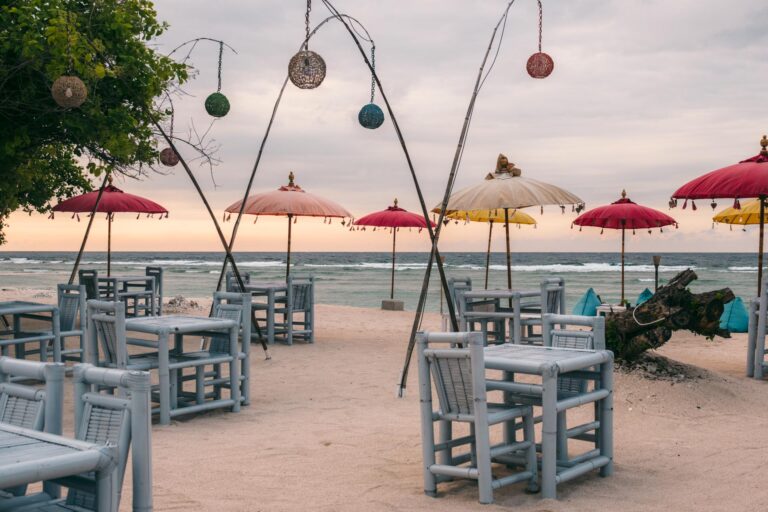 How to get around Gili Meno
There are no cars or motorbikes on the island, so the easiest way to get around is by walking or renting a bike.
We walked around and it was not difficult at all.
However, if you want to bike around as part of exploring the island, you can rent one for around IDR 50k per day (~ 3.5 USD / 3 EUR).
DO NOT use the horse-drawn carriages (which are sometimes called taxis). It's pure animal torture.


How to get to Gili Meno
From Bali to Gili Meno
Before getting to Gili Meno, you need to take a boat to Gili Trawangan from either Padangbai, Sanur or Serangan.
We sailed with BlueWater Express and it went well. They were very professional and the boat felt safe.
Passengers are usually offered seasickness pills as the journey can be quite rough.

From Gili Trawangan or Gili Air
Most visitors travel to Gili Meno from Gili Trawangan.
The local ferry costs around IDR 23k (~ 1.6 USD / 1.35 EUR) and it departs two times a day; around 9.30 in the morning and 16.00 in the afternoon. The trip takes 15 minutes.
Instead of waiting for the local ferry, we ended up taking a private boat for IDR 150k (~ 10.3 USD / 9 EUR) to be able to leave Gili Trawangan immediately and to arrive on the "right" side of Gili Meno where our accommodation was located.
From Gili Air, it takes 20 minutes and costs around IDR 25k (~ 1.7 USD / 1.5 EUR) to travel to Gili Meno. The boat leaves around 8.30 in the morning and 15.00 in the afternoon.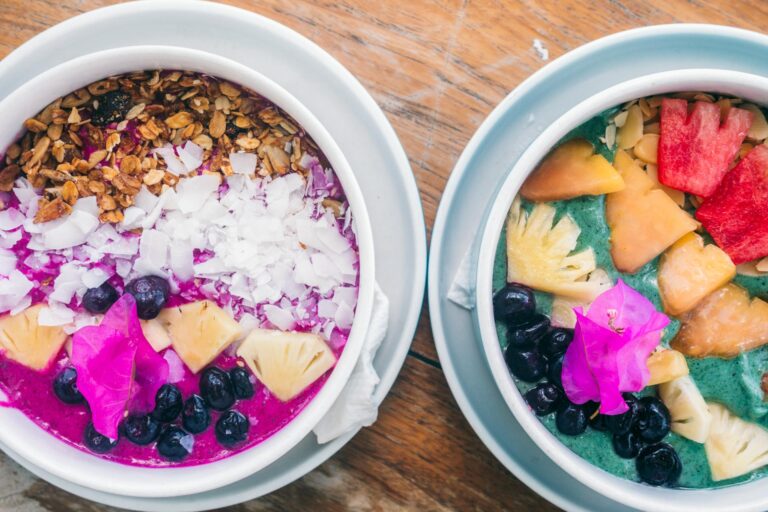 From Lombok to Gili Meno
The trip from Lombok to Gili Meno is shorter than from Bali.
The public boats leave from Bangsal Harbour on Lombok and a ticket is around IDR 25k (~ 1.7 USD / 1.5 EUR) for a 25 minute boat ride.
Make sure to purchase your ticket from the official Bangsal public ferry ticket counter on the left side of the harbour and not from scammers on the road that want you to pay for an expensive private boat.
The boat leaves once it's full (usually around 40 people in one boat).

When to visit Gili Meno
Generally speaking, Gili Meno can be visited year-round.
All year, the average temperature hovers around 27°C/80°F in the day and 22°C/72°F at night. In other words, a very pleasant climate!
The seasons can roughly be divided into a dry season and a rainy season.

Dry season
Dry season equals high season, and it spans from around May to October.
July and August are the most popular months for travelling to Gili Meno.
In these months you can expect mostly sunny skies and relatively little rain.
December and January are popular too because of the holidays.
Rainy season
Gili Meno is at its wettest from November to April with most rain usually falling in January and February.
Don't digress if you're visiting Gili Meno in the rainy season; prices on accommodation are lower and there will be fewer tourists visiting the island.
Rainfall is generally short and intense.

How long to stay on Gili Meno
How many days you decide to spend on Gili Meno depends on your travel mode.
It's a very small and quiet island.
We stayed for two nights and that was perfect for us.
If you're more outgoing and want lots of options, you might want to skip the island altogether.

Our best tips for visiting Gili Meno
Gili Meno is beautiful. Make sure to bring a good camera! Here's our guide to lightweight photography gear for high-quality travel content.
The electrical outlets on Gili Meno generally feature two round prongs, fitting both most European and Asian appliances. The standard voltage is 220 volts.
Wifi connection on Gili Meno is very limited. It does exist but it's not everywhere and it's definitely not fast. Consider buying a local SIM card with data to use in all of Indonesia to have data while on the road.
We felt safe on Gili Meno, although there aren't any police officers on the island. It's so small and peaceful that a police office doesn't seem necessary.
Cash is the preferred method of payment at most places on the island. There are a few ATMs on Gili Meno and you can use credit cards at some of the more upscale hotels.
The tap water is not drinkable. It's fine for showering or brushing your teeth (although it's slightly salty) but for drinking water, you can bring your own water filtration system (cool!) or buy filtered water. If you have a refillable bottle, you can get it filled with drinkable water at some warungs/hotels for a small fee.
Don't support animal exploitation. Avoid using horse carriages.
Thanks for reading
Thanks for getting all the way to the end!
We hope this Gili Meno guide has been useful.
What do you think about Gili Meno?
If you've been to the island, it would be awesome to hear your best tips in the comments.
If you haven't been yet, please don't hesitate to ask us anything. We're glad to help.




Our favourite travel resources:
Our camera gear: