Lobos Island in the Canary Islands: How To Visit & Best Things To Do
All you need to know about visiting Lobos Island from Fuerteventura or Lanzarote
A day trip to a beautiful island
Lobos Island (or Isla de Lobos in Spanish) is a small protected island in the Canary Islands situated between Fuerteventura and Lanzarote.
In Fuerteventura or Lanzarote, you're already pretty far from the rest of the world. Take that a step further when visiting Lobos Island.
According to Wikipedia, just 4 people live here permanently – and as there's only one small settlement on the island, the rest is up to you to explore.
Both Fuerteventura and Lanzarote are already quite barren and volcanic in the sense that some of their landscapes look like they could belong to other planets.
Lobos Island is volcanic as well and definitely looks like another planet!
Visiting Lobos Island on a day trip is a great, easy and cheap excursion from Fuerteventura or Lanzarote that we can certainly recommend going on.
The lagoon is stunning, the beach is beautiful and the hiking is top-notch.
In short, it has everything you need for an exciting day trip.
In this travel guide to Lobos Island, we'll do our best to help you have an amazing day here.
Where to stay near Lobos Island:
​​Search for the best value accommodation in Corralejo, Fuerteventura here.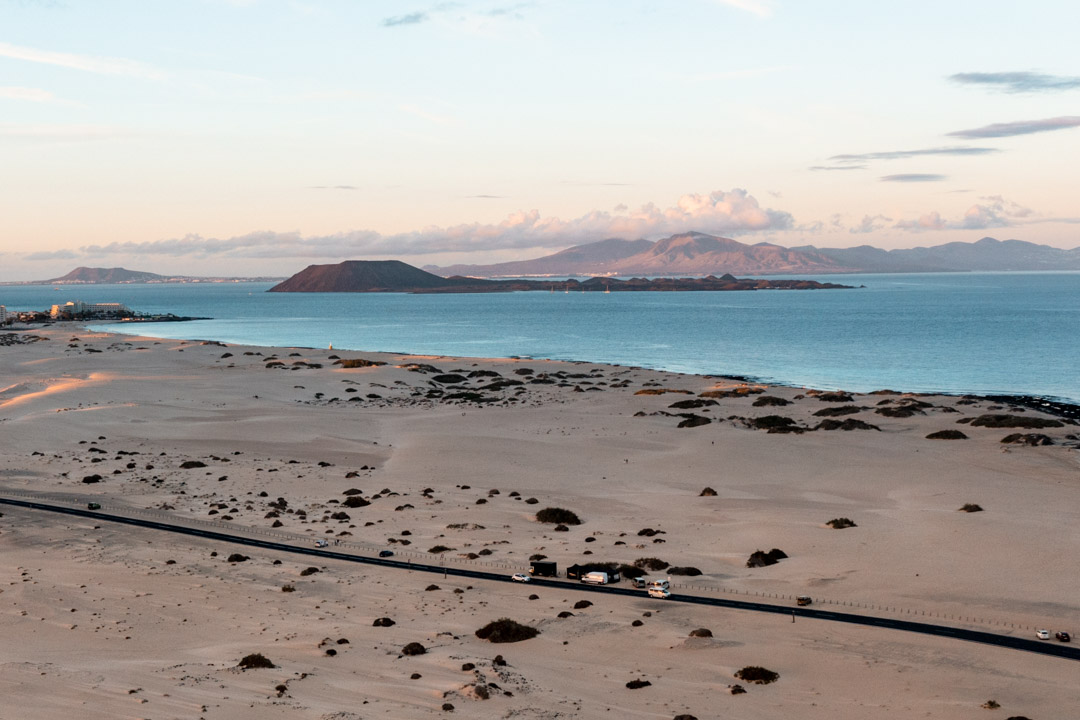 What to do and expect when visiting Lobos Island
Lobos Island is small enough that you can probably see most – if not all – of the island on your visit if you wish to do so.
The main points of interest on Lobos Island are:
The beach Playa de la Concha de Lobos
The lagoon at Puertito Isla de Lobos
The volcano crater Montaña de la Caldera
The lighthouse Faro de Punta Martiño
You can definitely come here to hike around the whole island on the main trail (which is also the first stage of the GR 131 trail on Fuerteventura that runs through all of the Canary Islands).
If hiking isn't your thing, though, you can also just chill out on the beach and/or in the lagoon.
Though Fuerteventura itself has no shortage of remote, secluded beaches, there's just something about relaxing on an even smaller island.
Playa de la Concha
Playa de la Concha is a lovely beach with a pretty cool view to the volcano crater.
It's about 5-10 minutes of easy walking from the ferry drop-off to the beach and there is plenty of space for you to find your own little spot.
Don't be surprised if some people sunbathe in the nude (as on other beaches in Fuerteventura).



Puertito Isla de Lobos
Puertito Isla de Lobos is a small harbour 5 minutes of walking away from the one you are dropped off at when you arrive on the island.
The water is perfectly turquoise and so gorgeous here.
It was a little windy when we visited, so we didn't jump in the lagoon but come at high tide if you want to swim here.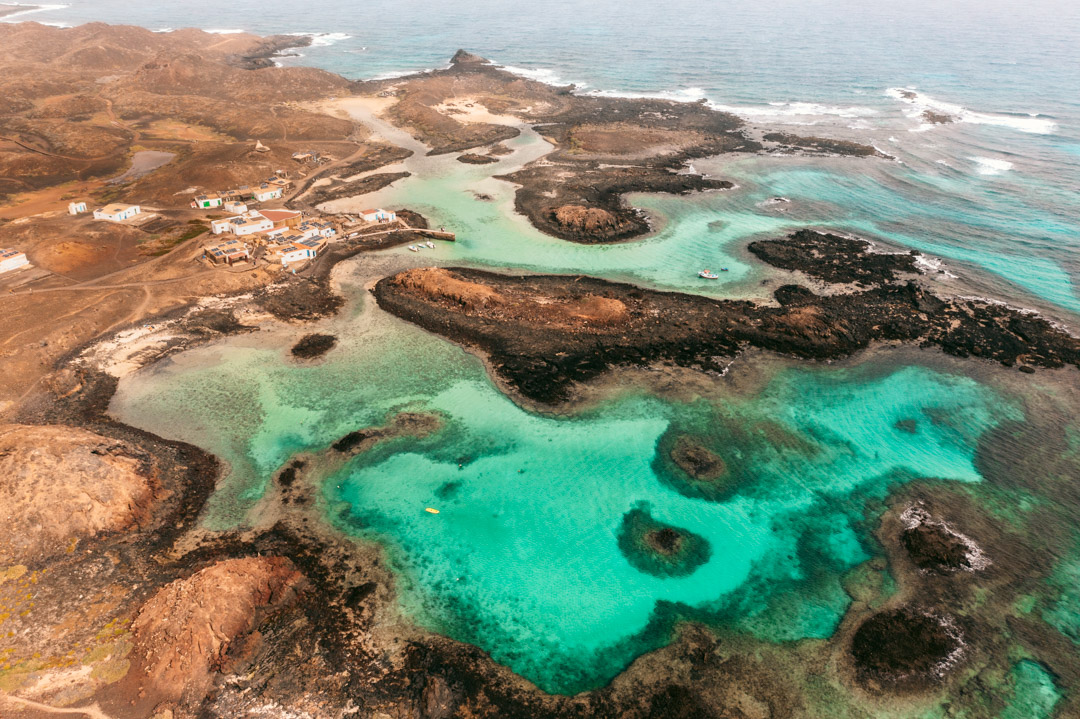 Montaña La Caldera
Montaña La Caldera is the highest point on the island at 127 metres.
The pathway up there is made of volcanic rocks and cement and it's a good idea to wear hiking shoes or sneakers (though probably doable in sandals) as it can be rather rugged at times.
From the bottom of the caldera, it takes approximately 15-20 minutes to reach the summit where you not only can look into the volcano crater but also will be rewarded with astonishing views of Lobos Island as well as Lanzarote and Fuerteventura.

Faro de Punta Martiño
Faro de Punta Martiño is a lighthouse in the north part of Lobos Island about an hour walk from the ferry port.
While the building isn't the prettiest or open to the public, it's a nice "goal" for a hike and the surrounding landscapes and views from up there are stunning.


We have plotted all of the above points onto the map below.
We are sure you will find something enjoyable to do on Lobos Island!
Fun fact: Isla de Lobos means Wolf Island and the islet is actually named after the monk seals that once lived here – which are known as sea wolves in Spanish.
Map
Lobos Island is located just 2 kilometres from northeastern Fuerteventura and 8 kilometres from southern Lanzarote.
Find the main points of interest here.

How to get to Lobos Island
A 15 minute ferry ride from Corralejo in Fuerteventura takes you to Lobos Island so it's very easy to visit on a day trip.
As far as we know, there's no direct connection from Lanzarote to Lobos Island but you can take a ferry from Playa Blanca to Corralejo and then take the ferry from there.
There are also tours offering boat trips to Lobos Island from Lanzarote or Fuerteventura where you have a good chance of spotting wild dolphins in their natural environment.


Opening times
As there's no accommodation or camping allowed for tourists on Isla de Lobos, you can only visit the island during day time.
Most visitors arrive on Lobos Island between 10.00-10.30 and the last ferries leave around 17-18 in the afternoon.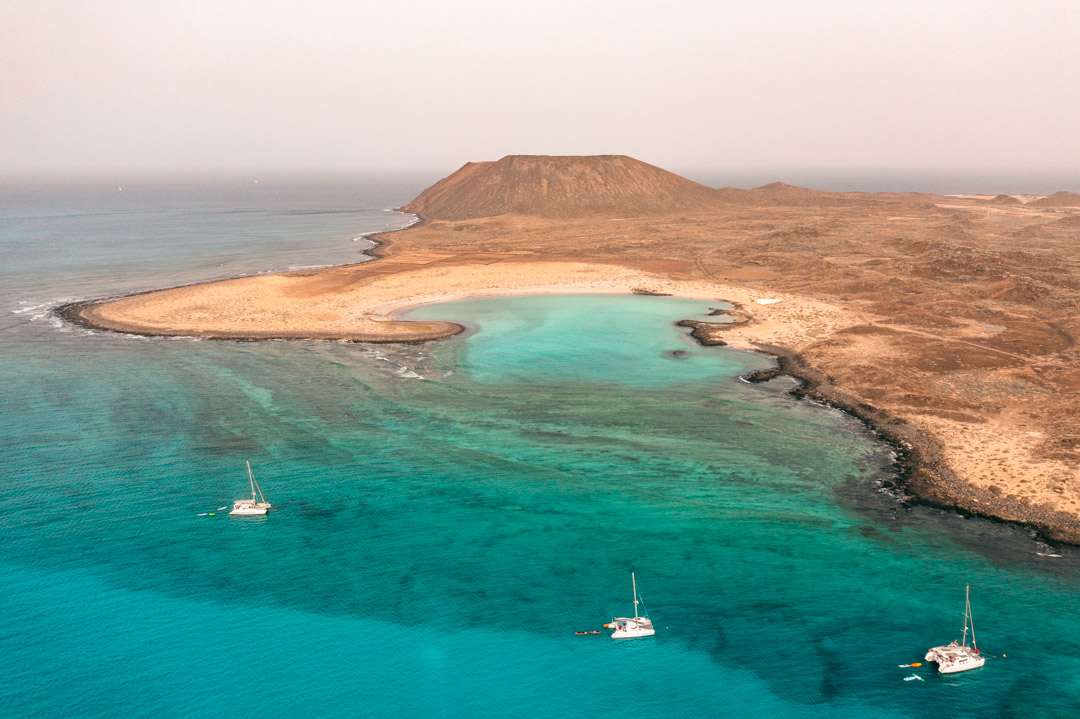 Price and permits
There's no official entry price for Lobos Island, but as most people arrive on organised tours or with one of the tourist ferries, you could say that the transport is the price for visiting.
Additionally, you need a permit and the authorization can be obtained online, however, some tour companies will take care of the process for you.
The price for the ferry seems to be around €13 to €15 per adult (children is half the price) depending on the company you choose and whether it includes the permit or not.
We had a good experience booking online with Naviera Nortour (adlink) and paid €15 per adult + 2 x €1.5 in administration fees for arranging the permit.
Book the boat tour with Naviera Nortour including the permit on GetYourGuide here (adlink).
The access to Lobos Island is limited to 400 visitors per day so if you plan to visit during peak season, it might be a good idea to book your ticket a few days in advance.
We only booked the day before but we visited in the low season (January 2022). There were very few tourists in Fuerteventura and we saw less than 100 people on Lobos Island.



When to visit Lobos Island
Lobos Island can be visited all year round and the weather is very similar to the weather in Corralejo.
If it is really windy (as it undoubtedly is in Fuerteventura at times) you should be extra careful if you're going up to the volcano crater. And while beach bumming isn't the best in overcast or windy weather, hiking all the way around Lobos Island is always a great activity!
When we visited in January, it was a bit windy. We still enjoyed lying on the beach but the water wasn't the clearest with all the ripples.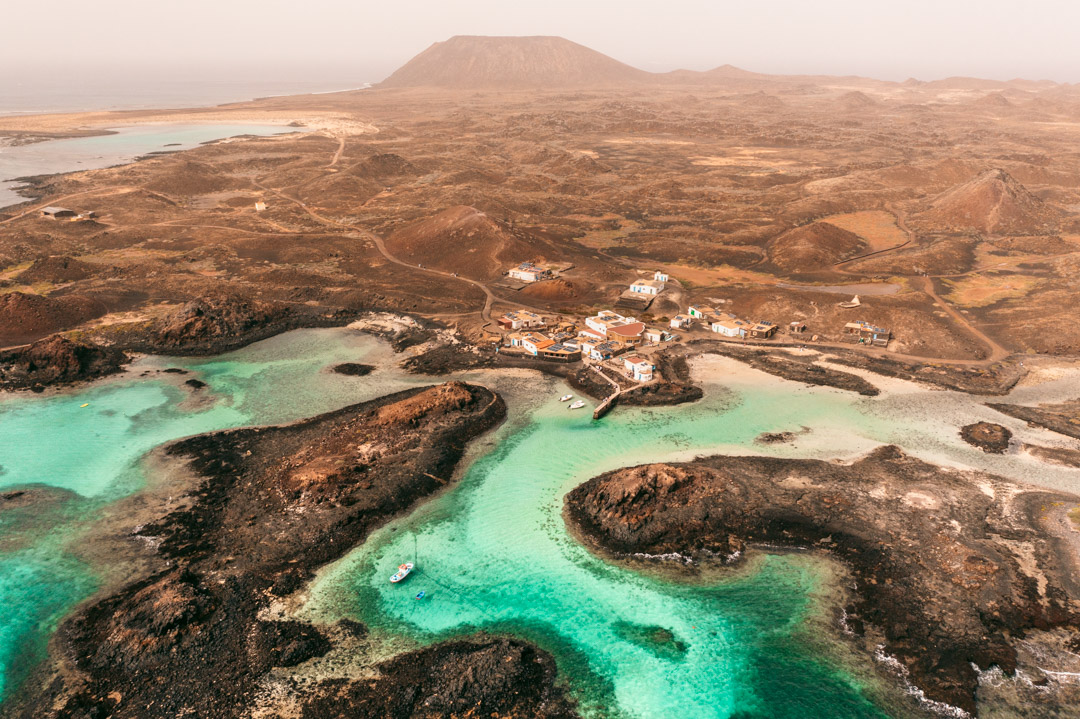 Where to stay near Lobos Island
Unfortunately, it's not possible to stay over on Lobos Island so staying in Corralejo in the north of Fuerteventura will be the obvious choice as it's from here the boats leave for Lobos.
On top of that, Corralejo is the most popular place to stay in Fuerteventura for a reason.
Staying here means you'll be close to the small beaches of Corralejo, but also be just minutes away from the famous Corralejo Sand Dunes – the "desert" of Fuerteventura with absolutely stunning beaches.
Also near Corralejo apart from the protected natural area Lobos Island? The climbable Calderon Hondo volcano as well as El Cotillo and lots of other beautiful beaches.
Corralejo itself is a cosy town with lots of great restaurants and supermarkets. If you're looking for plant-based options in Fuerteventura, Corralejo is probably your best bet.
Where to stay in Corralejo
Search for the best value accommodation in Corralejo here.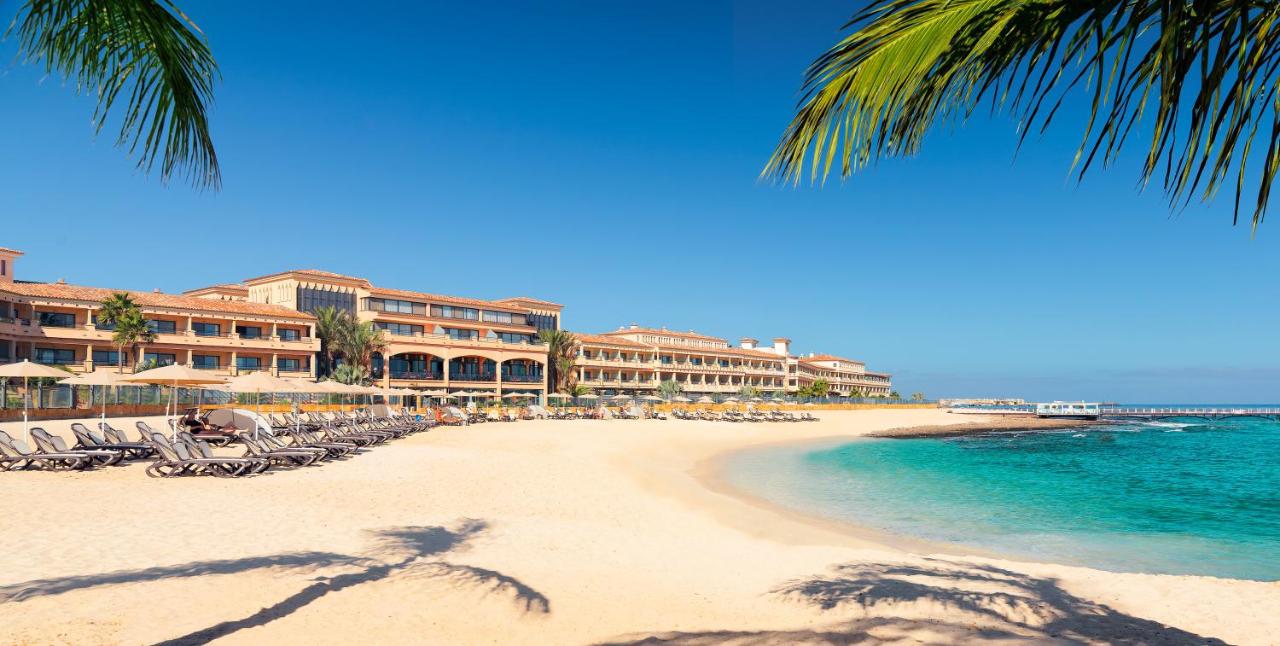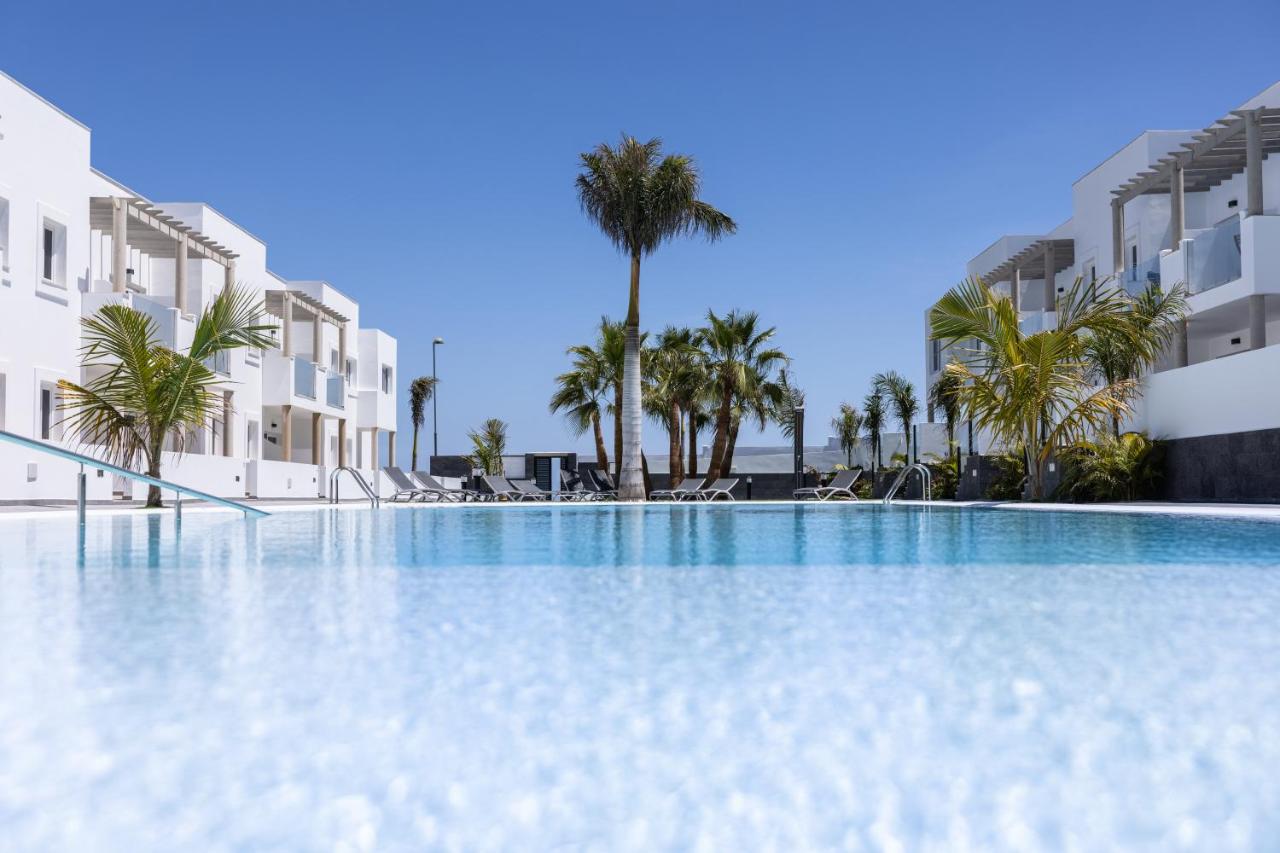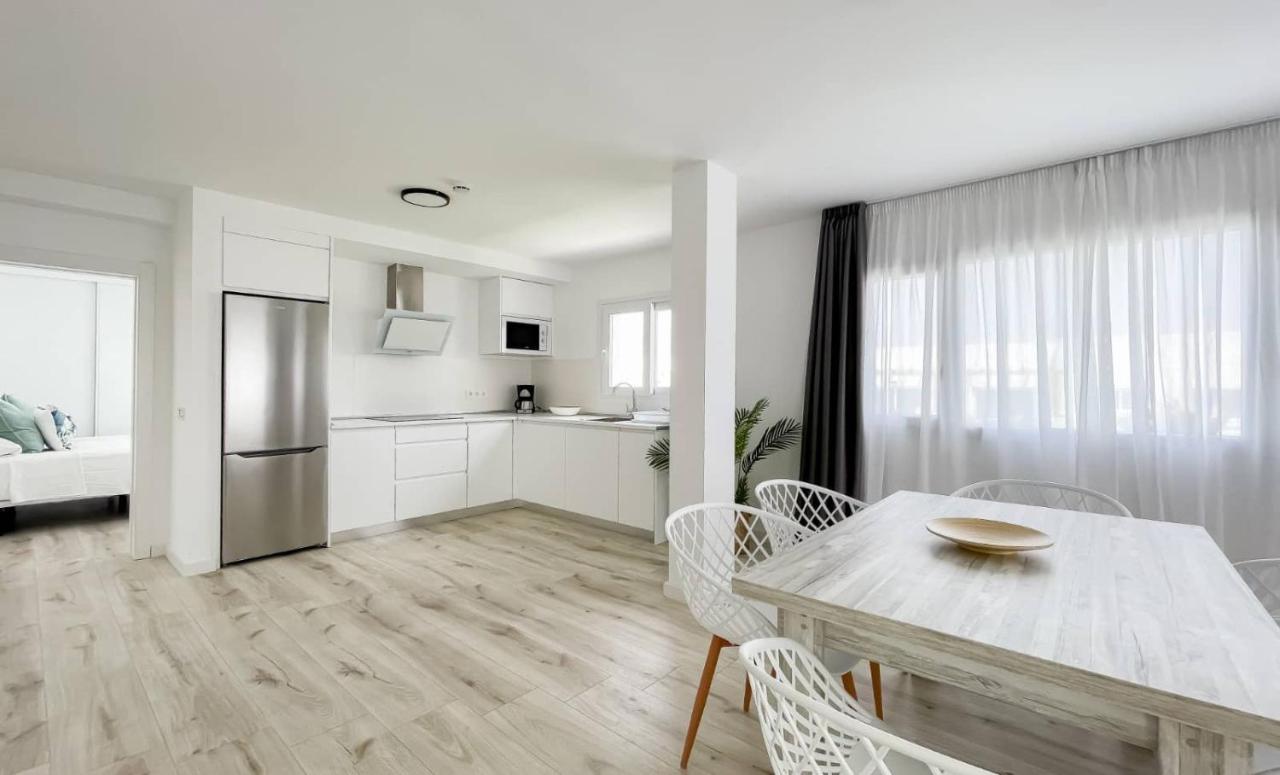 What to bring to Lobos Island

Minimise your impact
To minimise your impact, follow these guidelines:
Bring your own drinking water in a refillable bottle.
Avoid single-use plastics, including straws.
Dispose of waste properly. While putting your trash in a nearby trashcan is convenient, wrappers and other small items are prone to get taken by the wind and end up in the ocean.
Check your sunscreen. Many brands contain oxybenzone and other chemicals that are harmful to corals.
Take only photos, leave only footprints. Let shells and volcanic rocks stay where they belong on Lobos Island.
Be considerate of other visitors.
Respect wildlife.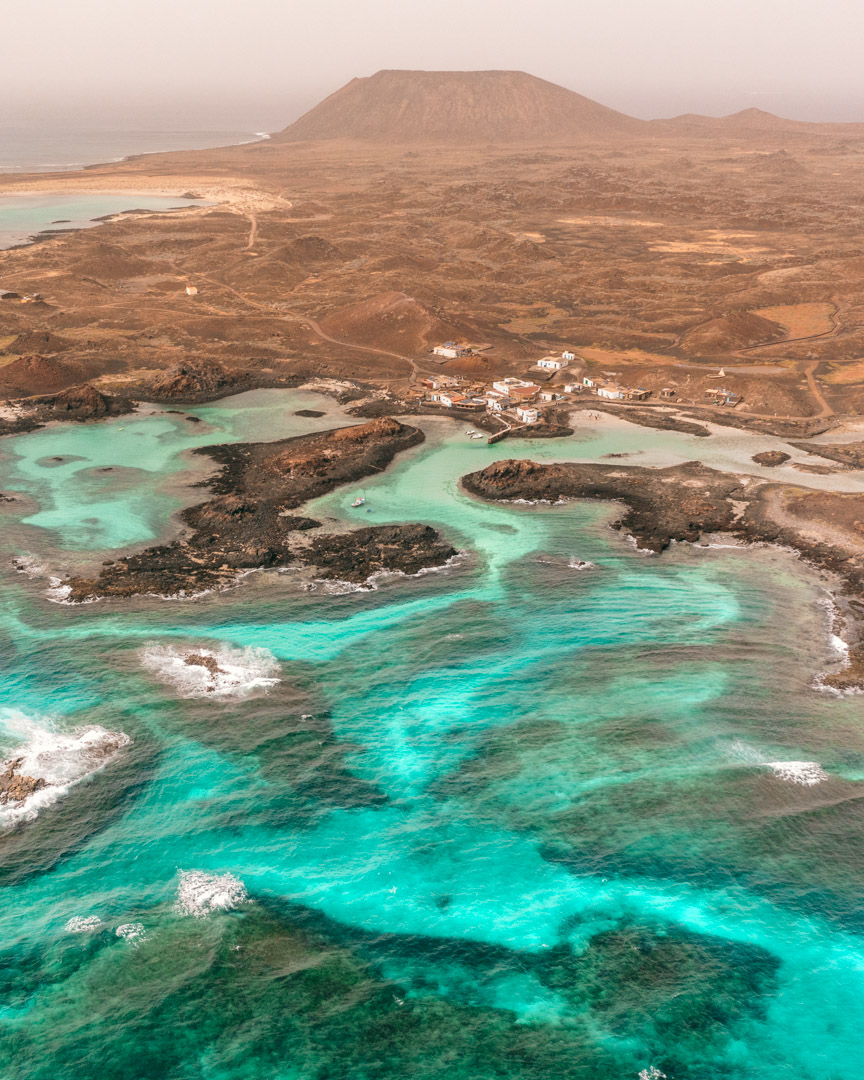 Thanks for reading
Thanks for reading our travel guide to the small Lobos Island in the Canary Islands. We hope it has been useful!
What do you think about Lobos Island?
If you've been to Lobos Island it would be awesome to hear your best tips in the comments.
If you haven't been yet, please don't hesitate to ask us anything. We're glad to help.



Our favourite travel resources:
Our camera gear: