How To Visit Ajuy Caves and the Black Sand Ajuy Beach in Fuerteventura
All you need to know about visiting the ancient natural caves and the black sand beach in Ajuy
The oldest rocks in the Canary Islands
Visiting the historic Ajuy Caves (Cuevas de Ajuy) and Ajuy Beach (Playa de Ajuy) on the west coast of Fuerteventura close to Betancuria is one of the most popular things to do in Fuerteventura.
The rugged coastline and easy-to-reach caves make for a great excursion.
It's doable for most people and we promise you that you'll want to take plenty of pictures!
Read on in this travel guide to learn what to expect and how to visit the caves and beach in Ajuy.
Where to stay near Ajuy Caves and Ajuy Beach:
Search for the best value accommodation near Betancuria here or places to stay in Ajuy town here.


What to expect from Ajuy Caves and Ajuy Beach
The first thing you'll probably see when visiting Ajuy is the black sand beach and the charming small fishing village.
At the northern end of the beach, right next to the parking lot, you will find the trail leading to the famous caves in Fuerteventura.
This is one of those places where getting there is half the fun.
The caves are interesting, and definitely merit a visit, but the path there and the beach are certainly attractions in their own right, as well.
Ajuy is declared a natural monument and it is fully protected as part of the Betancuria Rural Park.


Ancient natural caves
The Ajuy Caves (Cuevas de Ajuy) are the oldest formations in the Canary Islands, dating back some 100 million years – isn't that incredible?
Geologically and paleontologically speaking, they are really interesting because of the fossil dune formations (solidified sand from the deep sea) and the ancient sediments and fossils from the ocean.
The 500-metre-long trail leading to the Ajuy Caves offers amazing views of the dramatic cliffs, wild ocean, and (probably also) cute chipmunks.
There are various viewpoints where you can take in the beautiful, rugged coastal scenery and watch the waves crashing into the rocks.
Here, you can really feel the raw power of the Atlantic Ocean.


How to get into the caves
The trail is well-maintained and is certainly doable to hike for most people, although it, unfortunately, isn't wheelchair-friendly.
We would recommend wearing hiking shoes or sturdy sneakers/sandals – not flip-flops.
When you get to the end of the trail, a rock staircase leads down to the caves.
Proceed with caution as the steps can be slippery.
What we think is really cool about this place is the fact that you can actually walk into the big caves and explore them on your own.
The first cave is the biggest and from there you can climb over some rocks and into the other cave. So interesting!
Expect to spend around an hour exploring the trail and caves.
Tip: You can read much more about the history of the caves and what they have previously been used for at the beginning of the trail.



Chipmunks
Most likely you will run into some chipmunks along the trail. We saw lots of them at the beginning of it!
They will try to charm you into giving them food.
There's a sign saying you shouldn't feed the squirrels but unfortunately, we saw lots of people doing it anyway.
We know the chipmunks are cute and even though it might be tempting to lure them closer with food, you should avoid feeding them.
First of all, it's unhealthy for the chipmunks to eat human food or even nuts (as they are often salted).
Furthermore, the chipmunks are considered an invasive species in Fuerteventura and the authorities don't want their population to grow as they actually cause damage to native animals and plants.
So take all the photos you want of the funny squirrels but please don't feed them.
Black sand beach
Ajuy Beach (Playa de Ajuy) is the beach you will reach before the trail to the Ajuy Caves starts and it's worth a visit for another reason: it's a black sand beach.
If you haven't seen one before, visiting the almost 300-metres long (and quite wide) Playa de Ajuy is a unique beach experience.
The coarse volcanic sand is not completely black but it's really dark.
On a sunny day, this is a nice beach for sunbathing but the sea can get rough so take good care if you go out in the water.
If you just want to snap some pictures, the beach looks especially nice from above when you stop at the viewpoint along the trail towards the caves.




Opening times
Ajuy Caves and Ajuy Beach are in principle always open – 24/7/365.
The trail or the caves might be closed for security reasons when it's very windy or rainy, though.
Set aside approximately one hour to walk to and explore the caves. Any additional beach time is up to you (and the weather).
Price
Visiting both Ajuy Caves and Ajuy Beach is free of charge!
While beaches are usually free, we could easily imagine someone charging an entrance fee to visit the Ajuy Caves, but no – not yet at least. So awesome.
Most things to do in Fuerteventura are free and that's one of the many reasons we love this amazing island.

Map
So where are the black sand beach and the old caves in Fuerteventura?
Well, Ajuy Caves and Ajuy Beach are located on the western central part of the island – not far from Betancuria and Arco de las Peñitas.
Find it on the map right here.
How to get to Ajuy Caves and Ajuy Beach
By car
If you have rented your own car, it's relatively uncomplicated to reach Ajuy.
You should simply take the FV-621 road from Pájara.
You can also put in "Ajuy" or the parking spot (aparcamiento) on "Calle el Tabloncillo 1" into Google Maps and follow the directions to get to Ajuy Caves and Ajuy Beach.
When you have parked your car, you are almost already on the beach and from there, the short coastal trail to the caves begins at the northern end of the beach.
Parking
Parking is free at the big dirt parking lot at the northern end of the beach. It's right next to where the trail begins.
It couldn't be easier.
In case all the parking spots are taken, there is another free public parking lot right next to the roundabout that leads into Ajuy town.
It takes less than five minutes of walking to the beach from there.

By bus
How to get to Ajuy by public transport?
Well, we have read that it's possible to travel to Ajuy with line 4 or 18 from Pájara and with line 1 from Puerto del Rosario.
Other sources say that there are no buses going there…
Since we didn't use public transport ourselves, we would recommend you ask your hotel or the locals how to best get to Ajuy without a car.
When to visit Ajuy Caves and Ajuy Beach
Weather
Both the caves and the beach can be visited all year round.
However, when it's really windy (which it sometimes is in Fuerteventura!) or if it rains a lot, the trail to the caves or the caves themselves might be closed for security reasons.
If the wind isn't too bad, exploring the caves on any given day is just fine – even on a cloudy one.
For beach bumming and tanning, you would want to go on a sunny day, of course.
Otherwise, you can easily snap a picture of the black beach and save the swimming and sunbathing for another day on one of Fuerteventura's many other beautiful beaches.
The water can get quite rough at Ajuy Beach so be careful.
Time of day
Visiting Ajuy Caves is one of the top things to do in Fuerteventura so don't be surprised if you see many other tourists here.
Especially after 10 or 11 am and for most of the afternoon.
It never gets really crowded though.
If you want an empty beach all to yourself for beautiful pictures, we recommend visiting Ajuy before 8 or 9 in the morning.

Where to stay near Ajuy Caves and Ajuy Beach
Ajuy Town – By the beach
Actually, you can stay in the small fishing town right by the beach.
Ajuy town isn't that big though, so we wouldn't recommend a long stay here but rather to stay somewhere else on the island and drive to Ajuy on a day trip.
Should you want to stay for a night or two anyway, you can mostly find small apartments and vacation homes.
Search for the best value accommodation in Ajuy here (adlink).
Betancuria – The central mountains of Fuerteventura
Another option if you want to be close to Ajuy Caves and the black sand beach but prefer to have a diversity of activities within reach is Betancuria.
If you like hiking or don't mind driving to the beach, staying in the central mountains (also known as the Betancuria Massif) in the western part of Fuerteventura can make sense.
Betancuria is known as the most beautiful town of the island and the mountains around here are stunning. The roads are very popular with road cyclists and the trails are great for hiking.
Apart from Ajuy, staying in the central mountains also means you'll be close to Arco de las Peñitas as well as several famous viewpoints.
Where to stay near Betancuria:
Search for the best value accommodation near Betancuria here.
You can also look for the best and cheapest hotels in all of Fuerteventura here.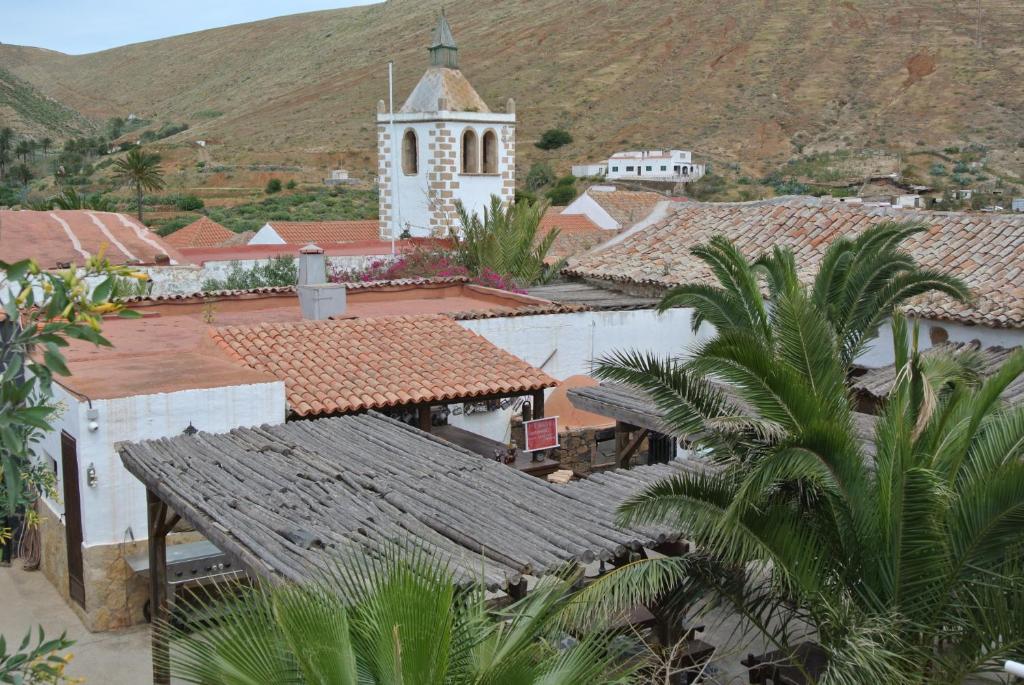 What to bring to Ajuy Caves and Ajuy Beach
Travel insurance (adlink). Never travel without it!
A good camera – here's a guide to the gear we use.
Sunscreen (adlink) if you visit Ajuy on a sunny day.
Hiking shoes or sturdy sneakers/sandals you're comfortable wearing while hiking on rocks and in caves.
Water in a refillable bottle and snacks.
Swimwear and a towel if you plan to swim.
A light jacket or an extra shirt to wear inside the caves as they are quite damp and cool.
Minimise your impact
To minimise your impact when visiting the Ajuy Caves and black sand beach, follow these guidelines:
Bring your own drinking water in a refillable bottle.
Avoid single-use plastics, including straws.
Dispose of waste properly. While putting your trash in a nearby trashcan is convenient, wrappers and other small items are prone to get taken by the wind and end up in the ocean.
Check your sunscreen. Many brands contain oxybenzone and other chemicals that are harmful to corals.
Take only photos, leave only footprints. Let shells, corals and the black sand stay in their natural place.
Be considerate of other visitors.
Respect wildlife. Don't feed the chipmunks even though they are cute.

Thanks for reading
Thanks for reading our travel guide to visiting Ajuy Caves and Ajuy Beach. We hope it has been useful!
What do you think about the black sand beach in Fuerteventura and the 100 million-year-old caves?
If you've been to Fuerteventura it would be awesome to hear your best tips in the comments.
Haven't been yet? Please don't hesitate to ask us anything. We're glad to help.




Our favourite travel resources:
Our camera gear: