Fuerteventura Travel Guide: 21 Best Things to Do & Places to Visit on the Volcanic Island
All you need to know about Fuerteventura in the Canary Islands including what to do, best beaches, when to visit and where to stay
Breathtaking landscapes and spectacular beaches
Fuerteventura is one of the 8 main Canary Islands which are actually a part of Spain (even though they are located in the Atlantic Ocean west of Western Sahara and Morocco).
Because of their location, the weather is pleasant all year round on the Canary Islands and that's exactly why we decided to travel to Fuerteventura in the middle of January 2022.
We must admit that we have always thought the Canaries to be a place mostly for retirees and families on package tours…
But we researched some of the best things to do in Fuerteventura and discovered that there are so many incredible beaches, cool hikes and unique experiences on the volcanic island!
Hopefully, you will feel that way too after reading our travel guide to Fuerteventura. Enjoy!
Where to stay in Fuerteventura:
Search for the best value accommodation in Fuerteventura here.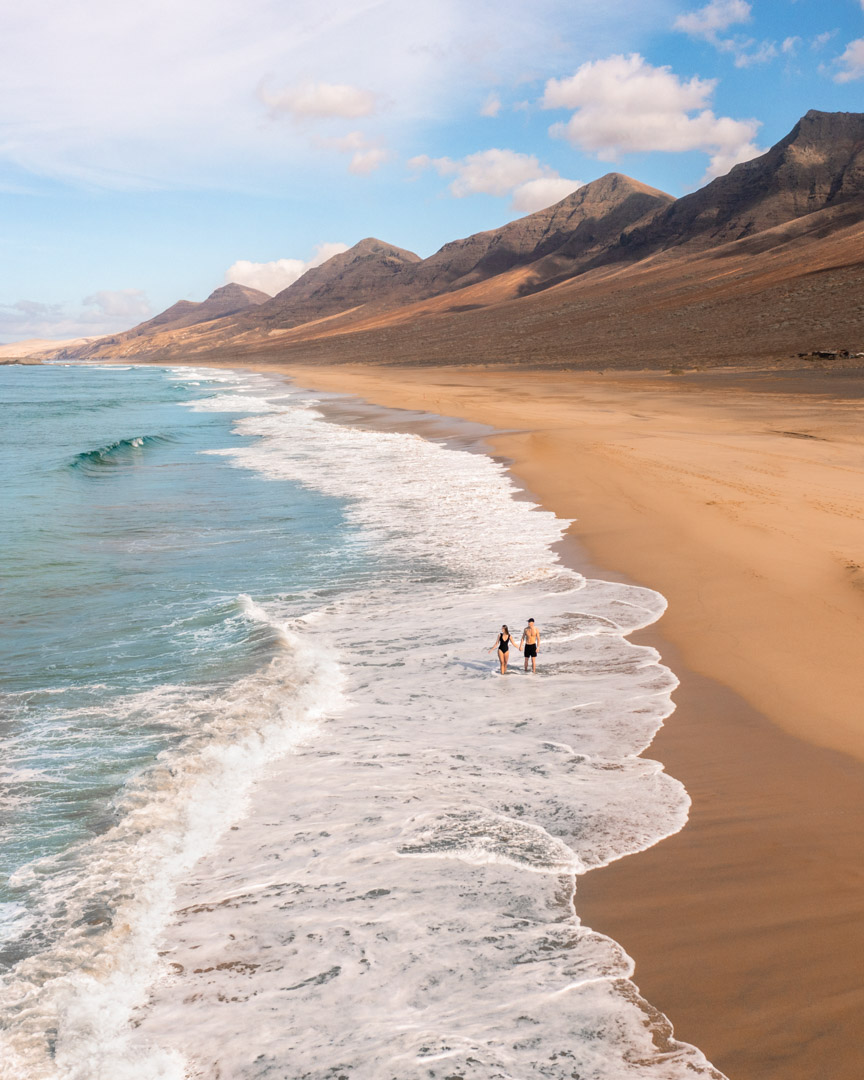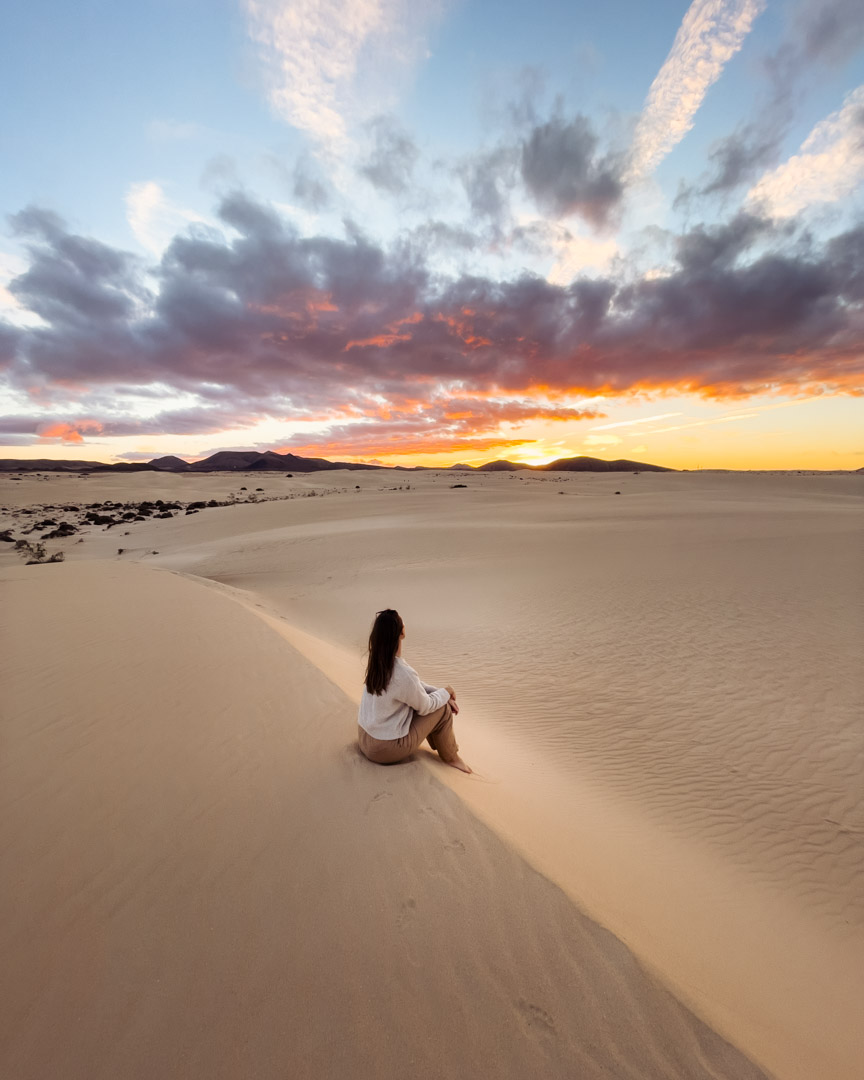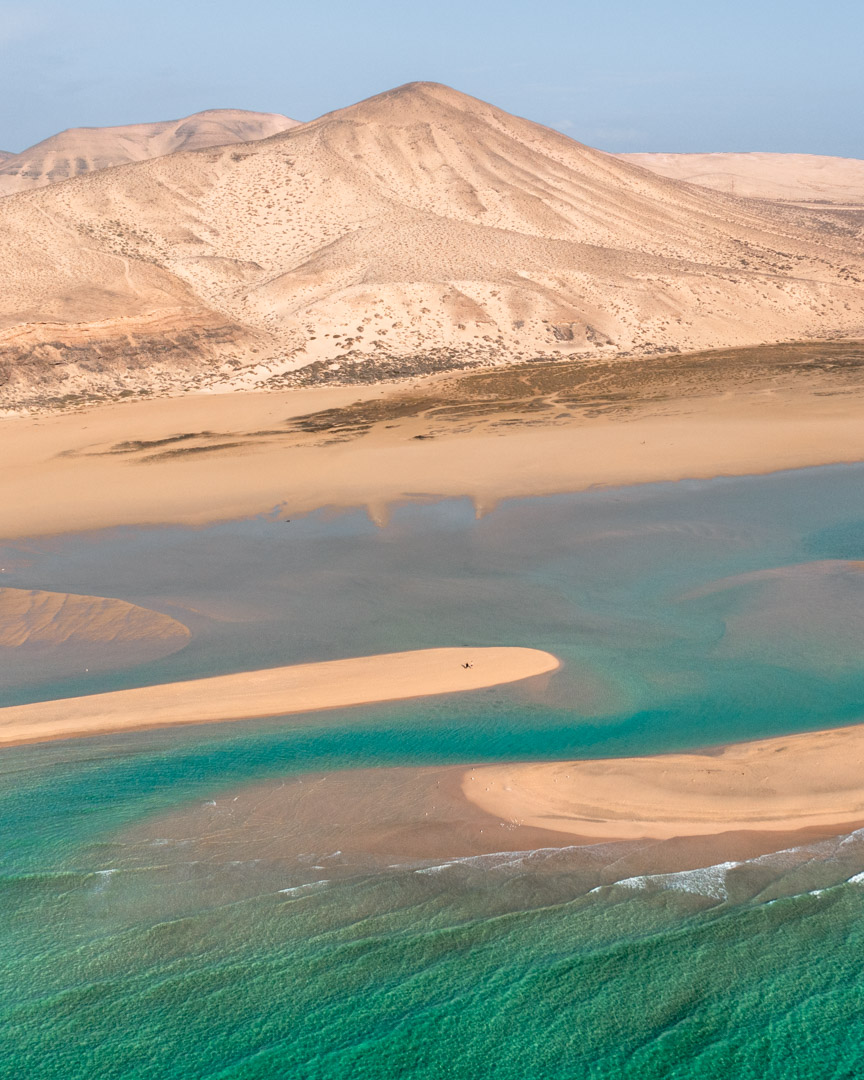 Why visit Fuerteventura
Fuerteventura (like the other Canary Islands) is mostly known for its resorts but there's so much more to the island than all you can eat-buffets and swimming pools.
It's the oldest island of the Canaries dating back 20 million years to a volcanic eruption and the landscape really reflects that.
In the Canary Islands, Fuerteventura is the second-largest island after Tenerife but it's only the fourth most populated after Tenerife, Gran Canaria and Lanzarote (which are also the top three islands in regards to the number of tourists visiting).
That means Fuerteventura is not as crowded as the other islands, making it very pleasant to explore.
Fuerteventura also has the longest white sand beaches in the Canary Islands – and they are gorgeous!
If beaches aren't your thing, don't worry. There are many natural sights to see inland and by the coasts, like volcanoes, caves, natural pools, sand dunes, mountains and hiking trails for all levels.
Read on to learn about the best things to do and places to visit in Fuerteventura!
Fun fact: the name comes from the Spanish words "fuerte" (strong) and "ventura" (fortune) but it's also a reference to the island's strong winds.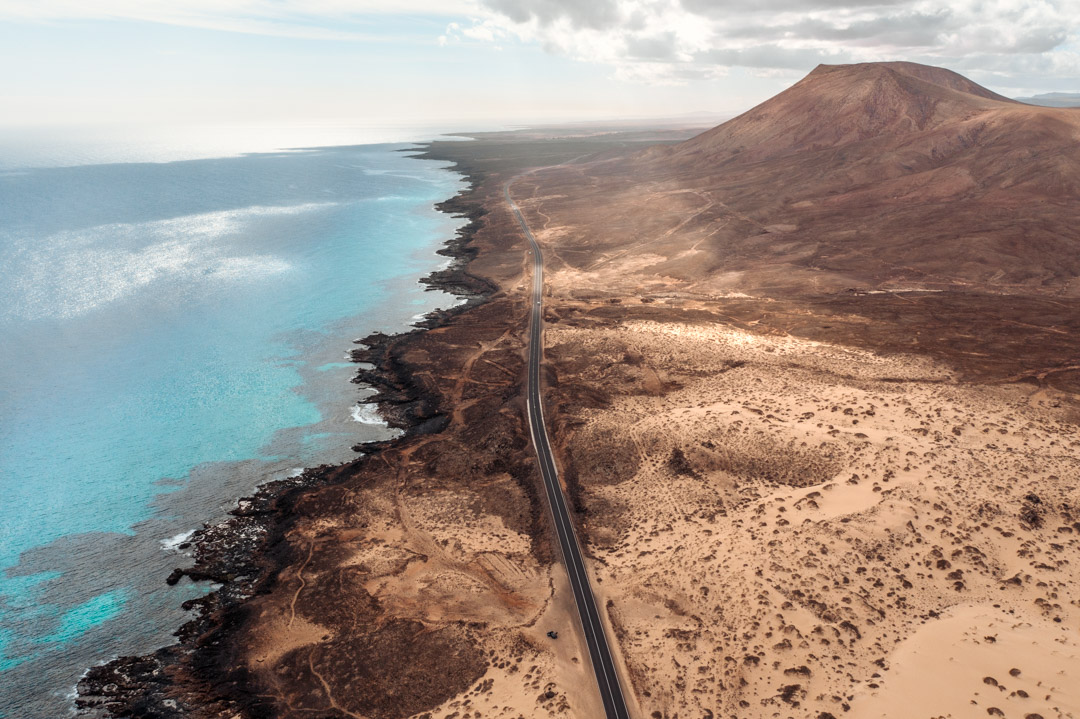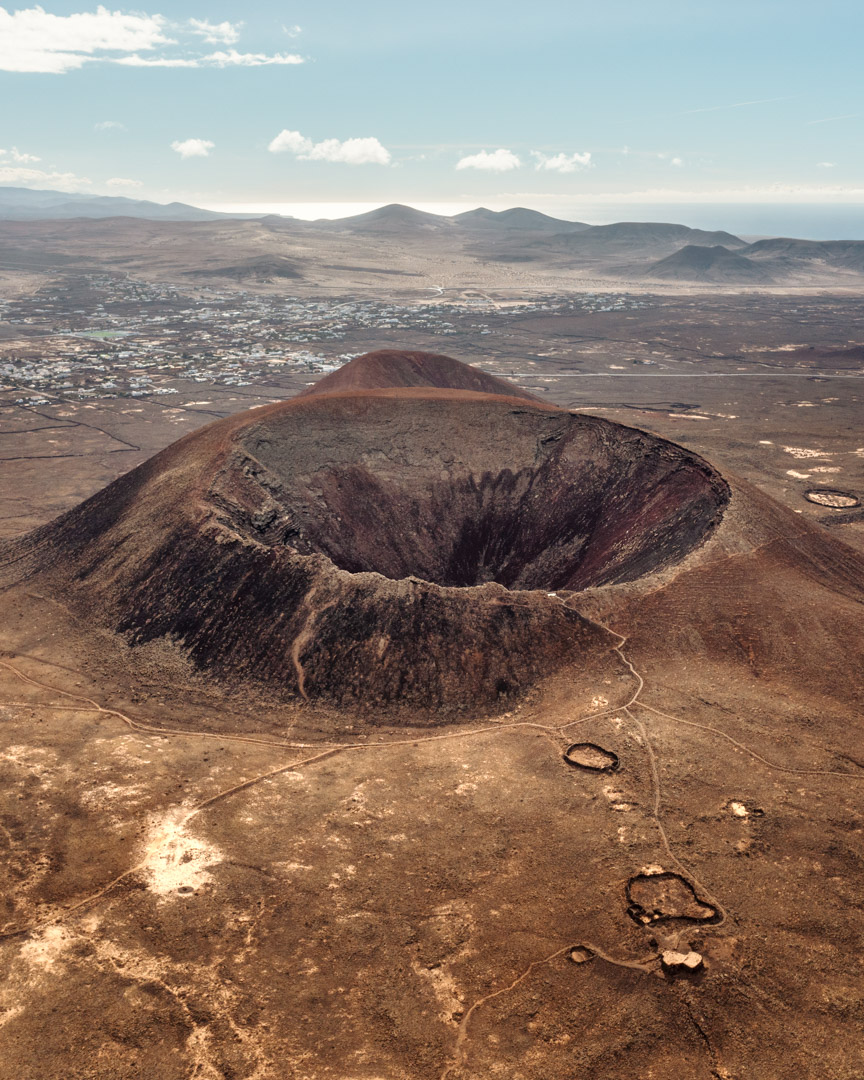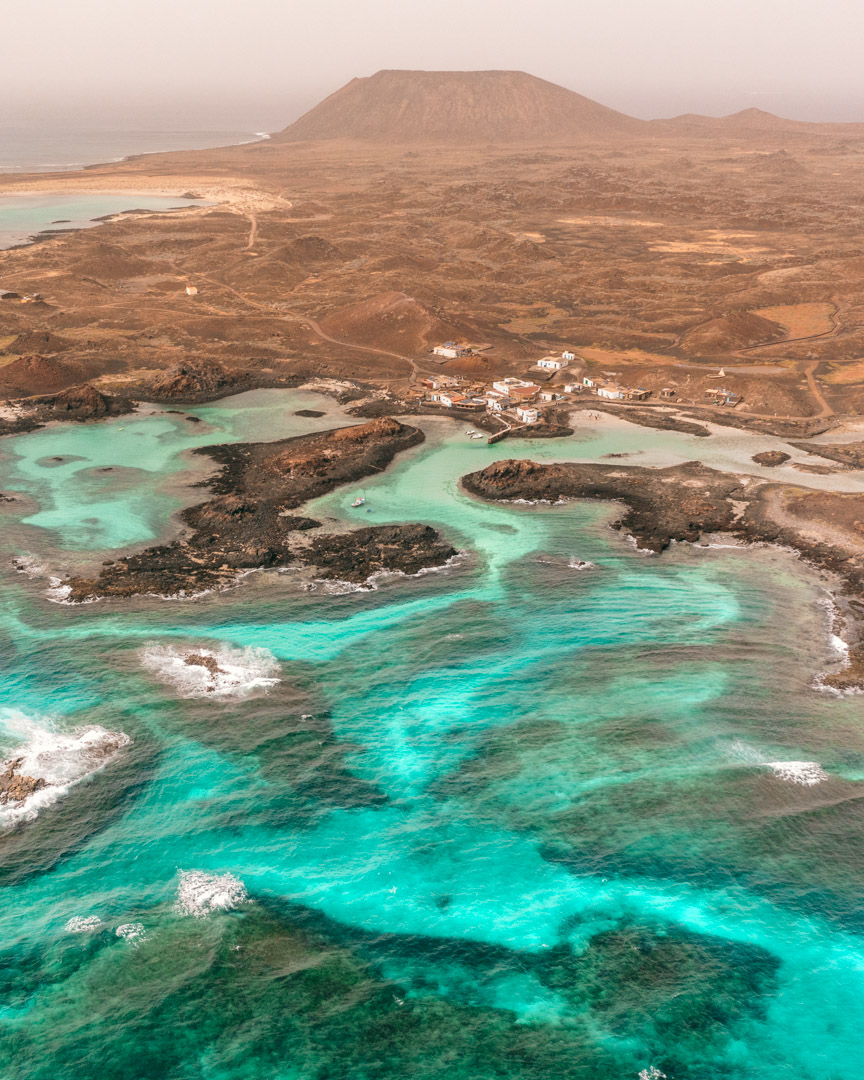 Map of Fuerteventura
Fuerteventura is part of the Canary Islands; a Spanish archipelago in the Atlantic Ocean west of Western Sahara and Morocco in a region known as Macaronesia.
The island is 100 kilometres (62 miles) long and 31 kilometres (19 miles) wide, making it the second biggest of the Canary Islands.
Where to stay in Fuerteventura
There are generally three main areas where tourists stay in Fuerteventura: north, central and south.
The two main tourist areas of Fuerteventura are:
Corralejo in the north.
Morro Jable in the south.
Around Corralejo and Morro Jable is where most resorts, hotels, restaurants and tourist amenities are located.
Staying at either end of the island means you'll stay near some fantastic beaches and other top attractions of Fuerteventura.
The downside is that you'll naturally have a farther drive to the opposite end.
To make up for this, it can also make sense to stay more centrally on the island (adlink: as we did ourselves) – or to split up your time evenly between the north and the south and book accommodation at both ends.
Search for the best value accommodation in Fuerteventura here (adlink).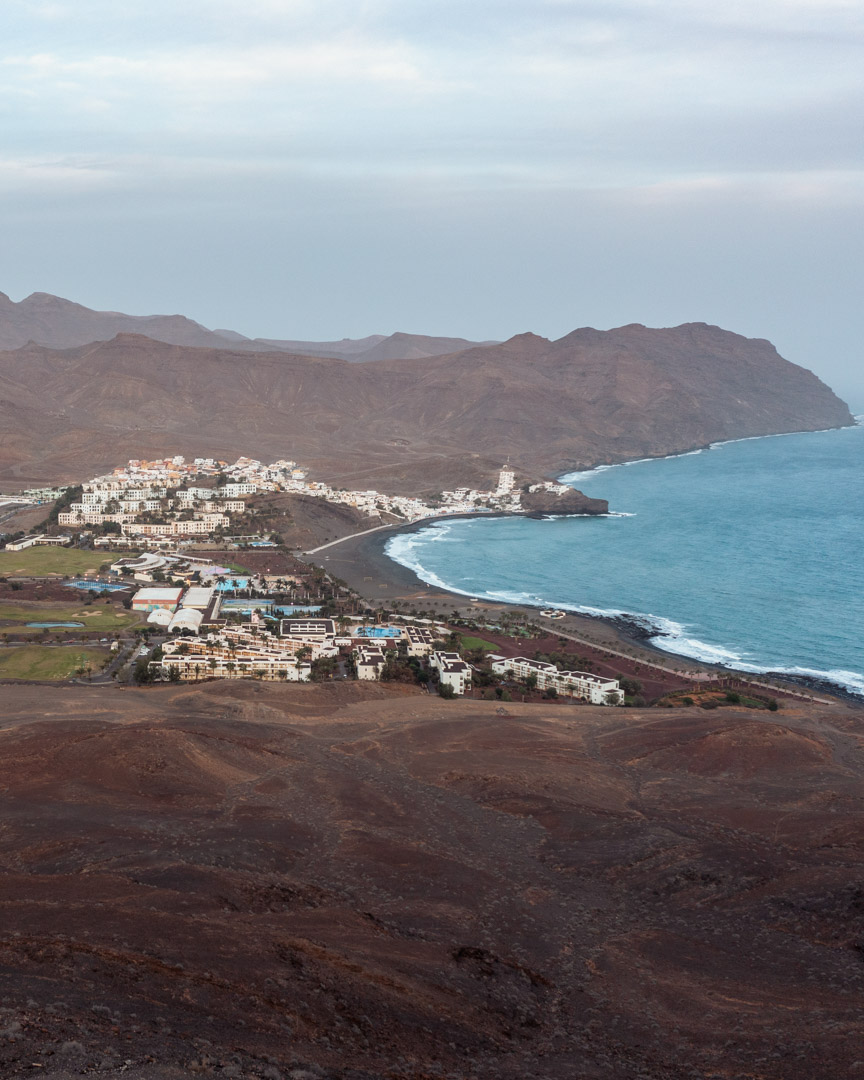 Area overview of where to stay in Fuerteventura:
North: Corralejo – Hip vibe & close to amazing attractions
Corralejo is the most popular place to stay in Fuerteventura for a reason.
Staying here means you'll be close to the small beaches of Corralejo, but also be just minutes away from the famous Corralejo Sand Dunes – the "desert" of Fuerteventura with absolutely stunning beaches.
Also near Corralejo? The climbable Calderon Hondo volcano, the protected natural area Lobos Island as well as El Cotillo and lots of other beautiful beaches.
Corralejo itself is a cosy town with lots of great restaurants and supermarkets. If you're looking for plant-based options in Fuerteventura, Corralejo is probably your best bet. We had delicious vegan ice cream from La Nativa when we visited.
Make sure to check out this guide to vegan dine outs in Fuerteventura by Veganhaven for great places to eat on the island.
Where to stay in Corralejo
Search for the best value accommodation in Corralejo here.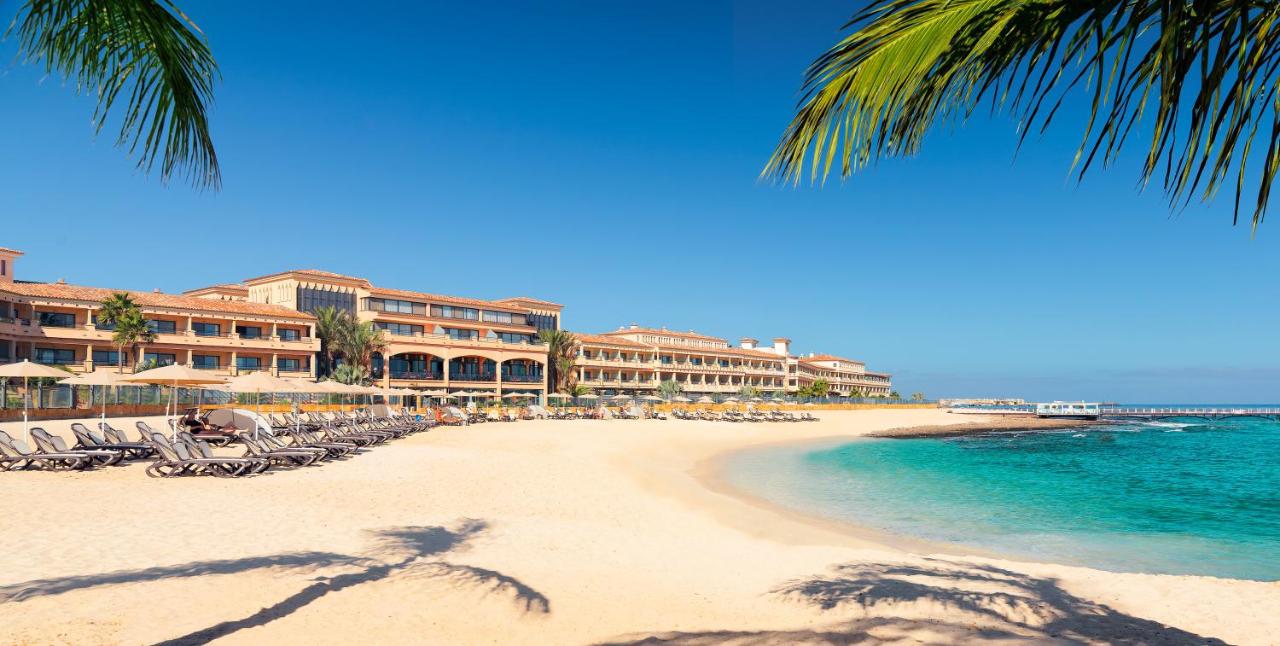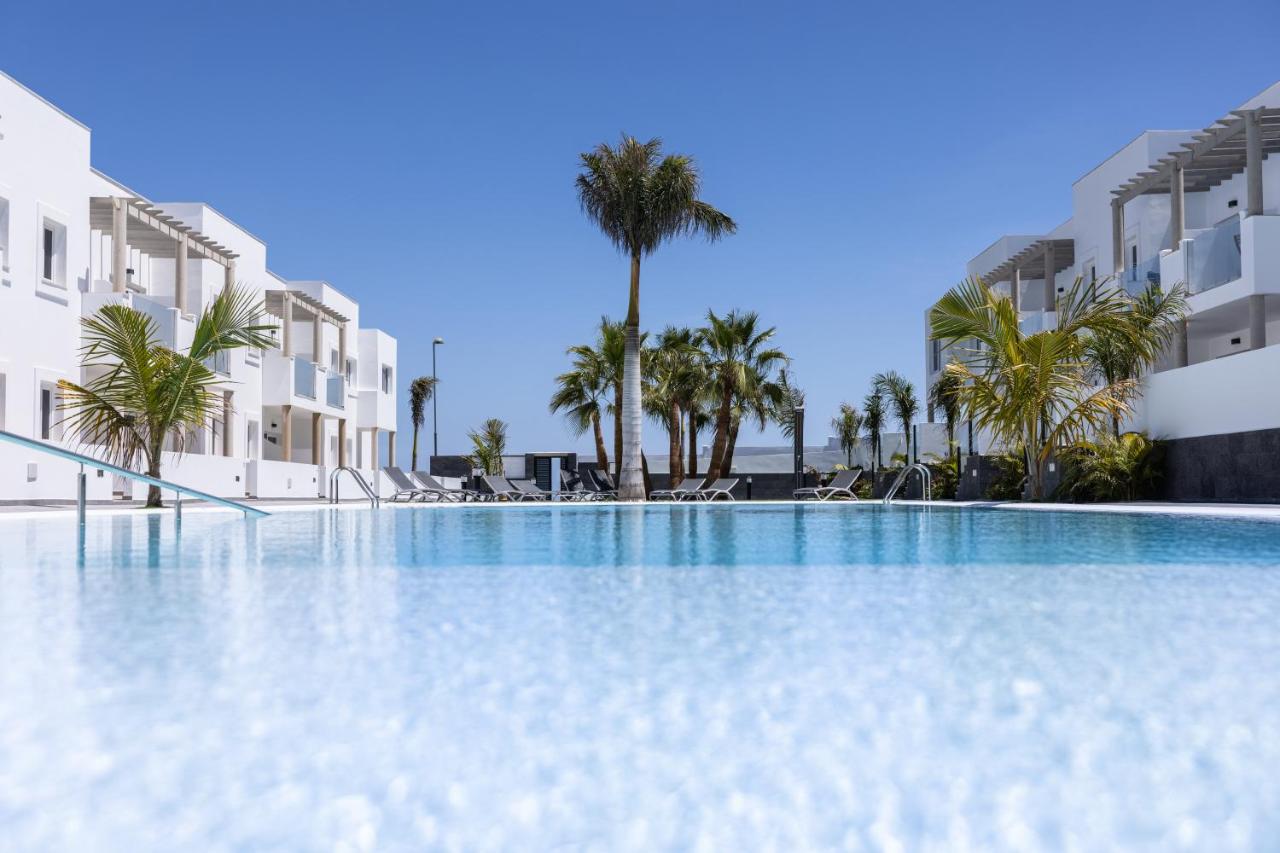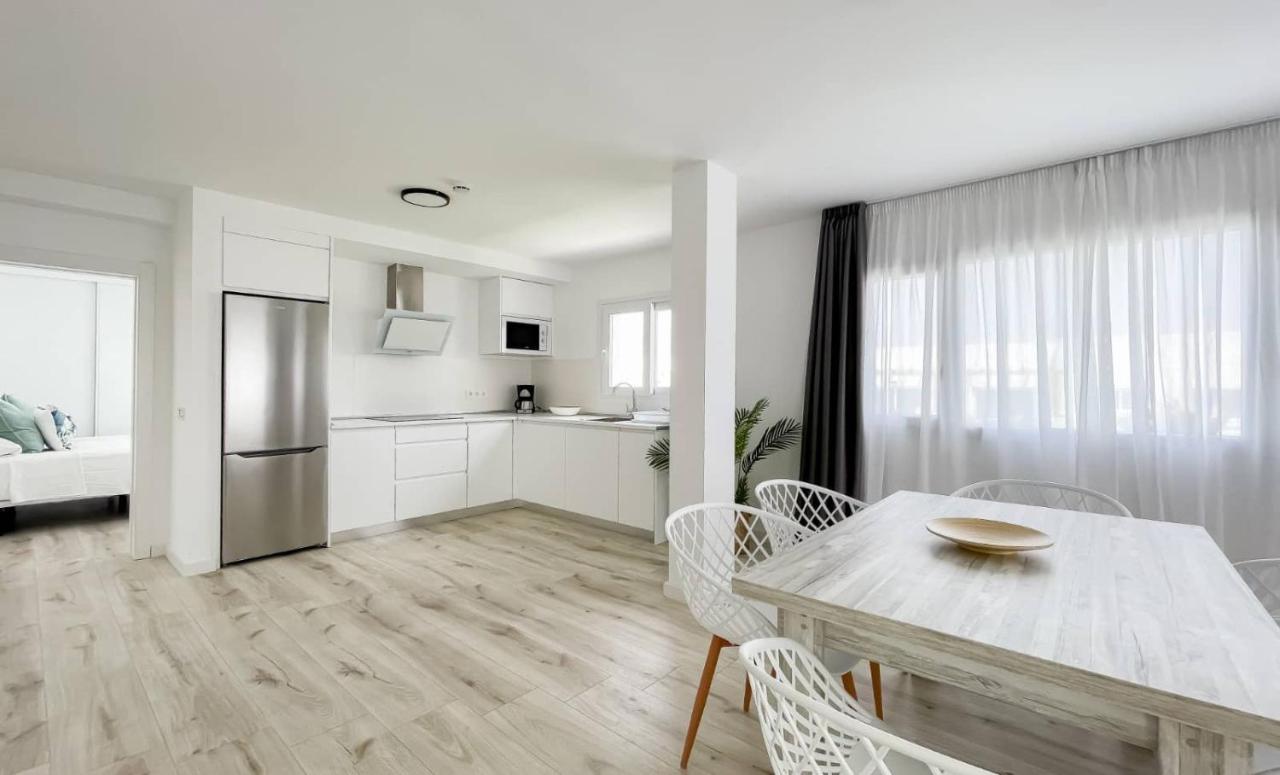 North: El Cotillo – Beautiful, family-friendly beaches
El Cotillo is located in the northwest about 20 minutes of driving from Corralejo.
This small, sleepy town maintains a very chilled-out atmosphere even though its popularity is on the rise.
The beautiful beaches here are protected by reefs, meaning waves and currents are minimal. This is why El Cotillo is a great place to stay for families with children.
Also, prices can be lower here than in Corralejo while you're still close to many incredible sights. Basing yourself in El Cotillo is indeed a fine option.
Where to stay in El Cotillo
Search for the best value accommodation in El Cotillo here.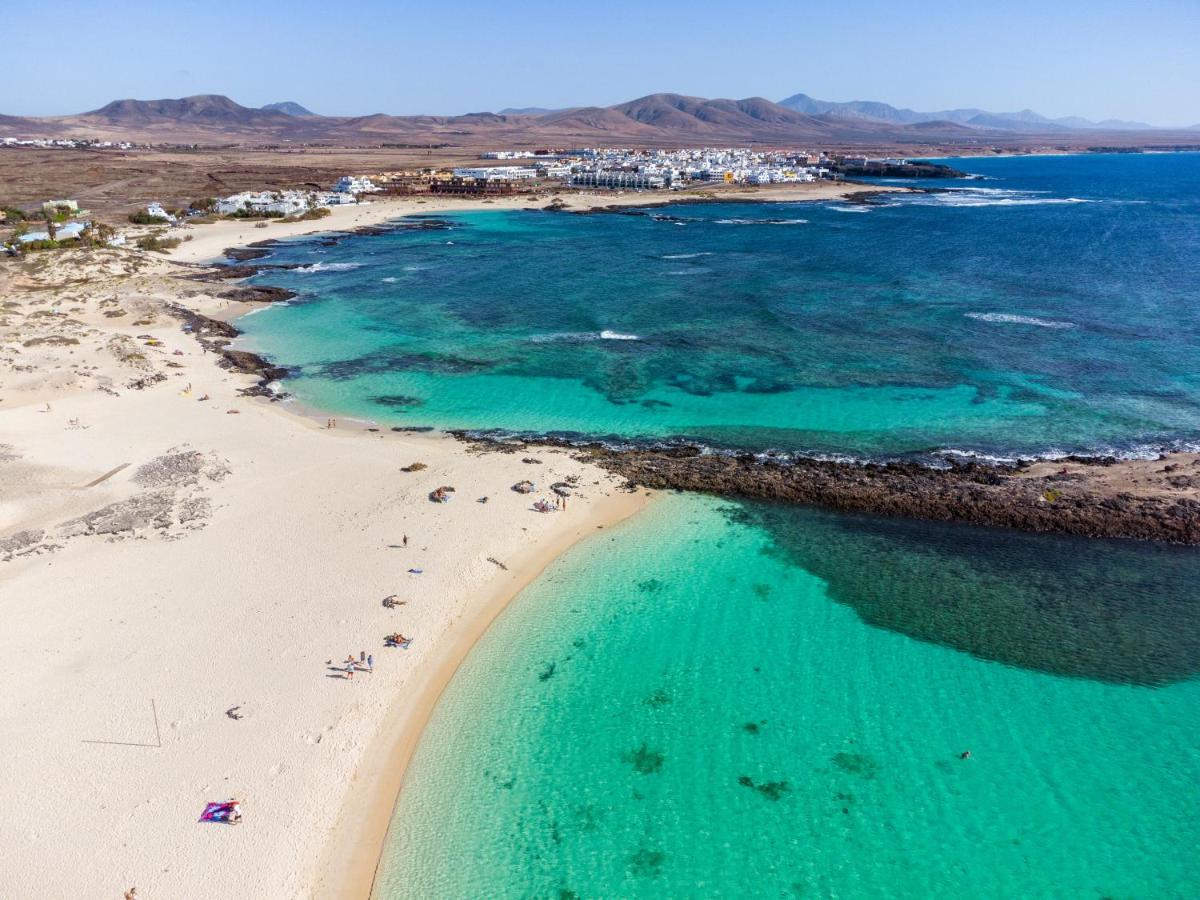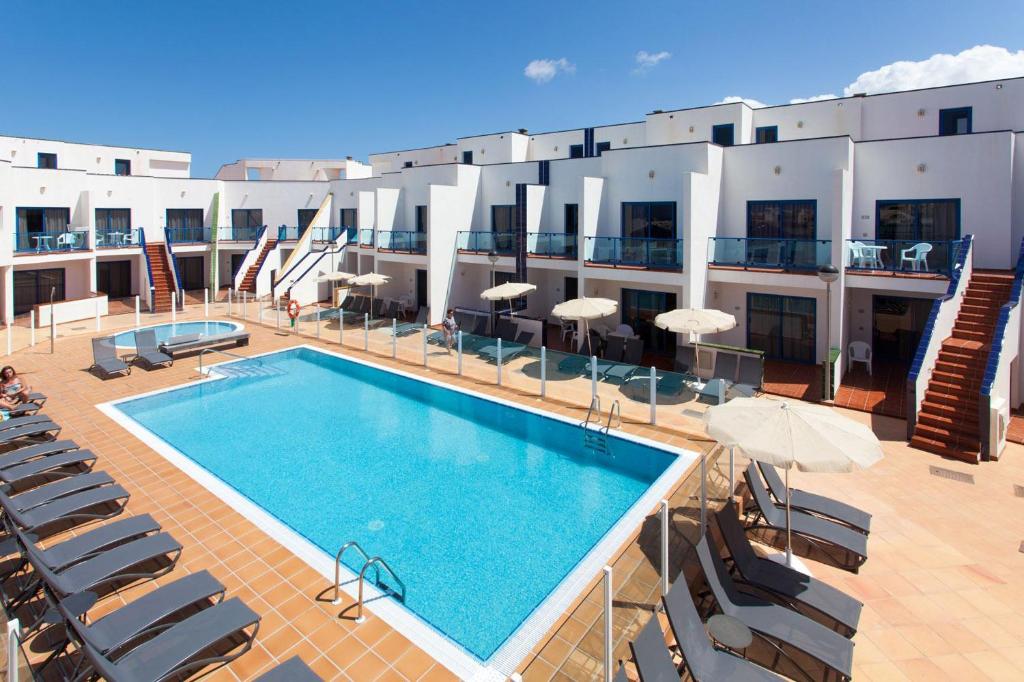 Central: Puerto del Rosario to Caleta de Fuste
Staying in the eastern central part of the island comes with some obvious positives: transport from and to the airport is minimal and you'll be easily connected with the rest of the island.
That means staying here can be a good choice if you don't rent a car.
On the other hand, the eastern central part of Fuerteventura is generally not the most interesting part of the island for most tourists.
Apart from the natural pool of Caleta de Fuste, the beaches here aren't Fuerteventura's best (although they're still fine!). That means you'll have to travel to get to Fuerteventura's top sights.
If you're into golf, though, Caleta de Fuste is a great place to stay.
Where to stay in Puerto del Rosario & Caleta de Fuste
Search for the best value accommodation in Caleta de Fuste here.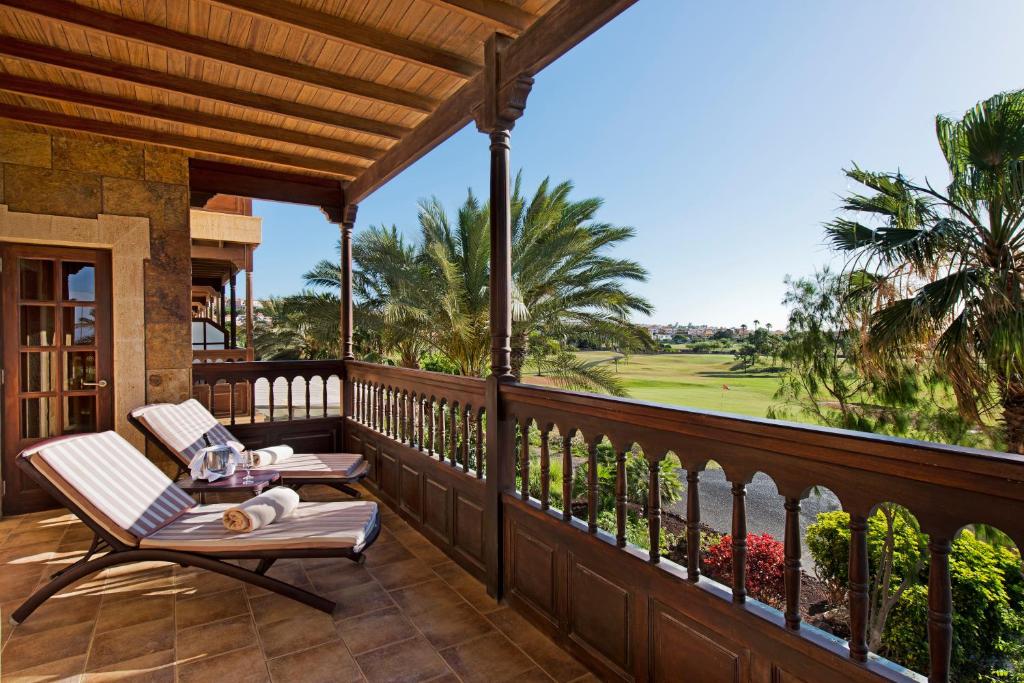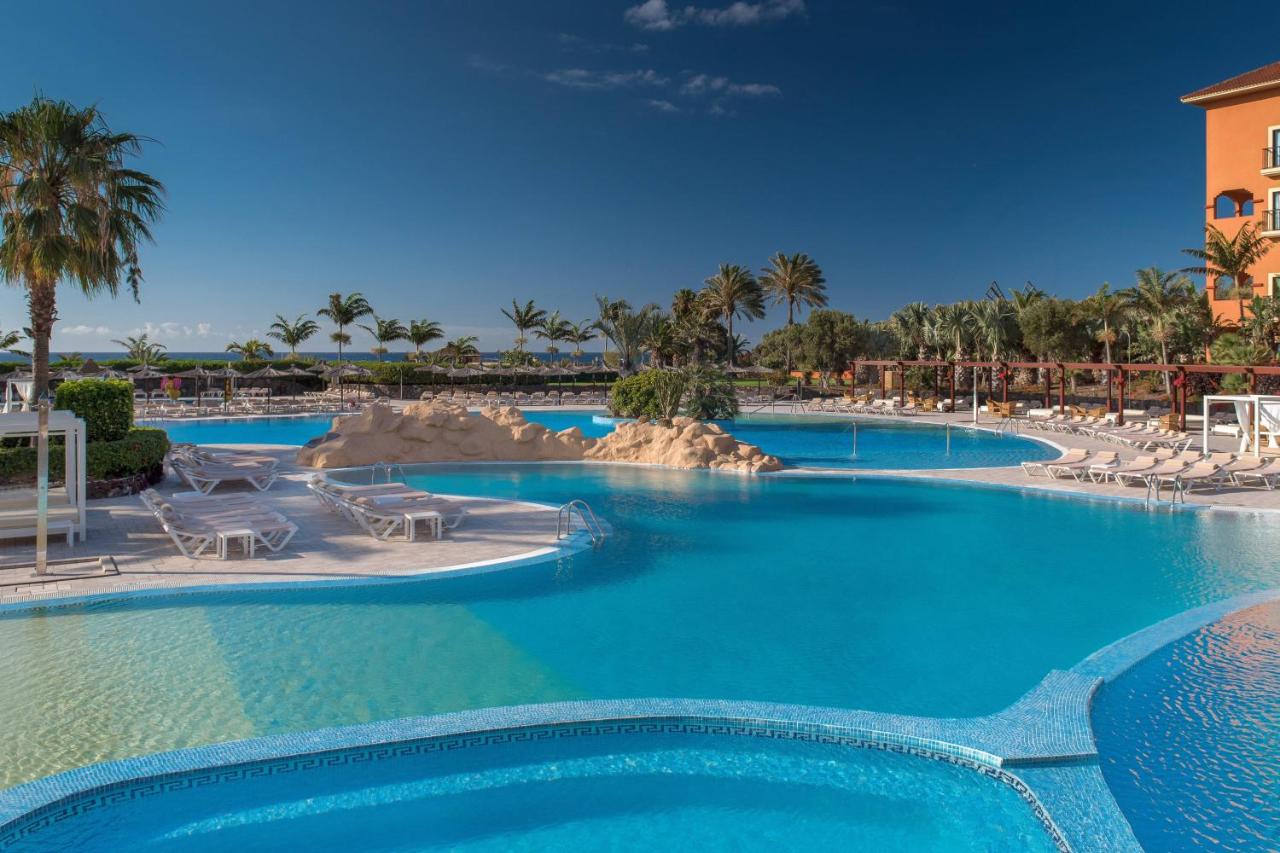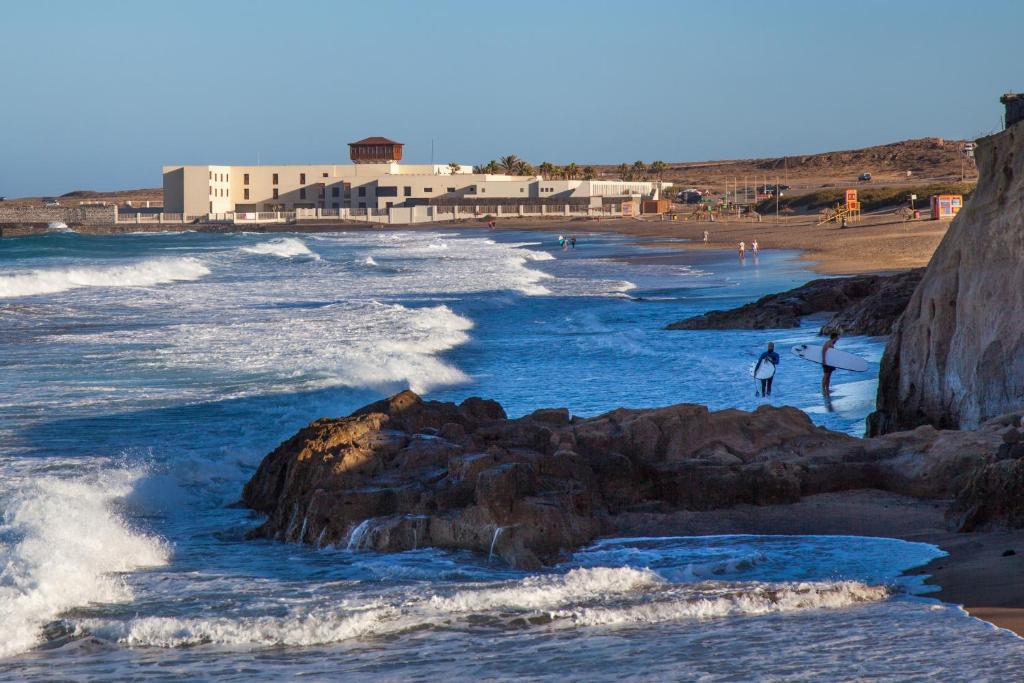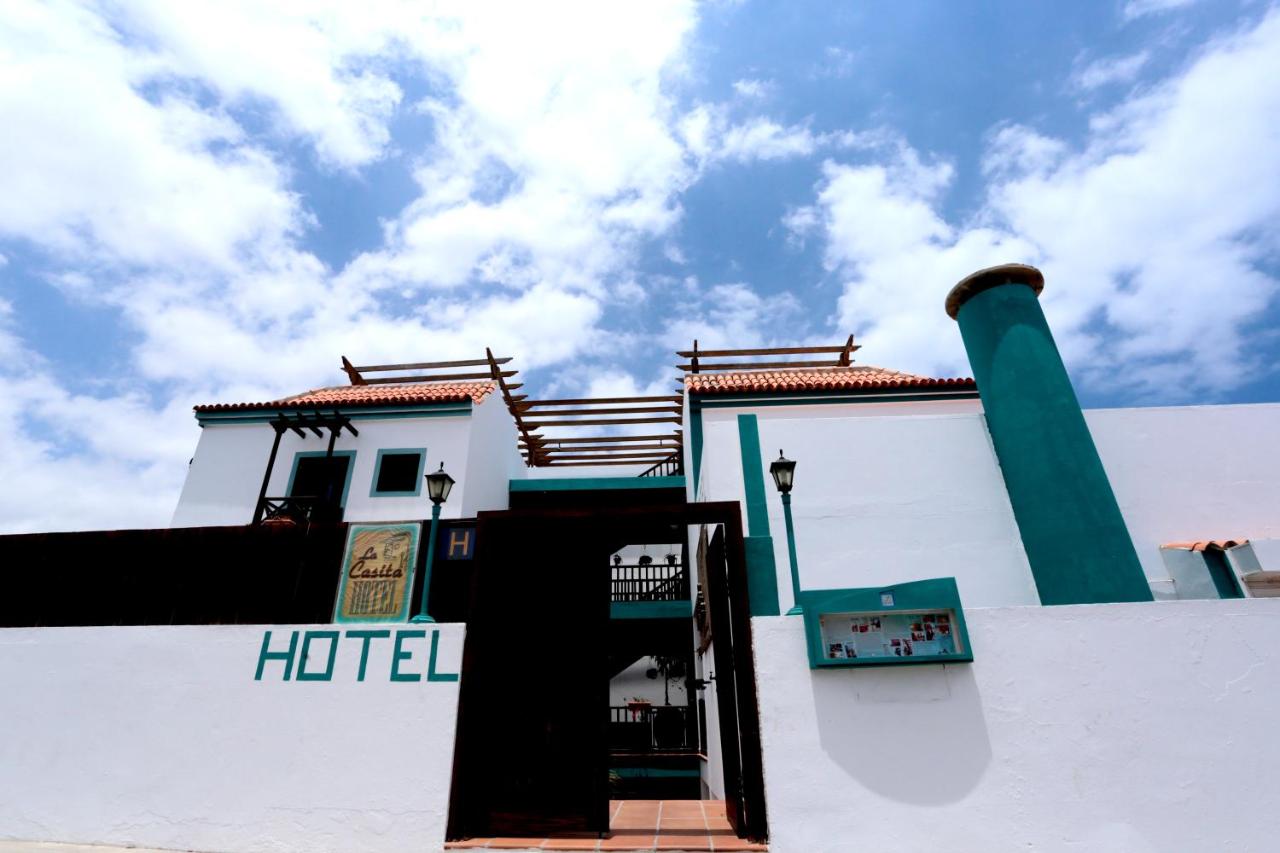 Central: Betancuria – The central mountains of Fuerteventura
If you like hiking or don't mind driving to the beach, staying in the central mountains (also known as the Betancuria Massif) in the western part of Fuerteventura can make sense.
Betancuria is known as the most beautiful town on the island and the mountains around here are stunning.
The roads are very popular with road cyclists and the trails are great for hiking.
Staying in the central mountains also means you'll be close to Ajuy Caves and the black sand beach, Arco de las Peñitas, as well as several famous viewpoints.
Where to stay near Betancuria
Search for the best value accommodation near Betancuria here.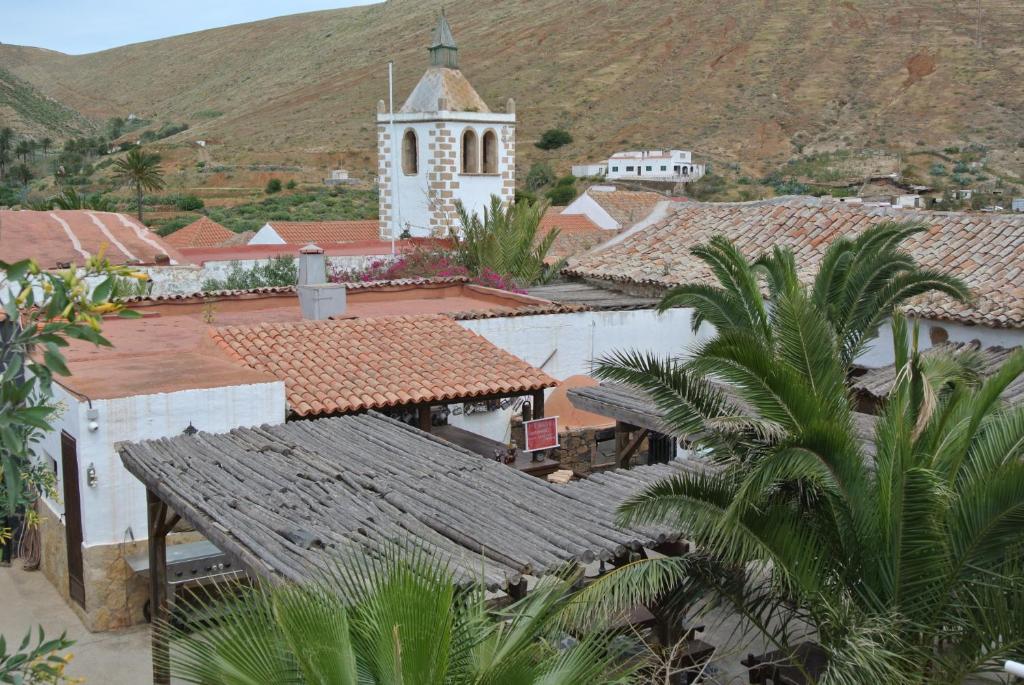 South: Costa Calma – Calm area for beach lovers
Staying in the south of Fuerteventura is heaven for people who love going to the beach. It's especially popular with Northern Europeans (and Germans in particular).
As the name implies, Costa Calma is very calm. It's smaller than some of the other resort towns of Fuerteventura and very laid-back.
The beaches in and near Costa Calma are veeery long, so you'll always be able to find your own spot in the sand.
Sotavento (and its famed lagoon) starts from the southern end of Costa Calma, making Costa Calma a popular spot for wind and kitesurfers who love the conditions here.
There's a twice-weekly market in Costa Calma held each Wednesday and Sunday.
Where to stay in Costa Calma
Search for the best value accommodation in Costa Calma here.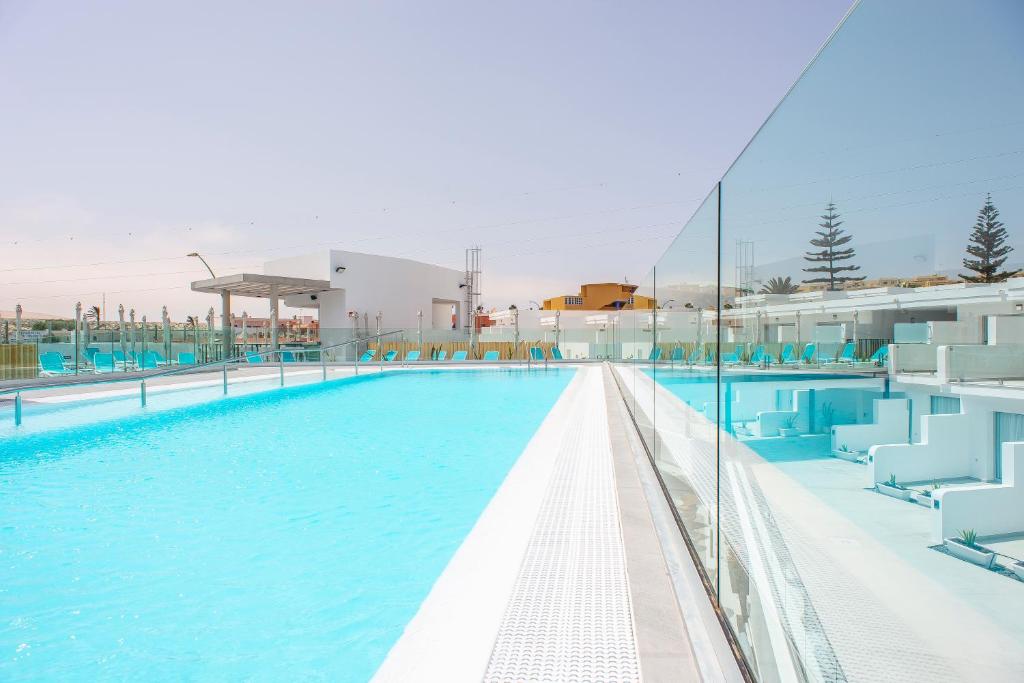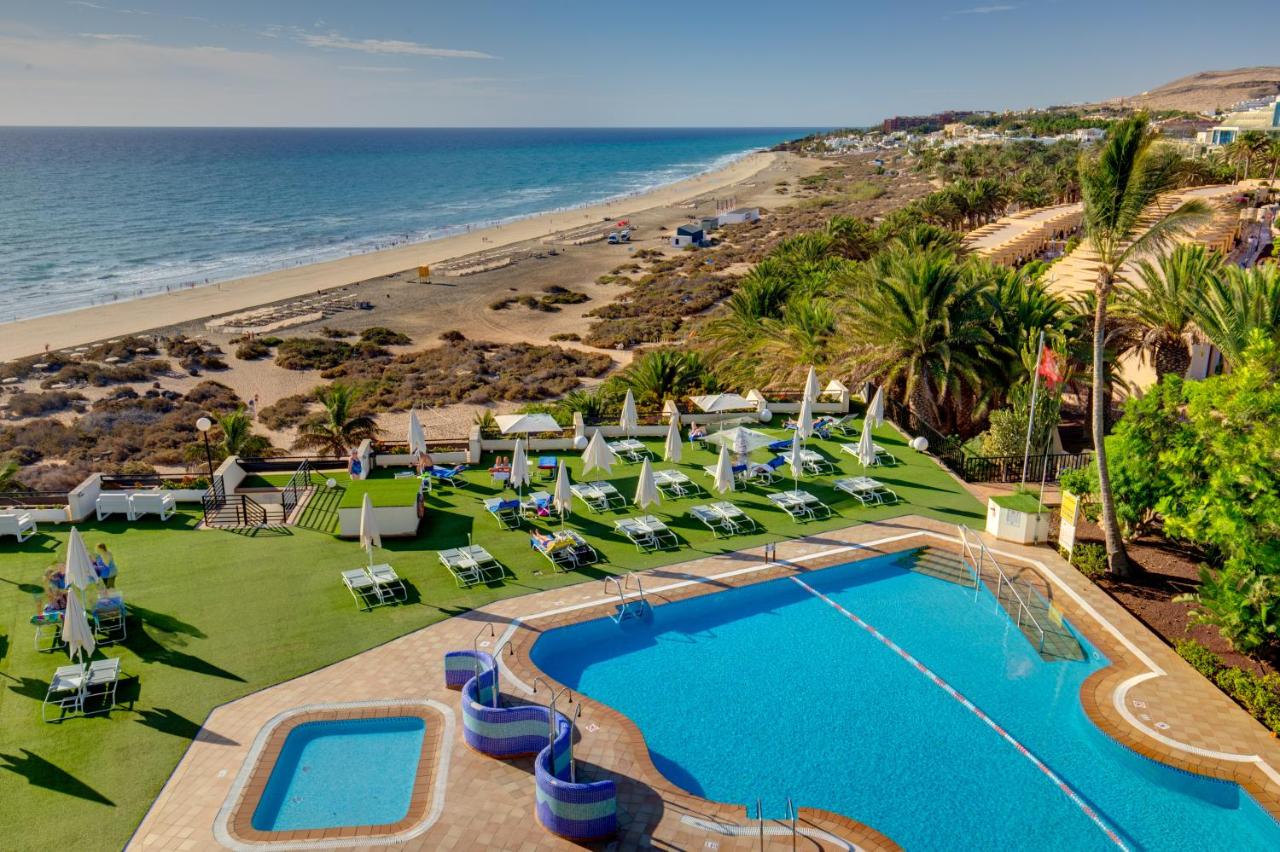 South: Morro Jable – Family-friendly & peaceful beaches
Morro Jable is the southernmost place to stay in Fuerteventura and one of the most developed areas of the island.
If Morro Jable's own beach Playa del Matorral isn't enough, you'll also be very close to Playa de Esquinzo as well as the famous Sotavento Lagoon.
The real unique draw down south though? The natural park of Jandía, home to Cofete – our favourite beach in Fuerteventura.
Getting here is not easy, but it's much easier if you're already staying in Morro Jable.
Morro Jable itself is a lively place with lots of supermarkets, cafés and restaurants. There's a local market each Thursday.
Where to stay in Morro Jable
Search for the best value accommodation in Morro Jable here.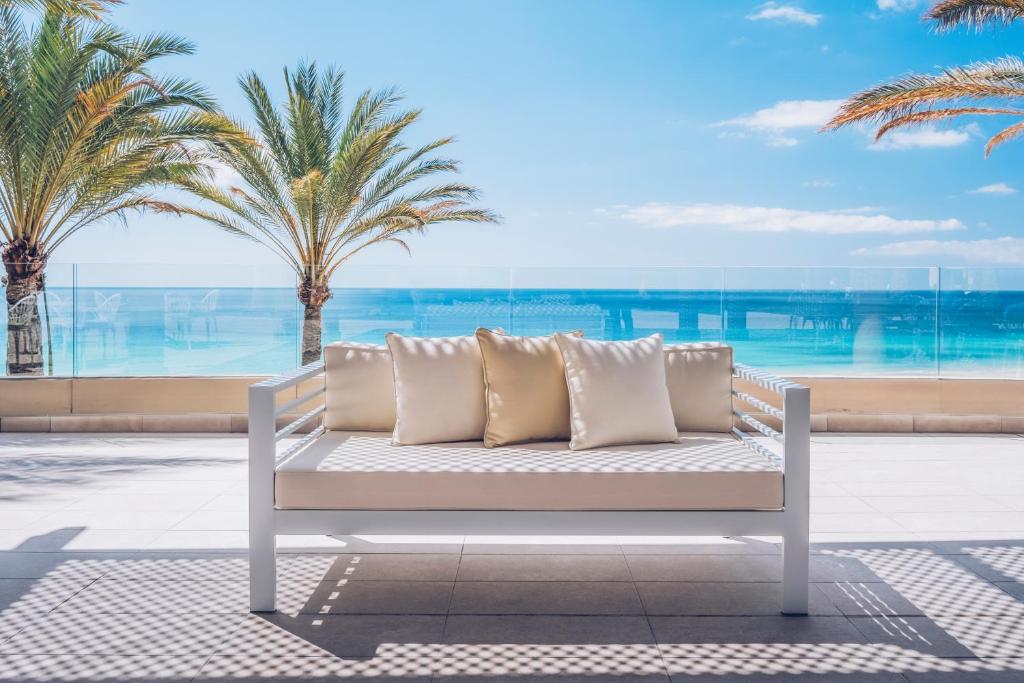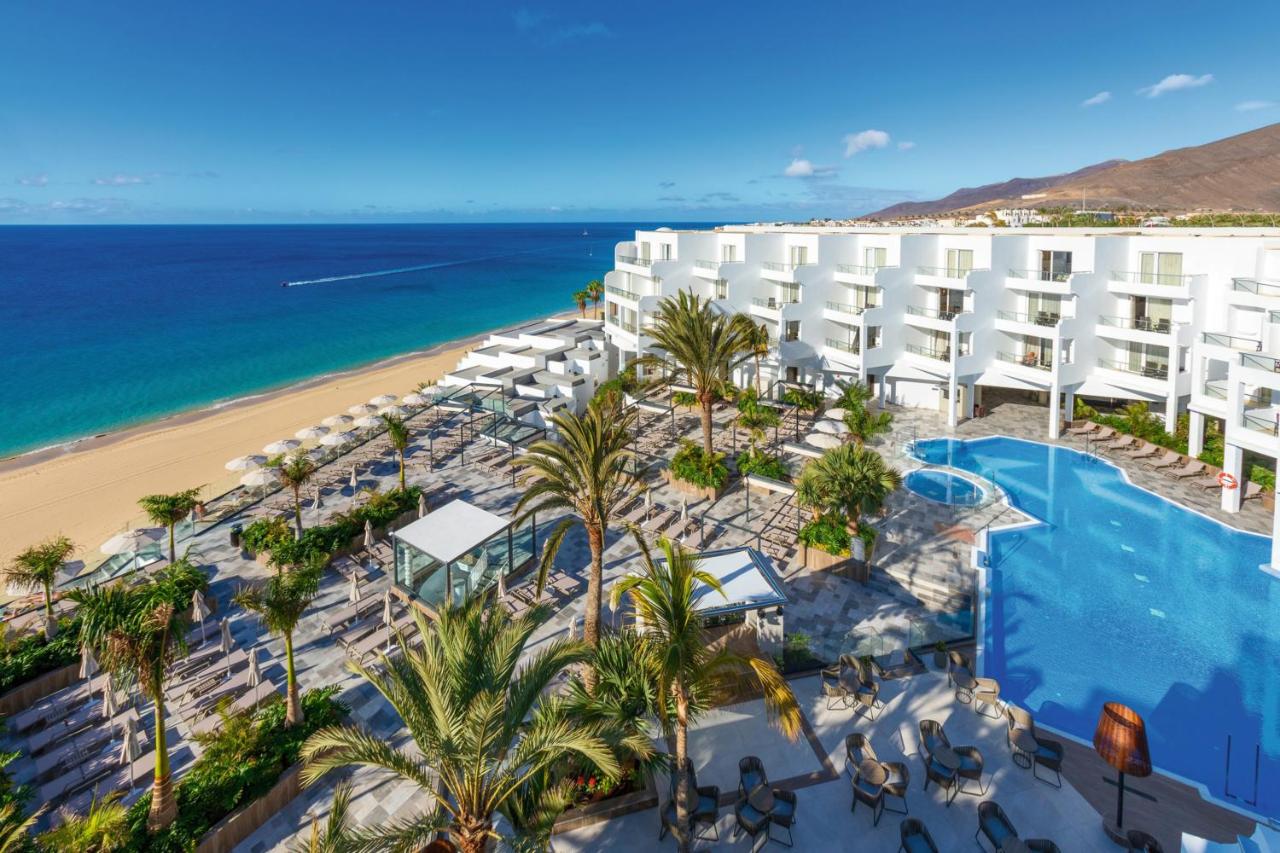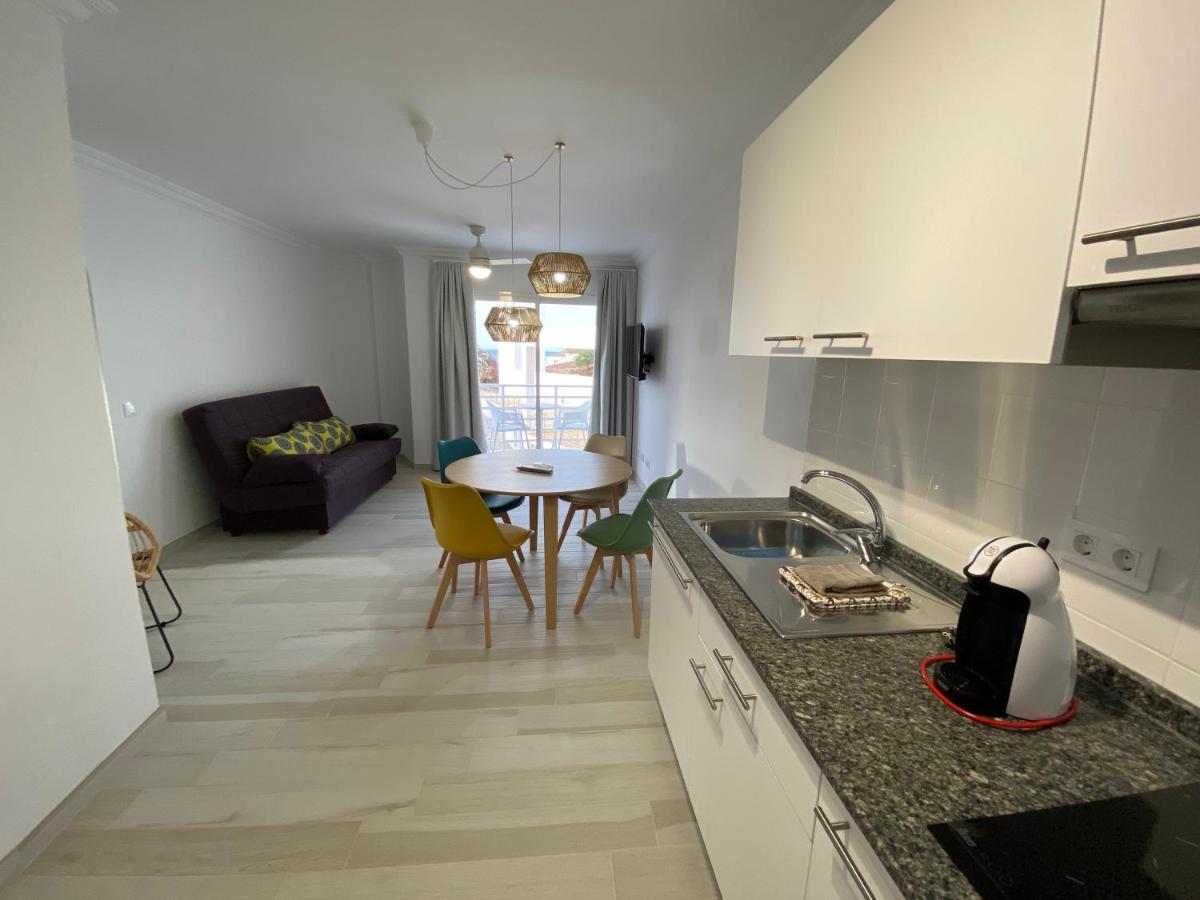 21 best things to do in Fuerteventura
Are you wondering what to do in Fuerteventura?
In this travel guide to Fuerteventura, we have summed up the top things to do, the best beaches and other places you can't miss on your vacation to the Canarian island.
Most of them are even free things to do!
1. Corralejo Sand Dunes – Desert by the ocean
Exploring the Corralejo Sand Dunes in the north of Fuerteventura is definitely one of the top things to do on the island.
The golden dunes in Corralejo Natural Park span over a huge area and they are in fact the largest sand dunes in the Canary Islands.
It's an incredible experience walking in the small desert by the ocean – especially in the afternoon and around sunset.
We loved the natural park so much that we actually went there three times!
Find the best spots and views in our full travel guide to Corralejo Sand Dunes here.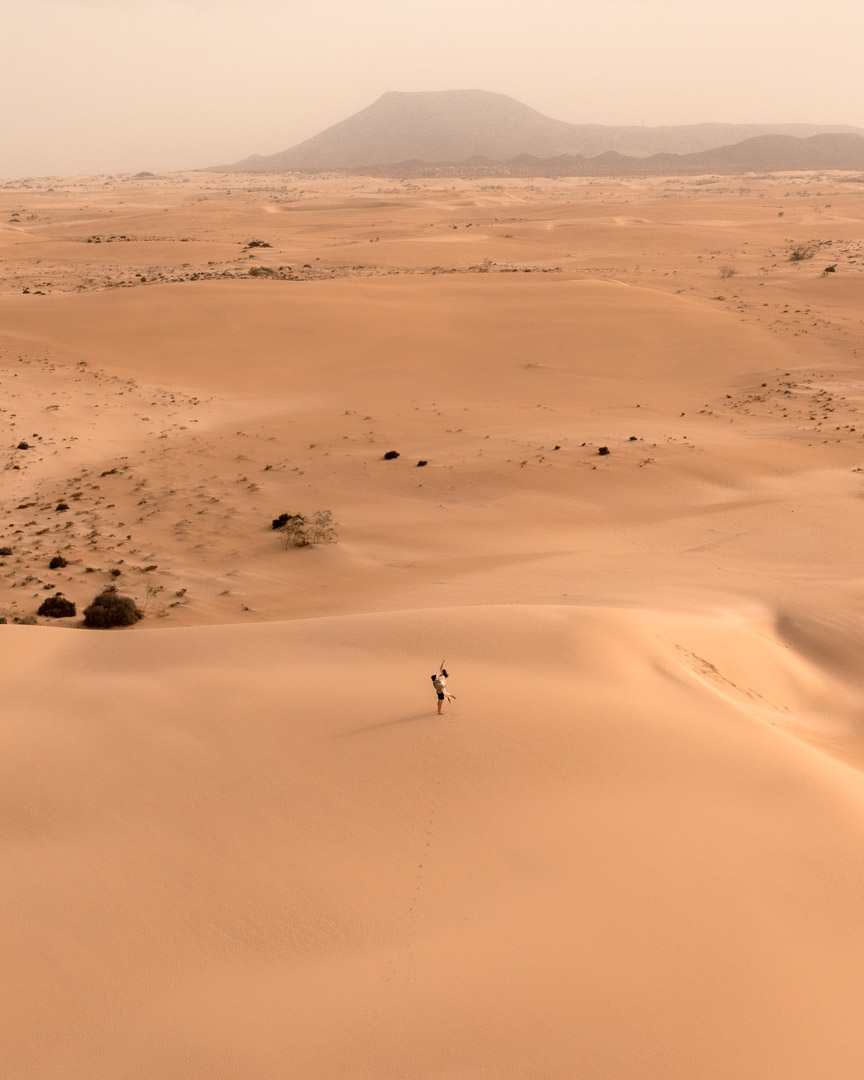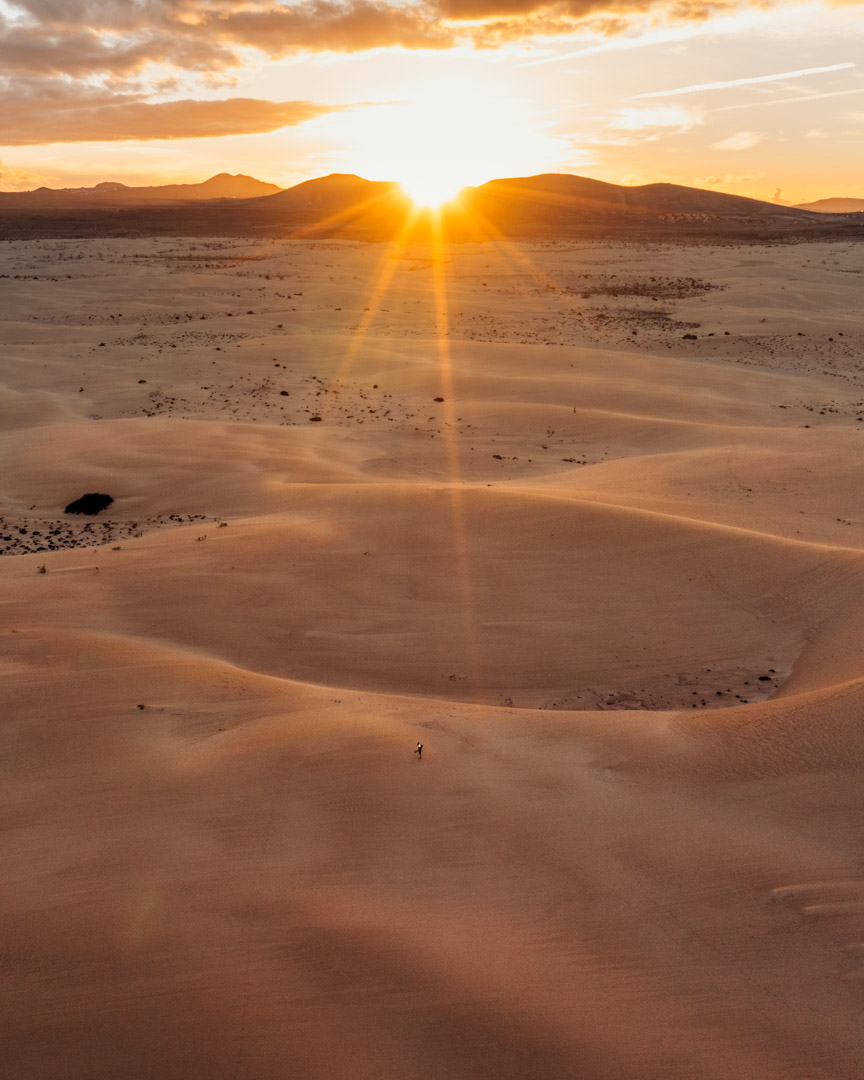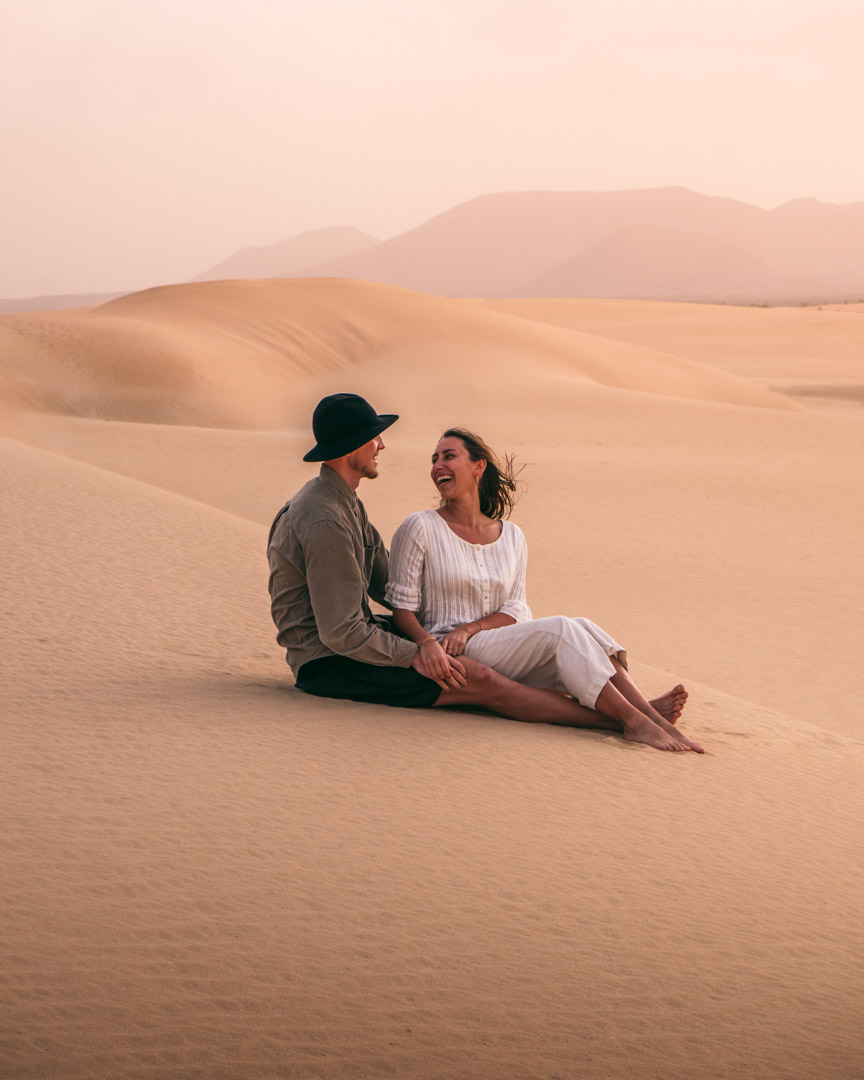 2. Corralejo beaches – Long white sand beaches
The Corralejo Natural Park also includes a coastline with kilometres of long white sand beaches that are perfect for sunbathing or water sports.
You can surf or kitesurf if you're into water sports (El Medano and Flag Beach are especially great for that) or simply find a nice spot on a beach to relax and enjoy the incredibly turquoise waters.
We really liked the beautiful beach Playa del Moro in the southern part of Corralejo Natural Park.
Be careful if you go swimming as the currents are strong.
Parking tip: there are many free, marked parking spots along the FV-1 road next to Corralejo Natural Park making both the dunes and beaches easily accessible.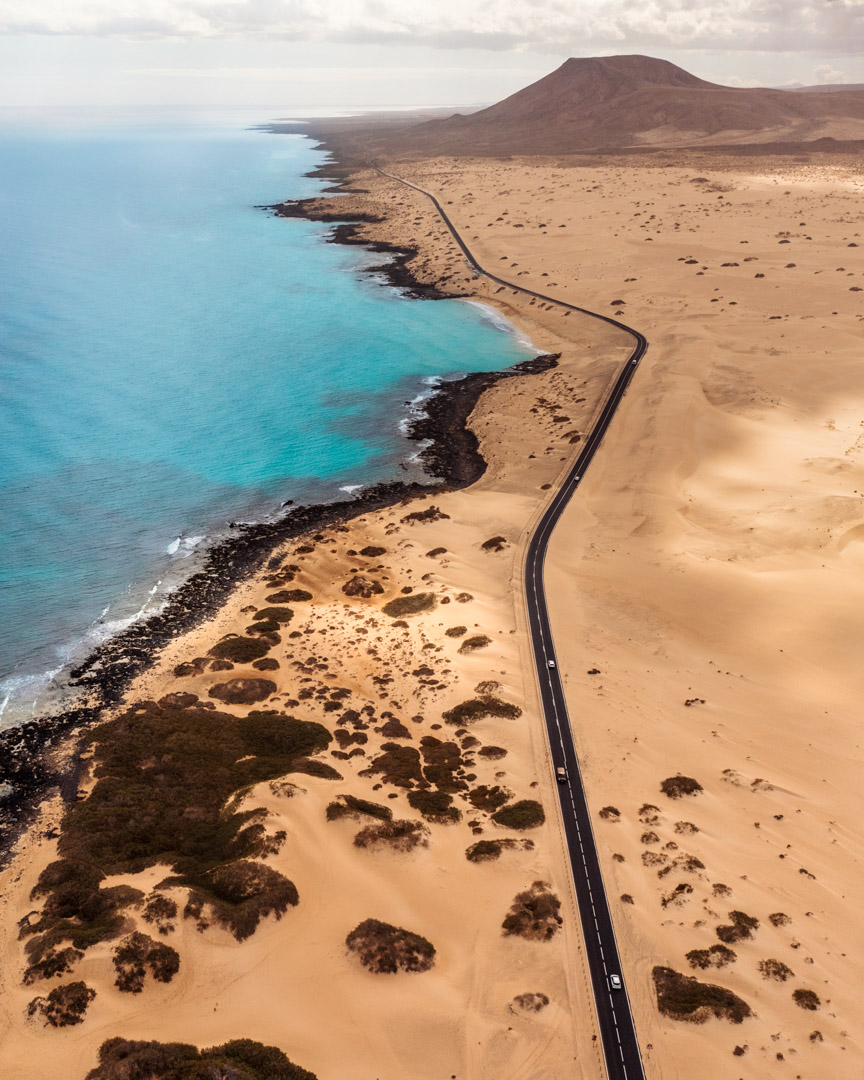 3. Lobos Island – Best day trip
One of the best day trips from Fuerteventura is to Lobos Island (Isla de Lobos) – a small protected volcanic island situated between Fuerteventura and Lanzarote.
Only a 15-minute ferry ride away from Corralejo, you can:
Chill out at the long beach Playa de la Concha de Lobos.
Swim in the crystal clear lagoon at Puertito Isla de Lobos.
Hike to the lighthouse Faro de Punta Martiño on the northern part of the island.
Climb the volcano crater Montaña de la Caldera.
In other words, there's something for everyone on Lobos Island whether you want to relax, be active – or both!
Visiting Lobos Island is an easy and cheap excursion that we can certainly recommend going on.
Booking your boat tour in advance makes sense as only a limited amount of people can visit Lobos Island each day.
We went with Naviera Nortour on their glass-bottomed boat and they also took care of the permit for us which was really nice.
Learn how to visit Lobos Island and see the best things to do in our travel guide here.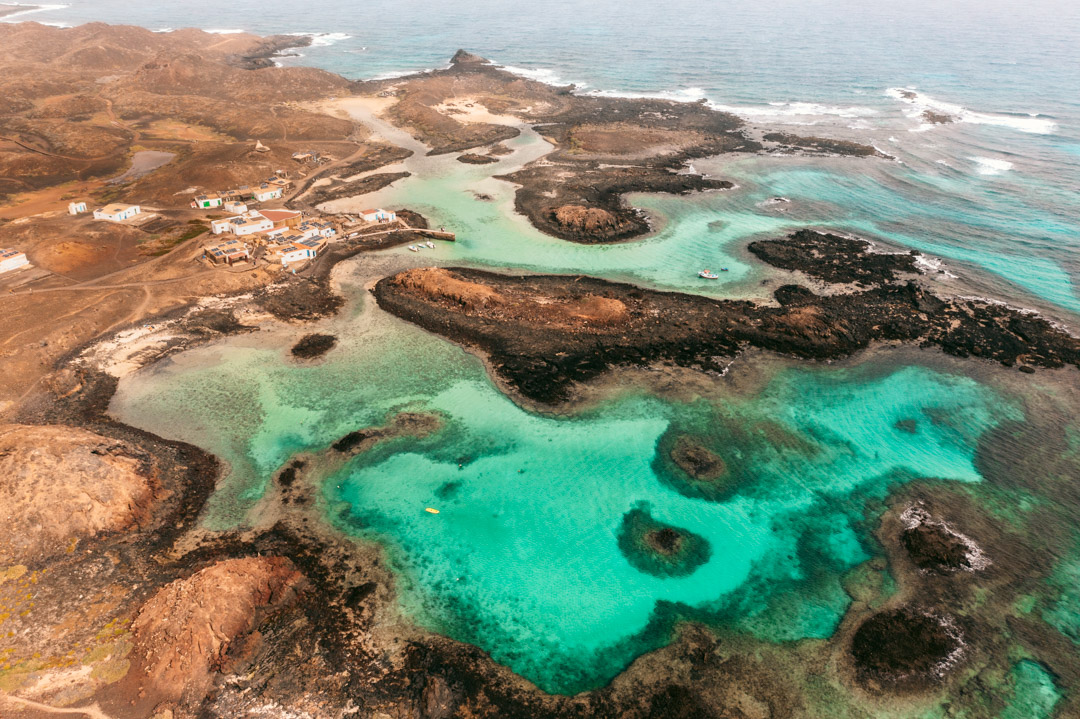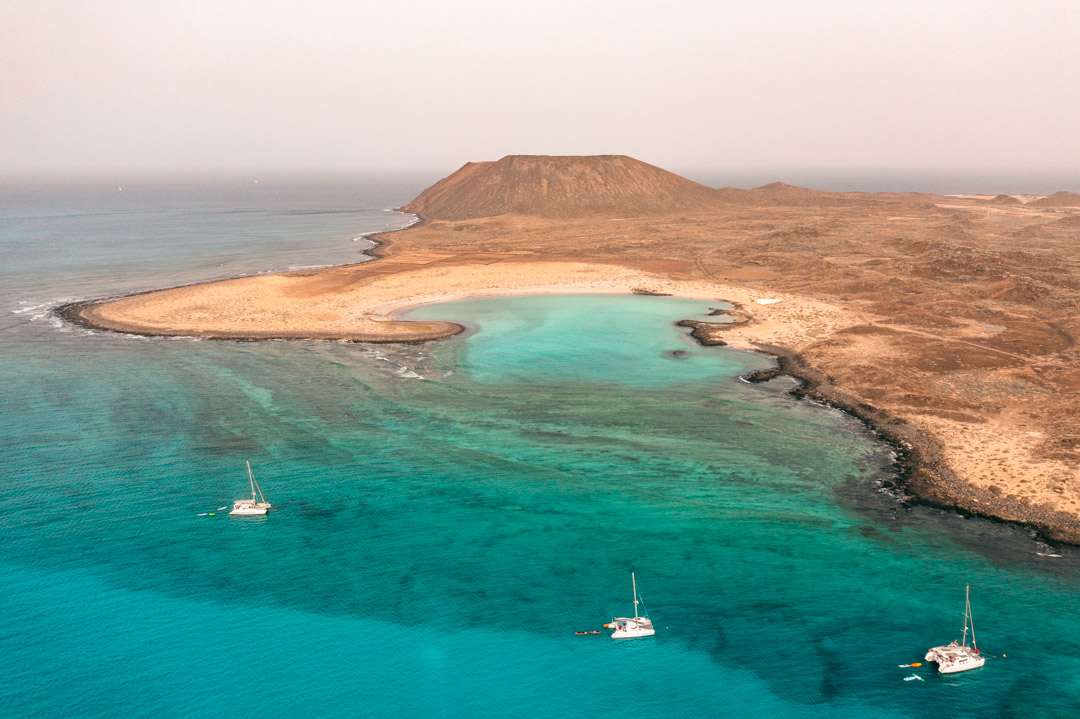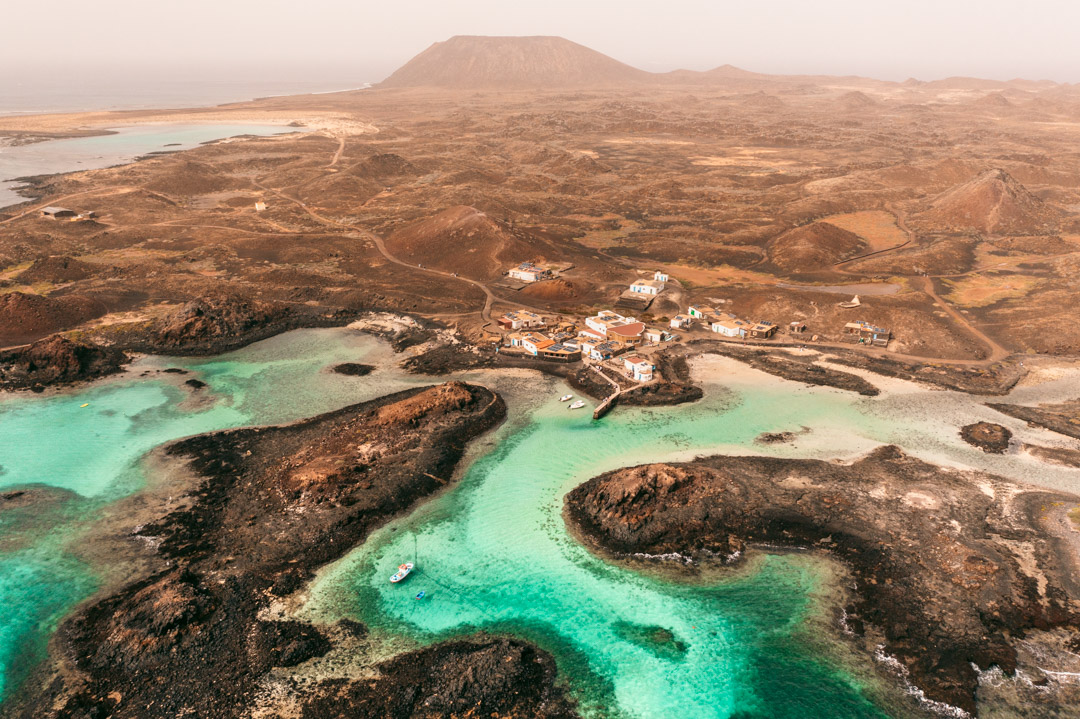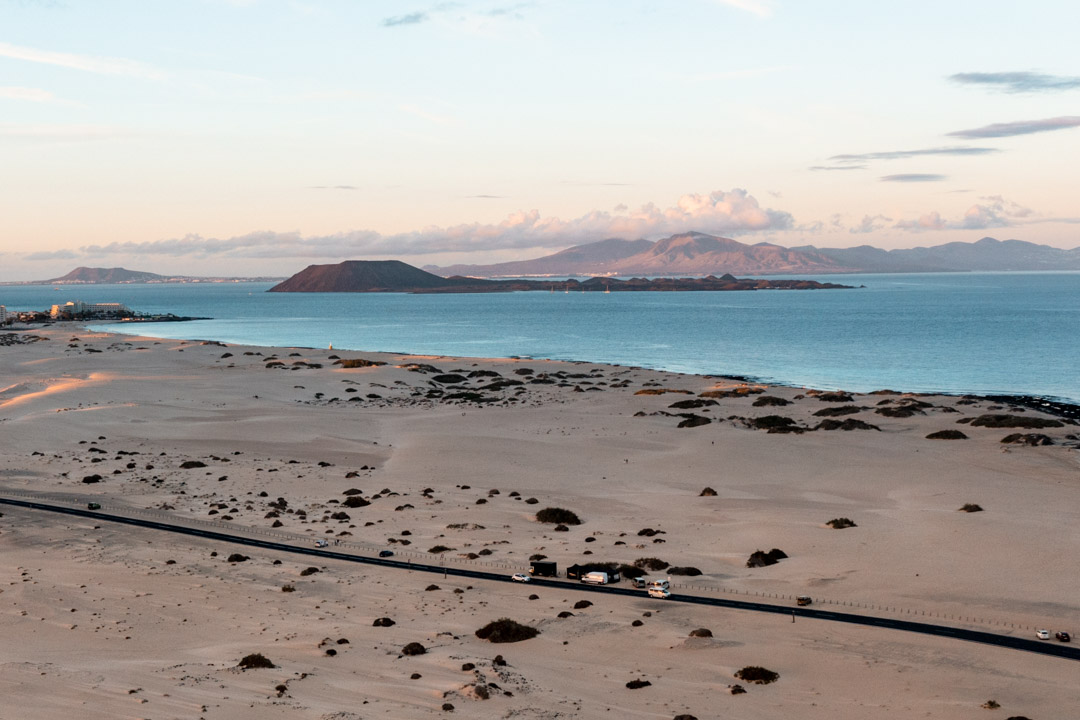 4. Cofete Beach – Most remote and beautiful beach
Cofete Beach in the southwestern part of the island is without a doubt the best and most beautiful beach in Fuerteventura.
So what's the catch? Cofete is very remote and difficult to reach.
The drive to Cofete Beach is not for the faint-hearted – but think about it as a wild adventure.
When you do finally get to Cofete, you will have almost 14 kilometres of beach with golden sand and a backdrop of the 800-metre-high mountain range in the Jandia Natural Park.
The remoteness and difficult access has made Cofete Beach underdeveloped in the best way possible. There are no hotels, no restaurants, no loud music – just lots and lots of sand and the sound of the ocean.
A truly unique beach experience!
Caution: ​​swimming here isn't the greatest idea as the currents are very strong and the waves are unpredictable.
Learn how to get to Cofete Beach in our travel guide to Fuerteventura's wild paradise beach here.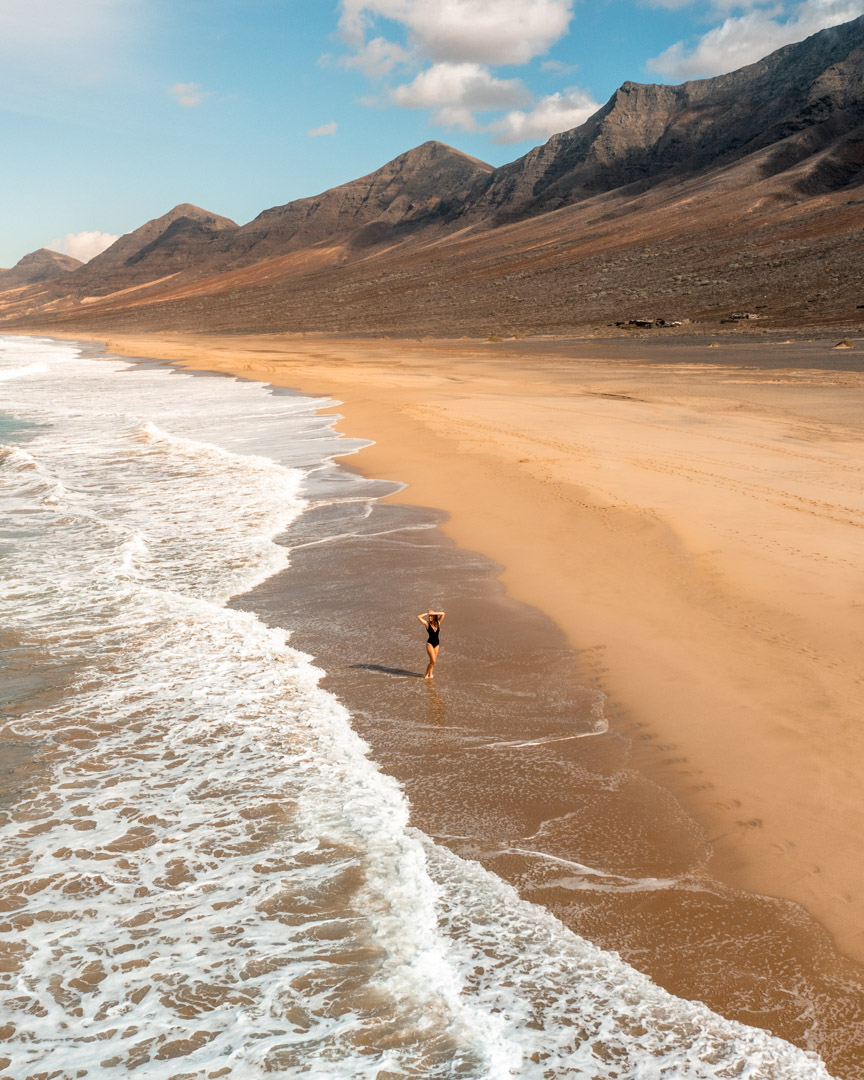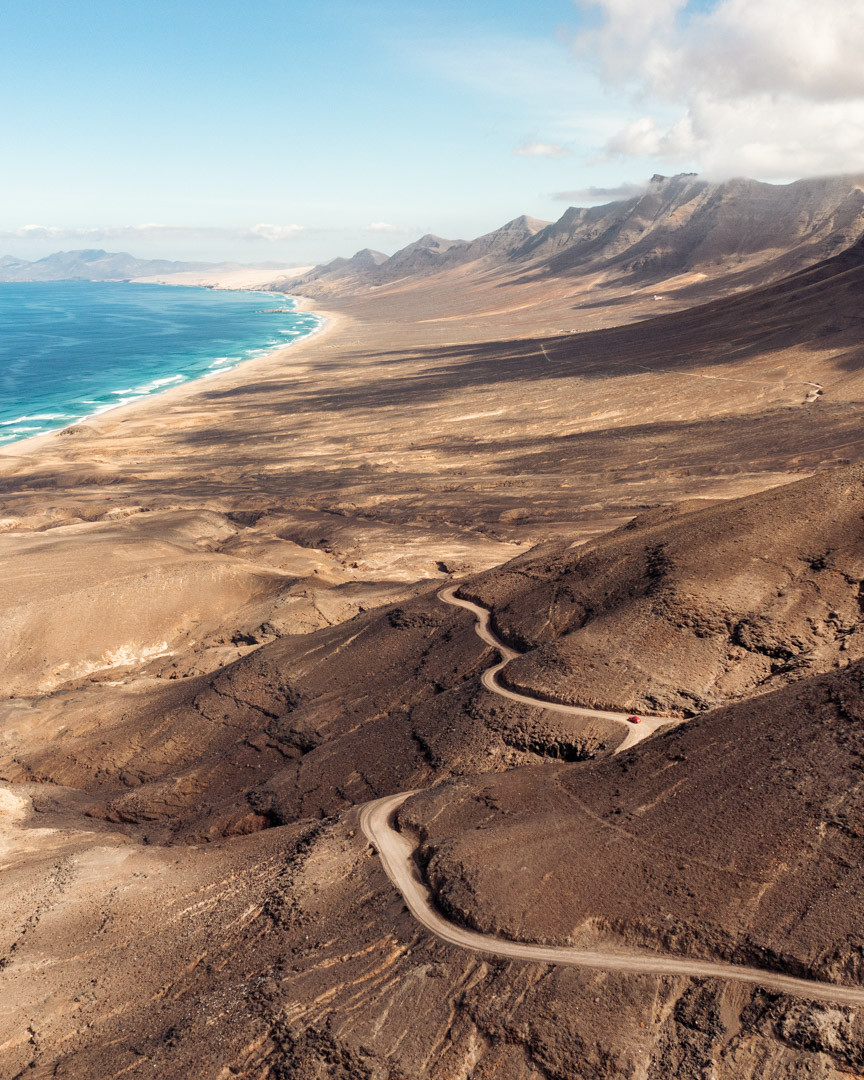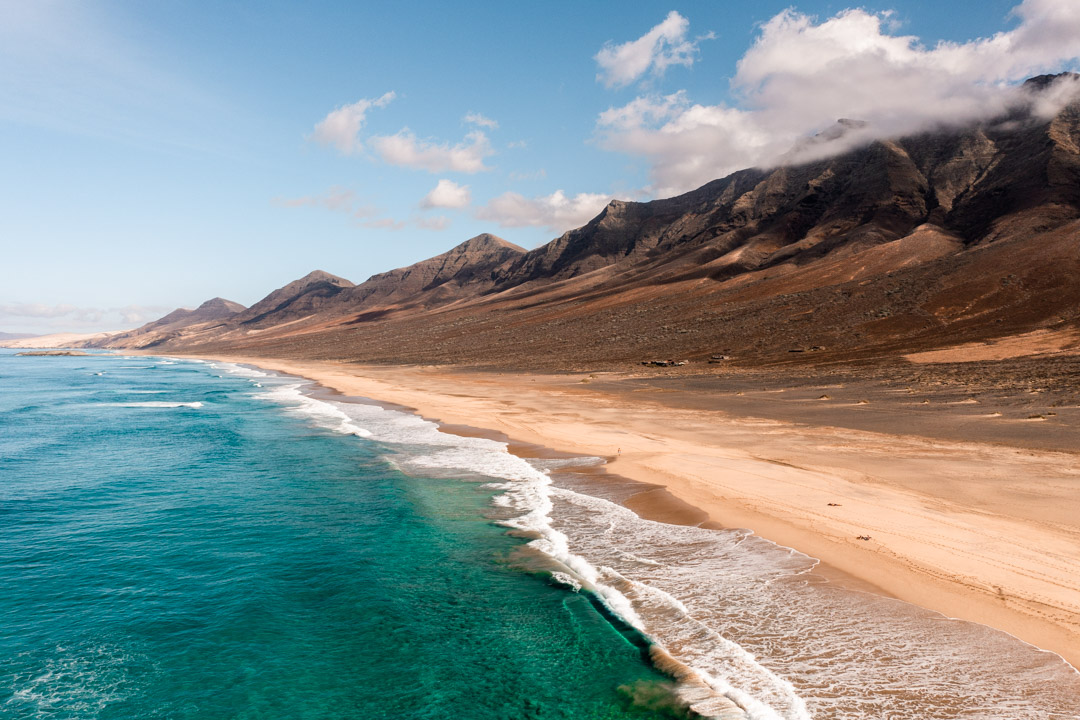 5. Calderon Hondo – Panoramic volcano views
Climbing to the top of the volcano Calderon Hondo is one of the coolest things to do in Fuerteventura.
The hike to the top of the 50,000-year old volcano is actually fairly easy (and free!) and you can have a look down the crater.
You will also have incredible panorama views of Lanzarote, Lobos Island, the ocean, the other volcanoes and the arid landscape of northern Fuerteventura.
Read our travel guide with all you need to know about hiking the Calderon Hondo volcano here.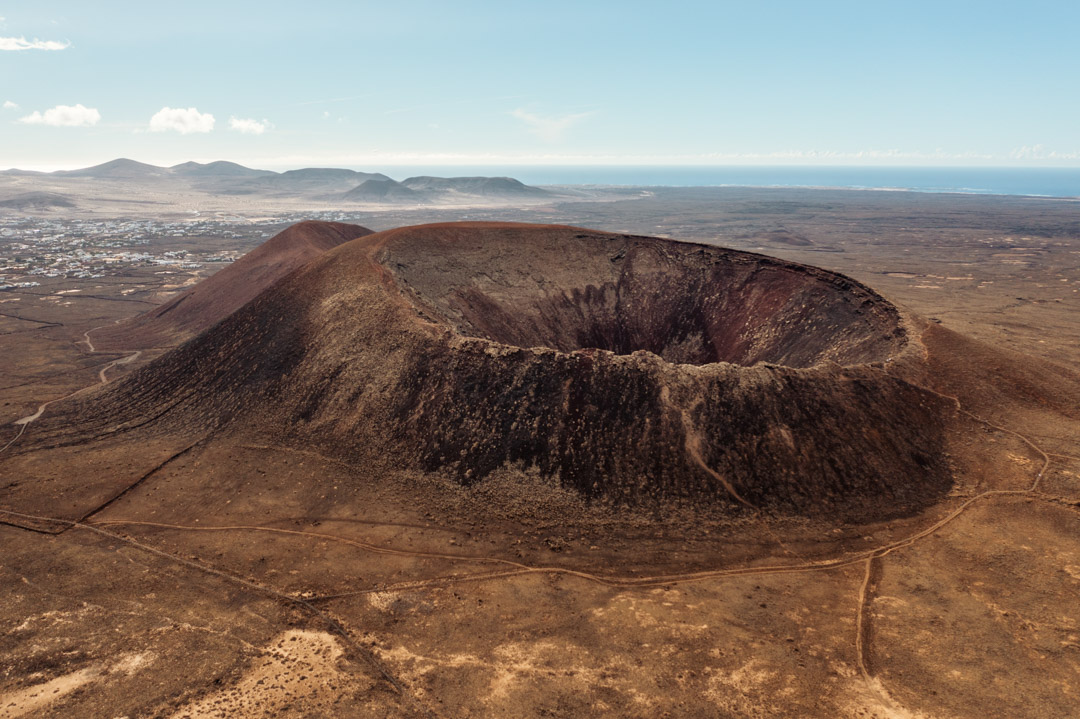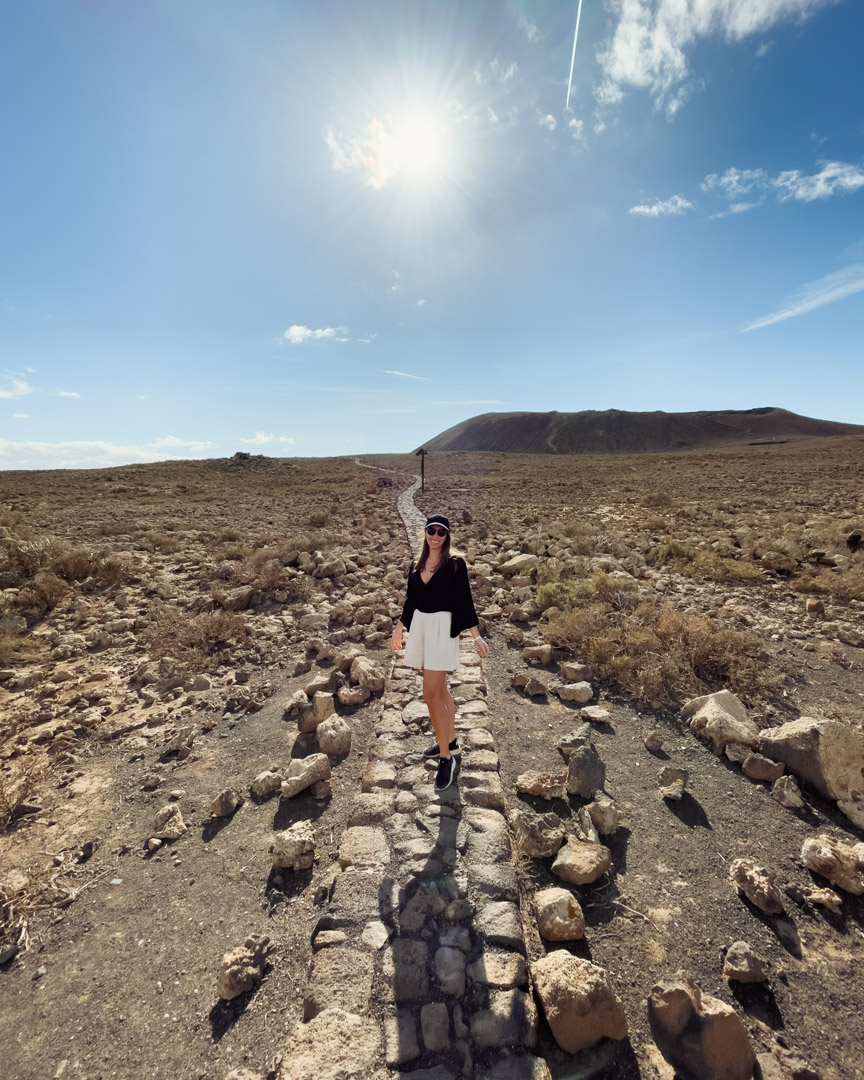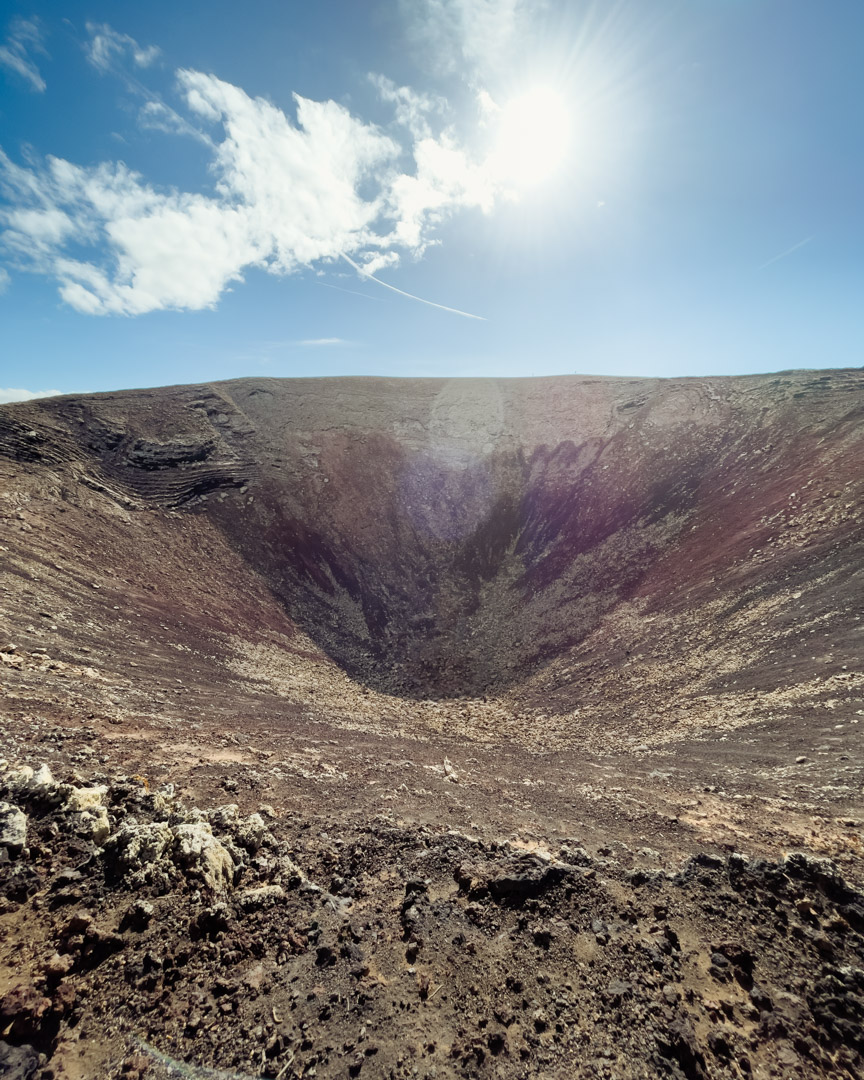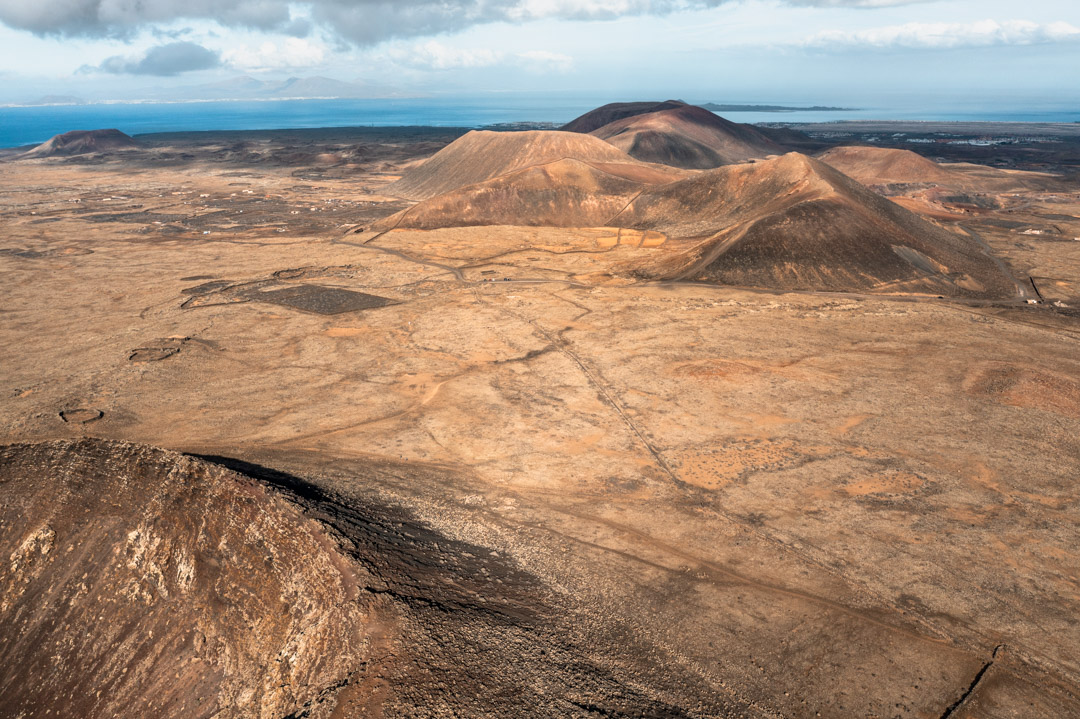 6. Arco de las Peñitas – Secret natural stone arch
Arco de las Peñitas is a beautiful natural stone arch in Barranco de las Peñitas in the western/middle part of Fuerteventura.
It is not the easiest to find but when you do, it's all worth it.
And the hike through the rocky, arid landscape is magnificent.
Read our full guide on how to find Arco de las Peñitas here.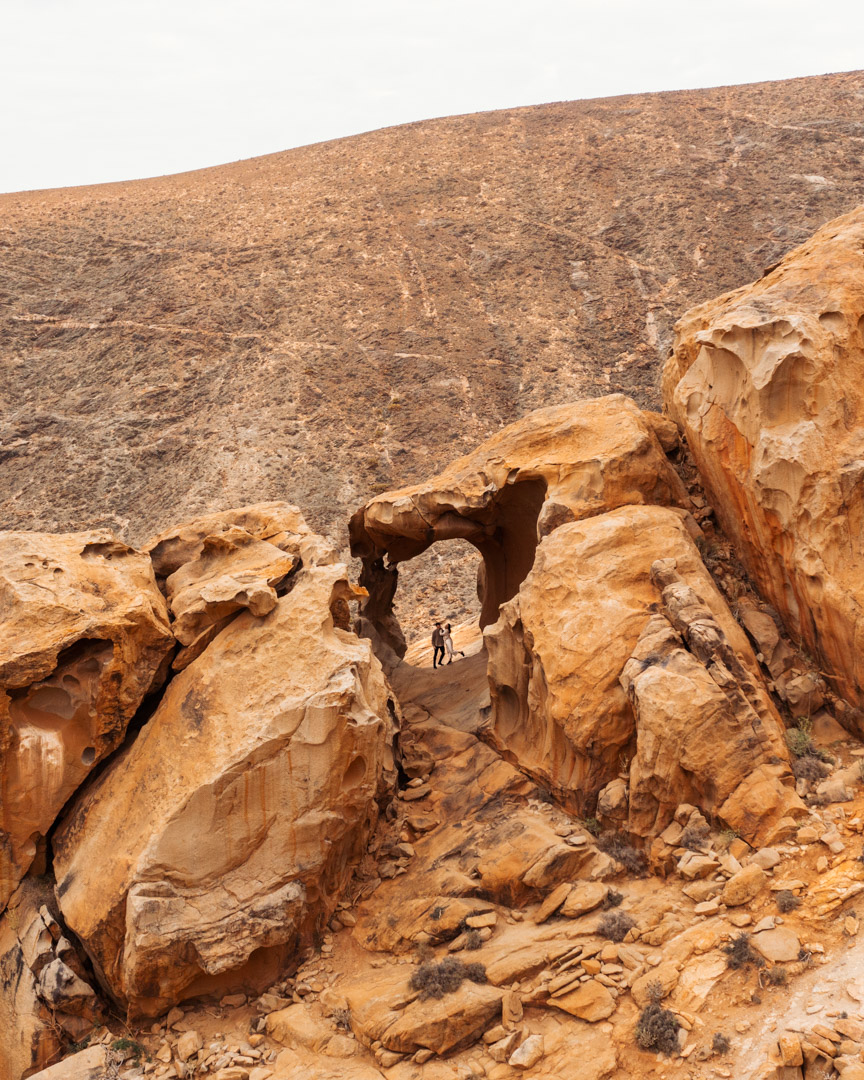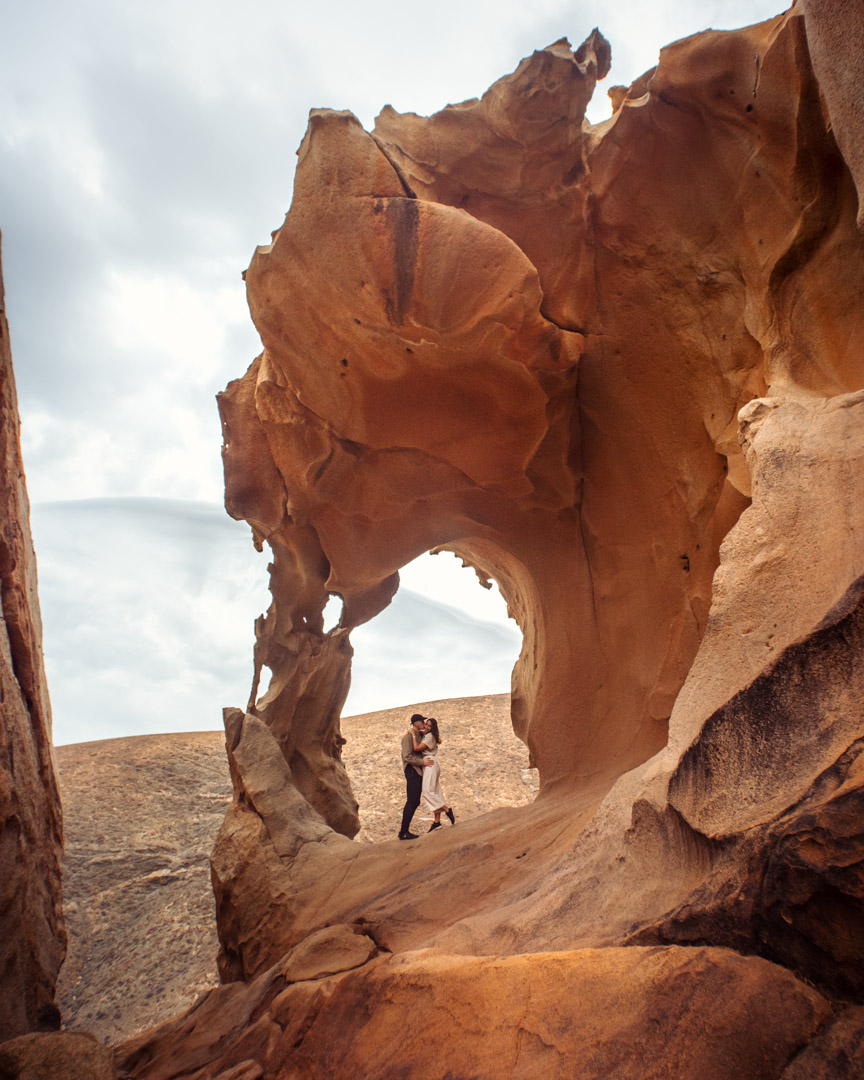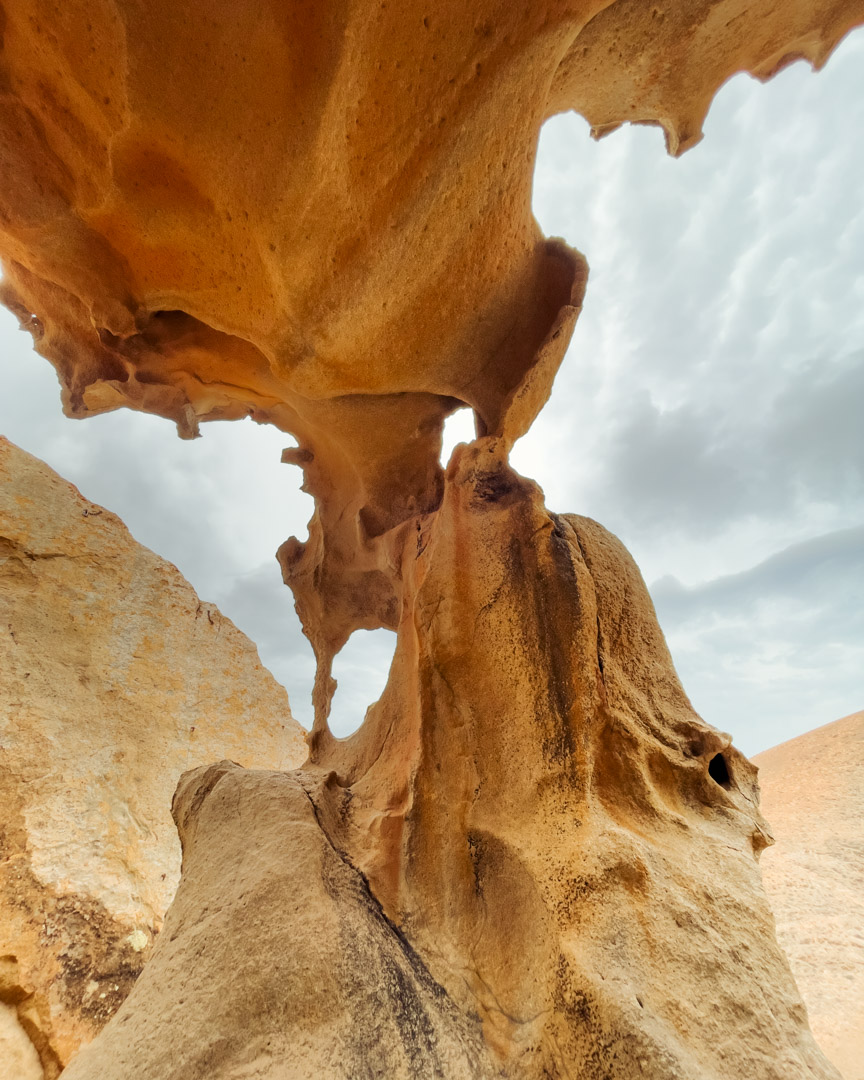 7. Playa de Sotavento – Amazing lagoon beach
The 10-kilometres long Sotavento beach is definitely a beach you must see when in Fuerteventura.
It's a strong contender for the most spectacular beach in Fuerteventura – especially if you time your visit right.
At high tide, the water comes in and creates beautiful lagoons with sandbanks.
The first time we drove to Sotavento to see the lagoons, it was really windy and we hadn't really thought about what that would mean…
But the lagoon was filled with kitesurfers!
It's pretty cool to look at but unless you plan to come for the watersports yourself, make sure to go on a day without strong wind for the best pictures of the lagoons.
When we returned the second time in the early morning, we were almost alone and could enjoy the rising tide as well as the almost 300-metres long sandbank forming in front of Risco del Paso.
A stunning beach for sure!
Check out our full travel guide to Sotavento beach (including when to visit for the best photos) here.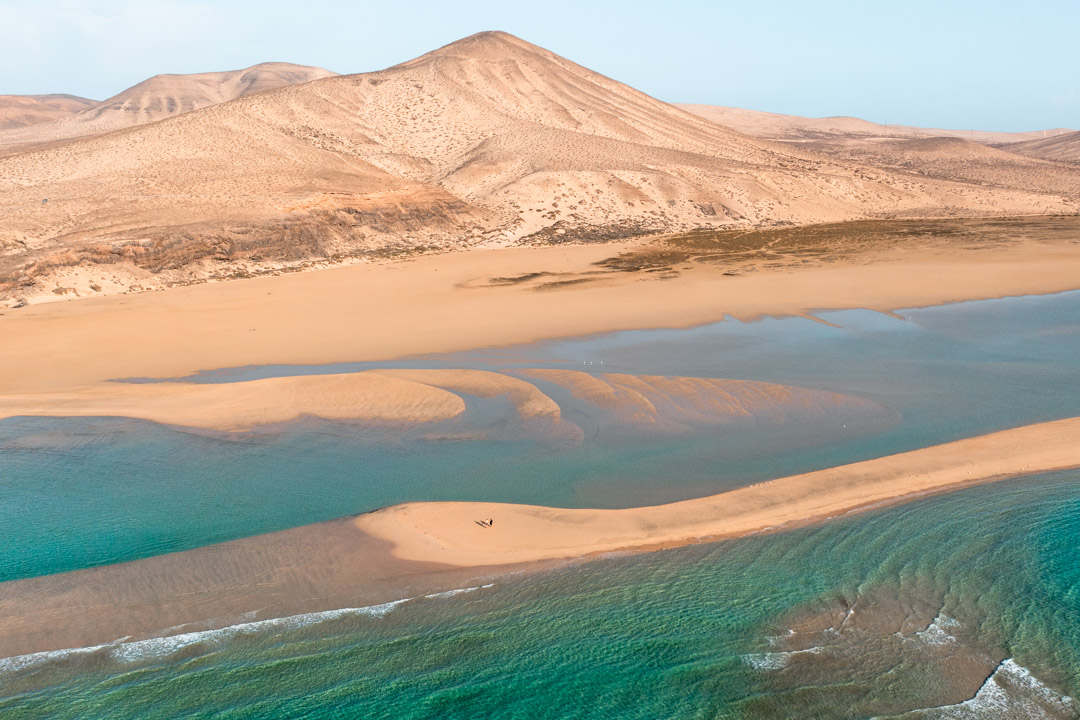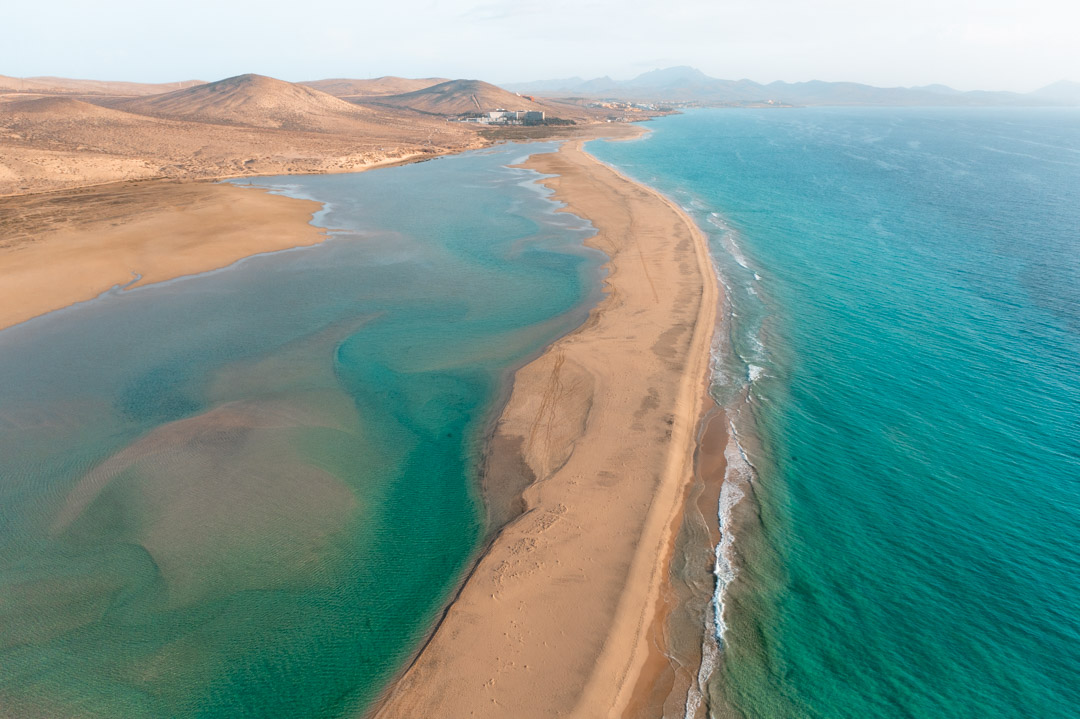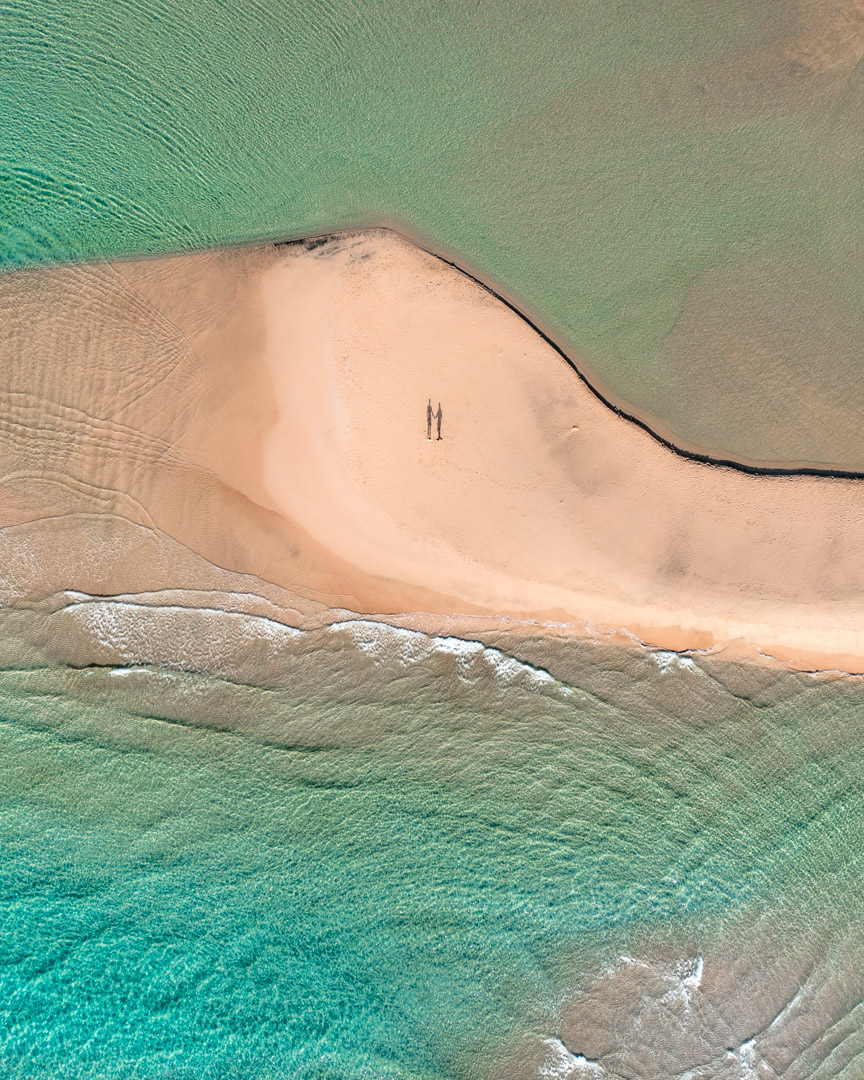 8. Betancuria – Oldest town in Fuerteventura
Founded in the 15th century, Betancuria is the oldest town in Fuerteventura.
It was the capital until 1834 and while that's no longer the case, it continues to be one of the best places to visit in Fuerteventura.
Situated in a mountainous region in the western part of Fuerteventura, this little village has traditional white houses, palm trees and a lovely square close to the Santa María church.
We enjoyed strolling around in the charming streets – and if they hadn't closed just in front of us, it would have been wonderful to try the vegan burgers and crepes at La Sombra.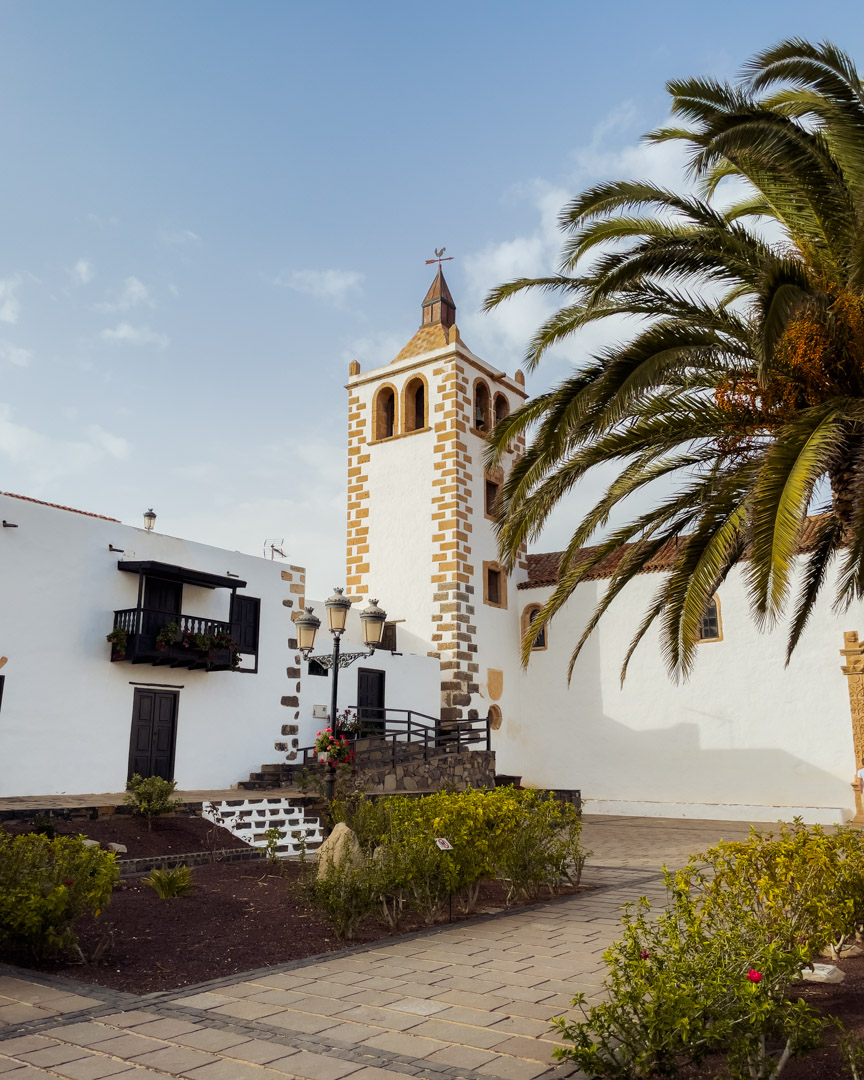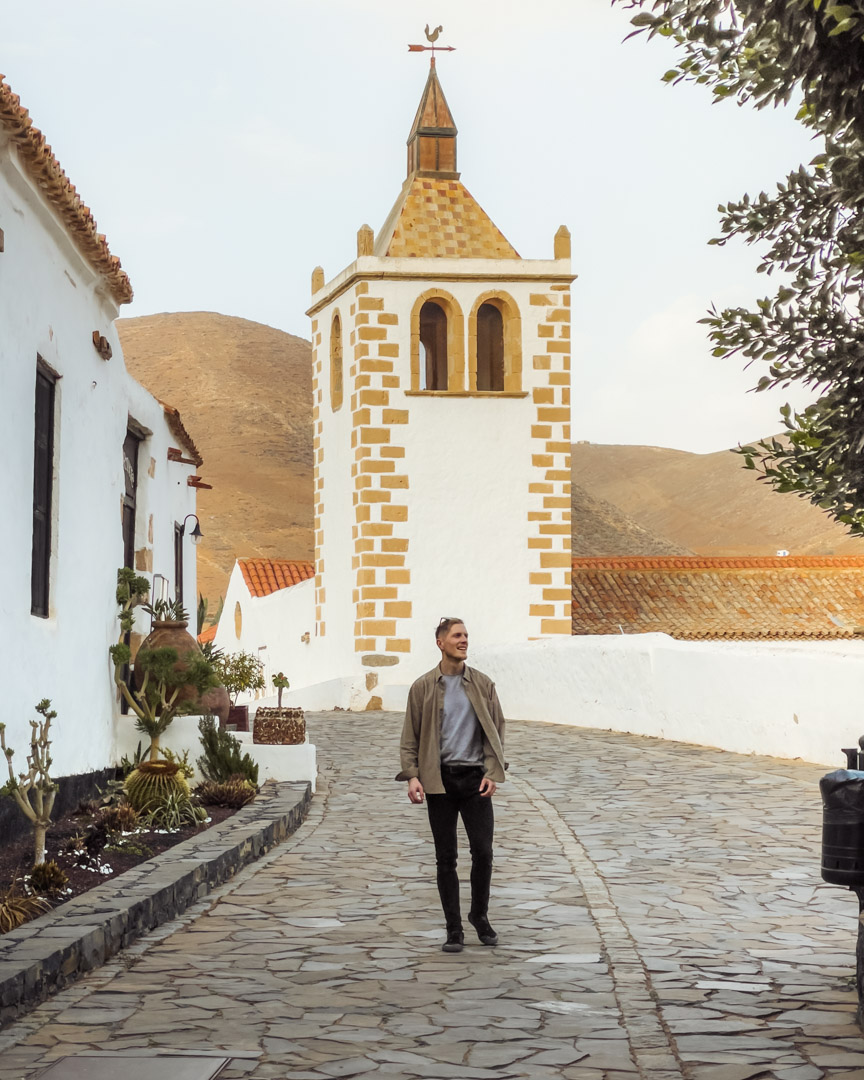 9. Ajuy Caves – Ancient natural caves
Visiting the historic Ajuy Caves (Cuevas de Ajuy) on the west coast of Fuerteventura close to Betancuria is one of the most popular things to do in Fuerteventura.
It's like travelling back in time!
The Ajuy Caves are the oldest formations in the Canary Islands, dating back some 100 million years – can you believe it?
Geologically and paleontologically, they are really interesting because of the fossil dune formations (solidified sand from the deep sea) and the ancient sediments and fossils from the ocean.
What we think is really cool is the fact that you can actually walk into the big caves and explore them on your own.
The 500-metre long trail leading to the Ajuy Caves offers amazing views of the cliffs and the ocean and most likely also some cute chipmunks (but please don't feed them and interfere with nature).
Learn how to visit Ajuy Caves in our travel guide here.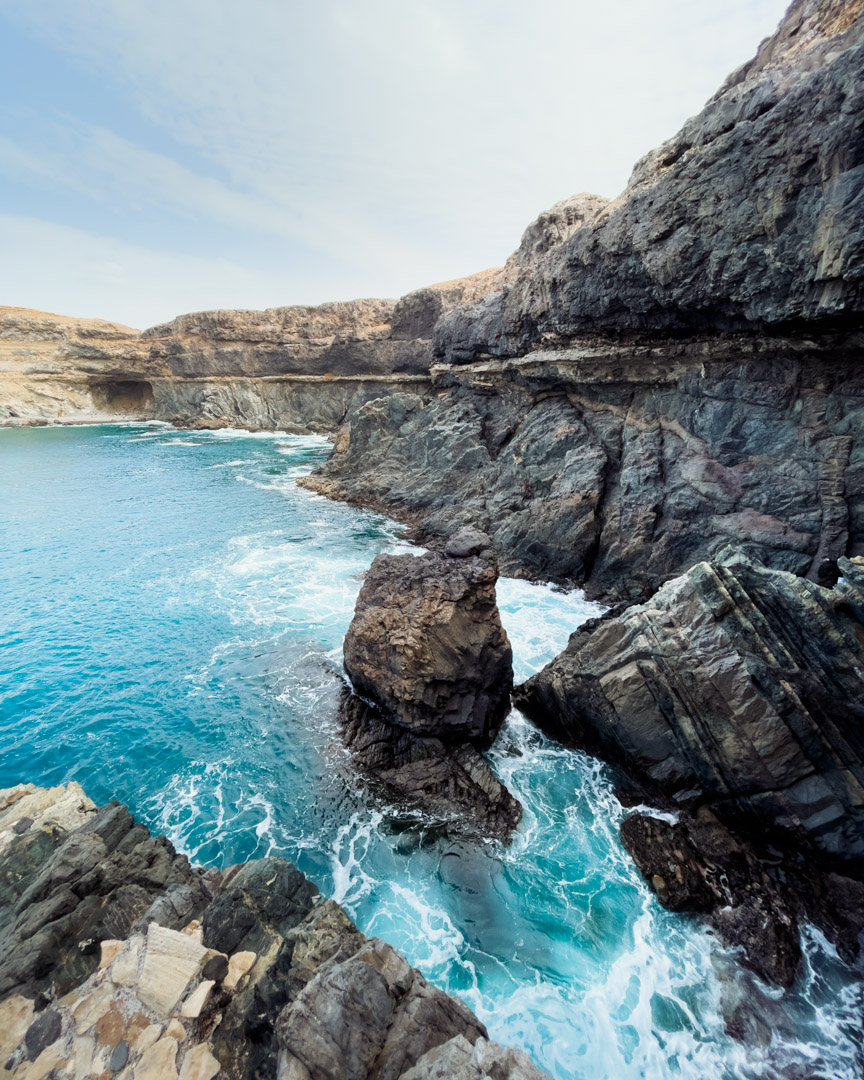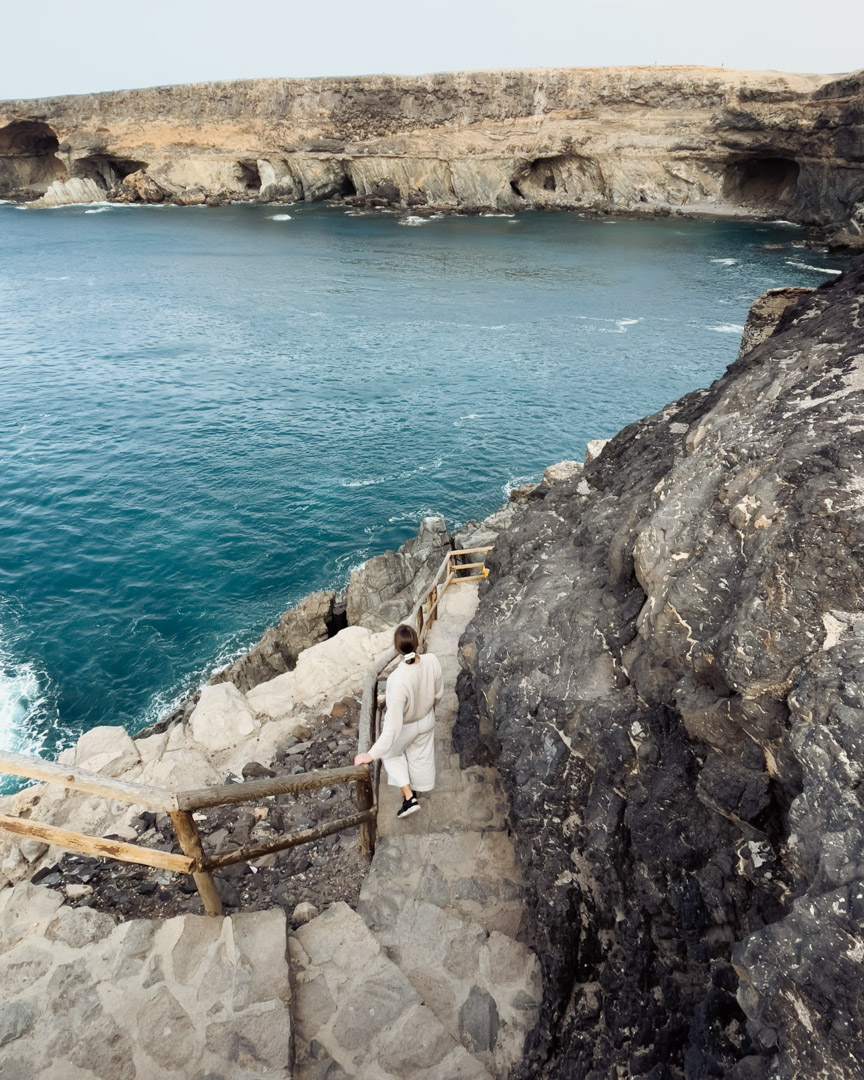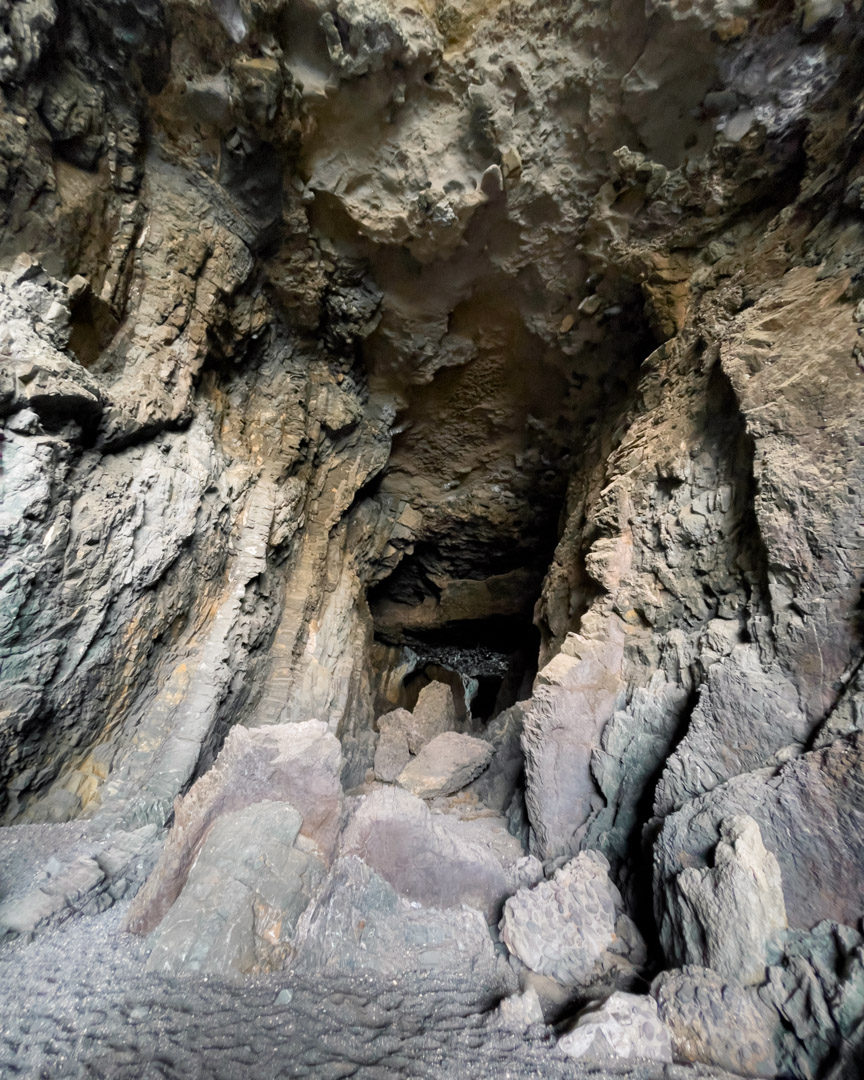 10. Playa Ajuy – Black sand beach
Playa Ajuy is the beach you will reach before the trail to the Ajuy Caves starts and it's worth a visit for another reason: it's a black sand beach.
If you haven't seen one before, visiting the almost 300-metres long (and quite wide) Playa Ajuy is a unique beach experience.
The caves are interesting, and definitely merit a visit, but the path there and the black sand beach are certainly attractions in their own right, as well.
And for some reason, the area hasn't turned into a big tourist trap (yet) – it's free to visit!
Set aside about an hour for the hike and spelunking (the exploration of caves!), and more, of course, if you want to enjoy the beach while you are there.
Parking is free right next to the beach.
Get all of our best tips to visiting Ajuy Beach here.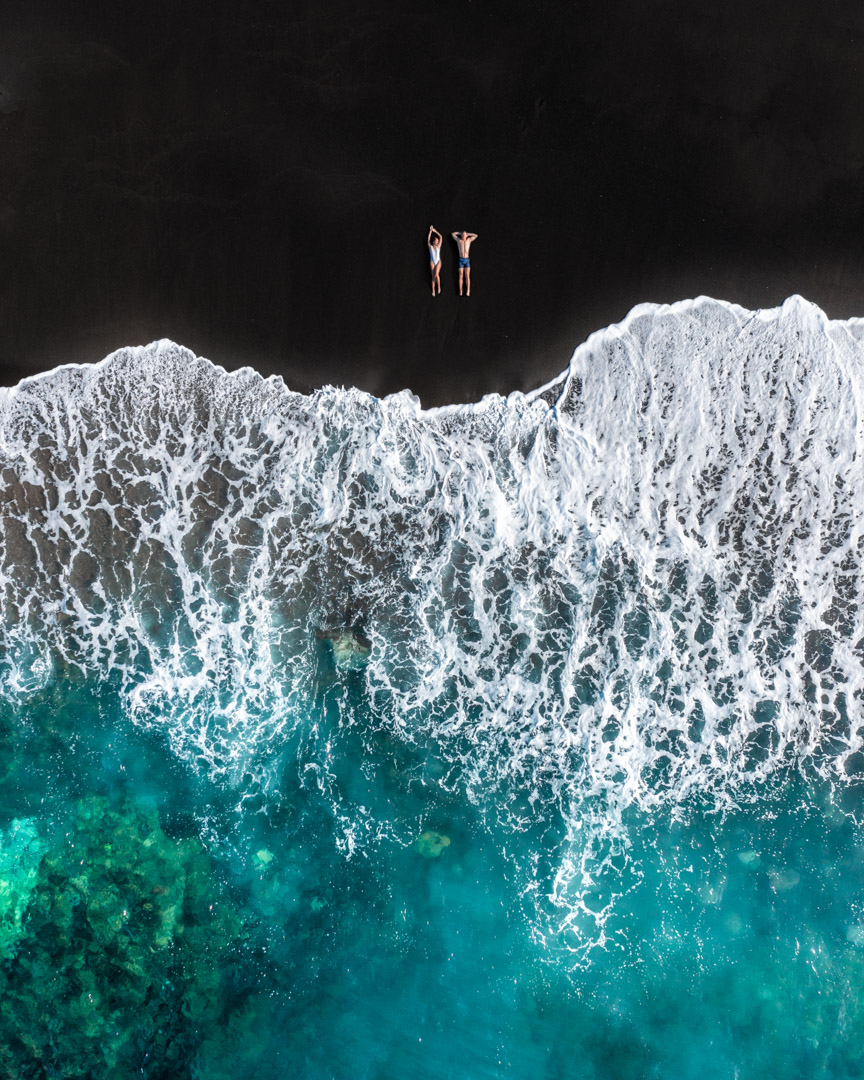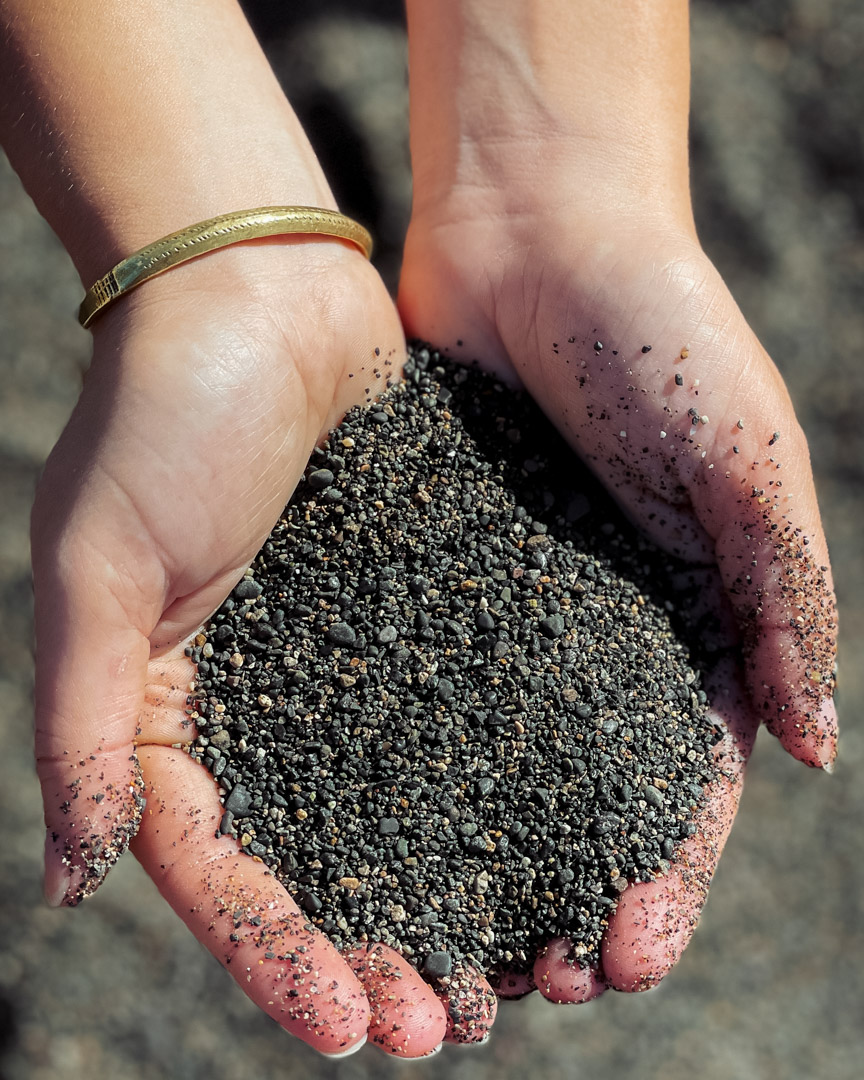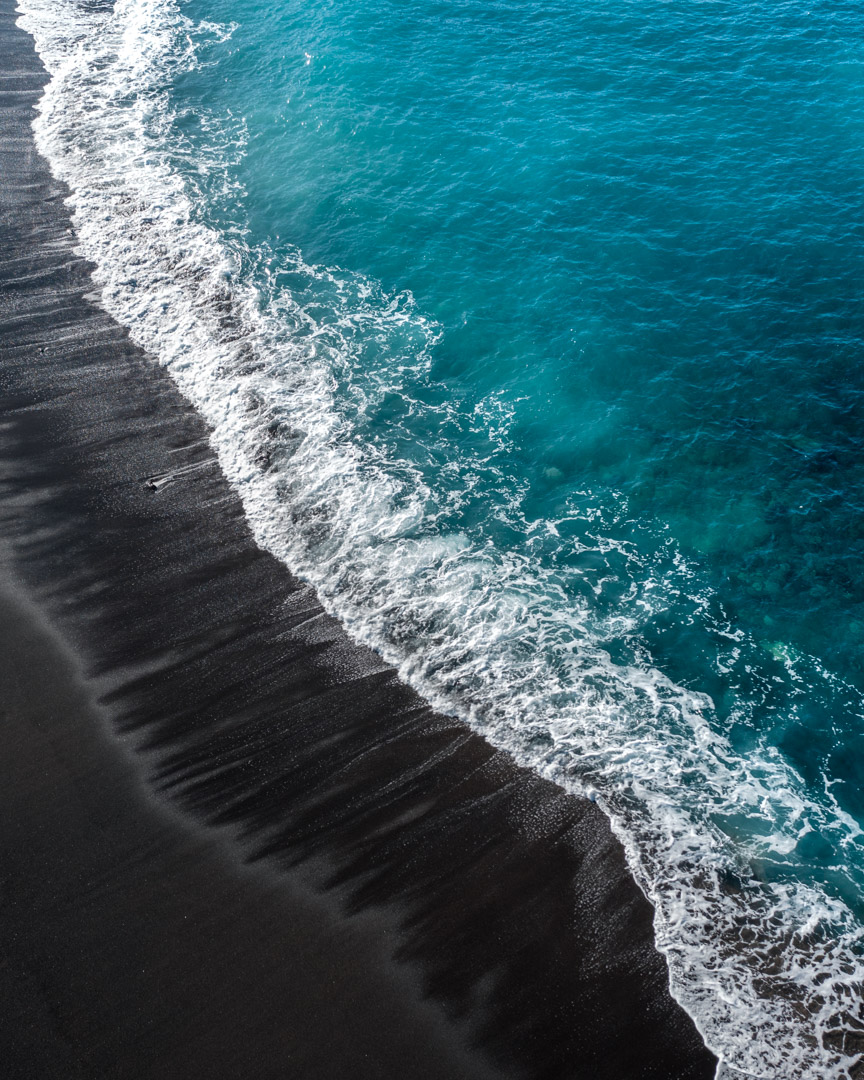 11. Piscina Natural (Caleta de Fuste) – Secret natural pool
Not far from the little resort town Caleta de Fuste, there's a secret natural pool hidden in the rocks.
It goes under several different names: Piscina Natural, Caleta de Fuste rock pool and Krabbenfelsen Natural Pool. It's all the same exceptional pool in the rocks.
When the tide is high, you almost cannot see the pool but when the tide is low, the water becomes calm, clear and emerald green. This is the best time to go for a swim.
Check the tides before arriving to make sure you'll be able to see the rock pool. Come around an hour before the lowest tide to have the maximum amount of time there if you want to jump in.
Just going to the Piscina Natural to take a photo and head back to Caleta de Fuste might take 15 minutes but set aside at least 30 minutes if you plan to swim, or perhaps more if you like to relax and soak up the sun after your dip.
You can park just north of Caleta de Fuste town and walk from there easily. Look up "Piscina Natural" in that area on Google Maps for the precise location.
Shoe tip: the rocks are sharp so wear suitable footwear or at least thick sandals to avoid hurting your feet or slipping in flip-flops.
Read our full guide on how to find the natural rock pool in Fuerteventura here.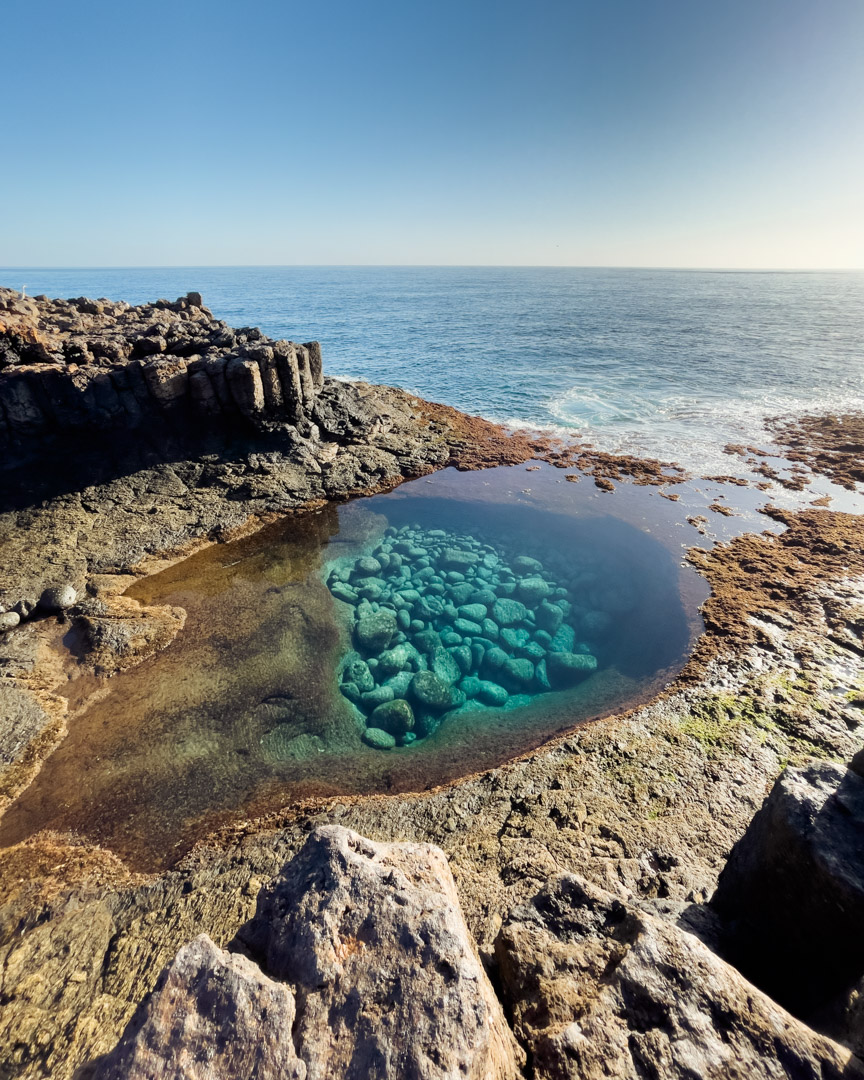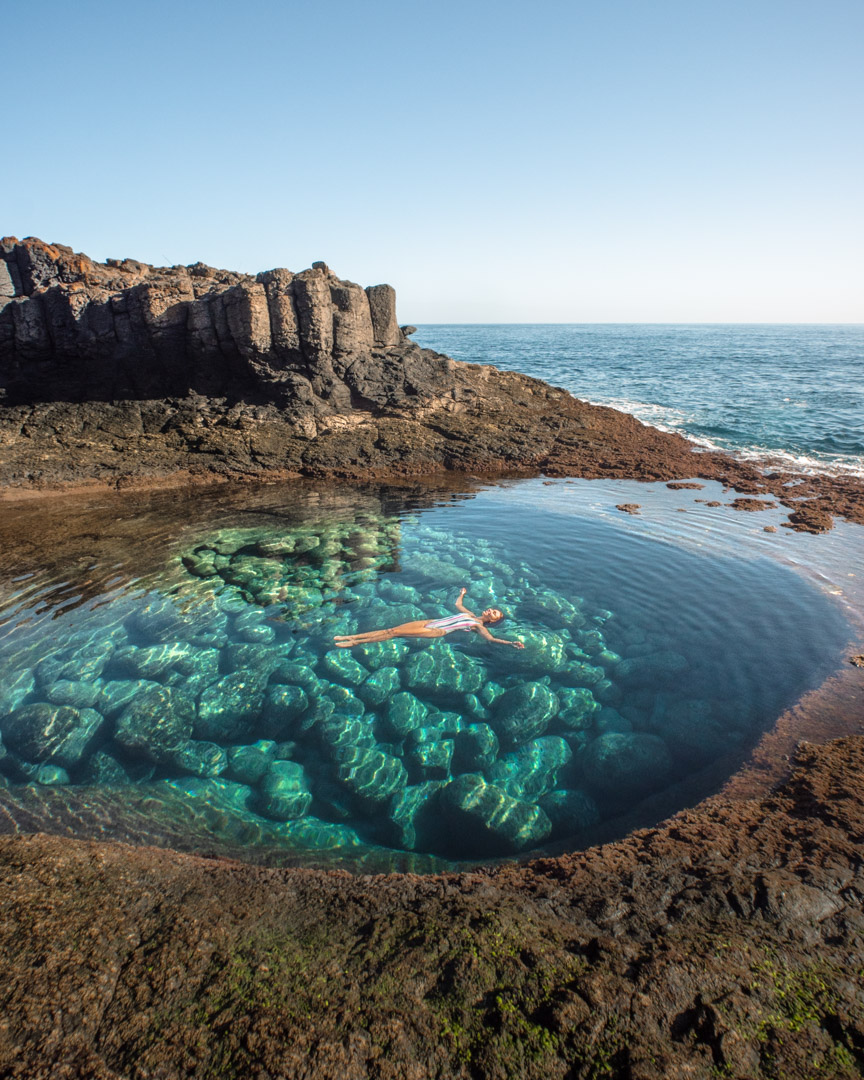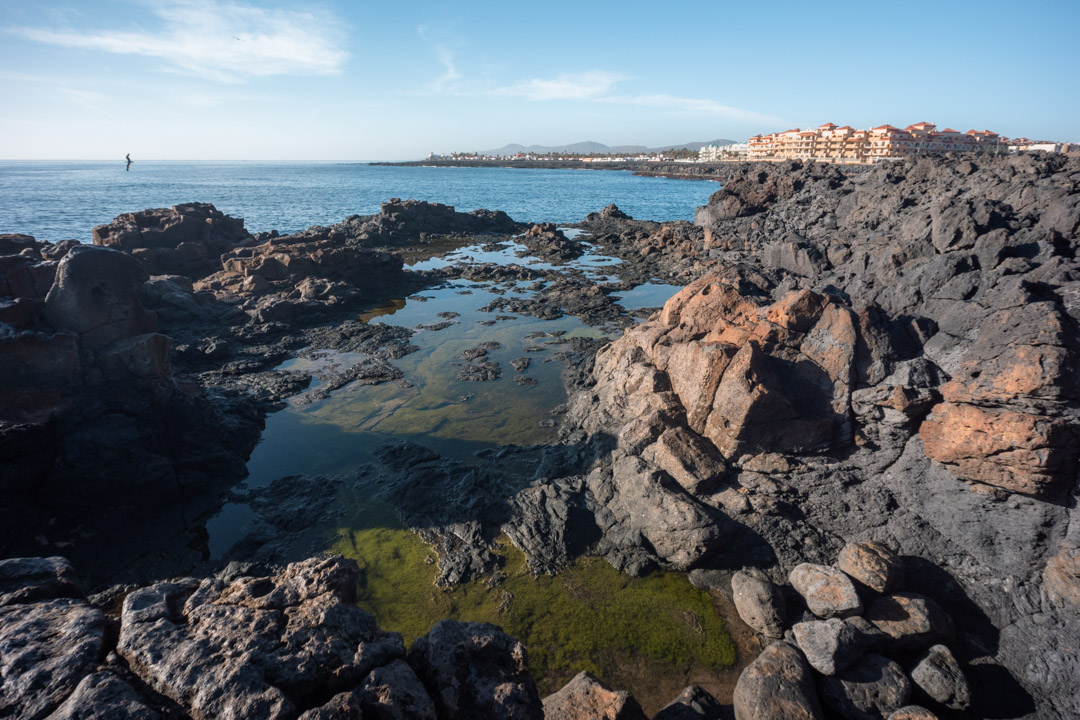 12. El Cotillo + surrounding beaches – Calm lagoon beaches
El Cotillo beach and the surrounding beaches are so incredibly pretty!
The many rocks create calm lagoons with shallow, clear turquoise water.
The shallow water also makes it ideal for families with small children to hang out at these beaches (and apparently a lot of nudists, too).
We found a wonderful lagoon close to La Concha (which is also an amazing beach!) where we relaxed for a few hours and later we enjoyed the gorgeous waters at El Cotillo beach.
There's lots of free parking along all the roads close to the beaches, for example on Av. los Lagos or the big Aparcamientos (parking lot) close to La Concha.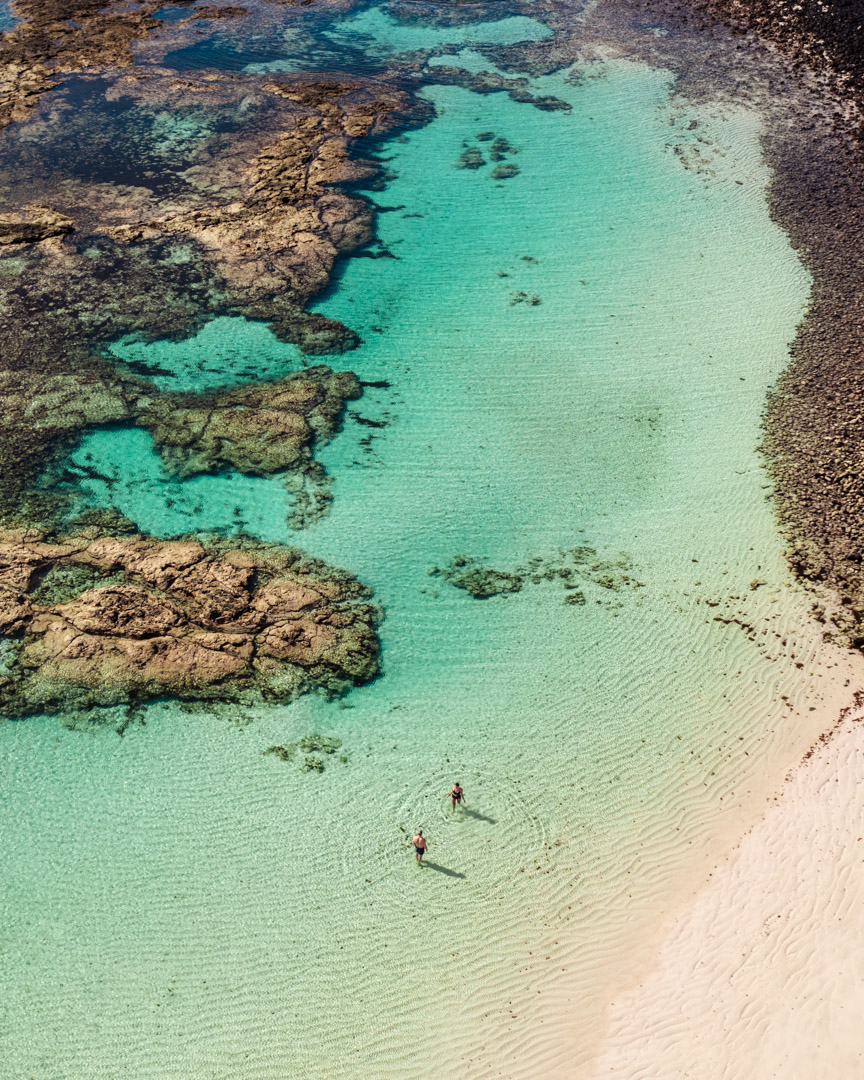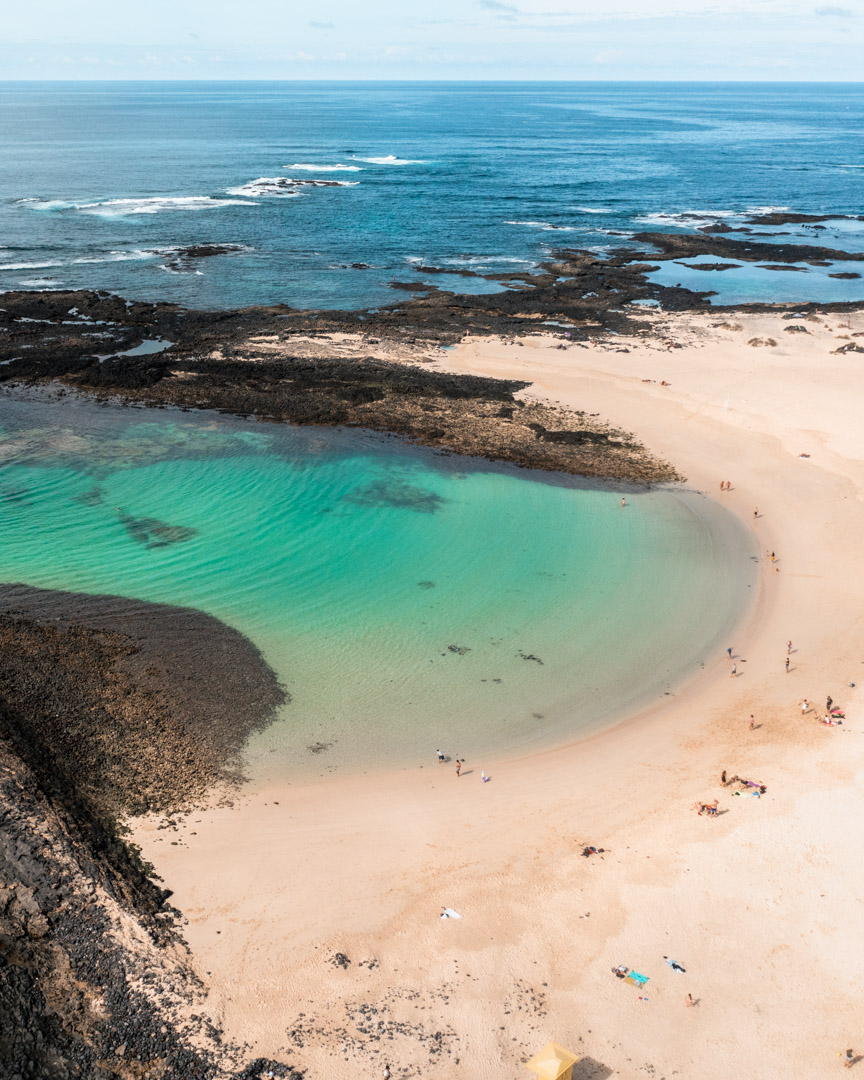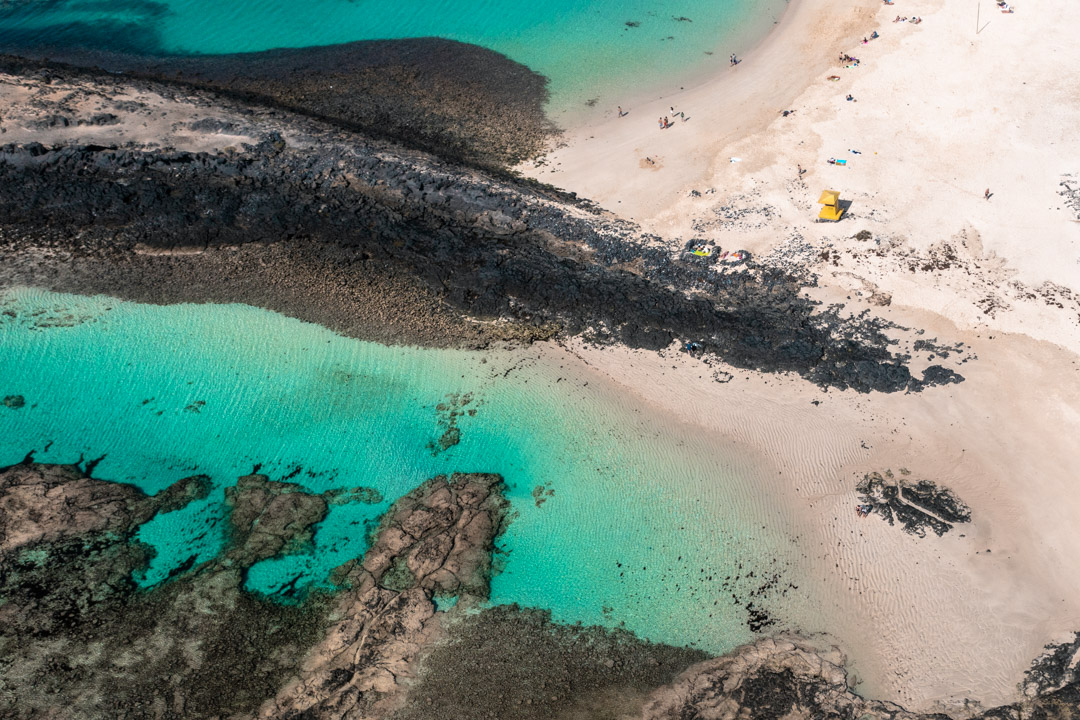 13. Sicasumbre Astronomical Viewpoint – Stunning mountain views
The Sicasumbre Astronomical Viewpoint is one of the best places for stargazing in Fuerteventura.
It's located 300-metres above sea level and surrounded by nature making the skies exceptionally clear at night. You will even find a sundial and a vertical clock up there.
Even if you don't come for the starry skies, it's worth making a quick stop at the observation point during the day if you find yourself in the southwest of the island.
It's a great viewpoint with stunning views over the mountains and the inland in Fuerteventura.
It's just a 5-minute climb from the parking lot and both parking and visiting the observation point is free.
Tip: bring extra layers of clothes if you stay after the sun goes down. And perhaps also if you visit during the day – the winds up there are pretty strong.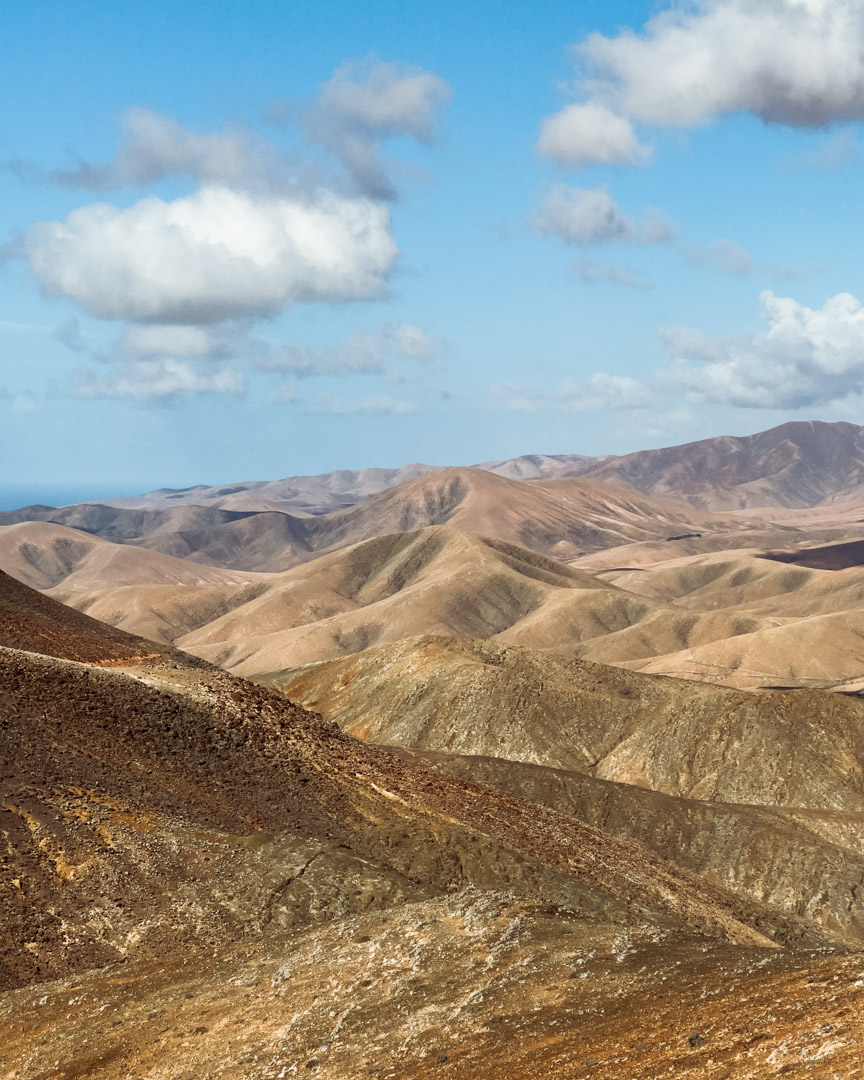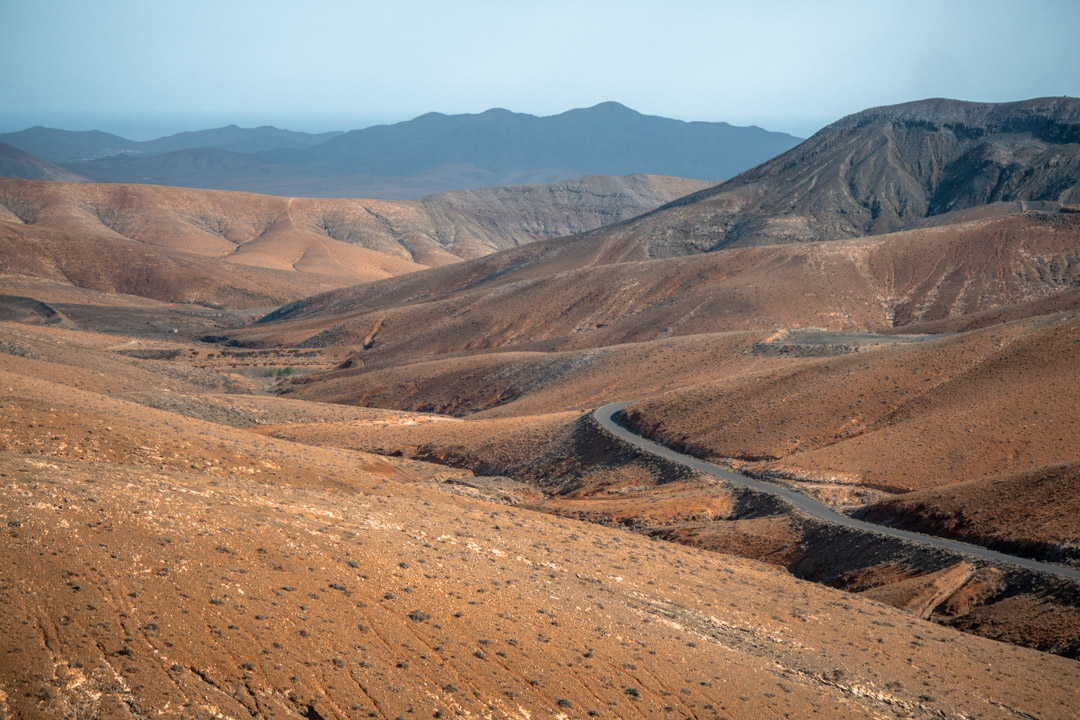 14. Mirador de Las Peñitas – Scenic viewpoint
Another scenic viewpoint is Mirador de Las Peñitas in the southwest, not far from Betancuria and Ajuy.
See the views over the arid mountain landscape and Barranco de las Peñitas with the fascinating natural stone arch (Arco de las Peñitas).
Stop for a few minutes and admire the landscapes if you are nearby.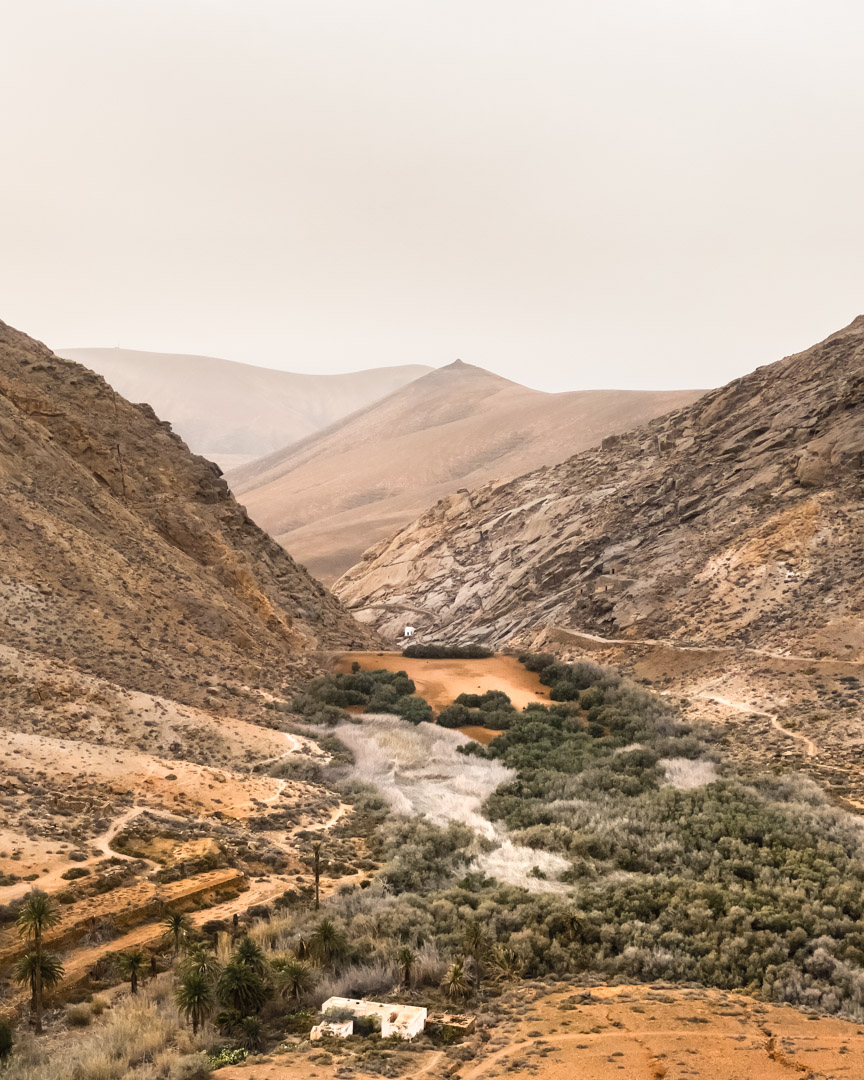 15. Mirador de Guise and Ayose – Statues & expansive views
Just a few kilometers away from Mirador de Las Peñitas and a little north of Betancuria, you will find the ~ 4 meters tall Morro Velosa Statues at Mirador de Guise y Ayose (also known as Mirador Corrales de Guize).
You don't particularly have to travel all the way just to see this spot but if you are in the area, it's worth a quick stop.
The statues represent two of Fuerteventura's former kings and being on one of the highest accessible points on the island, there's a spectacular view over the volcanic landscapes.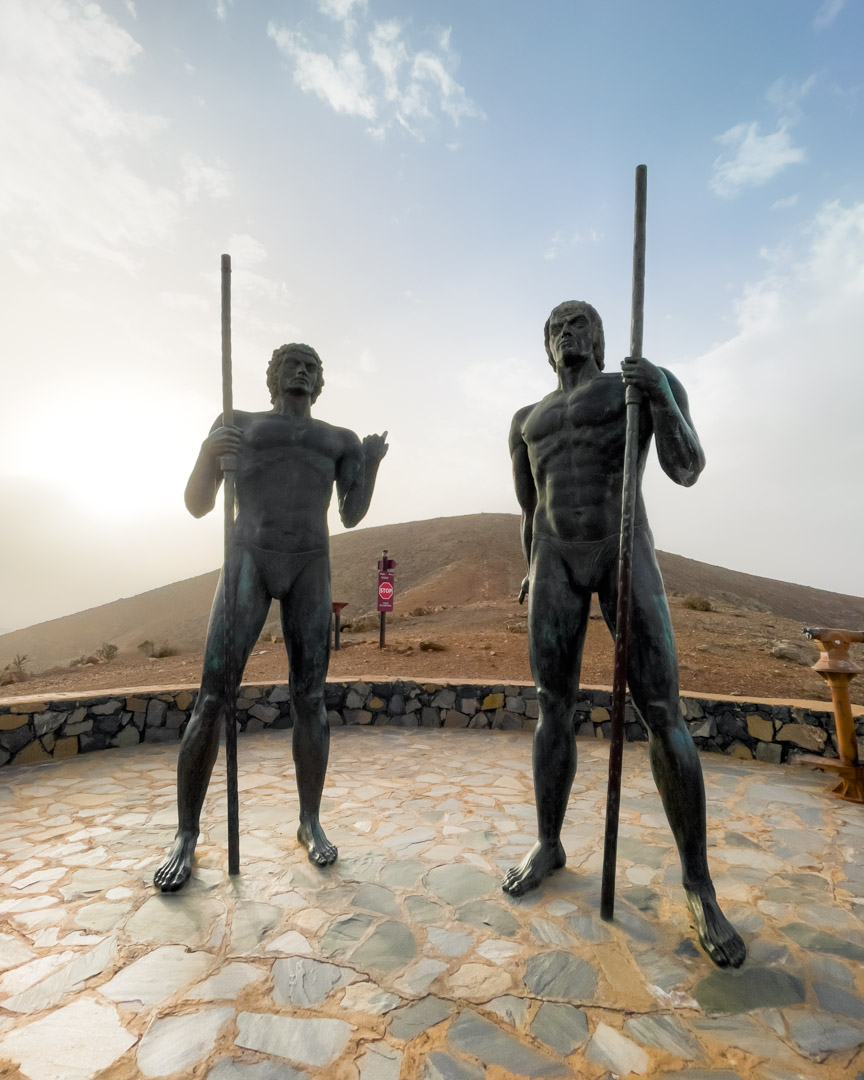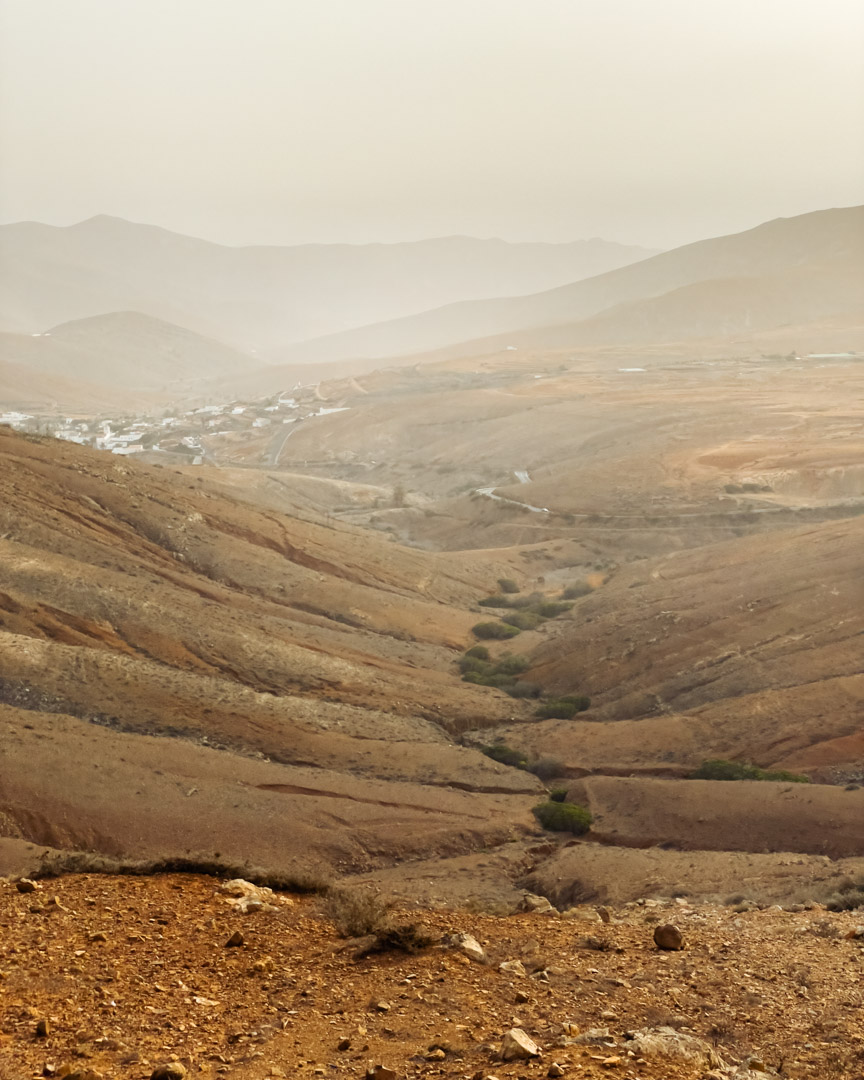 16. Piscinas Naturales (Caleta del Marrajo) – Shallow lagoons
Lots of beautiful shallow, blue lagoons emerge at low tide in Caleta del Marrajo.
Find your own piece of sand or a rock to lay on and enjoy a swim in the rock pools for a couple of hours.
The Piscinas Naturales in Caleta del Marrajo are located in the northwestern part of Fuerteventura close to the red and white striped lighthouse named Faro del Toston (El Toston Lighthouse).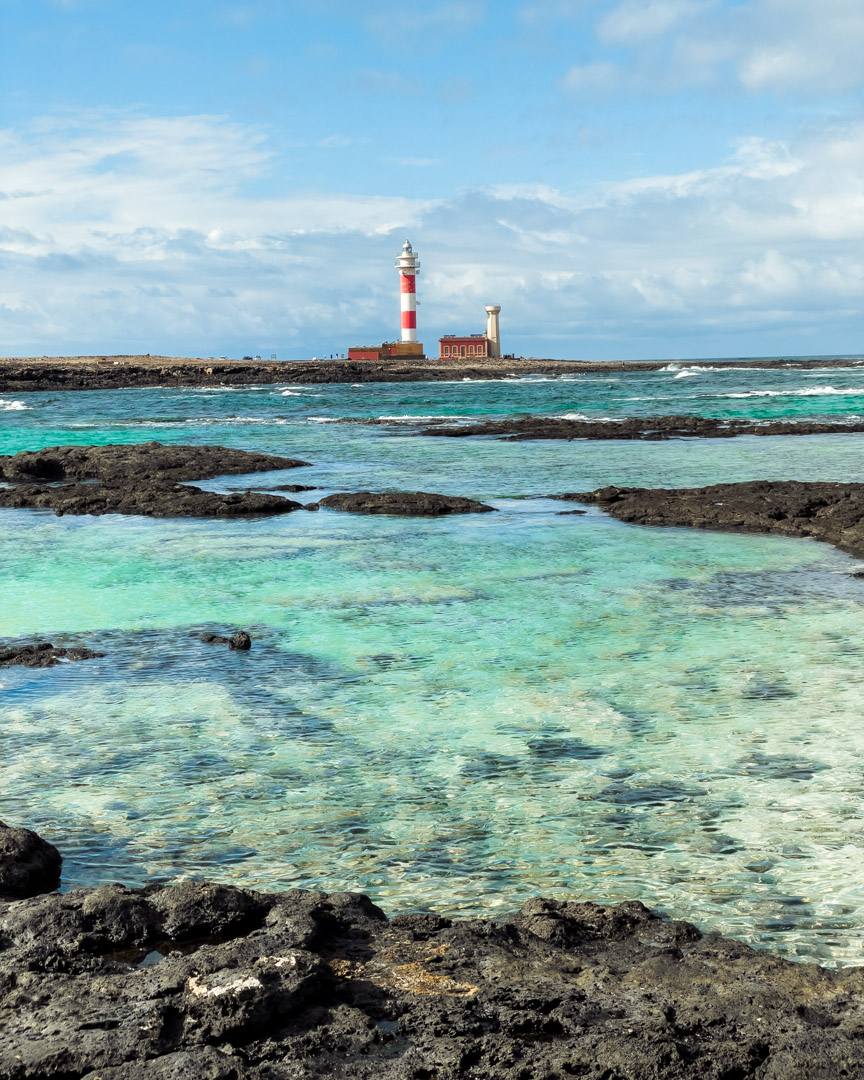 17. Aguas Verdes rock pools – Wild natural pools
You can find Aguas Verdes (meaning green pools) on Fuerteventura's wild west coast in Playa del Valle.
When searching for Aguas Verdes on Google Maps, you will be guided to a holiday complex so make sure to put in "Playa del Valle" as your destination.
When you get there, there's a little beach and on both sides, you can go explore the shallow pools hidden between the rocks if you come at the right time.
We would recommend coming about an hour before low tide but even then the waves can be pretty crazy.
Be careful and use your common sense before you jump in. The tides can change very quickly.
After some climbing, we found two cool rock pools to the left of the beach. We only swam in one of them as the waves came crashing in on the other one but both were really beautiful and crystal clear.
Later, we explored the rocks to the right of the beach and found a few small pools there as well but we skipped jumping in as the tide had started to come back in.
Expect to spend 1-2 hours in Aguas Verdes depending on how much you want to climb on the rocks and if you want to swim.
Shoe tip: the rocks are pretty sharp so wear suitable footwear or at least thick sandals to avoid hurting your feet or slipping in flip-flops.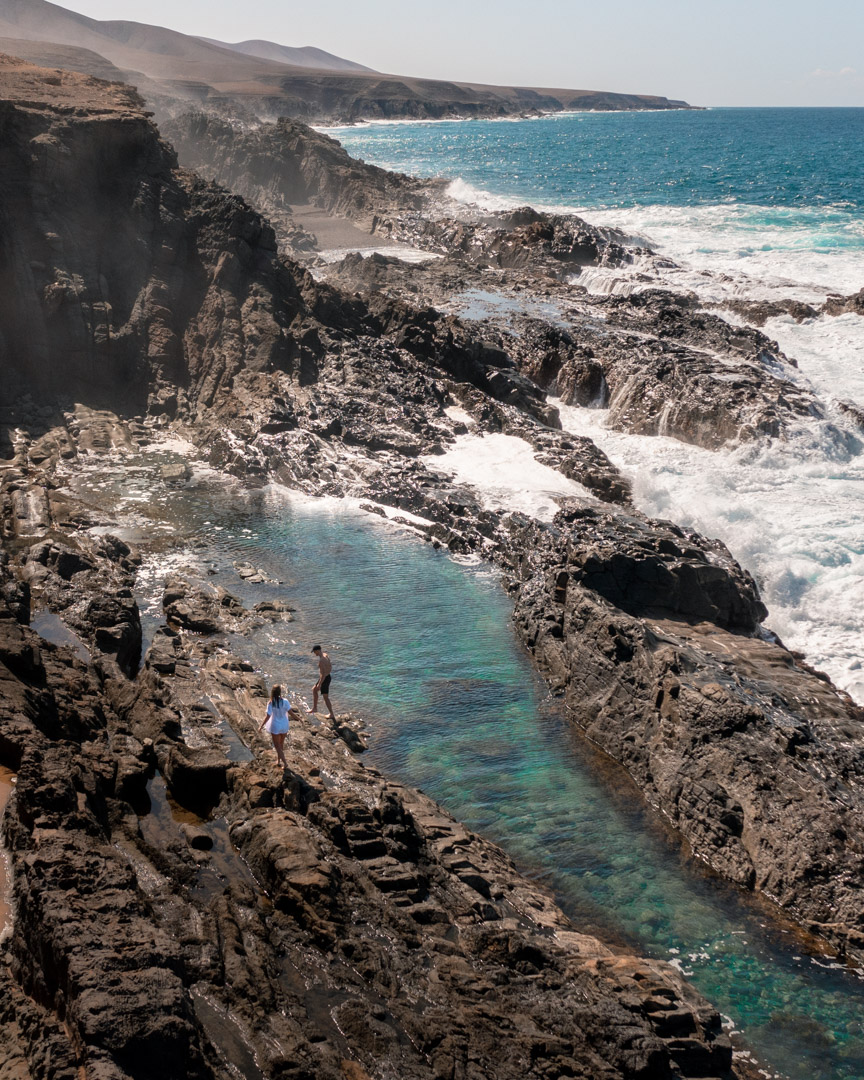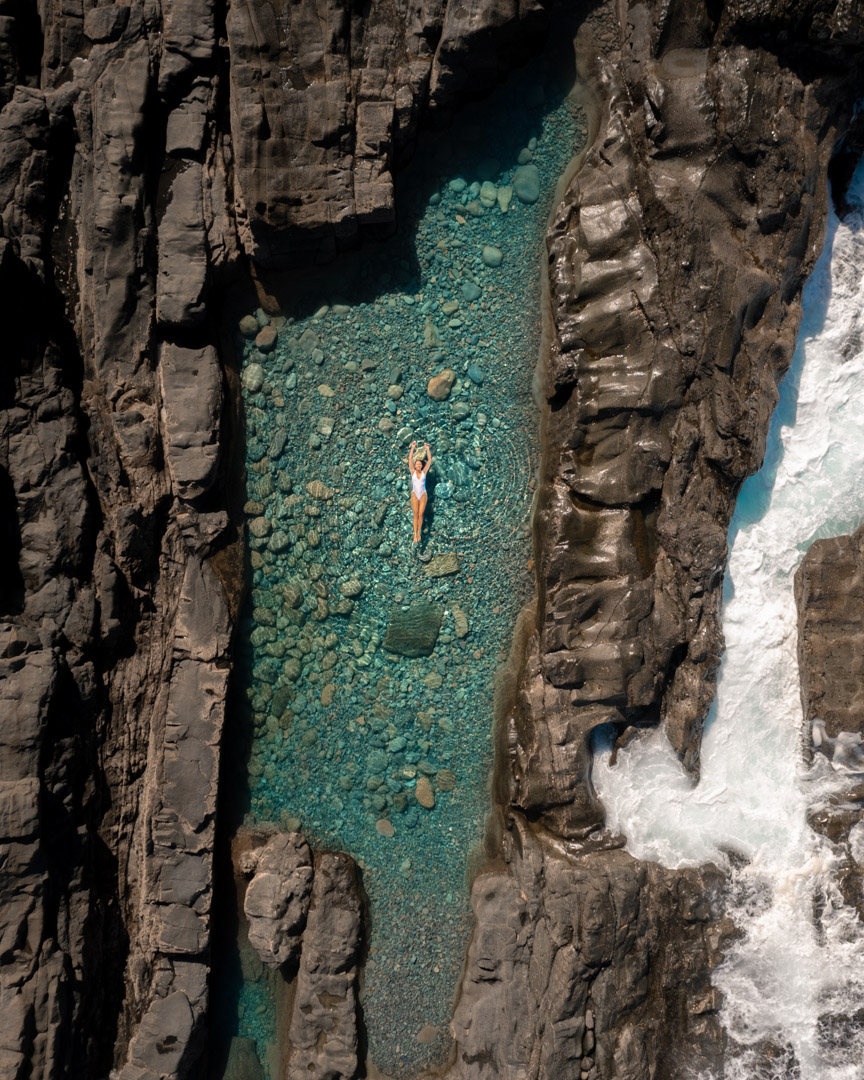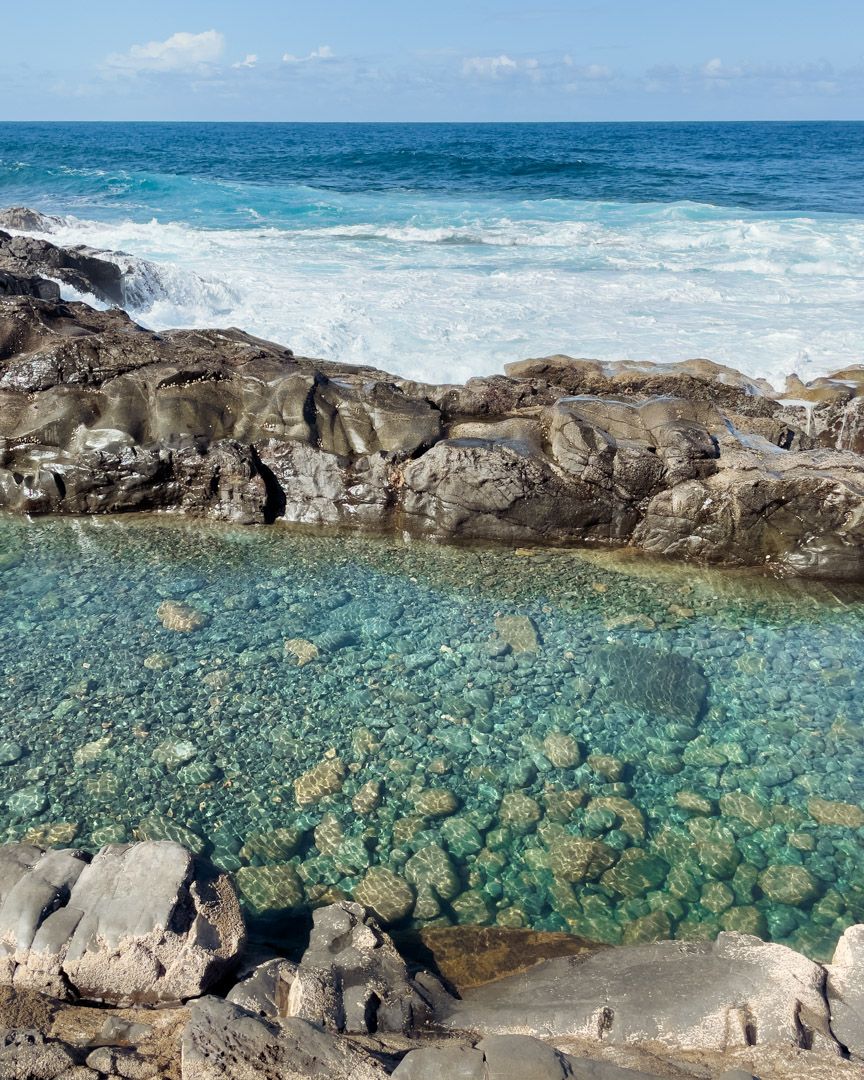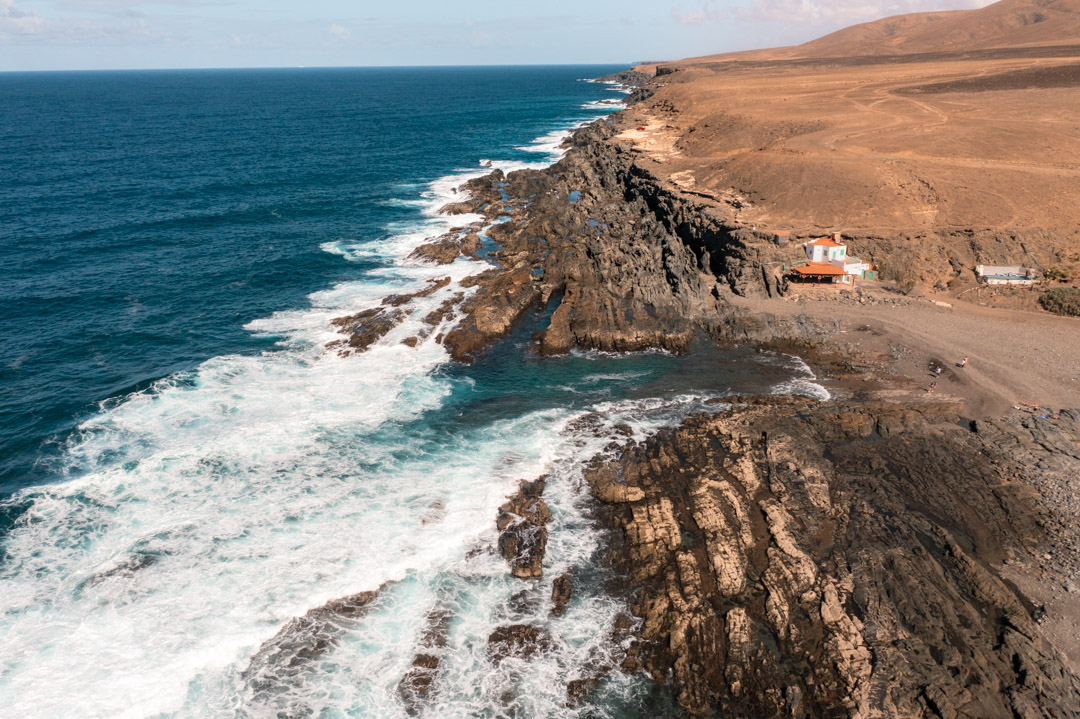 18. Windmills (Molinos) – Cute whitewashed windmills
If you find local old architecture interesting, you should check out Molinos De Villaverde in La Oliva.
These two well-preserved whitewashed windmills are super cute and it's one of the best places to visit in Fuerteventura to get a traditional feel of how milling was once done.
There's not much to do besides taking a few photos of the mills, so we would only recommend going here if you're already in the area.
For the really cultural ones, consider visiting Molino de Valles De Ortega, Molino Del Dulcero, Tefia Windmill or even the museum Centro de Interpretacion de los Molinos if you can't get enough of windmills.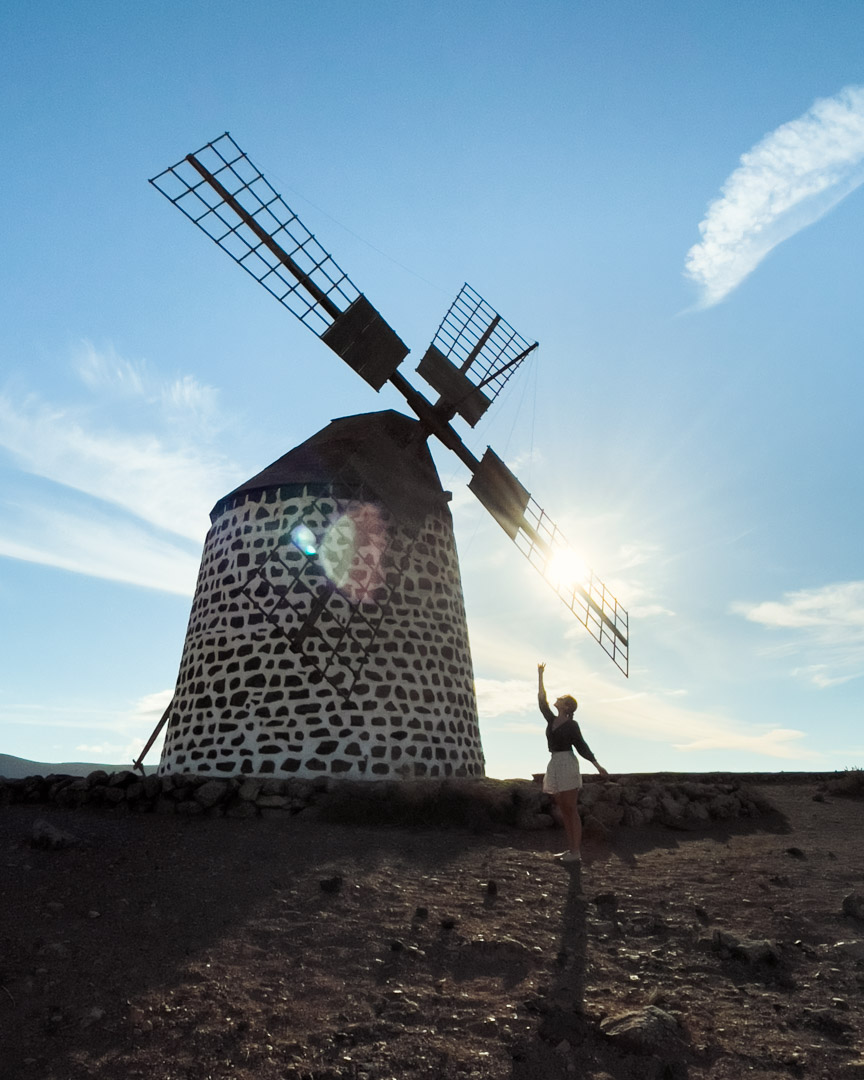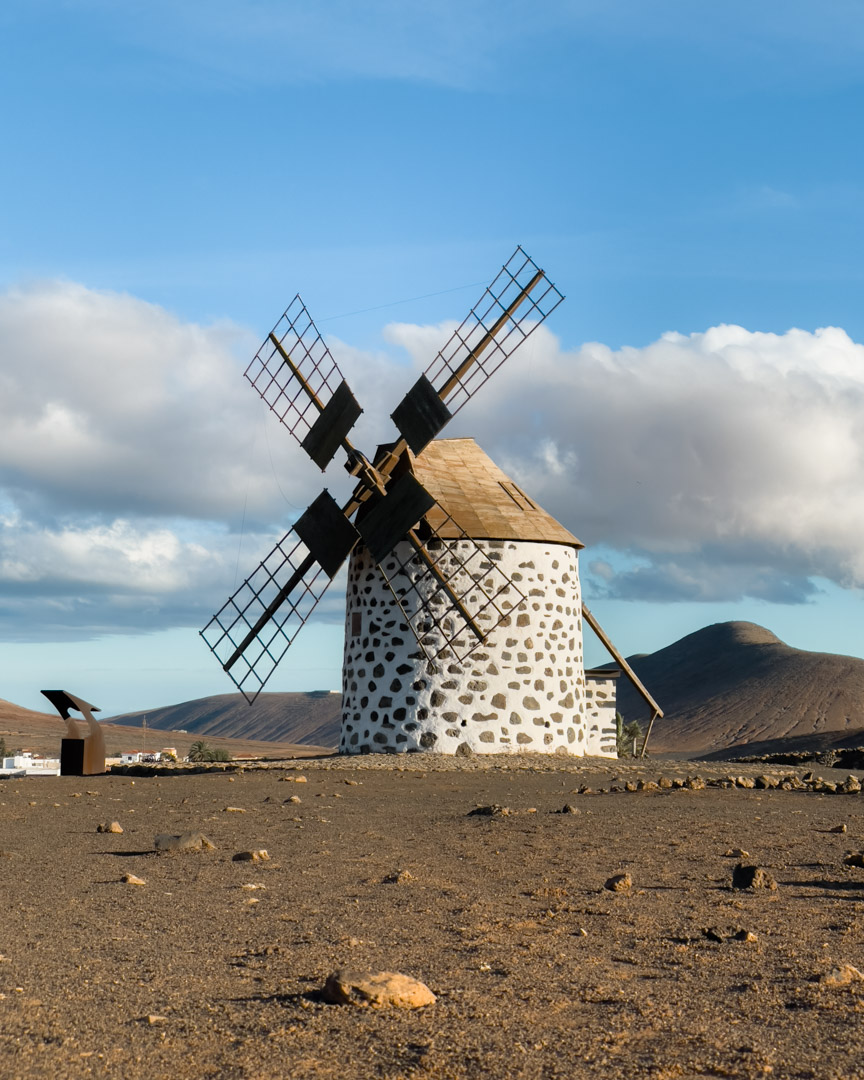 19. Hiking on GR131 – The trail of the Canaries
If you're into hiking, you will inevitably run into GR131 – a hiking trail that spans across seven of the Canary Islands, including Fuerteventura.
You can walk across the island all the way from Lobos Island in the north to Punta Jandía in the south.
Fuerteventura actually has the longest piece of GR131 with around 160 kilometres of trail over 9 stages.
If you (understandably enough) don't care for all 160 kilometres, you can just hike any section of the route you find exciting.
We parked in the cosy little town of Páraja and hiked towards Betancuria as we had heard this particular stretch was beautiful – and it was!
After enjoying the dramatic volcanic landscapes and getting our steps in for the day (!), we turned around when we reached Vega de Rio Palmas (where you can also start the hike to Arco de las Peñitas) as we had to get back to our car. A nice return trip of about 20 kilometres and a few hundred metres of elevation gain.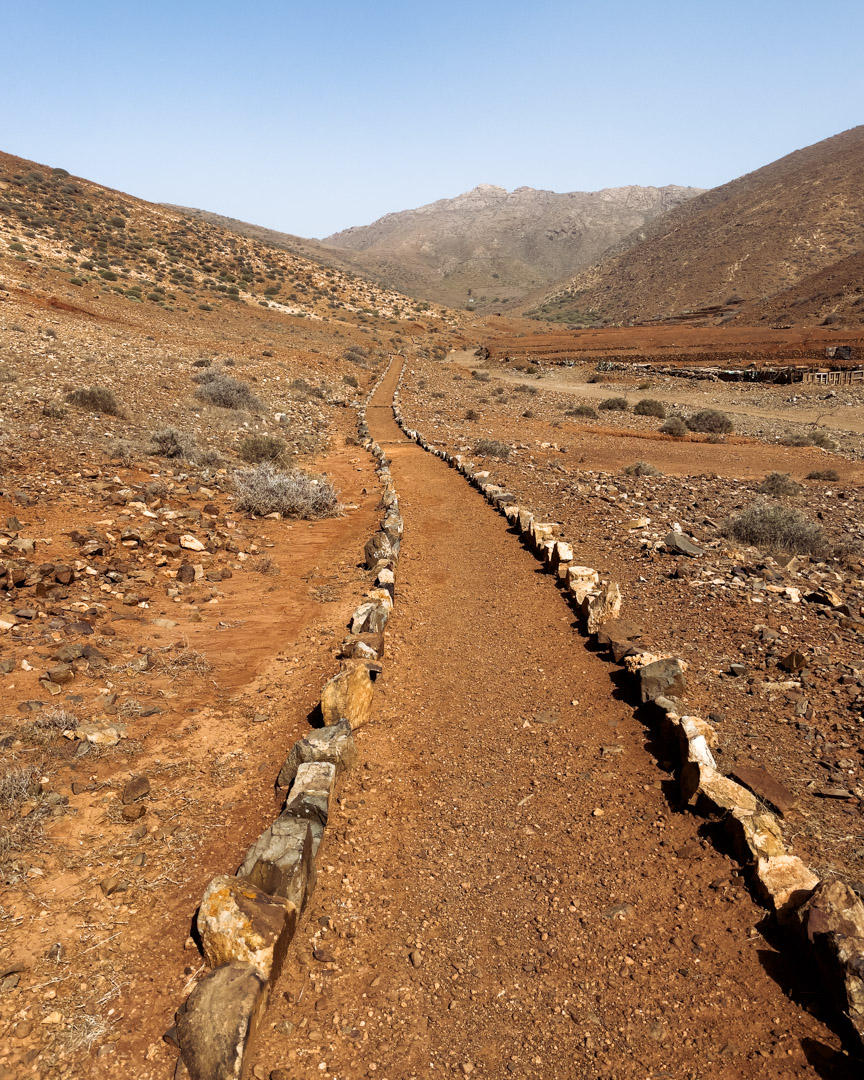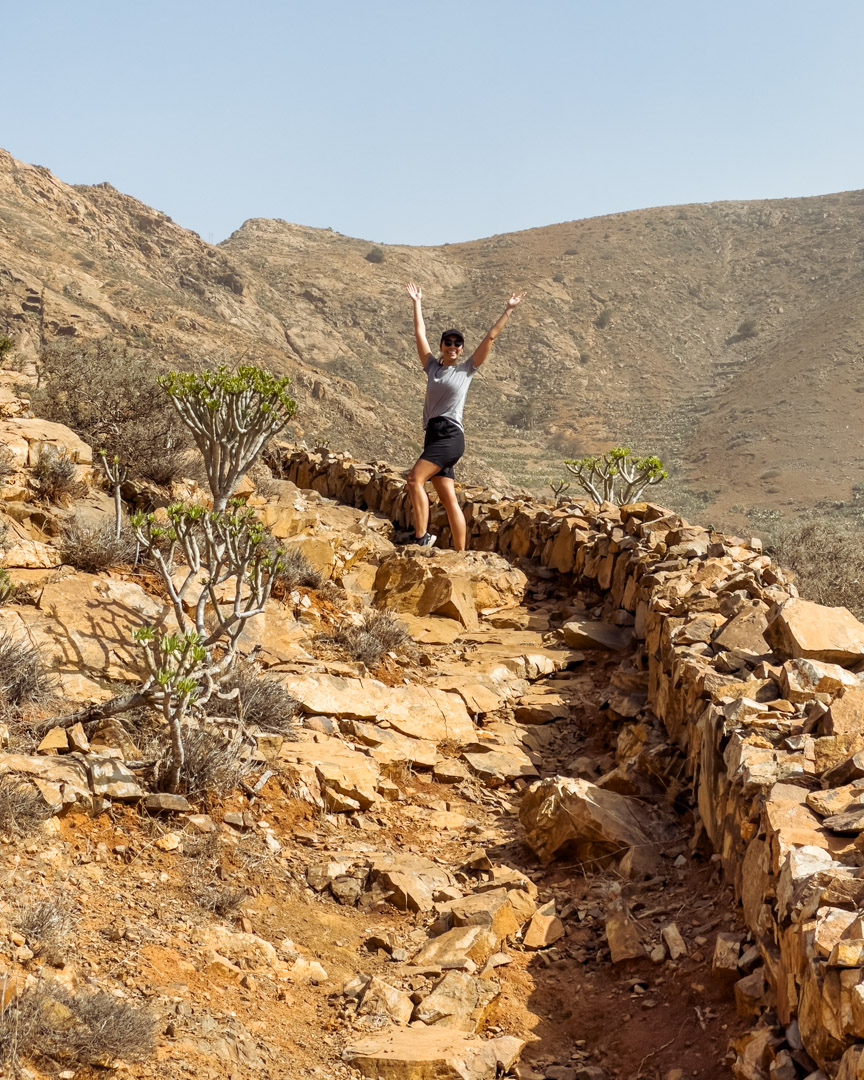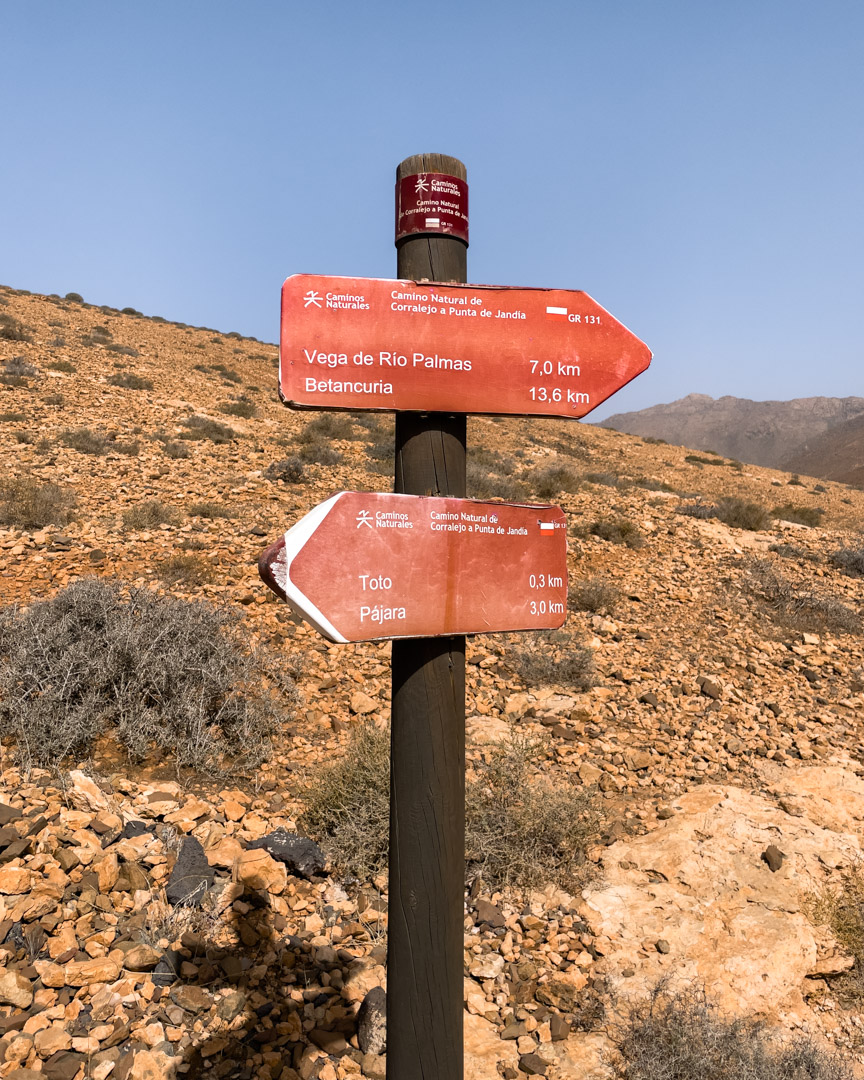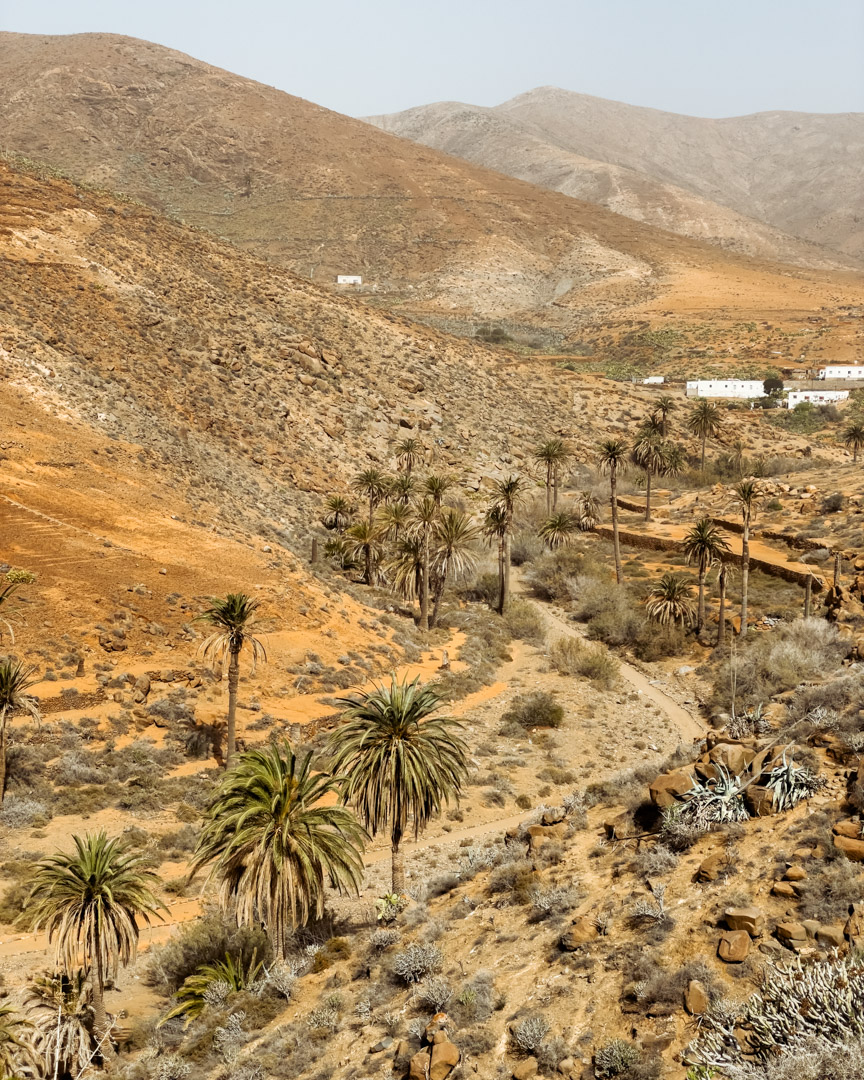 20. Water sports – Fly in the wind
If water sports are your thing, you're in for a treat.
The strong Fuerteventura winds are ideal for windsurfing and kitesurfing but you can also try your hand at surfing, jet skiing, parasailing, standup paddleboarding, scuba diving, snorkelling or go on a boat tour.
There's something to do for all the active ocean lovers!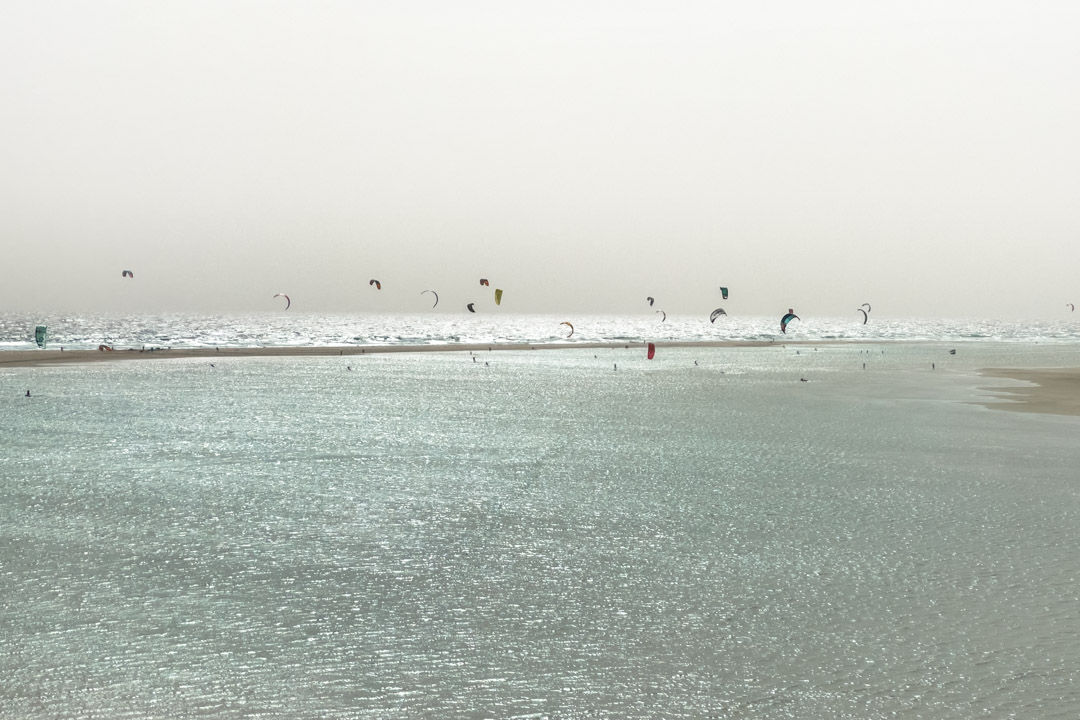 21. Faro de la Entallada – Remote scenic lighthouse
We probably wouldn't have visited the lighthouse of Faro de la Entallada if we hadn't stayed closeby at Playitas Resort (adlink).
But the drive there is quite scenic and the views from the top are beautiful, so we can easily recommend visiting this rather remote part of Fuerteventura if you like a bit of an adventure.
Be aware that the final, short drive up to the lighthouse is steep and narrow at times. If you don't feel comfortable, it's possible to park your car at the bottom and walk up.
The lighthouse if free to visit and the road is open 24/7.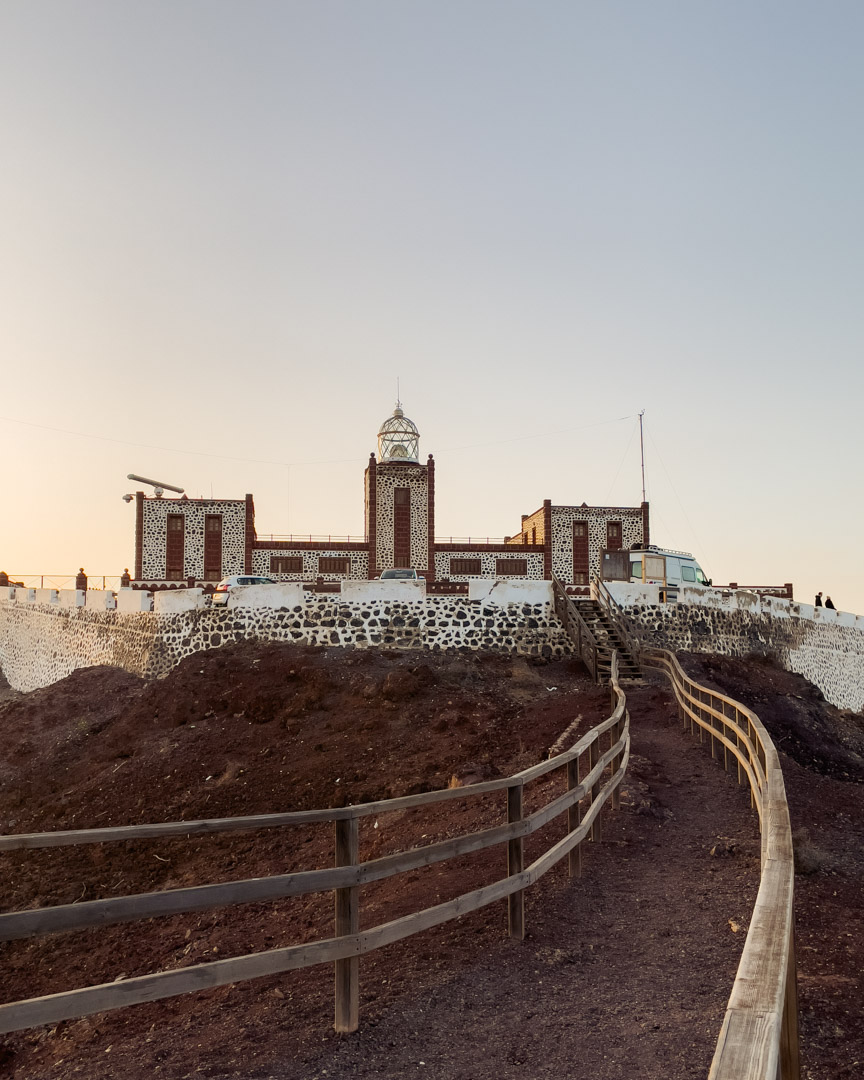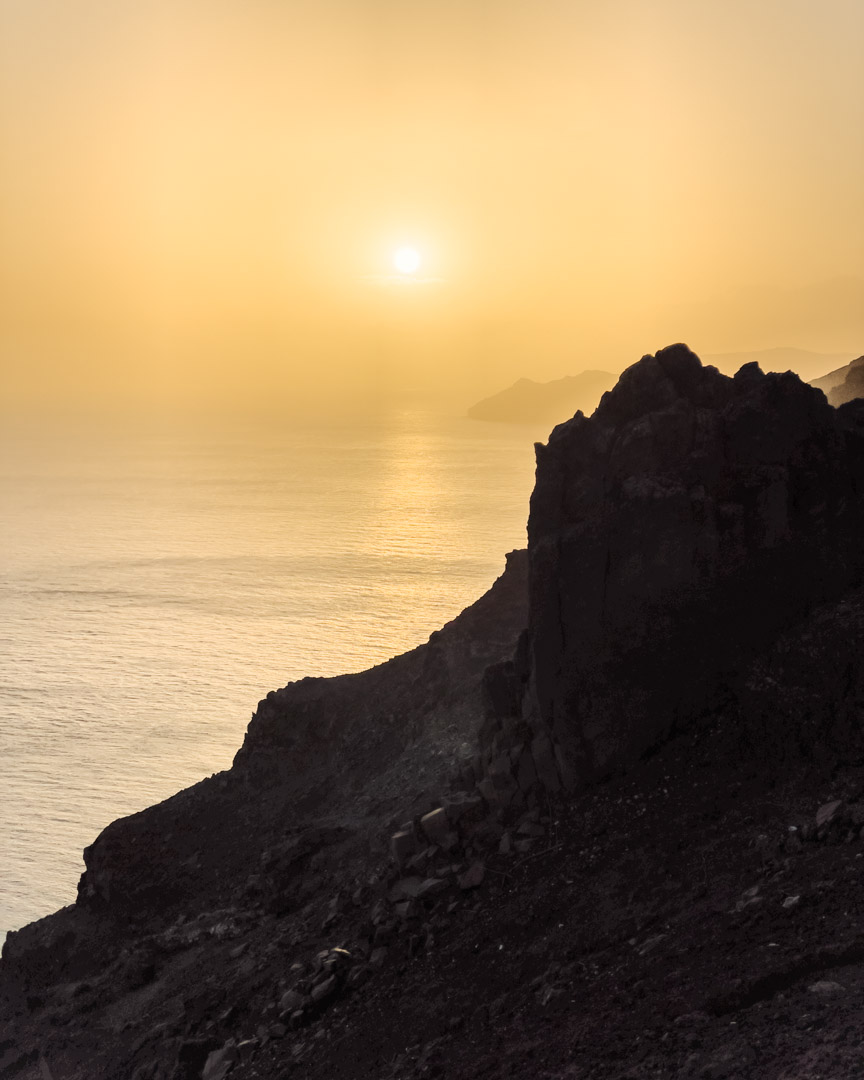 What not to do in Fuerteventura
Don't visit Oasis Wildlife Fuerteventura
We know it might be controversial but we urge you to not visit the Oasis Wildlife zoo.
Even though children (and adults) find it entertaining to watch wild animals up close and most zoos brand themselves as being important for education and conservation, they are not always as good as they seem…
Oasis Wildlife has shows where animals are performing as well as close interactions with some of the animals, like camel rides and swimming with sea lions. This can be very stressful for the animals.
And while it may seem harmless, these activities are not for the sake of the animals but for the profits they generate for the zoo…
With a few exceptions around the world, zoos are seldomly acting in the best interest of the animals as their first priority.
If you want to learn more, take a look at these 9 reasons not to visit zoos.
Don't feed the chipmunks
Fuerteventura is full of adorable chipmunks (called Barbary Ground squirrels) and they are very interested in people – or at least in the food that they'll get if they come close enough.
But there are signs everywhere saying you shouldn't feed the squirrels.
Unfortunately, we saw so many people doing it anyway.
We know they are cute and even though it might be tempting to lure them closer with food, you should avoid feeding them.
First of all, it's unhealthy for the chipmunks to eat human food or even nuts (as they are often salted).
Furthermore, the chipmunks are considered an invasive species in Fuerteventura and the authorities don't want their population to grow as they actually cause damage to native animals and plants.
So take all the photos you want of the funny squirrels but don't feed them.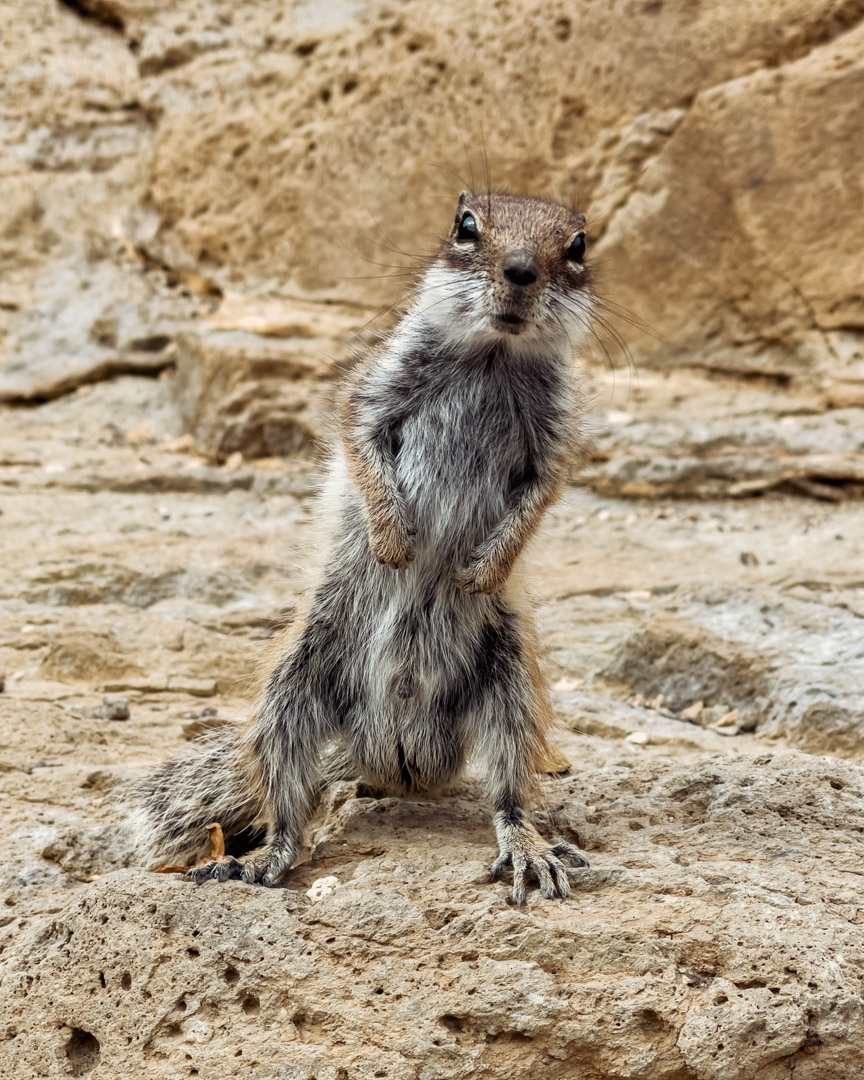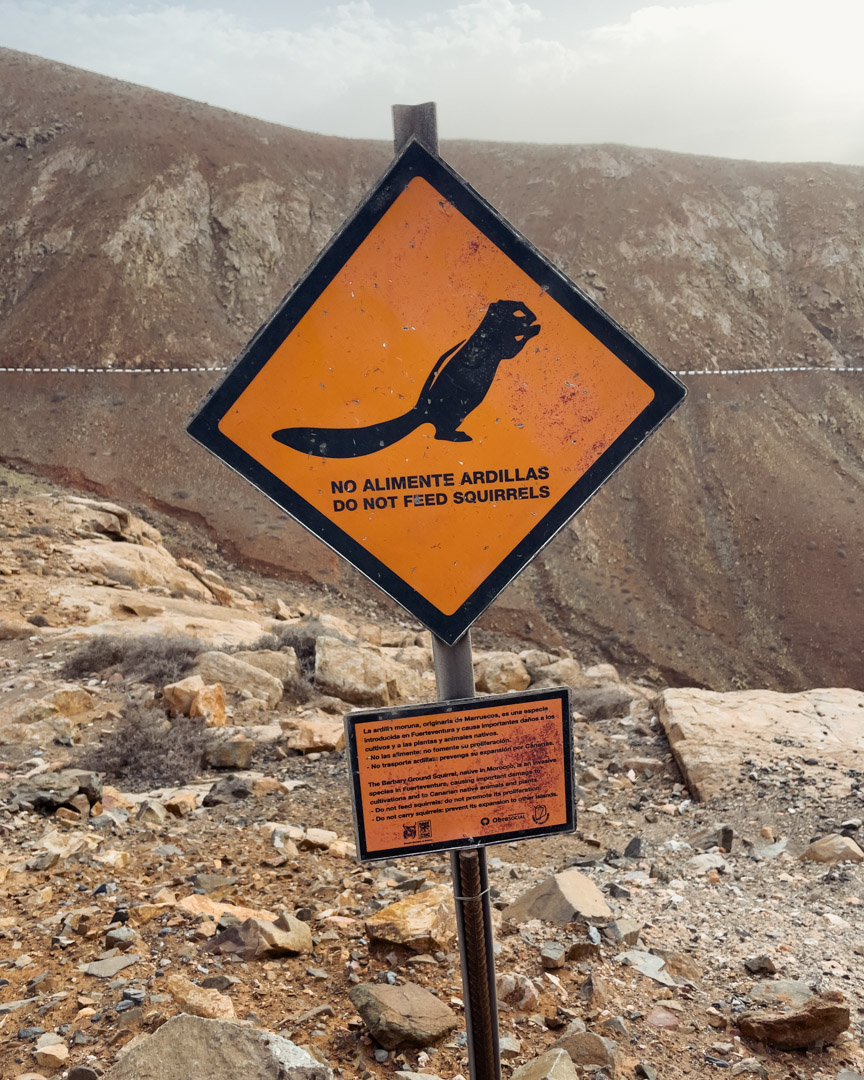 How to get around Fuerteventura
Renting a car in Fuerteventura
Renting your own car in Fuerteventura is definitely the easiest way to get around and the best option for exploring the island.
You can pick it up at the airport and return it again when you leave Fuerteventura so it's really easy.
There are numerous car rental companies with different price ranges.
We rented the absolute cheapest one from a company called Turisprime which ended up costing us around 185 EUR / 195 USD for 14 days (~ 13 EUR / 14 USD per day).
To be honest, it wasn't the newest, most amazing car and we could have used a 4x4 car on some of the gravel roads, but it took us to all the best places on Fuerteventura so it was a nice budget option.
Parking in Fuerteventura is generally free and you can often park close to the attractions and beaches. Awesome, right?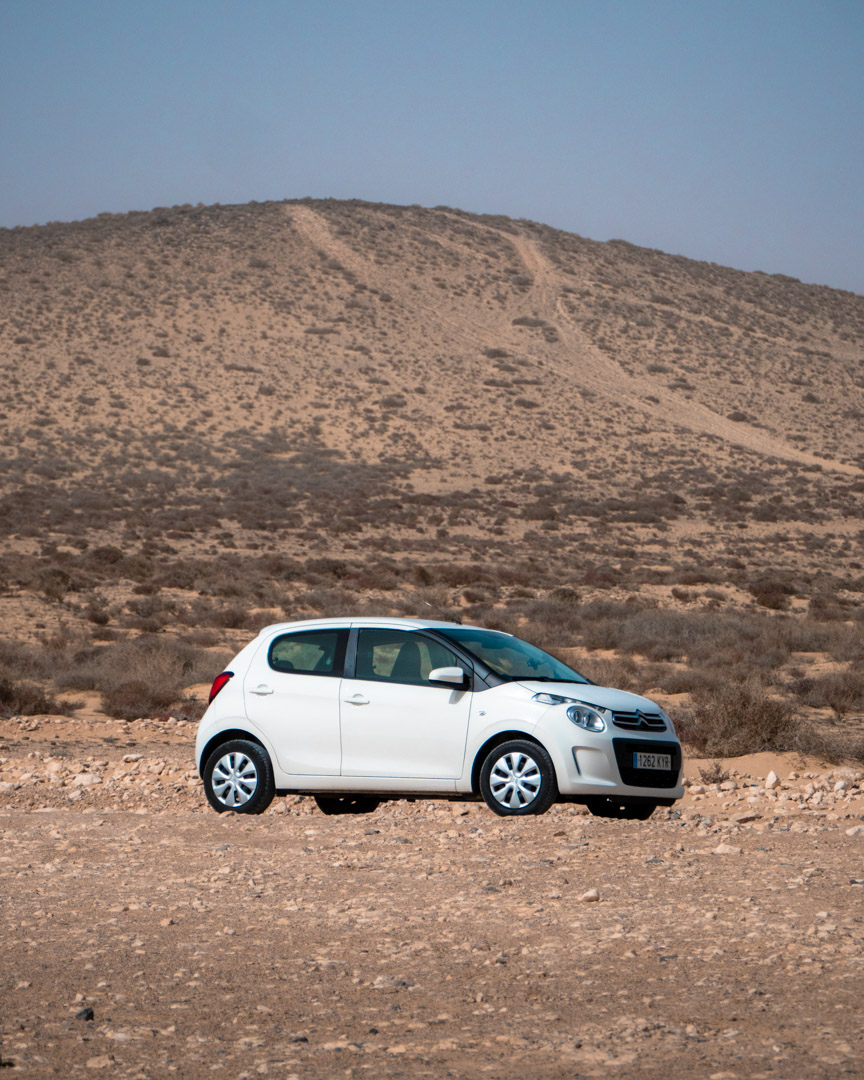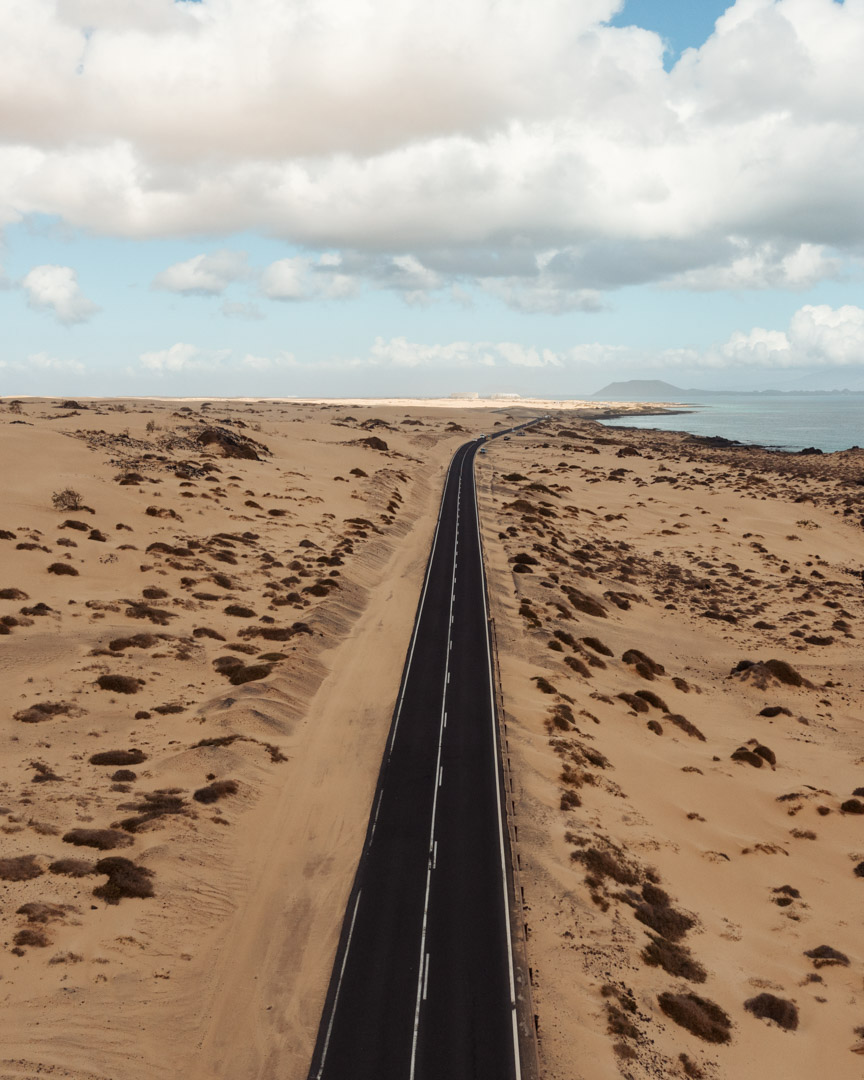 Public transport in Fuerteventura
We actually didn't use any public transportation in Fuerteventura but we have heard that there are few public transport options available.
However, there are public buses running between some of the towns. Check the Fuerteventura bus routes and timetables here.
How to get to Fuerteventura
The best way to get to Fuerteventura is by plane or ferry.
Fuerteventura is well-connected to the other Canary Islands by ferry to three different ports on the island.
There are also direct domestic and international flights to Fuerteventura's airport Puerto del Rosario.
If you are putting together your own flight schedule and can't find a direct flight, a stopover on mainland Spain might be worth checking out.
Alternatively, you can fly to one of the neighbouring islands (like Gran Canaria or Lanzarote) and take the ferry.
Search for the best and cheapest flights to Puerto del Rosario in Fuerteventura here (adlink).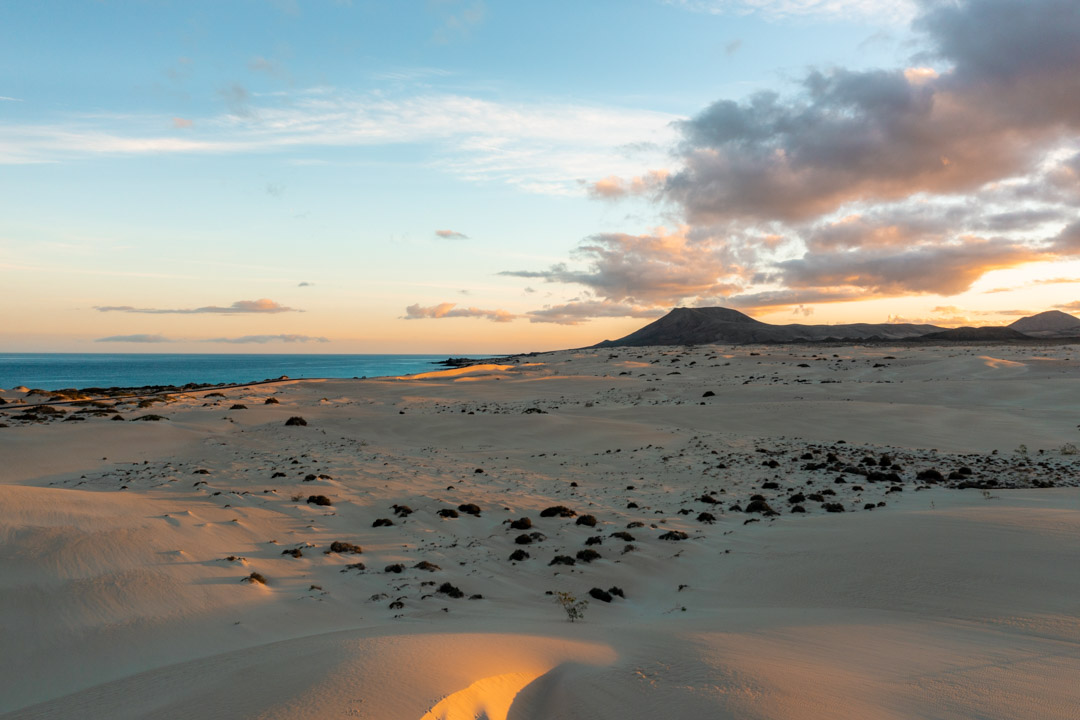 When to visit Fuerteventura
Best season to visit Fuerteventura
Fuerteventura can be visited in all seasons. But what's the best season?
With 3,000 sunshine hours a year and a dry and warm climate, Fuerteventura is famous for its perfect weather all year round.
Fuerteventura doesn't get much rain. However, it's very windy most of the time.
The summer is dry, hot and the sun is really strong.
It's also even windier, if you can imagine. Which is perfect for kitesurfing and windsurfing and probably also pretty nice when you're on the beach so you don't overheat.
The hottest months are from June to October.
In the winter, Fuerteventura is warmer than the rest of Europe but it's not super warm – again, also because of the wind.
Spring or autumn might be the best times to visit Fuerteventura for lovely beach days and warmer weather.
As with other destinations, you should avoid peak seasons and popular holidays if you would like to explore the best sights of Fuerteventura without the crowds (and save on flights and accommodation as well).
(These charts show weather averages from Lanzarote as the two islands have very similar weather patterns – especially in the north.)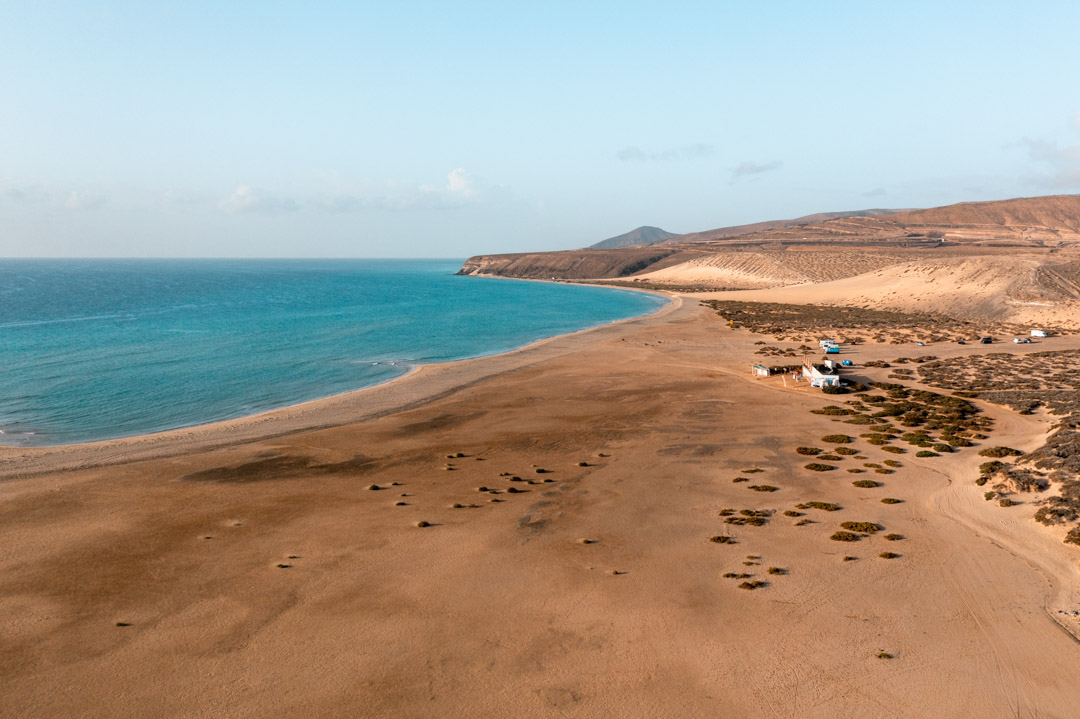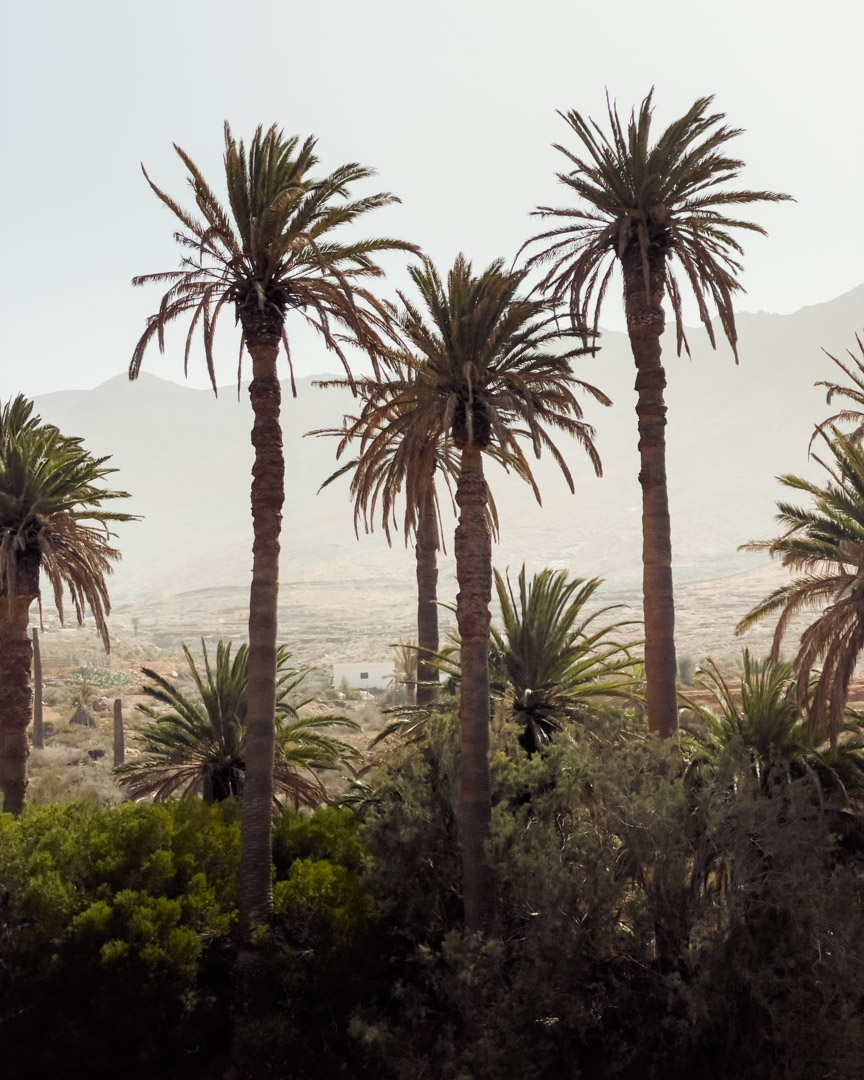 Our weather experience
When we visited Fuerteventura in January, the weather was pleasant and optimal for hikes and other outdoor activities. We can imagine it's fine for watersports, too.
In our first week on the island however, a calima (sandstorm from Sahara) came and clouded the sky, lowering the visibility and temperature for a few days followed by rare intense rain showers. This is a normal phenomenon that can happen throughout the year.
It was a little too cold if you ask us (we should have brought some extra warm clothes) but the following week was amazing and we had some hot and sunny days.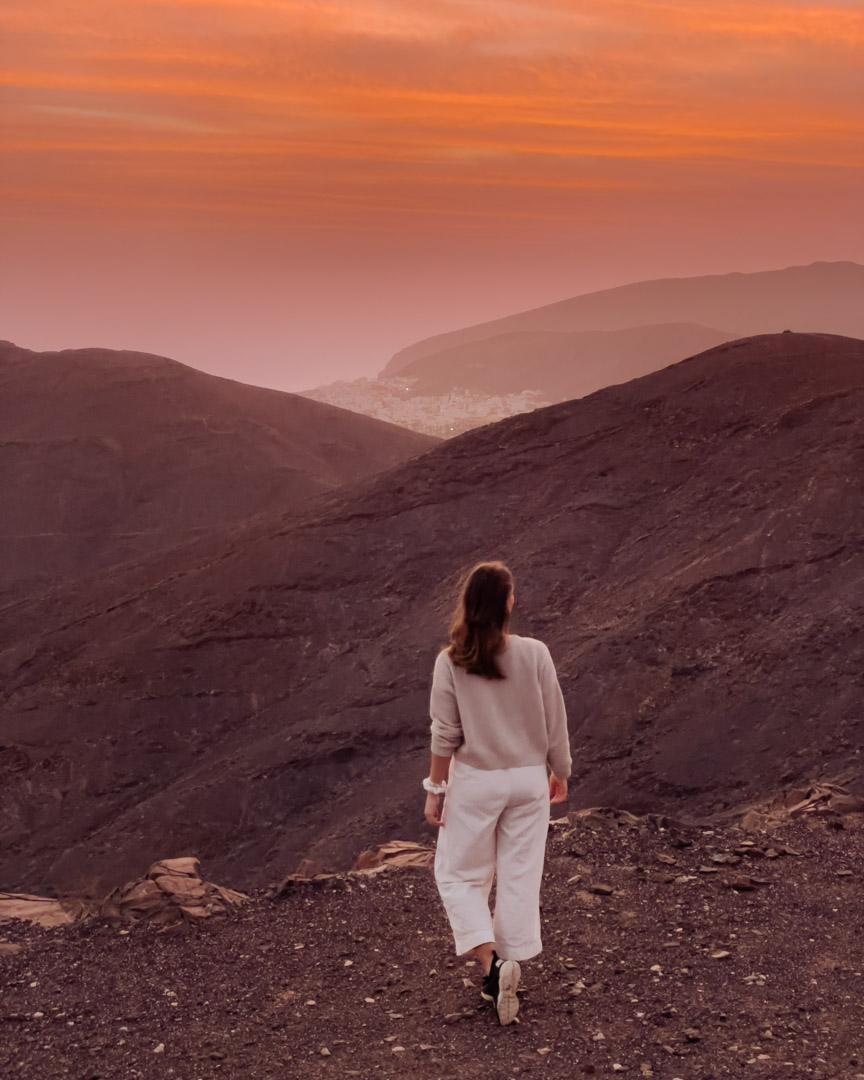 Tips for visiting Fuerteventura
How long to stay in Fuerteventura? Most people visit Fuerteventura for about a week on a packaged holiday. This is enough time to get a feel for the island and check out some of the main sights. We stayed for two weeks which allowed us to take in everything in a relaxed tempo with lazy days in-between exploring Fuerteventura's attractions, mountain viewpoints and hidden beaches.
Parking is generally free and easy to find making it ideal to rent a car to get around Fuerteventura on your own. The main roads are excellent and there's almost no traffic. Be aware that some roads leading to attractions and beaches are gravel roads.
Internet access / 4G can get spotty in some remote areas, for example at Cofete, Aguas Verdes or on some hikes. Downloading or carrying an offline map is a good idea.
Check the tides before visiting the beaches, lagoons and rock pools if you want to be able to swim without putting your life in danger! In some places, the tide needs to be high and in other places, it needs to be low.
Pack layers of clothing. As mentioned several times, Fuerteventura is windy and you never know when you might want a jacket. Don't underestimate the sun though – wear sunscreen even when overcast.
Electrical plugs in Fuerteventura are like most other standard European plugs with two round pins (type C, E and F and in some properties also the three pinned type L plug).
Credit cards are widely accepted in shops and restaurants but some smaller businesses might prefer cash so it cannot hurt to bring some Euros.

What to bring to Fuerteventura
Travel insurance (adlink). Never travel without it!
A good camera – here's a guide to the gear we use.
Sunscreen (adlink).
Clothes for both warm and cool weather. While it's never really cold in Fuerteventura, it can get a bit chilly and very windy sometimes. In hindsight, we should have packed a few more pieces of warm clothing ourselves…
Hiking boots or sturdy sneakers. There are so many places to go for beautiful hikes. You can find trails that take anywhere from 30 minutes to several hours.
Swimwear and a towel.
A refillable water bottle and snacks for hikes.

Minimise your impact
To minimise your impact during your visit, follow these guidelines:
Bring your own drinking water in a refillable bottle.
Avoid single-use plastics, including straws.
Dispose of waste properly. While putting your trash in a nearby trashcan is convenient, wrappers and other small items are prone to get taken by the wind and end up in the ocean.
Check your sunscreen before going in the water. Many brands contain oxybenzone and other chemicals that are harmful.
Take only photos, leave only footprints. Let everything stay in its natural place.
Respect wildlife.

Thanks for reading
Thanks for getting all the way to the end!
We hope this Fuerteventura travel guide has been useful.
What do you think about Fuerteventura?
If you've been there (or to any of the other Canary Islands) it would be awesome to hear your best tips in the comments.
If you haven't been yet, please don't hesitate to ask us anything. We're glad to help.



Our favourite travel resources:
Our camera gear: