Lake Toba, Sumatra: Complete Travel Guide to Samosir Island
What to do, where to stay and when to visit the beautiful volcanic lake
An island in a lake on an island
Samosir Island in Lake Toba on Sumatra is one of the biggest islands within an island in the world.
There's even a small lake on Samosir. Imagine if there was an island on that lake…
Lake Toba is also both the largest lake in Indonesia and the biggest volcanic lake in the world, so there's no shortage of mind-blowing facts and superlatives here.
Relaxing on Lake Toba for a few days (or weeks!) is a must-do on any North Sumatra itinerary.
We planned to stay for just two nights but extended our stay to four nights as we enjoyed the lake views, nice temperatures, good food and incredible local hospitality so much.
We could have easily stayed longer.
Here's our complete travel guide to Samosir Island on Lake Toba in Sumatra including why you should visit, what to expect, what to do, what to eat and where to sleep plus all of our best tips.
Where to stay on Samosir Island:
Search for the best value accommodation on Samosir Island here.


Why visit Samosir Island and Lake Toba
While it's kind of corny, we felt like the mere fact of standing on a huge island in a huge lake in a huge island in Indonesia was cool enough in and by itself to warrant a visit to Samosir Island.
The big "wall" that rises in the middle of the island is an awesome sight.
When you're on the east coast (near Tuk Tuk), you have high hills to the west, Lake Toba to the east and then more mountains and hills across the calm water.
This gives a kind of tucked-in feeling; almost like a blanket of serenity.
Sitting high above sea level (about 900 metres), the climate is also much milder than in the Sumatran lowlands while still being warm and sunny.



Samosir Island's interior
The geography is the context – what will make you want to stay is Samosir Island's interior.
It's obvious that the climate is suitable for growing amazing crops, and coffee, cacao and various tropical fruits are grown all over the island.
The food here is delicious and the people you'll meet are as friendly as they come.
Samosir Island is exotic while still being totally relaxing – a rare feat in Southeast Asia where places akin to this can sometimes feel overrun, hectic or overly touristic.



The Batak people
North Sumatra is the homeland of the Batak people, and the culture is especially prevalent on Samosir Island (Pulau Samosir).
It's fascinating, and if you're into cultural tourism you'll have plenty of opportunities to get a glimpse into both the Batak history as well as modern-day lifestyle.

Lake Toba map
Samosir Island is located in the middle of Lake Toba in Northern Sumatra, Indonesia.
Lake Toba is at most 100 kilometres long and 30 kilometres wide.
It's up to 505 metres deep and sits on an elevation of 905 metres above sea level.
Samosir Island is huge – around 630 km2 making it about the same size as Singapore and climbs all the way up to 780 metres above the lake at its highest point.
When to visit Lake Toba
Best time to visit
Samosir Island in Lake Toba can be visited all year round, but weather-wise visiting in the dry season (from May to September) is preferable.
While it still rains from time to time, most showers are short.
Late May and June are probably the best months to visit as July and August constitute the tourist high-season.
We visited in July and had glorious weather. While our preferred accommodation was unfortunately fully booked, there were still plenty of rooms available.
Year-round, the temperature hovers around 25°C (77ºF) during the day and drops down to about 20°C (68ºF) at night. Perfect, really.
When to avoid visiting
If you visit Lake Toba in the rainy season, you can expect more rain during your stay.
The sun will probably still peak through – you're at the equator, after all.
Try to avoid visiting at Chinese New Year (in January or February, changes from year to year) if you can as that have prices soaring and accommodations get fully booked.
Search for the best value accommodation near Tuk Tuk here.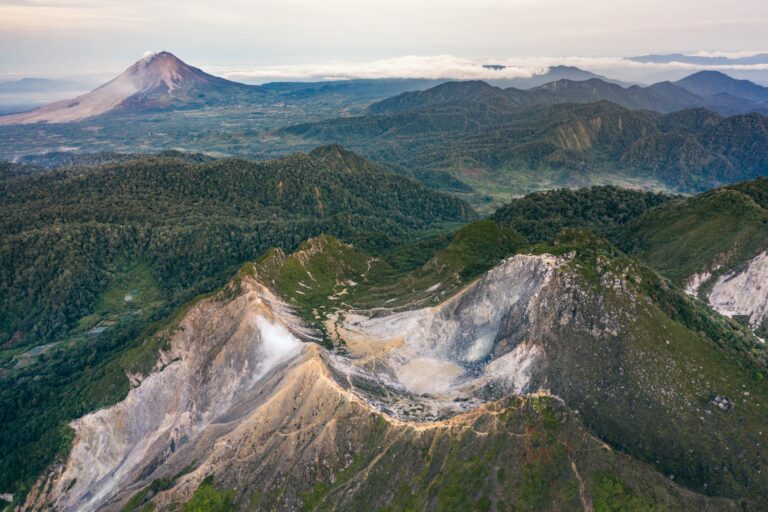 What to do on Lake Toba
Tour Samosir Island
Renting a scooter on Samosir Island is a great way to see the varied landscapes.
There's very little traffic on the east side, especially once you get away from Tuk Tuk and Tomok.
We thought that the island's south side was especially scenic.
The west side is less interesting with more farmland. It's also a lot more hectic. The views to the surrounding hills are still great.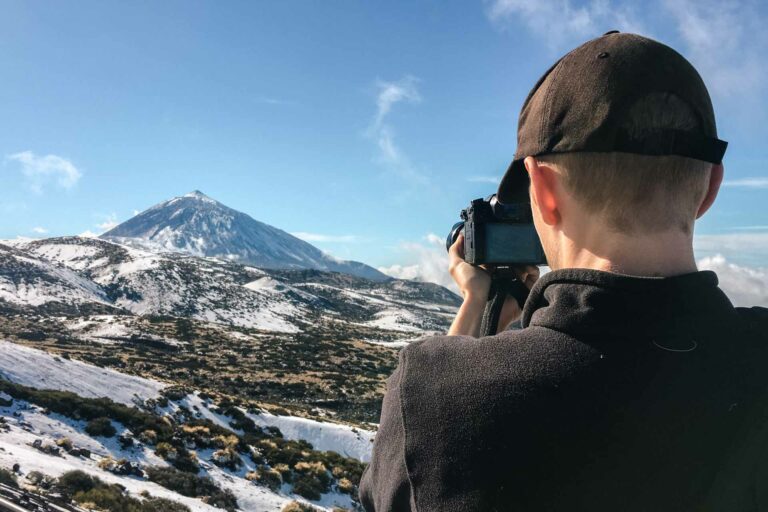 Relax
The best thing to do on Samosir Island on Lake Toba is without a doubt to chill out and relax.
Grab a sunchair by the lake and let the day (or days) pass by. Read a book, listen to music or a podcast and enjoy the views.
Jump in the water when you get hot and then repeat!



Hike or go for a run
With its pleasant climate, hiking and running on Samosir Island are great activities.
There are several hiking routes behind Tuk Tuk. Ask at your hotel for even more recommendations.
Alex ran quite a lot on the main road and had a grand time. There's not much traffic but you still have to be very careful.



See the view from Tele Tower View Point
Samosir Island is only an island because of the canal built across it by the isthmus on the western side.
To get a great view of Samosir Island and Lake Toba, climb the Tele Tower at the small town Tele just across the bridge.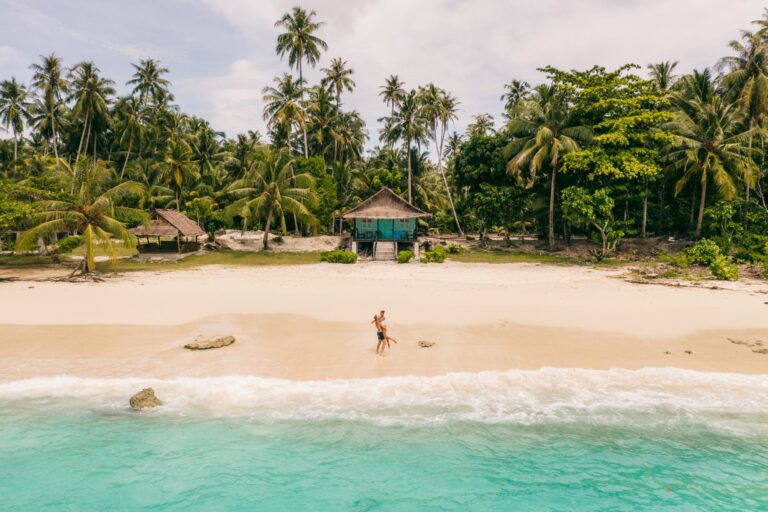 Experience Batak culture
The Batak people consider Samosir Island to be the centre of their culture, so it's no wonder that the island is one of the best places in North Sumatra to experience it.
Watch a traditional Batak dance performance at guesthouses and restaurants in Tuk Tuk or in Simanindo at the Museum Huta Balon Simanindo.
Here you can also see a collection of old Batak cooking utensils, crockery, weapons, carvings and sculptures among other things.
There's also the stone chairs in Ambarita.
Batak souvenirs are popular to bring back home, and one of the best places to buy them is in Tomok (Samosir's main town just south of Tuk Tuk).
There's also a small Batak Museum near the market in Tomok, but as we've heard they keep a monkey in a cage, we can't recommend you visit.


Visit Sipiso Piso Waterfall
The majestic Sipiso Piso Waterfall runs into Lake Toba on its northern shores.
Day trips from Samosir Island to Sipiso Piso are long.
We recommend that you visit the waterfall on your way to or from Berastagi or Bukit Lawang instead.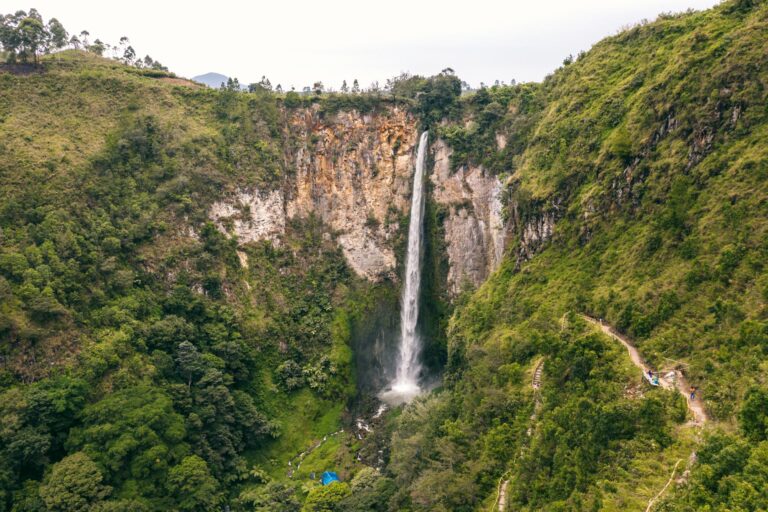 Where to stay on Samosir Island
Choosing to stay near the town of Tuk Tuk makes sense if you want to have several restaurants in walking distance.
It's also easy to get to and from Parapat with the tourist ferry which sails directly to the lakeside properties.
Search for the best value accommodation near Tuk Tuk here (adlink).

Value for money: Zoe's Paradise Waterfront Hotel
Zoe's Paradise was our first choice for accommodation on Samosir Island.
Though it's a little bit pricier than some of the budget options around, it seems like great value for money.
The property is new and each of the 14 rooms have wifi, hot showers, private balconies and king sized beds.
It's of course located lakeside and there's even a pool.
Being partly owned by a Swiss, we trust that the bread is tasty. Breakfast is included.
Check prices and availability at Zoe's Paradise here (adlink).

Budget: Mas Cottages – Where we stayed
We stayed at the lakeside Mas Cottages north of Tuk Tuk.
Getting into town is a bit of a walk, but with such good food at the hotel, we found little need to leave.
Our spacious room had a double bed, hot shower and nice little balcony from where we had direct lake views.
(Fast!) wifi only in the lobby.
Check prices and availability at Mas Cottages here (adlink).


Where to eat on Samosir
Fresh fruit is abundant on Samosir Island and we indulged in a lot of fruit juices and shakes.
We were also lucky to visit while avocadoes where in season, and gosh were they delicious. We had avocado with everything!
For more vegetarian options than the ones mentioned below, check out Rohana's Restaurant and Juwita Café, both in Tuk Tuk.
Buddha Café
We were delighted to see a fully vegan restaurant on Samosir.
Buddha Café (connected to Sumatera Borobudur) is located just 10-15 minutes north of Tuk Tuk.
Vegan versions of classic Indonesian foods and new creations are served along with huge servings of appetisers, soups and desserts.
Everything is homemade and delicious. The mixed fruit juice was incredibly tasty.


Restaurant at Mas Cottages
We ate a lot of our meals at our hotel Mas Cottages (adlink).
While hotel restaurants usually aren't worth going out of your way for, we think that this one might be a rare exception. It could also just be a testament to the fact that many restaurants around Tuk Tuk are pretty great.
Among other things, we had fried tempeh, guacamole on chapati (just try it!), guacamole on toast and spaghetti with tomato sauce and vegetables. Of course, we also had fried rice. For breakfast, we had oatmeal made from plantmilk and fresh fruit platters.
They had no problem veganising most meals and even have a vegetarian section of the menu.
El Tona Coffeehouse
Between Tuk Tuk and Tomok you'll drive by El Tona Coffeehouse; a modern-looking open aired café serving simple dishes and various beverages.
We each had a fruit juice on our way south around the island.

B1 or B2?
If you're a carnivore, one thing to consider is that when B2 is offered it's pig; B1 is dog.
Why "B1" and "B2"? The batak word for dog has just one B (biang) while the word for pig has two Bs (babi).
We don't eat either and instead recommend you to have some tempeh or tofu to go along with your meals for that added protein. It's chock-full of nutrients and so good!
How to get around Samosir Island
Samosir Island is big, but if you base yourself close to Tuk Tuk, you'll probably be fine just walking around town for your daily needs.
You can also hire a bicycle which seemed quite popular. Bicycling all around Samosir is quite the undertaking, though.
To tour the island, you can either hire a driver for the day or consider renting your own wheels.

Renting a scooter
Scooter rentals are more expensive on Samosir Island than what you may have become accustomed to in the rest of Indonesia.
Our experience was also that they were pretty new and generally in good condition.
We paid IDR 120k (~ 8.5 USD / 7.5) to rent a scooter with a full tank for a day from Mas Cottages.
Shop around and you can certainly get a better price; especially if you rent one for several days. Prices are lower in the low season.



How to get to Samosir Island
Kualanamu International Airport near Medan is the main entry-point for Sumatra and only located about 4-5 hours of driving from Parapat from where you'll sail to Samosir Island.
To Parapat
Parapat is well-connected to the rest of North Sumatra and is easy to get to from popular stops like Medan, Bukit Lawang and Berastagi.
Private cars (or "tourist busses" as they're often called) will be faster and more comfortable than using public transport.

Transport from Parapat to Tuk Tuk on Samosir Island
We took the boat from Parapat to Tuk Tuk for just IDR 20k (~ 1.4 USD / 1.3 EUR) per person.
It sails directly to the lakeside hotels around Tuk Tuk. It starts in the south and then goes north.
The trip usually takes between 30 minutes and an hour.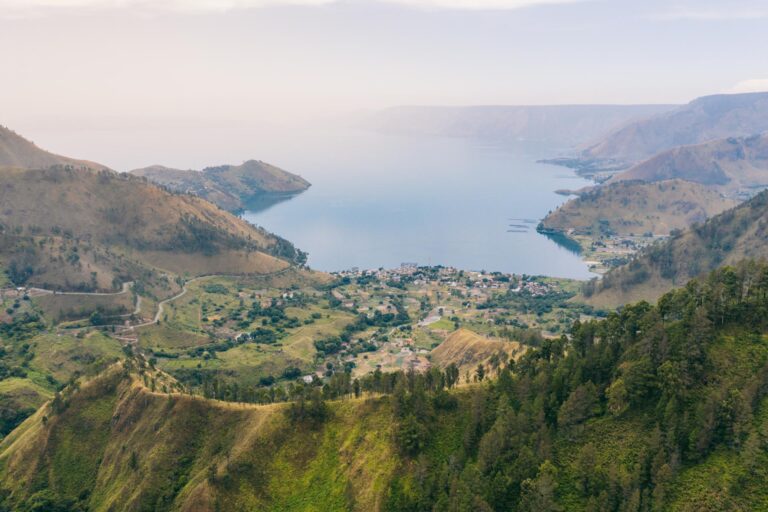 Our best tips for visiting Lake Toba
The electrical outlets in Samosir Island (and the rest of Indonesia) generally feature two round prongs, fitting both most European and Asian appliances. The standard voltage is 220 volts.
Bring Indonesian rupiah in cash (preferably small bills). Credit cards are only accepted at more high-end places.
There are a few working ATMs on the main road and in Tuk Tuk.
Be sure to book your accommodation on Samosir Island (adlink) well in advance if you're travelling in the high season (July, August and December to March). There will always be beds available, but many of the best accommodations get fully booked.
Sun protection is important; apart from clothes and shade, we use this eco-friendly sunscreen (adlink).
Wifi on Samosir Island is good in places. At Mas Cottages (adlink) where we stayed it was actually amazingly fast, but only available in the lobby.
A good camera is essential for capturing the landscapes around Lake Toba and Samosir Island – here's our guide to lightweight photography gear for high-quality travel content.

Thanks for reading
Thanks for getting all the way to the end!
We hope this travel guide to Samosir Island on Lake Toba has been useful.
What do you think about North Sumatra?
If you've been, it would be awesome to hear your best tips in the comments.
If you haven't visited yet, please don't hesitate to ask us anything. We're glad to help with your planning and questions.




Our favourite travel resources:
Our camera gear: