Sipiso Piso Waterfall Travel Guide: How to Visit & What To Expect
All you need to know for visiting Sipiso Piso Waterfall near Berastagi in North Sumatra
Like a knife's edge
The waterfalls of Indonesia keep blowing our minds.
Sipiso Piso Waterfall (also called Air Terjun Sipiso Piso) in North Sumatra hurls itself from a small underground river towards Lake Toba taking a plunge of 120 metres – making it one of Indonesia's tallest waterfalls.
Needless to say, this incredible waterfall can be seen, felt and heard from far away!⁠⠀
Sipiso Piso translates into something akin to "like a knife's edge", and the waterfall sure looks sharp.
We've seen a lot of beautiful waterfalls during our travels, and this one is definitely up there with the best.
Where to stay near Sipiso Piso Waterfall:
Search for the best value accommodation in Berastagi (near Sipiso Piso Waterfall) here.


What to expect at Sipiso Piso
Arriving at Sipiso Piso is underwhelming at first. It's just a parking spot with some shops and restaurants lining the street…
But then you spot it; a huge waterfall gushing out across gorge down the hillside.
There are several spots from where to catch some good views and photos.
As it's about 1,000 steps to get all the way down to the base of Sipiso Piso, many people feel content just watching it from above.
Seeing it from here is definitely impressive. But to really get a feel for its power, making the hike down is definitely worth it.




Hiking down Sipiso Piso
Hiking down isn't too strenuous – it's the getting back up again part that'll really demand something from your legs.
The path has certainly seen better days, but even though some steps are kind of broken, it's still easily walkable.
Even in the rain, we imagine that it won't get too slippery as it's mostly paved.
If you just take it slow (and perhaps take a break halfway up again) most people of general fitness won't have any problems walking down to the base of Sipiso Piso.




Blown away by the waterfall
It should come as no surprise that a waterfall of this size produces some serious power and water spray.
Moving closer to the base of Sipiso Piso, this becomes abundantly clear as everything will get wet.
If you want a photo directly in front of the waterfall (or just want to feel the winds blowing strongly in your face and get completely soaked), prepare for some wet and slippery hiking the last ~ 100 metres.
We loved the hike down to the bottom of Sipiso Piso and can totally recommend it to everyone visiting the waterfall.



Practicalities at Sipiso Piso
Food and toilets
We ate a surprisingly nice and cheap vegan lunch at one of the restaurants/warungs lining the road opposite the parking spots.
There are also toilets available.
The restaurant we chose didn't have any tempeh, so they quickly went to one of their neighbours and got us some. We also had some spiced vegetables, fried rice and two fruit juices. Score!

Opening times
Sipiso Piso waterfall is open and flowing 24/7/365.

Price
The admission price for visiting Sipiso Piso is IDR 5k per person (~ 0.4 USD / 0.3 EUR). Parking is also IDR 5k.

How to get to Sipiso Piso Waterfall
Most people visiting Sipiso Piso will do it either on a day trip from Berastagi or from Samosir Island on Lake Toba – or as a stopover between the two. That's what we did.
From Berastagi it's about 40 kilometres, equating to a little more than an hour's drive.
From Samosir Island you'll first take the boat to Parapat. It's about 80 kilometres from Parapat to Sipiso Piso, making the travel time by car 2-2.5 hours.
It's also possible to take the western route from Samosir Island (instead of travelling to Parapat first). From Tuk-Tuk it's about 150 kilometres, or probably 4 hours by car.
Tours can easily be arranged from any tour operator, guesthouse or hotel.
You can, of course, hire your own wheels. But with the kind of hectic and chaotic traffic we witnessed on Sumatra, we wouldn't advise it.

Map
When to visit Sipiso Piso Waterfall
Sipiso Piso waterfall can be visited year-round.
We visited in the high season in July and didn't find it to be crowded at all. In fact, we were almost alone down by the base of the falls.
Try to time your visit away from the weekend if possible.
You can probably get the waterfall pretty much to yourself if you visit mid-week outside the high season.
Visiting around sunrise or sunset will definitely be special.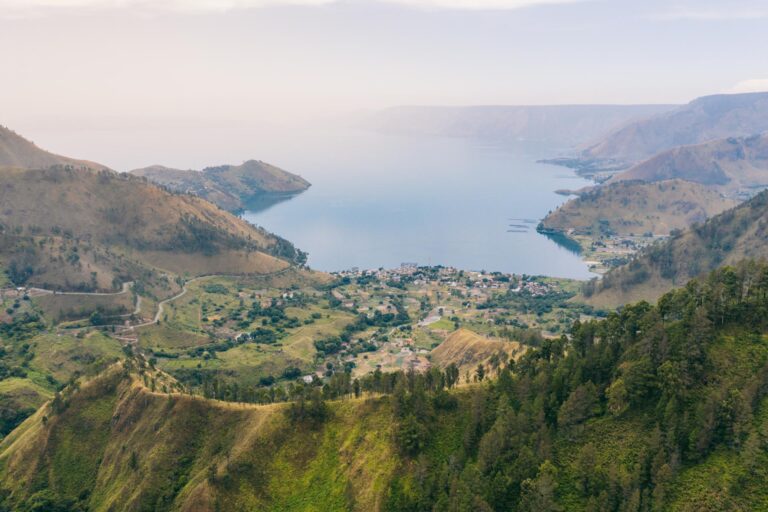 Where to stay in Berastagi
It's possible to stay near Sipiso Piso Waterfall, though most people instead opt to stay in Berastagi or on Samosir Island in Lake Toba.
For some reason, accommodation in Berastagi is quite expensive for what you generally get.
There aren't that many hotels, but the options in the guesthouse/homestay categories are alright.
We would personally avoid staying on the main street as it's pretty busy.
Northwest (towards Sibayak) is much calmer, but you might wake up early from the mosque calls. South of town also looks like a good bet for a calm night's sleep.
Search for the best value accommodation in Berastagi here (adlink).
Sinabung Hills Berastagi
Sinabung Hills Berastagi is located southwest of the centre of Berastagi and looks like one of the nicer options around.
There's a big pool, wifi in the public areas and air conditioning.
Check prices and availability at Sinabung Hills Berastagi (adlink).

Hotel Kalang Ulu
Hotel Kalang Ulu offers a well-designed lobby, wifi in the rooms and nice sunset views, all close to lots of Indonesian dining options.
The rooms look like you'll get a nice sleep there after exploring Berastagi and its surroundings.
Check prices and availability at Hotel Kalang Ulu (adlink).

Wisma Sunrise View – Where we stayed
While in Berastagi, we enjoyed staying at Wisma Sunrise View.
It's a simple place with rooms containing the bare necessities for a pleasant stay.
The prices are super cheap.
As an added bonus, the terrace faces east with no obstructions making for great sunrise views in clear weather.
We got help from the friendly owner to hire a guide for our Sibayak Volcano sunrise hike from here.
Check prices and availability at Wisma Sunrise View (adlink).
Berastagi Nachelle Homestay
Berastagi Nachelle Homestay is a cute place south of town.
The rooms are simple, but whatever amenities they might miss (or might not work – there's hot water, but not always…) the staff will surely make up for it with their local tips and kindness.
Check prices and availability at Berastagi Nachelle Homestay (adlink).

What to bring to Sipiso Piso
Good shoes with a hard sole. Flip-flops are do-able for hiking down if you just take them off if you intend to hike the last (slippery!) bit.
Water. Bringing some is seldom a bad idea.
Sun protection; a hat, sunglasses and an eco-friendly sunscreen will come in handy (adlink).
Snacks. Having brought extra energy in the form of fruits, nuts or other snacks is always welcome when your blood sugar drops.
A good camera. Zooming in on the waterfall makes for some really cool shots. Here's a guide to the camera, lens, drone and more we use on our travels.

Minimise your impact
To minimise your impact when visiting Sipiso Piso waterfall, follow these guidelines:
Bring your own drinking water in a refillable bottle (adlink).
Avoid single-use plastics, including straws.
Dispose of waste properly. Bring back everything you take with you.
Take only photos, leave only footprints.
Be considerate of other visitors.
Respect wildlife.
Also, consider going beyond minimising your impact by joining the Adventure Bag Movement and pick up some trash during your exploring.

Thanks for reading
Thanks for getting all the way to the end!
We hope this guide to visiting Sipiso Piso in North Sumatra was what you were looking for.
What do you think about the waterfall?
If you've been to North Sumatra and Sipiso Piso, in particular, it would be awesome to hear your best tips in the comments. If you haven't been yet, please ask away if you have any questions.