Asu Island Travel Guide: How to Visit This Paradise & What To Expect
All you need to know about Asu Island outside Nias, Sumatra (for non-surfers)
Surfing and beaches
In July 2019 we travelled to Asu Island, a tiny island located adbout an hour's boat ride west of Sirombu on Nias Island which is west of Sumatra in Indonesia.
Asu Island is a part of the Hinako Islands, which are mostly known to hardcore surfers who travel to this part of Indonesia for the world-class waves tumbling in from the Indian Ocean.
As we suck at surfing, we went to Asu Island for the world-class beach instead.


Asu Island geography
Asu Island is just about 3 kilometres long and less than a kilometre wide.
After the earthquake in 2005, the island got lifted about 3 metres, exposing coral on the western side and the most beautiful beach on the eastern side, just outside Mama Silvi's.
There's a bit of snorkelling with some nice colourful fish, but mostly bleached reef.
It's possible to walk around most of the island on a nice path which is about 1.5 kilometres long from Silvi's to Asu Camp or 2-3 kilometres in a loop.
Walking around Asu Island is supremely peaceful and you'll hear lots of birds while strolling past the palms and banyan trees.





Where to stay: Mama Silvi's Cottages
There are just four places to stay on the island and nothing else in terms of tourist infrastructure.
Three of them are expensive surf camps, so our choice naturally landed on the fourth: Mama Silvi's Cottages.
We paid just IDR 300k per night (~ 21 USD / 19 EUR) for a cottage with a direct view of the magnificent beach and ocean.
There is a hammock, small table and two chairs outside where we usually dined, a small desk with a chair inside and three single beds; two of which got shuffled together to form a sort-of double bed with a mosquito net over it.
The beds weren't very comfortable but not too shabby either.
We had a private bathroom with a shower and a western-style toilet minus the flushing abilities. For that, we used water from a big bathtub/sink. There was no "regular" sink.
Electricity isn't 24/7 but rather in the mornings and evenings, at no set times so far as we could tell. Sometimes it was on for most of the day.
Thankfully, we never saw a single mosquito in our room. There were surprisingly few creeps and insects. Alex ran into a big spider in a net on a less-trodden path but that was pretty much it.



Getting there and booking
To arrange transport and book a cottage, contact Mama Silvi directly through her Instagram, Facebook or even better by phone or WhatsApp at +62 821 6099 3580 / 0822777342628.
We paid IDR 700k each way for a private driver from the airport in Gunung Sitoli to Sirombu (about 3 hours on bumpy road), and then an additional IDR 700k each way for the boat transfer (1 hour) as well – making the total price for both of us to get from the airport to Mama Silvi's and back IDR 2.800k (~ 200 USD / 179 EUR).
It's definitely possible to get to a harbour much cheaper with public transport, and there's also a public passenger boat that drops people off at the Hinako Islands for about IDR 50k (~ 3.5 USD / 3.2 EUR).
The boat is actually run by Mama Silvi's husband. Expect a long journey if you go the public route.
Read more about tourism on Nias Island on North Nias Tourism.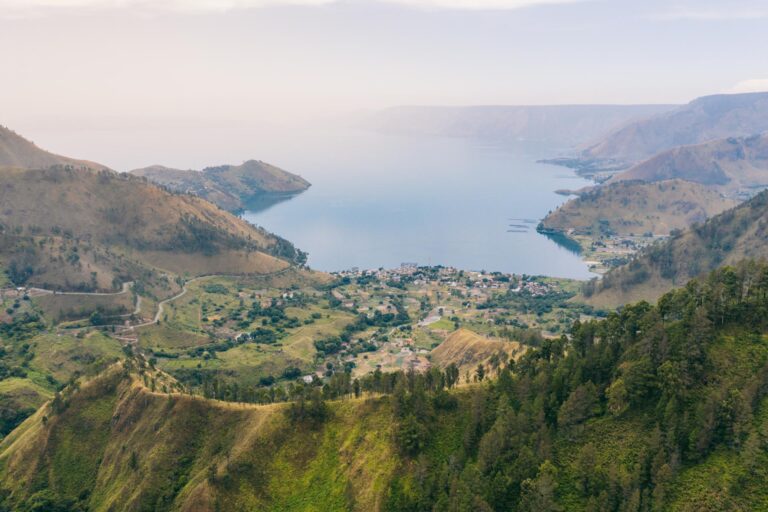 Food at Mama Silvi's
Mama Silvi is an excellent English-speaker (she's originally from Padang on the Sumatra mainland) and we were very lucky that she was able to accommodate to our vegan diet.
For breakfast, we had delicious banana porridge cooked with coconut milk or banana pancakes along with fresh fruits and coffee or tea.
For lunch and dinner, nasi goreng and mie goreng were great as always, but the real star of the show was the vegetable curry.
Think potatoes and other veggies in creamy coconut with a delicious curry-taste on top of fluffy rice. Sooo good. And it was only IDR 30k (~ 2.1 USD / 1.9 EUR) per plate!
Prices in general for the food were really low, at least when you realise that she's all you've got in terms of options and that everything (except for coconuts, papayas and bananas) has to be sailed out here.

Dog Island
Asu means dog in Bahasa Nias (the local dialect) and the name was certainly fitting.
There are a lot of dogs on Asu Island – and no, they don't eat them (they do eat the pigs that also roam around, though) – and we loved playing with them.
Especially since one of Silvi's dogs had just had seven of the most wonderfully cute pups just two weeks prior to our arrival.
Though we probably would have stayed for the beach anyway, the puppies made it clear that we just couldn't leave this paradise.
I mean, how could we with those incredible eyes, wiggly tails and curious minds??





Leaving paradise
We had the most amazing time at Mama Silvi's on Asu Island and we honestly had a really hard time leaving – partly because it was so beautiful, but mostly because of the pups.
If you ever get the chance to visit the island, make sure to say hello from us and give the (probably by then-teenage or adult dogs) big kisses and hugs.