Sibayak Volcano Sunrise Trekking Guide: How to Hike With (And Without) A Guide
What to expect visiting Mount Sibayak volcano near Berastagi in North Sumatra
Explosive brothers
Of the two volcanoes near the highland town of Berastagi in North Sumatra, only Mount Sibayak (Gunung Sibayak) can be climbed as Mount Sinabung is off-limits due to its eruption patterns.
You might be happy to hear that Sibayak is the easy one of the two to climb and that you can still expect great views of Sinabung's perfect cone from Sibayak on clear days. Win-win!
Seeing the view from the volcano's summit is a must-do in Berastagi. In this travel guide, we'll show you how.
We climbed Mount Sibayak on a sunrise trek from Berastagi in July 2019.
It was an absolutely beautiful experience. It's just a magical feeling when you stand on top of a volcano witnessing the waking world all around you.
This travel guide's aim is to tell you all about our hiking experience and how you can climb Mount Sibayak as well – independently or with a guide.
Where to stay near Sibayak Volcano:
Adlinks
Value for money: Sinabung Hills Berastagi – Pool and A/C at a fair price.
Budget: Hotel Kalang Ulu. – Wifi in the rooms and nice sunset views.
Budget: Wisma Sunrise View – Where we stayed and hired our guide for the volcano in Berastagi. Simple rooms with nice views at ridiculously low prices.
Search for the best value accommodation in Berastagi (near Sibayak Volcano) here.

How to climb Sibayak Volcano
There are basically two ways to scale the active volcano: Going with a guide or going independently.
As we felt pretty sure we would be hard-pressed to find the right route in the dark going for sunrise, we opted for a guide.
This also felt good as people have known to get lost (and worse) up there and because we were transported directly to the start of the trail, making us able to get that much more sleep.
Helping the local economy is just an added bonus.



Climbing Sibayak alone
If you wish to climb Mount Sibayak without a guide, we highly recommend you to first and foremost never trek alone.
This is important as there have, unfortunately, been casualties on Mount Sibayak.
Try to hike in a small group and make sure you have a map and know the directions.
Also, always tell someone about your plans.


Berastagi route
The easiest route up to Sibayak starts just north of Berastagi town and takes approximately three hours.
In the afternoon when we were safely back in Berastagi after our morning's excursion, Alex ran from our hotel to where we were dropped off with the car. That's why we have descriptions of both options.
Start by finding your way to Jalan Pendidikan. It's about 750 metres from the roundabout in Berastagi.
Keep heading north, past the Sibayak Multi National Rest House, until you see the gate with the blue roof pictured below.
Head left of that and you're well on your way up the mountain!




Semangat Gunung hot springs route
It's also possible to go up via another route, starting at the Semangat Gunung hot springs.
This trail is shorter and takes closer to two hours, but it's much steeper.
Bemo minibuses can drop you off or take you back to Berastagi town from here.

Going with a guide
Going with a guide is, of course, not the most adventurous choice.
But seeing as you're going to climb an active volcano with steam vents on Sumatra in Indonesia, we felt like that was adventurous enough by itself.
If this doesn't sound adventurous to you, just try to tell your grandparents and gauge their reaction.



Our guide
We booked our trip with a guide through our guesthouse Wisma Sunrise View (adlink) the night before going.
His name was Marison and he also works down at the tourist office in town.
We can easily recommend his services as he was super friendly, knowledgeable and spoke English very well.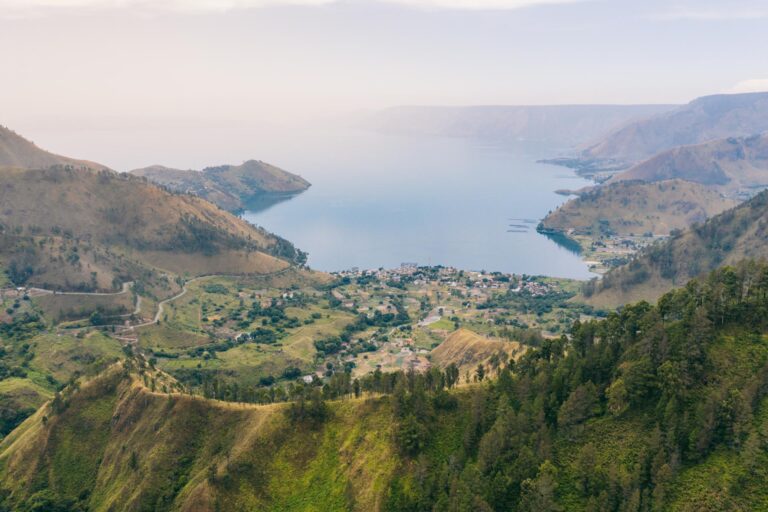 Our experience of hiking Sibayak Volcano with a guide
We got picked up at 04.30 in the early morning by our guide and driver outside of our guesthouse Wisma Sunrise View in Berastagi.
From here it was about a 15-minute drive to the start of the trail.
We had our own headlamp with us, but we were also given small torches as we hiked in complete darkness.
It was a little cold when we started, but as soon as we got going, we quickly felt warm.
After 1-1½ hours of hiking up the mixed trail, we reached the summit of the volcano.
It wasn't really a hard trek, perhaps easy to medium depending on who you ask, but not exactly wheelchair-friendly.
You'll walk uphill all the time and do some light scrambling along the way.

Sunrise from Sibayak
There was only another European family following the same route as we had taken, but there were quite a few local people up on the volcano who had spent the night there in tents.
It seemed like mostly youngsters from Medan. They were all really nice and just as excited as us to see the incredible sunrise from Sibayak.
We had about half an hour on the summit before the sun rose above the skies.
It was really lucky that the sky was clear enough that we could see Mount Sinabung in the distance.
The atmosphere up there was joyous with people taking selfies and laughing.
At most, we were probably around 20 people sharing the view, so it wasn't crowded at all.
Alex flew his drone and Victoria just enjoyed the endless views before we headed around the crater to inspect the steam vents up close.
The highest point of Mount Sibayak is at 2,212 metres (7,257 feet) and the stratovolcano's last eruption was in 1881.




Noises and smells from the volcano
One of the first things you'll notice when you approach the top of Mount Sibayak is a loud noise, sounding something like a helicopter.
It's the sound of steam rapidly shooting out of a vent inside the volcano.
Yup, pretty crazy!
We were actually able to go all the way up to the steam and go right past it.
It made for some cool photos, fogged the camera's lens, made it hard to speak to each other, and that was it.


The smell of sulphuric acid
You'll also quickly notice the smell of sulphur in the air.
If you haven't smelled sulphur before, imagine something akin to rotten eggs.
Not exactly a delightful smell, but it wasn't too bad. Especially not at the sunrise spot which was located away from the vents.
After a few more photo ops, we headed back down the way we first came.
The trek down Sibayak to the car took us about an hour.
We were then driven to some volcanically powered hot springs nearby to soak our (not too) tired muscles after the sunrise mission.

Opening times
Sibayak is open 24/7/365, except if the seismic activities indicate that something serious is going on.
Ask about the local conditions first at your guesthouse or hotel and always tell someone where you are going.
Price
The admission price to climb Mount Sibayak is IDR 4k (~ 0.3 USD / 0.25 EUR).
We paid IDR 300k per person (~ 21 USD / 19 EUR) for a guide and driver including entrance fees and parking to Sibayak and to the hot springs.
Map
When to visit Sibayak
If it has just rained, climbing Sibayak might prove to be a muddy experience.
The trail we took was mostly half-paved with big broken bits in-between the cemented parts.
Up on Sibayak itself, you walk around on hard volcanic soil, but some parts looked susceptible to getting slippery.
Sumatra's tourist high season between June and August is, not coincidentally, also the best time to climb Mount Sibayak as you'll have better chances of clear weather.
Just try to go on a weekday, as weekends tend to get very crowded with visiting locals.


Where to stay in Berastagi
It's possible to stay near Sipiso Piso Waterfall, though most people instead opt to stay in Berastagi or on Samosir Island in Lake Toba.
For some reason, accommodation in Berastagi is quite expensive for what you generally get.
There aren't that many hotels, but the options in the guesthouse/homestay categories are alright.
We would personally avoid staying on the main street as it's pretty busy.
Northwest (towards Sibayak) is much calmer, but you might wake up early from the mosque calls. South of town also looks like a good bet for a calm night's sleep.
Search for the best value accommodation in Berastagi here (adlink).
Sinabung Hills Berastagi
Sinabung Hills Berastagi is located southwest of the centre of Berastagi and looks like one of the nicer options around.
There's a big pool, wifi in the public areas and air conditioning.
Check prices and availability at Sinabung Hills Berastagi (adlink).

Hotel Kalang Ulu
Hotel Kalang Ulu offers a well-designed lobby, wifi in the rooms and nice sunset views, all close to lots of Indonesian dining options.
The rooms look like you'll get a nice sleep there after exploring Berastagi and its surroundings.
Check prices and availability at Hotel Kalang Ulu (adlink).

Wisma Sunrise View – Where we stayed
While in Berastagi, we enjoyed staying at Wisma Sunrise View.
It's a simple place with rooms containing the bare necessities for a pleasant stay.
The prices are super cheap.
As an added bonus, the terrace faces east with no obstructions making for great sunrise views in clear weather.
We got help from the friendly owner to hire a guide for our Sibayak Volcano sunrise hike from here.
Check prices and availability at Wisma Sunrise View (adlink).
Berastagi Nachelle Homestay
Berastagi Nachelle Homestay is a cute place south of town.
The rooms are simple, but whatever amenities they might miss (or might not work – there's hot water, but not always…) the staff will surely make up for it with their local tips and kindness.
Check prices and availability at Berastagi Nachelle Homestay (adlink).

What to bring to Sibayak Volcano
Good shoes with a hard sole. No flip-flops!
Warm clothes. We both wore long socks, long pants, a t-shirt, a sweater/fleece and a rain jacket to Sibayak. We were also glad to have a thin pair of gloves with us. (If you go during the day, fewer layers might be needed, but be aware that weather conditions can change quickly up there).
Light. We used a headlamp for our sunrise trek and were also given small torches by our guide. Even if you don't intend to go for sunrise or sunset, bringing some light is still a good idea if your plans don't turn out exactly as expected.
Water. Climbing is hard and even though you might not become sweaty because of the cold, you still need to replenish your liquids.
Sun protection; a hat, sunglasses and an eco-friendly sunscreen (adlink) will come in handy.
Snacks. Bringing some extra energy in the form of fruits, nuts or other snacks is always a good idea for when your blood sugar drops.
A good camera. You'll really want to capture the landscapes up on the volcano with some quality gear. Here's a guide to the camera, lens, drone and more we use on our travels.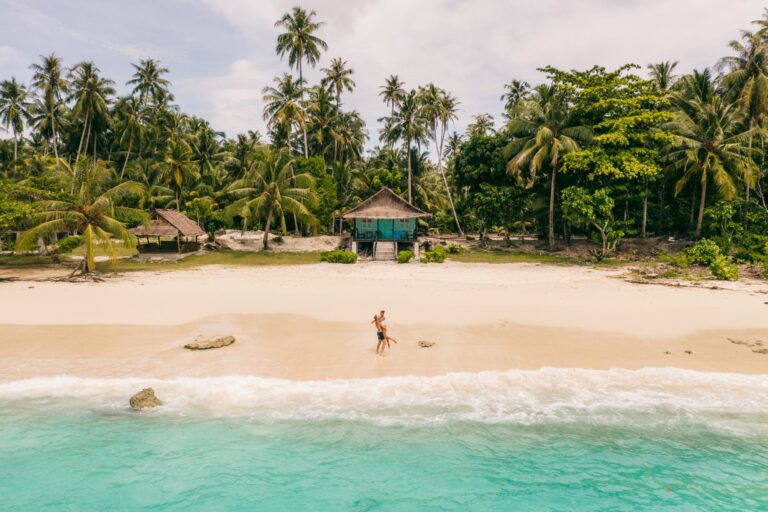 Minimise your impact
To minimise your impact on Mount Sibayak, follow these guidelines:
Bring your own drinking water in a refillable bottle (adlink).
Avoid single-use plastics, including straws.
Dispose of waste properly. Bring back everything you take up there with you.
Take only photos, leave only footprints.
Be considerate of other visitors.
Respect wildlife.
Also, consider going beyond minimising your impact by joining the Adventure Bag Movement and pick up some trash during your exploring.
There's a lot of trash up there. Try not to be disheartened; if every visitor just picks up a little bit, it'll soon be gone.

Thanks for reading
Thanks for getting all the way to the end!
We hope this guide to visiting Sibayak Volcano has been useful.
What do you think about Berastagi and North Sumatra?
If you've been to Sumatra it would be awesome to hear your best tips in the comments. If you haven't been yet, please don't hesitate to ask us anything. We're glad to help.