An Extensive Travel Guide to Siquijor: 11 Best Beaches, Waterfalls & Things To Do
Our best tips on activities, when to go, where to eat and where to sleep in Siquijor in The Philippines
An island filled with mystery
Siquijor is known among Filipinos as a mysterious place; home to magic, witches and other supernatural practices.
Some people go here for traditional medicinal healing – while others travel to Siquijor to help improve their love life with special love potions.
If you aren't superstitious, there are still plenty of reasons to go explore magical Siquijor.
The island has beautiful beaches, stunning turquoise waterfalls and plenty of Instagram-worthy spots.
We spent 4 days in Siquijor, where we visited old churches, waterfalls, beaches and enjoyed the Filipinos' warm hospitality.
Where to stay in Siquijor:
Search for the best value accommodation in Siquijor here.

Why you should visit Siquijor
Siquijor (pronounced with a Spanish accent as "see-kee-hor") is a small island in the Philippines, located in the southern part of the island group the Visayas.
It's also called "Isla Del Fuego" (fire island) and is associated with the supernatural and mystique-filled traditions – but don't worry, there's nothing to fear.
We have tested the island for you and it's completely safe. And super exotic.
You can't fly directly to Siquijor so you'll need to travel by ferry.
Thankfully, the many unique experiences Siquijor offers are definitely worth travelling for – especially the remarkable waterfalls, the picturesque beaches and the amazing snorkelling opportunities.
No mass tourism – yet
Tourists visit in much lower numbers than on many of its island-neighbours (like Cebu and Bohol), and it will hopefully still be a while before mass tourism gets a hold on Siquijor.
There are no hotel chains, shopping malls, fast food restaurants or tour buses on the small island.
Instead, you'll meet friendly local people, smiling at you without trying to sell you anything.
If you're in a hurry, it's technically possible to experience the highlights of Siquijor in one long day.
But we stayed for four days and will recommend staying between three days to a week to experience everything at a leisurely pace.

Siquijor orientation and map
When to visit Siquijor
Like most other islands in the Philippines, Siquijor has a tropical climate and the weather can be quite unpredictable.
But you can be sure that it's warm year-round (25-33ºC or 77-91ºF).
The temperature seldom dips below 20ºC (68ºF).
Humidity hovers above 80% all year.
The hottest and driest months are from February to May.
The rain season typically runs from June until December with the highest amount of rainfall between October and December.
Rains are likely to be short, but intense. The sun will probably dry you right up when the skies clear.
Always check the local weather conditions before travelling.
What to do in Siquijor
Even though Siquijor is a small island, it's filled to the brim with activities.
Here are some of the best things to do in Siquijor.
Cambugahay Falls
The beautiful Cambugahay Falls is without a doubt the most famous waterfall in Siquijor.
It's actually a cascade of three falls forming the natural wonder.
The bottom one and the top are delightful to swim in.
Feel like Tarzan?
Jump into the colourful water from the rope swings or get that perfect picture paddling one of the rafts.
When we visited, we paid 50 pesos (~ less than 1 USD / 1 EUR) per rope or raft for unlimited use.
We noticed several Filipino couples getting assistance from local guides in taking romantic photos with the falls in the background.
It's also perfectly do-able to explore the area on your own.
Cambugahay Falls is just a few minutes drive from the town of Lazi. There's a short (but steep) stone staircase leading down to the falls.
If you have your own means of transportation, we recommend getting there as early as possible to beat the crowds.






Kawasan Falls
After visiting Cambugahay Falls, we went to the nearby Kawasan Falls (not to be confused with the big, famous waterfall with the same name on Cebu).
Even though we didn't arrive particularly early, we were the first guests of the day.
Kawasan Falls is less immediately spectacular than Cambugahay Falls, but the colour of the water is amazing and there is also a (small!) cave.
Of course, there's also the obligatory Tarzan swing, which costs 50 pesos (~ less than 1 USD / 1 EUR) for unlimited splashes into the water.
A guide is mandatory – and also very useful, as you have to navigate through a field and down a steep staircase to reach the waterfalls.
We really enjoyed the serenity and allure of the area. If you have the time, visiting Kawasan Falls is an easy activity to recommend.





More waterfalls
After a lot of fun in Cambugahay and Kawasan Falls, we needed a short break from all the swinging and constant photo-taking.
There are, however, more waterfalls in Siquijor that also look wonderful, like Lugnason Falls, Cangbangag Falls, Cabugsayan Falls and Lagaan Falls.
Churches
Siquijor has several old Catholic churches and monasteries, the most famous of which is the San Isidro Labrador Parish Church.
It's also known as Lazi Church, as it's located in the small town of Lazi.
The church was built in 1857.
For more churches, St. Francis Of Assisi and Mount Carmel Church also look nice.


Balete Tree
The mystical powers of Siquijor can, according to some, be felt strongly at the Balete Tree; a huge, long branched 400-year-old tree.
There's a man-made pond in front of the tree where you can get your feet nibbled on by small fish.
Mainly because of that, we opted to skip a visit to the old tree.
We also heard someone talk about a baby monkey being kept in a cache. Sigh…
However, as Balete Tree is one of Siquijor's most famous tourist spots, it would be strange not to mention it in this guide.
You be the judge on whether it's truly a magical spot or just a tourist trap.
Apo Island
If you are fond of scuba diving and snorkelling, a whole-day trip to Apo Island is a must.
The surrounding water is a protected marine reserve, where coral and marine life thrive.
Apo Island is especially known for its many sea turtles.
Day trips to Apo Island can easily be arranged in several places in Siquijor, including at Coco Grove Beach Resort(adlink).
Beaches in Siquijor
Solangon Beach
When the tide is high at Solangon Beach, it's not particularly wide.
And when the tide is low, you have to walk quite far in ankle-deep water before reaching swimming depth.
However, we can not complain about the white sand, wonderful palm trees and clear waters. Solangon is a beautiful beach.
Along the water, there are a few scattered hotels, including Charisma Resort and Glamping Siquijor (adlinks), but the beach is free to visit for everyone and is truly peaceful.
In front of Coral Cay Resort, you can swing in a palm tree (they are very fond of rope swings in Siquijor!), but apart from that, there is not much else to do than relax – and enjoy the fiery sunsets you can experience from the beach in the evening.




Tubod Beach
South of Solangon Beach you will find Tubod Beach.
The beach is right next to a marine reserve and the clear waters are perfect for snorkelling (tide allowing).
It is also on Tubod Beach that the beautiful Coco Grove Beach Resort (adlink) is located.
Salagdoong Beach
Relatively isolated from the rest of the island's attractions, Salagdoong Beach is located in Siquijor's northeastern part.
If you have seen images from Siquijor on Instagram, they are likely to have been taken here.
The colour of the water is magical.
Salagdoong Beach is especially known for cliff diving, as you can jump into the welcoming ocean from two platforms located about 7 and 10 metres above sea level.
If you dare, that is!
There also used to be slides, but they needed some serious maintenance when we visited.
To see a new part of Siquijor and to experience that incredible colour of the water are the top reasons to go.
Salagdoong has two small beaches; both coral-filled and definitely not soft.
But there are lots of things to do in the water; use the swing, sit on a flamingo or rest your head in the big hammock. Using these props costs a few pesos.
The on-site restaurant offers Philippine cuisine and various snacks, but do not expect a culinary experience.
We paid 30 pesos per person for the entrance, 10 pesos for parking our scooter and 50 pesos to use the swings on the water. As 50 pesos is less than 1 USD and 1 EUR, it's really cheap.



Kagusuan Beach
Kagusuan Beach is supposed to be a fantastic beach with special rock formations but unfortunately, we never got to see it.
Just before reaching the water, we (along with some other girls) were stopped by a man who told us that we couldn't go further.
We never found out for the exact reason and it was difficult to figure out what kind of authority he held, but we followed his advice nonetheless.
It looks nice from pictures, but do inquire about the local conditions (and if it's open to the public) before heading to Kagusuan Beach.
Especially since the drive from the main road to Kagusuan is relatively long.
There are just a few signs to help guide you on your way. A local SIM card and Google Maps can be recommended.
Other beaches in Siquijor
There are quite a few beaches on the island, and while we often try to visit as many beaches as we can, we did not visit them all during our four days in Siquijor.
Paliton Beach is often featured as Siquijor's most picturesque beach and we have also read good things about both Bacong Beach and Maria Bay.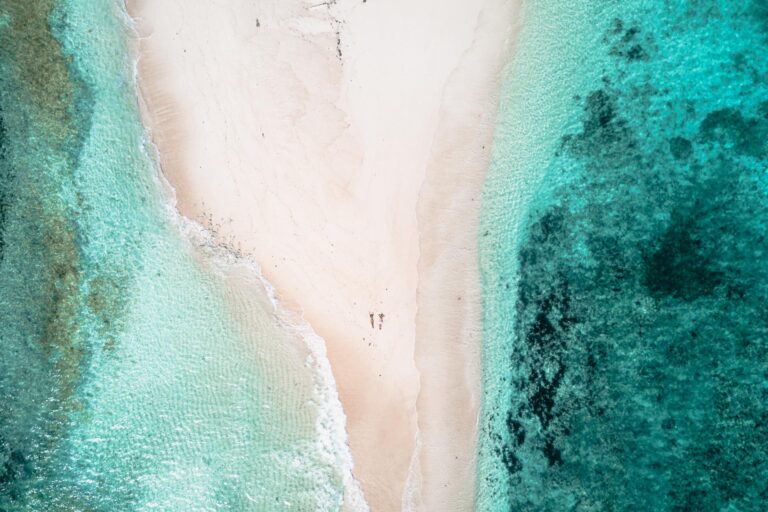 Where to stay in Siquijor
In spite of the island's small size, there is a wide range of places to stay in Siquijor whether you're backpacking and sleep in dorm rooms, or honeymooning and want to stay in a luxury resort.
The concentration of hotels and resorts is greatest near San Juan on the western side of the island between Solangon Beach and Tubod Beach.
Search for the best value accommodation in Siquijor here.
Coco Grove Beach Resort
If our budget had been a little higher, we would have stayed at the Coco Grove Beach Resort in San Juan during our time in Siquijor.
We ate lunch in their restaurant (Salamandas) one day and were given a quick tour of the hotel's facilities.
The place is super well-maintained and it soon became clear that Coco Grove is a rare resort gem.
We were constantly greeted with big smiles and felt very welcome.
Coco Grove Beach Resort's private beach was the nicest beach we visited in Siquijor.
Unfortunately for everybody else, it can only be used by the resort's guests.
In addition to the beach, there are four swimming pools, two restaurants and several free activities for the residents.
Coco Grove also organizes tours around the island as well as boat trips – for example to Apo Island.
Check prices and availability at Coco Grove Beach Resort (adlink).


CangDoki Resort and Dive Camp
At the northernmost part of Siquijor, you can stay with CangDoki Resort and Dive Camp.
The resort has a beautiful pool with ocean views and the bungalows are charming (plus they have A/C).
It's located 45 minutes to an hour away from the southwestern beaches, however, the resort is very affordable.
If you're into diving, CangDoki Resort and Dive Camp is definitely worth checking out.
Check prices and availability at CangDoki Resort and Dive Camp (adlink).

Charisma Resort
During our visit, we stayed four nights at Charisma Resort, located on Solangon Beach.
"Resort" is used frequently in the Philippines for all types of hotels and therefore doesn't mean much on its own.
Instead of the typical resort atmosphere, one should instead imagine a cosy little hotel with a small pool and bungalows by the beach.
For 1,600 pesos per night for two people (~ 31 USD / 27 EUR) we slept in a bungalow a few metres from the ocean with a double bed, private bathroom, fan and porch.
In Charisma Resort's garden, all rooms are facing the child-friendly pool with sun loungers and sea views.
The beach next to Charisma is very tidal and you have to walk quite far out if you want to swim in the ocean.
In the evenings most of the resort's guests are gathered on the beach to enjoy the sunset.
In addition to bungalows and private rooms, it is also possible to stay in a dorm room for about 500 pesos per night per person (~ 10 USD / 8.5 EUR).
Check prices and availability at Charisma Resort here (adlink).




The Bruce Resort
The three-starred The Bruce Resort is also located right on Solangon Beach about 10 minutes of walking from Charisma Resort.
The view is equally stunning but the rooms are bigger and they include A/C as well as a small kitchen.
The Bruce Resort is a good value resort if you're travelling on a budget but still want some luxury.
Check prices and availability at The Bruce Resort (adlink).

Glamping Siquijor
Two minutes from The Bruce Resort, you'll find Glamping Siquijor.
Glamping is a contraction of glamour and camping and it is best described as rustic luxury.
Everyone is sleeping in tents, but the association to the tents you usually sleep in while camping or attending music festivals could not be further from reality.
The tents at Glamping Siquijor are incredibly spacious (one can easily stand up and walk around inside), and there is also a double bed and a desk.
Outside the tents, there are nice chill-out areas.
A large selection of spices is included so you can have your own barbecue on the beach.
For two people there are a few different options.
A tent with an air mattress costs 1,500 pesos (~ 29 USD / 26 EUR), while a tent with a double bed costs 2,000 pesos (~ 38 USD / 34 EUR).
The tents closest to the beach costs 2,500 pesos (~ 48 USD / 43 EUR) per night.
Check prices and availability at Glamping Siquijor here (adlink).



D's Ocean View Beach Resort
One of the cheapest options directly on a beach is D's Ocean View Beach Resort.
Even though it's a three-star beachfront hotel, it's pretty basic, but the rooms are clean and comfortable – and the beach isn't crowded.
The resort is close to the Siquijor Pier and about 10 minutes drive to the beaches in the southwest.
An excellent choice if you want a cheap stay in Siquijor without sleeping in a dorm room.
Check prices and availability at D's Ocean View Beach Resort (adlink).

Where to eat in Siquijor
Compared to the other islands we visited in the Philippines (Palawan, Siargao and Bohol) the possibilities for eating out in Siquijor are limited.
There are no McDonald's, Jollibee's or Starbucks (as in the major cities) which we actually think is a good sign that the island isn't too visited by tourists.
Fancy tourist-oriented restaurants have not really arrived on the island just yet – even though we suspect that they'll pop up within a few years.
However, there are lots of local food stalls scattered all around the island and most hotels have a small restaurant with Filipino dishes as well as standard meat and pasta dishes.
The general quality of the food wasn't mind-blowing, but we ate well during our stay.
If you have a scooter, you can easily try something new every day.
Salamandas at Coco Grove Beach Resort
One of the best restaurant experiences we had in Siquijor was at Salamandas which is part of the Coco Grove Beach Resort (adlink).
Service was good and the view to the private beach was just stunning.
Unfortunately, you will have to stay at the resort to use the beach (and the four pools), but we can recommend swinging past Coco Grove just to dine at the restaurant.


Monkey Business
One of Siquijor's more modern dining options is Monkey Business, which serves comfort foods like pizzas, vegetarian burgers and banana fries.
The food is good and can feel like a welcomed addition to the Filipino cuisine on the island. The prices are very fair.
Be sure to try their juices and shakes. We had one with peanut butter and banana as well as a pineapple, lime and coconut shake.
The atmosphere in the evenings is often cheerful with lots of young people hanging out.
Sometimes musicians swing by to play live music.

Coral Cay Resort
After playing with the swinging rope outside Coral Cay Resort, you can dine in the beautiful surroundings of the hotel's restaurant, located right next to the water.
The place is run by an Australian and offers Western, Thai and Filipino dishes.

U.Story Guesthouse
The restaurant at the French-style resort is lit by candles in the evening and you can enjoy the food with your feet in the sand.
We had a delicious pasta with grilled eggplant and the desserts can also be recommended.
The value for money was good and the service was really nice.
We would definitely have dined at U.Story again if we had more time in Siquijor.
Local street food
To get a better view of local life in Siquijor, or to save some money, visit one of the island's many small kitchens located right next to the main road.
Typically, Filipino dishes are served from metal trays along with rice and the prices are just touchingly low.
For example, in the port of Larena, we paid 40 pesos (less than 1 USD / 1 EUR) for a serving of rice, vegetables and eggs, and close to our hotel we paid 35 pesos for a dish with rice and vegetables.

How to get to Siquijor
Domestic flights to Siquijor
No direct flights to Siquijor are available from Manila.
To get as close to Siquijor as possible from Manila, you can fly to Dumaguete in Negros Oriental from where you can hop on a ferry. There are several daily connections.
You can also take a flight to Cebu from where you can either take a ferry or a direct flight.
There is an airport in Siquijor where Air Juan flies to and from Cebu every Wednesday, Saturday and Sunday.
The planes are small and it is limited how much luggage you can carry.
Search on Momondo to find flight tickets from Manila to Dumaguete
or search for flights from Manila to Cebu (adlinks).
To and from Siquijor by boat
The easiest and cheapest way to visit the little mysterious island is to sail from one of the nearby islands.
The largest port in Siquijor is Larena but there is also a port in the town of Siquijor about 10 kilometres away.
There are several ferries between Dumaguete (on Negros) and Siquijor each day.
It only takes an hour and is, therefore, the shortest boat trip to another island that can be taken from Siquijor.
We went to Siquijor from Tagbilaran in Bohol, and we paid 700 pesos (~ 13 USD / 12 EUR) per person for the one and a half hour trip.
From Siquijor we continued to Cebu, from which there are many flights to and from Manila or even international destinations.
The total trip from Siquijor to Cebu takes approximately 3.5 hours and costs 1,200 pesos (~ 23 USD / 20 EUR) per person.
On the way, you stop at Tagbilaran in Bohol and just stay on the boat.

How to get around Siquijor
To and from the ferry
As you get off the ferry, you are likely to be bombarded with offers to rent scooters or to be driven to your hotel by tricycle.
We drove from Larena to Charisma Resort for 300 pesos (~ 6 USD / 5 EUR) by tricycle and we paid the same price to go back.
The drivers will try to get a higher price – so remember to negotiate.
The price of renting a scooter is about the same per day (or a bit more) as the price for a trip from the port to San Juan.
So, if you only travel with small bags, you can consider that model.
If you are staying at an upscale resort, it is also possible that they provide transportation to and from the ferry but be sure to ask in advance.
Getting around Siquijor
Tricycles
Public transport for tourists in Siquijor amounts to tricycles.
Most tricycle drivers are glad to drive tourists around Siquijor for a full day to see the main sights.
They can take you both close and far for modest prices. Negotiate a deal according to your needs and wants.
Renting a scooter
If you're comfortable driving yourself, we can really recommend renting your own scooter instead.
The price is 300-500 pesos per day (~ 6-10 USD / 5-8.5 EUR), and it is very easy to find your way around the island.
Siquijor is small and you'll probably drive on the paved main road for most of the time. Traffic isn't bad.
By renting a scooter, you can do whatever you want when you want to = total freedom.
You'll also experience the charming local life. When we drove around the island, many locals waved and smiled eagerly by the road.

Our best tips for visiting Siquijor
The electrical outlets in Siquijor are of type A, B and C and generally featuring the flat prongs of USA and Japan or the two round prongs, fitting both most European and Asian appliances. The standard voltage is 220 volts.
The power will go out. Several times a day, probably. Don't panic, it will soon be back on. It's an island-wide thing.
Wifi is neither stable nor fast. Buying a local SIM-card with 3G can help, but if you work online, you can expect to get a bit frustrated.
Credit cards are mostly used at upscale places, so you'll need to carry cash for most restaurants, shops and services. Working ATMs are possible to find around the island.
Have change and smaller bills on you. Many places ask for a small entrance fee.
The sun is strong. Remember to use sun protection!

Budget and typical prices in Siquijor
Most of the places we stayed at in The Philippines cost us around 1,500 Philippine pesos (~ 29 USD / 26 EUR) for a double room with a private bathroom and A/C.
Go for a fan-only room to save money.
Main dishes in restaurants ranged between 100 and 300 Philippine pesos (~ 1.9 to 5.7 USD / 1.7 to 5 EUR).
1 litre of water was around 40 Philippine pesos (~ less than 1 USD / 1 EUR) in a small shop and 6 litres were about 100-120 Philippine pesos (~ 1.9 to 2.3 USD / 1.7 to 2 EUR).
Transport was also quite cheap.
Rent a scooter for about 300-500 pesos per day (~ 6-10 USD / 5-8.5 EUR) or drive with a local tricycle. It's okay to bargain.
Our four days in Siquijor cost us around 17,000 Philippine pesos (~ 327 USD / 292 EUR) for both of us including accommodation, three meals a day for two people, water, the ferry from Bohol to Siquijor and the ferry from Siquijor to Cebu.
That's around 163.5 USD / 146 EUR per person for four days and around 40.9 USD / 36.5 EUR per day per person.
Expect to pay more if you want to go on boat trips or like to party.
Note: The budget and prices are from January 2018.

Thanks for reading
Thanks for getting all the way to the end!
We hope this guide has been useful.
What do you think about Siquijor?
If you've been to the island it would be awesome to hear your best tips in the comments.
If you haven't been yet, please don't hesitate to ask us anything! We're glad to help.



Our favourite travel resources:
Our camera gear: