Our 6 Best Tips and Tricks for Travelling With Hand Luggage Only
Replace your heavy backpack with a carry-on and enjoy the minimalist benefits
And then our travels would never be the same
During our first backpacker-trips around the world, we travelled with huge backpacks AND hand luggage.
The backpacks were heavy and filled with clothes we didn't use.
It was always exhausting walking around looking for a place to stay.
When flying we would worry about our bags being delayed and on busses, we would be concerned about the way our luggage was treated.
In 2017, we decided to challenge ourselves to travel with carry-on bags only.
Not simply for a weekend getaway or a weeklong vacation, but for a journey that would last more than three months.
Throughout the time of our three and a half months trip to Asia in 2017-2018, we did just that.
It was surprisingly easy! And so much more pleasant.
Plus: it saved us money on airfare.
Now we only travel with hand luggage whenever it's possible.
Do you want to do the same?
Here are our best tips and tricks.

Why it's super smart to travel with hand luggage only
If online check-in is possible, you can skip the check-in queue and go directly to security.
You don't have to pay luggage fees.
Your luggage won't be delayed or misplaced. You have it close to you all the time.
No more waiting at the baggage carousel when you land. You can walk directly out of the airport.
It's stress-free to get around or use public transport when you only have one bag.
You might even go so far as to say it's better for the environment. Bringing as little weight as possible means the plane has to use less fuel. Perhaps a bit far-fetched, but nonetheless another positive reason to leave those extra kilos of luggage at home.
1. Know the restrictions
The tricky thing about travelling with a carry-on is that the size and weight restrictions vary from airline to airline.
It's super annoying and we would love them to be standardized.
But as long as they aren't, you'll have to check the limitations for the specific airline.
We have noticed that the weight usually varies between 6 and 10 kilos.
The dimensions are typically in-between 50 x 35 x 20 cm (minimums) and 56 x 45 x 25 cm (maximums).
But again, it depends on the airline, so check it before you go. Low-cost airlines (like Ryanair and Wizz Air) tend to have stricter rules.
Pro tip: If you carry too many kilos, make sure to wear your heaviest clothes, shoes and everything else you can have on your person. We have had to carry a few heavy things (like batteries and books) in our pockets to make it work, haha. They can weigh your luggage, but they can't weigh you!

2. Buy the right bag
When you know the size restrictions, it's easier to find the right bag for you.
Some people swear by cabin trolleys. We prefer soft or semi-soft bags for carry-on luggage, though.
Most places we travel, it'll be more practical to carry rather than to roll and it will easier fit into overhead bins. At least that's what we think.
Alex travels with a Gregory Compass 40L backpack (adlink).
At around 1 kilogram (~ 2 pounds) it's relatively light.
The bag mainly consists of one big compartment with back panel access. As it opens up in the bag it's easy to access the luggage than a top load backpack.
It also has a laptop compartment, a zippered mesh compartment, an accessory pocket on top and an extra pocket on the bottom.
The only bad thing to say about it is that it doesn't have a belt strap.

View pricing of the Gregory Compass 40L backpack on Amazon (adlink).
Victoria travels with a Fjällräven Travel Pack with 35L pack volume (adlink).
The basic, Scandinavian design plus the many compartments and pockets for organizing (including a laptop compartment) makes it such a great travel bag.
The unisex bag weighs 1,65 kilos and the dimensions are 46 x 32 x 27 cm.
The depth of the bag is more than what many airlines officially allow, but we have never had a problem with it.
Like Alex' bag, it doesn't have a belt strap but for Victoria, it's the perfect cabin bag.

View pricing of the Fjällräven Travel Pack 35L on Amazon (adlink).
If it's not for you, there are many other options.
Actually, there are quite a few bags out there weighing less than ours. Which is pretty cool!
And the lighter the bag, the more luggage you can pack within the limitations, right?
Check out travel packs and backpacks (adlink) with a volume of 25 litres to 49 litres, weighing less than 1 kilo.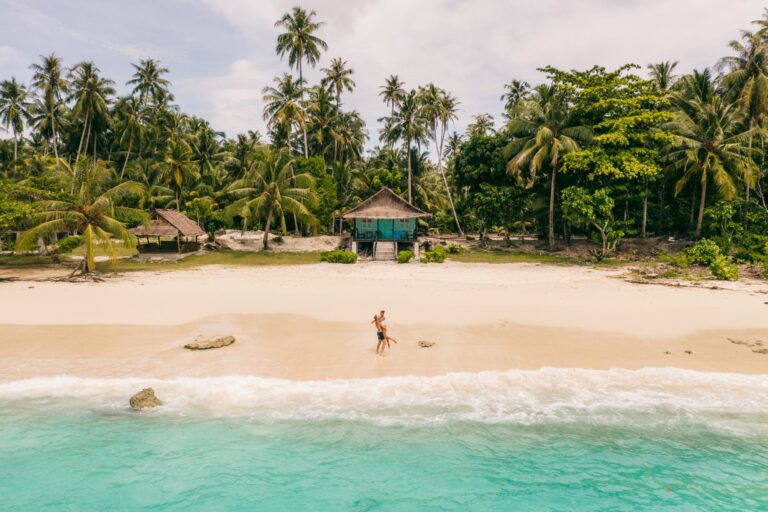 3. Pack for your destination
This one might seem obvious, but make sure to check the weather conditions in advance.
Then you'll have a much better idea of what to pack – and especially, what not to pack.
We recommend packing versatile, basic clothes and thinking in layers.
That way you can create several different outfits from the few pieces you bring and be prepared for changing weather.
Do you want to bring less stuff and pack in a smarter way?
Read our 15 Helpful Packing Tips For Travelling Lighter.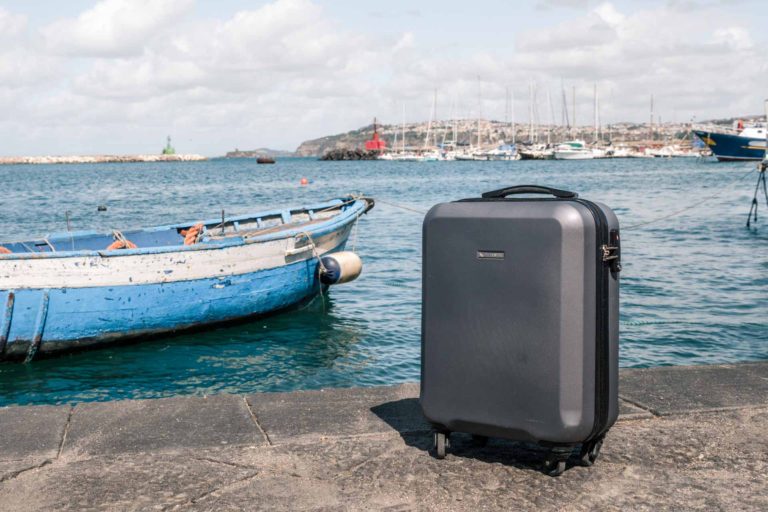 4. Don't pack "just in case"-items
It's not necessary to pack for every possible situation.
You'll most likely not need it.
And if you do, you can just buy, rent or borrow when you actually need it.

5. Understand liquids, aerosols and gels
For some reason, the combination of airport security and liquids always confuses us.
Well, we understand that "terrorists could bring components to make explosives", but liquid restrictions are so annoying.
Products such as hairspray, roll on deodorants, aftershave, lip gloss, toothpaste, shower gel, nut butter, jam and even soft cheese are all classified as liquids.
Luckily, some countries are really relaxed when it comes to liquids, aerosols and gels. You don't even need to take them out of the hand luggage.
In most European countries though, the rules are rigidly enforced. You're allowed to bring one clear, re-sealable bag per person and nothing over 100 ml.
To be safe, prepare for requirements.

6. Know what not to bring
You can take a lighter on the plane, but no more than one. And you must keep it on your person throughout the flight.
In your hand luggage, safety razors are not allowed. Disposable razors and electronic razor are fine though.
Pay extra attention to sporting equipment.
If you don't want to look suspicious or get your stuff confiscated, make sure that you don't bring prohibited items.
There's no way you can bring any chemicals or toxic substances.
As mentioned, large containers of liquids (more than 100 ml) are no-gos as well.
If you're bringing powdered substances, such as protein powder, flour, spices or coffee, ensure that you don't bring more than the limited amount.
Also, it's not allowed to bring knives or scissors with blades greater than 6 cm, corkscrews and most toolbag items.
Do your homework and everything will turn out fine!

Are you ready for a trip with hand luggage only?
We truly hope that you found our guide useful!
Do you feel prepared to travel with just a carry-on next time? We would love to know!
And please tell us your best tips for travelling with hand luggage only.