Palawan Itinerary: Plan Your Perfect Philippines Getaway
Our 1-month route + best tips on planning your own visit on this tropical island
Palawan is amazing
If you're planning a vacation to the Philippines, the island of Palawan can definitely be recommended for a week, two weeks, a month… Or even more, if you have the time.
Especially if you're into drop-dead gorgeous beaches and crystal clear water.
And did we mention the waterfalls, deep jungle and deserted islands?
We spent almost a month on the island and we did our best to hang out on Palawan's many soft sand beaches. We loved it.
One can totally forget about returning to civilization on one of the countless bounty islands in the ocean surrounding Palawan.
And if you dive under the surface a whole other world comes to life in all the colours of the rainbow.
Palawan is packed with exotic adventures.

Why visit Palawan?
Palawan is the name of the largest province in the Philippines. It's consisting of nearly 1,800 islands in the western part of the Philippines.
Palawan is also the name of the province's largest island which is the island we are talking about here.
The island is approximately 425 kilometres long and up to 40 kilometres wide making Palawan the Philippines' fifth largest island. The southern tip almost touches Borneo.
Palawan is often called The Last Ecological Frontier, as the biodiversity in this part of the Philippines is (still) particularly unique and well-preserved.
The marine life around Palawan is extraordinary, and it's also here you'll find the Philippines' sole remaining primary rainforest.
Translated into tourist language, this simply means that Palawan is extremely lush and tropical.
Although the island's main attraction, El Nido, attracts tourists from near and far, the island is still relatively non-touristy when compared to well-known Boracay or similar Thai islands.
This is obvious from the not-particularly-developed infrastructure and limited hotel offers (especially outside of El Nido) – but also from the affordable prices.


Map of Palawan
The largest and most developed city in Palawan is Puerto Princesa. Most tourists only visit Palawan north of this city.
If you want to venture south, check the current safety situation first.
When to visit Palawan
We visited Palawan in November and December in 2017 and experienced days of non-stop sunshine, cloudy days and rainy days – with rain showers lasting from minutes to several hours.
The weather changed almost daily. It was however hot (and humid!) all of the time.
The rainy season normally begins in June and lasts until mid-November, but it continues to rain on the east side until March.
Around March the island gets drier – but also warmer and less green.
We recommend visiting Palawan during the drier months – for example February, March and April.
December and January are also fine, but rain can still be expected.
The prices increase on accommodation over Christmas and New Year's.

Our 26 days itinerary
Like many travellers, we flew from Manila to Palawan's largest city Puerto Princesa.
We went directly from the airport to Port Barton to enjoy the island's beautiful beaches as soon as possible.
We had already booked 4 nights of accommodation in Port Barton.
From then on we hadn't planned anything specific, so we figured out the rest of the route based on how much we liked staying in a spot and what kind of recommendations we picked up underway.
Our Palawan itinerary:
6 nights in Port Barton
2 nights on Cacnipa Island
3 nights in Long Beach
4 nights in El Nido
6 nights in Calitang Beach and Nacpan Beach
4 nights in Port Barton again
Port Barton
6 nights
The fishing village of Port Barton was the first place we visited on Palawan.
Wi-fi and electric power cannot be expected 24/7, but the food options were surprisingly good and plentiful.
The whole place had a relaxed vibe which we really enjoyed.
Port Barton's beach was nice. Even better beaches can be found on the many small islands dotting the horizon. They can be visited on boat tours offering incredible value for money.
Lots of other day trips can be made from Port Barton – like visiting White Beach or some of the waterfalls in the area.
After having visited several parts of Palawan, Port Barton ended up being our favourite place on the island.
When we first arrived we stayed for six nights and at the end of our trip, we opted for four additional nights in this relaxing town.



Cacnipa Island
2 nights
From Port Barton, we visited the nearby Cacnipa Island to stay on Coconut Garden Island Resort.
This is a fantastic place to unwind and relax with no people, roads or noise.
The private beach is lovely and the only restaurant on the island was well-stocked and fairly priced.
We slept peacefully to the sound of the ocean in one of their charming huts. There was limited electricity, which actually helped us kick into a lower gear and enjoy the natural beauty even more.
We can easily recommend staying at Coconut Garden Island Resort on Cacnipa Island to families wanting some quality beach time and quietness or couples looking for a romantic getaway.



Long Beach
3 nights
Google "Long Beach, Palawan" and you'll read that the beach is an astonishing 14 kilometres long.
This is not the whole truth as it's actually the combined name of several beaches situated very close together. But each of them is super long anyway, so space probably won't be a problem.
We stayed in the northernmost part called Alimanguan Beach at Victoria Beach House. The beach was wide, very pretty and tranquil with just a handful of people on it anytime.
It was possible to watch the sunset from our small terrace and we really enjoyed going for long walks in the soft sand.
Except for the hotel and the beach, there wasn't much else to see or do in the area. It was much more of a small local community than a developed place for tourism, which was nice.
It probably won't be many years before Long Beach becomes significantly more developed.
There was talk about an airport being under construction, and soon hotels will probably dot the beach.
Visiting Long Beach was a unique experience, but as the hotel only served a small handful of different dishes every day, we felt a bit limited by the lack of food options.


Transport to and from Long Beach
San Vicente is the largest town close to Long Beach. Here you'll find a few hotels and restaurants.
It might seem like there's a road between Port Barton and San Vicente on some maps. Unfortunately, there's isn't. At least not one a van will take you.
It's about two hours of driving to go from Port Barton to San Vicente and then an additional 30 minutes to go all the way to Victoria Beach House.
The hotel arranged our transport onwards to El Nido, which took approximately 4.5 hours.

El Nido
4 nights
El Nido, and the fantastic part of the ocean surrounding it is the main reason people travel to Palawan. And for good reason.
We really enjoyed our boat trip to the spectacular rock formations, clear waters and deserted beaches of the Bacuit Archipelago.
If you're into diving, going for a swim below the surface is supposedly breathtaking.
However, our feelings were mixed when it comes to the actual town of El Nido.
There was a huge selection of food, especially compared to Long Beach. But we had to share the main drag with lots of other tourists, tour operators and tricycle drivers.
The delicious falafel wraps and veggie burgers were totally worth it, though.
Even though El Nido was quite chaotic and uncharming, we still enjoyed a couple of days on the beach, which was absolutely quiet during the day.
El Nido was also the only place on Palawan where our internet connection was somewhat stable.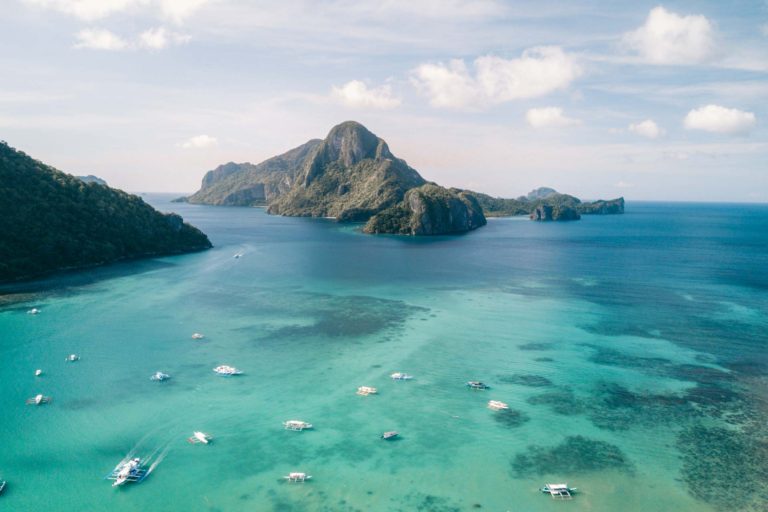 Calitang Beach and Nacpan Beach
6 nights
Nacpan Beach is situated 20 kilometres north of El Nido and it's often visited as a day trip from the city.
If you don't have much time that's easily recommendable, but we decided to stay there for almost a week instead.
On Nacpan Beach you can easily get a huge area of white, soft sand all to yourself.
The palm trees sway romantically in the background while the water calmly reflects the sun in shades of deep azure and light turquoise.
At the southern end of Nacpan, the beach joins Calitang Beach to form Twin Beach.
One should, however, go to the opposite end of Calitang Beach to find a nice piece of sand to lie on. At the Nacpan-end it's rocky and dirty – which is primarily due to the direction of the wind bringing in rubbish from the sea.
We stayed at Dandal Bay View Resort, located on the clean part of Calitang Beach.
From here we could watch amazing sunsets every night from the restaurant's porch, and during the day we could either use our own beach or walk the 200 metres to Nacpan Beach through a small village or along Calitang Beach.
On Nacpan Beach there are several small places offering bungalows with sea views ranging between 1,000 and 2,000 Philippine pesos (~ 18.5-37 USD) – from no power outlets and a shared bathroom to limited electricity with A/C and a private bathroom.
Although a little rustic, the huts are generally in robust condition.
If you don't mind just having a couple of hours electricity a day and sleeping under a mosquito net, it's possible to stay directly on one of Palawan's most astonishing beaches.
The popular hostel Mad Monkey on Nacpan Beach serves (in our opinion mediocre) pizzas, great burgers, sinful french fries and crepes with Nutella. In the evenings there's beer pong and festive music.
However, we preferred 24 hours of electricity and air conditioning for 1,400 Philippine pesos per night (~ 26 USD) for a small room at Dandal Bay View Resort, which we found on Airbnb.


Port Barton, revisited
4 nights
After having spent some quality time under the sun on Calitang and Nacpan for six days, we returned to Port Barton for our last days on Palawan.




Palawan itinerary ideas
You don't want to miss El Nido on Palawan.
The islands surrounding the shabby city is wildly picturesque, and no matter how many people come to visit, the fact still stands that this is one of the most beautiful places in the world.
So planning your Palawan trip around a boat tour (or several!) in the Bacuit Archipelago makes a lot of sense.
You don't actually have to stay in El Nido to go on a boat tour, but staying for at least a single night makes sense if you want to leave early in the morning. Most people will probably find it more relaxing to stay for two or three nights.
If you find a great place in El Nido, you can also stay for a week and just go on day trips from there – like to Nacpan.
Our recommendation if you only have a week on Palawan, though, would rather be to also spend a couple of days in Port Barton or directly on Nacpan Beach.
This itinerary can easily be extended to two weeks, which could look like this:
3 nights in Port Barton to relax and get a sense of the Philippines and the local life.
2 nights on Cacnipa Island to really chill out.
3 nights in El Nido for the boat tours and international food.
5 nights on Nacpan Beach to enjoy the silence and sublime beach.
1 night in Puerto Princesa to see the famed underground river (we didn't) and staying close to the airport.
If you have additional time to spend on Palawan, you can also opt for a stay on Long Beach like we did. Two or three nights should do it.
We got some friends on Palawan who really enjoyed Duli Beach 20-25 kilometres north of El Nido.
Close to Puerto Princesa, Sabang Beach and the boat tours of Honda Bay also looked nice.
Instead of flying to and from Puerto Princesa, it's possible to sail to the nearby island of Coron, north of Palawan. If we visit Palawan again the future, this is definitely something we would be interested in doing.

How to get to Palawan
International flights
There is a very limited amount of international flights to Palawan's main airport in Puerto Princesa.
Therefore, most people arrive from either Cebu or Manila.
If you want to go to Palawan, your best option is to take yourself to one of these airports first. Both Cebu and Manila are well-connected internationally.
Domestic flights
Domestic flights in the Philippines are quite cheap.
Palawan is about 1 hour of flying away from Manila as well as from Cebu.
During our time in the Philippines, we travelled with both Cebu Pacific and Philippines AirAsia.
It's also possible to fly directly to El Nido from Clark (near Manila) or from Puerto Princesa with AirSWIFT. This is with a smaller, more expensive plane that leaves a few times a week.
By sea
Another option to get to Palawan is by boat or ferry.
Some people choose to set sails between Palawan and Coron to spend time in some of the most beautiful waters in the world – although the most popular option seemed to be to go from Palawan to Coron.
Some tours include stops on some of the small islands on the way. How cool is that?
Ferries also leave from Manila to Puerto Princesa offering an 18 to 22-hour ride.
How to get around the island
Once you're in Palawan, getting around is easy (although time-consuming).
Vans leave several times daily from most towns, willing to pick you up and take you to where you want to go – or at least to another van connecting you to your destination.
A single road going from the south of the island to the north is the road you'll primarily use to get around. This is the direct road between Puerto Princesa and El Nido.
If you want to visit Long Beach, Nacpan Beach or other less visited places on Palawan, some vans still go there. But it might be an easier option to hire a private driver or tricycle.
It's always possible to get assistance from your hotel or host to arrange transport to your next destination.
We were surprised how integrated this van network seemed to be in the whole tourist economy and never had any problems getting around. The vans usually left on time (which often isn't the case in other Asian countries).
Another option is to use the colourfully painted local buses called Jeepneys. These are much slower and in our experience not that much cheaper, but shop around and see for yourself. Driving in one will definitely give you a unique sense of the country and its wonderful people.
The main road on Palawan is paved, but you don't have to venture far from it – like to Port Barton or Nacpan Beach – to get into muddy territory.
We got stuck more than once. Plan defensively, try not to be in a hurry and you'll be fine.

5 tips for your Palawan trip
Bring cash. There is only a handful of ATMs on the entire island, and you can't expect them to work. So bring enough cash for your whole stay… And then some to be able to extend your vacation if you end up loving Palawan just as much as we did!
The power will go out. Several times a day, probably. Don't panic, it will soon be back on.
Wi-fi is neither stable nor fast on Palawan. Puerto Princesa and El Nido are probably your best bets at a good connection. Buying a local SIM-card with 3G can help, but if you work online, expect to get frustrated.
Be patient. Getting around Palawan takes time. A "2-3 hour" trip in a van or bus can easily take 4 or 5 hours, and not all vans leave on the minute. Try not to plan too rigidly and you'll avoid stressing out.
Mosquitos like Palawan. Bring bug spray and look into the current situations regarding Dengue and Malaria.

Our budget and typical prices on Palawan
Most of the places we stayed at in Palawan cost us around 1,500 Philippine pesos (~ 28 USD) for a double room with a private bathroom and A/C.
Go for a fan-only room to save money.
Main dishes in restaurants ranged between 100 and 300 Philippine pesos (~ 1.8-5.5 USD).
1 litre of water was around 40 Philippine pesos (~ 0.7 USD) in a small shop and 6 litres were about 100-120 Philippine pesos (~ 1.85-3.7 USD).
Transport was also quite cheap. The van from Puerto Princesa to El Nido was 600 Philippine pesos per person (~ 11 USD) and 400 Philippine pesos from Puerto Princesa to Port Barton (~ 7.4 USD).
Our total budget ended up being 1,860 USD for 26 days of travel in Palawan including accommodation, three meals a day for two people, massage, water, transportation and three private boat tours (two in Port Barton and one in El Nido). It doesn't include plane tickets to and from the island.
Note: The budget and prices are from December 2017.
Thank you for reading
Palawan was an absolute stunner, just like the rest of the Philippines.
We met kind people wherever we went, and the supply of wonderful beaches with turquoise waters seemed to be endless.
We hope this Palawan itinerary and guide has been useful. Have you been to Palawan, or do you dream about going?
If you've been, it would be awesome to hear your best tips in the comments. If you haven't been yet, please don't hesitate to ask us anything. We're glad to help.