Why You Shouldn't Pick up Starfish
Yes, they're beautiful, but here's why you should leave them in the ocean
The disappointing reality
While visiting Phu Quoc in March-April 2019 we heard a lot about a famous beach called Starfish Beach.
It's famous for… Well, you guessed it… Starfish (or Sea Stars!).
It's not the first beach we have seen with starfish.
In fact, we have been to another beach called Starfish Beach in Bocas Del Toro, Panama – and in The Philippines, we saw a few different beaches with starfish too.
But everywhere, we see the same thing happening…
People are touching, lifting, holding, moving, rearranging and playing with the starfish.
All for the perfect photo.
We have even heard about people throwing them around in the water and some take starfish with them back home in plastic bags as souvenirs.
It's wrong, it's irresponsible and it makes us so sad…
This act may appear innocent and harmless but it can be fatal for these wonderful creatures.
Let us tell you why.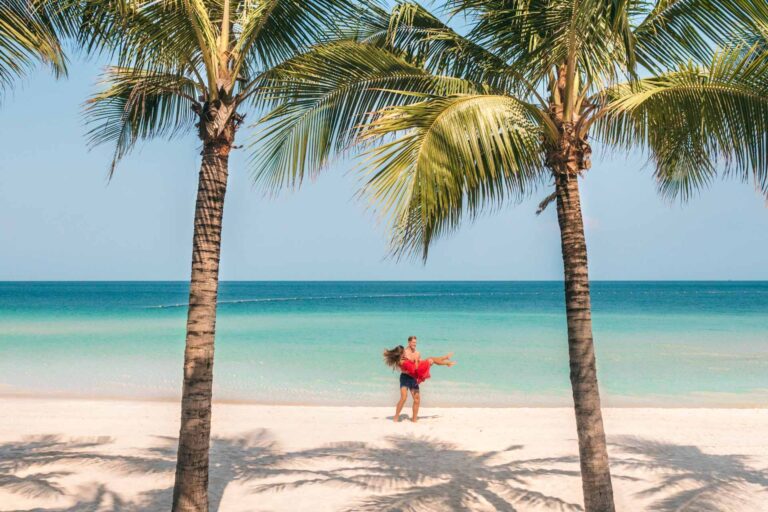 Some facts about starfish
Starfish…
…are not fish but they need to breathe to live and they can only do that underwater. They suffocate in the air.
…are prone to mental stress and they react to small changes in their environment. Imagine what it must do to the stress level being forced out of the water.
…are extremely fragile and they have tiny structures all over their bodies that might get hurt by a human's touch. Even a gentle poke can be harmful.
…can get contaminated with bacteria passed on from the hands of a human which can result in a slow and painful death.
Doing anything else than looking at starfish will harm them and in most cases, it will be the cause of their death.

Be a part of the solution
We know that many people don't know this.
That it's not on purpose.
And we do not want to blame anybody, but instead, simply point out that we are all responsible when it comes to the future of our planet and its inhabitants.
That's why we need to spread awareness.
We need to take better care of these magical marine animals.
And you can help too!
Next time you go to the beach and have the urge to take some beautiful photos, better not risking another creature's life.
If you see someone harming starfish by picking them up or moving them, you can step in and inform the person about the damage it can cause. Objectively and without blame.
Disturbing nature for the perfect Instagram photo is NOT worth it!

Proper behaviour around starfish
Starfish belong in the water
The starfish live in the ocean.
They like being there.
And they actually need to breathe underwater.
Don't sacrifice the health of the starfish for your next Instagram post.

Be careful where you step
If you're going for a swim or walk into the water to get closer to the starfish, mind your steps.

Starfish are not souvenirs
This is pretty much self-explanatory, but seriously…
Do not take them with you back home.

Photograph the starfish underwater
It's not impossible to get a good photo of a starfish.
And you can even take the picture in their natural habitat!
If you want to take underwater photos, you can use an underwater camera, a GoPro (adlink) or a waterproof case for your phone.

To sum it all up
It's quite simple. These beautiful animals are very fragile.
Do not disturb them and enjoy the starfish without touching them.

Are starfish poisonous?
A lot of people wonder if starfish are dangerous because they have spikes.
The answer is no, starfish are not poisonous at all and their spikes can't hurt you unless it pierces your skin – or if the spike has a venomous substance on them which only happens in some species of sea stars like urchins.
Experts often tell people not to pick up starfish, especially if they're on the shore. Regardless of their beautiful appearance, they are important members of ocean ecosystems and should be left alone in order to thrive.

What about urchins? Are they dangerous?
Urchins can be very dangerous if handled improperly or without gloves on as their venomous spikes could cause serious injury.
Sea urchins leave puncture wounds on the skin which can become infected. The affected area often appears red and swollen and is painful within moments of contact.

Do starfish bite?
No, starfish don't bite.
They have no teeth and are not dangerous to humans.
These small sea creatures are not exactly known for their voracious appetite and won't harm you.
Thank you for reading
And thank you for wanting to take better care of all living beings, including starfish.
You are amazing!
Make sure to use a reef-safe sunscreen (adlink) when you swim to protect the corals from harm as well.
To help spread awareness, you can share this article with a friend or on your social media profiles.
Feel free to add your thoughts in the comments too.



Our favourite travel resources:
Our camera gear: