A Complete Travel Guide to El Nido in The Philippines: Best Beaches & Things To Do
Our best tips on what to do, when to go, where to eat and where to sleep in the gateway to the wonderful Bacuit Archipelago
A location to die for
The islands surrounding El Nido in the Philippines are some of the most beautiful we've ever laid our eyes on.
Limestone cliffs, jungle, white sand beaches and impossibly clear waters make for a dream actually coming true.
The Bacuit Archipelago really is spectacular.
The city of El Nido isn't that pretty, but it does tout some reasons for staying – its vicinity to the aforementioned islands being the top reason.
Before we visited Palawan's most famous tourist city, we had mixed expectations.
Some love El Nido, while others think it's terribly touristic. We think both views have merit.
During our month in Palawan, we spent four days in the city.
In this article, we'll do our best to guide you to the best places to stay in El Nido, the best things to do, how to get around, where to eat, when to visit and how to visit on a budget.
Search for prices and availability by the beach in El Nido here (adlink).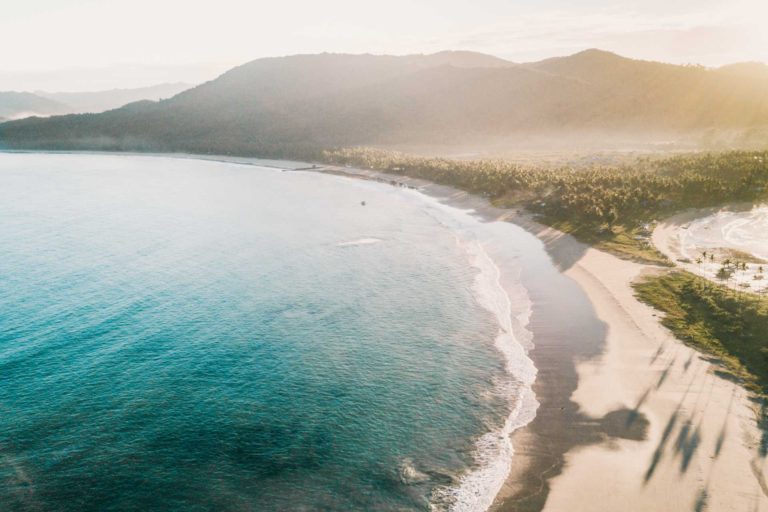 Why visit El Nido?
If you are planning a trip to the Philippines, it's difficult to escape the allure of El Nido.
Many who have travelled in the Philippines have visited El Nido (now us too!) and the city is undoubtedly one of the most popular tourist destinations in the country – especially for backpackers and independent travellers.
If you immediately think, "that sounds like tourist hell", keep in mind that the Philippines is in no way as visited as some of its Southeast Asian neighbours like Vietnam or Thailand.
Even the most touristy places in the country are not that overrun.
With that said, you can still expect more people in El Nido than in many other parts of the Philippines.
The most beautiful islands in the world
Palawan has been voted the world's best island in several international publications and El Nido is repeatedly mentioned as one of the world's most beautiful places.
It's no wonder the city's popularity has risen exponentially over the past few years.
The main reason tourists are flocking to El Nido is the islands dotting the horizon.
Every morning, bangkas (traditional boats) leave the bay of El Nido and set out to visit these islands – leaving their guests in awe of the natural splendour they possess.
The Bacuit Archipelago is absolutely wonderful.
We fell in love with the raw beauty; the contrast between the hard rocks and the soft sand, and of course the perfect turquoise water.


A polarizing city
If you ask travellers who have visited El Nido what they think of the city, you will most likely get very different answers.
Some love El Nido while others do everything they can to escape.
But what makes it so polarizing?
One reason to dislike El Nido is the fact that it stands in stark contrast to most other places in Palawan and in the Philippines where you typically only see very few tourists and no souvenir shops.
As El Nido is practically built around tourism, there are lots of tourists and souvenir shops. Of course there is.
Even though that can sound bad, it also brings some positive things along. Read on.



Our experience of El Nido
Before we visited El Nido, we had heard that the city is not worth a stop and that there are too many people and too much noise.
Even though we didn't exactly feel like settling for good in El Nido, that wasn't quite our experience.
El Nido is a tourist destination and if you want to experience authentic Filipino life, it may not be the best place to go.
However, if you need a couple of days with western food options, beautiful day trips to bounty islands and happy hours on the beach, El Nido is the place to be.
Compared to other places we visited in Palawan, we liked El Nido for the high variety and quality in restaurants as well as for the better coffee. And the internet wasn't as bad!
Having said that, we would not want to live in El Nido for a whole week.
For us, four nights was perfect before moving north to Nacpan Beach.
Two nights can also work if you just swing by to go on a boat trip. Like this: arrive and book next morning's trip, sleep, enjoy a day out at sea, sleep, then leave.
Disclaimer: Here we're talking about staying in the actual city. If you find a nice place close by without the hustle and bustle (which is definitely possible), a longer stay can undoubtedly make sense.



El Nido practicalities
El Nido is a small town with a long beach surrounded by large, impressive cliffs.
During the day, the city and the beach are quiet as most visitors leave El Nido for boat tours or trips to other nearby beaches.
Although El Nido has experienced a massive boom in tourism for the past few years, the development does not seem to have benefited the city's infrastructure.
The internet connection is sporadic (like in the rest of Palawan), and power outages are a daily occurrence.
There are a few ATMs in El Nido, but due to the power cuts, they do not always work and they also seem to run out of money frequently.
It is therefore highly recommended to carry plenty of Philippine pesos or exchangeable currency (like USD) from home.
First time visitor? Here are 7 things they did not tell you about traveling to the Philippines.



Where to stay in El Nido
It helps to get the basic geographical bearings right when trying to figure out where to stay in El Nido.
The two main options are to either sleep in the proper town of El Nido or to lay your head further south – but still in easy reach – of the city.
The greatest number of bars, restaurants and small shops are located in El Nido city.
It is also from the city's beach that you go on boat trips to the surrounding islands, and for these reasons, there are many who choose to settle in the city.
If you are staying south of the city, you get away from the frantic pace of the narrow streets.
El Nido beach
By living directly by the beach in El Nido you won't necessarily hear the party, but rather the soothing waves. Especially in the calm easternmost part.
When we visited, El Nido wasn't too loud and absolutely nothing like a full moon party in Thailand or clubbing in Ibiza.
El Nido is more about bars and restaurants with happy hour offers than fully fledged clubs.
The price for a bungalow by the water is around 1,500 pesos (~ 29 USD / 26 EUR) for two people per night including air condition and wifi.
The price is probably lower if you stay at a guesthouse or at a hostel on the main drag.
Search for prices and availability by the beach in El Nido here (adlink).




Corong Corong to Las Cabanas
There's a beach all the way from Corong Corong to Las Cabanas.
Even though the restaurant scene isn't as diverse in this stretch as inside the city, there are still plenty of food options.
From here, El Nido city can be reached by a short walk on the heavily trafficked road or by flagging down a tricycle for about 50 pesos (~ less than 1 USD / 1 EUR).
We can not comment directly on the beaches down by Marimegmeg and Las Cabanas, but an evening walk at Corong Corong persuaded us to sleep by the beach in El Nido instead.
Corong Corong seemed dirty and not particularly pleasant at sunset – but who knows; maybe it's better at another stretch or simply at another time of day.
Search for prices and availability south of El Nido (adlink).





Hotel recommendations in El Nido
Here are four places in El Nido we think look like great accommodation deals for each of their respective price ranges.
Pangulasian Island Resort
If you have a lot of money to spend, we think that spending them on a stay at Pangulasian Island Resort would be a splendid idea.
The hotel is located on one of the islands surrounding El Nido and the pictures speak for themselves. It won't get much better than this.
The Pangulasian Island Resort seems to be the perfect base for exploring paradise.
Search for prices and availability at Pangulasian Island Resort (adlink).


El Nido Garden Beach Resort
El Nido Garden Beach Resort is great if you want to stay away from most of the action, but still in comfortable reach of the amenities of the city.
The rooms are nice, the pool area looks swanky and there's only a few metres to the beach.
Search for prices and availability at El Nido Garden Beach Resort (adlink).

Joaquinn's Bed & Breakfast
At Joaquinn's Bed & Breakfast, the prices for a double room start at around 45 USD / 40 EUR per night.
The location in the city makes the beach and El Nido's restaurants very accessible.
Both the rooms and the common area outside look pretty cosy.
Search for prices and availability at Joaquinn's Bed & Breakfast here (adlink).

The Cavern Pod Hotel & Specialty Café – hostel
The Cavern Pod hostel is located just south of El Nido.
Each room has 4 pods – so it's not exactly a private room, but not a classic dorm room, either.
We're not that into hostels (anymore), but this place actually looks quite inviting.
The price seems fair too. It's less than 20 USD / 18 EUR per night per person.
Their café supposedly offers appetizing food and specialty coffee as well.
Search for prices and availability at The Cavern Pod here (adlink).

What to do in El Nido
Go on a boat tour
The huge limestone cliffs and white sandy beaches are too amazing to miss. In other words, a boat trip is a must if you find yourself in El Nido.
Going on a boat tour is the single biggest reason to visit El Nido in the first place.
We took a private boat trip with some friends where we combined two tours so we could have eight different stops (with just a little less time at each).
The non-private boat trips include fewer stops, but will probably end up being a better deal.
Prices are more than fair for both types of tours, though. All tours include a delicious lunch.
The islands in the Bacuit Archipelago are very well-visited, so, unfortunately, you can not expect to get them all to yourself.
That's one good reason to opt for private: having the opportunity to leave earlier in the day.
In our article about sailing to El Nido's secret beaches and hidden lagoons, we have written extensively about the boat trip and shared all of our best pictures and tips for getting the most out of the day.




Spend the day at El Nido Beach
The beach in El Nido is actually quite nice, especially if you walk away from the majority of restaurants and bars.
There are hardly any sellers, and during the day most people and boats are gone – which means you can enjoy the view of the rocks and turquoise waters in peace.
The water might not be the cleanest, but it sure does look pretty.
In the evenings, returning island-hoppers fill the restaurant tables and the tranquillity is replaced with happy hour drinks and pop music.



Visit Nacpan Beach
Nacpan Beach is a wonderful stretch of sand located approximately 20 kilometres north of El Nido.
The beach is long, wide and clean – and we actually recommend staying there for a few nights instead of just visiting Nacpan Beach on a day trip.
But the trip only takes around one hour, so getting there is easy.
Rent your own scooter and go on an adventure – or walk the main road in El Nido for two minutes and a tricycle driver will ask you if he can drive you to Nacpan.
The first three-quarters of the road to Nacpan from El Nido are asphalted while the last stretch is… muddier. The trip gets more complicated if it has rained, but it's still doable.
A "tourism development fee" of 50 pesos per person (less than 1 USD / 1 EUR) is required to access Nacpan Beach.





Get massaged
Massage parlours are easy to find in El Nido.
After a relaxing day, you can relax even more with an hour's massage for about 500 pesos (~ 9.5 USD / 8.5 EUR).
Manicures and pedicures are often offered by the massage places as well.

Watch the sunset from Las Cabanas
We did not visit Las Cabanas ourselves, but sunset "tours" to the beach seemed popular – at least for tricycle drivers in town to try to sell.
Las Cabanas is located south of El Nido, and the ride should not take much more than 15 minutes.
Where to eat in El Nido
There are countless restaurants and eateries in El Nido.
We can not say that we have necessarily found the best places in the city – but several of them are definitely worth checking out.

Falafel snack food
We love falafel and get excited by even mediocre hummus. So when we saw that El Nido boasts a falafel stand, we were head over heels with excitement.
The falafels are fried on order to a perfect crisp, and for 200 pesos (~ 3.8 USD / 3.4 EUR) your wrap will get stuffed with hummus, cabbage, eggplant (yesss), chilli, tomatoes, salsa as well as your choice of dressing (tahini, garlic, tzatziki or pesto).
The slightly sweet taste of the bread compliments the contents.
We were truly impressed with the falafel in El Nido and don't doubt for a second that it can compete with some of the fantastic falafel wraps we've had in falafel hotspots like Turkey, Israel and Jordan.


Veggie burgers from Paul's Magic
In a hole in the wall of one of El Nido's less congested streets, you will find Paul's Magic, serving vegetarian and vegan burgers, sandwiches, noodles and breakfast.
The menu is limited in its amount of options, but that isn't strange considering Paul works his magic solo in front of his customers in his small kitchen.
There are several vegan "steaks" to choose from and the burger can either remain vegan or get an addition of cheese and mayonnaise, if desired.
We ordered sweet potato fries on the side – but the burgers were so filling that a side actually wasn't needed.
At 160 pesos (~ 3 USD / 2.7 EUR), Paul's Magic burger is exceptional value for money.
The bun is baked at a local bakery after Paul's own recipe, the dressing is a tasteful mix of ketchup, mayonnaise and mustard and the amount of crispy vegetables is perfect.
The overall experience makes a burger from Paul's Magic one of El Nido's best options when it comes to cheap, sinful street food in moral disguise.


LC'S Burrito Bar
The vegetarian burrito for 250 pesos (~ 4.8 USD / 4.3 EUR) from LC had an interesting mix between Filipino and Mexican flavours.
The tortilla had the right consistency, and the burrito was accompanied by salsa. Inside, there was rice, beans and a variety of Filipino vegetables.
The overall taste was good and the burrito was very filling. It was also possible to get tacos and salad bowls. Yum!
Pizza at Altrove
Altrove is one of El Nido's most popular restaurants, and when we noticed that they make Neapolitan-style pizzas, we had to try out a Margherita.
The dough was good (although slightly underbaked) and the tomato sauce tasted as it should.
Unfortunately, the cheese tasted more of Pizza Hut than of Italy, but the oven was authentically wood-fired.
All in all, it was enough to satisfy our pizza cravings.
In addition to pizza, we also had a panini with tomato, mozzarella and olive oil, which at 100 pesos (~ 2 USD / 1.7 EUR) felt like better value for money.
The bread was tasty, but again, it was underbaked and without ingredients of remarkable quality.
Altrove has two locations: Trattoria Altrove, which only open in the evenings, and an "express" edition 50-100 metres from there, which is also open for lunch.
The food should be more or less identical from the two.




Greek food at Agape
At Agape, it's easy to forget for a moment that you're in Asia.
The restaurant is stylishly decorated in classic Greek white and blue style, and the candle lights make for a romantic atmosphere.
If you feel like trying something else than rice and noodles for a change, Agape's menu offers predominantly Mediterranean dishes.
Agape is, however, not 100% authentic Greek.
The Tzatziki was too thin and did not seem to be made from yoghurt, and the fried cheese did not taste like anything we have ever had in Greece. And we've tasted our share of saganaki.
Our snobbery shouldn't put you off – Agape's food is really good.
The eggplant dish had a very nice taste balance and the pita bread was wonderful.


Smoothie bowls from Glow
We were surprised to stumble upon the very Instagram-friendly place located down the main street selling cold-pressed juices and smoothie bowls.
We tried a Dragon Fruit Bowl with bananas, cashew nuts, coconut and chia seeds as well as a tropical bowl with banana, mango, coconut and chia seeds.
Unfortunately, they were too watered down and not wildly satisfying taste-wise. But they were beautiful, which also counts for something, right?
The cost of each smoothie bowl was 230 pesos (~ 4.4 USD / 4 EUR).
A fruit bowl with melon, banana, mango, papaya, pomegranate and seeds was served in half a coconut for 250 pesos (~ 4.8 USD / 4.3 EUR).
Chia seeds, flax seeds and sunflower seeds can be added for free.



Coffee, ice cream and crêpes from Gusto
Gusto is where to go in El Nido for crêpes, waffles and the city's best coffee. They also serve ice cream.
There may be a bit of chaos with scooter traffic and customers with low blood sugar on the ground floor, but head upstairs for a less hectic atmosphere.
They even have wifi that may work if you're in luck.
The quality at Gusto isn't overwhelming, but neither are the prices.



French ice cream at L'Assiette ice cream
The ice cream at L'Assiette ice cream was better than what we had at Gusto's.
There is no place to sit down and enjoy the dessert, but the quality is great.
We tasted the hazelnut and almond flavours at 180 pesos for two scoops (~ 3.4 USD / 3 EUR).
You can taste the ice cream before deciding on a flavour – and sometimes they also make crêpes.
Fresh mango juice
On the main street of El Nido, there are several juice shops, ready to blend various tropical fruits for delicious juices and smoothies.
We had a lot of mango juices, which we can certainly recommend if you visit the Philippines in mango season. The taste is nothing short of amazing.
Tip: Get a cleaner fruit experience by ordering your juice with just blended fruit and ice, avoiding milk and sugar.
Prices start at around 70 pesos (~ 1.3 USD / 1.2 EUR).


The Art Café
The interior of Art Café differs from most other places in El Nido with its braided chairs and high ceiling.
It even has a book swap, a big balcony and live music once in a while.
We got a nice crème brûlée and an overly sweet iced coffee.
They also serve breakfast, lunch and dinner and the place seemed quite popular.


Giovan'z Beef Stew Hauz
We only tried Giovan'z vegetarian coconut curry with rice (for 200 pesos ~ 3.8 USD / 3.4 EUR), which was alright.
We can not comment on the place's signature meat dishes.


Map of places to eat in El Nido

Click the icon in the top left corner of the map to find the places we have mentioned in this guide.
How to get to El Nido
International flights to the Philippines
There is a very limited amount of international flights to Palawan's main airport in Puerto Princesa.
There are none to the small airport in El Nido.
Therefore, most people arrive from either Cebu or Manila.
If you want to go to Palawan, your best option is to take yourself to one of these airports first. Both Cebu and Manila are well-connected internationally.
Search for the cheapest international flights to the Philippines on Momondo (adlink).
Domestic flights to Palawan
Once in Manila or Cebu, there are two options: fly directly to El Nido or fly to Puerto Princesa.
El Nido Airport is much closer to El Nido city than Puerto Princesa, but it is also a more expensive flight route.
If the price is not a deciding factor, flying directly to El Nido is clearly the fastest and easiest solution.
On the other hand, Puerto Princesa is cheaper to fly to and there are many more departures.
Puerto Princesa is about 1 hour of flying away from Manila as well as from Cebu.
Domestic flights in the Philippines are generally quite cheap.
During our time in the Philippines, we travelled with both Cebu Pacific and Philippines AirAsia and we have no complaints.
Search for the cheapest domestic flights to the Philippines on Momondo (adlink).
From Puerto Princesa to El Nido by van
If you didn't know before arriving at the Puerto Princesa airport, you'll soon learn that El Nido is Palawan's greatest tourist magnet as the tour operators yell out "El Nido! El Nido!" in perfect synchronization.
A van to El Nido is about 600 pesos (~ 11 USD / 10 EUR) and the ride takes about 7 hours, most likely including a food stop along the way.
El Nido is also connected to almost all other cities of Palawan and it is easy to arrange transportation from anywhere.
Palawan, in general, is perfect for travelling independently in this regard.
The tourist route from south to north and back again is well-trodden, and there is more or less just a single road that makes sense for most people.

Travelling by sea
Another option to get to Palawan is by boat or ferry.
Some people choose to set sails between Palawan and Coron to spend time in some of the most beautiful waters in the world – although the most popular option seemed to be to go from Palawan to Coron.
Some tours include stops on some of the many small islands on the way. How cool is that?
Ferries also leave from Manila to Puerto Princesa offering an 18 to 22-hour ride.
When to visit El Nido
We visited El Nido in November and December of 2017 and experienced days of non-stop sunshine, cloudy days and rainy days – with rain showers lasting from minutes to several hours.
The weather changed almost daily. It was, however, hot (and humid!) all of the time.
The rainy season normally begins in June and lasts until November, while the dry season begins in December and lasts until May.
So travelling between mid-November and May will give you the highest temperatures and the lowest amount of rainfall. Especially after the northeast monsoon have passed in February.
January, February, March and April will be the best months for travel in El Nido to most visitors.
Water temperature is high all year round and typhoons rarely affect El Nido.

Our best tips for visiting El Nido
El Nido is beautiful. Make sure to bring a good camera! Here's our guide to lightweight photography gear for high-quality travel content.
Head out as early as possible. If you go with a private boat tour to the islands in the Bacuit Archipelago, try to leave El Nido as early in the morning as your boatman can agree to. You'll get some of the gems all to yourself, at least for a little while. Setting foot on one of the amazing beaches or jumping in the crystal clear water will surely wake you right up!
The sun is strong. Remember to use reef-safe sunscreen (adlink).
The electrical outlets in El Nido are of type A, B and C and generally feature the flat prongs of USA and Japan or the two round prongs, fitting both most European and Asian appliances. The standard voltage is 220 volts. We always travel with a universal power adapter (adlink).
The power will go out. Several times a day, probably. Don't panic, it will soon be back on. It's an island-wide thing.
Wifi is neither stable nor fast. El Nido is probably one of your best bets for a good connection in Palawan, though. Buying a local SIM card with 3G can help, but if you work online, expect to get frustrated.
Bring cash. There is only a handful of ATMs in El Nido (and on the entire island), and you can't expect them to work. So bring enough cash for your whole stay… And then some to be able to extend your vacation if you end up loving Palawan just as much as we did!
Be patient. Getting around Palawan takes time. A "2-3 hour" trip in a van or bus can easily take 4 or 5 hours and not all vans leave on the minute. Try not to plan too rigidly and you'll avoid stressing out.
The tap water in Pokhara is not drinkable. It's fine for showering or brushing your teeth but for drinking water, you can bring your own water filtration system (adlink) or buy filtered water. If you go for the latter, we recommend bringing a refillable bottle (adlink) and then buy the biggest water containers (to save on plastic).
Mosquitos like Palawan. Bring bug spray and research the current situations regarding Dengue and Malaria. We weren't too pestered in El Nido.
Budget and typical prices in El Nido
Most of the places we stayed at in Palawan cost us around 1,500 Philippine pesos (~ 29 USD / 26 EUR) for a double room with a private bathroom and A/C.
The same was true for El Nido.
Go for a fan-only room to save money.
Main dishes in restaurants ranged between 100 and 300 Philippine pesos (~ 1.9 to 5.7 USD / 1.7 to 5 EUR).
1 litre of water was around 40 Philippine pesos (~ less than 1 USD / 1 EUR) in a small shop and 6 litres were about 100-120 Philippine pesos (~ 1.9 to 2.3 USD / 1.7 to 2 EUR).
Transport was also quite cheap.
The van from Puerto Princesa to El Nido was 600 Philippine pesos per person (~ 11 USD / 10 EUR).
Our total budget ended up being 1,860 USD / 1,660 EUR for 26 days of travel in Palawan including accommodation, three meals a day for two people, massage, water, transportation and three private boat tours (two in Port Barton and one in El Nido).
It doesn't include plane tickets to and from the island.
Note: The budget and prices are from December 2017.
Thank you for reading!
Hopefully, our guide to El Nido has been useful to you.
Let us know what you think in the comments below, and if you have any questions, do not hesitate to ask away.
We would love to help you plan a perfect trip to the Philippines.



Our favourite travel resources:
Our camera gear: