Boat Tour in El Nido: Secret Beaches and Hidden Lagoons
Tips and tricks for the most hyped day trip in the Philippines
What tropical dreams are made of
Dreaming about crystal clear water, secluded beaches and impressive limestone cliffs?
Then you'll love El Nido.
The Bacuit Archipelago is perfect for island hopping, so of course, we went on a boat tour to explore some of the many stunning islands and attractions (with names like Secret Lagoon and Hidden Beach) when we visited El Nido – and wow!
El Nido ranks highly on several lists over the most beautiful beaches in the world and we can definitely understand why.
Take a look for yourself!




What is El Nido?
El Nido is a town on the gorgeous Filipino island of Palawan, and this is a place you'll want to visit at least once in your life.
Not because of the city itself, but for the seascape surrounding it. The 45 islands in the Bacuit Archipelago will take your breath away!
It's one of the most popular places to visit in the Philippines – and for good reason.
The Bacuit Archipelago is absolutely wonderful, and the islands are definitely some of the world's finest.
Island hopping is the main attraction. Here's how it works.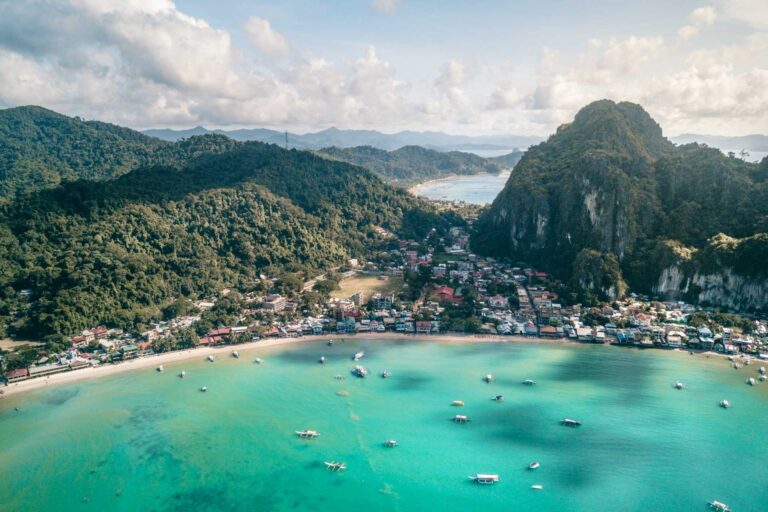 How to book a boat tour
In El Nido, you'll see plenty of tour companies offering boat tours.
Just take a walk along the main street or along the beach, and you'll have lots of options.
Almost every company offer the main island hopping tours; Tour A, B, C and D.
Every tour includes stops on five different islands or lagoons.
Tour A and C are the most popular ones, but they all look spectacular.
If you're going on a group tour with 10-20 other people, you'll typically pay between 1,200 and 1,400 Philippine pesos per person (~ 25 USD) for a full day of island hopping including lunch.
Prices are pretty much the same everywhere, but if you ask around you might get a discount and save 100-200 Philippine pesos per person (~ 3 USD).
Make sure to ask if the mandatory environmental tax of 200 (~ 4 USD) Philippine pesos is included in the price or not.
It's also possible to book a private tour, which is usually a bit more expensive. Prices can be negotiated.



What we did
We opted for a private boat with two other travelling couples we met in the Philippines. That way we could have a more relaxed trip and leave for the islands early in the morning.
We decided to book a combination of Tour A and C.
A private boat for the six of us ended up being 1,700 Philippine pesos per person (~ 34 USD). That was including lunch and the mandatory environmental tax of 200 Philippine pesos. Not bad at all.
In the combination tour, we only had time for eight stops (instead of ten stops, if we had done the tours separately).
We chose not to visit 7 Commando Beach and Talisay Beach. But it was definitely a tough choice!

Helicopter Island
At eight o'clock in the morning, we left El Nido Bay and headed for Helicopter Island.
When we approached the island, we saw a huge sea turtle. Such a magnificent creature.
And then we were dropped off on the nice, long beach from where we could sunbathe or snorkel in the reefs.
We were almost alone on the entire beach, and we enjoyed starting the day quietly in the early morning sun.







The next stop on the boat route was the secluded Hidden Beach in El Nido.
When the boat docked in front of some cliffs, we didn't understand why. What are we supposed to do here?
But we were told to get in the water and follow one of the guys from the boat. And we arrived at the most picturesque beach surrounded by tall limestone cliffs!
Magically, we were the only ones at Hidden Beach, which made it our favourite stop of the whole trip.





Matinloc Shrine
To be honest, the Matinloc Shrine stop wasn't as interesting as the rest.
We had to pay an entry fee of 100 Philippine pesos per person (~ 2 USD) to see an abandoned building and a dome with a statue of Virgin Mary and a cross…
You can walk up some steep steps to a lookout point from the cliffs, which is beautiful, yes, but besides that, there's really not much to do.
If you take a combination tour like we did, you can easily skip Matinloc Shrine.






Secret Beach
When you swim through the little hole in the rock to get to this popular sight, it's no wonder why the beach got its name.
It's well hidden from the sea, and it's pretty cool to sit on the beach completely enclosed by the rock formations.
We had to share the secretive beach with at least 40 other people, but hey, it can't remain a secret forever, right?




Secret Lagoon
The highlight of Secret Lagoon in El Nido was ironically not the small overrun lagoon, but rather the beach right next to it.
Here we had a delicious lunch with rice, vegetables, fish and fresh fruits. Yum!









Shimizu Island
The water around Shimizu Island had such a beautiful deep turquoise colour.
The beach looked really nice, but unfortunately, we didn't have the time to stay on the island.
Instead, we jumped directly into the water to snorkel and here we saw incredible reefs and schools of fish.


Small Lagoon
By afternoon we arrived at the impressive Small Lagoon.
The most common way to experience the lagoon is by kayaking. A kayak fitting two people can be rented for 400 Philippine pesos (~ 8 USD).
It's possible to swim in the lagoon which is quite big for a "small" lagoon – but you might risk being hit by a kayak.


Big Lagoon
The last stop of the day: Big Lagoon.
It's also possible to kayak here, but our captain chose to sail the entire boat through the magnificent lagoon. And the lagoon was truly big!
The trip through the rocky Big Lagoon was a great way to end an exciting day at sea.







Tips and tricks for a boat tour in El Nido
Rent a private boat if you want to escape the crowds and have a much more relaxed trip.
Leave as early in the morning as possible. Get a head start and enjoy some of the sights for yourself before the big group tours come.
Be aware that tours can get cancelled if the weather is too rough. The Coast Guard decides this. The boats are not made for strong winds or waves, so you don't want to go if it's advised not to.
The tour is definitely more fun if you are a good swimmer and like being in the water. Life jackets are available, but if you fear swimming in deep water, this might not be the best activity for you.
Remember sunscreen and perhaps even a t-shirt to swim in. The sun is burning hot and you don't wanna end up all sunburned.
Drink plenty of water. Swimming and staying in the sun will dehydrate you.
Bring a dry bag for your camera, phone and money – otherwise you can expect it all to get soaked. Dry bags come in all sizes and colours and you can buy them everywhere in El Nido. We had brought our own ultra lightweight dry bag from Osprey with us. It weighs almost nothing and it managed to keep our drone, camera, phones, etc. completely dry – even when we swam in the water with it. We can definitely recommend it.
You can buy or rent water shoes if you are concerned about stepping on sharp rocks in the water. We didn't do this and were fine.
Have fun and enjoy!