Travel Guide to Zugspitze in Bavaria: How to Visit Germany's Highest Mountain
All you need to know about visiting Zugspitze from Garmisch-Partenkirchen
The highest point in Germany
Zugspitze looms high over the cosy town of Garmisch-Partenkirchen – and, in fact, over all of Germany.
Being "the highest" perhaps shouldn't be a big deal – but for some reason, it is. Seeing, visiting or even climbing the highest mountain in Germany just sounds cool.
Even though it's only 2,962 metres high (which isn't that high in alpine standards), Zugspitze is awesome.
We whizzed up with the cable car and had a great time at the freezing cold top in October.
This is our guide to visiting Zugspitze, including what to expect, how to get up there, what to bring and more. Have fun!
Where to stay in Garmisch-Partenkirchen
Search for the best value accommodation in Garmisch-Partenkirchen here.


What to expect at Zugspitze
You can't miss Zugspitze.
If it isn't cloudy (which it invariably often is in mountainous regions) Zugspitze is easily spotted from Garmisch-Partenkirchen and, indeed, even from Munich on clear days.
Visiting Zugspitze is a popular tourist attraction in Bavaria and has been for many years. Who doesn't want to be able to say they've been to the highest point in Germany?
And not only that: the view from up there is incredible.
We also visited nearby Alpspitze, and though the view from there was beautiful in its own right, it doesn't really compare to Zugspitze.
What makes Zugspitze so special is that you have a clear view in all directions – including towards Austria where the mountainous landscapes continue as far as the eye can see.





Map
Zugspitze is located roughly 10 kilometres southwest of Garmisch-Partenkirchen and 100 kilometres southwest of Munich, the Bavarian capital.
Scroll down to learn how to get to Zugspitze from Garmisch-Partenkirchen.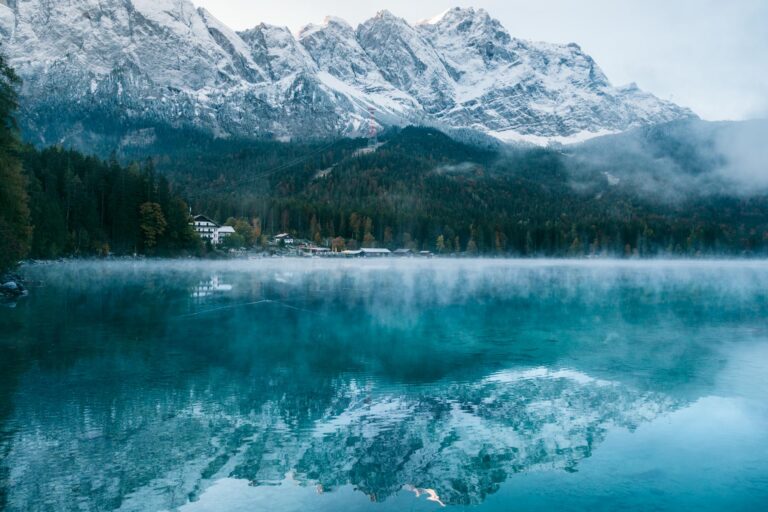 How to get to Zugspitze
As the equally famous and stunning Lake Eibsee sits right at the base of Zugspitze, "how to get to Zugspitze" basically has the same answer as "how to get to Eibsee".
(Except if you plan to visit Zugspitze from the Austrian side of the border, of course. We visited from the German side.)
You're spoiled with options of how to reach Zugspitze.
Here's a brief overview of how to get to Zugspitze:
Taking the cable car up ("Seilbahn Zugspitze") is the easiest way to scale Zugspitze.
The cable car runs from the parking lot at Lake Eibsee.
Driving there with your own vehicle is the fastest option. It's only 15-20 minutes away from Garmisch-Partenkirchen.
You can also travel by public bus to the cable car. Scroll down to find our description of how to reach Zugspitze with public transport.
Or why not cycle or hike if you feel fit?
An alternative way up the mountain is the combination of the cogwheel train called Zugspitzbahn from Garmisch-Partenkirchen (or several other stops) to the platform at 2,600 metres and then a cable car ("Gletscherbahn aerial cablecar") to the top.
We drove in our own car from Garmisch-Partenkirchen to Lake Eibsee, parked and then took the cable car to the top – so that route is what we're focusing on first in this Zugspitze guide.
Further down, you can read about the parking facilities and prices as well as how to get to Zugspitze from Garmisch-Partenkirchen with public transport.

Cable car details
Riding the cable car from Lake Eibsee to the top of Zugspitze provides an elevation gain of 1,945 metres over a length of 4.5 kilometres.
The Eibsee valley station is located at 998 metres above sea level and the Zugspitze top station sits at 2,943 metres above sea level.
The cable car opened in 2017 and broke three records: The world's longest unsupported span at 3,213 metres, the highest steelwork pylon for an aerial tramway at 127 metres and the world's largest height difference at 1,945 metres.
The two cabins can transport up to 580 passengers per hour.
Check out the live webcam view here.

Cable car opening times
From September to June, the cable car runs from 08:30 to 16:45.
In July and August, it runs from 08:00 to 17:45.
The journey time is just 10 minutes with a run at least every 30 minutes.
Cable car price
One ascent and one descent with the Zugspitze cable car costs 59,50 EUR per person (~ 70 USD).
If you only need an ascent or descent (aka you're a badass alpinist) it's just 35 EUR (~ 41 USD).
Visit both Zugspitze as well as Alpspitze with the Garmisch-Classic ticket for 71 EUR per person (~ 84 USD).
This is what we did and we can definitely recommend doing the same.
Read more about the Garmisch-Classic ticket here.
Parking
It's possible to park by the Zugspitze cable car right next to Lake Eibsee.
The parking lot is open from 05:00-22:00. In other words, no overnight parking. There's a height limit of 2,10 metres.
There are possibly options for free parking on the road leading up to the lake and cable car.
| | |
| --- | --- |
| Parking times | Prices |
| Earlybird parking from 5:00 a.m. to 9:30 a.m. | 2.50 euros |
| Parking up to 4 hours (exit after 9:30 a.m.) | 8.00 euros |
| Every additional hour up to max. 10:00 p.m. | 1.00 euros |
| Parking after 10:00 p.m. is prohibited, surcharge for infringement. | 50.00 euros |
(Prices from Eibsee.de on February 16, 2022)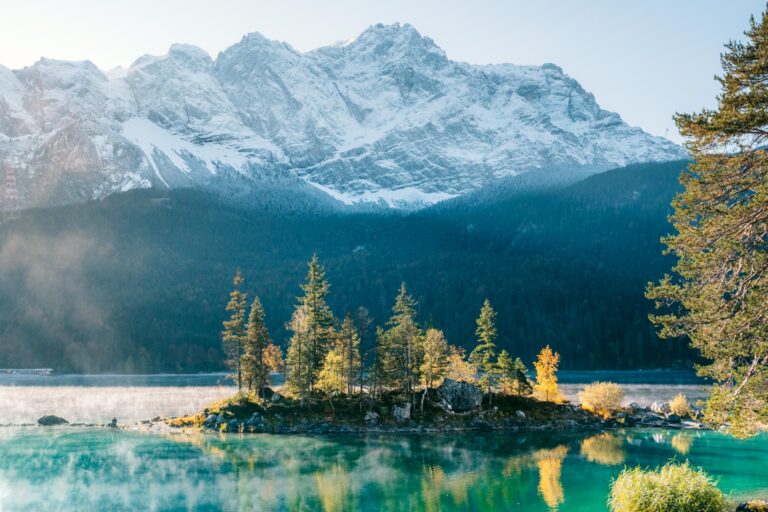 How to get to Zugspitze with public transport
Zugspitze is easily reached by public transport.
You can take the blue Eibsee bus from Garmisch-Partenkirchen directly to Zugspitze in about 40 minutes.
The last return during summer is at about 20:00. From October to mid-June, the last bus returns to town at 19:10.
From July to September, there's a bus called the Eibsee-Express-Bus with the trip taking just 20 minutes.
See the bus timetable and prices (in German) here.
You can also get to Zugspitze from Garmisch-Partenkirchen with Zugspitzbahn.
The cogwheel train terminates at the Zugspitze mountain at 2,600 metres (via Grainau and Eibsee) where you can take a cable car called "Gletscherbahn aerial cablecar" to the top.
You can buy tickets at the train station in Garmisch-Partenkirchen.

When to visit Zugspitze
When is the best time to visit Zugspitze?
Well, visiting Zugspitze with the first or last cable car will generally bring the best possible light and fewest crowds.
It will, however, also be the coldest time to visit.
We visited Zugspitze on an early morning in October and it was freezing cold up there.
Visiting later in winter you have the option of skiing around up there, which sounds amazing.
In summer, there are more people than in the shoulder seasons but you'll probably also have a warmer experience.
No matter the season or time of day, just get up there. Unless the forecasts say it will be cloudy around the top station, it's beautiful to see the surrounding peaks even if there are clouds lower down.
You can always take a look at the webcams beforehand.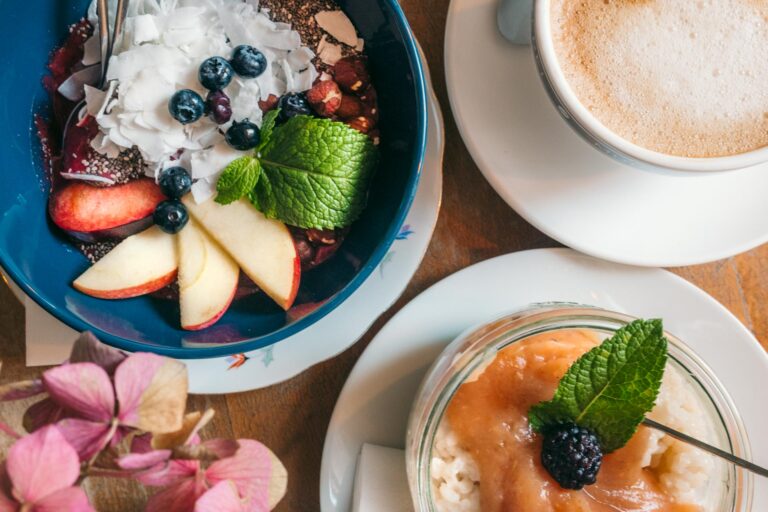 What to bring to Zugspitze
Travel insurance. Never travel without it!
A good camera – here's a guide to the gear we use.
Sunscreen. The sun can be strong up there in the summer even if it's cold. Also remember that snow is highly reflective.
Hiking shoes or winter boots.
Warm clothes. You're more than 2,000 metres higher up than in Garmisch-Partenkirchen at the top of Zugspitze. That means it's going to be a helluva lot colder up there.
Water and snacks is always a good idea.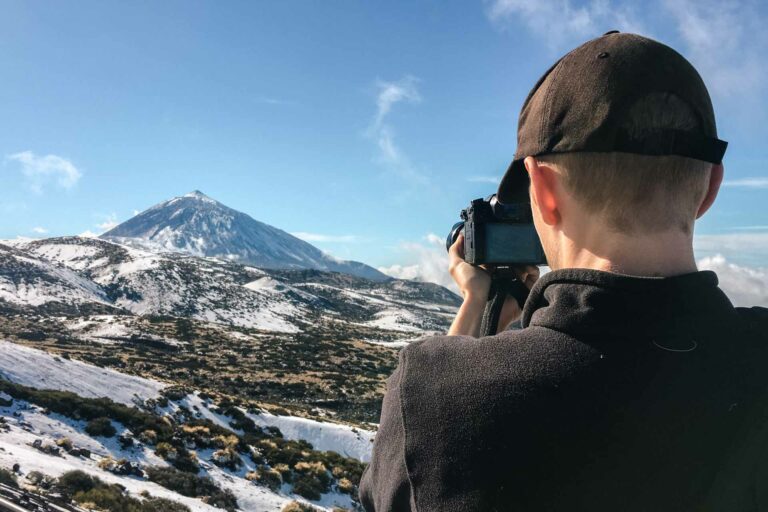 Minimise your impact
To minimise your impact during your visit at Zugspitze, follow these guidelines:
Bring your own drinking water in a refillable bottle.
Avoid single-use plastics, including straws.
Dispose of waste properly. While putting your trash in a nearby trashcan is convenient, wrappers and other small items are prone to get taken by the wind.
Take only photos, leave only footprints. Let everything stay in its natural place.
Be considerate of other visitors.
Respect wildlife.


Thanks for reading
Thanks for reading our travel guide to Zugspitze in Germany. We hope it has been useful!
What do you think about Zugspitze? Is it just the highest mountain or does it have any other appeal?
If you've been, it would be fantastic to hear your best tips for visiting Zugspitze in the comments.
If you haven't been to the top yet, please don't hesitate to ask us what's on your mind. We're happy to help you with your planning.




Our favourite travel resources:
Our camera gear: