Büsum Travel Guide: 10 Best Things To Do & See by the Wadden Sea
Everything you need to know about Büsum including what to do, when to visit and where to stay
Where the sky and the ocean meet
The land, the sea and the ocean all melt into one in Büsum as the tide retreats, uncovering the ocean's treasures.
We had never before experienced the legendary Wadden Sea and were blown away on our first evening as the sunset reflected magical hues of purple, red and orange in the wet sand.
We truly hope you get to witness a similar spectacle when you visit!
At the next low tide on the following day, we ventured further out into the Wadden Sea under the baking summer sun to discover the vast amount of life that calls the North Sea its home.
Bicycling along the dykes, pedalling along the quiet paths next to cute sheep, it felt like neither the ocean nor sky marked boundaries we couldn't cross. Rather, they invited us to go on adventures without limits.
This coast is something else. And we didn't even mention the actual beaches; simply perfect for lazing in the sun or staying cool in the shade of a strandkorb.
In this travel guide to Büsum, we share the best things to do and see in and near the beachside town, where to stay, when to visit, how to get around, our best travel tips and much more.
Where to stay in Büsum:
Search for the best value accommodation in Büsum here.

Map of Büsum
Büsum is a coastal town in northern Germany, part of the state of Schleswig-Holstein.
It's situated along the North Sea coast and is located relatively close to Denmark, with about 110 kilometres to the border.
The state capital of Kiel is ~100 kilometres to the east and Hamburg is ~120 kilometres south of Büsum.
10 best things to do and see in Büsum
What to do in Büsum?
There's no doubt that the Wadden Sea is the focal point of most trips here.
Walk on it, swim in it, look at it, hang out next to it, go on a bicycle tour along it…
Once you've had enough vitamin sea, check out the streets of Büsum itself; a cosy place that'll surely make you feel at ease.
And if you're up for more adventure, consider visiting some of the nearby towns and nature areas.
Get ready for the best things to do and see in Büsum!
1. Walk in the Wadden Sea
The Wadden Sea stretches all the way from Esbjerg in Denmark to Den Helder in the Netherlands – making it the largest unbroken system of mudflats in the world.
The entire area is on UNESCO's World Heritage List and a part of the Schleswig-Holstein Wadden Sea National Park.
All visitors to Büsum should spend some time in the Wadden Sea "wattwanderung" (mudflat hiking) at least once. It really is the best thing to do here.
You can easily go for a walk in the Wadden Sea yourself, but we got a lot of insight into the complex ecosystem with a guide.
We learned, among other things, that the Wadden Sea is the second most productive ecosystem in the world after the tropical rainforest (calculated in living biomass)!
And our guide told us about all the little snails, crabs and worms that appear when the sea recedes.
After the hike, we took a break at Deichhaus, where they served a small vegan "meatball" burger, among other things.


2. Watch the sunset over the Wadden Sea
One of the most romantic things to do in Büsum is undoubtedly to watch the sunset out on the seabed (depending on the tide), walking along the coast or with a drink in your hand.
We got really lucky on our first night in Büsum and had an absolutely beautiful experience with a low tide and stunning colours in the sky at sunset.
We waded and waded and enjoyed the very special play between the light, the colours and the bottom of the Wadden Sea.




3. Bike along the Wadden Sea and Speicherkoog
We rented electric bicycles in Büsum, which we used to cycle to Deichhaus along the shore. From there, we ventured into the Wadden Sea with our guide.
Then we rode to Stullen & Pullen and explored the wetlands of Speicherkoog.
Of course, the bike doesn't require electric assistance, but it was still nice to have a little help on the long, straight stretches.
Undoubtedly, the best part of the bike tour was out by the water.
Tip: For a bigger challenge, why not cycle all the way from Denmark to Hamburg on the North Sea Cycle Route?




4. Lunch at Stullen & Pullen
At Stullen & Pullen (located 10 kilometres south of Büsum), we had an amazing serving of vegan fish and chips for lunch with some coleslaw and a sandwich with plant-based salmon.
The atmosphere was really nice and the view of the lake made the meal even better.


5. Büsum town
In addition to being a popular destination for beach vacations in Northern Germany, Büsum is also a charming town in its own right, boasting several pedestrian streets.
During the summer, ice cream is sold in abundant quantities and the holiday atmosphere is truly delightful.


6. Büsum Lighthouse
Walking along the harbour in Büsum, it's hard to miss Büsum Lighthouse (Leuchtturm Büsum).
The red and white-striped lighthouse stands proud at more than 21 metres, making it one of the taller buildings in town.
While there, why not continue all the way out on the west pier?

7. Swim between the dyke and the Wadden Sea
It's possible to sunbathe and swim whether the tide is high or low between the dyke and the Wadden Sea at Familienlagune Perlebucht (meaning Family Lagoon Pearl Bay).
A popular spot for families with children, here you'll find a nice sandy beach, child-friendly shallow water and other amenities – including iconic strandkörbe (beach baskets/hooded beach chairs) for rent.



8. The town of Meldorf
While the town of Meldorf isn't a must-see, it is certainly a very nice stop if you bike or drive around the area.
We had a cold drink at Dom-Cafe, which is right next to the large cathedral from the 13th century.


9. Canoe trip on the Eider
The River Eider in northern Germany is the longest river in the state of Schleswig-Holstein, measuring approximately 180 kilometres.
We visited the river at Eiderhafen Kanupoint Delve, where you can canoe on the calm waters.
Driving there from Büsum takes approximately 45 minutes.

10. Hiking in Dellstedter Birkwildmoor
As the sun was slowly descending towards the horizon, we visited the natural area of Dellstedter Birkwildmoor in Dithmarschen.
Dellstedter Birkwildmoor is a large protected area primarily consisting of wet meadows, peatlands, heath and bog.
Biodiversity is abundant, which became evident to us almost instantly as we began walking along one of the hiking trails.
There was simply life everywhere; flowers, birds, frogs, bees, ladybugs, butterflies and dragonflies vied for our attention as we tried to fend off the mosquitoes.
Remember mosquito repellent!
Here is a link to the official brochure (in German) about Dellstedter Birkwildmoor (including hiking information).


Bonus: Other places to visit in Schleswig-Holstein
Having been fortunate enough to visit Schleswig-Holstein on several occasions, we have experienced many of the best attractions the state has to offer.
From the historic towns to the cultural sites; from the coast along the rivers to the shimmering lakes. Nature is never far away in Schleswig-Holstein, and we think there's something to do here for everybody.
Whether you're going on a road trip through Northern Germany or simply want to discover more hidden gems, we hope this list can inspire your travels.
Read more about Schleswig-Holstein:
Schleswig-Holstein – An overview of the best places to visit and things to do in the state.
Schleswig – A historic Viking city with an impressive cathedral and a Baroque castle.
Plön – If you like lakes and lake views, Plön is the place.
Eutin – The cultural heart of Holstein with a beautiful castle and access to lovely lakes.
Lübeck – Probably Schleswig-Holstein's best medieval old town centre. Known for its 7 towers and the Holstentor gate.
Bad Segeberg – Home to a mystical mountain filled with bats and a popular Wild West-themed festival.
Duchy of Lauenburg – A region in Schleswig-Holstein's southeast full of historical towns & relaxing nature experiences.
The island of Sylt – Germany's most famous island is more or less one long beach.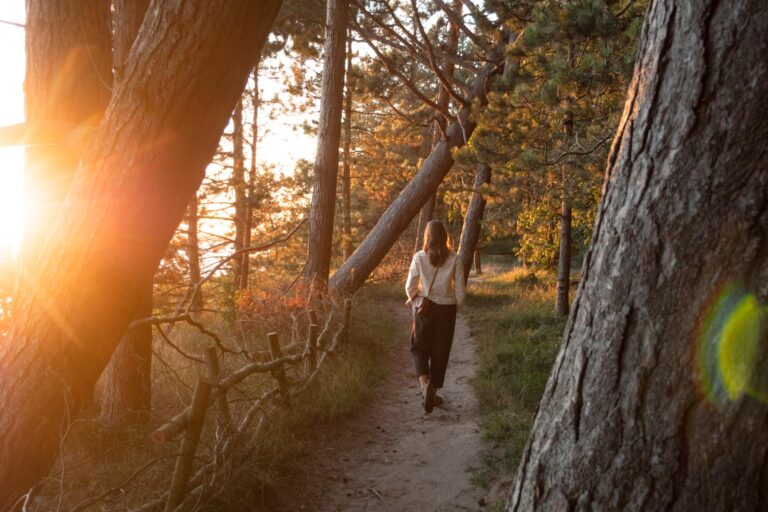 Where to stay in Büsum
Scroll down to see recommendations on some of the best hotels in Büsum or search for the best value accommodation in Büsum here (adlink).
Küstenperle Strandhotel & Spa
We stayed at the Küstenperle Strandhotel & Spa during our time in Büsum and loved it.
The hotel is situated right behind the dyke (meaning the lagoon beach is super close by), and if you're allocated a room on a high floor – as we were fortunate to – you'll enjoy a stunning view directly out to the Wadden Sea.
Every aspect of the hotel exuded modernity and sophistication. It's truly an excellent choice for a beachside getaway, offering a wonderful stay if you're seeking a couple of days by the shore.
We also had a great dinner at their restaurant Deichperle.
Check prices and availability at Küstenperle Strandhotel & Spa (adlink).


Lighthouse Hotel & Spa
Lighthouse Hotel & Spa is located right by Büsum Lighthouse (surprise!), which means you're close to both the centre of town as well as the lagoon and beach.
Looking out over the harbour or ocean, the comfortable rooms are nicely designed and have all of the modern necessities.
Check prices and availability at Lighthouse Hotel & Spa (adlink).
Bernstein Hotel "50's Seaside Motel"
Living up to its name, the 50's Seaside Motel in Büsum is designed in a unique 50's style complete with colourful decor, funky patterns and retro items.
The hotel is centrally located in between the centre of Büsum and the lagoon.
As the cherry on top, Bernstein Hotel "50's Seaside Motel" is one of the more budget-friendly options in town.
Check prices and availability at Bernstein Hotel "50's Seaside Motel" (adlink).

Kanal 33
After our time in Büsum on our way to Bad Segeberg, we stopped for the night at Kanal 33, which offers holiday apartments situated along the Kiel Canal.
Here, you can cross the canal via a small ferry connection.
We checked into a charming wooden house on stilts, fully equipped with a kitchen, making it a comfortable place to stay for a few days while exploring the surrounding nature.
However, as we were only there for a night, we ate at Kanal 33's restaurant where we had the flammkuchen (a thin pizza), tasty sweet potato fritters and a salad with vegan nuggets. Yum!
Check prices and availability at Kanal 33 (adlink).

How to get around Büsum
By foot or bicycle
Büsum is a relatively compact city, so the best way to get around is to walk or bike.
It's easy and safe.
Put on some good shoes and get around town for free by simply walking from one place to the next.
Hiring a bicycle like we did is a great option for exploring the greater area.

By public transport
We didn't use public transportation in or around Büsum ourselves but it should certainly be possible to get almost anywhere with a combination of local trains and buses.
By car
When walking to an attraction would take too much time, we got around Büsum's surroundings by car and it was super convenient.
Parking is generally free and easy to find in Büsum. However, in the case of paid parking, remember to always bring euro coins for the machines as credit cards aren't accepted everywhere.

How to get to Büsum
By car
It's generally easy to reach Germany by car from other countries in Europe as there are lots of motorways connected to neighbouring countries.
As soon as you are in Germany, you can get to the Schleswig-Holstein region via Germany's famous autobahn (motorway).
Be aware that cars on the autobahn generally drive fast – and by fast, we mean up to 200 km/h!
There are several sections with no speed limit at all so it's important to look thoroughly in the rearview mirror and side mirror before changing lanes and overtaking.
By train
The train network in Germany is large, relatively cheap and very reliable.
There are many connections between most major cities and to get to Schleswig-Holstein, you can, for example, take the train to Hamburg Central Station (Hamburg Hauptbahnhof), Lübeck Central Station (Lübeck Hauptbahnhof), Kiel Central Station (Kiel Hauptbahnhof) or Flensburg Station (Flensburg Bahnhof).
From there, there are usually connecting trains to smaller towns like Büsum.
We have previously used the Deutsche Bahn website to order train tickets.
By plane
To get to Schleswig-Holstein in Germany by plane, you can fly to the big international airport Hamburg Airport (Flughafen Hamburg, shortened to HAM) as well as the smaller Lübeck-Blankensee Airport (also sometimes called Hamburg Lübeck, shortened to LBC) that mostly offers domestic flights.
From there, you can take a train or rent a car.
Use our adlink below to find the cheapest tickets:
Search for the cheapest flight tickets on Momondo.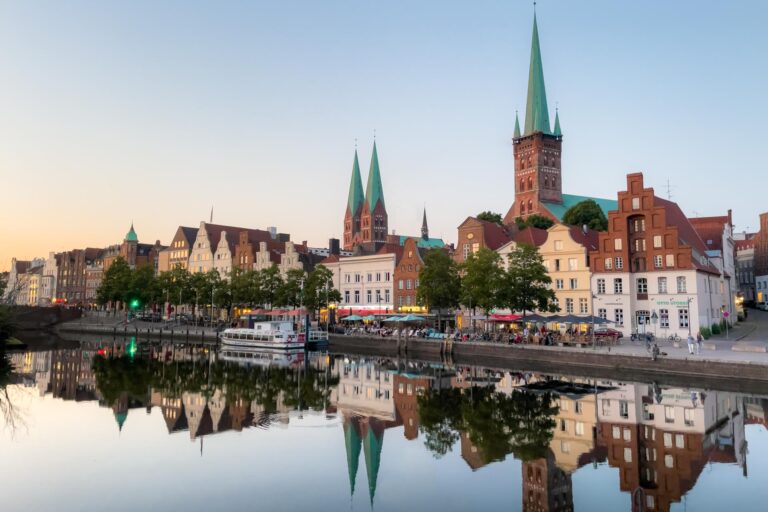 When to visit Büsum
There is really no bad time to visit Büsum and the state of Schleswig-Holstein, although there are, of course, noticeable differences between the seasons – especially when it comes to the temperature of the ocean if you plan to walk in the Wadden Sea.
So when is the best time to travel to Büsum?
We were there ourselves in July and enjoyed warm, perfect summer days.
Like almost all tourist destinations in the world, it's smart to plan your trip around the most common holidays and instead visit in shoulder periods (if that's a possibility for you).
That way you can avoid the biggest crowds and generally get cheaper accommodation and save on car rentals.
If it's not possible to travel outside the holidays, fortunately, Büsum (and Schleswig-Holstein) doesn't really get crowded.
Seasons
Spring (March, April and May) is a beautiful time to visit Büsum and Schleswig-Holstein with sunny days and blooming flowers. It can still be a bit chilly, so check the weather forecast before you pack.
Summer (June, July and August) is of course the hottest season and the temperatures can get quite high in July and August. At the same time, it's also at its rainiest in the summer so pack a rain jacket or an umbrella, just in case (although that's probably a good idea no matter when you're visiting). The sun is usually shining from early morning until very late in the evening. The summer holidays in Germany are spread out between mid-June and mid-September.
Autumn (September, October and November) is a wonderful time to visit Northern Germany. The autumn colours paint the landscapes in shades of yellow, orange and red. The most beautiful autumn colours can typically be seen at the end of September and in October, perhaps also at the beginning of November before the leaves fall off the trees.
Winter (December, January and February) is generally cold but on the other hand, there are usually fewer tourists. If you're planning to visit during Christmas or New Year, it's smart to book your accommodation ahead of time.
Our best tips for visiting Büsum
Credit cards can be used in most shops, but as in the rest of Germany, cash is still often used and it's not unusual for cash to be used in parking and ticket machines, at cafés and the like.
Get up early and be one of the first at an attraction if you want to avoid crowds in the high season.
Watch the sunset over the Wadden Sea. It's absolutely gorgeous – especially if you're lucky to catch it at low tide!
Drink tap water. It's not only good for the planet, it's also good for your wallet. The tap water in Germany is absolutely safe to drink – so bring a refillable bottle.
Travel to Büsum outside of the holidays. Accommodation prices are lower, good deals are easier to find and there are fewer tourists.
What to bring to Büsum
Travel insurance (adlink). Never travel without it!
A good camera – here's a guide to the gear we use.
Sunscreen (adlink). Especially if you visit Büsum in the summer. We recommend that you use an organic, vegan sunscreen without oxybenzone and other harmful chemicals.
Hiking shoes, sneakers or other shoes you can walk in comfortably.
Swimwear and a towel if you plan to swim in the summer or if you are staying at a hotel with a spa area.
A refillable water bottle and snacks. You can drink the tap water in Germany.
Cash for parking and other small purchases, especially 1 and 2-euro coins. Not all places in Germany accept credit cards.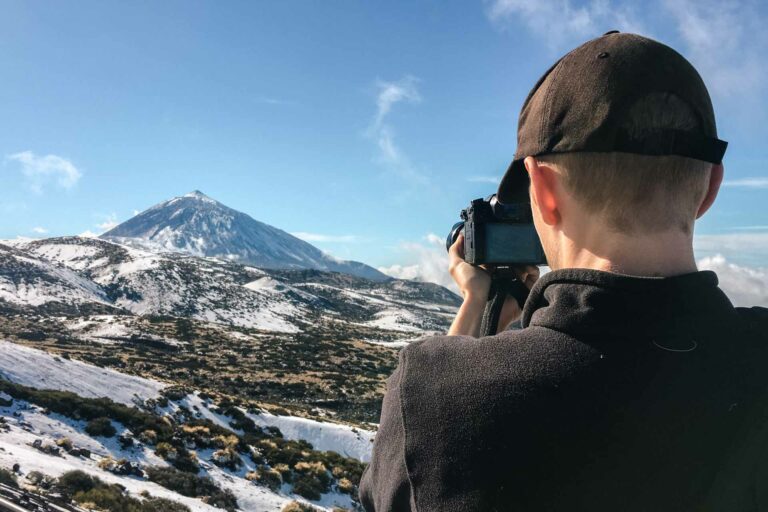 Sustainable travel tips
To travel as sustainably as possible, we recommend the following:
Bring your own drinking water in a refillable bottle.
Avoid single-use plastics.
Dispose of waste properly.
Check your sunscreen before going in the water. Many brands contain oxybenzone and other chemicals that can be harmful.
Take only photos, leave only footprints. Let everything stay in its natural place.
Respect wildlife.
What do you think of Büsum?
Thanks for reading our take on the best things to do in Büsum!
We hope this travel guide to Büsum in Schleswig-Holstein has been useful.
What do you think of the town by the Wadden Sea?
If you have been to Büsum or the state of Schleswig-Holstein, it would be great to hear about your best memories and what to do in the area.
And if you haven't been there yet, don't hesitate to ask us anything in the comments. We are happy to help!




Our favourite travel resources:
Our camera gear: