Bad Segeberg Travel Guide: 8 Best Things To Do & See Around the Fascinating Mountain
Everything you need to know about Bad Segeberg including what to do, where to stay, when to visit - and when not to!
A special place indeed
From we first saw photos of Bad Segeberg's mystical Kalkberg (chalk mountain), we knew that this place had to be special.
The 91-metre-high gypsum mountain is the city's landmark and also sets the scene for the famous Wild West-themed Karl-May Festival held annually.
Up to 30,000 bats live in caves inside the mountain in winter, and in summer it's possible to explore the caves with a guide. We did so and had a thrilling experience.
Bad Segeberg is also home to a lovely lake, perfect for swimming and peaceful hikes.
Nature is always close by here in Bad Segeberg; a climatic health resort and spa-certified town surrounded by lakes of all sizes and the green, hilly landscapes so characteristic of Holstein Switzerland.
In this travel guide, we share the best things to do and see in and near Bad Segeberg, why you should visit, where to stay, when to visit, how to get around, our best travel tips and much more.
Where to stay in Bad Segeberg:
Search for the best value accommodation in Bad Segeberg here.

Map
Bad Segeberg is located in the state of Schleswig-Holstein in Northern Germany.
It is approximately 50 kilometres northeast of Hamburg and 25 kilometres west of Lübeck.
8 best things to do and see in Bad Segeberg
What to do in Bad Segeberg?
While the mountain is a natural focus point, we think it's also worth discovering some of the more hidden parts of town as well as the nature areas in its vicinity.
Get ready for the best things to do and see!

1. Climb the Segeberger Kalkberg
The Kalkberg (meaning the chalk mountain) is a 91-metre-high rock in the middle of the town of Bad Segeberg.
It's actually not made of chalk but rather of gypsum. Perhaps Kalkberg just sounded better.
A path leads up the mountain to a viewing platform from where you get a great view of the amphitheatre below as well as of the lake and the town of Bad Segeberg. On clear days, you can see the spires of Lübeck's famous churches.
Historically the mountain has been as high as 110 metres, but the mining of gypsum had made it smaller over time.
A castle was located on the top during the Middle Ages which surely must have looked cool!


2. NOCTALIS World of Bats
Bad Segeberg is sometimes called "Bat" Segeberg because the city is unofficially the bat capital of Northern Europe.
Inside the Kalkberg, caves house up to 30,000 bats in winter.
In summer you can go down into the caves and hear about the special place on guided tours.
The temperature is constantly at around 10 degrees Celsius – so bring a sweater!
You can learn more about the mythological animals in the NOCTALIS bat museum.

3. Hike around Großer Segeberger See
On our visit to Bad Segeberg, we walked along the southern shore of Großer Segeberger See (Great Segeberg Lake) and really enjoyed the well-maintained trails.
The lake is in view for most of the time, but sometimes it's hidden behind the trees and thick foliage.
It's about 7.5 kilometres to hike all the way around the lake, which will take most people about 2 hours.
We had a tasty lunch at Goldmarie am See which has a nice view of Großer Segeberger See.



4. Swim in the lake
There are several places around Großer Segeberger See where you can jump into its clear water.
We went for a swim near the campsite Seecamping Segeberg. This spot was very shallow and thus perfectly suited for swimming with children.
As it was really warm when we visited Bad Segeberg, it was delightful to cool down in the water in the evening after a full day of exploring the area.


5. Karl-May Festival
As you will quickly realise, Bad Segeberg is particularly well-known for its annual Karl-May-Festival (known as the Karl-May-Spiele), where a Wild West-themed play is performed several times a week during the summer in the large amphitheatre.
The amphitheatre (which seats 7,700 people!) is located by the Kalkberg which only adds to the drama.
As far as we can tell, everything is in German. But even if you aren't fluent, we can imagine it to be a wild show.

6. Marienkirche
Most German towns have some kind of impressive church, and Bad Segeberg is no different.
Marienkirche (Mary's Church) was built in 1156 and is the oldest brick church north of the Elbe.
It's located just northwest of the Kalkberg and is hard to miss with its tall spire.
7. Ihlsee und Ihlwald nature reserve
The Ihlsee und Ihlwald nature reserve is a secret spot that is often overlooked by tourists.
But those who do visit are rewarded with a pristine lake, a lush forest and a variety of wildlife (including rare animals).
Swimming and enjoying the lake is probably the most popular activity, but it's also a great place to go for a hike in the forest.
8. Wittenborner Heide nature reserve
For a much bigger nature reserve, consider visiting Wittenborner Heide (Heide meaning Heath), located about 15 minutes of driving west of Bad Segeberg.
Many different hiking trails lead through the diverse landscapes that range from open dunes to near-natural deciduous forests.
Bring binoculars and try to spot some of the animals who live here like smooth snakes (non-venomous), common European vipers (venomous), dormice, eagle owls, honey buzzards and woodlarks.

Bonus: Other places to visit in Schleswig-Holstein
Having been fortunate enough to visit Schleswig-Holstein on several occasions, we have experienced many of the best attractions the state has to offer.
From the historic towns to the cultural sites; from the coast along the rivers to the shimmering lakes. Nature is never far away in Schleswig-Holstein, and we think there's something to do here for everybody.
Whether you're going on a road trip through Northern Germany or simply want to discover more hidden gems, we hope this list can inspire your travels.
Read more about Schleswig-Holstein:
Schleswig-Holstein – An overview of the best places to visit and things to do in the state.
Schleswig – A historic Viking city with an impressive cathedral and a Baroque castle.
Plön – If you like lakes and lake views, Plön is the place.
Eutin – The cultural heart of Holstein with a beautiful castle and access to lovely lakes.
Lübeck – Probably Schleswig-Holstein's best medieval old town centre. Known for its 7 towers and the Holstentor gate.
Duchy of Lauenburg – A region in Schleswig-Holstein's southeast full of historical towns & relaxing nature experiences.
Büsum – The gateway to the Wadden Sea and a popular summer spot.
The island of Sylt – Germany's most famous island is more or less one long beach.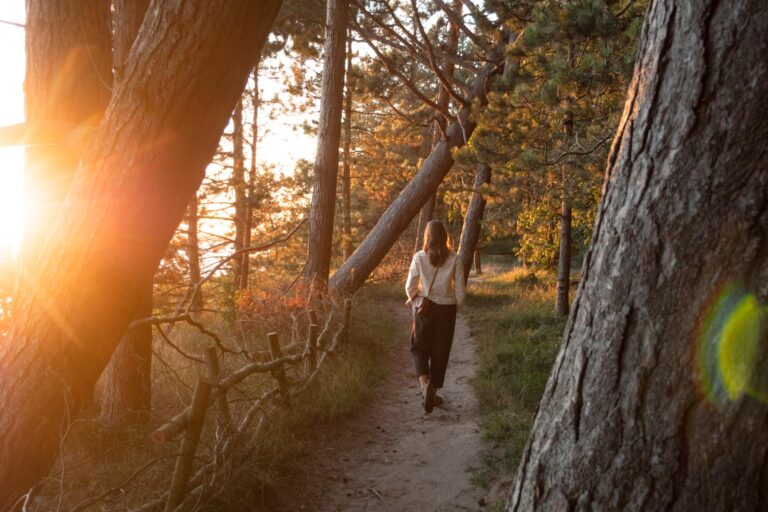 Where to stay in Bad Segeberg
Scroll down to see recommendations on some of the best hotels in Bad Segeberg or search for the best value accommodation in Bad Segeberg here (adlink).
Luxury: Apart Hotel Wasserturm
In Bad Segeberg, we stayed at the top of the old water tower at Apart Hotel Wasserturm.
A truly unique place to spend the night!
We had two floors, our own kitchen and an absolutely fantastic 360-degree view of the city and the lake from the round room.
Check prices and availability at Apart Hotel Wasserturm (adlink).



Value for money: Vitalia Seehotel
For a comfortable 4-starred hotel right by the Great Segeberg Lake, check out Vitalia Seehotel.
Here you can choose between jumping in the lake or in the indoor pool in the spa area.
Check prices and availability at Vitalia Seehotel (adlink).

Budget: Der Gutschmecker Bad Segeberg
With a nice location right next to the lake, double rooms with private bathrooms and free parking, Der Gutschmecker Bad Segeberg is a solid option for budget-friendly accommodation in Bad Segeberg.
Check prices and availability at Der Gutschmecker Bad Segeberg (adlink).

How to get around Bad Segeberg
By foot
Bad Segeberg is a relatively compact city, so the best way to get around is to walk.
It's easy and safe.
Put on some good shoes and get around for free by simply walking from one place to the next – and you'll be sure to see some interesting things along the way, too.
By public transport
We didn't use public transportation in Bad Segeberg ourselves but it should certainly be possible to get almost anywhere in the area with a combination of local trains and buses.
By car
Parking is generally free and easy to find in Bad Segeberg (unless you happen to visit on a night of the Karl-May-Festspiele…).
In the case of paid parking, remember to always bring euro coins for the machines as credit cards aren't accepted everywhere.
How to get to Bad Segeberg
By car
It's generally easy to reach Germany by car from other countries in Europe as there are lots of motorways connected to neighbouring countries.
As soon as you are in Germany, you can get to the Schleswig-Holstein region via Germany's famous autobahn (motorway).
Be aware that cars on the autobahn generally drive fast – and by fast, we mean up to 200 km/h!
There are several sections with no speed limit at all so it's important to look thoroughly in the rearview mirror and side mirror before changing lanes and overtaking.
By train
The train network in Germany is large, relatively cheap and very reliable.
There are many connections between most major cities and to get to Schleswig-Holstein, you can, for example, take the train to Hamburg Central Station (Hamburg Hauptbahnhof) or Lübeck Central Station (Lübeck Hauptbahnhof). From there, there are usually connecting trains to smaller towns like Bad Segeberg.
We have previously used the Deutsche Bahn website to order train tickets.
By plane
To get to Schleswig-Holstein in Germany by plane, you can fly to the big international airport Hamburg Airport (Flughafen Hamburg, shortened to HAM) as well as the smaller Lübeck-Blankensee Airport (also sometimes called Hamburg Lübeck, shortened to LBC) that mostly offers domestic flights.
From there, you can take a train or rent a car.
Use our adlink below to find the cheapest tickets:
Search for the cheapest flight tickets on Momondo.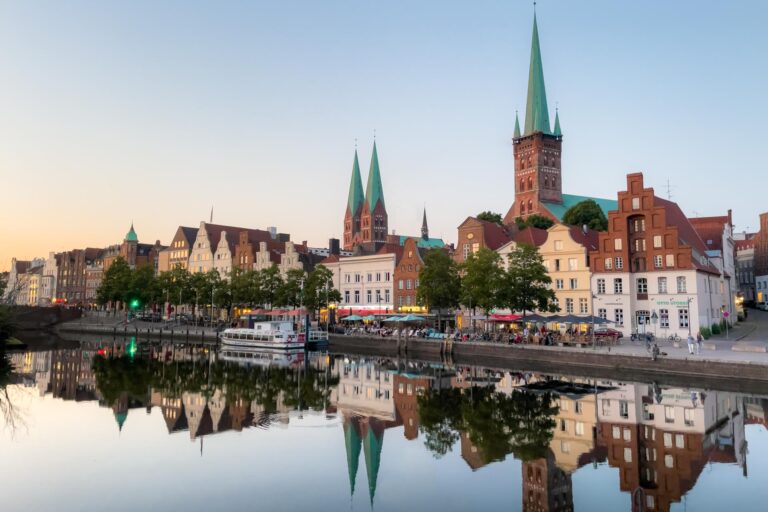 When to visit Bad Segeberg
There is really no bad time to visit Bad Segeberg and the state of Schleswig-Holstein, although there are, of course, noticeable differences between the seasons.
But when is the best time to travel to Bad Segeberg?
We were there ourselves in July and enjoyed warm, perfect summer days.
Like almost all tourist destinations in the world, it's smart to plan your trip around the most common holidays and instead visit in shoulder periods (if that's a possibility for you).
That way you can avoid the biggest crowds and generally get cheaper accommodation and save on car rentals.
If it's not possible to travel outside the holidays, fortunately, Bad Segeberg (and Schleswig-Holstein) doesn't really get crowded.
Seasons
Spring (March, April and May) is a beautiful time to visit Bad Segeberg and Schleswig-Holstein with sunny days and blooming flowers. It can still be a bit chilly, so check the weather forecast before you pack.
Summer (June, July and August) is of course the hottest season and the temperatures can get quite high in July and August. At the same time, it's also at its rainiest in the summer so pack a rain jacket or an umbrella, just in case. The sun is usually shining from early morning until very late in the evening. The summer holidays in Germany are spread out between mid-June and mid-September.
Autumn (September, October and November) is a wonderful time to visit Northern Germany. The autumn colours paint the landscapes in shades of yellow, orange and red. The most beautiful autumn colours can typically be seen at the end of September and in October, perhaps also at the beginning of November before the leaves fall off the trees.
Winter (December, January and February) is generally cold but on the other hand, there are usually fewer tourists. If you're planning to visit during Christmas or New Year, it's smart to book your accommodation ahead of time.

Our best tips for visiting
Credit cards can be used in most shops, but as in the rest of Germany, cash is still often used and it's not unusual for cash to be used in parking and ticket machines, at cafés and the like.
Get up early and be one of the first at an attraction if you want to avoid crowds in the high season.
Drink tap water. It's not only good for the planet, it's also good for your wallet. The tap water in Germany is absolutely safe to drink – so bring a refillable bottle.
Travel to Bad Segeberg outside of the holidays. Accommodation prices are lower, good deals are easier found and there are fewer tourists. If you are not interested in attending the Karl-May Festival, you may want to avoid visiting Bad Segeberg during the festival dates.
What to bring
Travel insurance (adlink). Never travel without it!
A good camera – here's a guide to the gear we use.
Sunscreen (adlink). Especially if you visit Schleswig-Holstein in the summer. We recommend that you use an organic, vegan sunscreen without oxybenzone and other harmful chemicals.
Hiking shoes, sneakers or other shoes you can walk in comfortably.
Swimwear and a towel if you plan to swim in the summer or if you are staying at a hotel with a spa area.
A refillable water bottle and snacks. You can drink the tap water in Germany.
Cash for parking and other small purchases, especially 1 and 2-euro coins. Not all places in Germany accept credit cards.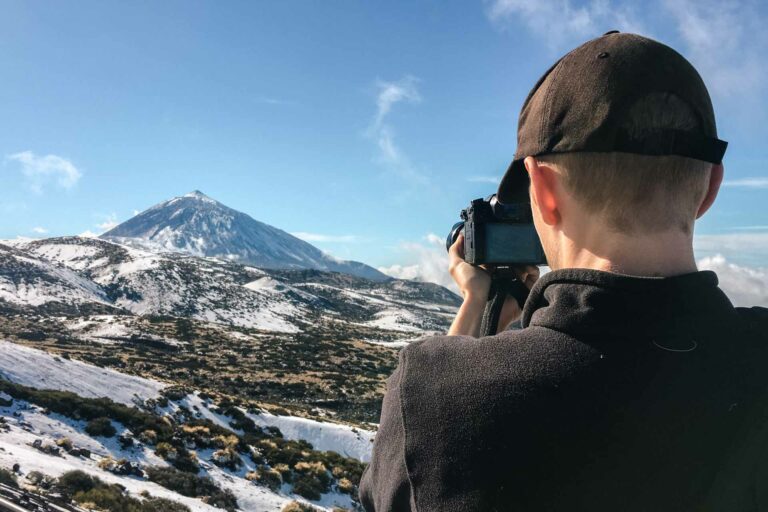 Sustainable travel tips
To travel as sustainably as possible, we recommend the following:
Bring your own drinking water in a refillable bottle.
Avoid single-use plastics.
Dispose of waste properly and do not throw it on the ground.
Check your sunscreen before going in the water. Many brands contain oxybenzone and other chemicals that can be harmful.
Take only photos, leave only footprints. Let everything stay in its natural place.
Respect wildlife.
What do you think of Bad Segeberg?
Thanks for reading our take on the best things to do in Bad Segeberg!
We hope this travel guide to Bad Segeberg in Schleswig-Holstein has been useful.
What do you think?
If you have been to Bad Segeberg or the state of Schleswig-Holstein, it would be great to hear about your best memories and what to do in the area. We would also love to hear about your experience of the Karl-May Festival.
If you haven't been to Bad Segeberg yet, don't hesitate to ask us anything in the comments. We are happy to help!




Our favourite travel resources:
Our camera gear: