Vegan Eating Guide to Garmisch-Partenkirchen in Germany: The Best Restaurants & Cafés
Everything you need to know about finding the most delicious vegan and vegetarian places in Garmisch-Partenkirchen, Bavaria
Are you a vegan or vegetarian visiting Garmisch-Partenkirchen?
Germany's highest mountain and vegan food? Count us in!
We'll be honest: We didn't have great expectations for the vegan offerings of the small mountain town of Garmisch-Partenkirchen.
Having just eaten our bellies very full and satisfied in nearby Munich, our standards were also pretty high.
But to our delight, there were plenty of great restaurants and cafés offering plant-based dishes – and even a fully vegan one.
Read on to discover the best vegan and vegetarian food options in GaPa.
Find all of the mentioned restaurants and cafés on a map at the bottom of the article.
Where to stay in Garmisch-Partenkirchen
Search for the best value accommodation in Garmisch-Partenkirchen here.
Fräulein Grün – 100% vegan
We were super happy to see that there's a completely vegan café option in Garmisch-Partenkirchen. And it's a good one!
Fräulein Grün ("Miss Green") is run by a lovely lady who manned both the kitchen and registry when we visited (twice…)
The menu isn't huge but seemed to be changed regularly.
We loved the warm dish of the moment with sweet potato, pumpkin and couscous. It was just what we were in the mood for after a day of exploring the mountains.
There was also a "Happy bowl" and a Turkish lentil soup on offer.
The cake cabinet was filled with seven vegan cakes when we visited. We ordered the "Swedish apple cake". We're guessing these go on a rotation, too.
Important to note: Apart from other delicious vegan drinks, Fräulein Grün offers up a vegan hot chocolate. Heaven when it's cold outside.
Spacing is limited inside with just a few tables but it's also possible to eat outside.
Supporting all-vegan places like this is very dear to us and we hope that you swing by Fräulein Grün on your next visit in Garmisch-Partenkirchen!
Fräulein Grün is 100% vegan.
Marienplatz 14, Garmisch-Partenkirchen.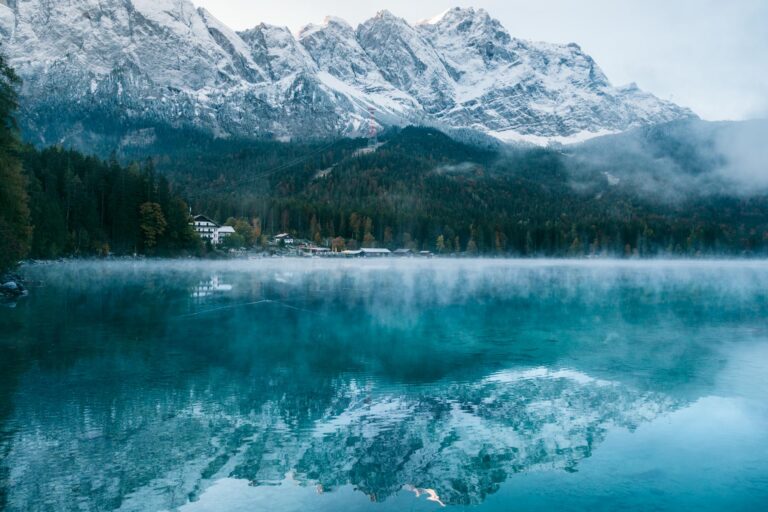 Garmischer Hof – Veggie-friendly brewery
Biohotel Garmischer Hof's restaurant doubles as a delicious eating place and a brewery serving up their own beer.
As we were already impressed with the vegan offerings of the breakfast at the hotel when we stayed there the second time we visited Garmisch-Partenkirchen, we were excited to also try their evening offerings.
The menu is very much classical German food reinterpreted in a modern way.
We had the vegan bowl and a vegan loaf – both bursting with flavour, veggies and creativity.
The dishes were of very high quality and the whole experience of eating at Garmischer Hof was just great. If you're looking for a nice sit-down restaurant in Garmisch-Partenkirchen with rich-tasting vegan options, look no further.
Garmischer Hof serves meat but have several marked vegan and vegetarian dishes on the menu.
Chamonixstrasse 10, Garmisch-Partenkirchen.


Berge – Vegan breakfast options
Berge is a nice little café in the eastern part of town.
"Berge" means mountains in German, so unsurprisingly, the café has a mountain theme.
We ordered the açaí bowl and a rice porridge made with coconut milk with apple sauce on top. Victoria, of course, had a cafe latte with oat milk.
The atmosphere at Berge is quaint and charming. The kind of place where you just want to hang out and talk about anything or nothing at all while drinking a hot cup of coffee.
Berge isn't 100% vegan but has a few marked vegan options on the menu.
Bahnhofstraße 13, Garmisch-Partenkirchen.



Pano – Vegan-friendly café
Pano is a cute little café on the pedestrian-only street in the middle of Garmisch-Partenkirchen.
We didn't have big expectations walking in but were happily surprised that they served freshly baked vegan croissants.
We also ordered a fruit-filled açaí bowl and a serving of oat porridge.
Pano has plant milks for coffee and also serve some simple vegan sandwiches with hummus.
Pano isn't 100% vegan but serves a few vegan dishes.
Am Kurpark 27, Garmisch-Partenkirchen.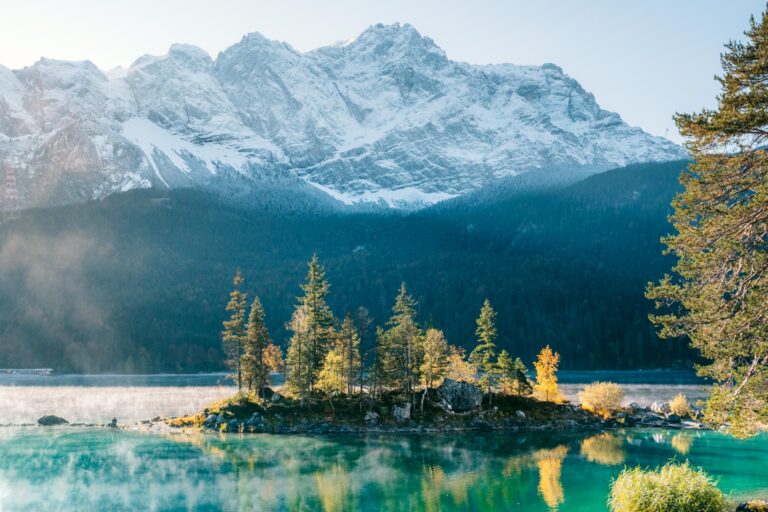 Shaka Burgerhouse – Vegan burger
If you're vegan, it's very easy to choose at Shaka Burgerhouse as there's just a single vegan burger on the menu.
Thankfully, that's enough!
The patty was crunchy and moist at the same time. The vegan cheese was great. The vegetables seemed just right. The bun was tasty and held everything together.
Oh – and perhaps the best part: They serve sweet potato fries. And they're friggin' good.
We don't know if it's a Covid-19 thing, but we were served ketchup in single packets which isn't ideal. Also, it was so packed and busy that the waiters seemed a bit overwhelmed.
Anyhow, if you're in the mood for a vegan burger fix while in Garmisch-Partenkirchen, Shaka Burgerhouse just might be your place!
Shaka Burgerhouse definitely isn't vegan but they have a marked vegan burger on the menu.
Marienplatz 11, Garmisch-Partenkirchen.

La Baita – Italian pizza & pasta
La Baita is a very popular Italian restaurant in walking distance from the town centre.
The menu has a few clearly labelled vegan options.
We ordered a vegan pizza with eggplant, onion and tomato as well as a portion of spaghetti with eggplant and cheeseless pesto. Both tasted delicious.
We liked the service. The food came quickly and our waiter was funny and attentive.
It's possible to sit inside as well as outside at La Baita.
La Baita serves meat but there are a few marked vegan dishes in the menu. Make sure to confirm with the staff that there isn't egg in the pasta, cheese in the pesto etc.
Zugspitzstraße 16, Garmisch-Partenkirchen.



Der Laden – Mostly vegetarian café
When we visited the all-organic café "Der Laden" in central Garmisch-Partenkirchen, they were all out of vegan soup and sandwiches, but thankfully, they still served a few vegan cakes.
We ordered a chocolate cake and a cafe latte made with plant milk.
There were quite a few options for the cakes and we would have loved to try some of their other vegan offerings as well.
The space is quite large and is suitable for an afternoon break. Der Laden also sells local products.
Der Laden isn't 100% vegan but most of what they offer is at least vegetarian. There are also marked gluten-free options.
Chamonixstraße 12, Garmisch-Partenkirchen.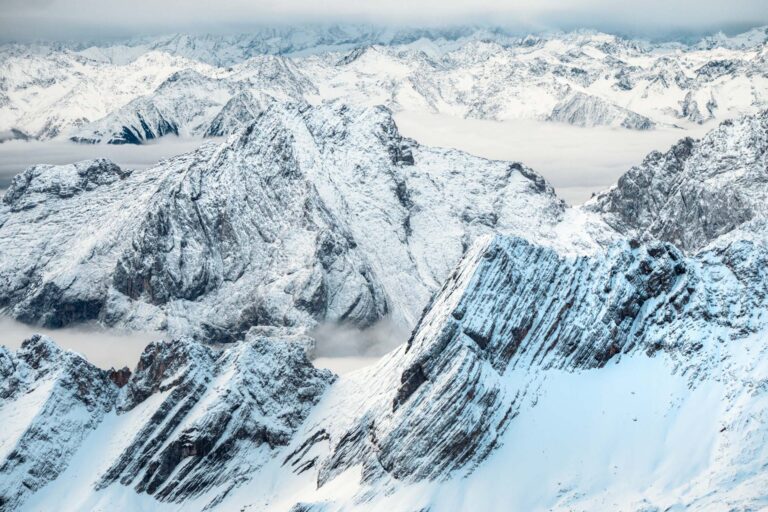 Thang Long – Asian restaurant
While there are no explicitly marked vegan dishes at Thang Long, we noticed that their menu had a vegetarian section.
We asked if the "Dau phu xao curry" (tofu with vegetables in coconut milk and spicy curry sauce) was vegan, and they confirmed that there was no fish sauce or oyster sauce in the curry used.
Perfect! We ordered two of those.
The flavourful curry was just what we needed after a cold day, and both the tofu and vegetables were cooked deliciously. The curry taste mostly reminded us of Thai red curry with added lemongrass.
All in all, Thang Long delivered on a tasty curry and we would happily return.
Thang Long serves meat but has a vegetarian section of the menu of which some of the dishes can be veganised.
Bahnhofstraße 26, Garmisch-Partenkirchen.

San Marco Da Claudio – Italian restaurant
San Marco Da Claudio is located north a bit outside town in Burgrain. We visited the Italian restaurant as we returned from a day trip to Neuschwanstein.
The waiter was very polite and confirmed which dishes were vegan – so we ordered a tomato soup and a pizza (without cheese) with eggplant, olives, artichoke and squash.
Although we wouldn't necessarily drive out of town for the experience, both the pizza and the soup did the job perfectly well.
San Marco Da Claudio serves meat but there are a few marked vegan and vegetarian dishes on the menu. Make sure to confirm with the knowledgeable staff.
Schloßwaldstraße 2a, Garmisch-Partenkirchen.

Vegan-friendly supermarkets in Garmisch-Partenkirchen
The all-organic supermarket chain denn's Biomarkt has a store in central Garmisch-Partenkirchen and it's awesome.
Not only is everything organic, but all products are also clearly labelled vegan, vegetarian and/or gluten-free – so you don't have to fine-read every single ingredient list. Thank you!
The options for vegan food here are just great. No, that's a definitive understatement. They're magnificent. We would so love if denn's opened up a store in Copenhagen.
There's also a dm in Garmisch-Partenkirchen – a huge chain in Germany with 2,000 stores. Though the selection isn't as good as denn's, there are a lot of great vegan and organic products for sale here.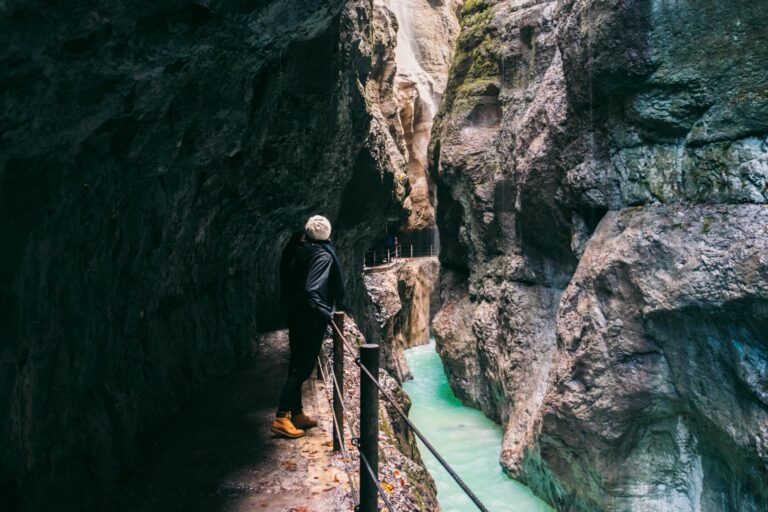 Bonus: Wildkaffee Café
We visited the Wildkaffee Café and were so impressed with their coffee that we thought they deserved a place here.
Though not especially vegan-friendly, their black coffee was super delicious. They roast the beans themselves and then prepare them for you however you like.
The café is located at Bahnhofstrasse 40 + 42, Garmisch-Partenkirchen. There's also a show roastery at Bahnhofstrasse 8.


Map
Here's our Garmisch-Partenkirchen, Bavaria, Germany map with all of the restaurants and cafés mentioned in the vegan eating guide. They're all marked with a light green icon.
Click the icon in the top left corner of the map to navigate using a list.
Hungry for some vegan food?
We hope this restaurant & café guide has made you hungry for the vegan and vegetarian food in Garmisch-Partenkirchen, Bavaria.
Check out the Garmisch-Partenkirchen, Germany map on Happycow for an updated overview of all the animal-friendly places to eat in town.
Have you tried any of the above-mentioned places?
Or do you know of any restaurants or cafés in GaPa that we should eat at the next time we visit the city?
Let us know in the comments. Thanks for reading and happy eating!
Our favourite travel resources:
Our camera gear: