Gaustatoppen Hiking Guide: How to Visit & Best Routes to the Top
All you need to know to climb Telemark's highest mountain with the easiest hiking routes
A panoramic view like no other
Although we haven't seen too many panoramic views in Norway (yet), we believe it when it's said that Gaustatoppen offers the greatest panoramic views of Norway.
It's possible to see about one-sixth of mainland Norway on a clear day.
We were blown away by the sight of mountain peaks and pearly lakes all around us from the summit.
If you don't want to hike, it's also possible to reach Guastatoppen with the funicular railway Gaustabanen in just 15 minutes, making the top accessible to all.
Where to stay near Gaustatoppen:
Search for the best value accommodation near Gaustatoppen here.



What to expect at Gaustatoppen
Gaustatoppen is Telemark's highest mountain (at 1,883 metres above sea level) making it a natural tourist attraction in Southern Norway.
Gaustatoppen has lured happy hikers up its slopes for the past 200 years.
The hike to get to the summit isn't too strenuous, and the views along the way and from the top are spectacular.
You'll want to put on some sturdy shoes, though, as most of the "trail" is just different sized hard rocks.
We saw plenty of children as well as dogs scaling Gaustatoppen. The trails also seemed popular with runners perfecting their off-road skills.
In winter, it's popular to ski down Gaustatoppen or simply to enjoy the amazing views on a clear day.
At the top, the tourist cabin serves simple dishes, coffee and a famous waffle with jam.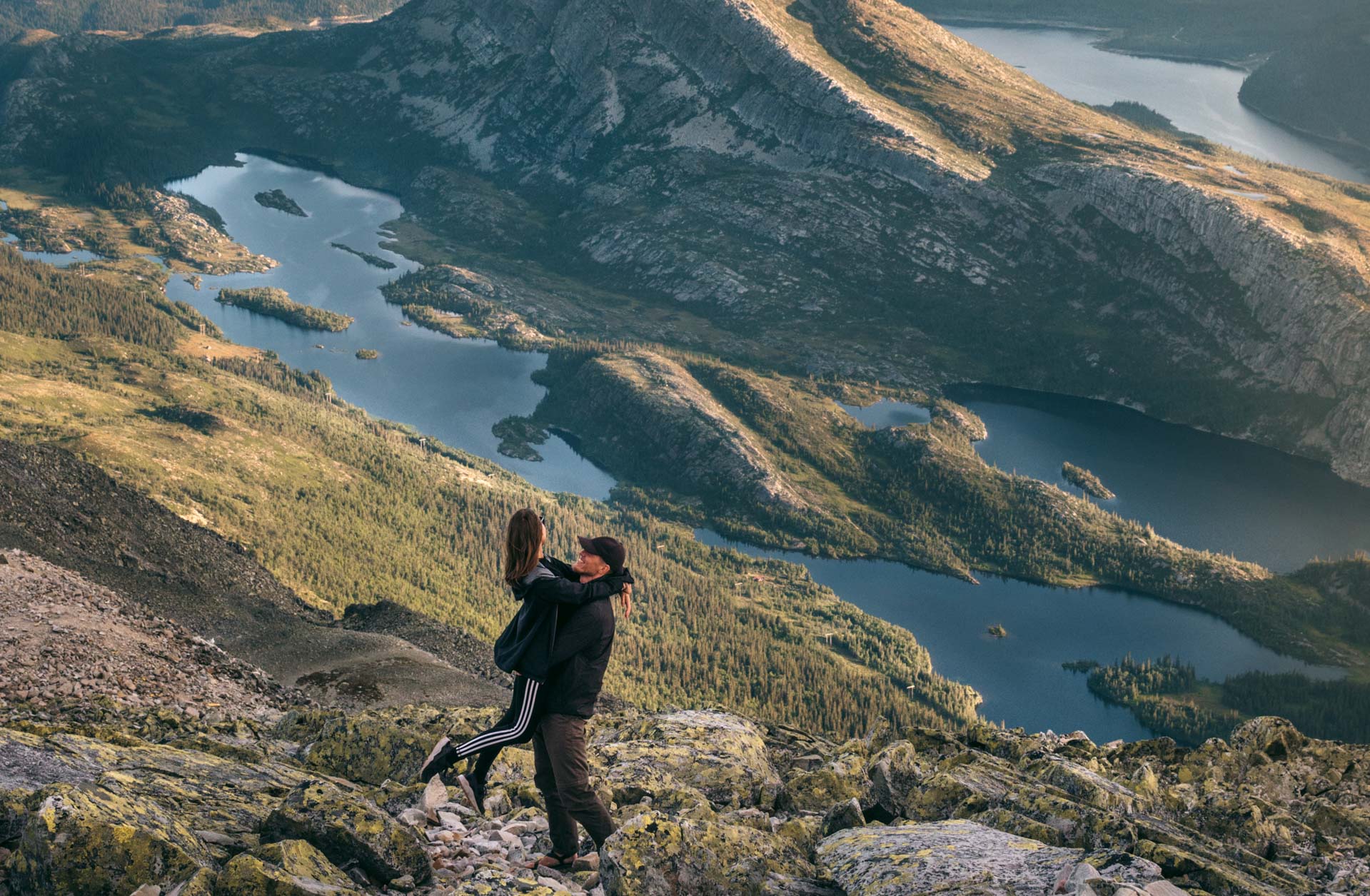 Map
How to get to the top
To get to the top of Gaustatoppen, you have several different options.
There are four official hiking routes (Stavsro, Svineroi, Selstali and Rjukan) – as well as the funicular railway Gaustabanen if you're aren't too keen on walking all the way.
The trails are marked with red T's. With such an open landscape, it's difficult to truly get lost (at least in clear weather).
In Norwegian terminology, the hikes are family-friendly for children who are used to hiking.


Gaustabanen
In just 15 minutes, you can get to some of Norway's best views with Gaustabanen, a funicular railway going up Gaustatoppen. It first opened in 1959.
24 people can be transported at a time each way.
It departs every 15 minutes daily from 09.00 to 18.00. Opening times may vary with the seasons, so it's a good idea to check beforehand at Gaustabanen's website, where you can also see a live webcam feed.
For adults, the price is 320 NOK for a single ride and 440 NOK for a return ticket. For children aged 5-15, the price is 225 NOK for a single ride and 290 NOK for a return ticket (100 NOK equals ~ 11.35 USD / 10 EUR in January 2022).
Children aged 0-4 and dogs ride for free.
It's also possible to buy unlimited access to Gaustabanen for 24 or 48 hours.
Parking at Gaustabanen is free (if you buy a ticket).

Hiking from Stavsro
Hiking from Stavsro is the easiest hiking route (and most popular way) to get to the top of Gaustatoppen. It's marked as being "challenging".
It's about 4.9 kilometres each way with a vertical gain of about 700 metres. The hike starts at about 1,170 metres above sea level.
Most people should be able to hike it in 2-3 hours.
Some parts are almost flat while some are pretty steep. The terrain is very rocky.
Getting back down takes about the same amount of time as going up as you have to really mind your step on the rocks.







Parking at Stavsro
Parking at Stavsro costs 150 NOK for 24 hours.
The amount of spaces are limited.
Arriving in high season in the middle of the day we still easily found a spot for our car, though.

Hiking from Svineroi
At about 3 kilometres, the hike from Svineroi is shorter than from Stavsro, but it's steeper with an elevation gain of about 850 metres.
One way, you can expect about two hours of hiking.
The Svineroi trail converges about halfways with the Stavsro route after a steep ascent.
If you plan to take Gaustabanen one-way and hike the other, taking the Svineroi route makes sense. From the trailhead, it's about 350 metres to the Gaustabanen parking lot.

Hiking from Selstali Seter
Scaling Gaustatoppen from Selstali is a different experience than starting at Stavsro or Svineroi as you'll go east instead of west.
The big difference in terrain is that you'll start in the woods and then move upwards above the treeline.
When you begin the hike at Selstali Seter, you'll walk through Gausdalen past beautiful lakes before connecting to the trail from the south to the top.
Each way, count on hiking about 7.4 kilometres with 900 metres of elevation gain, taking approximately 3 hours.
The terrain is steep in sections.
Park at Selstali Seter. There's a toll road where you need 40 NOK in coins.

Hiking from Rjukan
If you really want to gain some elevation on your hike to Gaustatoppen, consider starting in Rjukan.
From here you'll gain close to 1,600 metres of elevation, putting a serious demand on your legs.
Start at the Rjukan railway station. Once you get to Lislestaul, choose between going up through the Gausdal Valley (~ 7 hours) or the east side via Svineroi (~ 8.5 hours).
As it is a very long hike, consider either sleeping at the top of Gaustatoppen or take the funicular railway back down.

When to visit Gaustatoppen
Seasons
We hiked Gaustatoppen at the beginning of August at the height of the Norwegian summer (June, July and August).
With temperatures 5-10ºC lower than down in Rjukan, it was 10-15ºC on the summit (50-59ºF).
When the sun started setting, we were happy to have brought gloves, but we never felt cold on the hike.
If you dress appropriately and bring extra layers, your biggest worry is most likely a cloud cover obscuring the views.
Even though it rained lightly in the morning, the weather cleared up and offered us perfect views from the summit.
During spring (March, April and May) as well as autumn (September, October and November), you have to plan for even more unpredictable weather, but climbing Gaustatoppen is still a great activity on clear days.
In winter (December, January and February), snow is usually prevalent and skiing down the slopes is popular. You can read more about skiing Gaustatoppen here (in Norwegian).
Access to Gaustatoppen is open 24/7 all year round. Some roads may close in winter.

Time of day
In summer, it seems like visiting Gaustatoppen in the morning might give you better chances of cloud-free views.
Sunset is, of course, also a great time to visit the peak as the last colours of the day fade away into the distance.

Where to stay near Gaustatoppen
We stayed in Rjukan at Rjukan Hytte- og Caravanpark in our campervan.
It's possible to sleep at the tourist cabin on the summit (Gaustatoppen Turisthytte) in summer where there's room for 11 overnighters.
We also saw some people sleep outside in sleeping bags.
If you don't want to camp, consider the places to stay listed below.
Search for the best value accommodation near Gaustatoppen here (adlink).

Rjukan Hytteby
Rjukan Hytteby isn't a standard hotel but rather a provider of camping cabins – not very suitable for short stays but perfect if you intend to stay more than a night or two.
It's located centrally in Rjukan in the valley surrounded by mountains and besides the river.
There's wifi as well as comfy chairs, warm water in the shower, a small kitchen and a fridge. There's also a restaurant on-site – great for getting back from hikes late.
Check prices and availability at Rjukan Hytteby (adlink).


Rjukan Hotell
Rjukan Hotell is located centrally in town and offer comfortable rooms with wifi, private bathrooms and included breakfast.
Parking is free which is very convenient for quickly getting up to Gaustatoppen by car.
Check prices and availability at Rjukan Hotell (adlink).

Skinnarbu Nasjonalparkhotell
Skinnarbu Nasjonalparkhotell is located about 22 kilometres from Rjukan at the Hardangervidda National Park Centre in beautiful surroundings.
If you want to stay near prime hiking opportunities, this is perfect. And the drive into town is very scenic.
The double rooms include free wifi, a private bathroom, daily housekeeping, air condition and a buffet breakfast.
Check prices and availability at Skinnarbu Nasjonalparkhotell (adlink).

What to bring to Gaustatoppen
Sunscreen (adlink). Though the weather can feel cold, the sun is strong at altitude. Even in Norway.
Hiking shoes. Wearing sturdy boots or similar will help a lot with tackling all the stones.
Change of clothes. Bring layers and accessories like gloves and a hat. It can be a lot colder on the top than down by the parking lots.
Plenty of snacks and water. Norway's water tastes so good.
Map and compass. The cold weather will drain your cell phone's battery quicker than you expect it to. Knowing in which direction to head is super valuable when the clouds suddenly roll in.
A good camera – here's a guide to the gear we use.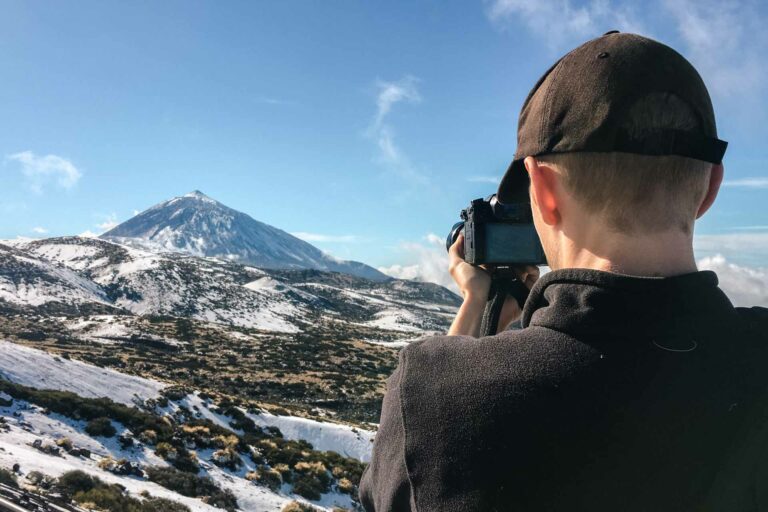 The Norwegian Mountain Code
Plan your trip and inform others about the route you have selected.
Adapt the planned routes according to ability and conditions.
Pay attention to the weather and avalanche warnings.
Be prepared for bad weather and frost, even on short trips.
Bring the necessary equipment so you can help yourself and others.
Choose safe routes. Recognize avalanche terrain and unsafe ice.
Use a map and a compass. Always know where you are.
Don't be ashamed to turn around.
Conserve your energy and seek shelter if necessary.
Source: Dnt.no

Minimise your impact
Having just returned from a long trip to Asia where we encountered rubbish on almost every hike, we were pleasantly surprised to see absolutely no trash on Gaustatoppen.
Let's keep it that way!
To minimise your impact on Gaustatoppen, follow these guidelines:
Bring everything back down. What goes up must come down. There's no trashcan up there so bring back all your trash.
Take only photos, leave only footprints. Let the rocks stay on the mountain.
Be considerate of other visitors. Enjoy the views in silence.
Respect wildlife. Don't chase the cute sheep who live on Gaustatoppen.

Thanks for reading
Thanks for reading our hiking guide to Gaustatoppen in Norway. We hope it has been useful!
What do you think about Telemark's highest peak?
If you've been to Southern Norway, it would be awesome to hear your best tips in the comments. If you haven't been yet but would like to, please don't hesitate to ask away.