A Vegan Eating Guide to Koh Phangan: The Best Restaurants & Cafés
Koh Phangan in Thailand is vegan paradise. Here's everything you need to know about finding the most delicious places to eat
Are you a vegan or vegetarian visiting Koh Phangan?
A big part of the reason we visited Koh Phangan on our recent trip to Thailand was the fact that we had heard so many good things about its vegan food scene.
We were absolutely thrilled to seek out as many of the island's gems as our stomachs allowed us to.
Koh Phangan has even been dubbed "the world's first vegan island", and though that might be far-fetched, it's certainly a true vegan foodie paradise.
Vegan food is everywhere. Most menus have clearly labelled green options and there are at least 15 fully vegan places to eat at plus more than 10 that are fully vegetarian.
Here's our comprehensive guide to vegan and vegetarian food in Koh Phangan.
Find all of the mentioned restaurants & cafés on a map at the bottom of the article.
Where to stay in Koh Phangan:
Search for the best value accommodation in Koh Phangan here.
Thong Sala
Eat.co Bruncherie
If you're in the mood for a healthy (or less healthy) breakfast, head for the Eat.co Bruncherie by the pier in Thong Sala.
We loved the snickers smoothie bowl (insert drool emoji), berry bowl, choco smoothie bowl and amazingly sinful waffles with fruit chunks, coconut whipped cream and caramel sauce.
The coffee was also good and Alex ordered kombucha for that probiotic effect that's supposed to go really well with… well… about 1,000 calories of waffle and smoothie bowl madness!
You can also order things from the kitchen like scrambled tofu, avocado toast, sandwiches and pancakes.
The prices are more than fair and the Eat.co Bruncherie is definitely one of the places we'll revisit in a flash when we return to Koh Phangan one day.
The Eat.co Bruncherie in Thong Sala is 100% vegan.



Vegan Phangan
Walking from the pier into Thong Sala, you'll be greeted with a big sign saying "Vegan".
Welcome to Koh Phangan!
There's no need to question it. Everything Vegan Phangan serves is vegan.
If you're new to the lingo, that means that no animal products are used in any form or way.
Vegan Phangan's menu is impressively diverse with dishes inspired by both Thai, Indian and Italian cuisine and you will most likely find something suitable for both your tastebuds and budget.
We had a spaghetti "carbonara" made with coconut cream and noodles with green curry plus some tempura tempeh – all for just 390 baht (~ 12.3 USD / 11 EUR) including a free miso soup as a starter and small bananas to finish the meal off.
Vegan Phangan also offers free water and tea.
Vegan Phangan is 100% vegan.

Pantip Market
The Pantip Market in Thong Sala is a real foodie paradise.
In the morning you'll only find a few Thai food stalls (not serving any animal-friendly fare as far as we're aware), but when the clock approaches lunch, a horde of stalls and small kitchens open up and start spooning up all kinds of deliciousness until late.
An impressive percentage of the places have at least one vegan option and there are also a few all-vegan kitchens.
Alex loved the red curry he got at Soul Organics for 100 baht (~ 3 USD / 2.8 EUR). Their coconut milk is homemade and very rich. The ladies running the place were all smiles and their cooking seemed heartfelt.
Capana has a really interesting menu. The green tofu wrap with avocado for 220 baht (~ 7 USD / 6.2 EUR) felt just as healthy as it sounds and looked. We would have liked to sample more of their dishes!
Victoria got a plate of hummus with falafels and pita bread at Hummus just next to Capana for 220 baht as well (~ 7 USD / 6.2 EUR).
If you weren't aware, you need some kanom krok in your life. Luckily, you can buy 5 of the small coconut pancake "balls" filled with coconut custard for just 20 baht (~ 0.6 USD / 0.5 EUR) from the sweetest ladies.
The 100 baht burrito (~ 3 USD / 2.8 EUR) was a surprising find. Great value and nice taste for a quick vegan meal.
At an Indian place Victoria had a samosa, some dhaal chana and garlic naan, all for 170 baht (~ 5.4 USD / 4.8 EUR).
In one of the carts close to the street, you'll find tofu sticks and fried spring rolls for just 10 baht each (~ 0.32 USD / 0.28 EUR).
Pantip Market has something for everyone.








Khunpen Vegetarian Food
Found at a cosy narrow street in Thong Sala, Khunpen is a simple and great vegetarian Thai restaurant with some international options.
Victoria had a tofu burger and Alex got a delicious eggplant dish served with rice along with a fresh pineapple juice, all for just 240 baht (~ 7.6 USD / 6.7 EUR).
We even had the pleasure of being able to listen in on the live music from next door.
The portions at Khunpen Vegetarian Food aren't huge, but they're pretty cheap – so consider opting for two dishes if you're hungry.
Khunpen Vegetarian Food is a vegetarian restaurant with vegan options.
Baraka
Baraka is pretty much perfect if you're in the mood for some Mediterranean flavours.
Baraka in Thong Sala has the same owner as Taboon in Sri Thanu and has basically the same concept.
The main difference is that meat is served, there are fries available and there's an ice cream store half-inside the restaurant.
Just like Taboon, the taste is authentic and the portion sizes are great value.
Baraka serves meat but do have vegan dishes.

Pizza Luna
Inside the food market just east of Thong Sala you'll find Pizza Luna where Thai people serve Neapolitan sourdough pizzas.
The pizzas were beautifully charred and can be topped as you like.
Pizza Luna has a vegan cheese option made from coconut yoghurt, almond and cashew milk.
We had a Margherita with extra cherry tomatoes and onions for 240 baht (~ 7.6 USD / 6.7 EUR).
Pizza Luna mainly serves pizzas with cheese and meat but they have a vegan pizza.


Phangan Coffee
Even though Phangan Coffee is less than five minutes driving away from Thong Sala, you probably won't swing by here randomly.
Inside air-conditioned seatings are limited and fill up with digital nomads and other creators pretty fast.
It's a cosy place with quirky, nostalgic decor.
The service was some of the most polite we experienced in Koh Phangan.
Phangan Coffee serves really good organic coffee from Northern Thailand. Both soy, almond and coconut milk is available.
The only vegan dessert was a healthy ball for 45 baht (~ 1.4 USD / 1.3 EUR) made from dates, goji berries and various seeds.
We had an espresso for 50 baht (~ 1.6 USD / 1.4 EUR) and a huge latte for 110 baht (~ 3.5 USD / 3 EUR).


Dots
At Dots, most patrons seem to mean serious business. There are almost more laptops than people!
The wifi is good. The coffee is good. And there's air condition. So it all makes sense.
We joined the other travel bloggers, small business owners and email-repliers and spent a few hours behind our screens here.
There weren't a lot of food options, but we did have a pretty good vegan cookie to go along with our coffees.
At 140 baht (~ 4.4 USD / 4 EUR) for a latte with soy milk, Dots isn't the cheapest place on the island, but if you see it as payment for office time, it's pretty fair.
Dots is a mostly-vegetarian coffee shop with a few vegan options.
Sri Thanu
Pure Vegan Heaven
We absolutely loved Pure Vegan Heaven in Koh Samui.
The Phangan affiliate was still good, just not as good… If you don't have the option of visiting both places, discard this spoiled rant and read on.
Pure Vegan Heaven in Koh Phangan is nevertheless very much a place we can recommend!
It's is 100% vegan and offers a wide variety of internationally inspired dishes.
In one sitting we went a little crazy and ordered their Mexican bowl with guacamole and chilli smoky tofu chorizo, mushroom quesadillas and mung bean falafel wrap with beetroot hummus and greens.
You have to try the mango & passion shake. It's the best.
We also tried their peach and passion smoothie bowl and the burger.
And don't forget to add a dessert – date sticky toffee cake, anyone?
Pure Vegan Heaven is 100% vegan.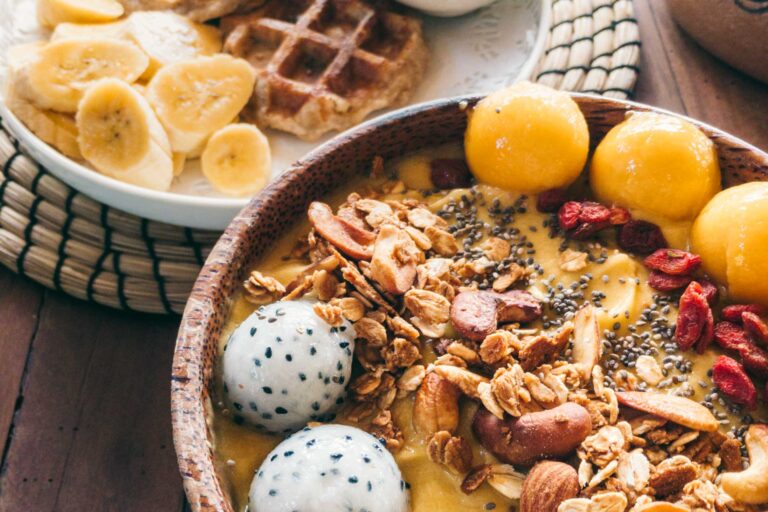 Eat.co in Sri Thanu
Eat.co is all vegan. Yay!
The menu is diverse with lots of different bowls, colourful salads, burgers, meaty mushrooms, savoury beans and desserts.
We ordered ramen and three sliders.
The ramen was more of a noodle soup freestyle than a tribute to its Japanese roots (Alex is a self-proclaimed ramen aficionado). The taste was good though and it was a big portion.
Victoria got the sliders with three samples of the burgers to assemble herself.
The bread was pieces of pita bread which were kind of difficult to make a burger out of plus a small roasted bun which was quite dry, unfortunately.
The coleslaw was great and the three different patties (falafel, mushroom and beetroot) were delicious. There were three different kinds of dips for the patties.
The pina colada freak shake with pineapple and whipped cream was truly freaky and almost too good.
Everything arrived quickly and we enjoyed the calm atmosphere and spiritual vibes.
Needless to say, we left feeling very full! All for just 620 baht (~ 19.6 USD / 17.3 EUR).
Eat.co is 100% vegan.



Taboon
Taboon is a small piece of the Middle East in the middle of Sri Thanu.
Open from early morning to late in the evenings, it's the place to go for falafels at any time.
There are lots of nice seating options from where you can enjoy the eastern inspired relaxation music, plants and bird song.
At just 260 baht (~ 8.2 USD / 7.3 EUR), the pita plate for two is a real steal; 8 delicious falafels, two soft and fluffy pieces of pita bread, tahini dressing and two small bowls of salad – perfectly fitting for the both of us.
The hummus plate for 160 baht (~ 5 USD / 4.5 EUR) and baba ghanoush for 60 baht (~ 2 USD / 1.7 EUR) were also very good.
Service was quick and attentive and there's free water.
Taboon is a vegetarian restaurant with many vegan options.


Chana Masala
Just south of Sri Thanu, Chana Masala serves up both North and South Indian cuisine.
Good South Indian cuisine isn't easy to find in Thailand, so we were very excited to try this place.
Thankfully, our hopes and prayers had been heard and we loved the food as well as the cool ambience.
There are huge indoor and outdoor seating areas where you can choose between sitting on chairs or on colourful pillows at low tables.
The waiters were lovely and whatever we ordered, the food arrived quickly at our table.
We visited Chana Masala twice and both times we ordered the giga-sized vegan masala dosa with chutney and sambal for 200 baht (~ 6.3 USD / 5.6 EUR). Yum!
We also tried a few of the breads and their samosas. It was all good.
Vegan options are clearly labelled in the menu and many ingredients can be substituted.
Plus points for free water.
Chana Masala is vegetarian but very vegan friendly.


Green Gallery
Green Gallery is all about the whole community aspect of being spiritual and free.
We got the impression that this is a place where expats and long-term residents like to hang out and socialise.
There are lots of events including live music on many nights, and the atmosphere is very lively.
The food is good, too. And 100% vegan.
The menu is mainly Mediterranean and Western with a few Asian dishes.
After a long wait on a busy night, we got a fried platter, a "cheese" burger and a "shawarma" plate, all for 710 baht (~ 22.5 USD / 20 EUR).
Green Gallery is 100% vegan.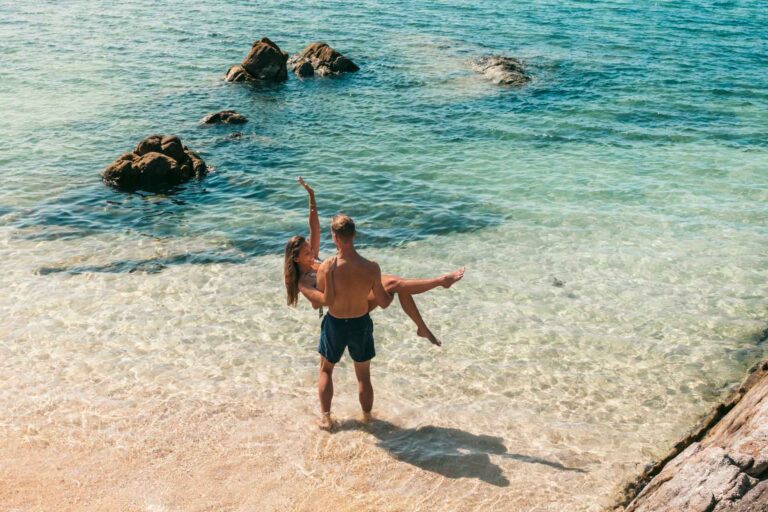 Karma Kafe
The atmosphere at Karma Kafe in Sri Thanu is very cosy with Balinese-inspired furniture, lots of plants and chill music.
Everything is vegetarian and there are also quite a few vegan options.
Victoria ordered the tropical smoothie bowl (surprise) with mango, pineapple, banana and coconut for 180 baht (~ 5.7 USD / 5 EUR).
It was on the liquid side of things with some frozen pineapples in the bottom – kinda weird but still good.
Alex couldn't resist ordering the breakfast bowl with sweet potatoes, mushrooms, bbq tempeh, guacamole, refried beans, tomatoes and spinach for 220 baht (~ 7 USD / 6.2 EUR).
It was delicious, but a bit too small for a hungry Alex.
We also ordered a happy frappe (cold coffee) with coconut milk for 100 baht (~ 3 USD / 2.8 EUR) and a delightful raw chocolate cake for 160 baht (~ 5 USD / 4.5 EUR).
Karma Kafe is vegetarian with vegan options.




Aree's Ayurveda Cafe
You get three options at Aree's Ayurveda Cafe: 100 baht for a small plate (~ 3 USD / 2.8 EUR), 150 baht for a huge plate (~ 4.6 USD / 4.2 EUR) or 200 baht for all you can eat (~ 6.3 USD / 5.6 EUR).
The buffet consists of two Indian inspired vegetable dishes, beans or lentils, salad, bread and some condiments.
We weren't hugely impressed with neither the flavours nor the atmosphere eating there – and the food wasn't warm.
If the concept sounds up your alley, give Aree's a go.
Aree's Ayurveda Cafe is a 100% vegan Ayurvedic and Indian cuisine.

Mama Pooh's Kitchen
It's difficult to define Mama Pooh's.
Part scrapyard, part beach-type restaurant, perhaps? It doesn't really matter.
The food is good and that's the most important thing!
And it's pretty cheap, too…
Then there's that stencil of Mama Pooh herself. Whoever's behind that is a marketing genius.
We had the vegetable spring rolls (could be the best ones in Sri Thanu!), a vegan massaman curry and a vegan pad thai with tofu.
The two main dishes lacked a bit of flavour and savouriness, which might have been due to the omittance of fish sauce.
It's easy to calibrate the dishes to your own taste buds with some soy sauce.
Mama Pooh's Kitchen is mainly for omnivores but it was no problem veganizing the dishes.


Art Café
Art Café is hidden roadside between Sri Thanu and Haad Yao.
The first thing you'll notice inside is the books.
As the café offers free coffee in exchange for a book, they have quite a few.
Get comfortable on the pillows on the floor or sit by a regular table and enjoy a good read and some healthy food.
We had two smoothie bowls; one pina colada and one with protein. You choose your own toppings, which was nice.
There are lots of vegan options available in the menu including desserts such as brownie and banana bread.
Art Café serves vegetarian and vegan dishes.


Taste From Heaven
We might have hit an unlucky night, but we weren't thrilled with neither the food nor the service at Taste From Heaven in Sri Thanu. However, we did arrive late.
The menu looked promising with a range of vegetarian and vegan thai foods and classics.
We both ordered the famous "chicken" burger with sweet potato fries, and though it's difficult to truly complain about a 170 baht meal (~ 5.4 USD / 4.8 EUR), we were just a bit underwhelmed.
Taste From Heaven is a vegetarian restaurant with vegan options.

Big Mountain
Big Mountain is located on top of a hill between Sri Thanu and Haad Yao.
There's a large seating area and a clearly labelled menu with both vegan, vegetarian and non-vegetarian options.
Victoria had a huge serving oatmeal with coconut milk and fruit for 80 baht (~ 2.5 USD / 2.2 EUR).
Alex had the vegan breakfast plate consisting of scrambled tofu, potato wedges, onion, grilled tomato, sausage, two strips of facon, two thick whole wheat pieces of toast, peanut butter, strawberry jam including a coffee and a mango juice – all for 200 baht! (~ 6.3 USD / 5.6 EUR).
Big Mountain is mostly for omnivores but they do have vegan and vegetarian options.

Fruit stall Sri Thanu
It'd be a shame not to eat as much fresh fruit as you possibly can while visiting Koh Phangan.
One of the best places to do are the fruit stalls lining the streets.
A sure bet is the stall on the opposite side of the road from Pure Vegan Heaven in Sri Thanu.
Choose between a small or a big plate for 80 baht (~ 2.5 USD / 2.2 EUR) with fruits of your choice and they'll get cut up and served on a plate with a metal fork.
The coconuts are served with metal straws. That's so awesome!
You can also get fruit shakes or of course buy some fruit to go.
The fruit is, of course, vegan.


Haad Yao
Ying Ying's Kitchen
On the road between Haad Yao and Haad Tian, make sure to stop at Ying Ying's Kitchen for some delectable homemade Thai food.
These kinds of open kitchens are so charming and really makes you feel like you're in Southeast Asia.
The food coming out of the frying hot pans tastes exactly as you'd expect; comfort food bursting with flavour.
For just 350 baht (~ 11 USD / 9.8 EUR) we had vegetable spring rolls, massaman curry with rice, a pad thai with vegetables and tofu as well as a mango shake and a lime shake.
Most dishes can be made vegan and it's possible to choose your own spice level; you get a pen and paper to write your order down.
So as long as your handwriting is eligible you're pretty sure Ying Ying gets your order right!
Ying Ying's Kitchen is mostly for omnivores but they do have plenty of vegan and vegetarian options.


Bubba's Roastery
Bubba's Roastery in Haad Yao is the Instagramming coffee lover's dream.
With a roaster inside the café, you can be almost sure your beans are fresh.
The food menu is also very appetizing.
We each had a drip coffee; one Ethiopian natural (OMG) and a sweet cup from Northern Thailand.
We also ordered the coconut yoghurt with fresh fruit and granola, all for 480 baht (~ 15.2 USD / 13.4 EUR).
You can also find Bubba's Coffee Bar in the south of Koh Phangan, serving breakfast and lunch.
Bubba's has both vegan and vegetarian options.


Pura Vida
We had high hopes when we ordered two vegan açaí bowls, an americano and a latte with coconut milk.
The coffees were good, but one of the smoothie bowls was totally liquid while the other was almost completely frozen.
Tastewise, they weren't too bad but obviously, we had hoped for better textures.
All together the meal was 670 baht (~ 21.2 USD / 18.7 EUR).
Every day, the café looked pretty popular so perhaps we visited on the wrong time…
Pura Vida serves meat but they have plenty of vegan options available.

Rest of the island
Beach Coconuts Bowls
When your smoothie bowl can be turned upside down without dripping out, you know you're in a true expert's hands.
This is the case at Beach Coconuts Bowls.
The small café is run by a lovely Spanish couple who seem truly passionate about their craft. Everything is organic, including their delicious coffee sourced from Chiang Mai.
We ended up visiting thrice, even though we didn't exactly live close-by.
The consistency of the smoothie bowls was incredible and the flavours subtly underplayed, showcasing the high-quality ingredients and craftsmanship.
And did we mention their attention to detail in decorating them?
The bowls cost between 180 and 200 baht (~ 5.7 to 6.3 USD / 5 to 5.6 EUR) and there were so many delightful ones to choose from!
All smoothie bowls from Beach Coconuts Bowls are vegan (or can be made vegan) and they have some breakfast options with milk and eggs. For the coffee, you can choose between different kinds of plant milk besides cow milk.




Organic Vegetarian Food by Mrs. Pong
Getting to Mrs Pong's will be easiest if you have your own wheels.
The place is run by a lovely lady, proud to be serving true homemade Thai foods primarily made from ingredients picked in her own organic garden.
Alex had a red curry with rice plus a deliciously healthy smoothie for 340 baht (~ 10.8 USD / 9.5 EUR).
Mrs. Pong is all vegan, except for one dish containing eggs.

Lin's Thai Vegetarian Kitchen
There was just something really loveable about Lin's Thai Vegetarian Kitchen.
Was it the open kitchen, the old books, the silent hawk-like presence of who was presumably Lin's mother or the tear-inducingly cheap prices?
The question is open, but the great Thai food might also have had something to do with it.
Alex went here alone on his way to town for a quick lunch and had stir-fried morning glory, cashew fried rice and fresh summer rolls, all for just 200 baht (~ 6.3 USD / 5.6 EUR).
Lin's Thai Vegetarian Kitchen is vegetarian with vegan options.
Over The Moon Café
A few hundred metres inland, you can cool off inside Over The Moon Café.
If you can secure yourself one of the air-conditioned tables, it'd be a great place to get some work done.
Vegan options are clearly marked (though beware that some include bee products) and there are both cakes, cookies, ice cream and lots of drinks.
We had an iced latte, a heavy apple cake and some coconut ice cream for 370 baht (~ 11.7 USD / 10.6 EUR).
Though we didn't love the taste, that's not necessarily fair as we had been really spoiled for great food and dessert options for so long at this point.
Over The Moon has clearly marked vegan desserts, although some items include bee products.

That's Amore
Vegan options are quite limited at That's Amore, but when the food is this good, it's still worth a mention.
We shared a pizza with just tomato sauce and garlic along with perfectly tender pasta, also with tomato sauce.
The quality of the Italian ingredients was top-notch and the pizza was baked (close) to perfection. Very impressive.
A nice surprise on the northeastern side of the island!
That's Amore only has very few vegan options.


Map
Here's a map showing all of the vegan-friendly restaurants and cafés in Koh Phangan mentioned in the article.
Click the icon in the top left corner of the map to navigate using a list.
Hungry for some vegan food?
We hope this guide has made you hungry for the vegan and vegetarian food in Koh Phangan.
We sure are!
In fact, we would happily go back with you to try everything again and to also dine at the places we missed the first time around.
For even more options, check out the Koh Phangan map on Happycow.
for an updated overview of all the animal-friendly places to eat on the island.
Have you tried any of the above mentioned places? Or do you know of any restaurants or cafés on the island that we should visit next time?
See you in the comment section below.


Our favourite travel resources:
Our camera gear: