A Vegan Eating Guide to Koh Samui: The Best Restaurants & Cafés
Everything you need to know about finding the most delicious vegan and vegetarian places on the Thai island
Are you a vegan or vegetarian visiting Koh Samui?
Don't worry. We've got you covered.
There are so many delicious vegan options on the island!
You can find local Thai food, burgers, Indian food and Victoria's favourite: smoothie bowls.
Here's our comprehensive guide to vegan and vegetarian food in Koh Samui.
Find all of the mentioned restaurants & cafés on a map at the bottom of the article.
Where to stay in Koh Samui:
Search for the best value accommodation in Koh Samui here.
The Art Club
Situated right next to Koh Samui Hospital on the west side of the island, The Art Club serves a wide array of thai and international dishes – all 100% plant-based.
The coffee is organic, the desserts are very hedonistic in nature and some of the produce is sourced from their onsite organic garden.
The first time we visited, we had an Indonesian satay curry with tempeh, their sushi sandwiches and a brownie for 460 baht (~ 14.4 USD / 12.8 EUR). It was all really good.
Next time we picked a delicious and beautiful mango smoothie bowl for 195 baht (~ 6.1 USD / 5.4 EUR) and waffles with raisins, banana, vegan whipped cream and strawberry sauce.
We stayed for a few hours and used the opportunity to try their Panang curry with tempeh and rice for 140 baht (~ 4.4 USD / 3.9 EUR) as well.
The owner was kind and took some time out of his day to give us a few tips about the island. He also seemed very passionate about healthy, vegan living.
Drinking water was served free of charge, which is a huge plus in our book.
What a beautiful space.
The Art Club is 100% vegan.






Futurehippie
While exploring the southwest part of Koh Samui, we stumbled upon Futurehippie walking down a random road. And boy were we glad we did!
Futurehippie is a yoga retreat as well as a vegan café. In other words, a place right up our alley.
We had two amazing smoothie bowls, a nice cup of coffee and we also tried Mika's freshly baked banana muffins. They were delicious.
For everything, we paid 460 baht (~ 14.4 USD / 12.8 EUR).
The whole vibe of Futurehippie is super welcoming and we loved hanging out there, albeit it was only for a short while.
Futurehippie is 100% vegan.


Pure Vegan Heaven
After having the mushrooms and bean burger with a bun that was oh so perfect and the sweet potato gnocchis with pesto at Pure Vegan Heaven, we had to return the next day for lunch.
Once again, we were blown away by the taste of the breakfast burrito as well as the smoothie bowl with açaí and peanut butter.
We also had an amazing mango and passion shake.
The rest of the menu sounded equally delicious, and we were so happy to learn that we could sample even more from Pure Vegan Heaven's kitchen in Koh Phangan, which we would visit shortly thereafter.
Everything was priced more than fairly.
Both the burger, the gnocchis and the smoothie bowl cost 179 baht (~ 5.6 USD / 5 EUR) while the breakfast burrito only cost 149 baht (~ 4.7 USD / 4.1 EUR).
The kitchen was quick to deliver the goodies.
If you go in the evening, it's a good idea to wear mosquito repellant.
Ps. We tried Pure Vegan Heaven in Koh Phangan too.
Pure Vegan Heaven is 100% vegan.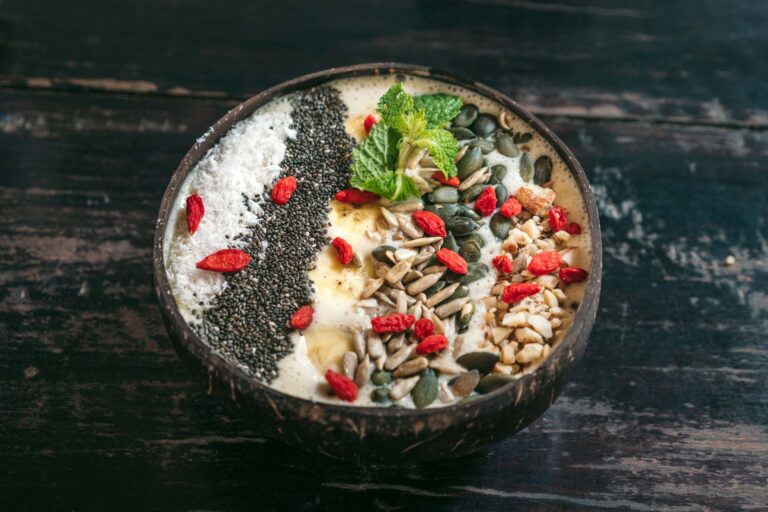 Khunnay
Open daily, the main offer at Khunnay is a 6-8 dish 100% vegan all-you-can-eat buffet consisting of rice, soups, curries and deep-fried delicacies.
Priced at only 120 baht (~ 3.8 USD / 3.3 EUR), it's probably the island's cheapest option if you're a big eater, and still pretty cheap if you just opt for a single plate.
As a nice touch, there's a 100 baht "fine" for leaving food on your plate to avoid food waste.
Apart from the buffet, there's also a big a la carte menu featuring all of your Thai favourites plus refreshing smoothies.
For lack of a better word, the service is adorable. The whole vibe is part holy, part home-like.
There's no A/C, but it doesn't get too hot inside.
It's possible to fill your own glass with ice and water for free.
Khunnay is 100% vegan.


Jay Tamachad
Even if you self-identify as a carnivore, do yourself a favour and give Jay Tamachad a try.
It quickly became Alex' favourite place to eat on the island.
Each of the many (!) dishes he tasted on his uncountable visits were incredibly tasty and rich in both flavour and texture.
When you enter the small restaurant, simply answer whether you want it spicy or no spicy, and you'll get a huge plate with rice and a selection of the meals on offer.
It's also possible to pick out which ones you want to try.
And the price? Just 80-120 baht depending on portion size (~ 2.5 to 3.8 USD / 2.2 to 3.3 EUR). What a steal!
Jay Tamachad is 100% vegan.



Wild Tribe
We kind of wanted to order everything on the menu at Wild Tribe.
We were so tempted to try the avocado sourdough with vegan pesto and the Mediterranean mezze looked delicious as well.
After 10 minutes of reading the menu card trying to decide, we went with a Wild Blueberry Power smoothie bowl and a Japanese Zen Buddha Bowl.
So colourful and soooo good!
We also enjoyed a matcha latte with almond milk and a caffe latte with coconut milk.
Did we visit Wild Tribe a second time? Yes, absolutely.
We chose the vegan pancakes with strawberry-coconut cream sauce, the Chocolate Almond Power smoothie bowl and another caffe latte with coconut milk. Yum, yum, yum!
The first time around we paid 600 baht (~ 18.8 USD / 16.6 EUR), and the second time it was only 480 baht (~ 15 USD / 13.3 EUR). Not bad right?
Wild Tribe had many vegan dishes and desserts, but it's mainly a vegetarian place with a few meat options as well.




Greenlight Cafe
Greenlight offers a huge menu with healthy options for all taste buds.
Most of their ingredients are organic and locally sourced – much of it from their own garden.
Situated between a quiet road on one hand and the adjacent resort Elysia's pool on the other, the ambience is very open and calm.
There are lots of interesting dishes whether you're really particular about the exact ingredients and your health (gluten-free, vegan, etc.) or just want something tasty.
On our first morning in Koh Samui, we had two sourdough bread dishes; one with scrambled tofu and one with peanut butter and banana along with a nice juice for 540 baht (~ 17 USD / 15 EUR).
When we visited Greenlight for dinner, Alex tried their yellow curry and loved the flavour. Victoria had a salad which was fine, but not particularly tasty nor good-value.
The raw vegan cakes we had for dessert more than made up for that, though!
Greenlight Cafe has vegan, vegetarian and gluten-free meals as well as a few fish and free-range chicken options.



Falafel Mor
"Mor" means mother in Danish, which we found quite funny ("Falafel mamma").
By the looks of the thai staff and the Hebrew letters decorating the signs, this isn't intentional.
Falafel Mor is located on the alley leading down to ARK Bar and is a permanently parked food truck open around the clock.
Presumably, it caters primarily to the party crowd. There are just a few outdoor seats.
We went there in the early evening and ordered a hummus plate as the only guests.
That included one fluffy pita bread, five fried-on-order falafels, lots of hummus, some eggplant slices and mixed salad.
At 200 baht (~ 6.3 USD / 5.5 EUR), this fit our stomachs well. A pita bread with a few falafels costs 150 baht (~ 4.7 USD 4.2 / EUR).
The falafels were on the salty side, but all-in-all Falafel Mor delivered on our expectations of Middle Eastern flavours and textures.
A downside was the Styrofoam plate the food was served on.
We usually travel with our food containers and sporks, but unfortunately, we didn't bring them this time… And it was the only time we saw Styrofoam (aka plastic from hell) in Koh Samui.
Bring your own container or order a pita sans plate to save your own health as well as that of the environment.
Falafel Mor only serves vegetarian and vegan dishes.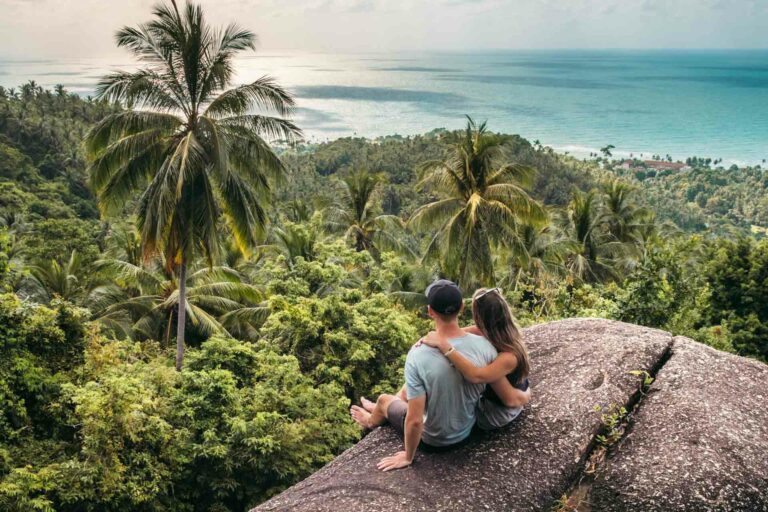 Juice Queen
If you fancy an açaí bowl while visiting Koh Samui (you should), Juice Queen has your back.
The texture of the bowls was amazing, and they were topped with fresh fruit and granola. Yum!
At 150 baht (~ 4.7 USD / 4.2 EUR), they were great value as well. Go vegan by opting out of the honey on top.
We also had two cups of coffee; one americano and one latte with almond milk. They also have oat milk as one of the only places we saw in Koh Samui.
The air condition was refreshingly cool, and we could easily see ourselves sitting here working for a bit.
Apart from cold-pressed juices, Juice Queen also offers various lunch options.
Juice Queen mostly has vegan and vegetarian options, but there are a few dishes with chicken or fish on the menu.

June's Art Cafe
June's Art Cafe is just a stone's throw away from the busy ring road, but stepping inside the contrastingly dark interior to the relaxing sound of Enya, the traffic outside melts away.
The extensive vegetarian menu has lots of raw, gluten-free and vegan options.
It ranges from coffee and popular breakfast offerings, western inspired classics like sandwiches, pasta and salad bowls along with a selection of curries and soups.
We shared the fresh vegetable-filled spring rolls with sour sauce for a starter.
Victoria had spaghetti with vegan pesto and Alex got a Panang curry.
Mere minutes after we had ordered, the dishes found their way to our table, beautifully plated. And the food was incredible!
By the way, June's Art Cafe also has quite a few dessert options…
We couldn't resist trying the (cheeseless) cheesecake with chocolate and the one with passion fruit and mango. They both perfectly hit the spot.
The prices at June's Art Cafe are very fair. For all the above mentioned we paid 810 baht (~ 25.4 USD / 22.5 EUR).
June's Art Cafe serves meat but it's very vegan and vegetarian-friendly.





Vikasa Life Café
Get a table with an ocean view at Vikasa Life Café for the perfect (healthy) date night.
Compared to the rest of the places we have been in Koh Samui, it's a bit more expensive, but it was worth every baht!
Victoria tried the Mediterranean bowl with quinoa, chickpea falafels, hummus and greens and Alexander went for an Asian bowl with buckwheat soba, greens, asparagus, avocado and mango chutney curried cashews.
Both cost 320 baht (~ 10 USD 8.9 / EUR) and they were biiiig.
For dessert, we shared a raw cheesecake with raspberry and vegan white chocolate and woooow… It was probably the best vegan cheesecake we have ever tried!
Life Café serves healthy food with many vegan and vegetarian options as well as ways to be raw, dairy-free or gluten-free. They also serve dishes including chicken or seafood.



Hungry Wolf
At first glance, Hungry Wolf doesn't look like the type of place that has a separate vegan menu (they dub themselves a meat and pizza restaurant), but they do, and it's quite extensive.
We shared a vegan burger with a sweet potato-based patty and the vegan pizza caprese.
To make sure we had too many calories that night, we also had their vegan mango sticky rice for dessert.
The prices were 270 baht (~ 8.7 USD / 7.7 EUR), 250 baht (~ 8 USD / 7.1 EUR) and 120 baht (~ 3.9 USD / 3.4 EUR) respectively.
Everything was great. The service was quick and attentive and the atmosphere was surprisingly calm for a fight night on Chaweng.
Next time we visited we opted for the smoothie bowls. We loved the one with strawberry almond and the one with peanut butter!
We paid 260 baht per bowl (~ 8.4 USD / 7.4 EUR) and they were really big.
Hungry Wolf is mostly for omnivores but they do have a separate vegan menu.



Prava
She's from New Orleans and he's from Thailand – and shortly after they met on Maenam Beach in Koh Samui, they opened a restaurant together.
Today they serve their favourite dishes from around the world at Prava.
That includes Mediterranean and Middle Eastern dishes with falafels and eggplant, Mexican quesadillas and tacos, Indian curry and of course Thai food – along with mouthwatering smoothies and usual breakfast favourites.
The prices are more than fair and the service is quick.
We ended up dining at Prava four times!
We got a huge vegan pad thai for only 85 baht (~ 2.7 USD / 2.4 EUR), a vegan falafel wrap for 185 baht (~ 5.8 USD / 5.1 EUR), the vegan mezze platter for 180 baht (~ 5.7 USD / 5 EUR), a smoothie bowl for 175 baht (~ 5.5 USD / 4.9 EUR) and several of the exquisite slow pressed juices and shakes priced at just 80 bath each (~ 2.5 USD / 2.2 EUR).
Prava is located on the walking street leading down to Maenam Beach.
Prava is mostly for omnivores but vegetarian and vegan options are clearly marked.



Homemade Burger and Sandwiches
At just 80 baht for a vegan burger (~ 2.5 USD / 2.2 EUR), it's hard to beat this food stall on value.
Basically just a small stall with semi-communal type sitting in the yard shared with a few other stalls selling Thai food and drinks.
While Victoria was down with the flu, Alex hopped on the scooter and whizzed away to grab two takeaway burgers (in our home-brought IKEA containers, of course, which they welcomed with a smile).
The burgers were simple and really tasty.
The black beans based patty had a perfect chewy texture and the sauce was on point.
We came back several times and also tried the other vegan burger with a sweet potato patty which became Victoria's favourite.
All in all, it is very easy to recommend Homemade Burger and Sandwiches if you need that burger fix!
Homemade Burger and Sandwiches primarily serves meat but they have a few vegan and vegetarian burgers.

Babu's Indian Hot
If you're in the mood for a North Indian cuisine while in Koh Samui, Babu's Indian Hot is a great bet for really authentic dishes.
We also tried The Curry Pot in Chaweng, but we definitely preferred Babu's Indian Hot to that and went back there for our third round of Indian food.
The first time we ordered a thali (set meal) along with some extra roti and curry and got our senses bombarded by the rich and deep flavours.
The second time we got chana masala, dal tadka and vegetable curry with rice and lots of naan.
Bread cost between 35 and 45 baht (~ 1.1 to 1.4 USD / 1 to 1.3 EUR) while the different curries cost about 100 baht (~ 3.1 USD / 2.8 EUR). Dishes with meat are more expensive.
The food arrived quickly and with huge smiles from the staff.
They also took Victoria's request of "no spicy!" literally so the food was edible for all without losing any punch.
If you're on the fence about whether or not you like Indian food, Babu's will surely win you over.
And if you already love it, your love affair will only grow stronger here!
Veganizing the vegetarian dishes was no problem.
Babu's Indian Hot serves meat but there are many vegetarian meals on the menu and it was no problem making them vegan.
Map
Here's our Koh Samui map with all of the restaurants and cafés mentioned in the article.
They're all marked with a light green icon.
Click the icon in the top left corner of the map to navigate using a list.
Are you hungry now?
We hope this guide has made you hungry for the vegan and vegetarian food in Koh Samui.
You will not be disappointed.
In fact, we would happily go back with you to try everything again!
For even more options, check out the Koh Samui map on Happycow for an updated overview of all the animal-friendly places to eat on the island.
Have you tried any of the above mentioned places? Or do you know of any restaurants or cafés on the island that we should visit next time?
Let us know in the comments.


Our favourite travel resources:
Our camera gear: