Overlap Stone in Koh Samui Travel Guide: How to Visit & What To Expect
Everything you need to know for that perfect photo
A balancing rock
The Overlap Stone in Koh Samui is a balancing rock, situated on another big rock providing grand views of Koh Samui's east coast.
It might even be the best Koh Samui viewpoint.
When we visited in early 2019 we were all alone at the Overlap Stone.
We hung around, took some photos and really enjoyed the tranquillity of the place.
Even without the rock, it would still be a really cool and picturesque area.
Not too many people know about Overlap Stone (yet!), so visiting still feels like a small adventure off the beaten path in Koh Samui.
Here's our guide to visiting Overlap Stone, including what to expect, practicalities, how to find the stone and more.
Important update (2023): It has come to our attention that the experience at Overlap Stone has changed quite significantly since our visit.
First of all, it has become much more popular. It seems like people are now lining up for the famed photo. Secondly, it seems like parking is now 50 baht and there is also an entrance fee of 50 baht (~ 1.4 USD / 1.3 EUR).
Where to stay in Koh Samui:
Search for the best value accommodation in Koh Samui here.

What to expect from Overlap Stone
Arriving
You can actually see the Overlap Stone from the coast, way up there in the jungle.
After turning off Koh Samui's the main ring road, we drove a few minutes up some steep (but thankfully gravelled) roads.
We were met with hand-painted signs saying that we should park our scooters, and so we did.
Then we followed the signs and walked a scenic route all the way out to the 8-metre tall Overlap Stone itself – and the amazing view.
From the Overlap Stone, you can see Lamai Beach as well as some of the surrounding jungle and landscape.
When we arrived, there were no people there.



Visiting Overlap Stone
It felt a bit like we intruded on someone's backyard, as a family definitely lives right next to the Overlap Stone.
As long as you keep calm and relatively silent there should be no problem. They do encourage the visitors themselves.
We made a small donation in the donation box and then hung out for a bit snapping photos and took in the view.
The Overlap Stone is such a cool place to chill.
The bridge leading out to the stone itself seemed solid.
Just be careful of your footing by the end and out on the platform. This isn't Disney World; you're on your own.


More stones
When going back down, consider exploring more of the area.
There are huge stones right next to the place we parked and fantastic views from there as well.




Overlap Stone practicalities
There are no facilities at the Overlap Stone itself.
We parked at a small restaurant nearby where you can buy drinks – including fresh young coconuts for 40 baht (~ 1.2 USD / 1 EUR) – as well as use a toilet.
Parking
After a few minutes of riding on the steep road, you'll get to a spot which says to "park your scooter here".
And so we did.
We paid 20 baht (~ 0.6 USD / 0.5 EUR) for parking by the restaurant.
The ground was sort-of level, and thankfully we found our scooter still standing upright when returning!
Price
As visiting Overlap Stone is donation based it's technically free, but the donation box recommends 20 baht per person (~ 0.6 USD / 0.5 EUR) – which is still very fair for such a fantastic view!
And then there's the parking if you get there by scooter, which we definitely recommend you do.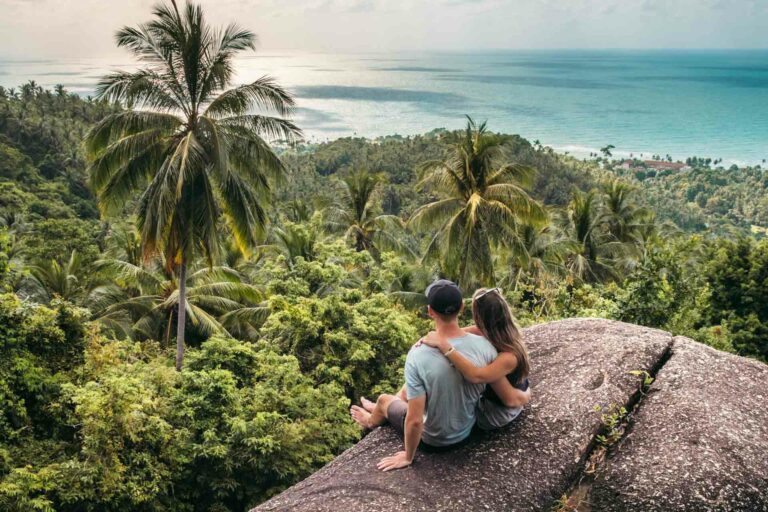 How to get to Overlap Stone
Finding your way to Overlap Stone isn't as easy as finding many of Koh Samui's other attractions, but if you do your research it's easy enough.
Having an offline map downloaded to your phone also helps.
A map won't take you all the way out to the stone, though, but it will get you far enough that you can find the rest of the way following signs.
Map
Overlap Stone is located up in the hills relatively close to Lamai Beach on Koh Samui's east coast.
Driving directions to Overlap Stone
Turn off Koh Samui's main ring road by the red temple (Wat Sila Ngu), towards the mountain.
The road is gravelled so most scooters should be able to handle the trip up to the stone, no problem.
Just be aware that the road does get pretty steep.
If that makes you uncomfortable, park your scooter further down and hike up. It isn't too far.
From where we parked we walked 5-10 minutes to reach the Overlap Stone.
We simply followed the painted signs.
Driving back down is even easier than getting up there; just take it really slow and you'll be fine.

Walking from Lamai Beach
While it is possible to walk all the way to the Overlap Stone, we would recommend hiring a scooter instead.
Getting around the island is so much easier on two wheels.
And if you hike in the burning Samui sun, you will get hot – not great for those Overlap Stone selfies!
If you do decide to walk, just take it slow up the hill and remember to drink plenty of water.

When to visit Overlap Stone
The Overlap Stone would such a great place to see the sunrise.
When we visited the Overlap Stone, the sun was high in the sky.
The view should be good at all times of the day.
As the sun sets behind the mountains on the other side, visiting Overlap Stone at sunset isn't ideal, but you can probably get some nice colours in the sky.
Visiting when it isn't as hot might also be a factor for you, as hiking in the Koh Samui sun does bring out some sweat!

Where to stay near Overlap Stone
Lamai Beach
Lamai Beach is the second most popular beach in Koh Samui following Chaweng.
It's less crowded than Chaweng Beach but you can still find lots of hotels, restaurants and bars lined next to each other on the beach.
In other words; it's a great option if you don't need that many party and shopping options, but still prefer to have a wide variety of restaurants, massage parlours and big supermarkets to choose from.
The beach is lovely and long enough to never feel completely packed.
It can be a bit difficult to access the beach if you don't stay at a beachside hotel though.
Staying near Lamai makes day trips to the waterfalls of the south a breeze and also offers you a quick getaway to the less developed parts of Koh Samui. Including to Overlap Stone.
Search for the best value accommodation near Lamai Beach here (adlink).

Le Meridien Koh Samui Resort & Spa
Le Meridien is situated in the northern end of the Lamai area, nestled between the mountains.
This means you'll be about a 20-minute walk away from most of the tourist options, but if you're staying at La Meridien, they probably won't be needed.
The private beachfront location has stunning ocean views and the resort offers great facilities, including a beautiful seaside pool, full-service spa and a gym.
If your budget allows it, the resort is amazing for a honeymoon or romantic vacation.
For visiting Koh Samui's other beaches and towns, Le Meridien offers complimentary shuttle services.
Check prices and availability at Le Meridien Koh Samui Resort & Spa (adlink).

Samui Jasmine Resort
Check out Samui Jasmine Resort if you're looking for a good value 4-star hotel in Lamai.
Situated on the northern end of the beach' action, you'll have access to plenty of restaurant options while still being away from some of the noise.
Choose between garden view or sea view, and then hop between the pool and the beach.
Check prices and availability at Samui Jasmine Resort (adlink).

Samui Sense Beach Resort
For staying centrally in Lamai by the beach on a budget, Samui Sense Beach Resort is a great choice.
With free wifi, a private bathroom and air conditioning you have your bases covered.
Choose between lounging by the pool or on the beach – and then use the money you've saved on accommodation at Lamai's many restaurants or by getting a relaxing massage.
Check prices and availability at Samui Sense Beach Resort (adlink).

Silver Beach
Between the beaches of Chaweng and Lamai, you'll find this little gem surrounded by large rocks.
Silver Beach, or Crystal Bay as it's called as well, has pure white sand and clear water.
It probably had the prettiest, most saturated turquoise water of all the beaches we visited in Koh Samui. A real treat for beach lovers.
Here you can avoid most crowds while still being just a short drive away from the many options of Chaweng and Lamai (including the Overlap Stone).
Search for the best value accommodation near Silver Beach here (adlink).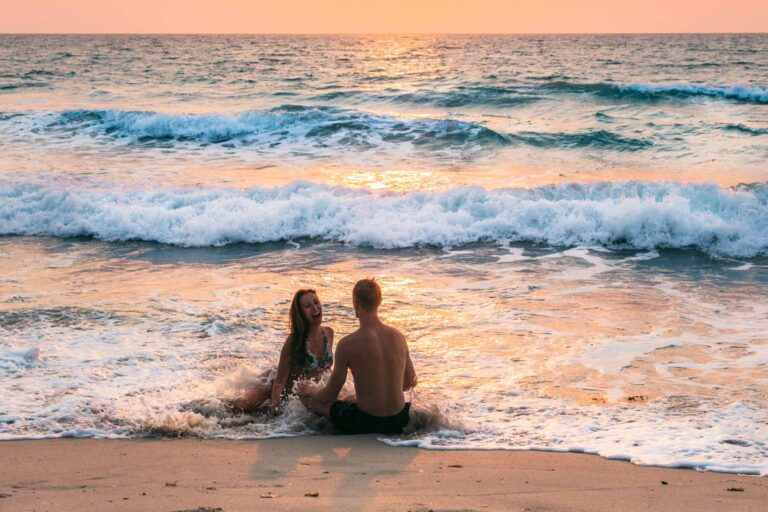 Crystal Bay Yacht Club
Nestled behind the rocks on Silver Beach' south end, Crystal Bay Yacht Club holds amazing views over the bay.
There's a pool, the rooms look very nice and according to our research, this is the best value accommodation on Silver Beach.
Check prices and availability at Crystal Bay Yacht Club (adlink).

What to bring when visiting Overlap Stone
Thai baht in cash (preferably small bills) for the donation and parking.
Sun protection; a hat, sunglasses, light covering clothes and an eco-friendly sunscreen (adlink).
Proper shoes aren't strictly neccesary but might be nice the hike and for climbing some of the other stones in the area.
Plenty of water.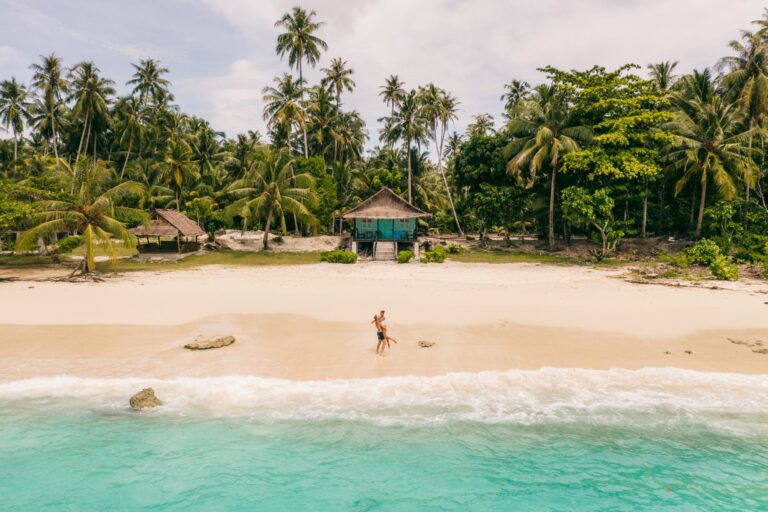 Minimise your impact
To minimise your impact when visiting Overlap Stone, try to follow these guidelines:
Bring your own drinking water in a refillable bottle (adlink).
Avoid single-use plastics, including straws.
Dispose of waste properly. Preferably take anything you bring to Overlap Stone back to your accommodation with you.
Be considerate of other visitors and the family living by the stone.
Respect any wildlife you might encounter.
Also, consider going beyond minimising your impact by joining the Adventure Bag Movement and pick up some trash during your exploring.
The future for Overlap Stone
We predict that visiting the Overlap Stone will only increase in popularity during the coming years (in small part due to guides like this and the images we and others have published on Instagram).
The big tour buses will probably have a hard time getting up the road, but 4x4 tours might start arriving soon.
We hope that this is good news for the family living by the stone.
As they must have had a say in building the bridge out to the stone (and reaping some donations), an increase in visitors is hopefully positive for the area.

Thanks for reading
We hope this travel guide to Overlap Stone in Koh Samui has been useful.
What do you think about the balancing rock? Did someone put it there??
If you've been to Overlap Stone it would be awesome to hear about your experience in the comments below. If you haven't been yet but would like to, please don't hesitate to ask us anything. We're glad to be of assistance.



Our favourite travel resources:
Our camera gear: