A Complete Travel Guide to Koh Phangan: Chill Out, Relax and Rejuvenate
Everything you need to know including where to stay, what to do and where to eat on Koh Phangan
An island of spiritual hedonism
Thailand is one of our favourite countries and we love coming back over and over.
After one and a half months on Koh Samui at the beginning of 2019, we were very excited to go to Koh Phangan.
Back in 2014 we only visited Koh Phangan for a single night and yes, it was for the Full Moon Party.
And while it was a fun and unforgettable experience with our friends, this time we came for the many delicious food options and the relaxed vibe.
During our two weeks on the island this time around, we actively avoided being on the island during the full moon.
And we fell in love with this pristine hippie paradise.
In this travel guide, we will tell you everything you need to know about Koh Phangan and share all of our best tips and secrets.

Why visit Koh Phangan
Many people come to Koh Phangan for the Full Moon Party, the Half Moon Party or even the Black Moon Party.
But there's so much more to this gorgeous island.
The beaches are stunning and the water so clear.
The palm tree-lined roads curve beautifully through the lush landscapes.
Traffic on most roads is near non-existent, making exploring Koh Phangan on your own two wheels a delight.
The food options are overwhelmingly good, especially if you're into eating healthily. Fresh fruit is abundant, and so are fully vegan restaurants and cafés.
The weather is perfect for most of the year.
And as always with Thailand, the people will make you smile time and time again.


Koh Phangan orientation and map
Koh Phangan is located in the Gulf of Thailand – off the east coast of the Kra Isthmus and a part of Surat Thani Province.
Most visitors will arrive on Koh Phangan by the pier in the main town of Thong Sala. This is the main commercial centre of the island.
Some will turn southeast towards Haad Rin, particularly known for the monthly Full Moon Parties.
The east coast north of Haad Rin is scarcely developed but has some very nice beaches and resorts.
Heading northwest from Thong Sala you'll reach the island's spiritual centre Sri Thanu before approaching the beaches of Haad Yao, Salad Beach and Mae Haad Beach.
Chaloklum in the north is very relaxed and popular with divers.

When to visit Koh Phangan
When is the best time to visit Koh Phangan?
Koh Phangan is an all-year-round holiday spot.
The weather is really pleasant most of the time and there are lots of things to do in any kind of weather.
Throughout the year, the average temperature is about 28°C (82ºF).
Generally, there are three seasons on Koh Phangan: the dry season, the hot season and the rainy season.
There's always a chance it's gonna rain, but October and November are the wettest months.
February and March are the sunniest and driest months on Koh Phangan.
As with any other place, the weather can change from year to year.

Dry season (December to March)
In the dry season, the weather on Koh Phangan is amazing.
Peak season is from mid-December to mid-February.
If you're planning your vacation during these months it's recommended to book in advance.
There will always be available accommodation on Koh Phangan, but the best hotels, bungalows and villas might be fully booked.
Read more about where to stay on Koh Phangan here.
We visited from March 2 to March 15 in 2019 and the weather was perfect.
The sun is very strong, especially from around 11 am to 3 pm. We recommend that you eat lunch, take a nap or at least stay in the shade at this time.

Hot season (April to August)
In the hot season, you can expect hot daytime sunshine followed by cooling afternoon rain showers.
Because of the holidays, July and August are popular months to visit Koh Phangan.
The region is one of the drier ones in Thailand during the summer months.
Rainy season (September to November)
It rains quite a lot from July to December with October and November being the rainiest months.
Like in most other tropical places, it's usually heavy rain for a short amount of time.
You will also have many hours of dry and sunny weather even if it's rainy season.
As always, there are pros and cons to visiting Koh Phangan during the low season.
It's much less crowded and you can be lucky to find great deals on accommodation.
The landscape will be greener and the waterfalls will flow freely.
You'll have to deal with the showers, though.

Beaches on Koh Phangan
In general, the beaches on the east coast of Koh Phangan are better suited for swimming as the west coast beaches have bigger tidal variations due to offshore reefs (and are shallower).
The sand is very fine on most beaches and they're all great for playing and tanning.
Of course, the sunrise can be seen from the beaches on the east coast and the sunset from the west coast beaches.
Sri Thanu Beach and Zen Beach
Heading directly towards the ocean from the south part of Sri Thanu (around Karma Kafe), after crossing a small bridge, Sri Thanu Beach will greet you in all of its glory.
It's probably the widest beach of the island, though development sits on most of the sand. There's still plenty of room, though.
And it's beautiful.
If you don't mind getting wet, you can reach Zen Beach by heading north. Otherwise, get back out to the road and then turn left by the language school by the start of the lake.
Zen Beach is perhaps even prettier than its southern neighbour.
We wouldn't mind spending a few days on the two… to, you know, really compare them.
Read more about where to stay near Sri Thanu Beach and Zen Beach here.



Secret Beach
Well… If "secret" is in the name, can it truly be secret?
Nonetheless, adding some allure seems to be great for marketing, because Secret Beach is very popular.
When we arrived in the middle of the day, lots of people were sunbathing, swimming and generally having a great time on Secret Beach. It wasn't crowded, though.
There's also a nice beach bar serving snacks and drinks.
If you go all the way to the left of the beach towards the rocks, there are almost no people. We found ourselves a perfect little spot.
You can even climb the cliffs or walk around them in the water, and there will be two more small beaches with only a few people – those people might be naked though, as the extra hidden beaches are considered non-official nudist beaches.
Read more about where to stay near Secret Beach here.


Haad Yao Beach
It's easy to enjoy your vacation on Haad Yao Beach.
As with most places on the island, it's a chill place to hang out.
The massage ladies wave and smile, a few children run around, the dogs are playing and people seem genuinely happy.
There are lots of restaurants and bars with just enough space between them to make the beach seem pristine and developed at the same time.
At low tide, the water level gets really low. Haad Yao Beach is calmer at its northern end.
Read more about where to stay near Haad Yao Beach here.

Haad Thien Beach
This beach is very small, but you won't be sharing it with more than a few other people from the Dolphin Bay Beach Resort.
You can stroll along a paved boardwalk, but not much happens here. And that's the point.

Haad Gruad Beach
Haad Gruad Beach seemed popular with the dedicated yoga crowd, and we also spotted a few people donning their birthday suits.
We went there just before sunset and the vibe was very chill.
There's a small restaurant or two and a huge swing.
Read more about where to stay near Haad Gruad Beach here.

Haad Salad Beach
This northwestern beach is quite long and there are lots of restaurants where you can dine looking at the ocean, admiring the sunset.
Salad Beach will appeal to most people looking for a beach in Thailand.
It's relaxed, not too crowded and has just enough options to keep you occupied.
The beach is nicely sheltered on both its southern and northern ends.
Read more about where to stay near Haad Salad Beach here.

Mae Haad Beach
Mae Haad Beach is definitely one of Koh Phangan's more unique beaches.
At low tide, you can walk along the sandbar to the nearby small island of Ko Ma.
The beach itself is long, wide and all in all a very attractive place to worship the sun and the gentle waves.
Read more about where to stay near Mae Haad Beach here.

Malibu Beach
Stretching westward from Chaloklum Bay, Malibu Beach was one of our favourite beaches on Koh Phangan.
The cute looking round trees are a fun addition, but the real star of Malibu Beach is the fine-as-powder sand and incredibly clear water.
There's also a swing for your 'gram.
Read more about where to stay near Malibu Beach here.


Chaloklum Beach
Chaloklum Beach in the north is primarily a fishing village.
The main village of Chaloklum is located in the middle of the beach and here there's a local vibe and you can see lots of fishermen with longtail boats.
To avoid the boats, you can swim at the western and eastern ends of the bay. The sand is white, there are plenty of palm trees and it's pretty quiet.
All the way to the left, you will find the gorgeous Malibu Beach.
Read more about where to stay near Chaloklum Beach here.

Bottle Beach
Bottle Beach can only be reached by boat or by trekking through the jungle, and herein lies some of its appeal.
The reward for getting to this hard-to-reach beach is a pristine stretch of sand with incredible water.
Thong Nai Pan Beach
The Thong Nai Pan Beach is divided into two; Thong Nai Pan Noi (north) and Thong Nai Pan Yai (south). You can find them in the northeastern part of Koh Phangan.
Even though it's a remote part of the island, shops and many great restaurants are available.
We stayed a few days with Buri Rasa Village at Thong Nai Pan Noi and enjoyed the laid back vibe.
Read more about where to stay near Thong Nai Pan Beach here.

Eastern beaches
The east side of Koh Phangan is not as developed as the rest of the island.
However, if you go there you can find some beautiful beaches like Haad Than Sadet Beach (close to Than Sadet Waterfall), Haad Thong Reng, Hat Nam Tok, Hat Yang, Haad Why Nam Beach and Haad Yuan Beach.
There are also a few beaches named the same as on the westside: Hat Yao (east) and Haad Thien (east).
Southern beaches
As previously mentioned, Haad Rin Beach is where the Full Moon Party happens.
If you want to party, this is the place for you.
When we visited this time, we didn't go to Haad Rin but the beach looks really pretty during the day and when it's not a full moon.
Leela Beach in the south is worth a visit as well if you are in that area.
If you want to learn more about Haad Rin and Leela Beach, Places of Juma has a great article with the top 12 beaches in Koh Phangan.
What to do on Koh Phangan
Hang out on the beach
Even if you aren't the beachgoing type, you have to head to Koh Phangan's beaches to experience their peacefulness.
Their tranquillity isn't unmatched in Thailand, but the sense of community, especially on the west coast, is pretty unique.
And the water is beautiful.

Visit a temple or shrine
There are about 20 temples on Koh Phangan.
Though not as grandiose as the temples on Koh Samui (or in Bangkok, Chiang Mai or other bigger cities), they're still deeply spiritual placesfilled with that special religious atmosphere.
Check out Wat Phu Khao Noi, Wat Khao Tam and Wat Pho in the southwest or the Chinese Temple in the northwest.
The temples are free to visit but remember to dress respectfully, i.e. covering your shoulders, chest and knees.

Waterfalls
First and foremost: like everywhere else, waterfalls depend on water flow.
If you're visiting Koh Phangan in the dry season (roughly from December to March) or it simply hasn't rained much, water won't be gushing out the falls.
As we were on Koh Phangan in the dry season, we only visited two waterfalls.
There are quite a few more if you're in the mood for chasing them.
Paradise waterfall
Paradise waterfall is in the northern part of Koh Phangan close to Chaloklum Bay.
The road leading to the falls is short from the main road but steep in sections and bumpy.
Though not material for a documentary on dangerous roads, be careful.
There's a rope swing plunging you into the water and an option to hike up the falls to get a great view.
The price is 20 baht per person (~ less than 1 USD / 1 EUR), including a water bottle.
Great plastic karma to you if you say no thanks and bring your own water instead. The price is the same though.

Phaeng waterfall
Part of the Thansadej National Park, Phaeng waterfall is a very accessible waterfall on Koh Phangan.
The park is actually home to several different waterfalls, with the two closest to the entrance being Phaeng Noi Waterfall and Phaeng Yai Waterfall.
They run off into pools suitable for swimming.
There are options for both a short and a long hiking route in the park. We just went to the Dom Sila viewpoint.
Flip flops won't kill you but wearing sturdy shoes will make the trek much more enjoyable.
The ground is basically roots and stones and can potentially become very slippery.
The entrance is free but you have to pay for parking which is around 20 baht for scooters (~ less than 1 USD / 1 EUR) and 50 baht for cars (~ 1.6 USD / 1.4 EUR).



Viewpoints
Being a mountainous island, Koh Phangan has some pleasing viewpoints scattered around its hillsides.
Whenever the road gets steep, follow it to its steepest point and you'll probably get a pretty good view.
One of the more famous ones is the Dom Sila viewpoint located inside the Thansadej National Park.
Not so much into hiking? It's possible to drive all the way to Secret Mountain.
Alex found a cool and probably very seldom visited viewpoint on one of his runs.
Start at Diamond Muay Thai just north of Thong Sala and continue past the small lakes.
Go right and from there take the steepest road. Once at the top, you'll have a great view over the southwest of Koh Phangan.
Channel your inner yogi and enjoy the hippie vibe
If you love yoga, you will love Koh Phangan.
Even better if you love people who love yoga. Because there are a lot of those people on the island!
You can find several yoga studios, yoga teacher courses and other activities related to a holistic health approach scattered around, though mainly close to Sri Thanu on the west coast.
If yoga is the spiritual gateway "drug", Koh Phangan is the vortex you might end up in.
Apart from yoga, there are also a lot of other courses offered.
We are going to mention a few: tantric communication, breath of love intensive, Ayurveda juice detox, inner dance, dragon magick, shiatsu massage, aquatic therapy training, blue lotus initiation, crystal vocal alchemy and mandala art expression.
Yeah, we are just listing a bunch of courses we saw on flyers around the island and we don't know what half of them mean, but it sounds really cool!
You can even learn to become a rebirthing breathwork facilitator.
Okay, we will stop now…
…But not before letting you know that there even is a resort offering a full fruitarian experience.

Sport activities
Luckily there are lots of other ways to stay active on Koh Phangan if meditation music makes you yawn.
Get buff at Evolve in Sri Thanu where you'll find free weights, gymnastic rings and boxing bags. There are day passes as well as cheaper prices for memberships.
You can also opt to join the locals in the national sport Thai boxing (Muay Thai) at one of the dedicated gyms.
If you want some scenery to go along with your workout, rent a mountain bike and explore the steep dirt roads.
Being an island, there are also lots of wind and water sports available including kite surfing and kayaking.
Dogs can, unfortunately, be a nuisance on some of the smaller roads if you're running, but stick to the main roads and go in the early morning and you'll have no problem getting a runner's high.
The main roads in the northwest and the northeast are especially great for adding some vertical to your routine.


Diving and snorkelling
There are a few reefs around the island, most notably at Koh Ma in the northwest and at Koh Tae Tok in the southwest.
The neighbouring island, Koh Tao, is more famous for its diving sites but from Koh Phangan, you can easily reach many of the same sites.
Sail Rock is about an hour's boat ride from Koh Phangan and here you can meet manta rays, barracudas and sometimes even whale sharks.
Southwest Pinnacles and Koh Nang Yuan are also popular choices.
There are several dive schools on Koh Phangan more than willing to take you out into the Gulf of Thailand.
Ang Thong Marine National Park
The archipelago southwest of Koh Phangan consists of 42 smaller islands in different shapes and sizes, famous for their untouched beauty.
The main island Ko Wua Talap contains the national park's headquarters, a cave, a stunning beach as well as the main draw for most visitors to Ang Thong; the view dubbed the viewpoint of viewpoints – also called the most beautiful sight in Thailand.
So far, we have to agree.
On the other islands, it's possible to visit an emerald lake, hike to other viewpoints, chill out on the secluded beaches or snorkel in the waters.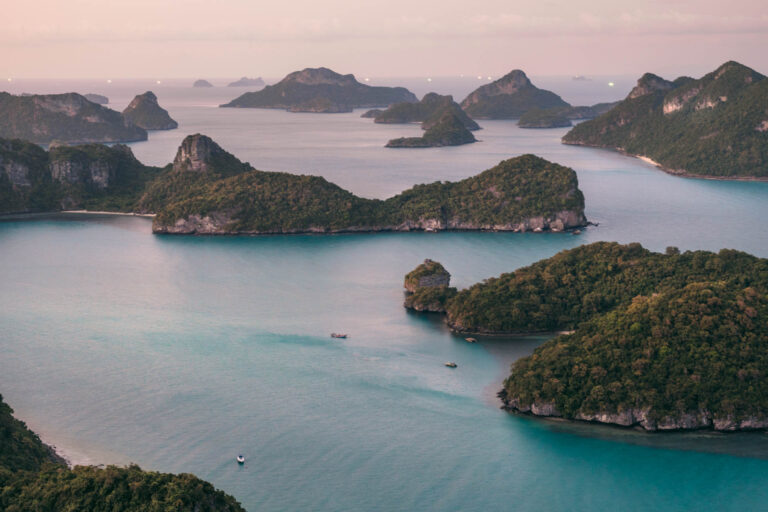 There's an entrance fee of 300 baht per person (~ 9.4 USD / 8.3 EUR) which is sometimes included in the price.
Kayaking, snorkel gear, food and drinks are sometimes included as well, but not always – so make sure to double check with your travel agent.
We booked one of the few bungalows in the national park to be able to spend more time soaking in the beauty of this place.
Ang Thong Marine National Park is usually closed in November and December due to rough ocean conditions.


Join a Thai cooking class
If you love Thai food you can learn how to cook delicious meals yourself by signing up for a cooking class.
They're great fun and you'll usually walk away with the exact recipes and new knowledge of the cooking concepts.
Sometimes, you'll also visit a local market to buy fresh produce before getting into the kitchen.
Expect to pay around 1,500 baht (~ 47 USD / 42 EUR) for a three-meal course.
We didn't try it, but the school by the lake in Sri Thanu is supposed to be pretty good.
Get a massage
Getting a massage is one of our favourite activities in Thailand!
Thai massages are so hardcore but so amazing.
And the prices are more than fair.
Usually, an hour of Thai massage will cost you 300 baht (~ 9.4 USD / 8.3 EUR).
The massage parlours also offer oil massages, deep tissue massages (not for the faint of heart), Swedish massages as well as other types of beauty treatments.
Moon Parties
As previously mentioned, you will have lots of opportunities to party hard on Koh Phangan.
The biggest ball is without a doubt the famous Full Moon Party.
Once a month, everything neon clashes at Haad Rin on the southeast of the island for the legendary party, attended by thousands of people.
If you don't like crowds, this is not the party for you.
Walking through the narrow streets leading down to the beach, you practically get buckets of alcohol thrown at you for a few hundred baht.
With sand under your feet, it's all about stumbling your way to a scene where you can dance until the sun rises.
Naturally, every bed gets booked up around the full moon on Koh Phangan, so if you plan to attend, it's wise to secure your accommodation well in advance.
It almost goes without saying, but if you attend the Full Moon Party you have to be extremely aware to hold on to your belongings, keep your drink from getting spiked and worse.
The atmosphere is fun, but there's unfortunately also a dark side to the festivities.
Be careful and have a good time, but remember moderation!
There are also parties twice monthly at the half moons as well as one at the black moon.
What not to do on Koh Phangan
Animal entertainment
Or should we say animal exploitation?
Please, avoid riding elephants, taking selfies with tigers or watching dolphin shows.
There are so many reasons you shouldn't support this kind of cruelty.
Read all about it in our detailed guide Be a responsible tourist in Thailand: 10 things you need to know.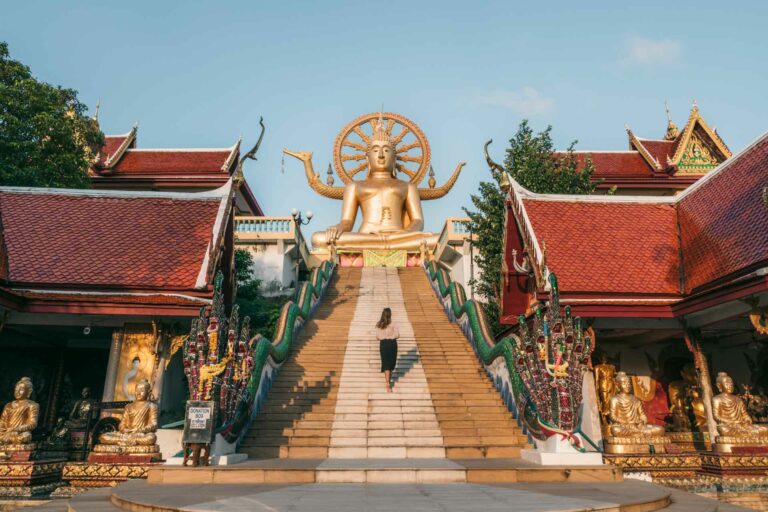 Where to eat on Koh Phangan
We have rarely eaten as diversely and as well as we did while visiting Koh Phangan.
The restaurant and café scene is bursting with creativity and there's a lot of soul being put into the food on the island.
If you have dietary restrictions of any kind, you won't have any problem finding suitable foods.
As vegans, we found that we could eat almost any kind of food we wanted to in a vegan version – all the way from shawarma and Indian foods to pizza and burgers.
There are also a lot of great cafés on Koh Phangan offering organic coffee, smoothie bowls, delectable desserts and nice work environments.
Of course, you won't have any problem finding delicious Thai food. Also in organic and vegan versions.
Happy eating!
Best food in Thong Sala
Being the biggest city on Koh Phangan it makes sense that you'll find many of the island's best places to have a bite in Thong Sala.
The Pantip Market is a no-brainer if you want to snack the night away and sample all kinds of known and unknown foods – including organic Thai food at Soul Organics.
Vegan is yes, a vegan restaurant serving up great dishes from a range of cuisines.
It would be a shame to forego eating at least once at the Eat.co Bruncherie, where you can munch on mouthwatering waffles, sandwiches and smoothie bowls. Get the Snickers-flavoured one and you'll be in a for a treat.
Pizza Luna, located inside the food market just east of Thong Sala, serves the best pizzas on the island.




Best food in Sri Thanu
Sri Thanu is the epicentre of spiritualism and health on Koh Phangan so this is naturally where you'll find the highest concentration of restaurants and cafés focusing on whole foods and their healing powers.
Just walking down the main street, you're spoilt for choice.
Get your favourite foods in vegan versions at Eat.co, Pure Vegan Heaven and at Karma Kafe, go for a Middle Eastern feast at Taboon or head just south of town to dine at Chana Masala where you can munch on dosas and other tasty Indian foods.



Best food on the rest of the island
If you rent your own wheels (this is definitely the best way to explore the island), driving from restaurant to restaurant is a great way to spend the day on Koh Phangan.
Beach Coconuts Bowls is where to go for perfect smoothie bowls and a nice cup of coffee to start the day right.
At Organic Vegetarian Food by Mrs Pong, you might have to be patient as Mrs Pong is working solo in the kitchen, but the Thai food coming out of there is so worth it.
If you're up near the northwest of the island, stop by at Ying Ying's Kitchen for home cooked rice dishes, noodles and Thai curries.
We got the best cups of coffee at Bubba's Roastery in Haad Yao.



Vegan and vegetarian places
During our stay on Koh Phangan, we ate 100% vegan fare with delight.
It's probably one of the easiest places to get vegan food in Southeast Asia.
Koh Phangan is home to astonishingly many vegan-friendly places!
We have written a detailed vegan guide to Koh Phangan with the best restaurants and cafés.
Check out the Koh Phangan map on Happycow for an updated overview of all the animal-friendly places to eat on the island or find some great vegan recipes you can cook yourself.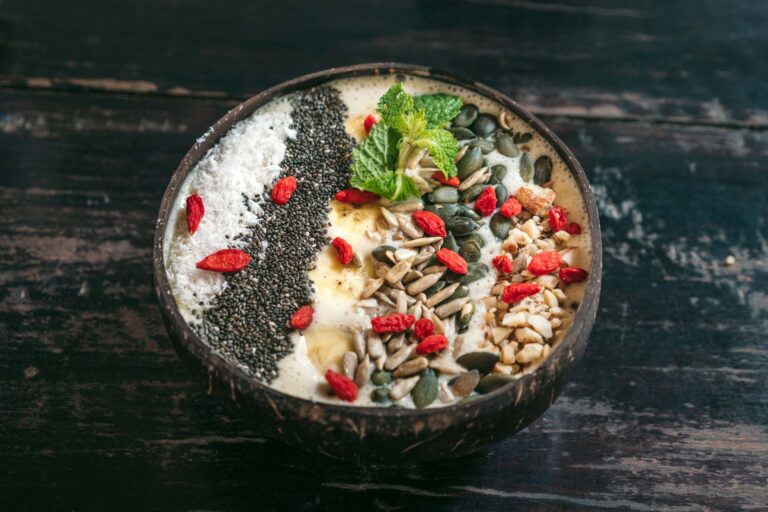 Supermarkets and convenience stores
As on Koh Samui, you will find a Big C, a Tesco Lotus and a Makro on Koh Phangan.
They're smaller and stock a less diverse range of products than their Samui namesakes, but all offer most anything you'll realistically need while staying on the island.
In the afternoons, there's usually a local market in front of Big C where you can shop for low-quality clothes as well as Thai food.
There are lots of 7/11 and Family Mart shops on the island. They're both open 24 hours a day and are quite well stocked when it comes to snacks and daily necessities.
The strong air conditioning inside them can be a lifesaver in the heat and their prices aren't outrageous.

Fresh fruits and greens
For the freshest and cheapest fruits and vegetables on Koh Phangan, you have to visit the local fruit stalls.
They draw you in with their rainbow displays and keep you coming back because everything is so fresh and embarrassingly cheap.
In many of the fruit stalls, it's also possible to order fruit shakes and fruit platters.
For just 80 baht (~ 2.5 USD / 2 EUR), we had a fantastic plate of fruit in the stall on the opposite side of the road from Pure Vegan Heaven in Sri Thanu.

Where to stay on Koh Phangan
Whether you want to rough it and stay in a wooden bungalow without electricity or a luxurious resort, Koh Phangan will offer a suitable place to rest your head.
Compared to Koh Samui, the top resorts aren't as high-end, and there aren't any condo-type places, but the options are still pretty good.
Be sure to book well in advance as the best hotels and guesthouses on Koh Phangan tend to fill fast.
Sri Thanu
If all you want from a trip to Koh Phangan is yoga, vegan food and beautiful beaches, staying in or near Sri Thanu is a no-brainer.
The western beaches are generally gorgeous, the food here is super health-oriented and there are so many yoga schools offering everything from daily sessions to month-long teacher courses.
Sri Thanu is where most digital nomads and expats tend to stay on Koh Phangan.
The "city" itself can easily be walked, but having your own scooter is advisable for exploring the nearby beaches and areas. Unless you really like hills…
Scroll down for specific hotel recommendations in Sri Thanu or search for the best value accommodation in Sri Thanu here.
Beyond The Blue Horizon Villa Resort
With just 9 villas, Beyond The Blue Horizon is one of the more intimate villa resorts near Sri Thanu.
The pool overlooks the beautiful beach, as do some of the rooms, and they all include a balcony/patio, free wifi, air conditioning and a private bathroom.
It's located right next to a yoga studio, and the delicious eateries of Sri Thanu are just minutes away.
Check prices and availability at Beyond The Blue Horizon Villa Resort.

Loyfa Natural Resort
With the heart of Sri Thanu in walking distance, you'll love the location of Loyfa Resort if you appreciate a wide array of healthy dining options.
The resort itself is situated by a private beach with sunset views and also has two pools.
Each room features a balcony (some with sea views), free wifi, air condition and a private bathroom.
If you wanna go fancy without totally breaking the bank, consider booking the romantic pool villa.
By the way, rumour says that the breakfast includes vegan pancakes…
Check prices and availability at Loyfa Natural Resort.

Benjamin Hut
Benjamin Hut looks like a promising place if you're looking for a cheap double bed to sleep in near Sri Thanu.
There's a pool and the ocean (and sunset) is mere steps away.
Each guestroom comes with a small balcony, air conditioning and a private bathroom.
Check prices and availability at Benjamin Hut.

Northwest
Staying north of Sri Thanu on the west coast of Koh Phangan is very popular for both families and independent travellers.
The beaches are nice for tanning and relaxing and there are plenty of good-value accommodations and Thai restaurants.
Scroll down for specific hotel recommendations or search for the best value accommodation in Koh Phangan's northwest here.
Haad Yao Bay View Resort
We spent the majority of our time on Koh Phangan at Haad Yao Bay View Resort and ended up really liking it.
It's a huge hotel with almost 200 rooms, so you'll be disappointed if you're looking for very personalized service.
What we got instead was a low-priced room with a desk, wifi (we asked specifically for a room close to a router as some of them might have weaker connections), air condition and a private bathroom.
We opted out of the breakfast and instead drove around the west coast for morning adventures followed by café and restaurant meals.
Haad Yao Bay View Resort is located in the northernmost part of Haad Yao Beach and you'll be just steps away from the ocean. The hotel also has a pool, which we didn't use, but it looked nice.
Check prices and availability at Haad Yao Bay View Resort.
Cookies Salad Resort
The 3-starred beachfront resort Cookies Salad overlooks Haad Salad Beach from its southern end.
All the rooms feature ocean views as well as air conditioning and private bathrooms.
There's a pool, and people seem to really like staying here with friendly staff and good food from the restaurant.
Check prices and availability at Cookies Salad Resort.

Thong Sala
Thong Sala is a very convenient place to stay on Koh Phangan as it's pretty much in the middle of everything (you can't stay at the geographic middle of Koh Phangan as it's jungle-clad).
This also means that you have to drive to get to most activities and beaches, but as the island isn't too big, this might not be an issue.
Thong Sala Pier is where the ferries arrive and depart to the mainland as well as Koh Tao and Koh Samui.
The food options are great, and if you want to be able to walk from place to place, wheels aren't needed here.
The average price for sleeping in Thong Sala is cheaper than the rest of the island, which could be the main argument for staying here.
Scroll down for specific hotel recommendations or search for the best value accommodation in Thong Sala here.
Mangrove Villa
We stayed at Mangrove Villa for a few nights to catch up on some work and chose it as the rooms have a desk, there's air condition and pretty good wifi.
It's also very close to the delicious food options of Thong Sala.
Check prices and availability at Mangrove Villa.

Kupu Kupu Phangan Beach Villas & Spa by L'Occitane
If you want a 5-star luxurious, romantic stay on Phangan staying between Thong Sala and Sri Thanu, this is probably your best bet.
The beach isn't the island's best, but with the resort's pool plus either a room overlooking the ocean (and sunset!) or a room with a private plunge pool, you'll manage.
Check prices and availability at Kupu Kupu.

Sucasa Guesthouse
For a budget place to stay in Thong Sala, Sucasa Guesthouse opposite the Phantip Food Market looks solid.
A standard room with a double bed is very cheap and comes with air condition, wifi and a private bathroom.
You can easily walk to and from the pier from the hotel.
Check prices and availability at Sucasa Guesthouse.

Haad Rin
Haad Rin is the main tourist town of Koh Phangan and where you'll find the best nightlife.
It's also where the monthly Full Moon Party is held, so book in advance if you want to stay here in the week leading up to the event!
Scroll down for specific hotel recommendations or search for the best value accommodation in Haad Rin here.
Richmond Guesthouse
Richmond Guesthouse isn't the most classy hotel in town, but it just might be the best value place to sleep in Haad Rin.
The rooms look rather basic, but there's free wifi, air condition and a private bathroom – all within walking distance of the beach.
Check prices and availability at Richmond Guesthouse.

Palita Lodge
If you're looking for a comfortable place to stay close to the Full Moon Party where you'll actually be able to sleep, consider Palita Lodge at the northern part of Haad Rin.
As there are no DJs in front during the party, it's definitely one of the lesser noisy places to stay, yet you'll still be in walking distance to the action.
The rooms look nice, as does the garden, and there's a pool for you to plunge in.
Check prices and availability at Palita Lodge.

Northeast
When we arrived at Koh Phangan, we stayed in the northeast for a few nights.
This is the most remote part of Koh Phangan, and though there are plenty of restaurants to try, you'll have to drive to Thong Sala and onwards from there to explore the rest of the island.
If you are simply looking for a chilled vacation on Koh Phangan, this is perfect. If you want to see the whole island in a few days, perhaps it's less suitable… Though the distances aren't far by international standards – the longest trip on Koh Phangan isn't more than an hour or an hour and a half of driving.
Scroll down for specific hotel recommendations or search for the best value accommodation in Koh Phangan's northeast here.
Buri Rasa Village
Buri Rasa Village on Koh Phangan is a great choice for any holidaymaker; young, old or in-between, looking for a relaxing tropical vacation on one of Thailand's most unique islands.
If you're looking to unwind and have fun, the natural splendour of the northeastern part of Koh Phangan and the charming setting of Buri Rasa Village offers you the perfect place in which to do so.
You can see lots of pictures and read more about Buri Rasa Village in our review or you can check prices and availability here.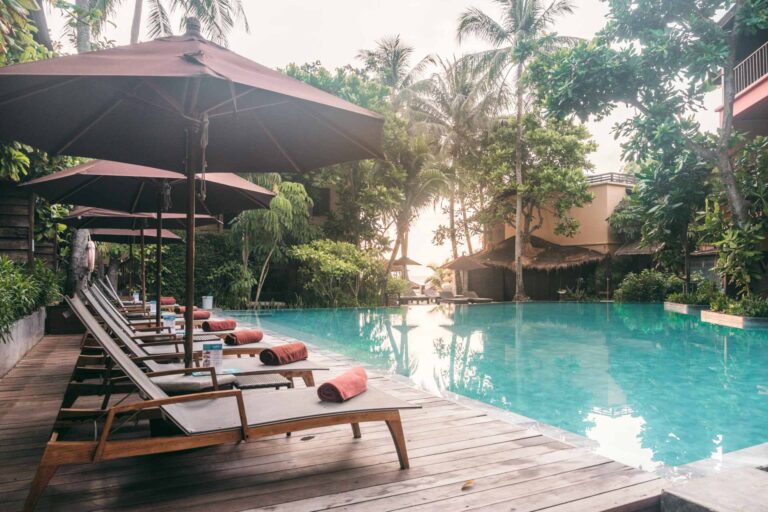 Anantara Rasananda
Though comfort beyond what Buri Rasa offers is probably overkill for most travellers, nearby Anantara Rasananda Koh Phangan Villas offers a truly luxurious resort experience (for more than double the price, as well).
Reviewers are raving about their experiences here, especially praising the quality of the service and the beautiful rooms.
Check prices and availability at Anantara Rasananda.


Suan Sawan Ocean View
If you're on a smaller budget and still want to stay comfortably in the northeast of Koh Phangan, Suan Sawan Ocean View looks like a solid bet.
It's not located directly on the beach, but it has a pool and the beach is only a few minutes of walking away.
The sea view rooms have balconies, air condition and private bathrooms, making Suan Sawan Ocean View seem like great value for money.
Check prices and availability at Suan Sawan Ocean View.

How to get around Koh Phangan
Unfortunately, Koh Phangan hasn't really prioritized public transportation on the island.
Almost everyone has their own motorbike or car.
Renting a scooter
It's possible to rent your own vehicle during your stay on Koh Phangan. Prices vary depending on the model and the place you rent it from.
Apparently, some motorbike shops scam tourists so it's advisable to check out reviews of the place before you rent the vehicle.
We rented a Honda Click motorbike from Budget Two in Thong Sala at the pier and we can recommend this shop. It was very professional and our motorbike was new and worked perfectly.
Go for a new model with good brakes. Compared to the rest of Southeast Asia, the roads are new and in relatively nice condition on Koh Phangan, but beware that many of them are very curvy and hilly.
Normally, a motorbike costs 250 baht per day (~ 7.8 USD / 7 EUR) but as we rented ours for 9 days, we got it for 200 baht per day (~ 6.3 USD / 5.6 EUR).
You can probably get an even better price if you rent it for longer or bargain harder.
It's very important to insist on getting a helmet and then to always wear it while driving.
We saw a lot of "veeeery cool people" not wearing helmets and some even listened to music while driving. Don't get us started on how irresponsible that is.


Taxis and songthaews
If driving yourself isn't your prefered mode of transportation, you can also grab a yellow and red taxi or find a seat in an open taxi called songthaew.
The latter is usually the cheapest option, although prices can vary greatly depending on your bargaining skills, the time of day and even the mood of the driver.

How to get to Koh Phangan
From Koh Samui
As Koh Samui is the best-connected island of Koh Tao, Koh Phangan and Koh Samui, many people opt to travel to Koh Phangan from Koh Samui by boat.
Every day, at least three ferries leave from Big Buddha Pier on Koh Samui's north coast and arrive at the pier in Haad Rin (making it especially convenient for the partygoers).
There are also ferries from Bangrak Pier, Maenam Pier, Lipa Noi Pier and Nathon Pier that instead arrive in Phangan's main city, Thong Sala.
The boats start running in the morning and keep on making the crossing until it's almost midnight.
The price for a ferry from Koh Samui to Koh Phangan should be between 300 and 600 baht (between ~ 9.4 USD / 8.5 EUR and ~ 18.8 USD / 17 EUR) depending on the speed of travel and comfort level.
The trip takes between 30 minutes and 1.5 hours.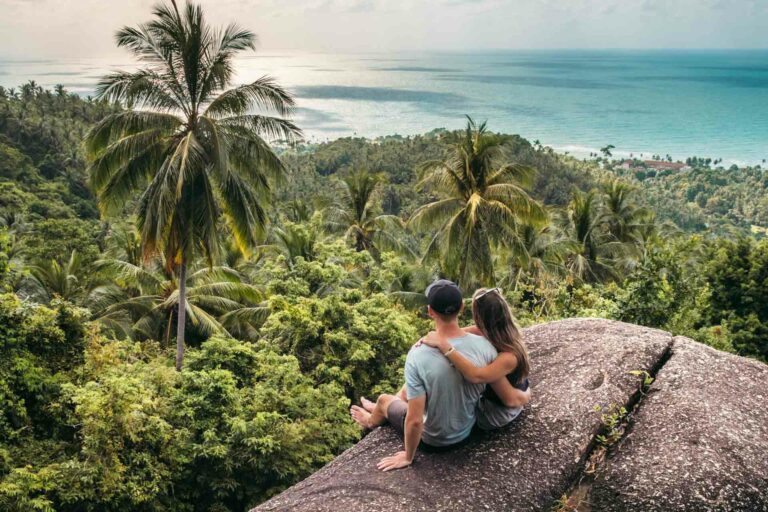 From Koh Tao
Koh Tao is further away from Koh Phangan than Koh Samui is, so from here the trip takes from 1 to 2 hours.
There are about 6 ferries doing the trip each day with prices hovering around 500 baht (~ 15.7 USD / 14.1 EUR).
From the Thai mainland by bus, train and ferry
From the Thai mainland, the best way to get to Koh Phangan is by taking a ferry from Surat Thani Pier or Donsak Pier.
To get there from Bangkok, a good choice is to take the sleeper train from Hua Lamphong Station or one of the many buses leaving early in the morning.
Combined bus + ferry tickets are easy to buy from tour operators.
The boats arrive on Koh Phangan between 2 hours and 30 minutes and 6 hours after departing – depending on from where you leave, the boat's speed and whether or not it stops on Koh Samui before reaching Koh Phangan.
From Surat Thani Town, expect to pay around 350 baht (~ 11 USD / 9.9 EUR) for a 4-hour trip.
Schedules change frequently and vary with the seasons, so be sure to make arrangements prior to travelling if you want to lock down your itinerary.
If you have more leeway, it's possible to simply arrive on the pier and ask about the next crossing.
The first boat to Koh Phangan usually leaves around 7 am and the last in the afternoon.
If you're late to the party (both figuratively and literally), consider catching a ferry to Koh Samui and then connect onwards from there.
Tip: Full Moon Party coming up? The ferries and boats will be full of partygoers travelling to Koh Phangan, so make sure to book in advance.


Our best tips for visiting Koh Phangan
One of our top tips for a more sustainable stay on Koh Phangan is to fill water into larger containers from one of the "water machines" set up around the island. The water is priced at just 1 baht per litre. It's totally safe to drink and can heavily reduce the number of plastic bottles you end up using on your trip.
The electrical outlets in Koh Phangan generally feature two round prongs, fitting both most European and Asian appliances as well as the flat prongs of USA and Japan. The standard voltage is 220 volts.
How long to stay on Koh Phangan is a difficult question to answer – you can see the highlights in a few adventure-filled days or spend weeks eating your way through all of the delicious food and exploring the nooks and crannies of the island.
Koh Phangan vs Koh Samui vs Koh Tao… If you have the time, why choose? Each island offers something unique and is just a short ferry ride away. Quickly summarized, Koh Phangan has unique parties and more of an undiscovered vibe + a big yoga community, Koh Samui offers the best value accommodation and has something for everyone and Koh Tao is much smaller and famous for its diving schools.
Beachwear belongs on the beach. Though the Thai inhabitants of Koh Phangan are used to tourists, it's considered inappropriate to wear beachwear anywhere else.
Be sure to book your accommodation well in advance if you're travelling in the high season (July, August and December to March) or around the full moon. There will always be beds available, but many of the best hotels and resorts get fully booked months ahead.
Koh Phangan is beautiful. Make sure to bring a good camera! Here's our guide to lightweight photography gear for high-quality travel content.
Wifi on Koh Phangan is everywhere in hotels and cafés. It's usually fast enough. If you need to stay connected while on the road, consider buying a local SIM card with data. It's rather cheap and the process is simple.
Koh Phangan is super family-friendly. Thai people love children, and lazing around is hassle-free on the island.
The sun is strong. Remember your sun protection!
Credit cards are mostly used at upscale places, so you'll need to carry cash for most restaurants, shops and services.
You'll seldom be far away from an ATM and/or a place to exchange money. Usually, it's cheapest to withdraw money in baht. Because of fees, try to limit your amount of withdrawals and go for your daily max each time.
With a few well-respected hospitals, clinics and dentists on the island, help is never too far away should you have any medical issues while visiting Koh Phangan. For really serious stuff, Koh Samui or Surat Thani have better facilities.



Thanks for reading
Thanks for getting all the way to the end!
We hope our guide to Koh Phangan has been useful.
If you've visited Koh Phangan, it would be awesome to hear your best tips in the comments.
If you haven't been yet, please don't hesitate to ask us anything. We're glad to help.
Currently planning a trip? Check out our article Hand Luggage Only: Our Packing List for Travelling in Southeast Asia for Several Months for what to pack when travelling to Koh Phangan.


Our favourite travel resources:
Our camera gear: