The beginning of 2020
2020 started out perfect for us.
We celebrated New Years in New Zealand by house sitting a dog, five cats, four horses and 15 alpacas. Yay!
After travelling around New Zealand for some time, we spent a month in the Cook Islands – a pacific dream come true!
At the end of February, we returned to Indonesia to finally visit Lombok and the Gili Islands.
Last year, we spent two wonderful months in Bali and one month in Sumatra and Indonesia truly has a special place in our hearts.
Check out what else we did in 2019 right here.
Coming back to Bali felt like coming home in some way. People are beyond kind, there are plenty of vegan food options and you can go on day trips to the most beautiful temples, waterfalls and volcanoes.
The first two and a half months of 2020 were incredible. And it was only the beginning. Or that's what we thought…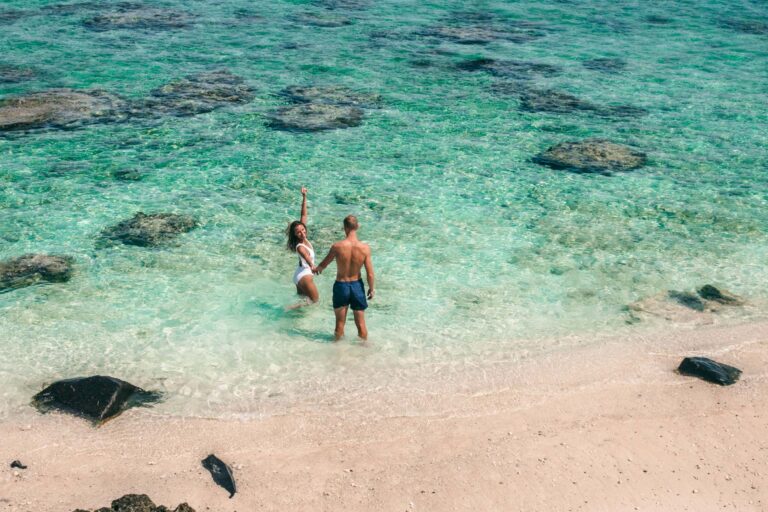 Our original plan for the rest of the year
In March, we were supposed to travel to Copenhagen for the world premiere of our documentary film Shade Grown Coffee at the film festival CPH:DOX.
But thanks to the outbreak of Covid-19, the premiere ended up being cancelled just a few days before.
We had been working on the film for the past 4-5 years and it was a huge downer.
You can read more about why we made Shade Grown Coffee and how it all went down here.
And if you want to know more about coffee and sustainability, check out Shade Grown Coffee's website.
Another reason for us to travel to Copenhagen was the fact that we had sold our apartment and needed to move out all of our belongings before May 1.
Our plan after that was to buy a car and drive to the south of Europe.
Perhaps stay a few months in Southern Italy or Spain in the spring and head to Northern Italy or Austria in the warmer summer months.
Well, let's just say that we were really happy that we hadn't booked anything in advance…

How the world pandemic changed our plans
We first read about the coronavirus in Bali and it felt like it wasn't going to affect us much since the virus mostly spread throughout China and Italy.
Our travel plans to Italy for the summer had to be reevaluated obviously, but that was okay.
We kept following the news closely and shortly thereafter, Covid-19 was present in many countries – including Denmark.
We started to understand the seriousness of the situation and got really worried about our family and friends back home. Luckily, we didn't (and still don't) know anyone who has been gravely affected.
As the world premiere of our film was cancelled, we wondered if it was safer to stay in Bali than travelling home. But the Ministry of foreign affairs of Denmark advised all Danes abroad to return to Denmark and it felt like the right thing to do.

Returning to Copenhagen
Two days before our flight was supposed to leave from Bali it got cancelled. Like so many others we have talked to since, we weren't notified by the airline or the flight aggregator (super frustrating!) – it was pure coincidence that we checked it online.
Both were impossible to get in contact with and if we wanted to go home we had to make a quick decision.
It took us about two hours from learning about the cancellation to packing all of our stuff and sitting in a cab on the way to the airport.
Flight tickets from Bali to Denmark had skyrocketed in price (or sold out) so the only way to avoid going bankrupt was to fly from Bali to Denpasar, from Denpasar to Doha, from Doha to Stockholm and then travel by train from Stockholm to Copenhagen.
After a looong journey, we arrived in Copenhagen with no film premiere and no plans…
What then?

Two and a half months in Copenhagen
After two weeks of quarantine, we could finally see some of our family and friends that we have been missing for almost half a year. So good!
Alex had been talking about biking for quite some time and he bought both a race bike and a mountain bike (both pre-loved).
As for our apartment, we sold, threw out or donated most of the stuff we had and stored the rest at Alex' father's place in the countryside.
We thanked the apartment for the many beautiful memories we have created for the past 7,5 years (!!!) and handed over the keys to the new owners.

Why we decided to move to Sweden
Even though we love Copenhagen and it was great to stay in Alex' mother's apartment (thank you Tine!), we missed being closer to nature.
With all plans for travelling in the south of Europe called off (or postponed, hopefully), we had to come up with something else.
Sweden felt like the obvious choice. It's close to Denmark which means we can easily reach family and friends within a few hours while still having the feeling of being on vacation.
We knew that we could find a peaceful place close to nature for a reasonable price.
Also, there are a lot more (and better!) options for outdoor activities, like hiking and biking.
Another bonus: Alex speaks almost fluent Swedish as his father is from Sweden. It's not at all required but it does make it easier to blend in with the locals.


Our Swedish home
We have now moved to a tiny village called Skånes-Fagerhult in Skåne (Scania), Southern Sweden – about two hours from Copenhagen.
And by moving to Sweden, we mean that we have rented a cute house from June to October.
We know that four months are nowhere close to a permanent situation but for us, it is the longest period we have stayed in one place for several years so it feels like quite a change from our nomadic life.
The house has everything we need; a big living and dining room, a nice kitchen, two bathrooms, a bedroom and a guest room with a desk. We also have a huge deck outside for dining as well as a garden.
And high-speed Internet is installed. YES! When working online, it really does make a huge difference to our productivity.
About 500 metres away, there's a small beach and a lovely lake for swimming.
We already love how tranquil it is here.





Any tips for us?
We hope to experience some of the amazing places in Sweden while we're here.
Have you been to Scania?
We would love to hear your best tips and recommendations!

Our favourite travel resources:
Our camera gear: