Where to Stay on Mahé, Seychelles: 12 Best Hotels & Resorts for All Budgets
Our personal recommendations for the best areas and places to stay
The gateway to Seychelles
While Mahé is the main jumping-off point to Seychelles' smaller islands, staying here also has some clear advantages.
For one, the range of accommodation is unsurpassed: You can do anything from staying at your own private island with a pool to having your own kitchen in a budget villa high above the beautiful beaches in the jungle-clad hills.
And did we mention that the luxury resorts of Mahé are simply world-class?
Whether you spend all of your time in Seychelles on the island or only stay here at the start or end of your trip (like we did), we think you'll be pleasantly surprised by the paradisical possibilities of Mahé.
In this travel guide to where to stay on Mahé, we'll give you our personal recommendations for the best romantic hotels, luxury hotels and budget hotels that give you great value for your money.
Where to stay on Mahé:
Search for the best value accommodation on Mahé Island.

Mahé map and geography
Mahé is the largest island of Seychelles with an area of 157.3 km².
The length of Mahé is around 26 kilometres and the width is around 17 kilometres.
Driving from the most northernmost point to the most southernmost point of the island takes a little more than 1 hour.
The highest point of Mahé (and the whole country) is the peak of Morne Seychellois, located 905 metres above sea level.
Around 90,000 people live on Mahé (~ 90% of the population of Seychelles). Most people stay around the capital Victoria and Beau Vallon in the north.

Where to stay on Mahé
Even though Mahé is the largest island in the country, all things considered, it's still a pretty small island.
The longest drives rarely take more than an hour and if you place yourself centrally you can go almost everywhere in 30-45 minutes.
Beau Vallon Beach is a very popular place to stay, and in general, most of Mahé's best hotels are located by the best beaches on the western side.
Search for the best value accommodation on Mahé here (adlink).
The best luxury hotels on Mahé
Four Seasons Resort Seychelles
We walked through the 5-star Four Seasons Resort on Mahé to get to Petite Anse Beach and can say with some confidence that this is a really cool place to stay.
The beach is surely one of Mahé's finest, and the private villas look huge for the (still high) price.
Check prices and availability at Four Seasons Resort (adlink).

Constance Ephelia Resort
Constance Ephelia located near Port Launay on Mahé's western side consistently ranks as one of the island's most revered luxury hotels.
The range of options on offer here is staggering; do everything and you might never have the chance to leave!
The 5-star resort is home to 5 pools, 5 restaurants, 6 bars, a private beach, a spa and a fitness centre. Each villa has its own garden.
Check prices and availability at Constance Ephelia Resort (adlink).

Eden Island Luxury Accommodation
The best thing about staying in one of the private apartments at Eden Island Luxury Accommodation is the fact that you get unlimited access to the spectacular private beaches of the manmade island.
The next best thing is getting a free electric buggy for your stay that you can use on Eden Island.
All of the apartments come with a kitchen but there are a lot of options when it comes to the villa size, amount of bedrooms, whether or not there is a pool etc.
Check prices and availability at Eden Island Luxury Accommodation (adlink).
(It's also sometimes possible to book the privately owned villas when their owners rent them out. Use our adlink to search for the privately owned villas here.)


JA Enchanted Island Resort
If you've always dreamed of staying on a private island in the tropics, here's your chance.
JA Enchanted Island Resort is located on the very small Round Island inside the St. Anne National Marine Park.
As if the whole private island with private beaches thing wasn't enough, all villas also come with a private pool.
Check prices and availability at JA Enchanted Island Resort (adlink).

Savoy Seychelles Resort & Spa – Beau Vallon
Located in the middle of the beautiful Beau Vallon Beach, 5-starred Savoy Seychelles Resort & Spa offers 163 rooms, 2 pools, 3 restaurants, a spa with fitness facilities as well as all kinds of services.
We stayed in a lovely double room with ocean views where we slept like babies in the king bed after our red-eye flight from Istanbul to Mahé.
There was also a minibar, a coffee and tea making station, a desk, a table and a sofa in the room as well as a big bathroom with a shower and a bathtub. We especially liked the spacious balcony with views over the resort and the ocean – perfect for a bit of afternoon or evening relaxation.
There's free wifi all over the resort.
Savoy Resort & Spa's fitness centre is well-equipped with a wide array of weights, strength training machines as well as cardio machines. It's open 24/7. Super cool!
Check prices and availability at Savoy Seychelles Resort (adlink).

Anantara Maia
Located on a private peninsula near Anse Boileau on Mahé's west coast, Anantara Maia is known for its unique villas that all come with their own infinity pools.
Check prices and availability at Anantara Maia (adlink).

North Island
The Luxury Collection Resort North Island is located on a remote island north of Mahé called – you guessed it – North Island.
It's incredibly expensive to stay here. Seychelles also doesn't get much better than this.
Check prices and availability at North Island (adlink).
The best value for money and budget hotels on Mahé
There's no way around it: Seychelles is an expensive destination.
But that doesn't mean that you have to blow the budget completely on a comfortable place to stay.
One of the best ways to save money on Mahé is to find a place with a kitchen as eating out can be expensive in Seychelles.
Here are our top choices for value for money and budget accommodation on Mahé.
Search for the best value accommodation on Mahé here (adlink).
The best value for money and budget hotels on Mahé:
Chez Batista Villas
Located with uniquely direct access to Anse Takamaka, staying at Chez Batista Villas is all about the beach!
The comfortable rooms have A/C and private bathrooms and we can only imagine how nice it must be to catch the sunset from here.
Check prices and availability at Chez Batista Villas (adlink).

La Nature Apartments Au Cap
At a very fair rate, you'll get a big apartment with a private kitchen and A/C at La Nature Apartments Au Cap.
It's located on the eastern side quite centrally so you can easily go to most beaches – especially if you rent a car.
Check prices and availability at La Nature Apartments Au Cap (adlink).

Tropical Garden Self Catering
At Tropical Garden, you're staying secluded in the Mahé mountains yet still very close to most beaches and attractions on the island. There's a bus stop close by if you don't rent a car.
The apartments all come with A/C, your own kitchen, a balcony and more.
Check prices and availability at Tropical Garden Self Catering (adlink).

Villa Kayola – Self Catering
For a convenient location close to the airport, look no further than to Villa Kayola. The views from up here are beautiful yet you're still close to Anse Aux Pins Beach.
The light apartments have A/C, balconies and small kitchens so you'll be able to cook for yourself while staying in Mahé to stay within your budget.
Check prices and availability at Villa Kayola – Self Catering (adlink).

Anse Soleil Beachcomber Hotel and Self Catering
At Anse Soleil Beachcomber, you have the choice of either staying in self-catered chalets up a hill or with coffee/tea-making facilities just by the beach.
And what a beach!
Anse Soleil is known as one of Mahé's most paradisical beaches. And as there's not much else here, you'll have it almost to yourself.
Check prices and availability at Anse Soleil Beachcomber (adlink).

The 14 best things to do on Mahé
Being the biggest island of Seychelles, there's an almost endless amount of things you can do on Mahé.
For all of the best beaches and activities on the island, check out our full travel guide: Mahé Island Travel Guide: 14 Best Beaches & Things To Do.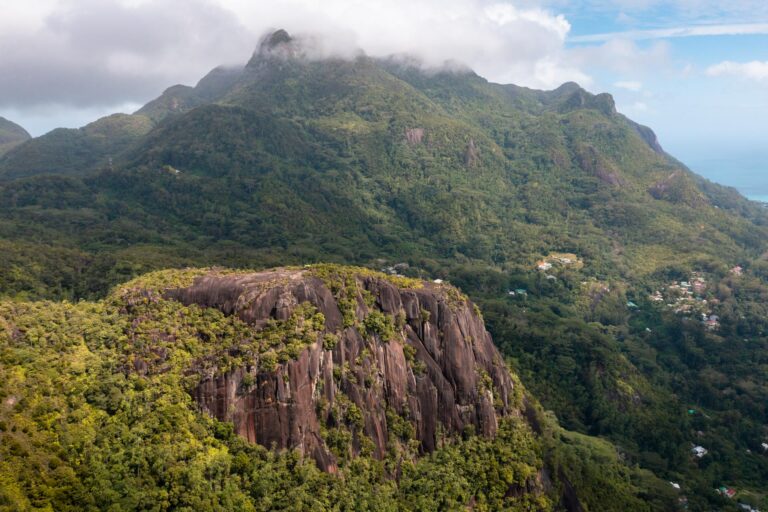 How to get around Mahé
Rent a car
Driving around Mahé is easy as all of the main roads are in good condition.
As long as you remember to drive on the left, you'll be fine.
Parking is free next to most beaches and we didn't have any trouble finding parking spots.
Most rental cars in Seychelles are automatic.

Public transport
If you don't rent a car on Mahé or go on private tours, it is still possible to go around the island by bus.
This way you won't be as flexible, but at least it's a very cheap way to travel.
The schedules for the buses on Mahé can be found here.

Private airport transfer
If you wish to travel in comfort on a private transfer to and from Seychelles International Airport to any hotel on Mahé, you can book your transfer here (adlink).
When to visit Mahé
The weather on Mahé is very similar to the weather on Praslin and La Digue.
Seychelles is a year-round destination, but there are some seasonal weather variabilities which might be worth knowing about it.
The sun almost always shines and the temperatures consistently hover between 24°C and the low 30s (it very rarely gets hotter than 32°C).
The best time to visit is generally considered spring or autumn when tourism is at its lowest and the weather is at its best.
High season is the summer months of July and August and over Christmas and New Year in December and January. Autumn is also a popular time to visit.
The warmest months are February, March, April and May.
The sea breeze is at its strongest between May and October, which isn't ideal for snorkelling or diving. The best visibility is found during April, May, October and November.
It rains all year (it's the tropics, after all), but often just in short bursts. The average humidity is 80%.
The south-east-trade wind picks up between May and September, while the north-west trade wind blows between December and February. In-between there's almost no wind.
Mahé very rarely gets hit by tropical storms because of its lucky location.
The ocean temperature stays around a very comfortable 26°C year-round.

Tips for visiting Mahé
There is free wifi in many hotels, but it's usually not as fast as using 4G.
We can easily recommend buying a sim card with data for internet access. We bought ours from Airtel. They have shops all over the country.
Downloading or carrying an offline map is a good idea, especially when hiking.
The standard electric plugs in Seychelles are type G (like in the UK). Many hotels have adapters, and some even have standard European plugs (type C) and/or USB chargers installed.
Checking the tides is crucial for visiting many beaches and natural pools at their optimal times.
The tap water is drinkable (on both Mahé, Praslin and La Digue as far as we could tell) but doesn't taste good. Consider bringing a water filter or buying water in 5-litre containers to save money and plastic. A few hotels offer free water refills.
Bring euros or dollars to easily exchange for Seychelles rupees once you're in the country. There are many banks where you can exchange money but they might be closed at weekends, so check the opening hours.
Credit cards are widely accepted in shops, hotels and restaurants but some smaller businesses prefer cash – like for takeaway shops.
Bring a flashlight or at least a phone with a flashlight. If you come back from a hike late or leave the beach after sunset, it can come in handy.
What to bring to Mahé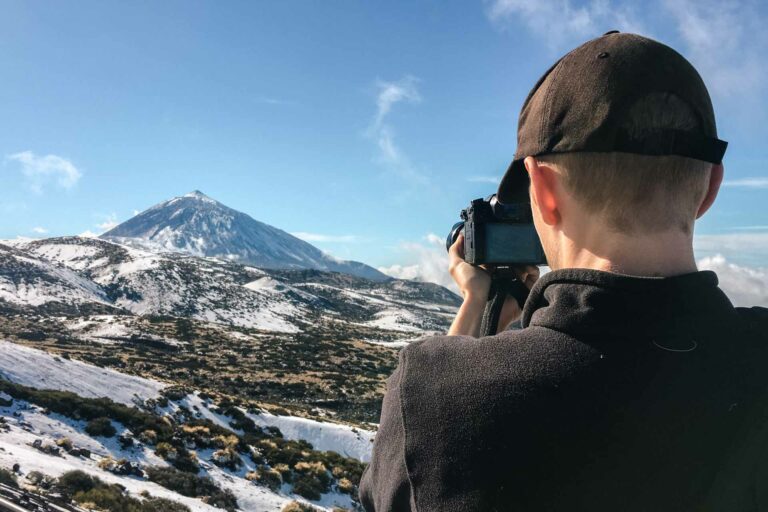 Minimise your impact
To minimise your impact during your visit, follow these guidelines:
Bring your own drinking water in a refillable bottle.
Avoid single-use plastics, including straws.
Dispose of waste properly. While putting your trash in a nearby trashcan is convenient, wrappers and other small items are prone to get taken by the wind and end up in the ocean.
Check your sunscreen before going in the water. Many brands contain oxybenzone and other chemicals that are harmful to the ocean.
Take only photos, leave only footprints. Let everything stay in its natural place.
Be considerate of other visitors.
Respect wildlife.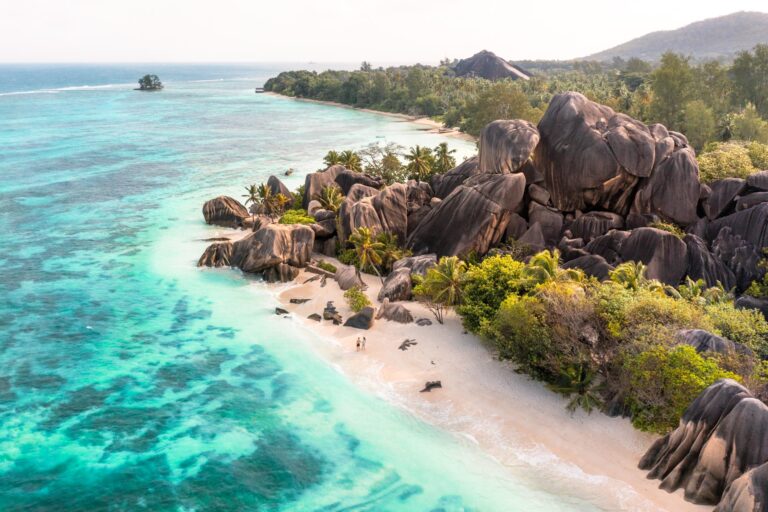 Thanks for reading
We hope you've found this travel guide to Mahé Island in Seychelles practical.
Make sure to also check out our ultimate travel guide to Seychelles with the best things to do, where to go and itinerary ideas.
What do you think about Mahé?
If you've been to Seychelles, it would be great to hear your thoughts (and tips) in the comments.



Our favourite travel resources:
Our camera gear: