Day Trip to Malmö From Copenhagen: How to Get There & What to Do
Discover the charm of Sweden's 3rd largest city just 40 minutes by train from Copenhagen
The best kind of day trip
We love Malmö and have visited the city countless times from Copenhagen.
As with all day trips, spending just a single day in Malmö will only scratch the surface. But the city is small enough that you can enjoy some of the highlights as an appetizer and then return one day for the full course.
Talking of food, the food scene in Malmö is bustling – and compared to pricey Copenhagen, you get more bang for your buck with the Swedish currency and get to try cutting edge Swedish cuisine while at it.
Denmark and Sweden are two countries that are similar in many ways – until you zoom all the way in and explore the details. Visiting Malmö from Copenhagen will make you appreciate both cities in their own right and see each of them in a new light. At least that has been our experience.
Welcome to Malmö – the town just a hop and a skip away from Copenhagen full of amazing shopping, delicious food, green parks, beautiful streets, charming culture and a uniquely Swedish atmosphere that makes us return time and time again.





Why visit Malmö from Copenhagen
Visiting both Malmö and Copenhagen on the same trip makes for the perfect combination.
Located just 40 minutes away from each other by train, you get the capital of Denmark and Sweden's third-largest city; each with their own unique cultural, gastronomical and historical differences.
Malmö is obviously much smaller than Copenhagen which is exactly why it's such a great city to visit on a day trip.
The old cobblestoned streets invite you to slow down and enjoy your time in Malmö's compact city centre; small enough to be easily walkable and big enough to hold several days' worth of experiences.
If you plan to visit for longer, make sure to check out our Complete Travel Guide to Malmö in Sweden (with the 20 best things to do).
On hot days, visiting the city's green parks or even going to the beach is a favourite pastime for the locals – and you're invited.
If the Scandinavian weather doesn't show it itself from its best side, or you're simply more culturally inclined, Malmö also has lots of interesting stuff to see and do inside – including cool museums, unique shops and amazing food.
Malmö is hip, cool and trendy. While it's perhaps not obvious at first glance, dive a bit deeper and you'll discover cutting-edge art, fashion, design, gastronomy and much more.






How to get to Malmö from Copenhagen
By train
Getting to Malmö from Copenhagen is super easy.
The fastest and most convenient way to travel from Copenhagen to Malmö is to go by train.
Trains leave several times per hour and it only takes 40 minutes to travel between Copenhagen Central Station and Malmö Central Station.
Train tickets can be bought at the train stations and they are approximately 12 EUR / 14 USD each way per person.
It's also possible to use the Danish Rejsekort if you get off the train on the Swedish train stations Hyllie, Triangeln or Malmö Central Station.

By bus
Busses between Copenhagen and Malmö can be a bit cheaper than the train but the travel time is a little longer at about 1 hour and 15 minutes.
A bonus is the fact that with the bus you drive on the Øresund Bridge where with the train you travel beneath it.
By car
Driving from Copenhagen to Malmö is pain-free.
Check out the prices for crossing the Øresund Bridge here.
Finding parking in central Malmö is easy in some of the big indoor car parks. Prices hover around 160 SEK (~ 15.5 EUR / 18 USD) per 24 hours.

What to do in Malmö in a single day
Shopping
Interior
The Swedes really know how to make functional, stylish furniture and cool interior design – and Malmö is one of the best places to find some of those unique pieces that aren't found in IKEA's all around the world.
AB Småland is a must-visit. Not only is it a nice café ideal for fika (the very-Swedish concept of a coffee and cake break), it's also one of the best shops in town for all things interior, vintage furniture, sustainable clothes, children's toys, plants, recycled items and more.
The store itself is beautifully decorated and the (huge!) space is lovely to browse whether or not you end up buying something.
Granit is the best place to go to get organised – in the kitchen, office, closet and elsewhere. Their very-Swedish solutions are always simple, stylish and affordable.
For additional shops selling trendy interior design, check out Indiska, Boligheter, Bolia and Designtorget.




Fashion & clothing
It seems like a new trendy clothing shop has opened every time we revisit Malmö.
Weekday is not unique to Malmö but still worth a visit for their no-brand organic cotton garments.
For upcoming brands, check out fashionable shops like APLACE, Meadow, Grandpa and Circle of Friends.
Nudie Jeans, Tiger of Sweden, Filippa K and Peak Performance are classic Swedish brands with high-quality goods.
Also, while not that special, H&M is, after all, from Sweden, and there's a huge store at Gustav Adolfs Torg right next to an H&M Home.
More into secondhand? We hear you! Check out Pop Boutique, A Piece Lux, Love Street Vintage, Rad Susie Vintage and Mani.
Buying preloved stuff is a great way to stay stylish while putting much less of a strain on our natural resources.





Outdoor & sports
If it's something Swedes know better than Danes in general, it's the outdoors.
While the amount of forest in Denmark only covers around 15% of the land, in Sweden that number is a staggering 70%.
Naturkompaniet (the nature company) runs two big stores in central Malmö where you can get anything related to spending time in nature.
For sports, Stadium and XXL are safe bets for cheap, known brands.
For specialised running shoes and apparel, head to Runner's Store and Löplabbet.

Other stores
For some reason, the florists in Malmö are some of the best we've ever seen. Check out BlomsterPigan, Bara Blommor and Wallflower for their amazing displays.
Equally colourful, Lush is a great place to go for incredible bath bombs and other cosmetics.
LillaSkåne only sells products from Southern Sweden – often handmade and produced in small stock. Nice for gifts or for taking a bit of Sweden with you.
How couldn't you love the smell of walking into Paloma Tea Company? The store itself is beautiful, too.
Talking of beautiful stores, Apoteket Lejonet (The Lion Pharmacy) is worth stopping by. It's not only an incredibly historic place, the interior design itself transports you back to another time all while being fully functioning as a modern pharmacy.
For healthy food stuff, you have to check out Rawfoodshop. Not only are most of the products organic and vegan, they're also cheap – and it's (probably) the only place in town where you can buy speciality stuff like dandelion leaves, agar-agar and cordyceps.
This is where we get things like organic nuts in large quantities, beans and vegan protein powder ourselves.






Cultural activities & architectural highlights
Malmöhus Castle is a historical fortress located centrally in Malmö. The exterior is quite cool, but also check out the exhibitions about technology, shipping and history inside.
Gamla Staden means "the old town" and, as the name suggests, it's an old (and very picturesque) part of Malmö perfect for strolling around. The western part, Gamla Väster is the most well-preserved part. The eastern part is called the Caroli Quarter.
At Snapperupsgatan 10, you will find Ebba's house – the smallest museum in Malmö.
Moderna Museet (The Modern Museum) is one of Europe's premier museums for modern art, located just 10 minutes of walking from Malmö's Central Station.
Stortorget (The Big Square) is impossible to miss. Check out the old City Hall as well as Apoteket Lejonet – the most beautiful pharmacy we've ever seen.
Lilla Torg (The Small Square) is super cute. We try to pay it a visit every time we're in Malmö.
Gustav Adolfs Torg (The Square of Gustav Adolf) is the final square you shouldn't miss. At Christmas, this is where you'll find Malmö's Christmas market, and it's equally bussing at all other times of the year.
Sankt Petri Kyrka (Saint Peter's Church) from the 14th century holds one of Scandinavia's largest altar pieces.
Västra Hamnen (Western Harbour) is the home of the 190 metre-tall skyscraper Turning Torso. The district is the first carbon-neutral district in Europe and while it's a little bit of a walk from the city centre, it's a must-visit if you're into modern architecture. Swing by the Old Lighthouse on the way.





Parks & recreative areas
Malmö is a very green city (just like Copenhagen) and you'll never have to walk far to get to a haven ideal for relaxing.
Kungsparken (The King's Park) is Malmö's oldest park and very easily reachable. It's connected with Slottsparken (Castle Park) as well as Slottsträdgården – famous for its old Dutch type windmill Slottsmöllan.
Pildammsparken (Willowpond Park) is very scenic with its lake.
Folkets Park is definitely the most fun park of the bunch. This is where you'll want to take kids as they'll surely be entertained by the incredibly diverse offerings.
Ribersborg Beach is the perfect place to chill on warm days. You'll also have wonderful views of both the Öresund Bridge and Turning Torso. Don't miss the open-air public bath Ribersborgs Kallbadhus.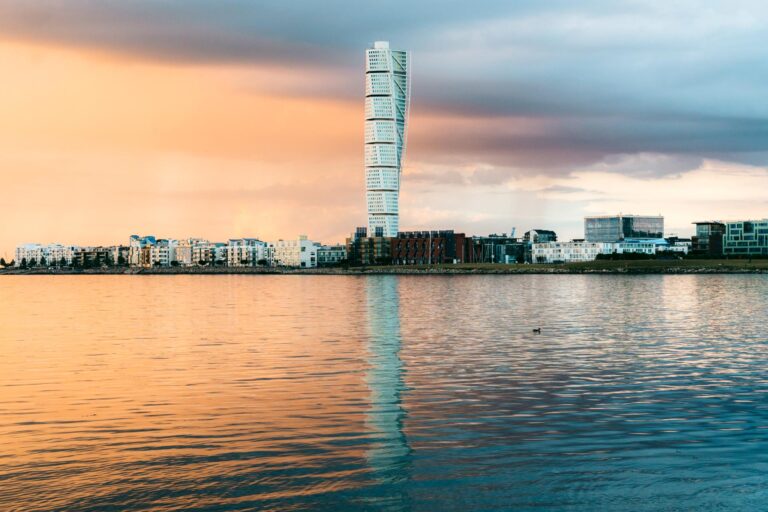 Cafés & restaurants
After all that walking around, you'll surely need to replenish your energy. Thankfully, Malmö is full of great coffee shops, cosy cafés and restaurants that cater to all tastebuds (and budgets).
One of the things we like the most about Malmö is the fact that eating out here is just cheaper than in Copenhagen.
So either the trip across the Sound pays for itself – or you just get to order more delicious stuff!
Read more about where to eat in our comprehensive vegan eating guide to Malmö with the best restaurants and cafés.
The best cafés
Leve. The best croissants (and other baked goods) in Scandinavia, right by Triangeln Station. All plant-based.
AB Småland. Get a taste of the Swedish countryside at the city's most beautiful café.
Lilla Kafferosteriet. Large, cosy café in the old town with good coffee.
Slottsträdgårdens Kafé. A lovely greenhouse/outdoor café at the organic garden Slottsträdgården in Kungsparken. Perfect for a nice lunch break in the sun.
Espresso House. Sweden's own coffee chain makes excellent coffee (with good options for plant milk) and sells tasty baked goods (including several vegan options).
Solde. Speciality coffee in the centre of Malmö.
Brunch and lunch:
Café Holmgången. Brunch plates, lasagna, cakes and other tasty plant-based dishes.
Farm2Table. Super cosy café with the city's best breakfast (including smoothie bowls and waffles).
Hummusson. Hummus bar with delicious hummus, falafel and pita bread – perfect for a quick lunch.
Vegegården. Completely vegan Asian buffet great for extra hungry people.
Dinner:
Far i Hatten. Amazing pizzas in Folkets Park.
The Vegan Bar. Burgers and speciality beers. The music is loud and it's a little bit far to walk from the city centre, but the burgers are great.
Bastard Burgers. Good burgers located closer to the city centre.
Malmö Saluhall. Lots of different food stalls near the Central Station.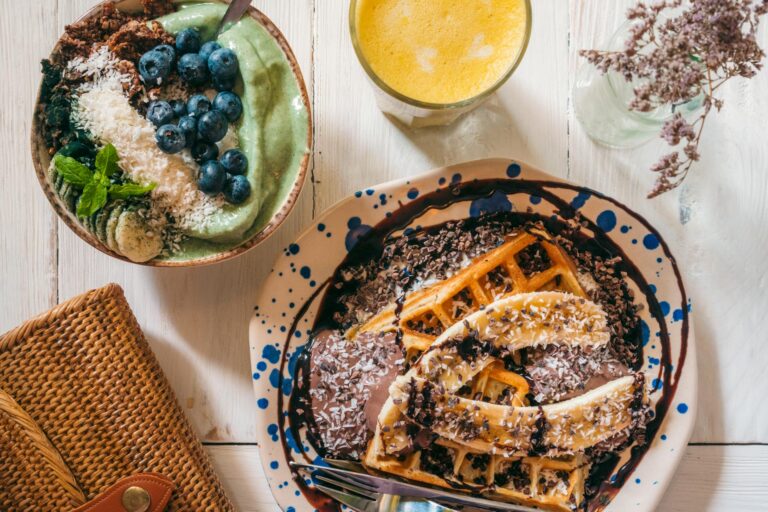 How to get around in Malmö
Central Malmö is quite small making it easy to walk everywhere.
You'll only very rarely have more than 30 minutes of walking to get from where you are to where you want to go and there'll be lots of stuff to see and do on the way.
To get around faster, consider renting bikes or electric scooters. Just like Copenhagen, Malmö is a very bike-friendly city.
The public transportation system in Malmö is also very convenient and easy to use.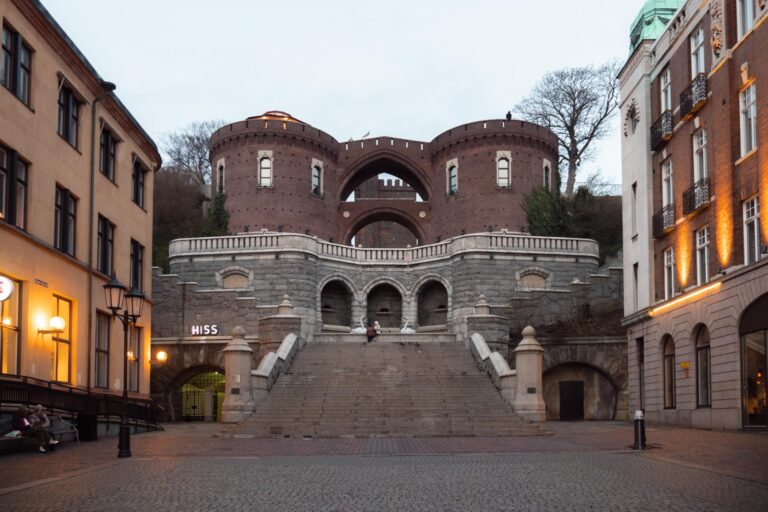 Staying in Malmö overnight
Isn't a day trip enough?
It can be challenging to experience everything you want to in Malmo in just one day. Even though it's a relatively small city, there are truly many exciting things to do!
We have stayed overnight in Malmo ourselves and can easily recommend spending a bit more time in the city.
Here is a brief overview of our top hotel recommendations. You can also read our comprehensive guide on where to stay in Malmo here.
Where to stay in Malmö?
Adlinks
Budget: HOTEL N Hostel Malmö City – Centrally located hotel/hostel where you can choose between a double bed or a bunk bed if you want to save even more money.
Value for money: Best Western Plus Hotel Noble House – Where we've personally stayed. A very nice, quirky hotel with a gym and sauna in Malmö's most lovely area.
Luxury: The Duxiana – Sleep in luxury beds from DUX. Probably the best hotel in town.
Search for the best and cheapest hotels in Malmö here.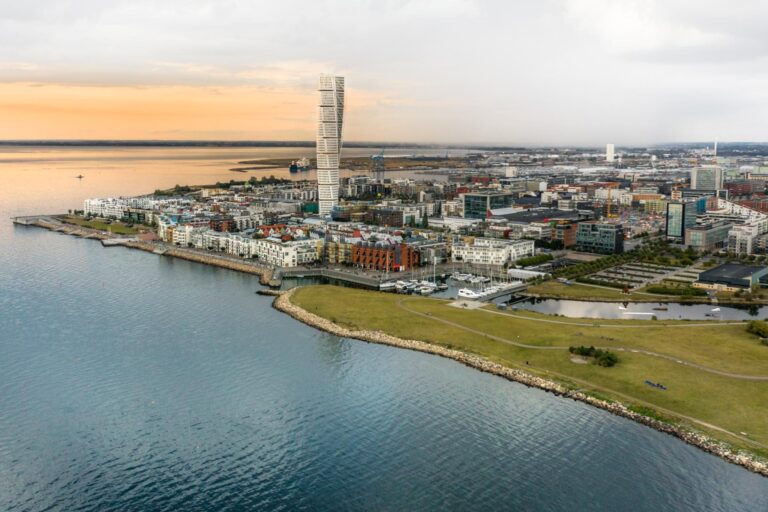 Thanks for reading
We hope this travel guide to going on a day trip from Copenhagen to Malmö has been useful.
What do you think about Malmö?
If you've been, it would be awesome to hear your best tips for day trips in the comments.
If you haven't been to Malmö yet, please don't hesitate to ask us anything. We're glad to help!



Our favourite travel resources:
Our camera gear: