Stockholm Travel Guide: 31 Best Things To Do & See in the Swedish Capital
Everything you need to know about sparkling Stockholm, including what to do, where to eat and our top tips
The Venice of the North
Stockholm, Sweden's capital, is super cosy!
As Alexander's grandmother and grandfather live just south of the city, we have been lucky to visit Stockholm countless times over the years in all seasons.
"Fika", old streets, walks along the canals and nice interior design shops… That's just some of the things we love most about Stockholm.
You can easily spend a weekend in Stockholm – or several days – because there is so much to do and see at the many islands in the archipelago (which has given the city the nickname the Venice of the North).
In this travel guide to Stockholm, we share the best things to do and see as well as tips and recommendations for where to stay, good restaurants and cafés, how to get around and much more.
Where to stay in Stockholm?
Search for the best value accommodation in Stockholm here.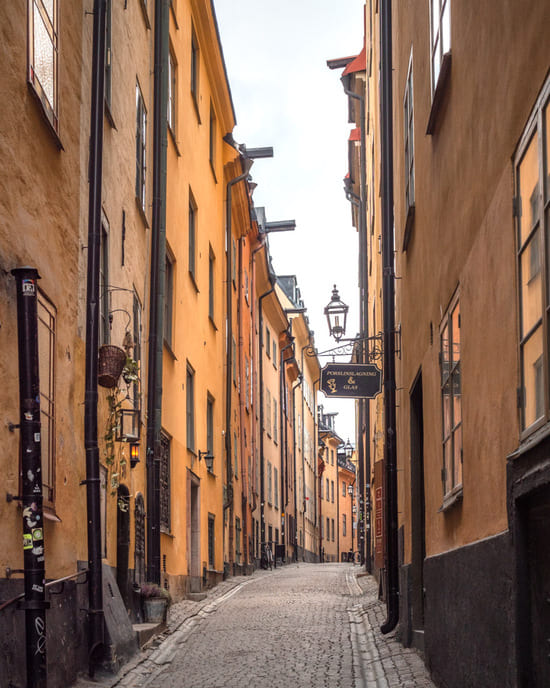 Stockholm map and geography
Stockholm is spread over several different islands and islets. The central part of the city is located on 14 islands, all of which are connected by more than 50 bridges.
Stockholm's archipelago consists of more than 20,000 islands (some say 30,000!), which spread east from the city towards the Baltic Sea.
Stockholm City Card
We'll start this guide to Stockholm by mentioning an all-inclusive pass to the city: Stockholm City Card.
It's a really great idea if you want to experience several museums or go on sailing trips in the archipelago.
You get access to more than 50 attractions and tours in Stockholm which you can visit freely for either 1 day, 2 days, 3 days or 5 days.
The card is valid, among other things, for:
Going on an Archipelago Sightseeing Cruise with a guide.
Sailing to Drottningholm.
Visiting the Vasa Museum.
Going up to SkyView Stockholm.
Some of Stockholm's biggest and best highlights, in other words.
Several of the things to do and see in this travel guide to Stockholm are included in the Stockholm City Card, so we will mention it again later.
If you want to check out the prices and which museums, attractions and tours are included, you can read more about the Stockholm City Card here (adlink).
Tip: Remember to check the digital guide you receive after your purchase to see the updated list of included experiences and attractions, opening hours and specific booking instructions.
Advertisement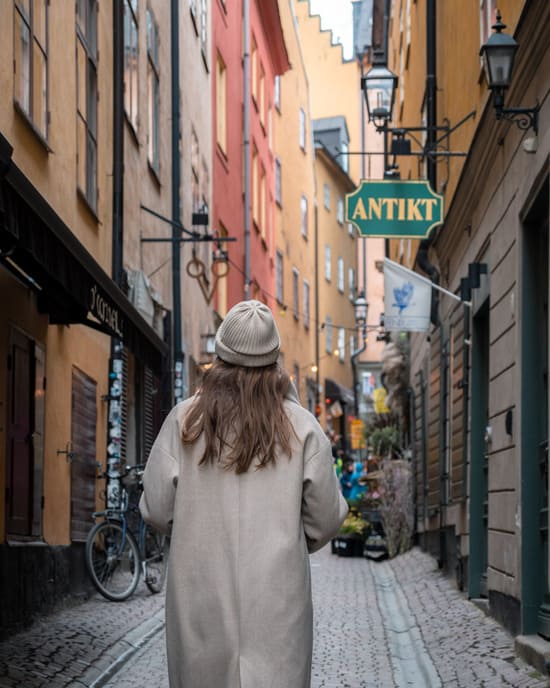 Best things to do and see in Stockholm
Since you are reading this travel guide, you are probably wondering what to do and see in Stockholm.
Well, we have been to Sweden's capital many times and still find new exciting shops and cafés to visit as well as parks and museums we haven't been to before.
There are plenty of sights and attractions for both a weekend trip and a longer stay.
In our opinion, here are the best things to do and see in Stockholm:
1. Gamla Stan – The old town
Stockholm's old town Gamla Stan is a must-visit when in Stockholm.
The area is located on an island in the middle of the city (Stadsholmen) between Norrmalm and Södermalm and it's lovely to stroll through when walking from one district to the other.
The streets of Gamla Stan are narrow, old and really cute.
And yes, it is a bit touristy with souvenir shops and slightly more expensive food options… But the area is still super charming!
Our favourite streets in Gamla Stan:
Västerlånggatan with the many shops.
The more quiet Prästgatan, which, among other things, includes The German Church.
Köpmangatan (Stockholm's oldest street).
Österlånggatan, where there are several small galleries and special shops.
Also, don't miss Stortorget with the beautiful coloured houses and The Nobel Museum as well as the narrowest alley of Stockholm: Mårten Trotzig's Alley.
In Gamla Stan, you will find Stockholm Palace, Stockholm Cathedral and the Parliament House – all of which we will get into in more detail below.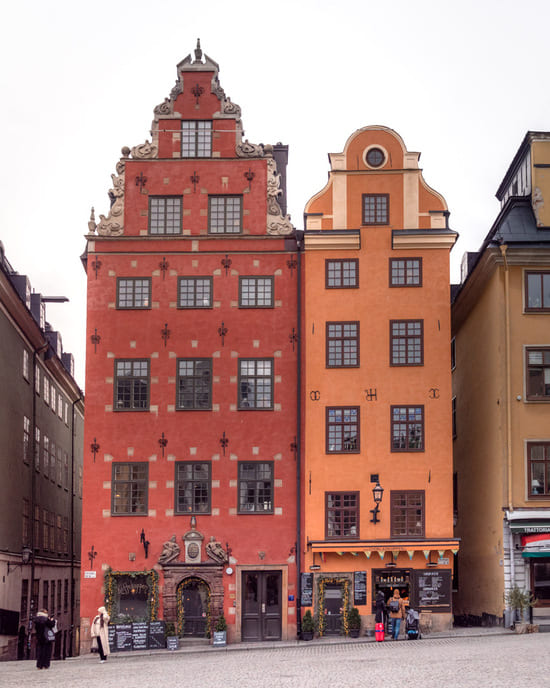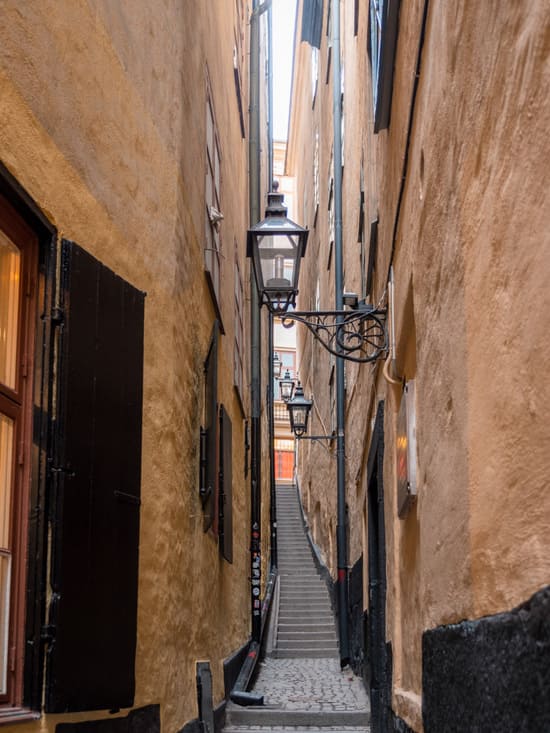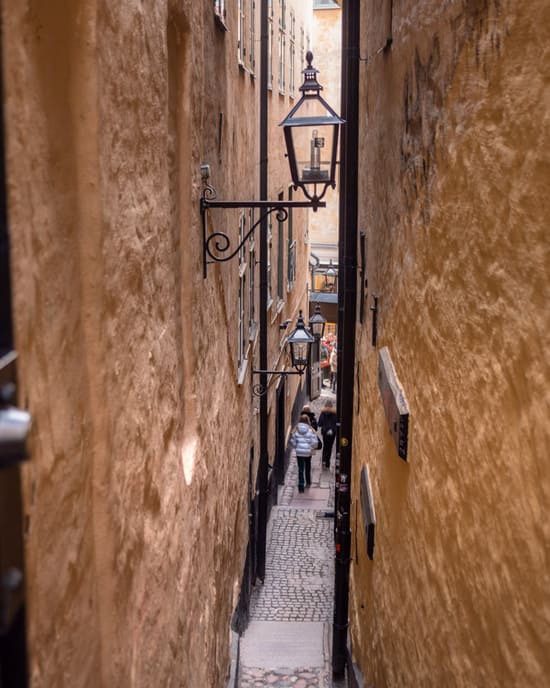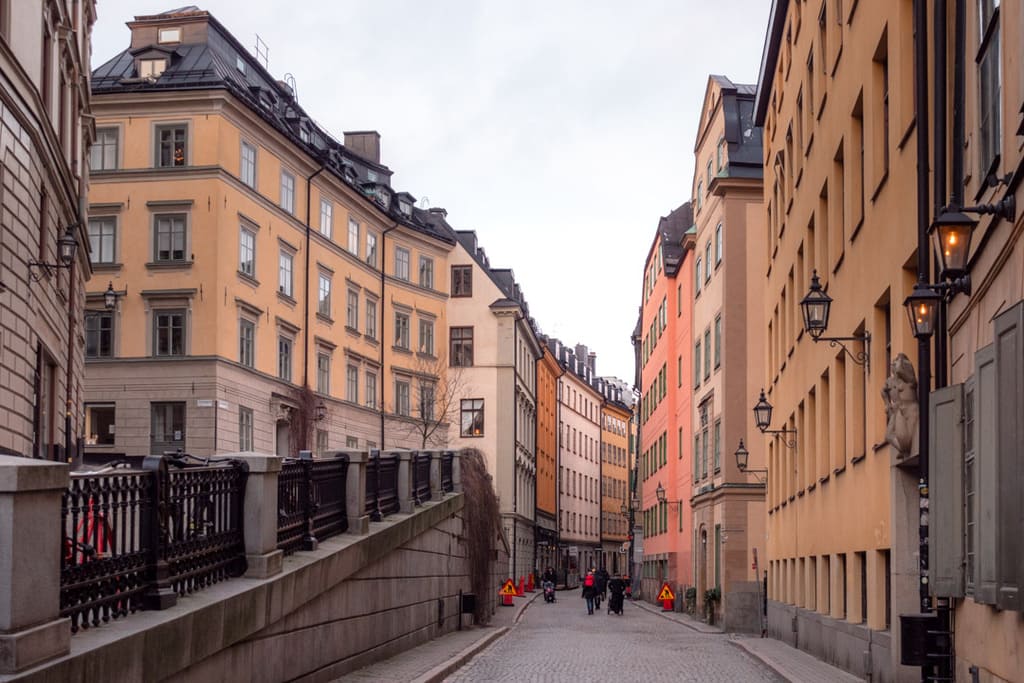 2. The Royal Palace – The royal residence
If you are interested in history, royal families or as Victoria loves historical drama series and movies about the royals, you can't miss The Royal Palace (Kungliga Slottet in Swedish).
Even though it's the royal couple's official residence and workplace, large parts of the castle are open all year round.
The Royal Palace is built in Baroque style and we were really impressed with the pompous rooms, the art and the gold details in the old castle.
It's like stepping into a movie! It's also fun to experience if you have watched the Netflix series Young Royals.
In addition to the castle itself, the entrance ticket also gives access to the Royal Treasury (Skattkammaren) with incredible royal crowns and weapons as well as the Museum Three Crowns (Tre Kronor), where you can learn more about the development of the old Tre Kronor Palace from a defence fort to a Renaissance palace.
See opening times, prices and different types of tickets on their website.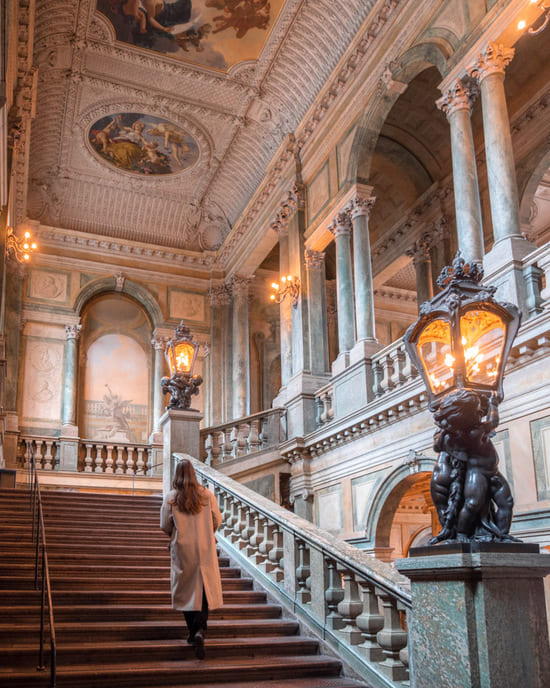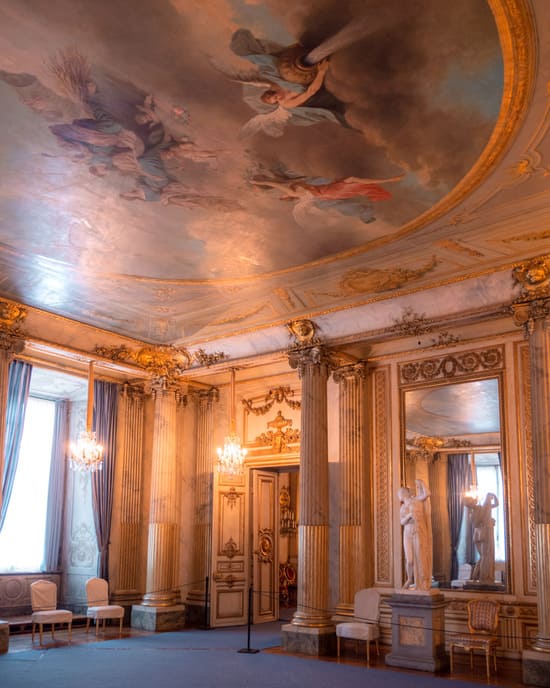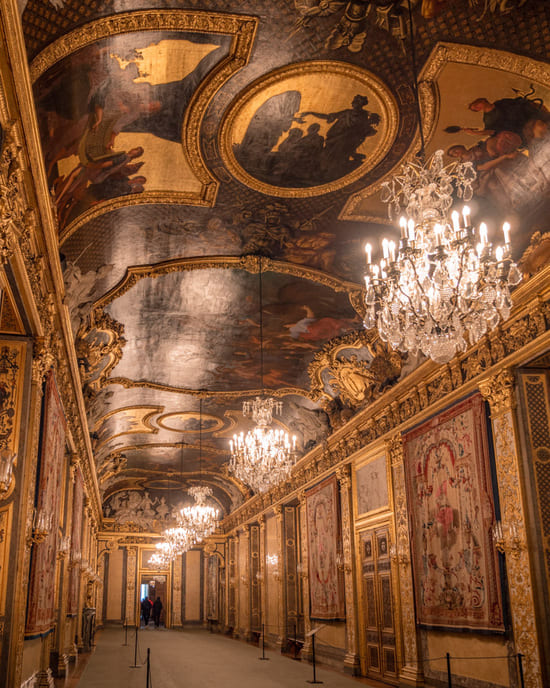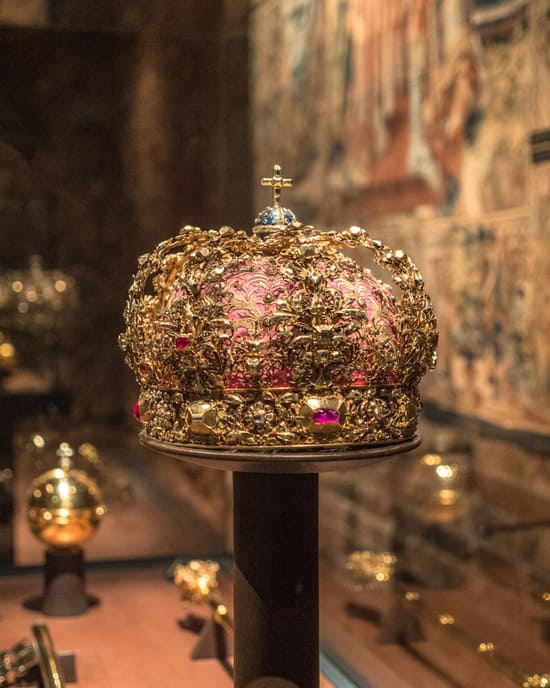 3. Stockholm Cathedral – The royal church
Right next to Stockholm Palace (described above), you'll find Stockholm Cathedral (Storkyrkan in Swedish).
The cathedral, which is also called Sankt Nikolai Kyrka, is the oldest church in Stockholm.
Inside the church, there is, among other things, a famous statue of Saint George and the Dragon, a beautiful organ and an impressive altar.
It's worth checking out if you are in Gamla Stan.
By the way, this is the church in which Sweden's Crown Princess Victoria married Daniel.
The church can obviously be seen from the outside for free, but (unfortunately) going inside costs a little bit.
You can buy a ticket at the entrance.
Tip: The entrance fee to the church is included if you have the Stockholm City Card (adlink).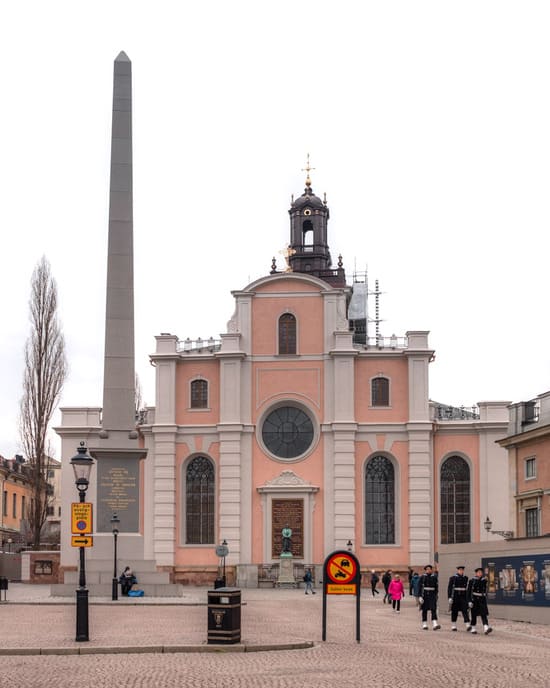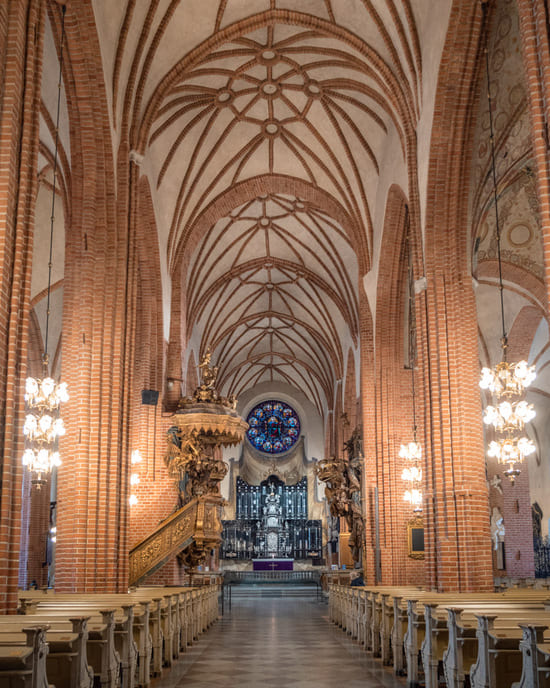 4. The Parliament House – The legislative assembly
The Parliament House is called Riksdagshuset, and it is the seat of the Parliament of Sweden.
The building is located on a small island, Helgeandsholmen, just north of Gamla Stan, and it's open to the public (read about visiting the Riksdag here).
It's an impressive building and it's worth passing by to admire even if you don't intend to go inside.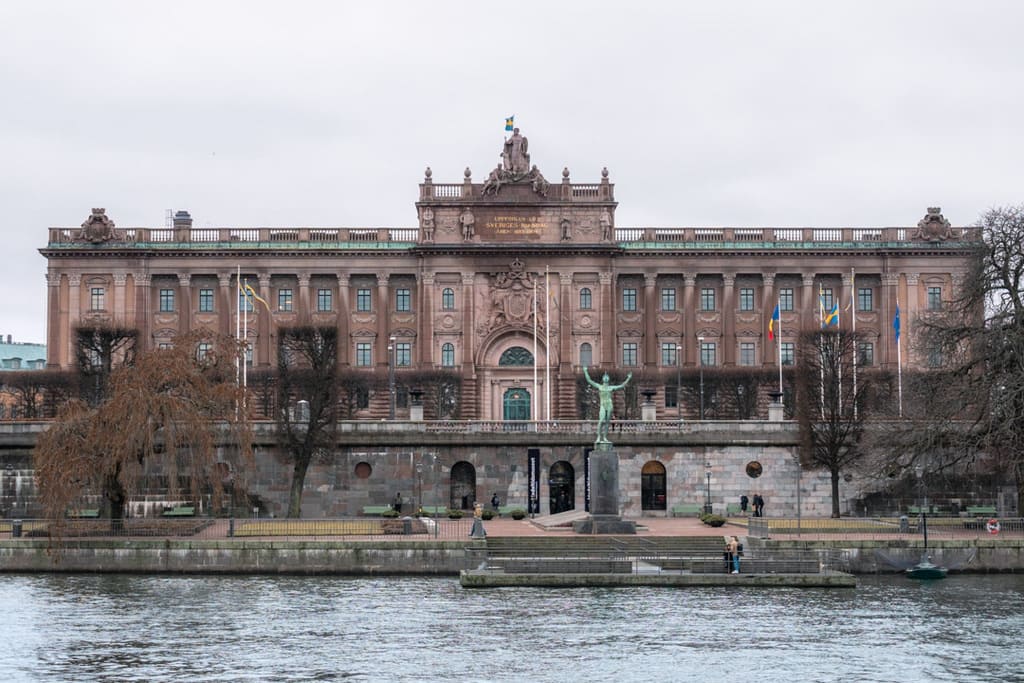 5. Riddarholmen and Riddarholm Church
Riddarholmen is located on a small islet west of Gamla Stan.
On the cute little streets, you will find the town court, Birger Jarl's tower, the Gamla Riksarkivet and lots of beautiful views of the water.
Riddarholmen Church is a beautiful burial and memorial church where former Swedish regents are buried.
The church is open to visitors during the summer season and also arranges several concerts throughout the year.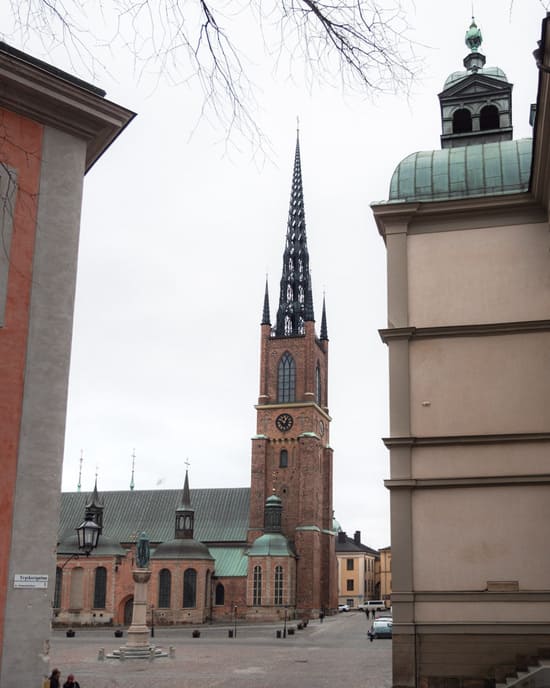 6. Stockholms Stadhus – The City Hall
The city hall, Stockholms Stadhus, was built between 1911 and 1923 and it was designed by the Swedish architect Ragnar Östberg in a national romantic style.
There are tours of the city hall almost daily (read more about times and prices here).
The city hall is located next to the water at the tip of Kungsholmen, where you can get a great view of Riddarholmen and the western part of Södermalm from the City Hall vantage point (Stadshuset utsiktspunkt).
In addition to being the seat of Stockholm's municipality, it's also where the Nobel Prize is awarded every year in December in the magnificent halls.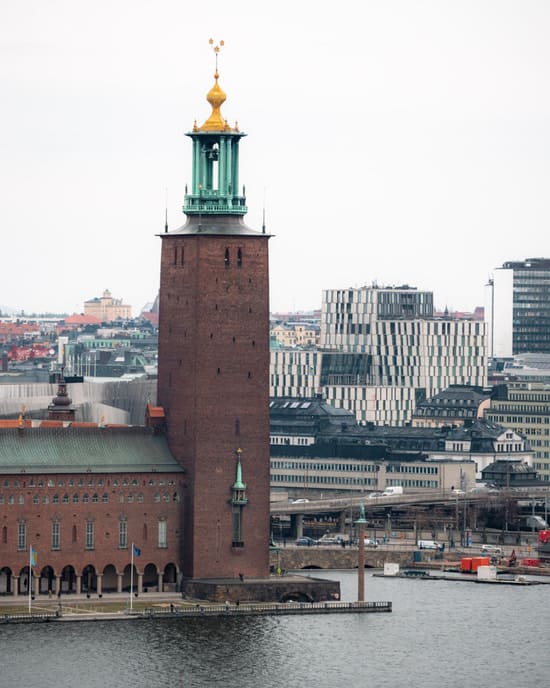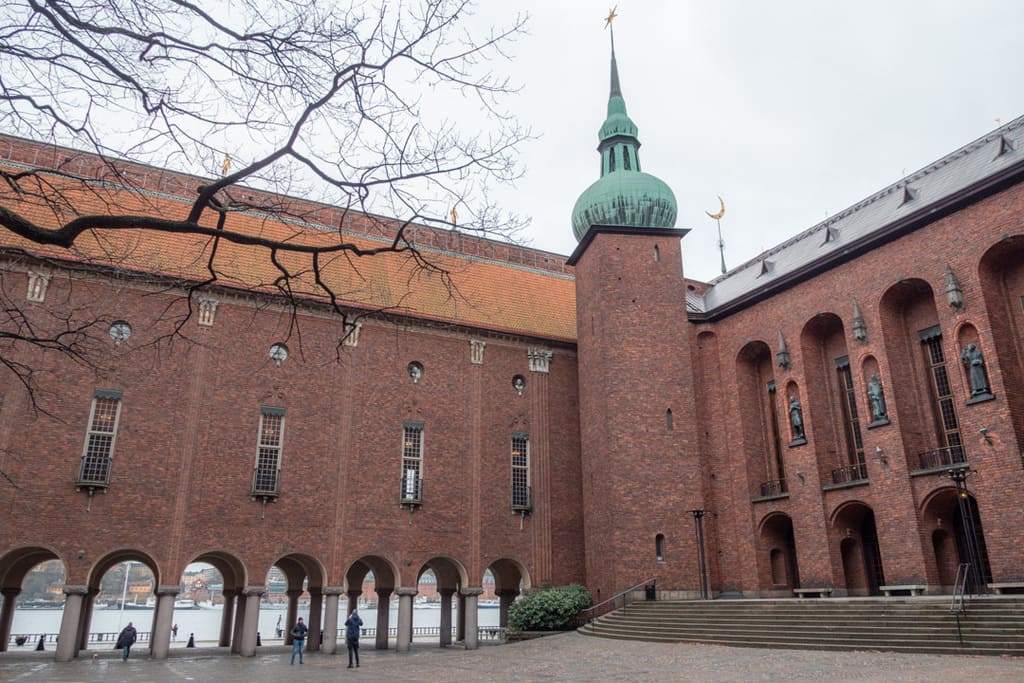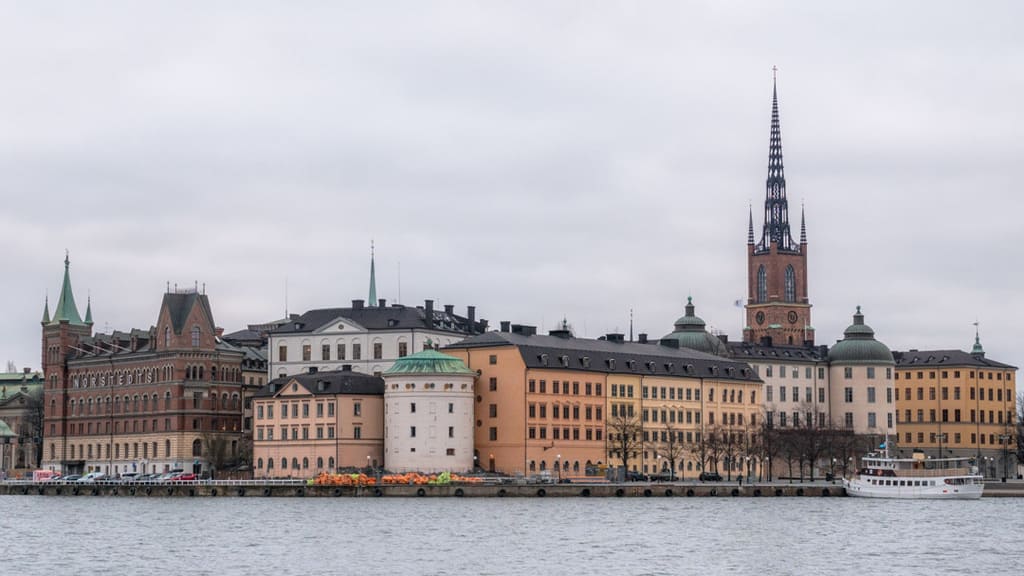 7. Walk along the canals
One of the most characteristic features of Sweden's capital is the many canals and waterways that wind through the city.
In fact, there is so much water that Stockholm is sometimes called the Venice of the North.
Taking the time to walk along the canals is definitely recommended!
Enjoy the views over the water from the many bridges and roads along the waterfront, for example from Strandvägen, which runs from Norrmalm to Djurgården, North Mälarstrand a little west of the city hall, or Söder Mälarstrand just on the other side on the western part of Södermalm.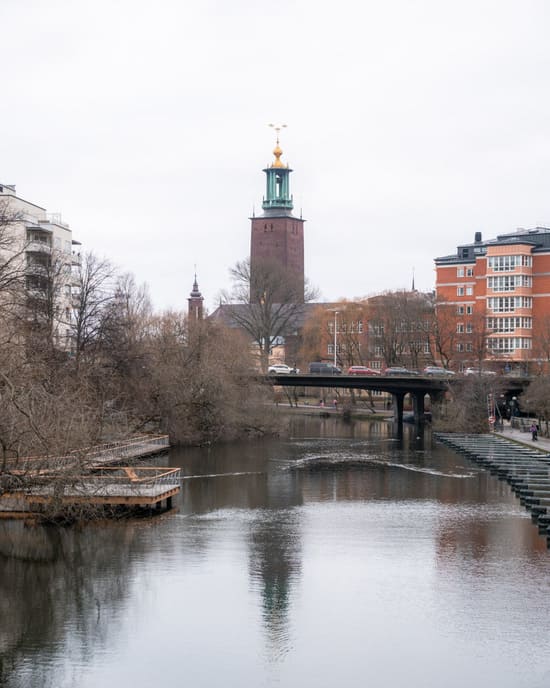 8. Canal cruise – See Stockholm from the waterside
You can also choose to see Stockholm from the water by going on a canal cruise.
Several companies offer boat trips in the canals where you get a unique perspective on the city and pass several of the best sights in Stockholm.
There are also several different types of boat trips included among the experiences you can get with a Stockholm City Card (adlink).
Going on a canal cruise in Stockholm is definitely a wonderful way to see the city.
Advertisement
9. Djurgården – The green lungs of Stockholm
The island of Djurgården is a beautiful oasis in the middle of Stockholm which is especially nice to visit in the summer because of the large green areas.
Rosendals Trädgård (the Rosendal Garden) with Rosendals Slott (the Rosendal Palace), Ekoparken, Djurgårdens Bokskog and Frisens Park take up a large part of the island.
The historic open-air museum Skansen is worth a visit on a day with good weather, too.
Near the water, you will find the amusement park Gröna Lund, ABBA The Museum and other popular museums such as the Vasa Museum, The Viking Museum, The Nordic Museum and the children's park Junibacken.
Below we go into more detail about several of the experiences and sights on Djurgården.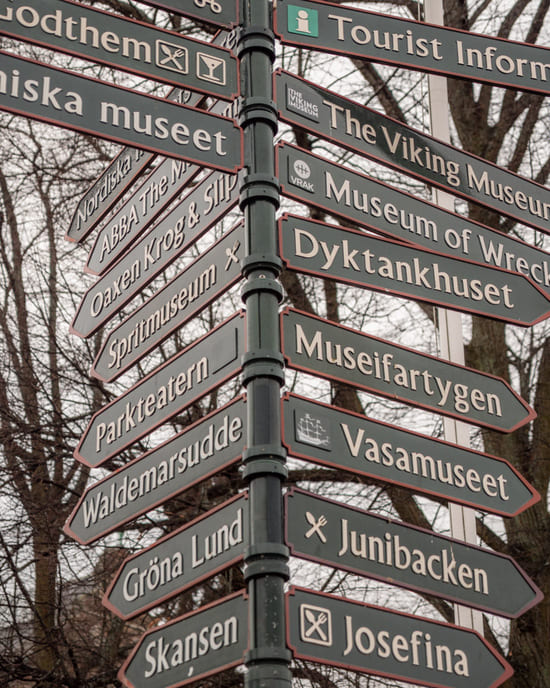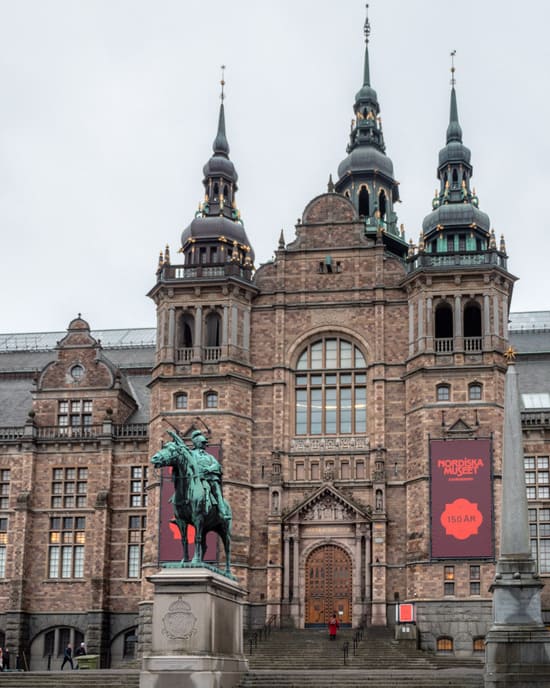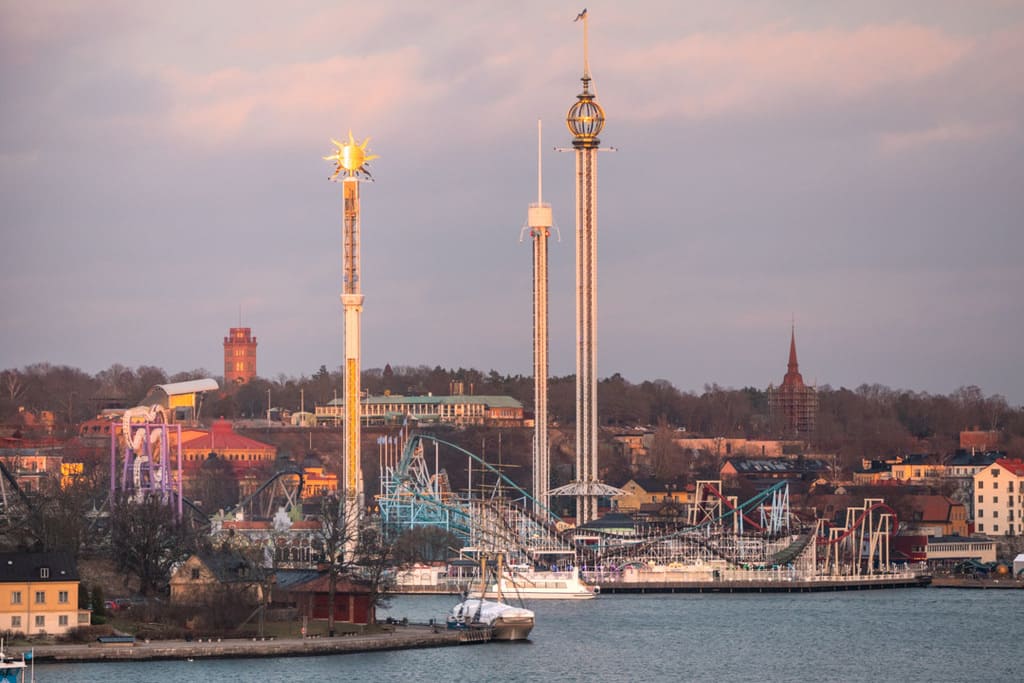 10. The Vasa Museum – A well-preserved 17th-century warship
The Vasa Museum is one of Stockholm's most famous museums and iconic landmarks.
The Vasa Ship sank in 1628 shortly after it sailed from the port of Stockholm on its maiden voyage.
Around 300 years later, the ship was raised from the bottom of the sea and restored. Now it can be experienced up close.
Alexander naturally visited the Vasa Museum as a child with his Swedish family – because it's truly an exciting museum for children where you, among other things, can play between the cannons and imagine being inside the ship.
On our most recent trip to Stockholm, we both visited the museum and it was impressive to see the gigantic ship from six different floors. That way we could soak in all the details and see the ship from all angles.
There are several small exhibits, including a screening of a 17-minute documentary about the ship's history.
The Vasa Museum is included in the Stockholm City Card (adlink) which gives access to more than 50 experiences and sights in Stockholm.
You can also buy your ticket online (adlink) or at the museum entrance.
Children up to 18 years old can enter The Vasa Museum for free.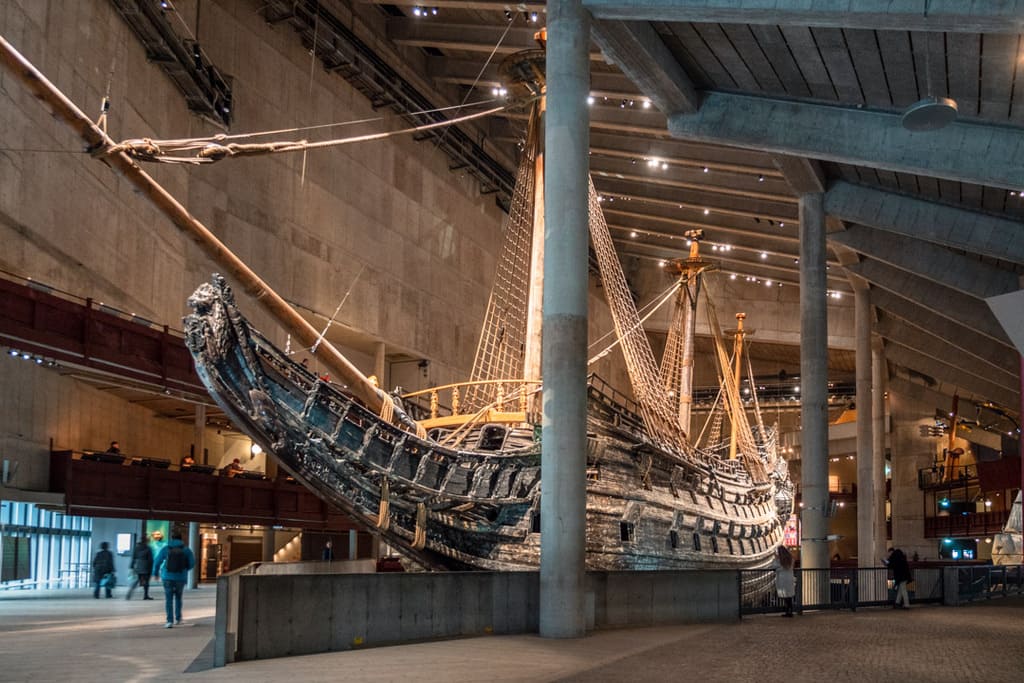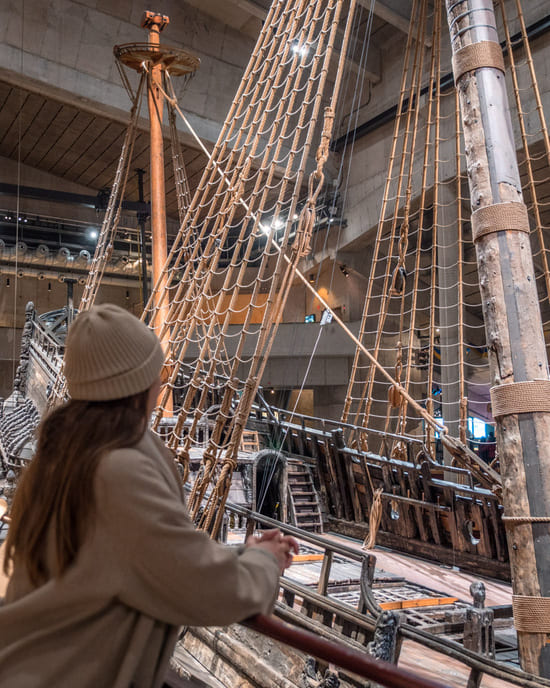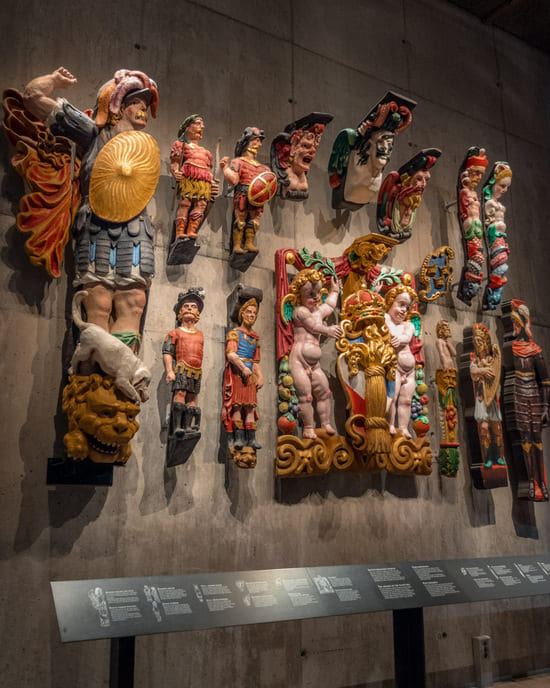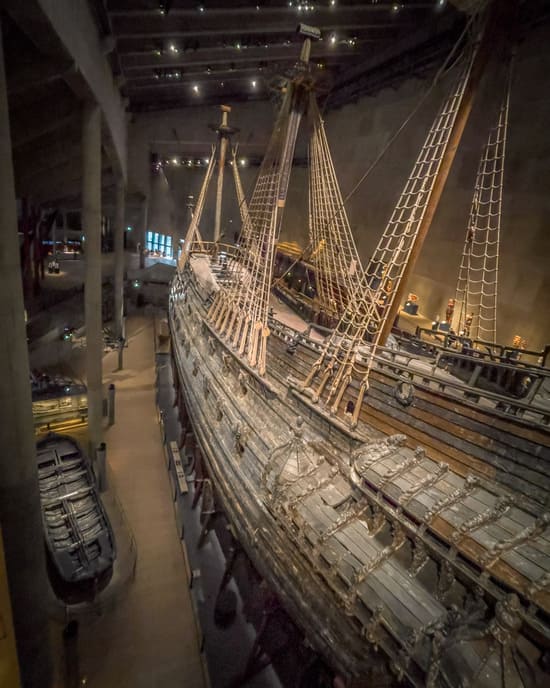 Advertisement
11. The Viking Museum – Norse mythology and an interactive exhibition
We have to admit that we didn't have high expectations for the Viking Museum. But we were positively surprised and really enjoyed our visit.
Here, you can learn about Norse mythology, Scandinavian history and of course the Viking way of life.
If you have seen Viking-themed TV series like Vikings, The Last Kingdom or Norsemen, it's fun to see some of the more in-depth descriptions of the characters you know from the screen.
The museum is right next to the Vasa Museum on Djurgården, so it's easy to combine a visit to both – and that's exactly what we did.
Something that made the Viking Museum special was a small "ride" called Ragnfrid's Saga, where you sit in a carriage (like in an amusement park) that takes you on a journey back to the Viking Age and tells the story of the fate of a Viking family.
In the course of 11 minutes, the carriage takes you through different rooms with figures, exhibitions, videos as well as light and sound installations. It was really well made!
You can choose to hear the story in English, Swedish and several other languages.
Visiting The Viking Museum, like the Vasa Museum, is also included in the Stockholm City Card (adlink).
Alternatively, you can buy tickets online (adlink) or at the entrance.
Advertisement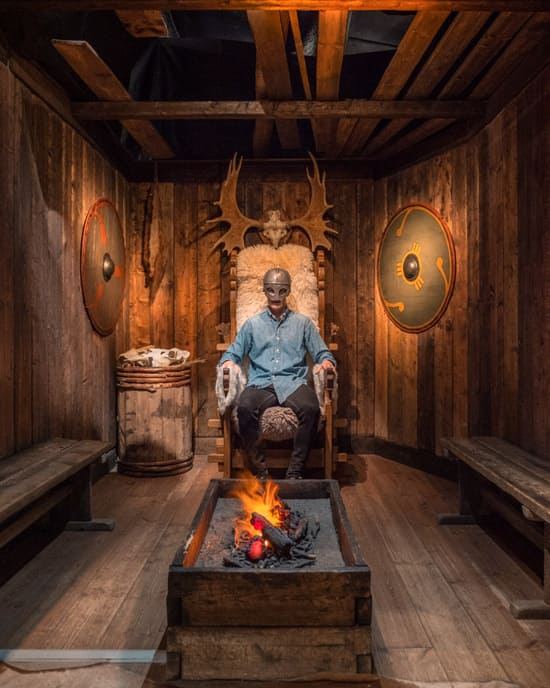 12. Skansen – The world's oldest open-air museum
It has been quite a few years since we visited Skansen but we still include it in this travel guide to Stockholm as it's a really cosy place.
At the world's oldest open-air museum, you can travel back in time and learn about how the Swedes lived in the 16th century and up to the first half of the 20th century.
There are 150 historic houses and farms from all over Sweden.
During the summer season, there are singing, dancing and concerts at the outdoor museum while the winter season includes a Christmas market and Christmas concerts.
We have to admit that we are a bit conflicted about the fact that Skansen also has enclosures with wild Nordic animals, an aquarium and a children's zoo with farm animals. As vegans and animal lovers, we don't think animals should be kept in captivity like that.
Advertisement
13. Gröna Lund – Stockholm's amusement park
Gröna Lund is Sweden's oldest amusement park and it's beautifully located next to the water on Djurgården.
If you are travelling with children, this is a fun place to spend the day.
There are around 30 rides, lots of stalls with games and lotteries as well as several restaurants and snack stands.
In addition, there is also entertainment for children, concerts and dance evenings.
Read more about Gröna Lund's opening hours, prices and events on their website.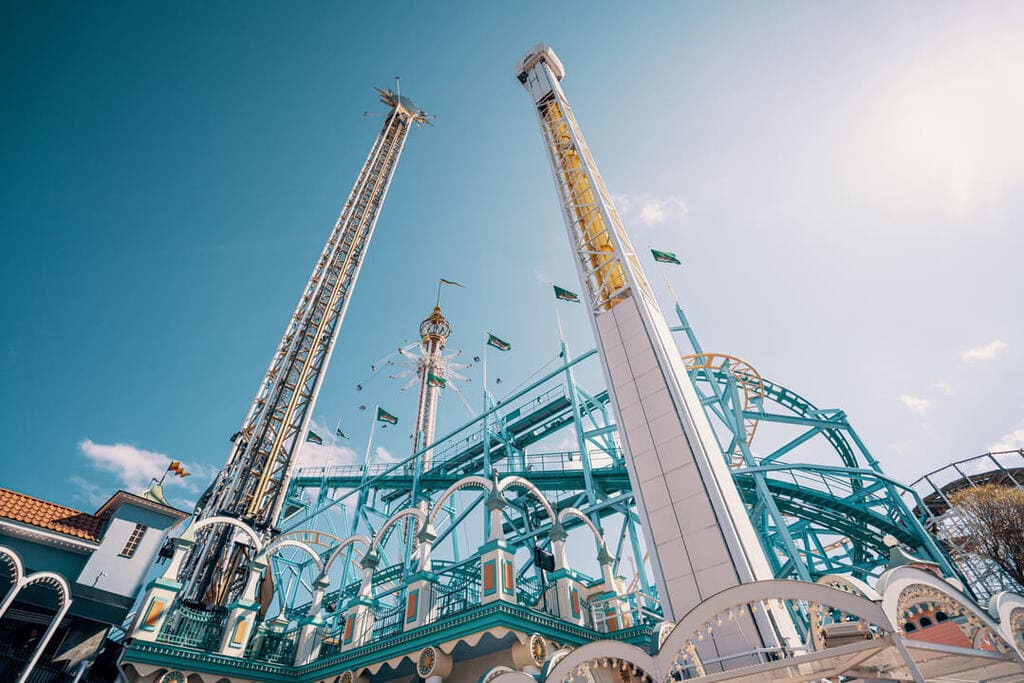 14. Rosendal Garden and Rosendal Palace
Go for a walk, relax in the sun or enjoy the many flowers and plants in the large green garden in the middle of Djurgården.
In Rosendals Trädgård (the Rosendal Garden), you'll find biodynamic fruits, vegetables and flowers (which you can buy and take home with you).
There is a cute greenhouse café with lunch dishes, coffee and cake, too.
Apart from that, the garden also has a cool labyrinth and the beautiful Rosendal Palace from the 19th century (read more about opening hours and prices here).
15. Junibacken – A fun playground for children
We have not visited Junibacken ourselves, but if you are in Stockholm with young children, you should definitely check it out.
The children's museum is a cultural centre for children (and childlike souls), and it has a theatre, interactive exhibitions, places to play, a large bookstore with children's books and many references to Astrid Lindgren's world.
Among other things, you can "lift up" Pippi's horse and ride a story train that takes you through several of the well-known Astrid Lindgren stories.
It's recommended to buy tickets in advance – they can be purchased online here (adlink) or at the museum entrance where they cost a little more.
Advertisement
16. Södermalm – Hip atmosphere and great food
Södermalm, often called Söder, is a large area in Stockholm south of Gamla Stan with lots of green parks, cosy cafés and restaurants, thrift shops, interior design and clothing stores.
The hippest part of Söder is the SoFo district (South of Folkungagatan), where you'll find many creative and innovative fashion stores, designer shops, small galleries and trendy eateries.
Further down, we'll mention some of the best things to do and see in Södermalm.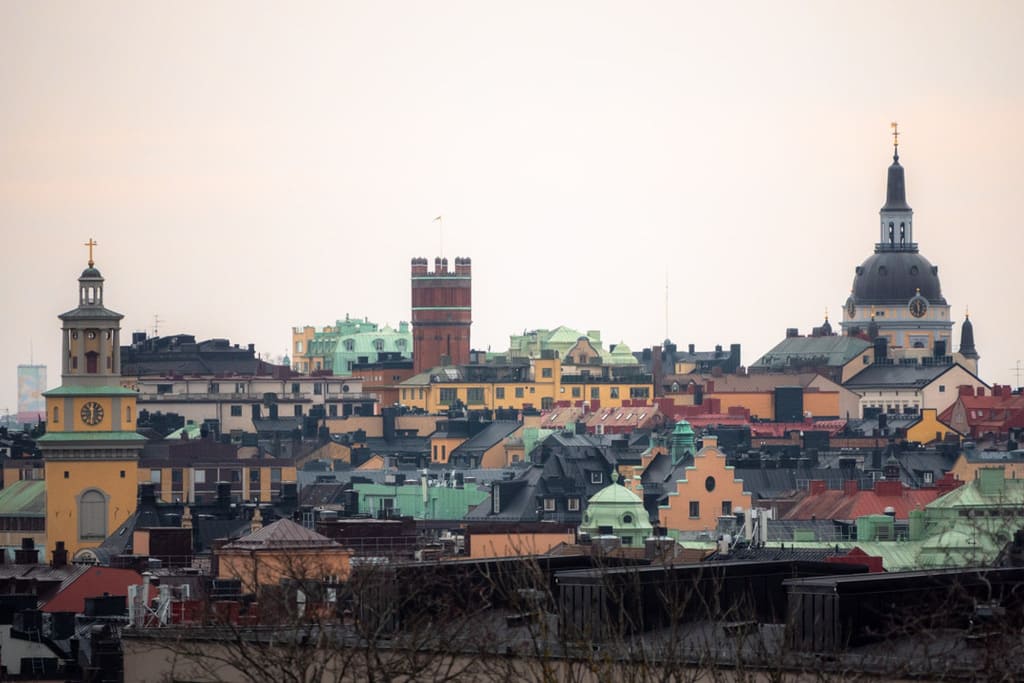 Advertisement
17. Fotografiska – Museum of Photography with a view
With a beautiful view over the water and Stockholm's small islands, the museum Fotografiska is located in an old customs station building in the northernmost part of Södermalm.
The modern photography museum is often recommended as one of the best things to experience in Stockholm – and for a good reason!
When we stopped by, there were three exhibitions at the museum and we were particularly fond of the News Flash exhibition which displayed unique news photographs from different decades.
The museum shop is also quite cool with many books, posters and Swedish design objects.
Furthermore, the museum is open from 10 am to 11 pm every day which can be convenient if you have more energy in the evening when all the other museums and shops are closed.
You can see the current exhibitions on Fotografiska's website.
And if you have already considered buying a Stockholm City Card (adlink), you will be pleased to hear that Fotografiska is also included in the pass.
Alternatively, you can buy tickets online (adlink) or at the entrance, where they (according to the museum) typically are more expensive.
Children up to the age of 13 enter for free.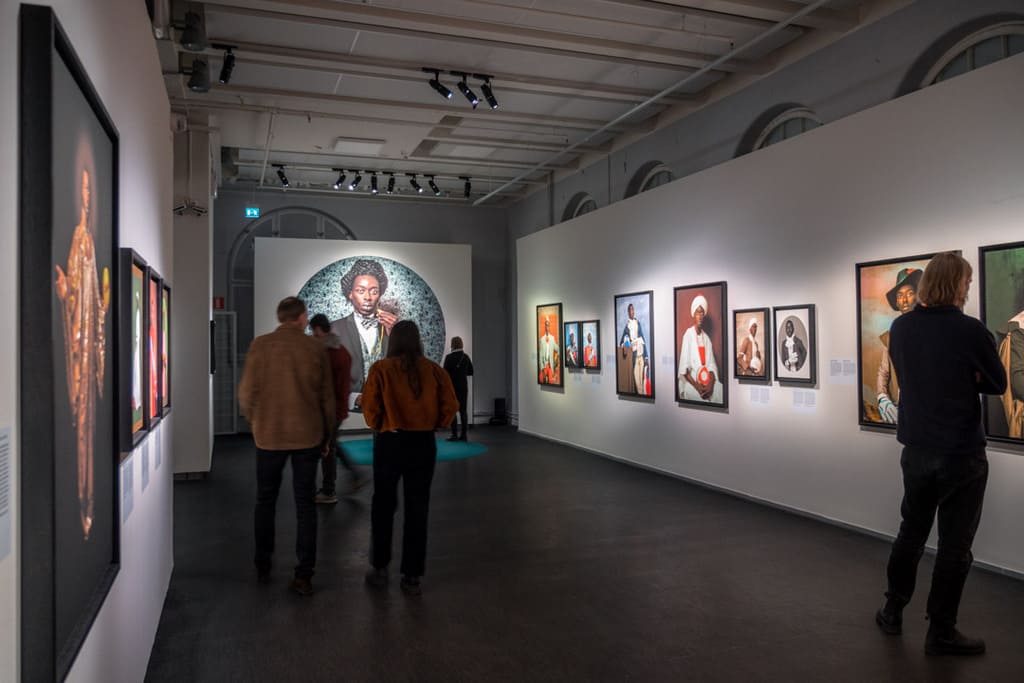 Advertisement
18. Katarinavägen – View of Gamla Stan
Katarinavägen is technically not a thing to see in Stockholm but nevertheless, we think it should be mentioned in this travel guide.
The road starts at Slussen and if you continue further up, you'll get a nice view of Gamla Stan and the rest of Stockholm.
When we visited in February 2023, a fence had been put up in connection with some road work, so the view wasn't the best. Luckily, you could still see – and take pictures – through the fence.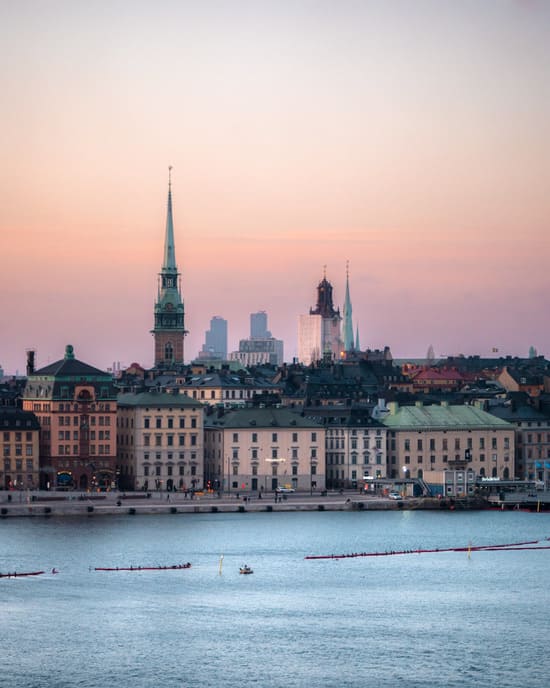 19. Skinnarviksberget – Natural view of the city
Another scenic view of Stockholm can be seen from the top of Skinnarviksberget.
In the northwestern part of Södermalm, you can go up to a small cliff, from where you can see the town hall Stockholms Stadshus, among other things.
It's free and we can imagine it's a lovely area in the summer or around sunset.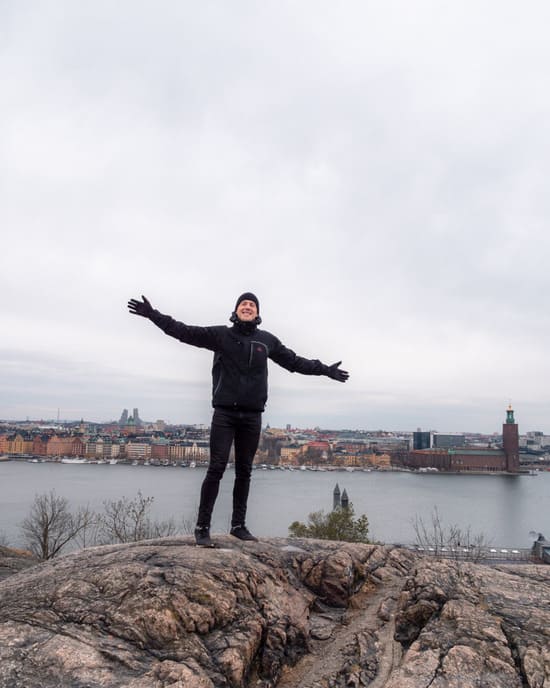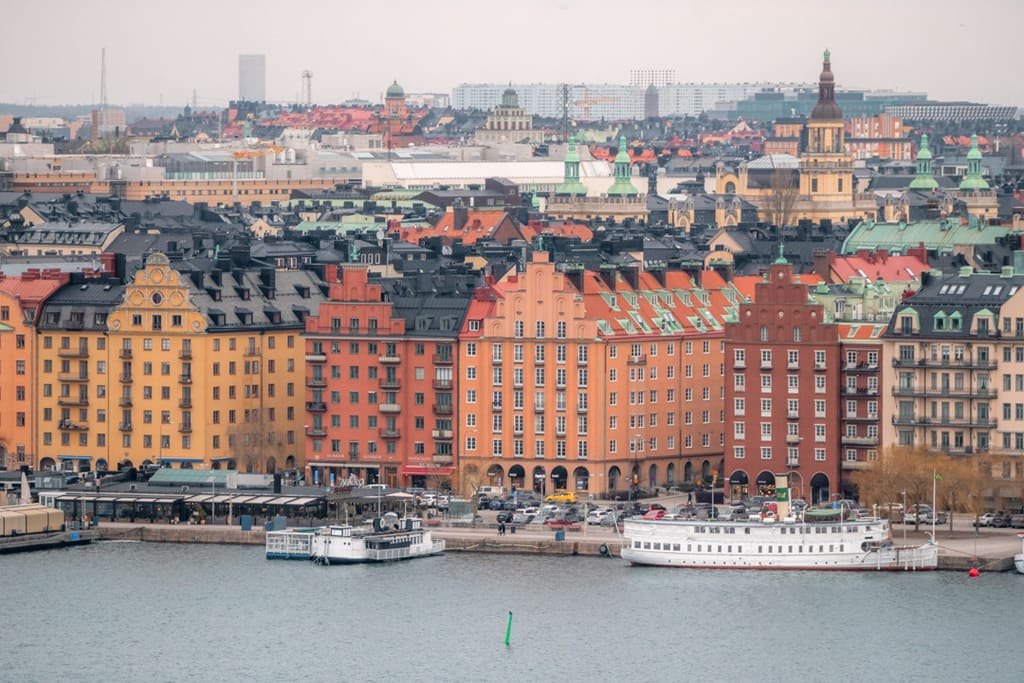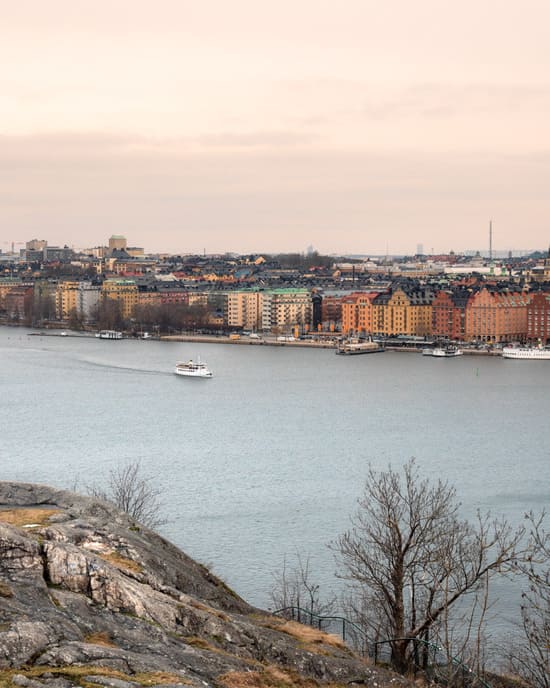 20. Sofia Church and Vitabergsparken
If you are in the eastern part of Södermalm – east of SoFo – it might be worth checking out Sofia Kyrka (Sofia Church) and Vitabergsparken.
The church is quite special from the outside (nothing too special from the inside though) and we can imagine that the park is beautiful in the summer.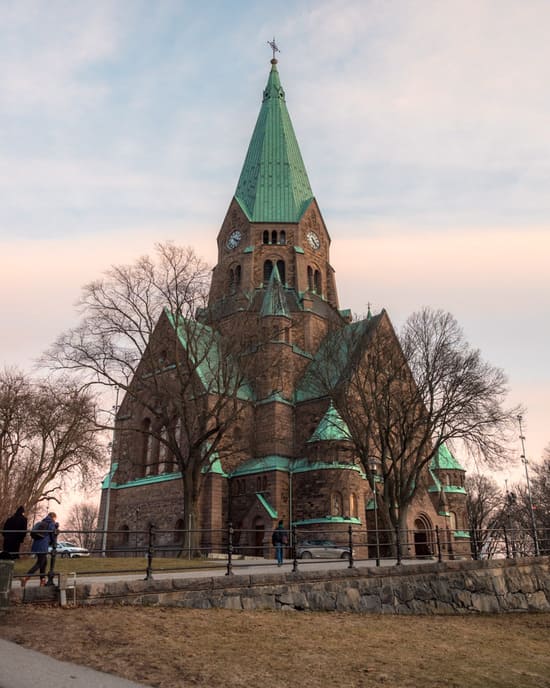 21. Östermalm – Fancy shops and beautiful architecture
North of Djurgården and east of Norrmalm, one of the finest areas in the city with some of the highest property prices is located: Östermalm.
Here you'll find designer shops, fancy bars, classy restaurants, green parks, Stureplan Torv, theatres and museums (for example Dramaten and Historiska Museet).
It is a lovely area to walk around with beautiful architecture.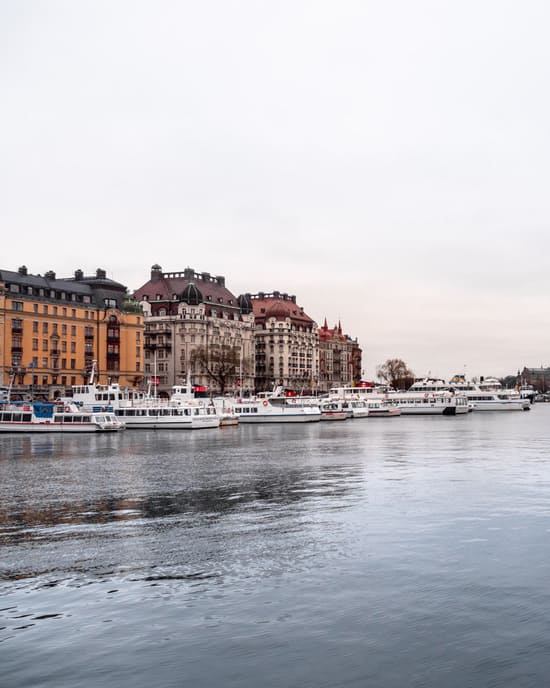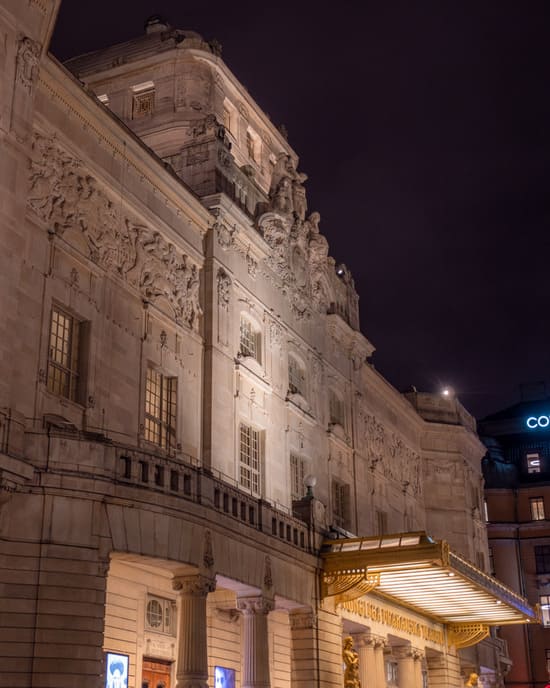 22. Östermalms Saluhall – Food market for aestheticians
One of the popular experiences for both locals and tourists in Östermalm is to stop by the beautiful market hall Östermalm's Saluhall.
The market is from the end of the 19th century and you can buy fresh ingredients, get a bite to eat or have a drink from one of the many stalls.
And even if you don't want to buy anything, you can just take a look inside, because it's simply a stunning building.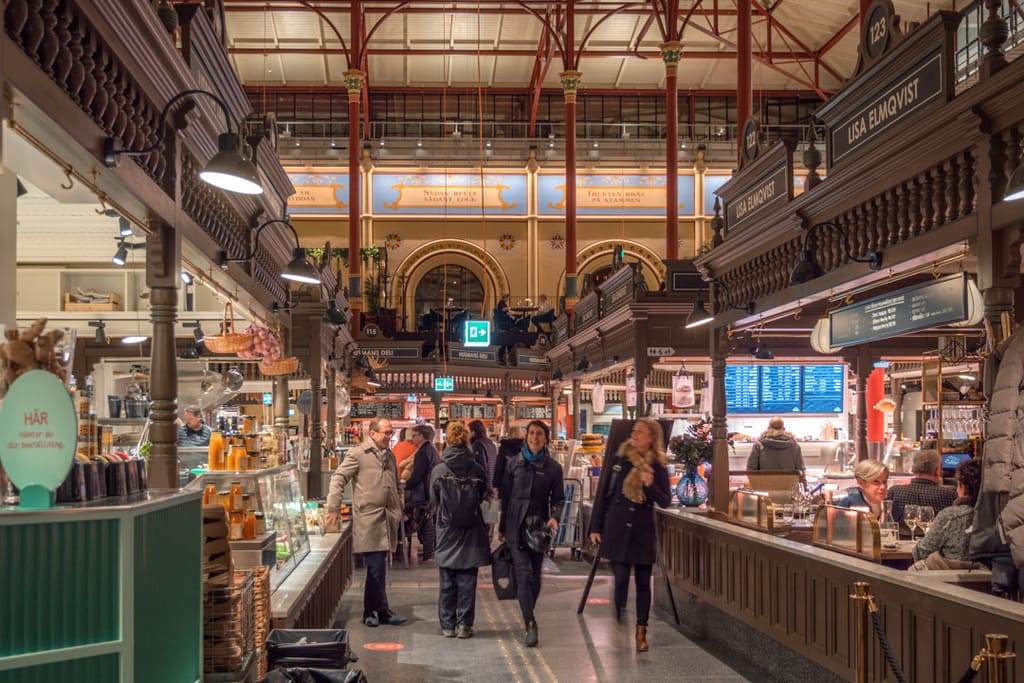 23. Norrmalm – Shopping and culture in the centre
Norrmalm – the large area in the middle of Stockholm – brims with (Swedish) fashion and design shops along the shopping street Drottninggatan as well as on the smaller streets near it and in the shopping centre called Gallerian.
In addition, you will find lots of restaurants and cafés in different price ranges.
Norrmalm is also where you'll find Stockholm Central Station, The Royal Swedish Opera, Stockholm Concert Hall, St. Clara Church and Sergels Torg with the Cultural centre Stadsteatern and the park Kungsträdgården.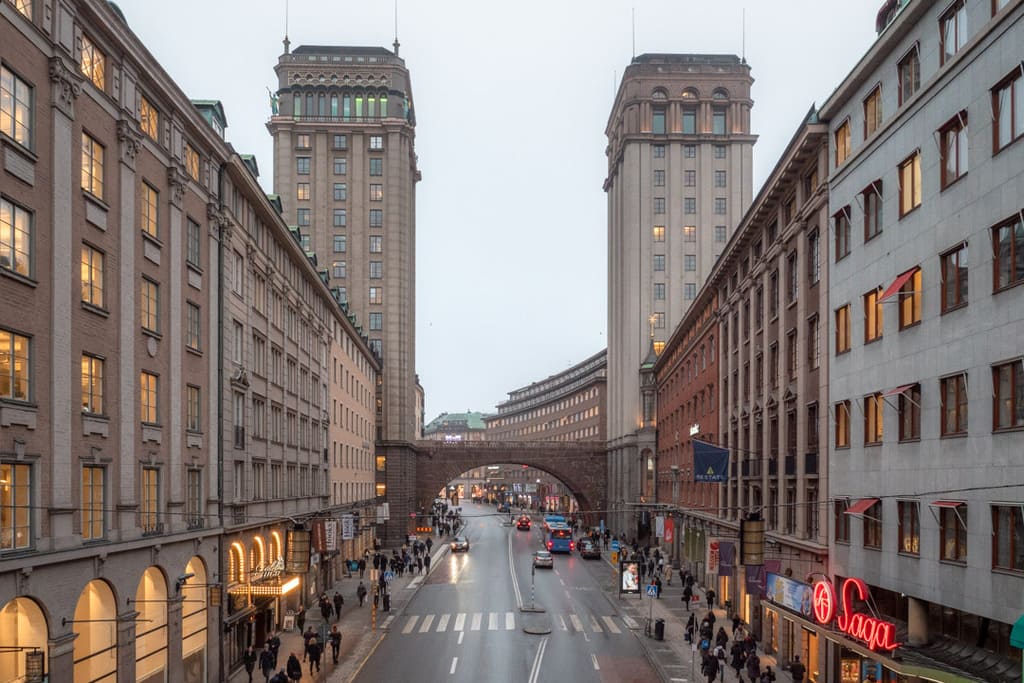 24. Hallwylska Museet – A luxurious family mansion
As we have already mentioned earlier in the guide, Victoria has a thing for historical dramas and luxurious residences.
Although Hallwylska Musee is not a royal residence, the family that lived there was extremely well off – and you can see their beautiful rooms and all the fine things they have collected at the museum today.
It is free to visit the museum on Wednesdays (when it's also open for longer).
See prices and opening hours on their website here.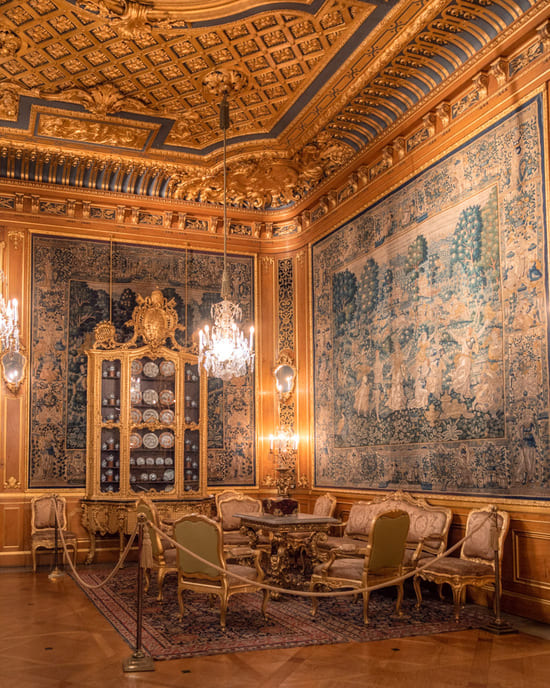 25. Paradox Museum – Optical illusions for children
If you are in Stockholm with children, they will love to experience the Paradox Museum.
The museum is full of interactive experiences and optical illusions where you can take cool pictures.
Buy tickets online here (adlink).
Advertisement
26. More parks and green areas in Stockholm
We have already mentioned several parks in Stockholm city but if you want to check out even more parks for a relaxing time or a picnic in the summer, these are great options:
Vasaparken
Observatorielunden
Humlegården
Tantolunden
Drakenbergsparken
Rålambshovsparken, Hagaparken, Skogskyrkogården (the Forest Cemetery) and Nackareservatet are a bit further away from the city but they also look lovely.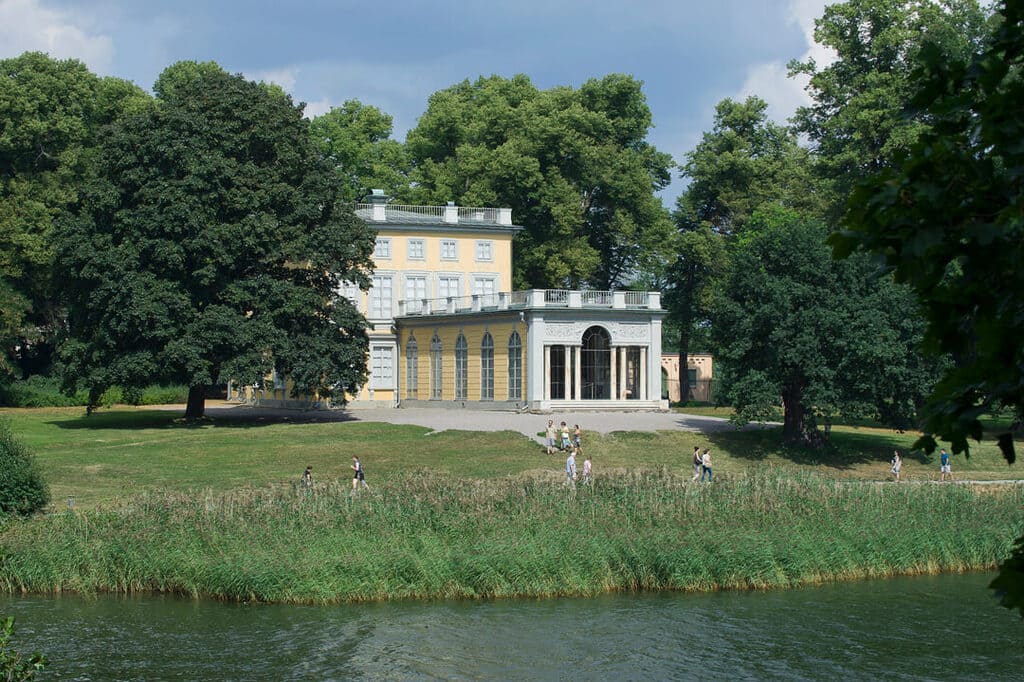 27. SkyView – View of Stockholm from the Globe
The world's largest spherical building, the Stockholm Globe Arena (which is now called the Avicii Arena), is just south of the central part of Stockholm.
Large music, sports and cultural events are held here, and along the outside of the round building, you can get a ride in a glass gondola and get a "sky view" over Stockholm.
If you already have a Stockholm City Card (adlink), a ride in SkyView is included. Remember to check whether you need to book a visiting time in advance.
Alternatively, you can buy tickets here (adlink).
Advertisement
28. Stockholm's metro stations – An underground art gallery
The metro stations in Stockholm deserve their own spot in this travel guide because many of them are worth a visit just for their special designs.
The metro system has been called "the world's longest art gallery" and there are more than 90 subway stations decorated with paintings, rock formations, sculptures, mosaics, installations and more.
And it's almost like walking into an art exhibition as so much work has gone into making them unique and exciting.
The metro system is also called tunnelbanan or t-banan.
Some of the most beautiful metro stations in Stockholm:
T-Centralen – especially the blue line with blue plants on a white background.
Stadion Station is built into the mountain and has, among other things, a beautiful rainbow painted on the wall.
Solna Central Station is red and green with cool nature details.
Kungsträdgården Station is green with references to the old French garden that once lay above ground.
Tensta Station illustrates acceptance, equality and love with pretty paintings.
Rådhuset Station has the bedrock is exposed and unsculptured which resembles a large cave.
Tekniska Högskolan has a technology theme with quotes from the history of science mixed with paintings and sculptures that refer to the four elements and the laws of nature.
You can see more cool metro stations on Instagram if you search for #stockholmmetro or #metrostockholm.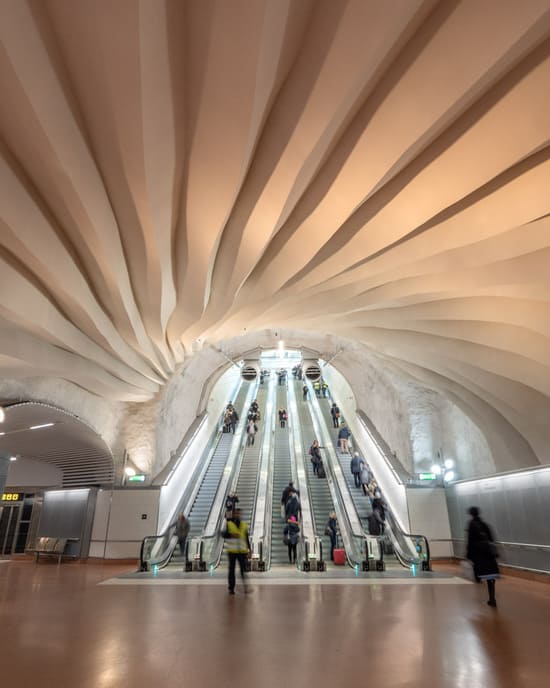 29. Hop-on hop-off bus tour – See the best of Stockholm
The classic hop-on hop-off buses also exist in Stockholm and you should consider going on a tour if you don't have much time in the Swedish capital, or if you prefer to walk less.
The buses drive directly to many of the best attractions in Stockholm (including top sights like Stockholm Palace, the Vasa Museum, Gamla Stan, Gröna Lund and the City Hall).
You can easily jump on and off as you like in either 24 hours or 72 hours or you can stay on the bus and see most of town from the comfort of your seat.
See prices and read more about which sights the buses stop at here (adlink).
Advertisement
30. Shopping – Everything from vintage shops to Swedish chain stores
Stockholm has it all when it comes to shopping.
The city is full of thrift stores, flea markets, design shops, antique shops and, of course, interior design in all price ranges (including the world's largest IKEA).
In many places, you will find Swedish chain stores such as H&M, Weekday, COS, & Other Stories, Arket, Tiger of Sweden, Acne, Fjällräven, Filippa K, Lindex and the like.
Stockholm's largest shopping street Drottninggatan (in Norrmalm) is a long pedestrian street with all kinds of shops, restaurants, bars and cafés.
Biblioteksgatan on the border between Norrmalm and Östermalm is a good place to go for more exclusive shops such as Mulberry, Tommy Hilfiger, Michael Kors, Ralph Lauren and the like. The most expensive shops are located on the nearby Birger Jarlsgatan.
Some of the best vintage and thrift shops are Beyond Retro, Arkivet, Judit's Second Hand, Humana Second Hand, Emmaus, Modern Retro Vintage and Myrorna – and Södermalm in general is probably your best bet if you're looking for those kinds of shops.
For large shopping centres, you can check out NK (Nordiska Kompaniet), Gallerian, Åhlens City, Mood Stockholm and Sturegallerian.
The flea market Hornstull's Market can be visited every Saturday and Sunday afternoon from the beginning of April to the end of September along the southwestern part of Södermalm. Second-hand clothes, books, art, antiques, delicacies and street food are sold here and live music is often played.
There is also a daily fruit and vegetable market on Hötorget – and at the weekend there are various other stalls, too.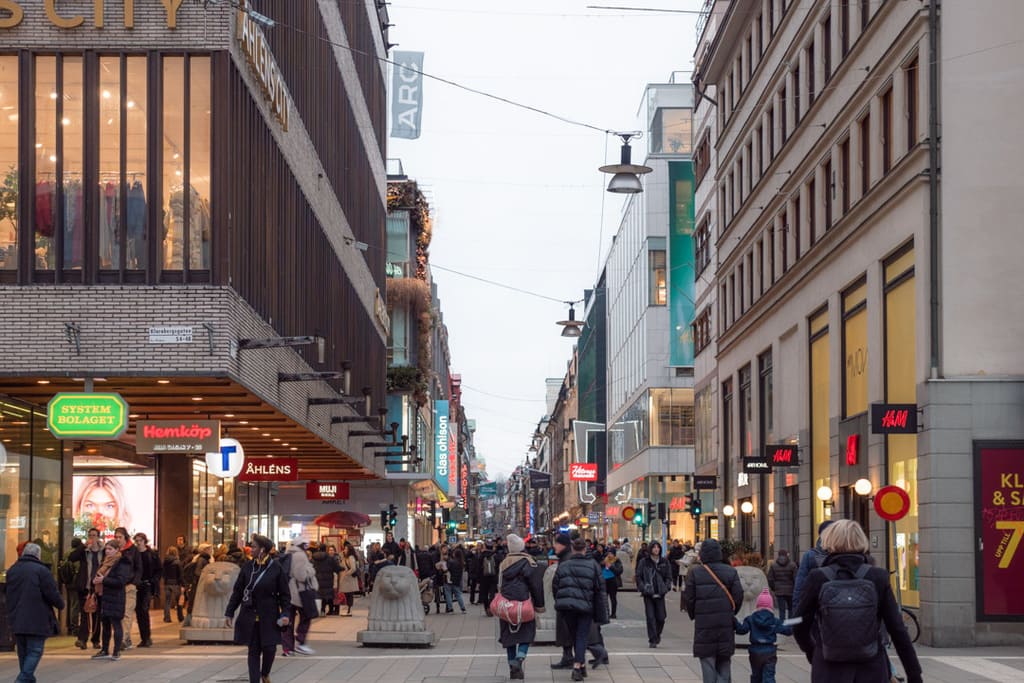 31. Drottningholm Palace – Royal castle from the 17th century
Unfortunately, we have never been to Dronningholm Palace and it was closed on weekdays during our last trip to Stockholm – but next time we must go there!
The large well-preserved royal palace from the 17th century is on the UNESCO World Heritage List and surrounding it, there's a beautiful palace garden in baroque style, a fountain, an English landscape park with canals and bridges, a Chinese pavilion and a theatre.
The Swedish king and queen live in the palace's south wing, so that part is closed but the rest of the palace is open to the public. And it looks pompous.
A boat trip to Drottningholm is included in the Stockholm City Card (adlink) from May to September and as far as we can see, it takes about 50 minutes to sail to the island of Lovön, where it is located.
See opening times, entrance prices and get more information on the palace's website.
We can imagine that it's a fantastic experience if you have plenty of time in Stockholm or already have seen many of the sights in the city.
Advertisement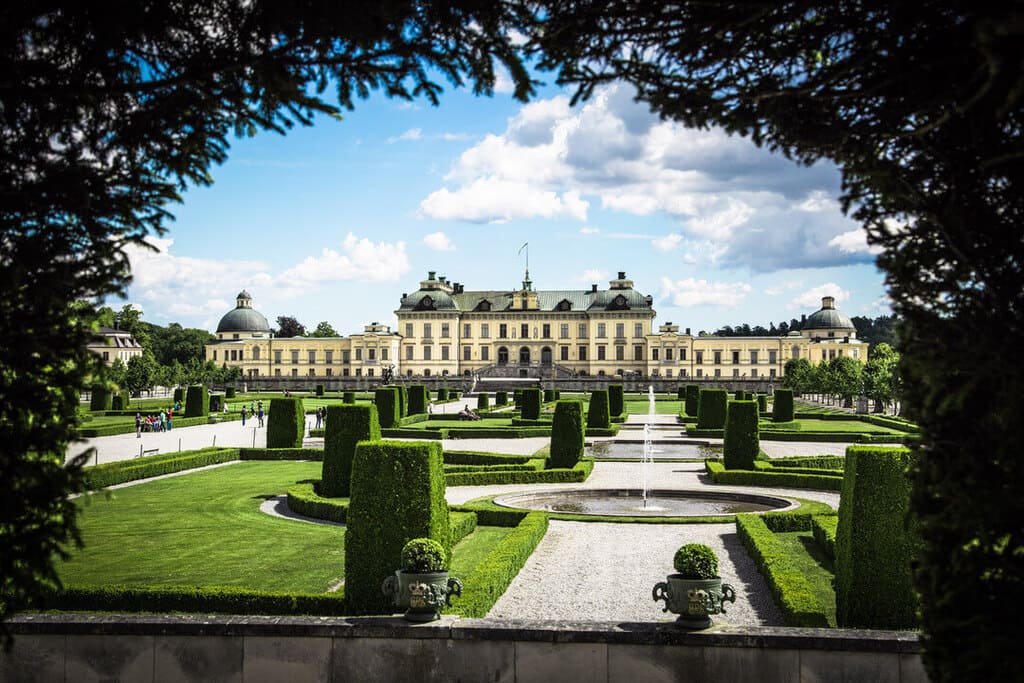 Map of the best things to do and see in Stockholm
Find all the best sights and attractions in Stockholm on the map below.
Where to stay in Stockholm
Although it's easy to get around Stockholm, it will be convenient for most people to live relatively centrally in the city.
The most central areas are Gamla Stan (Old Town), Norrmalm and Östermalm. Here, you will find many of the best hotels in Stockholm as you will be in the middle of the action and close to all the most famous sights and attractions.
Södermalm and Vasastan are great if you want to be a little further away from the inner city and live more like a local. We think most of the city's best eateries can be found here – and it's still easy to get into the city.
On Djurgården, you will be very close to the centre and especially Östermalm but at the same time, you will stay in a very quiet and green area. It's also a really nice option.
Find great hotels in the different areas below or scroll further down to see the best hotels in Stockholm divided by price range.
Search for the best and cheapest hotels in each area here:
Here are our favourite hotels in Stockholm divided by price range:
Luxury hotels in Stockholm
Value for money hotels in Stockholm
Budget hotels in Stockholm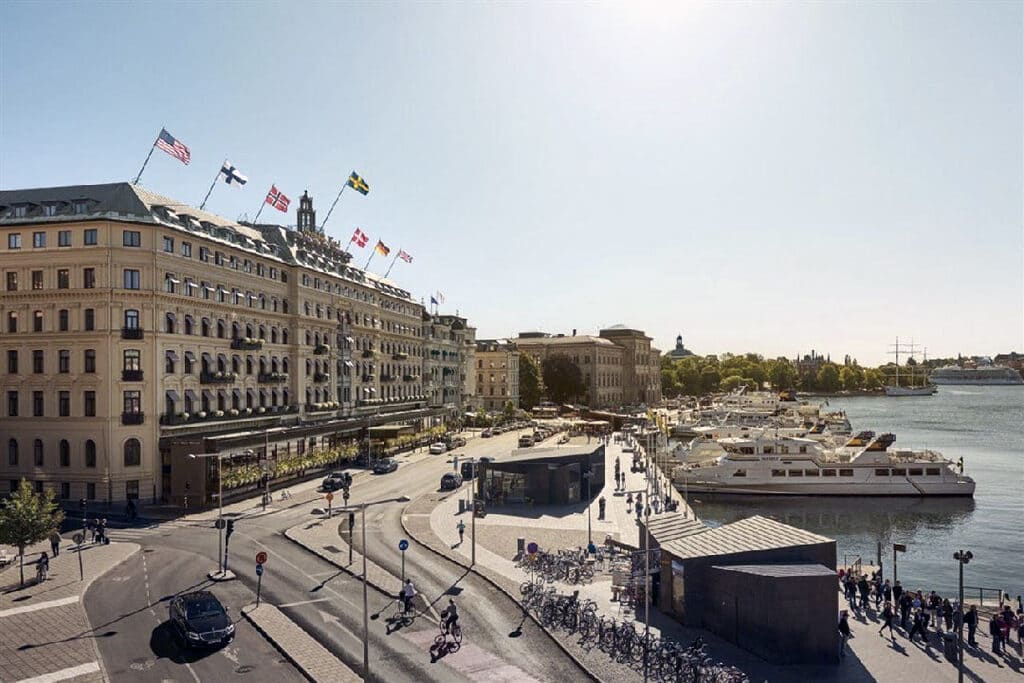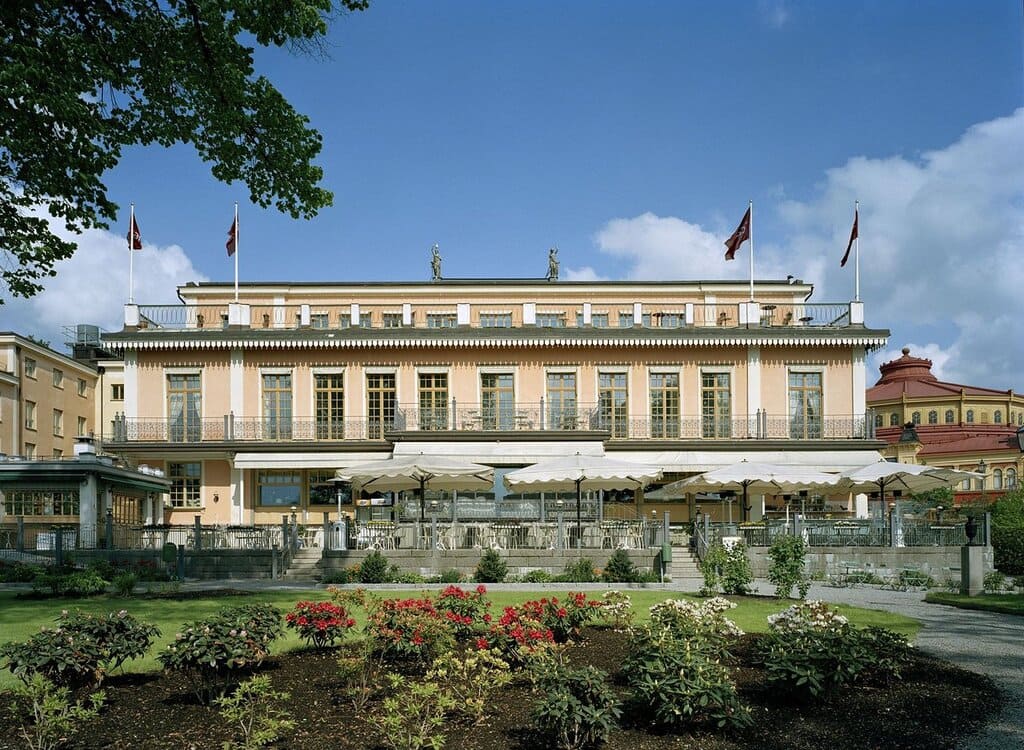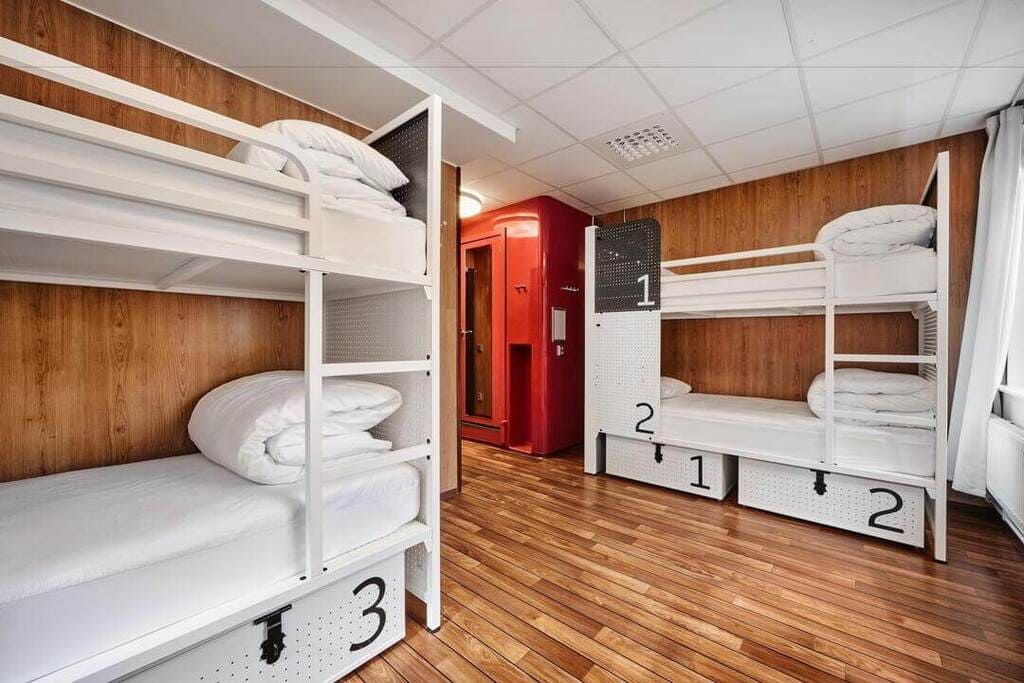 Best restaurants and cafés in Stockholm
Since we eat plant-based, we have visited cafés and restaurants in Stockholm with great vegan options and these are the ones we have included in this guide.
But don't be alarmed if you normally don't eat plant-based foods. We have included the places because the quality is amazing and the food has plenty of taste – for all types of eaters!
À La Lo
We had breakfast at the cute little plant-based cafe À La Lo and were really impressed with their "frozen banana yoghurt" which was a smoothie bowl with lots of fresh fruit and granola.
Their Croque Mon Dieu with "cheese", smoked tofu, tomatoes and (perhaps a little too much) mustard was perfectly crispy and delicious.
The coffee comes from The Belleville Brûlerie roastery in Paris and they bake their own cakes.
If you want to come by at the weekend, make sure to come early or reserve a table in advance.
Vasastan.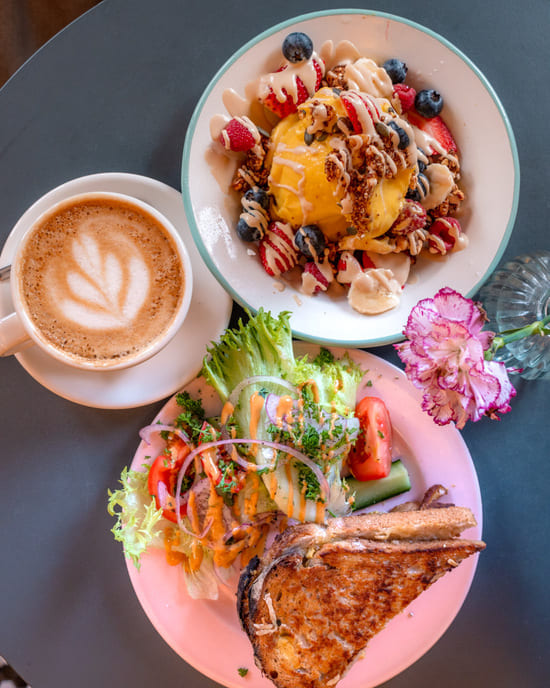 Mahalo
Vegan Mahalo has two cafés in Stockholm – one in Vasastan on Odengatan (close to À La Lo) and one on Hornsgatan in Södermalm.
We tried the latter and it was nicely decorated and had plenty of seating.
They had a good selection of breakfast options but we love smoothie bowls and of course, we had to try one of their three options. We ordered a pretty pink "pitaya" (dragon fruit) smoothie bowl with delicious toppings and a sinful stack of pancakes with whipped cream, fresh berries and syrup.
Their quinoa croissants tasted a bit too healthy for our liking but plus points for having vegan croissants at all!
Victoria enjoyed a Golden Latte which was creamy with a good, not too-strong spice mix (turmeric, ginger, pepper and cinnamon).
Vasastan and Södermalm.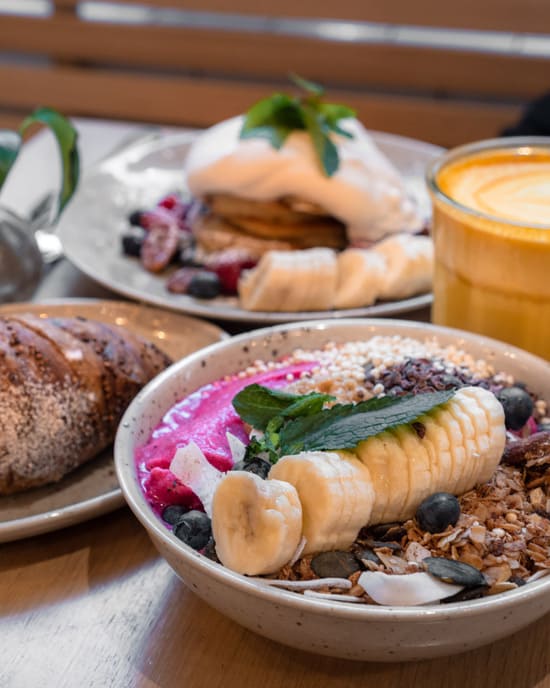 Piccola Nonna Pizza
When we passed by Piccola Nonna Pizza, two nice ladies were behind the counter making pizzas to go and to stay in the cosy, small shop with Italian pictures and artefacts on the walls.
The place is known for making great Neapolitan pizzas (with a thick, soft edge and bottom), and it's our favourite kind of pizza.
We tried a Potato pizza with pesto and one with nduja – both were really good!
Södermalm.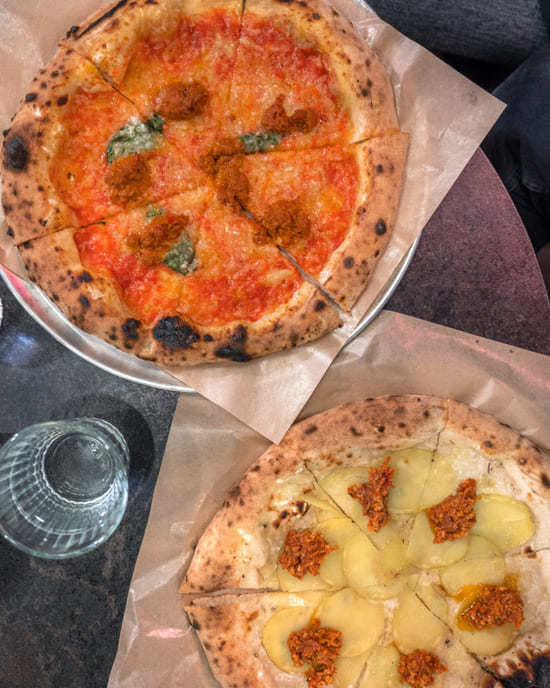 Falafelbaren
Fresh falafels are the best and at Falafelbaren, they serve them in pita bread with homemade red cabbage, pickles, tomatoes, cucumber and tahini sauce – just as it should be.
Södermalm.
Drop Coffee
The specialty coffee shop Drop Coffee serves some of the best coffee in Stockholm.
Here we filmed a few shots for our coffee documentary Shade Grown Coffee.
Södermalm.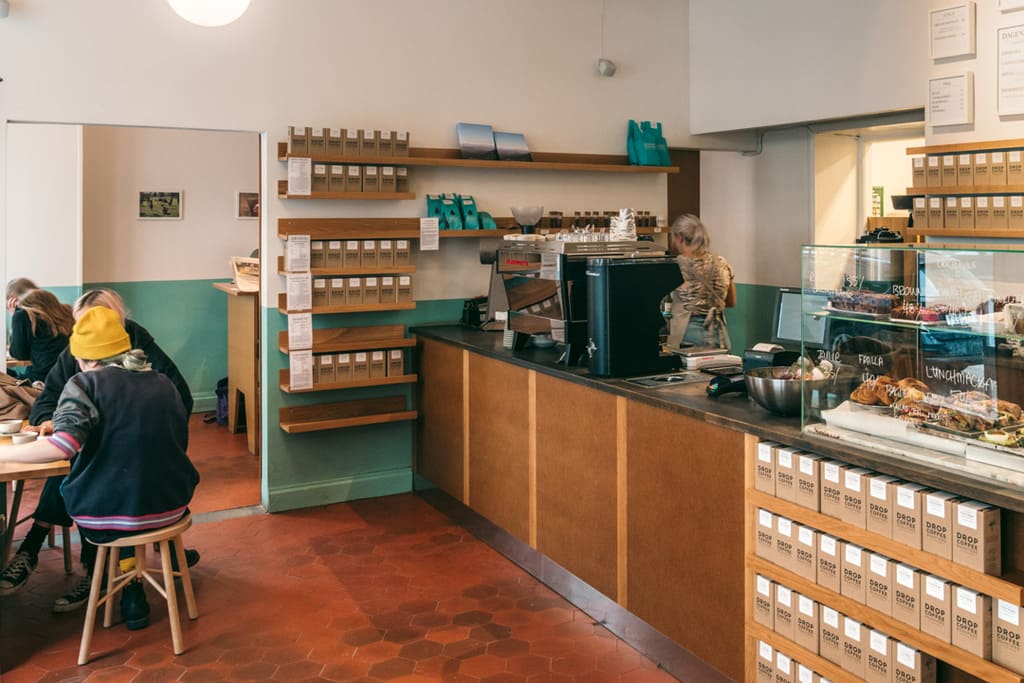 Delivore and Goodstore
Not far from Piccola Nonna Pizza, there's a café called Delivore.
It doesn't look like much from the outside but we had the best Snickers cake with chocolate, caramel and peanuts.
We already had lunch and weren't that hungry, but we simply had to try it and we're so glad we did. Yum!
In the same store, behind Delivore, there is a hidden 100% plant-based supermarket: Goodstore.
You have to know it's there because it's not really something that's advertised to the street – but if you're vegan, vegetarian or just curious about alternatives, you should definitely stop by.
We came home with "salmon", "shrimp", "sausages" and various snacks that we had never seen in Denmark before.
Södermalm.
Fern & Fika
The atmosphere was lovely at Fern & Fika, which is located all the way west in Södermalm close to Hornstull Station.
We got a black coffee from Gringo Nordic and a chai latte as well as a raw raspberry chocolate cake which was amazing – and there were many other delicious dessert options in the display case.
Södermalm.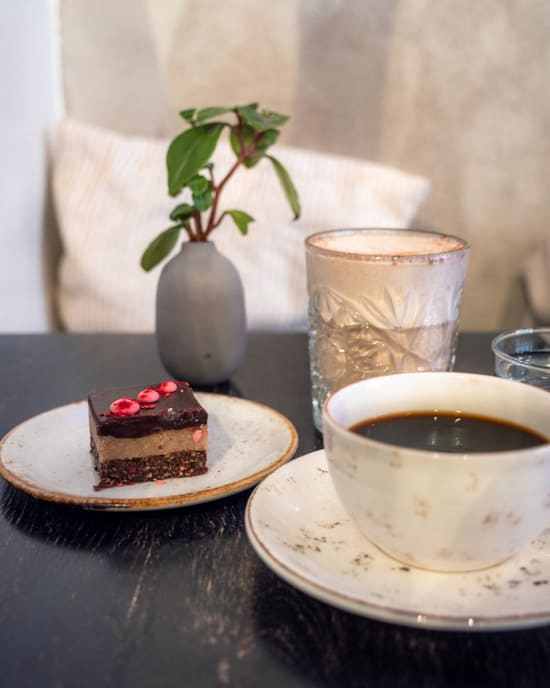 Kafé Plattan
In the big Kulturhuset at Sergels Torg and T-Centralen metro station in the middle of Norrmalm, you will find the 100% plant-based Kafé Plattan on the bottom floor.
While Kulturhuset (the House of Culture) has a shopping mall vibe, Kafé Plattan has actually made their corner really nice.
In the display case, they have several dishes ready to be heated and eaten in the café or taken away. At lunchtime, there is an even bigger menu.
We tried a sandwich with pesto and a hoisin "duck" wrap.
And then Victoria couldn't help herself, so she had to try a vegan semla (a traditional Swedish sweet roll) with almond filling and whipped cream – it was tasty!
Norrmalm.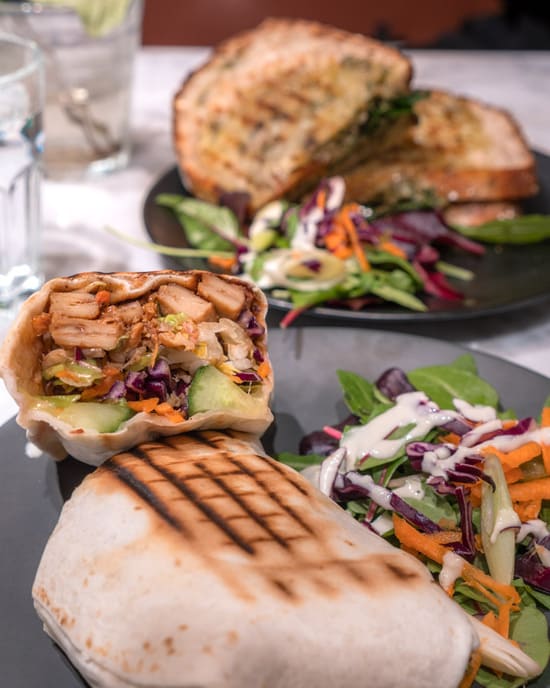 Verte
Normally we wouldn't recommend dining in the middle of a touristic area as the prices are often higher and the quality lower…
And while the prices are perhaps a bit higher at Verte, which is located in Gamla Stan, the quality of the food followed!
Their plant burger was absolutely perfect and for a few extra Swedish kronor, we could replace the regular fries with sweet potato fries which we loooove.
We also had a bowl with "chicken" in BBQ sauce, black rice, avocado, mango, bean sprouts, chickpeas, sriracha mayo and more. Super delicious!
Gamla Stan.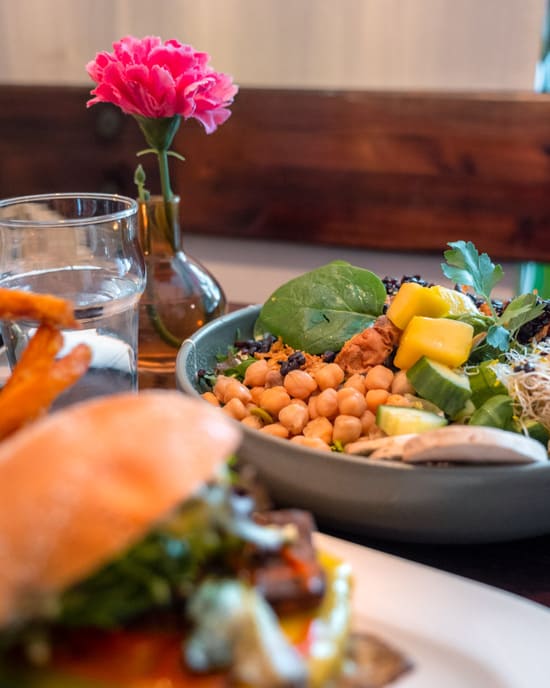 How to get around Stockholm
Walking
It's amazing walking around in Stockholm – it's safe, clean and there are a lot of interesting things to see on the way.
The pavements are wide and pedestrians can walk everywhere in the city.
If you want to experience many of the sights we have included in this travel guide to Stockholm, you must prepare to walk several thousand steps a day.
You can for example use public transport for the longest distances and then walk around the different areas between all of the museums, parks and iconic buildings.
Public transport
Stockholm has a very good public transport system with several bus lines, metro (also called tunnelbana or t-bana), trams and boats.
If you take the metro, you can get an art experience too, as most of Stockholm's subways are beautifully decorated. Check out number 28 of the best things to do and see in Stockholm further up in the guide to see which stations are extraordinarily cool.
A one-way ticket is valid for 75 minutes and can be purchased in SL's ticket machines, in the SL app or directly on the bus and subway using a contactless credit card, Apple Pay or similar.
The price per trip for an adult was 39 Swedish kronor in 2023.
By car
Of course, you can drive around Stockholm (as locals obviously do to some extent) but for tourists, we wouldn't recommend it.
Parking in Stockholm can quickly become a nightmare and it's expensive. It's not unusual with prices from 90 to 120 Swedish kronor per hour or a 24-hour ticket for 400 Swedish kronor.
There are of course several hotels that offer parking if you travel with a car.
By bicycle
The bike lanes in Stockholm are good (and there are many) so it is definitely an option to bike around the city.
In the summer, we imagine it's a nice way to get around in the sunny weather.
There are several bicycle rental companies with both regular bikes and electric bikes.
Read more about the various options for renting bicycles here.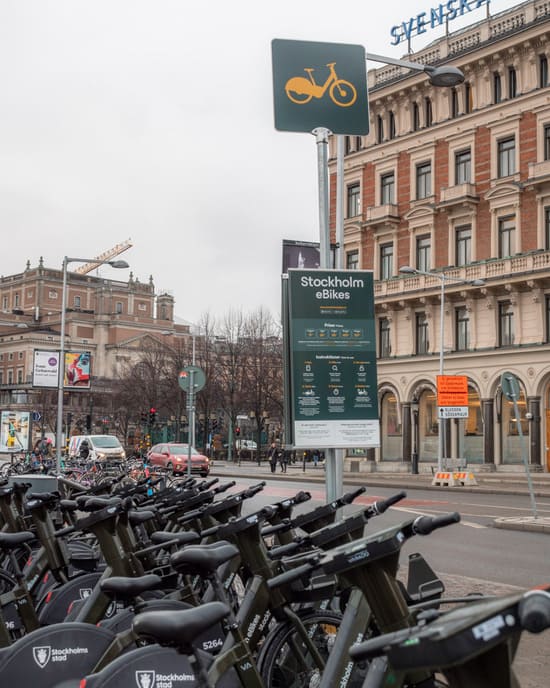 How to get to Stockholm
Drive to Stockholm
Although it is not great to experience Stockholm with your own car, it is certainly possible to drive to Stockholm from other locations in Sweden or its neighbouring countries.
The trip from Copenhagen in Denmark is 650 kilometres, which takes ~8 hours to cover. From Oslo in Norway, you'll be driving for about 6.5 hours with a length of 520 kilometres.
From Gothenburg, there are 460 kilometres to Stockholm and a journey time of just over 5 hours, while the trip from Helsingborg is 550 kilometres, which according to Google Maps takes about 6 hours.
We would recommend that you either park your car at your hotel car park/parking garage, or alternatively find a free parking lot outside the city and take public transport back in.
With a little research, we have found free parking in the suburbs of Liljeholmen and Solna, but check for yourself what applies at the time you visit the city and whether the free parking is valid for only 24 hours or for several days.
Train to Stockholm from Denmark or Norway
The best way to get to Stockholm from Denmark or Norway is in our opinion by train.
Stockholm Central Station is located in the heart of the city, and it's easy to get everywhere from here by public transport.
The journey from Copenhagen Central Station to Stockholm Central Station only takes a little more than 5 hours if you hop on an SJ express train (fast train).
From Oslo Central Station, the train ride takes about 5.5 hours.
It is also possible to travel to Stockholm with Snälltåget (a different train company) from Malmö, which takes approx. 6 hours, or from Helsingborg, where it takes 5-6 hours.
Find train tickets and see prices on SJ's website.
Fly to Stockholm
There are many flights from Europe and the rest of the world flying into Stockholm every day.
The main airport is called Arlanda and it's located 45 kilometres north of the city.
If you take the (slightly expensive) train Arlanda Express, you can reach Stockholm from Arlanda in just 20 minutes.
If you want to make it a little cheaper, you can take a bus from Arlanda to the train station Märsta and then take the train to Stockholm from there. That takes ~45 minutes in total.
There is also a less-used airport in Bromma, which is somewhat closer to the city.
You can use our adlink below to find the cheapest tickets:
Find the cheapest tickets to Stockholm on Momondo.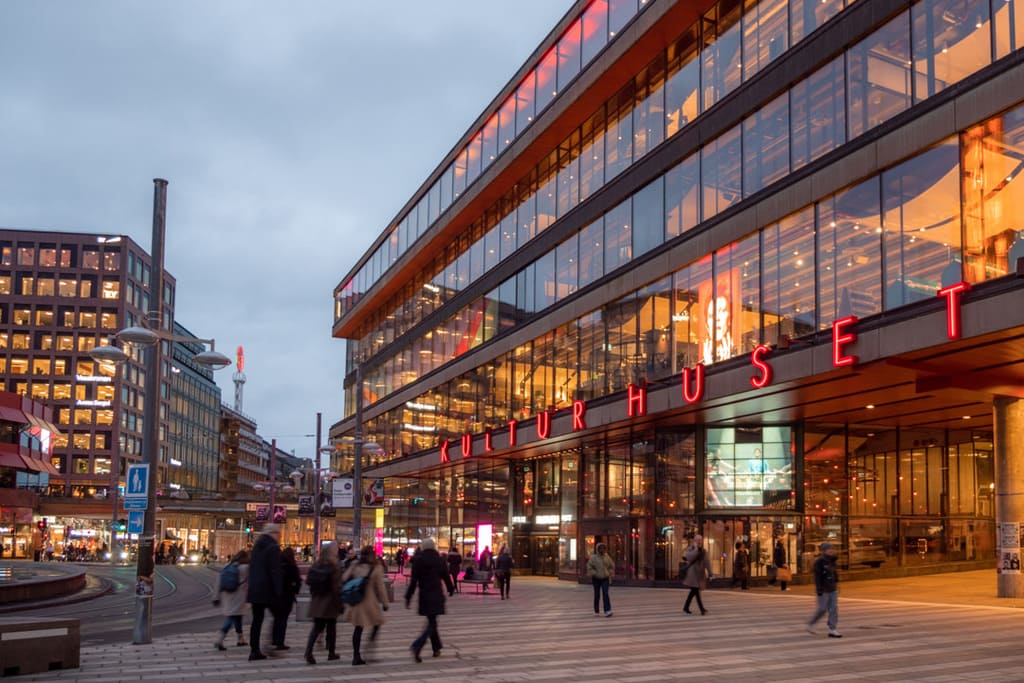 Our best tips for visiting Stockholm
Remember a good camera – here's a guide to the gear we use.
Drink tap water. The water quality in Sweden is excellent. You can easily drink water from the tap.
Walk around. Walking from one place to another is often the best and most pleasant way to get around Stockholm.
Take the subway. You can also take the metro and enjoy the art installations on the stations.
Consider buying a Stockholm City Card (adlink) where you get access to more than 50 sights and attractions in Stockholm. In summer, there is also free transport with selected hop-on hop-off buses and boats.
Explore the parks. The parks in Stockholm are great places to relax and breathe some fresh air.
Don't forget fika. Having a cup of coffee and something sweet is a pleasant way to spend the afternoon.
Credit cards can be used virtually anywhere, so you don't need to carry cash. In fact, not every shop accepts cash.
Travel insurance (adlink) is important. Never travel without it.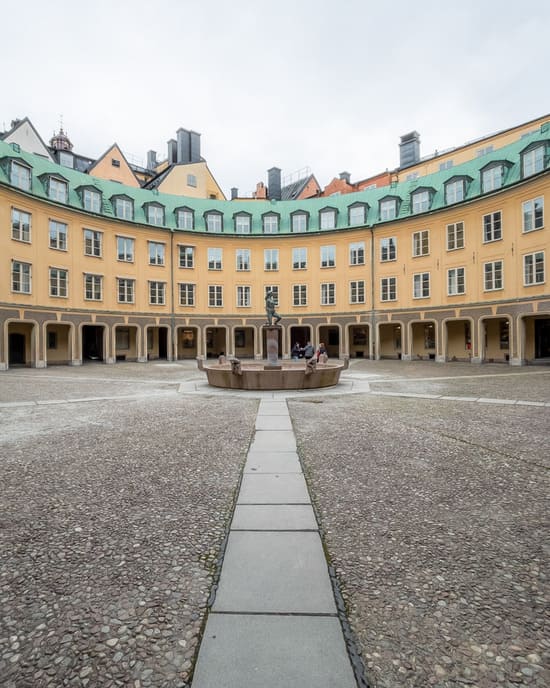 Thanks for reading along
Thank you for reading our travel guide to Stockholm. We hope it has been helpful!
What do you think of Sweden's capital? Are any of the things to do in Stockholm on your list yet?
If you've already been there, it would be great to hear your best tips and tricks.
Don't hesitate to ask us anything in the comments below if you haven't been to Stockholm yet. We are happy to help.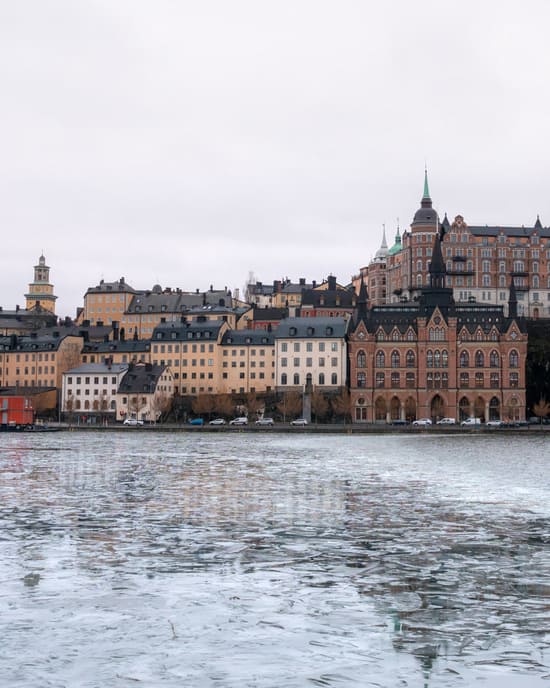 Our favourite travel resources:
Our camera gear: