Review of Pacific Resort Aitutaki: A Secluded Getaway in the Cook Islands
We review our stay at Pacific Resort Aitutaki, Cook Islands
A 5-star tropical paradise
When travelling to a place as stunning as Aitutaki in the Cook Islands, why not stay at the best resort, too?
Several people recommended that we should stay at the Pacific Resort Aitutaki – and when they invited us to visit them for a few days, we were over the moon.
It was a tropical dream come true.
The romantic upscale beachfront resort is a member of the Small Luxury Hotels of the World and it truly was an exceptional experience to stay there.
The thatched-roof bungalows overlooking the most incredible turquoise water really make for a very charming and peaceful getaway.
Check prices and availability at Pacific Resort Aitutaki right here.

The location
Pacific Resort Aitutaki is located on the west side of Aitutaki – a small atoll in the Cook Islands.
To get to Pacific Resort Aitutaki you have to take a 40-minute flight north from the main island of Rarotonga.
The resort is about 4 kilometres from the small Aitutaki Airport and they offer complimentary airport transfers.
Pacific Resort Aitutaki is located about 2 kilometres from the (very) small town of Arutanga.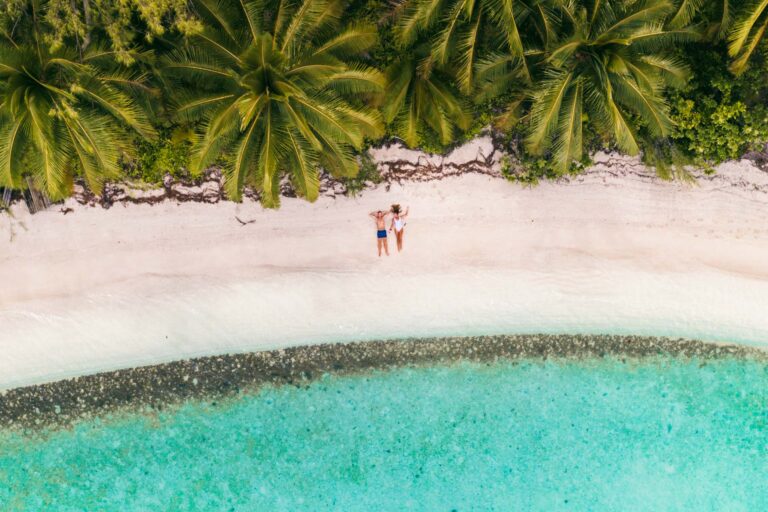 The room
Pacific Resort Aitutaki offers a total of 29 gorgeous bungalows, villas and suites.
They are all beachfront and have private furnished balconies overlooking the lagoon.
We stayed in a Premium Beachfront Bungalow; a 62 squaremeter room and bathroom with colonial and polynesian style furnishing and decoration.
And a biiig, comfortable bed.
The room had everything we could wish for and it was fantastic to walk just a few metres down a few steps and right into the ocean.
See the different room types and prices on Booking.com.
Note: Pacific Resort Aitutaki has wifi in the sense that they provide a hotspot you can log into to go online but you have to purchase a voucher with data. The wifi works like that everywhere in the Cook Islands and it's a bit expensive. We have heard rumours that fiber is coming to the islands soon though…





Activities and facilities at the resort
The main acitivity is to relax!
And you can do that by taking a swim in the beautiful lagoon or in the fresh water infinity pool.
You can also grab some snorkelling gear and explore the world underwater or take one of the kayaks or stand-up paddle boards out to the sea if you want to be a bit more active. It's all complimentary.
There is a daily activity every afternoon, like making your own ei (flower crown) or learning how to cook local food.
Onsite there are two spas and a gift shop as well.
If you want to see the rest of Aitutaki, the resort offers complimentary bicycles or you can rent a scooter.
Pacific Resort Aitutaki is also surrounded by tropical trees and flowers and it's an experience in itself to walk around the resort and look at the different plants.



Restaurants
Pacific Resort Aitutaki has two dining eateries; Rapae Bay and Black Rock.
Black Rock
The Black Rock with beachfront and pool seatings mainly serves lunch, snacks and drinks.
Rapae Bay
Rapae Bay is an indoor-outdoor restaurant with lagoon views and it's just a beautiful place to begin or end the day.
This is where breakfast and dinner is served.
A la carte breakfast is included and the staff was very kind and helped us put together a vegan option for our breakfast.
We had coconut yoghurt, fresh fruits, grilled potatoes and rukau (delicious cooked taro leaves) as well as coffee, tropical smoothies and fresh coconut water.
Their dinner menu mostly caters to omnivores but the restaurant actually has a vegan menu and we enjoyed a romantic dinner one night.



Who should stay at Pacific Resort Aitutaki?
If you're looking for a relaxing and serene experience, the Pacific Resort Aitutaki is perfect for a romantic honeymoon or a luxurious couples getaway.
Guests have to be older than 12 years to stay there which makes the resort a very peaceful place to be at.
It is on the pricey side but what can you expect from a five-star luxury boutique resort with turquiose lagoon views in the middle of the Pacific Ocean?
However, you can sometimes find special deals and discounts.
Go check it out for yourself right here and search for prices and availability on Booking.com.

Our favourite travel resources:
Our camera gear: