Review of Vegan Agrivilla I Pini: A Sustainable and Holistic Farmstay in Tuscany
We review our stay at Vegan Agrivilla I Pini, Tuscany, Italy
Rustic luxury in the rolling hills of Tuscany
Vegan Agrivilla I Pini is a special place.
We knew it from the moment we heard about it back in 2019 when we visited LA VIMEA Vegan Hotel in South Tyrol which is run by the same lovely family.
Since then we have been dreaming of visiting the farmhouse and experiencing the Tuscan culture, food and architecture.
Apart from the agrivilla being 100% vegan (which is obviously paradise for us), the rustic and minimalistic design is so incredibly aesthetically pleasing to the eye.
On a trip through Italy in September/October 2022, we finally had the chance to visit for a few days!
Even though the weather wasn't the best, we had a beautiful and relaxing time in the Italian countryside and got to taste some delicious food.
Let us tell you more and show you the place in this review!


The location
Just a 20-minute walk (or short drive) from the medieval town of San Gimignano, Vegan Agrivilla I Pini is nestled between the famous Tuscan rolling hills.
Surrounded by vineyards and olive groves (some of them are their own!), the farmhouse provides the peace and quiet you want from a vacation.
Historically, the place has provided shelter to pilgrims along the ancient road Via Francigena for hundreds of years and today, you can find sanctuary within the same walls.
Search for prices and availability at Vegan Agrivilla I Pini here.

Map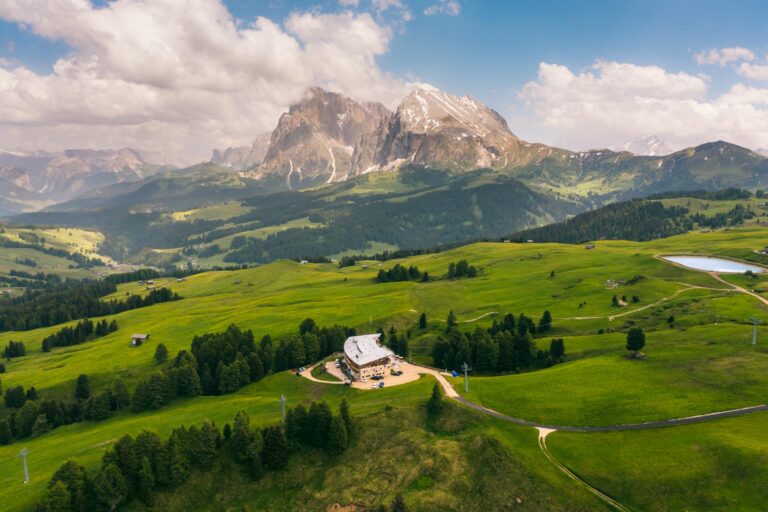 The room
Agrivilla I Pini only has 11 unique rooms which makes the whole place feel exclusive, yet still homely and intimate.
Each room is decorated sparsely with beautiful, handpicked furniture. We heard that architects visit I Pini just for the design and we understand why.
We stayed in "Botanica" – a converted wine cellar that is now a charming room full of natural materials and earthy tones.
It's rustic, yet warm with a big, comfortable bed with a gorgeous bed canopy as its centerpiece.
We adored the interior and we also loved the fact that everything is made without animal products: the furniture, duvets, toiletries etc.
The bed linens are even hand-sewn from a local artisan. Everything here is carefully considered and we're thrilled about it!
See all the rooms as well as prices and availability at Vegan Agrivilla I Pini here.
Note: There is no Wi-Fi in the room. In the public spaces, the connection is turned off at 10 pm to better enjoy a calm, mindful night.


Vegan food
As the name indicates, Vegan Agrivilla I Pini is a vegan place serving 100% plant-based farm kitchen-inspired meals.
I Pini is a holistic haven for the plant-curious offering Tuscan homemade delicacies from their own vegetable garden as well as their very own wine and olive oil.
Not only is it organic; it's biodynamic and veganic meaning the utmost care has been taken to ensure that biodiversity is thriving and nature is taken care off in a respectable and healthy way.
All that is not produced here is bought locally and in-season, which is just great to know.




Dinner
Every night a four-course menu with a mix of innovative dishes and more classic ones with a twist is served.
The menu contains seasonal vegetables and ingredients and the flavours are exquisite.
Like at LA VIMEA and Paradiso Pure.Living, we tried so many combinations and ways to prepare the food we haven't tried before. The pumpkin soup we had as a starter on our last night was out of this world. The best one we have ever had!
Thursdays are pizza nights and the pizzas are made with different bases (tomato, "cheese", onion, pumpkin) and vegetable pairings.
They kept the pizzas coming until we were all very full… And then we had tiramisu for dessert. Yum!





Breakfast
For breakfast, we had warm oatmeal as a starter along with a thin kind of yoghurt with granola and a small biscuit followed by a bigger platter with an assortment of fruits, salad, cake, bread with jam and a local chickpea kind-of-omelet called cecine.
The variations changed a bit daily.
Breakfast is served from 8 to 10 am.


Facilities
On sunny and warm days, lounging by the sustainable outdoor saltwater pool must be amazing!
Unfortunately, it was a bit too windy and rainy when we visited, so we didn't jump in – but we enjoyed a walk around the property and saw their own olive groves and vineyards.
There's also a cosy library with many books and cook books in different languages for everyone to read.


What to do around Vegan Agrivilla I Pini
The medieval town of San Gimignano is just a 5 minute drive or a 20 minute (steep) walk away. In our opinion, it's a must to visit if you stay at Vegan Agrivilla I Pini!
The town has some cool viewpoints (we liked the view from the tower Torre Grossa), charming cobblestoned streets with lots of restaurants and artisanal shops as well as several gelaterias.
We also visited Sentierelsa (the Elsa Trail) which is 20-25 minutes away by car but unfortunately, the rain had made it all muddy and the water was just brown, so we wouldn't recommend it after heavy rains. Otherwise, and especially in summer, the water looks perfectly blue and it would be a nice place for a swim in the heat.
If you use I Pini as your base for a little longer than three nights, you can also consider visiting Tuscan gems like Siena, Florence, Lucca or Pisa on day trips.



Who should stay at Vegan Agrivilla I Pini?
Vegan, vegetarian or flexitarian – we're sure the food will surprise you with amazing colours and combinations you haven't thought of before. The culinary experience at Vegan Agrivilla I Pini is definitely one of the best reasons to stay here.
If you value being surrounded by rustic, elegant beauty, this is also the place for you. Liking the pictures we have included here so far? Then imagine living in them!
And finally, if you need some peace and quiet away from the digital world or a romantic holiday with room for deep talks and quality time, you're going to love staying at Vegan Agrivilla I Pini in the Tuscan countryside.
Search for prices and availability at Vegan Agrivilla I Pini here.

Our favourite travel resources:
Our camera gear: