Koh Samui: Na Muang Waterfall 2 Viewpoint Travel Guide
All you need to know about visiting the Na Muang Waterfall 2 viewpoint on Koh Samui
Koh Samui's most scenic waterfall
From the first time we saw pictures online of the Na Muang Waterfall 2 viewpoint (sometimes spelled as Na Mueang or Namuang Waterfall), we knew that it had to be Koh Samui's most scenic waterfall.
We got the chance to visit in February 2019, and our prediction held true.
To our knowledge, no other waterfall on Koh Samui (or perhaps in all of Thailand?) can boast of views as incredible as the Na Muang 2 natural pool can.
Getting to the viewpoint does require some scrambling and it isn't totally easy to find…
(We have heard of several people trying to find the pool but failing!)
We have written this travel guide to help you get all the way to the amazing view including what to expect, practicalities, what to bring and more.

What to expect arriving at Na Muang Waterfall 2
To get to the top of Na Muang Waterfall 2, you first have to get to the base. Makes sense, right?
Na Muang Waterfall 2 is easy to find as it's a big tourist attraction on Koh Samui.
Arriving, you'll see that the whole area (including Na Muang Waterfall 1) is incredibly touristic in the worst ways possible.
Animal entertainment
Say no to riding elephants and no to watching the animal show.
Animals belong in the wild, yet they're forced (with violence) to perform for tourists for profit.
Avoid supporting animal entertainment by just walking past. And send prayers to the poor imprisoned animals.
The top of Na Muang Waterfall 2 feels like a world away from this whole nightmarish circus, which is why we recommend that you get up there as soon as you can after arriving and spend your time there.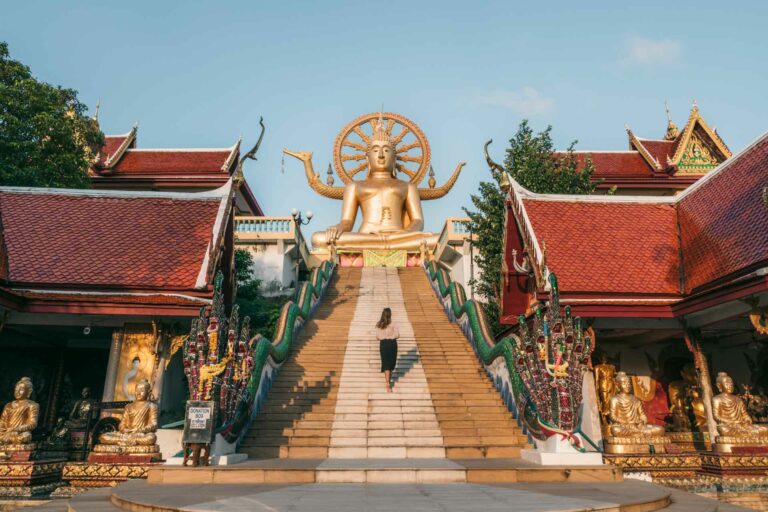 Our experience at the Na Muang Waterfall 2 viewpoint
As we had arrived pretty early in the morning before the sun was too strong, we weren't too sweaty when we arrived at the pool at the top of the waterfall.
Plunging in still felt absolutely amazing, though.
And the views from up there are just awesome.
Mountains in the distance, lush jungle, birds chirping, a cool pool; it doesn't get much better than this!
This is such a tropical dream spot.
We spent an hour or two on top of Na Muang Waterfall 2 and were all alone in the beautiful surroundings. We met a couple on their way up when we went down.




Swimming in the pool
At first, we were a little hesitant to swim in the pool; we were unsure how deep it was and how strong the current was.
We visited in the dry season.
If you visit in the rainy season or if it has just rained before you visit the waterfalls, the conditions might be different.
Always err on the side of caution and be very careful.
There's no help up here!
We personally felt very safe in the pool.
You just have to take it slow as the rocks are super slippery when getting in and out of the water.


How to get to Na Muang Waterfall 2
Driving directions
Don't type in "Na Muang Waterfall 2" on Google Maps – it will lead you the wrong way!
You will want to head towards the (horrible) elephant park instead. Type in "Na Muang elephant" on Google Maps.
Simply follow the signs from the main road towards Na Muang Waterfall 2 or the elephant park and you'll soon arrive at a big parking lot.
This is where we parked our scooter. You can walk the rest of the way.
We were asked if we wanted to drive in a 4x4 up to the waterfall, but we declined.
These tours can take you to the base of Na Muang Waterfall 2.
Walking from the parking lot to the base of Na Muang Waterfall 2 takes 15-20 minutes.

Map
Here's a map showing the exact location of the Na Muang Waterfall 2 viewpoint:
You'll want to park down at what is designated on Google Maps as the Elephant park.
Don't follow the driving directions to Na Muang Waterfall 2. Type in "Na Muang elephant" instead.
Hiking to the Na Muang Waterfall 2 viewpoint
Reaching the top of the waterfall requires some steep hiking and a bit of scrambling on your part.
Which only adds to the adventure and the reward of plunging into that refreshing water on top!
The walk from the base of Na Muang Waterfall 2 to the top takes around 35 minutes.
You don't have to be incredibly fit to make the trek, you just need determination. Not wearing flip flops will help, too.
Follow the steps behind Na Muang Waterfall 2 and keep following the rope.
In essence, you just have to keep walking up.
It will feel a little tough, but if you need a machete to continue, you've steered off the path.
Na Muang Waterfall 2 isn't wheelchair-accessible.









Prices
Parking at Na Muang Waterfall 2 costs 20 baht (~ 0.65 USD / 0.6 EUR) for scooters and 60 baht (~ 1.9 USD / 1.7 EUR) for cars.
There is no entrance fee to Na Muang Waterfall 1.
The entrance fee to Na Muang Waterfall 2 is 30 baht per person (~ 1 USD / 0.9 EUR).
When to visit the waterfalls
Na Muang Waterfall 2 can be visited all day year-round. It's officially open from 09.00 to 17.30.
Going as early or late in the day as possible will yield you the best chances for less crowding, nice light and lower temperatures.
If it has recently rained, the hiking will feel slippery. There will also be a stronger flow in the waterfalls.
Koh Samui's dry season generally runs from December to March, but you're never guaranteed a dry day on the tropical island.
Rains often clear pretty quickly to make room for more of that glorious Thai sunshine.

Where to stay near Na Muang Waterfall 2
No matter where you stay on Koh Samui, Na Muang Waterfall 2 can easily be reached on a day trip.
The areas closest to the waterfalls in the south are Lamai Beach, Laem Set Beach, Taling Ngam Beach and Lipa Noi Beach.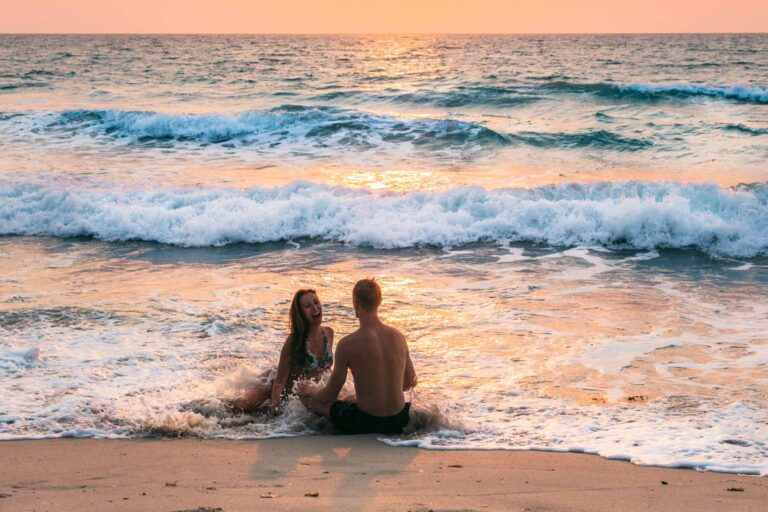 Lamai Beach
Lamai Beach is the second most popular beach on Koh Samui following Chaweng.
It's less crowded than Chaweng Beach but you can still find lots of hotels, restaurants and bars lined next to each other.
In other words; it's a great option if you don't need that many party and shopping options, but still prefer to have a wide variety of restaurants, massage parlours and big supermarkets to choose from.
The beach is lovely and long enough to never feel completely packed.
Staying near Lamai makes day trips to the waterfalls of the south a breeze and also offers you a quick getaway to the less developed parts of Koh Samui.
Search for the best value accommodation near Lamai Beach here.

Le Meridien Koh Samui Resort & Spa
Le Meridien is situated in the northern end of the Lamai area, nestled between the mountains.
This means you'll be about a 20-minute walk away from most of the tourist options, but if you're staying at La Meridien, they probably won't be needed.
The private beachfront location has stunning ocean views and the resort offers great facilities, including a beautiful seaside pool, full-service spa and a gym.
If your budget allows it, the resort is amazing for a honeymoon or romantic vacation.
For visiting Koh Samui's other beaches and towns, Le Meridien offers complimentary shuttle services.
Check prices and availability at Le Meridien Koh Samui Resort & Spa.

Samui Jasmine Resort
Check out Samui Jasmine Resort if you're looking for a good value 4-star hotel in Lamai.
Situated on the northern end of the beach' action, you'll have access to plenty of restaurant options while still being away from some of the noise.
Choose between garden view or sea view, and then hop between the pool and the beach.
Check prices and availability at Samui Jasmine Resort.

Samui Sense Beach Resort
For staying centrally in Lamai by the beach on a budget, Samui Sense Beach Resort is a great choice.
With free wifi, a private bathroom and air conditioning you have your bases covered.
Choose between lounging by the pool or on the beach – and then use the money you've saved on accommodation at Lamai's many restaurants or by getting a relaxing massage.
Check prices and availability at Samui Sense Beach Resort.

Lipa Noi Beach
On the west coast of the island, you can find a quiet place to stay on Lipa Noi Beach.
It's definitely one of the island's less visited beaches and here you'll probably meet more dogs and local people than tourists.
The sunsets are amazing here.
Search for the best value accommodation near Lipa Noi Beach here.

Lipa Lodge Beach Resort
We stayed at Lipa Lodge and thoroughly enjoyed the peaceful garden and private beach.
From the beautiful beachfront room, we could admire the ocean from sunrise to sunset and fall asleep to the sound of the calming waves.
You can see lots of pictures and read more about Lipa Lodge Beach Resort in our review or you can check prices and availability here.

Taling Ngam Beach
Escape the clubs and bars by staying in the unspoilt southwest coast near Taling Ngam Beach.
The area is about as remote as you can get on Koh Samui.
The beach is pretty but rather narrow and it's not the best place to swim as the water is quite shallow with rocks at the bottom.
Search for the best value accommodation near Taling Ngam Beach here.

InterContinental Samui Baan Taling Ngam Resort
This 5-star luxury resort is built on a mountain overlooking the Gulf of Thailand.
Ocean vistas, none other than 7 swimming pools and romantic sunsets are just some of the many advantages of staying here.
The resort even has a 5-star kids' club offering InterContinental's signature blend of fun and games with traditional Thai culture for a unique experience.
It's relatively close to the Elephant Gate, Wat Kiri Wong Karam and the most delicious smoothie bowls at the vegan café Futurehippie, but you'll most likely have a difficult time pulling yourself away from the enchanting resort.
Check prices and availability at InterContinental Samui Baan Taling Ngam Resort.

What to bring
Thai baht in cash (preferably small bills) for the parking fee.
Sun protection; a hat, sunglasses, light covering clothes and an eco-friendly sunscreen.
Proper shoes will help a lot when trying to reach the viewpoint.
Plenty of water.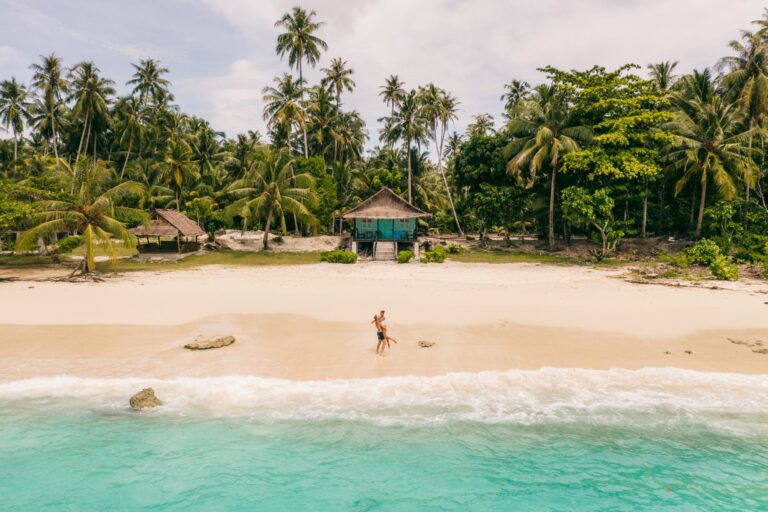 Minimise your impact
To minimise your impact when visiting the waterfalls, follow these guidelines:
Bring your own drinking water in a refillable bottle.
Avoid single-use plastics, including straws.
Dispose of waste properly. Preferably take anything you bring to the waterfalls back with you.
Be considerate of other visitors.
Respect any wildlife you might encounter.
Also, consider going beyond minimising your impact by joining the Adventure Bag Movement and pick up some trash during your exploring.

Thanks for reading
We hope this travel guide to visiting the Na Muang Waterfall 2 viewpoint on Koh Samui has been useful.
What do you think about the views up there?
If you've been to Na Muang Waterfall 1 or 2 it would be awesome to hear about your experience in the comments below. If you haven't been yet but would like to, please don't hesitate to ask us anything. We're only glad if we can help.



Our favourite travel resources:
Our camera gear: