Review of Lipa Lodge Beach Resort: A Quiet Oasis With Perfect Sunsets
We review our stay at Lipa Lodge Beach Resort on Koh Samui
A soothing welcome
After having spent a few weeks on Koh Samui's (very) lively northeastern shores, we were invited by Lipa Lodge Beach Resort to come enjoy their green surroundings.
We were so excited to stay at the more quiet and calm part of Samui!
Here, hotels, restaurants and bars are few and far between – and that was exactly what we were looking forward to.
When we got to the lodge, we felt at ease immediately and our shoulders dropped a good few inches.
We walked to the reception through the tranquil garden and were greeted with orange juice drinks and lots of friendly "welcomes" from the staff.
The perfect start to our time at Lipa Lodge.
Search for prices and availability at Lipa Lodge Beach Resort here.






The location
Lipa Lodge Beach Resort is located on the southwest side of the island by Lipa Noi Beach.
It's away from the crowds, yet only about 10 minutes drive from Nathon.
Nathon is where most tourists arrive by ferry from the mainland and here you can find lots of restaurants, street food markets, tour agencies and shops selling clothes, shoes and souvenirs.
Back at Lipa Lodge, you can loosen up while enjoying the gorgeous sunset from the beach or from the restaurant.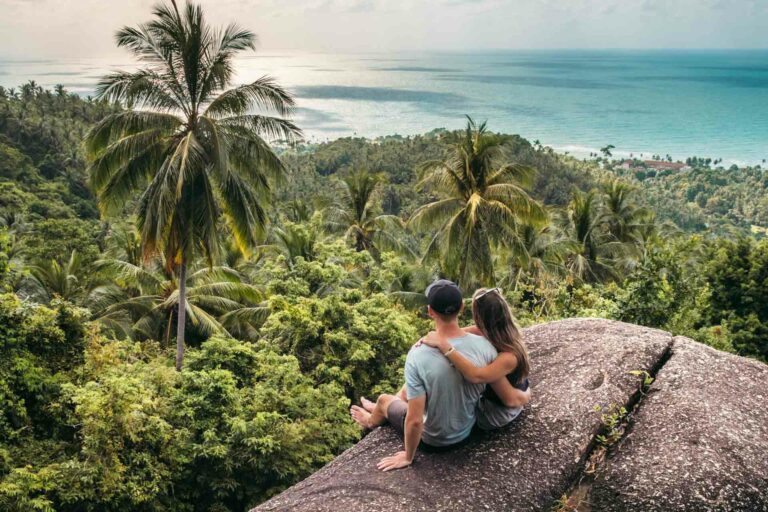 A true beachfront experience
We stayed in a beachfront room and we couldn't have dreamed of a more beautiful view!
The floor to ceiling windows made it possible to look over the ocean from sunrise to sunset – directly from our bed or even from the shower.
The bed was suuuper comfortable and Victoria loved the cushions, too.
We were served fresh fruit when we checked in and it was possible to make tea and coffee.
Outside the room, we had a small private patio where we enjoyed the complimentary fruit and coffee.
See the different room types and prices at Lipa Lodge Beach Resort here.









Facilities at Lipa Lodge
There's a nice relaxed atmosphere on the premises.
You can walk on pathways through a lush garden with coconut palm trees, plants and flowers.
We loved that we could hear birds singing everywhere.
Next to the restaurant, there's an infinity pool with sunbeds and beach umbrellas.
And the best thing about it all: you can enjoy looking at the ocean while you swim in the pool or chill out in one of the chairs.
The swimming pool is child-friendly with pool floats and very low parts. We met several travelling families here.
In front of the pool, there's a soft sandy beach. It's not huge, but it's reserved for the guests of Lipe Lodge.
Alex was excited to find a basic gym where it's possible to weight train, do some bodyweight exercises, bike, run on the treadmill or practice your jab on the boxing bag.
Although we didn't play, it's worth mentioning that there was an outside tennis court as well.
Wifi worked from all over the property and it was incredibly fast. We could easily upload high-quality videos and work online.












A restaurant with a view
The extensive restaurant menu offers everything from soups and salads to European and Asian dishes.
There's even a page dedicated to vegetarian dishes and it was no problem making them vegan.
For dinner, we enjoyed the most delicious vegetable spring rolls!
We also got a green curry with tofu, a bowl of coconut soup with vegetables and a virgin piña colada.
It's difficult to imagine a much more romantic setting than eating to the sound of waves washing up on the beach and the last colours of the sunset fading away into the night.





Breakfast buffet
For breakfast, a buffet is lined up from 08.00 to 10.00.
It included lots of fresh fruit such as bananas, pineapples, papaya and melons.
Muesli, cornflakes and chocolatey cereal was available with milk or yoghurt. When we asked for coconut milk instead, the lovely waiter brought us some with a smile.
The overall level of service was excellent.
A chef is ready to make pancakes, omelettes, scrambled eggs or whatever you desire on order.
Besides that, there was toast, ham, sausages and potatoes with bacon plus two different kinds of leaf-wrapped coconut rice desserts.
The breakfast changes slightly each day. On our second morning, melon was switched with mangosteen and there was pad thai with tofu instead of potatoes with bacon.
To drink, there's tea, coffee, water and two fruit juices.

Who should stay at Lipa Lodge?
Compared to the rest of Koh Samui, our stay with Lipa Lodge was very peaceful and we truly enjoyed waking up and falling asleep to the sound of the sea.
The immediate area is super calm, so you'll either need to take a taxi or rent your own wheels if you want to see more of what the island has on offer.
At Lipa Lodge, you'll get access to a nice pool in beautiful surroundings as well as a quiet beach. If this sounds like a vacation to you, Lipa Lodge hits the spot.
Because of its secludedness and absence of distractions, Lipa Lodge Beach Resort is great for a romantic holiday.
Families travelling with babies wanting a safe, undisturbed place for their vacation will cherish staying here as well.
Check out their website or search for prices and availability here.