Review of JW Marriott in Phu Quoc: Enroll at the Uniquely Themed Fantastical University
We review our stay at JW Marriott Phu Quoc Emerald Bay Resort and Spa
Freshmen at Lamarck University
Entering the grounds at JW Marriott Phu Quoc Emerald Bay Resort and Spa through the two huge golden ridgeback dogs, it's obvious that you're entering another world.
The resort is built upon a university theme, with inspiration drawn from both England, France and Vietnam.
It's impossible not to be stunned by the grandeur of it all.
The library is seemingly roofless; with books and trophies covering the walls, all possible to admire from the fine seating areas.
Everything seamlessly weaves together and forms a cohesive story wherever you look.
With such attention to detail, it's a lovely experience to simply wander around campus and soak it all in.
JW Marriott in Phu Quoc is designed by renowned architect Bill Bensley whose design philosophy is "the more odd, the better."
For sure, the mythical Lamarck University is unlike any other resort we have ever seen.
Check prices and availability at JW Marriott Phu Quoc Emerald Bay Resort and Spa (adlink).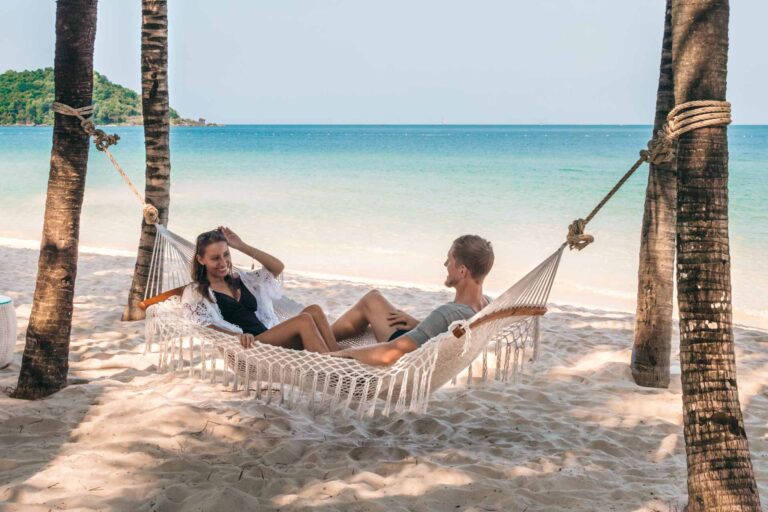 The location
JW Marriott is located on the southeastern part of Phu Quoc at Emerald Bay, a beautiful coastline where the resort's private beach takes up a significant chunk.
Walking around the resort, you're met by friendly greetings from all of the staff as well as from fellow guests.
The atmosphere is light; lively and bright.
If you want to venture outside the fairy tale of JW Marriott, you'll have great access to the southern part of the island with its many islands and famous cable car ride.
The main town of the island, Duong Dong, is 30-40 minutes away.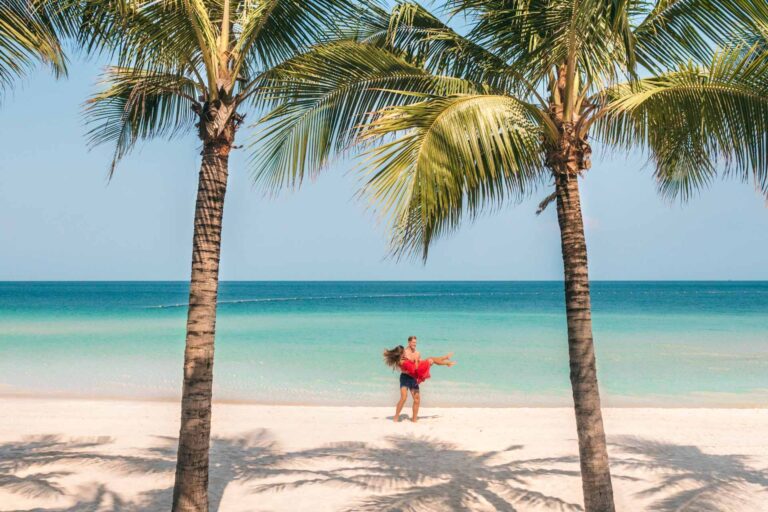 The room
The great attention to detail is apparent all over the resort, including inside the rooms.
We stayed at the Emerald Bay Front room, 53m2 of ocean front goodness.
There's no way we would blind that floor to roof window looking out over the water.
We love waking up with the sun and this was the perfect place from which to do so.
Enjoying those first sips of coffee from our private terrace was a really nice way to start the day while listening to the gentle waves.
In the room, there's a 49-inch TV, a nice desk, a coffee machine, a sofa and, of course, the comfortable king-sized bed.
And did we mention the bathroom?
Shower, bathtub and two sinks – all designed exquisitely… Now that's just showing off!
Learn more about what you can expect if you're staying in one of the rooms at JW Marriott Phu Quoc Emerald Bay Resort and Spa (adlink).









Facilities
Swimming
You're spoilt for choice when it comes to taking a dip.
The ocean is the star of the show. Kem Beach is absolutely wonderful and the water is as clear as crystal.
We really couldn't take our eyes from it.
Check prices and book your stay at JW Marriott Phu Quoc Emerald Bay Resort and Spa here (adlink).
There are lots of beach chairs to lounge in as well as a few dreamy hammocks.
In addition, the resort has three swimming pools and a kids pool.
The Shell Pool is unmistakable from above. And it's 18+ only.
The Sand Pool offers more activities and lies adjacent to the kids' pool.
The Sun Pool is the most private one with gorgeous palm views.





Activities
You won't be bored at JW Marriott.
It's possible to loan a stand up paddle board or kayak to explore the waters.
In the gym – open 24/7 – you'll find state of the art machines and workout equipment.
If you would rather forego the treadmill for static ground on your run or walk, there's a charming track with a soccer field in the middle of it.
The resort grounds are also big enough to break a sweat and get a few kilometres in.
There's a whole host of activities offered by the resort. Some have a price attached while most are free to attend.
Here's a list of some of them: Lantern making, kayaking to nearby corals to explore marine life, beer yoga, surf yoga, flow yoga, mixology, Zumba, aqua fitness, bake your own pizza, towel sculpture, floral workshop, Japanese gastronomy class, Vietnamese basic language learning, wine tasting, bike and hiking tours…
In other words: there's pretty much something fun going on all the time.





Rue de Lamarck
You don't have to travel all the way to Hoi An to experience those colourful lanterns in the streets; at Rue de Lamarck (leading from the reception area to the beach) you can have the same experience. Without as many tourists!
The street is a great place for shopping local crafts in the artisanal boutiques.
Be sure to visit the French & Co. Deli, serving afternoon tea, coffee, French bakery and light meals.
This is also where both the Chanterelle Spa by JW and the Department of Physical Education (also known as the Gym & Fitness Center) are located.
Every Sunday there's a night market with food stalls, shopping, cultural performances and street shows.
Check prices and availability at JW Marriott Phu Quoc Emerald Bay Resort and Spa (adlink).





Spa
If you're in the mood for some pampering, the on-site spa offers detox and wellness packages as well as individual skincare, hair and nail treatments.
It's also possible to get a relaxing massage or aromatherapy.

Meeting facilities
There's more than 1,100m2 of meeting space, ready for summits and conferences.
With room names like Artistry, Sculptor and the Room of Bad Ideas – plus designs to match – new creative ideas will surely come naturally to attendees.
JW Marriott also facilities weddings on the stunning property.
We're sure that the lovely hospitality team will ensure that all needs are carefully met.


Restaurant and bar
It's clear that JW Marriott knows just how much the gastronomic part of a stay can impact the total experience.
Organic farmers and sustainable fisheries deliver fresh ingredients to the resort that celebrates local flavours and overall wellness.
We had a marvellous dinner at the Red Rum Beach Grill with a specially curated vegan menu including a delicious avocado salad, savoury vegetable skewers, Indian-style cauliflower curry with naan and refreshing sorbets to finish it off.
Tempus Fugit Restaurant serves authentic Vietnamese, Japanese and Western fare. This is also where the huge breakfast buffet is served.
The Pink Pearl Restaurant takes the exclusivity up a notch with its impressive design and private rooms.
At the Department of Chemistry Bar is where you can try the bartender's potent elixirs and enjoy live music in the evenings.







Breakfast buffet
Leaving the breakfast buffet hungry would be a shame.
There are so many delicacies to sample!
The French-inspired bread traditions are beautifully executed with perfect baguettes and croissants.
Fruit is fresh and abundant with classics like pineapple, papaya and banana and rarer Asian fruits like rambutan, rose apple, sweetsop and dragon fruit.
There are a lot of choices for a warm breakfast with western options (the hash browns were incredibly crispy and the baked beans probably the best ever), sushi, miso soup, DIY Korean bibimbap and rice dishes, Vietnamese noodles, fried rice, bánh mì and so much more.
Even if you wanted to, you couldn't possibly taste of everything.
There are also great salads, juices and stations for pancakes, eggs and more.
Book your stay at JW Marriott Phu Quoc Emerald Bay Resort and Spa to enjoy this luxurious breakfast every morning (adlink).


Who should stay at JW Marriott?
JW Marriott in Phu Quoc is unique in more ways than one.
The theme is both sophisticated and quirky at once. A luxurious fantasy. And it's so well put together and cohesive wherever you look.
Of course, this is just the cherry on top of the amazing facilities and natural splendour of the resort's location.
Children will love the playfulness of the whole experience and feel like they're in a theme park – and parents will love the fact that they can enjoy it all in tranquillity.
Couples can find plenty of romantic private spots, friends can celebrate their individuality or join the plethora of activities together – and everyone can appreciate the service of the loveable staff, truly worthy of even more than the resort's already impressive 5-stars.
Search for prices and availability here (adlink).