Hiking in Söderåsen National Park in Scania, Sweden
A beautiful afternoon with lush forests, high cliffs and flowing streams
Varied nature in southern Sweden
While living in Scania, Sweden for four months, we decided to experience some of southern Sweden's beauty.
When Victoria's mother visited us in September, we drove to Söderåsen National Park to spend the afternoon in nature.
It's a gorgeous place with lush forests, high cliffs and flowing streams.
We can easily imagine coming back here again.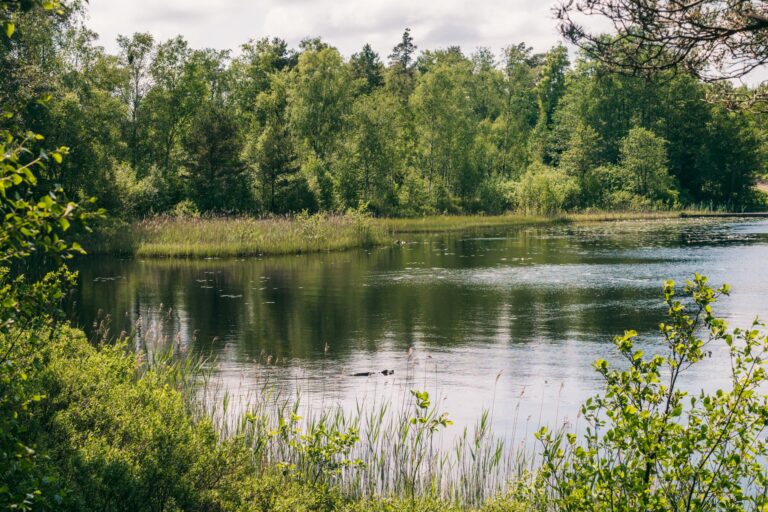 Map
Söderåsen National Park is located in Scania in southern Sweden, about 40 kilometres east of Helsingborg.
There are two entrances to the park; a main entrance with a visitor centre in Skäralid and a southern entrance with a tourist office in Röstånga.
Hiking in Söderåsen National Park
Söderåsen National Park covers 1,625 hectares and we would have loved to explore every hiking trail.
If we have had all day, we would definitely take one of the longer trails or several short ones.
However, we didn't have that many hours before sunset so we went with the yellow route – a short and quite easy loop.
The wooden pathways make it very accessible for hiking and it was a delight to walk through the lush forest along the stream.
We visited an afternoon in September and as the sun was setting slowly, we had perfect light on the trails.
The forest was still green with a few falling leaves reminding us that autumn is just around the corner.
Kopparhatten viewpoint was the highlight with panoramic view over the forest and rift valley. A dramatic landscape for sure.
It's the highest point in Söderåsen national park and the highest point in all of Scania is just outside the park.
Söderåsen National Park is an amazing place to visit.











Practical information
Söderåsen National Park is free to visit!
And it's open year around.
Read more about safety and rules in the park here.
For more information, activities, exhibits or guided tours, you can visit the Naturum visitor centre. Check out the opening hours here.

Where to stay near Söderåsen National Park
Search for the best value accommodation near Söderåsen National Park here.

What to bring to Söderåsen National Park
Travel insurance (adlink). Never travel without it!
A good camera – here's a guide to the gear we use.
Sunscreen (adlink) if you visit in the summer.
Hiking shoes or just regular sneakers. We wore sneakers and the pathways were very easy to walk on.
Water and snacks if you plan to hike for several hours.


Minimise your impact
To minimise your impact on nature, follow these guidelines:
Bring your own drinking water in a refillable bottle. You can fill up your bottle of water at the visitor centre in Skäralid.
Avoid single-use plastics, including straws.
Dispose of waste properly.
Take only photos, leave only footprints.
Be considerate of other visitors.
Respect wildlife.



Thanks for reading
Thank you for reading along.
What do you think about Söderåsen National Park?
If you've been there, it would be awesome to hear about your experience in the comments.
If you haven't been yet, please don't hesitate to ask us anything. We're glad to help.



Our favourite travel resources:
Our camera gear: