Review of Dwarika's Hotel in Kathmandu: A Peaceful Heritage Hotel in Nepal's Busy Capital
We review our stay at Dwarika's Hotel in Kathmandu, Nepal
A cultural heritage hotel
Stepping into Dwarika's Hotel (adlink), you will relax immediately.
It's definitely something different from the bustling streets of Kathmandu.
Here, the traffic noise is replaced by soothing Nepalese music and bird song in the garden.
There's so much to do at the hotel that you don't need to leave it at all.
But if you do leave for some sightseeing during the day, you will love coming back to retreat and recharge.
Even though the property is quite big, it's very peaceful and the service-minded staff is ready to help you with anything.
Food tip: Read our vegan eating guide to Kathmandu for the best restaurants and cafés in the city.
The architecture and design
The hotel's traditional architecture is really something special.
The founder of the hotel, Dwarika Das Shrestha, started collecting architectural pieces, pottery and woodwork back in 1952 and there are small cultural details everywhere.
The more than 80 rooms and suites are individually designed and beautifully decorated with unique artefacts to reflect traditional life in the Kathmandu Valley.
Today, the Shrestha family still runs the hotel as well as the lovely Dwarika's Resort in Dhulikhel.


The location
Depending on the traffic, Dwarika's Hotel (adlink) is only a few minutes drive from the airport and about 15 minutes drive from Thamel; the popular tourist area with lots of restaurants and all kinds of shops.
The room
We stayed in one of the very spacious Heritage Deluxe Rooms.
All furniture is custom designed and made at their in-house workshop.
The big bed was very comfortable and the linen used for bedding is organically produced and hand woven. Nice!
We had a divan (day bed) for lounging and a table next to it with the traditional Nepalese game of Bagh-Chal; a two-player board game with tigers and goats.
The open plan bathroom had both shower and bathtub. Pure luxury.
See the different room types and prices here (adlink).





Facilities at the hotel
There's a relaxed atmosphere in the charming courtyard where you can enjoy your breakfast or lunch while listening to birds singing cheerfully.
Most evenings, you can also experience traditional Nepalese dance in the courtyard.
Dwarika's in-house workshop with craftsmen and gift shops with jewellery, paintings, handicrafts and other souvenirs are located here as well.
Use the gym for some exercise or start your morning with a complimentary yoga class. It's do-able for all ages and levels.
The class Victoria went to was pretty easy and mostly focused on stretching out which was perfect after a long flight to Kathmandu.
For even more relaxing, there's an outdoor pool and the Pancha Kosha Spa offers ancient rituals and treatments.







Restaurants
There are many nice restaurants in Kathmandu but if you don't want to leave the hotel, Dwarika's Hotel (adlink) has no less than three restaurants on site.
The Nepali speciality restaurant, Krishnarpan, is a slow dining experience in itself. Here, they serve meals ranging from six to 22 courses – and our dinner was made vegan upon request.
Soooo good!
Mako's is a Japanese restaurant which we unfortunately didn't try but at Dwarika's Resort in Dhulikhel we had an amazing all-vegan dinner at the sister restaurant, Mako's Zen.
A more internationally oriented restaurant called Toran is open all day and it's here the breakfast buffet is served as well.
For all of the restaurants, Dwarika's primarily use seasonal and local produce – much of it from their own eco-organic farms (we visited the one in Dhulikhel) or otherwise from local organic farmers.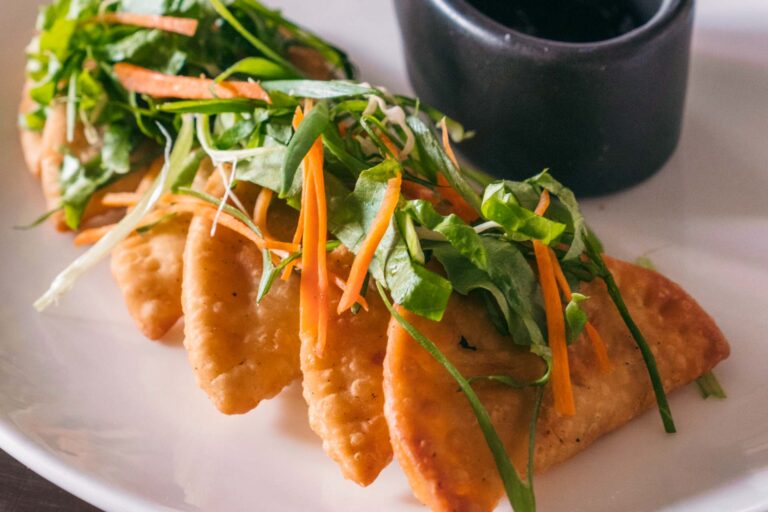 Who should stay at Dwarika's Hotel in Kathmandu?
If price is not an issue, Dwarika's Hotel (adlink) is the most luxurious place to stay in Kathmandu.
It's really a unique, architectural pearl with lots of history in the capital of Nepal.
For a romantic stay or a peaceful retreat after a hike in the mountains, you will love this stunning hotel. The attentive and kind staff will take very good care of you.
Dwarika's Hotel is an oasis you won't forget.
Check out their website or search for prices and availability here (adlink).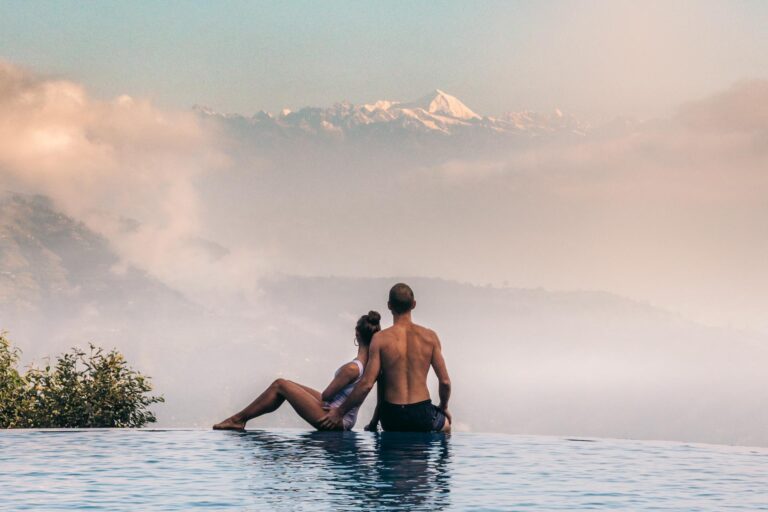 Our favourite travel resources:
Our camera gear: