A Complete Travel Guide to Wipptal, Austria: 10 Best Things to Do in the Wonderous Valleys in Summer
Everything you need to know including what to do, when to visit and where to stay
The valleys of Wipptal
Wipptal (Wipp Valley) is the name of the 33-kilometre long valley running north-south from Innsbruck in Austria to Brixen/Bressanone in Italy.
It is also the name of a popular but under-appreciated Austrian holiday region in Tyrol, most famously known for the Brenner Pass connecting Austria to Italy.
While many people use the highway to quickly drive through the alps, we suggest taking some detours on this particular stretch of road to visit some of the wonderous side valleys of Wipptal.
You don't need to venture far from the main valley to discover some real Tyrolean gems.
Traditional villages, snowclad mountains, waterfalls and amazing hiking opportunities are just some of the multitude of things on offer.
We visited Wipptal in June and were blessed with lots of sunshine and animal encounters. Read on to find out the best things to do in Wipptal in summer.

Why visit Wipptal?
Being strategically located right by one of Europe's busiest thoroughfares, Wipptal has no shortage of travellers passing through.
Some stay for a night to break up the trip, but we definitely think Wipptal has more to offer than that.
Each of the five side valleys have their own particular geography and secrets to be discovered.
The mountaineering villages are especially unique, highlighting natural areas of beauty where tourism is developed sustainably and the environment remains healthy, vibrant and balanced.
If you're looking for a convenient way to discover the authentic side of Tyrol, Wipptal is just the thing.


Map of Wipptal
Wipptal – the Wipp valley – begins just south of Innsbruck.
It then extends to the Brenner Pass in the south, connecting the Austrian region of Tyrol with the Italian region of South Tyrol.
Wipptal consists of five valleys beyond the main valley with the peaks of the Stubai Alps and the Tux Alps on each side.
Steinach am Brenner (population ~3,400) is the biggest city and transport hub in Wipptal.
Where to stay in Wipptal
You basically have two main choices of where to stay in Wipptal: in the main valley or in one of the side valleys.
Which to choose depends on your intended activities as well as on your mode of transport.
Staying in Steinach am Brenner (alternatively Matrei am Brenner) is very convenient if you want quick access to the rest of Tyrol, Austria, Italy and beyond – as well as to all of the valleys in Wipptal. The public transport options are quite good.
What you lose with the convenience, however, is the magical calm of the side valleys around dawn and dusk.
Here there are only a few, if any, restaurants, and just a couple of guesthouses and hotels scattered around the valley floor.
Visiting other side valleys than the one you're staying in is easiest if you have your own mode of transport.
You could, of course, also choose to only explore all of the nooks and crannies of just one side valley. We could recommend doing this if all you have in Wipptal is a few days.
Search for the best value accommodation in Wipptal here (adlink).

Gasthof Feuerstein
This is where we stayed during our visit to Wipptal.
Gasthof Feuerstein is located deep in the Gscnitz Valley, just next to the Mill Village and the Sandes Waterfall.
We could actually see (and hear!) the waterfall directly from our bed, which was super cool.
The service as the guesthouse was top-notch with great English-speaking and lots of smiles.
Check prices and availability at Gasthof Feuerstein (adlink).



Thumeserhof
We visited Hany at Thumeserhof and can only imagine how wonderful it must be to stay here.
The alpacas and the llama are incredibly cute. There are also other animals at the farm. Jump down here to read about our alpaca walk with Hany.
Thumserhof is located in Schmirntal (the Schmirn Valley) just 15-20 minutes from the main town of Wipptal, Steinach am Brenner.
For hikers, this is a small slice of paradise. There are loads of hiking trails with direct access from Thumeserhof. Nature here just feels crisp.
Check prices and availability at Thumeserhof (adlink).



Gasthof Schützenwirt
For a no-frills budget place to stay in Steinach am Brenner, consider Gasthof Schützenwirt.
Located on a quiet street not too far from the train station, there are several different types of rooms.
Free wifi is provided and some of the rooms have great views.
Check prices and availability at Gasthof Schützenwirt (adlink).

Maria Waldrast Abbey
When we visited the Maria Waldrast Abbey, we had no idea that it's possible to stay there. Turns out, you can!
For hikers, there are small, simple rooms available. There's also a family room with mountain views.
Check prices and availability at Maria Waldrast Abbey (adlink).


10 best things to do in Wipptal
1. Visit Gschnitz
As we stayed at Gasthof Feuerstein in Gschnitz, we spent most of our time in Wipptal in the Gschnitz Valley (Gschnitztal).
First things first: it's gorgeous.
The Gschnitz Valley is especially known for its many waterfalls – the biggest and most popular one being the Sandes Waterfall by the Mill Village.
Apart from that, there are also several smaller waterfalls running down the mountain faces.
The best time to see the waterfalls is in spring/early summer as this is when the snow on the tops start melting.




2. Mill Village in Gschnitz
One of the things that set the Gschnitztal apart from its valley neighbours is its Mill Village.
The Mill Village (Mühlendorf Gschnitz) is a realistic look into how things used to be back in the day (~100 years ago).
Experience how people survived in these valleys without the modern comforts of running water, heating, electricity and supermarkets.
Here you can see how corn was milled, iron was forged and daily necessities were manufactured by hand.
There are generally lots of activities including the very popular traditional bread baking. Tours are also available in German, English and Italian (on request).
The Mill Village was built with love with original manufacturing techniques and materials by the passionate locals – and the result is a stunning, living museum.


3. Healing Sandes Waterfall
In the backyard of the Mill Village, you'll find the roaring Sandes Waterfall providing power through sheer water strength to the village.
From behind the church, there's a path that takes you directly up to the waterfall.
First, there's a viewpoint and then there's the 40-metre long bridge that takes you directly over the falls, providing the most immersive views. Prepare to get wet!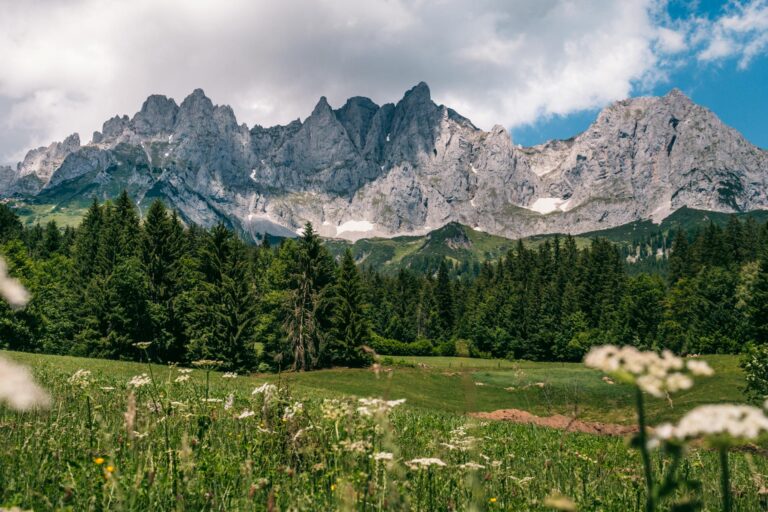 4. Hike to Laponesalm
The Gschnitz Valley is at its most undeveloped and pretty after Gschnitz and the Mill Village about 12 kilometres in.
This is a great place to start the hike to Laponesalm. Laponesalm is a restaurant, but it's also just the name for the area at the back end of the Gschnitz Valley.
The end of the road, so to speak.
From the Mill Village, it's about 3 kilometres to Laponesalm taking you up about 200 metres (starting at ~1,250 metres and ending at ~1.472 metres above sea level)
The grade is not very steep for the most part but it's not completely flat, either.
It's a mellow, wide gravel track suitable for almost everyone. It's accessible for pushchairs and wheelchairs.
On the way, you'll see waterfalls (if it has been raining or snow is melting), a river, lush forests, mountain huts and some amazing mountain scenery. You might also meet some cows.





5. Gschnitz Valley Mountain Hut Tour
For a bigger mountain adventure, consider hiking the full 6 stage Gschnitz Valley Mountain Hut Tour in the mountains surrounding the valley.
With a total distance of 53.1 kilometres and more than 5,000 metres of elevation change, this is a route for experienced mountain hikers.
It is estimated that most people spend around 32 hours for the full route.
There are 5 mountain huts on the way making for some natural stops. 6 days is recommended with 4 to 7 hours of hiking per day.
As it's possible to reach the Gschnitz Valley from each hut, you can also make shorter circuits.
Contact the tourist information in Steinach am Brenner for more information about the huts, lifts and detailed maps.

6. Goat hiking in Vals
When Helga Hager isn't working as a sommelier, she runs a rustic farm in the beautiful Valsertal (Vals Valley) and it's possible to join her and her goats as they graze the mountain sides.
Helga is an experienced Tyrolean mountain hiking guide and it's obvious how much she cares for both her goats and for the surrounding landscape.
The hike is steep in parts so wearing sturdy footwear is a must.









7. Walk with Alpacas and learn about alpine herbs in Schmirn
St. Jodok marks the point where you have to choose between entering the Schmirntal to the north or the Valsertal to the south.
Entering Schmirntal, the road starts by taking you up a few hundred metres before the valley floor evens out.
Thumeserhof is located with stunning views towards the majestic Olperer (3,476 m), but we won't blame you if you have a hard time looking away from the cute residents alpacas and the llama – all of whom take a daily walk you can join in on.
Our host, Hany, also showed us the local alpine flower garden where she taught us all about how local herbs can heal different types of ailment – or just taste plain good.
Back at Thumeserhof she prepared a wonderful vegan lunch for us with amazing bread and spreads made from local delicacies.
Book your stay at Thumeserhof here (adlink).









8. Maria Waldrast Abbey
We visited the Maria Waldrast Abbey from the other side back when we visited Stubai, but it's also possible to visit it from Wipptal.
It's actually a lot easier as you can drive directly there in either your own vehicle or with a public bus. It's just 20 minutes of driving away from Steinach am Brenner.
The historical abbey is located at 1,641 metres above sea level and is a great place to start hikes in the area.
If you plan to do several hikes in the area, consider staying at Maria Waldrast Abbey (adlink).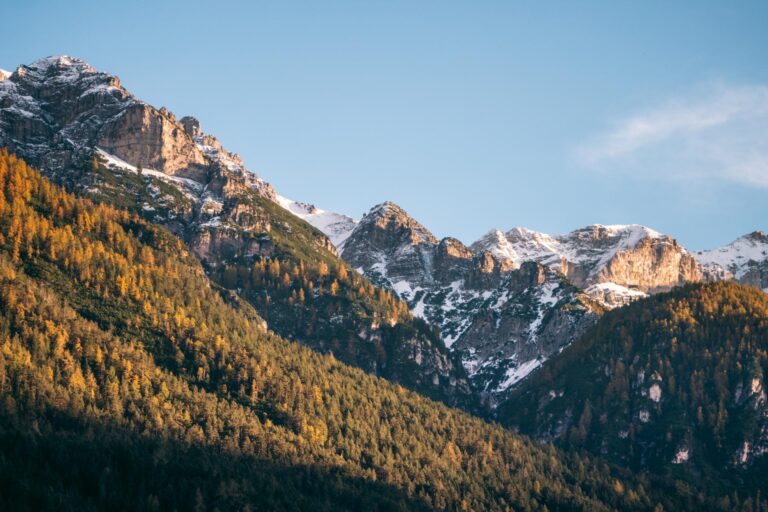 9. Other activities in Wipptal
In winter, Wipptal is a paradise for cross-country skiing with 28 kilometres of classic trails and 29 kilometres of skating trails as well as great opportunities for ski touring. Snowshoe hiking is also very popular.
If you're more into alpine skiing, the Bergeralm (with direct lift access from Steinach am Brenner) has you covered with around 30 kilometres of prepared pistes.
In summer, the Bergeralm is a great place to start hikes and mountain bike tours. Also check out the new bikepark.
For even more adrenaline, consider doing the St. Magdalena via ferrata. Suitable for beginners and only located 30 minutes away from the St. Magdalena car park in Gschnitz, the 500 metres long route takes around 1.5 hours to cover and it takes you up to a pilgrimage chapel.
Right above the chapel there's a climbing garden with 18 routes rated from 3 to 7 with mostly 5 and 6.
When the weather isn't as suitable, it's possible to hone your climbing and bouldering skills at Basecamp Matrei. There's also a fitness centre and a sauna.

10. Visit Innsbruck
If you're solely spending time in Wipptal and have a spare half day or full day, we can recommend visiting nearby Innsbruck.
The capital of Tyrol is a lovely city full of history and charm.
With a location tucked in between the mountains, stunning views are never far away, and modern cable cars make visiting the nearby peaks super easy.
For more on what to do in Innsbruck, read our Complete Travel Guide to Innsbruck, Austria: 12 Best Things to Do in the Charming Old City.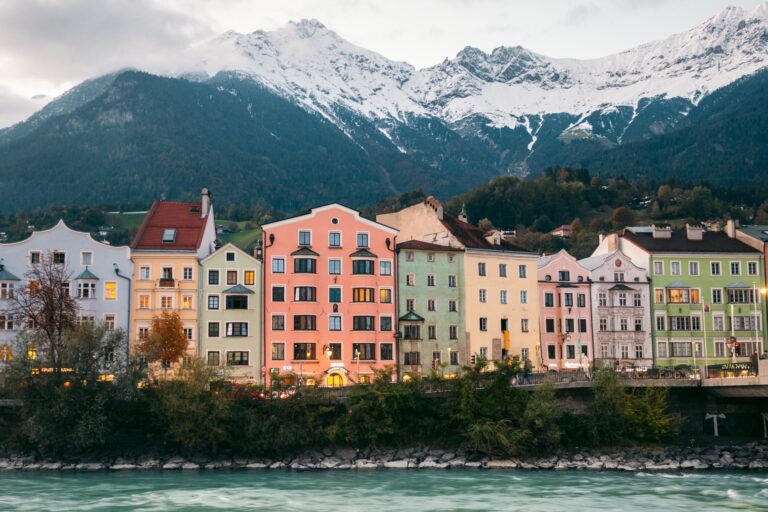 How to get to Wipptal
From outside Austria
Innsbruck Airport (Kranebitten Airport) is located just 30 kilometres to the north and serves both regional and international flights with connections to the rest of Europe.
The central train station in Innsbruck (Innsbruck Hauptbahnhof) is one of Austria's busiest train stations and from here you can also travel all over Austria and Europe by train. OBB is the national railway company of Austria.
From the south, trains from Brenner to Steinach am Brenner leave every hour.
Long-distance busses also tend to stop near the central station in Innsbruck.

From inside Austria
Getting to Wipptal from Innsbruck is super easy.
Trains leave Innsbruck for Steinach am Brenner every half hour.
By car, follow the A12 to Innsbruck and then continue on the A13 (Brenner motorway) until the Matrei/Steinach exit.
When to visit Wipptal
We visited Wipptal in June and had great weather.
As always though, the weather in the mountains is unpredictable. Plan accordingly.
When to visit Wipptal is completely up to your needs and wants.
There are four distinct seasons in the alps, each with their own pros and cons:
Summer is ideal for hiking with warmer temperatures, but can also get crowded.
Winter is a beautiful time to visit and optimal for skiing in the region.
In between in the low seasons, you get less snow or sun, but you can easily get lucky with both (as we have written about in our travel guide to visiting Tyrol in Autumn) as well as deal with fewer crowds. Prices are also lower.
Summer (high season): July & August.
Autumn (low season): September & October.
Winter (high season): November, December, January, February, March & April.
Spring (low season): May & June.

What to bring to Wipptal
Travel insurance (adlink). Never travel without it!
A good camera – here's a guide to the gear we use.
Sunscreen (adlink). Even with cold air, the sun can be strong at altitude. Especially if it's reflected in the snow.
Sturdy hiking shoes. A must!
Swimwear and a towel if you plan to swim.
Water and snacks for active excursions.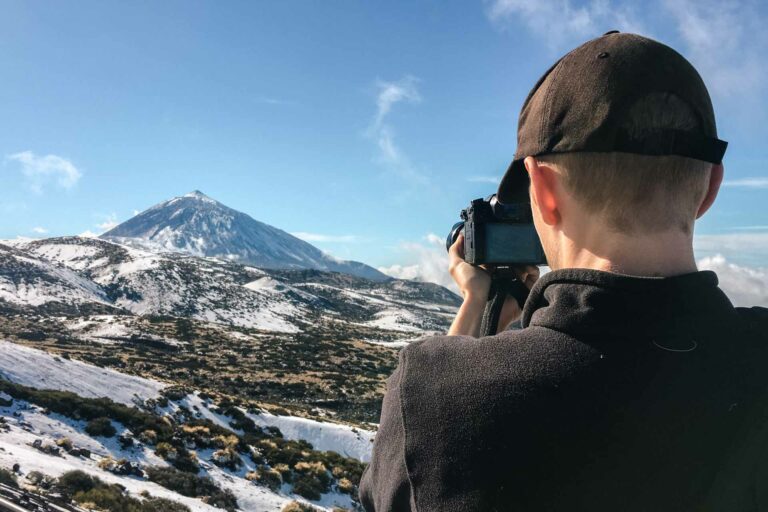 Minimise your impact
To minimise your impact during your visit to Wipptal, follow these guidelines:
Bring your own drinking water in a refillable bottle.
Avoid single-use plastics, including straws.
Dispose of waste properly. While putting your trash in a nearby trashcan is convenient, wrappers and other small items are prone to get taken by the wind and end up in nature. Better to take it with you.
Check your sunscreen if you intend to swim. Many brands contain oxybenzone and other chemicals that are harmful.
Take only photos, leave only footprints. Let everything stay in its natural place.
Be considerate of other visitors.
Respect wildlife.

Thanks for reading
Thanks for getting all the way to the end!
We hope this travel guide to Wipptal in Austria has been useful.
What do you think about the valleys in southern Tyrol? Do you have a favourite?
If you've been to Wipptal it would be awesome to hear your best tips in the comments.
If you haven't been yet, please don't hesitate to ask us anything. We're glad to help.
Our favourite travel resources:
Our camera gear: