Review of Buri Rasa Village in Koh Samui: Tropical luxury in the heart of Chaweng
We review our stay at Buri Rasa Village in Koh Samui
Relaxed tropical luxury
During our time in Koh Samui, we were invited by Buri Rasa Village to stay in their unique resort in the heart of Chaweng.
Driving past the many restaurants, bars and shops in Chaweng where traffic can be a bit hectic, walking into Buri Rasa Village felt strikingly different.
The entire village is designed in a tropical, relaxed style that really befits the island.
The friendly staff greeted us with homemade passion fruit soda as we checked in and while we waited a few minutes for our room to be ready we got the best fresh coconut drink we have ever tasted.
We felt at home instantly.
Search for prices and availability at Buri Rasa Village Koh Samui here (adlink).




The location
Buri Rasa Village is located on the east side of Koh Samui on Chaweng Beach.
The beach has perfect white sand and if you're up early you can watch a spectacular sunrise.
Both the beach and the town of Chaweng are popular among tourists and here you can find multiple restaurants, shops, bars, tour agencies, street food and entertainment of all kinds.
Buri Rasa Village is only two minutes walk to the busy street, yet still far from the noisiest and crowded part.
When entering the village it feels like entering another world.
The relaxed atmosphere quickly makes you forget traffic and life outside the resort.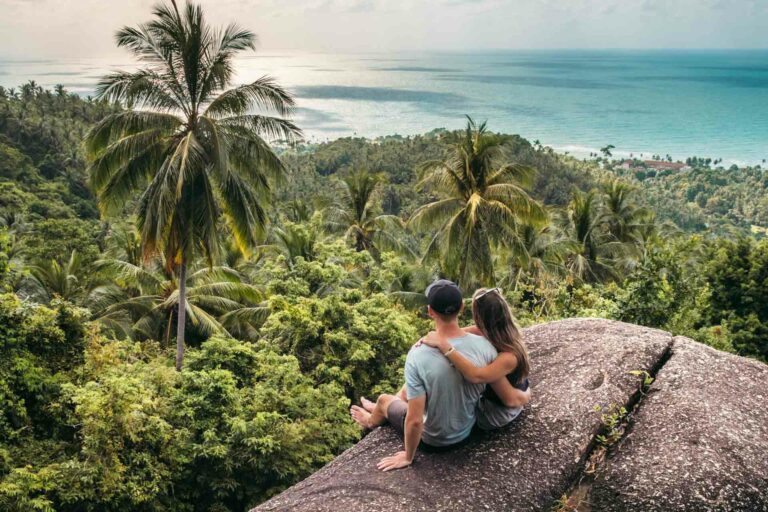 The room
The first thing we noticed when walking from the reception to our room was how everything is designed with great attention to detail.
The resort is newly built but still has an old rustic charm to it.
Plants, flowers and trees surrounded the path leading through the resort to our door, giving Buri Rasa Samui a true village feel.
Outside, we had our own lush tropical garden, an outdoor sofa and a private dip pool.
The indoor living area of 40 square metres was more than enough space for us. There was even a walk-in closet.
The bathroom was big and exceptionally gorgeous with towels in all sizes and bath amenities.
Delicious smelling shampoo and shower gel were ready to use in the shower.
For a different bathing experience, there's a traditional Thai bath with a barrel full of water and beautiful sarongs.
The bed was very comfortable and we absolutely loved the fact that they have a speciality pillow menu with four different kinds of pillows.
The two kinds of pillows we had each were perfect though, and we slept like babies.
See the different room types and prices at Buri Rasa Village Koh Samui here (adlink).










Facilities at Buri Rasa Village
Stepping outside of our lovely place, there was so much else to do.
Besides The Beach Club and The Beach Bar, there's a long pool with a view to the ocean.
It's 1.20 metres deep and next to it there's a very small one at only 50 centimetres – perfect if you travel with babies or small children.
Every day, guests can participate in free afternoon activities like learning origami, speaking Thai or painting coconut shells.
Should you need any other entertainment, you'll find a cosy air-conditioned lobby library with computers, magazines and a cabinet for book exchanges across from the reception.
There's super fast wifi everywhere on the property.
Should you need a deep tissue massage, a hot stone massage or a thai massage, you can visit Buri Rasa Village's own Nam Thai Herbal Spa.






Dining on the beach
We had the most romantic dinner in one of the exclusive salas directly on the beach.
And wow, the food was amazing.
For starters, we had deep fried mini vegetable spring rolls with sweet chilli and coriander sauce and a roasted butternut pumpkin soup with basil pesto and roasted hazelnuts. Mmmmh!
Victoria's main course was a delicious spaghetti with pesto, olive oil, basil leaves, garlic and cashew nuts.
Alex had the green curry with fried tofu, perfectly tender eggplant, red chilli and other vegetables.
To drink, we got a delightful bottle of Chardonnay.
The fresh fruit we had for dessert was the icing on the cake.
We left quite full and happy.
Even if you don't stay at Buri Rasa Village, you should come by for a wonderful meal.









Breakfast buffet
In the morning we enjoyed a breakfast buffet in the cosy Beach Club which is included for everyone staying at Buri Rasa Village Samui.
Fresh fruit like pineapple, watermelon, pomelo, mangosteen and papaya are beautifully cut out.
Many kinds of cereals are available as well as yoghurt, eggs, pancakes, croissants, cakes and so much more.
If you like bread in the morning, there are several different kinds plus cheese, ham or even homemade jam. We loved the ones with strawberry/lemongrass and orange/passionfruit.
For the guests wanting to eat local food, there are warm Thai dishes such as noodle soup, dumplings, pad thai, rice and vegetables available.
Try the banana leaf wrapped Thai desserts with sticky rice/banana and sweet potato/coconut as well.
If you're willing to try more Thai flavours, opt for the Thai coffee or tea. If that's not for you, the regular espresso-based coffees are good, too.
It was no problem for us to get coconut milk for our coffee and cereals and the sweet waiter gave us plenty (and even remembered it the next morning).
The buffet also has a wide array of juices like apple, orange, watermelon and pineapple as well as smoothies.







Who should stay at Buri Rasa Village?
If you want to stay close to the action by staying in the heart Chaweng but still prefer some peace and quiet during the day (and night!), Buri Rasa Village is the obvious choice.
Couples and families looking for a unique and authentic experience on Chaweng will love it here.
This 4-star resort definitely has 5-star service and you will feel like being a part of the family during your stay.
Buri Rasa truly feels like the village it claims to be!
Search for prices and availability here (adlink).