Ang Thong National Marine Park: How to Visit & What To Expect
How to stay overnight on Koh Wua Talap and experience the viewpoint of viewpoints at sunrise or sunset
Limestone and turquoise waters
The first time we visited the Gulf of Thailand together in 2014, we didn't make the trip to Ang Thong National Marine Park.
When we returned and spent 2 months on Koh Samui and Koh Phangan in early 2019, we knew we had to go.
At first, we thought a day-trip would be sufficient.
But the more we researched, the more we got sold on the idea of staying on the main island of the archipelago overnight. And we were so glad we did!
In this travel guide to Ang Thong National Marine Park, we'll share our best tips on visiting the magnificent place whether or not you stay for just half a day, a night or even several.

Why you should visit Ang Thong National Marine Park
With Koh Samui, Koh Phangan and Koh Tao to the east and the Thai mainland to the west, Ang Thong National Marine Park sits on prime real estate in the Gulf of Thailand.
There are 42 islands in the archipelago ranging widely in size and shape, but what they have in common is their unparalleled beauty – both under and above the saturated water.
Koh Wua Talap
Though it's not the biggest island of Ang Thong National Marine Park, Koh Wua Talap is considered the main island of the archipelago.
This is where you'll find the national park's headquarters as well as the main draw of Ang Thong; "The viewpoint of viewpoints" or "the most beautiful sight in Thailand" – a sweeping view over the islands and the pristine waters surrounding them.
Koh Wua Talap is also home to a stunning beach, an interesting cave with stalagmites and stalactites and a few bands of cute monkeys. There's also a second beach we didn't visit.
If you intend to spend a night inside the national park, you'll sleep on Koh Wua Talap.






Viewpoint of viewpoints hike
The hike to get to Pha Jun Jaras viewpoint is steep and quite arduous, but so worth the effort.
Even though "the viewpoint of viewpoints" sounds a bit corny, it seems fitting once you see the ocean sparkle around the jungled limestone cliffs in the distance.
It's almost 500 metres of vertical climbing to get to the top, all on pretty good stairs.
Most people will spend 30-45 minutes getting up there and a little less to get down again. Set aside extra time for photos.
Going early or late in the day will be much more comfortable as you'll avoid the heat and humidity of mid-day.
If you want to save time (or your legs!) it's possible to stop at other viewpoints on the way up that still present striking views of Koh Wua Talap's beach and the rest of the islands in the archipelago.



Bua Bok Cave
On most day-tours, you get to choose between visiting either the viewpoint or the cave.
We were really glad we got to experience both.
The trek to the cave isn't long, but it's a little difficult with some sections requiring scrambling and very basic climbing.
When we went in the morning, we were all alone at the cave which actually felt a little spooky.
The stalagmites and stalactites are impressive, though, and the light entering from both sides makes the cave very photogenic.



Other islands in Ang Thong National Marine Park
On the other islands of Ang Thong, it's possible to visit an emerald lake, hike to other viewpoints, chill out on the secluded beaches or enjoy the marine life by snorkelling in the clear waters.
Sea gypsies make a living from fishing and live on Koh Phaluai.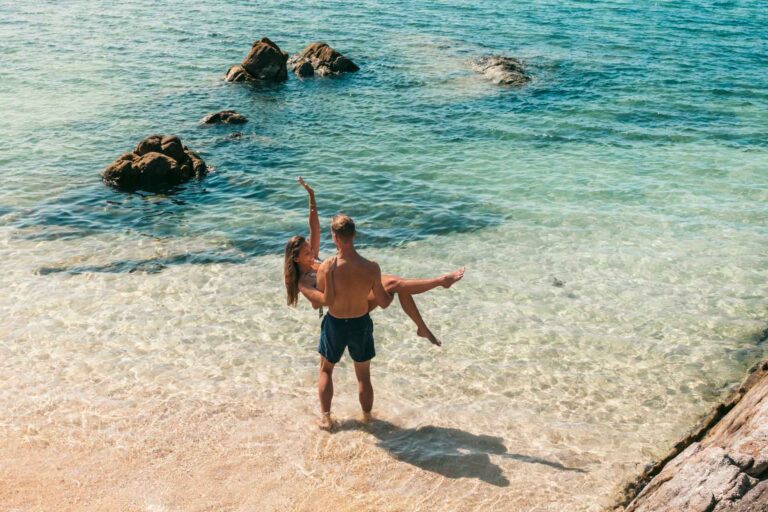 Staying overnight in Ang Thong
To our knowledge, Koh Wua Talap is the only place you can stay as a tourist in Mu Ko Ang Thong National Marine Park.
We booked a night in one of the few bungalows in the national park to be able to spend more time soaking in the beauty of this place.
Being more or less alone on Koh Wua Talap also gave us the opportunity to witness the view from the top at both sunset and sunrise – all by ourselves.
Which was, perhaps almost needless to say, the highlight of our Ang Thong-trip (if not of our whole two months in Thailand!).
Standing up there was such a spectacular feeling.


Our bungalow
The bungalow had a bathroom with a shower, toilet and running water.
There were also toilet paper, soap and towels.
The beds were single beds.
We had a fan (which we didn't need) and electricity was on until 23.00 in the evening.
It's also possible to either sleep in a tent or bring your own.



Restaurant
There's a restaurant on Koh Wua Talap serving tasty Thai meals for both breakfast, lunch and dinner.
Have patience.
Prices range from about 60 to 120 baht (~ 2 to 4 USD / 1.75 to 3.5 EUR) for a meal.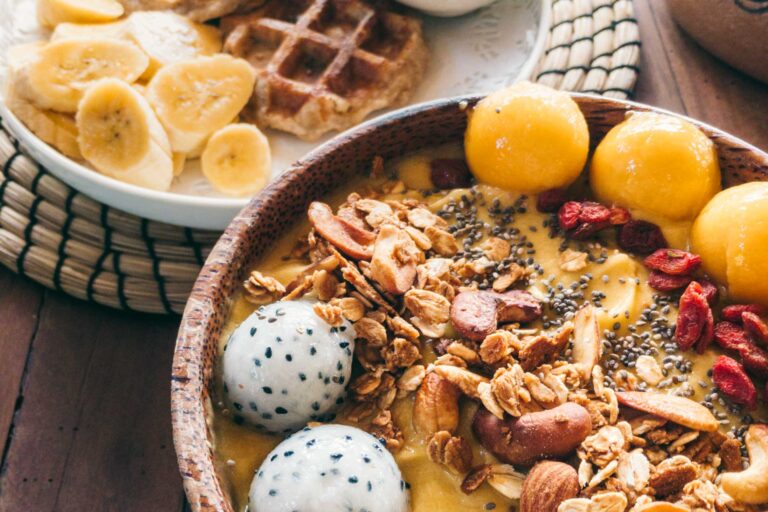 How to book accommodation on Koh Wua Talap
How to stay overnight in Ang Thong National Marine Park?
We'll be honest: Booking the bungalow wasn't exactly easy, and arriving at Koh Wua Talap, we weren't completely sure if had actually booked anything.
Thankfully, everything had worked out and we even got a way-too-big bungalow with room enough for a huge family.
We booked the accommodation with the help of the travel operator on Koh Samui with whom we also booked the boat tour itself.
It's possible to do it yourself, but navigating the national park's reservation system isn't without quirks.
To pay for our bungalow, it seemed like the only option we had was to transfer funds to the national park by going to a local bank and paying. This was simple enough, but just be aware of the bank's opening hours and national holidays.
When booking your boat tour, make sure to specify that you're staying overnight and intend to get picked up again the following day. It also doesn't hurt to double-check with the boat crew.
Once you reach Koh Wua Talap, approach the visitor centre to check-in.

How to get to Ang Thong National Marine Park
Many boat companies operate daily tours to Ang Thong National Marine Park.
Tickets can be bought from most travel agents around Koh Samui, Koh Phangan, Koh Tao or from Surat Thani on the mainland. You can also ask at your hotel or even at many restaurants – it is Thailand, after all.
Being the most popular tourist destination in the Gulf of Thailand, most tours leave from Koh Samui.
Ang Thong is located about 28 kilometres from Koh Samui and 32 kilometres from Koh Phangan.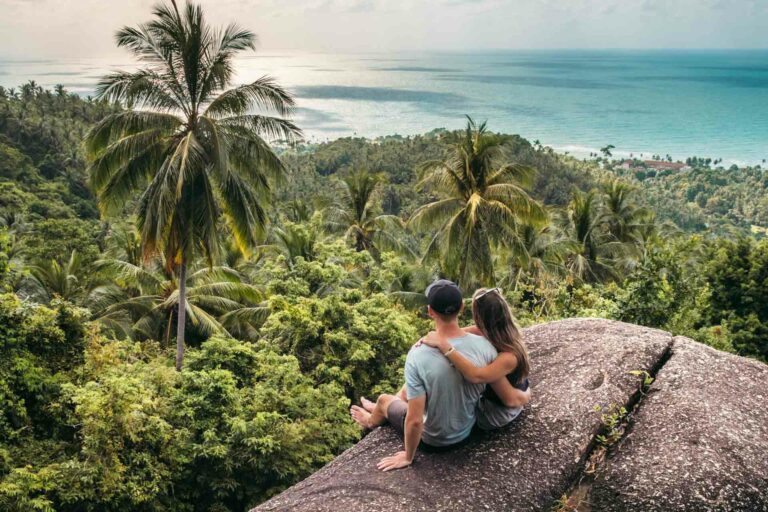 Ang Thong tours
Speedboat tours for around 2,500 baht per person (~ 80 USD / 73 EUR) carrying a maximum of 30 people is a popular choice, while the slower ferries are cheaper.
Some ferries can sail with up to 50 people and some even carry up to 100 people.
Most tours make a stop at the emerald lake on Koh Mae Ko before heading to the national park's headquarters at Koh Wua Talap.
Speedboats might be able to cram in an extra stop.
There's an entrance fee of 300 baht per person (~ 9.4 USD / 8.3 EUR) to the national park which is sometimes included in the price of your tour.
Kayaking, snorkelling gear, food and drinks are sometimes included as well, but not always – so make sure to double-check with your travel agent.
Ferry from Koh Samui
Prices vary across tour operators, but the standard price for going with Samui Island Tours is 1,800 baht per person (~ 58 USD / 52 EUR) including kayaking or 1,300 baht per person (~ 42 USD / 38 EUR) without a kayak. Children receive a discount.
We paid 1,100 baht (~ 36 USD / 32 EUR) for the trip to Ang Thong and back to Koh Samui on the following day.

Samui Island Tours included:
Mini bus transfers from around Samui (we drove to the harbour on our own bike, though).
Unlimited water from dispenser + soda from big bottles.
Coffee, tea and cocoa.
Simple breakfast.
Lunch buffet.
Life jackets.
Snorkelling equipment.
Dry bags (if you are going kayaking).
Marine park fees.
English speaking guides.

Food on Samui Island Tours' ferry
When we left from Nathon Pier on Koh Samui, breakfast was served on the ferry consisting of bananas and boring croissants. You could also help yourself to a cup of coffee, tea or cocoa (in powder form) with milk powder and sugar.
After our first stop on the boat tour, lunch was served as a small buffet with rice, spring rolls with rice noodles and vegetables, sweet chilli sauce, vegetables (corn, carrots and kale), curry with chicken and potatoes as well as watermelon and pineapple.
Drinking water was free from a big cooler. As we had brought our refillable bottles, we easily had enough to stay overnight.
Soda, beer and chips were sold from the small shop onboard along with dry bags to keep your phone dry.

Kayaking
If you have kayaking included in your trip, you'll paddle along the limestone cliffs for about 20 minutes. You can borrow a dry bag for free.

When to visit Ang Thong
The seas in the Gulf of Thailand are at their calmest from March to October.
Between November and January, Ang Thong may close due to bad weather conditions.
When we visited in February, the seas were too rough for the boat to pick us up at Koh Wua Talap, so we had to get transported in a dinghy. It was a fun adventure and nothing to be scared of.
It should be noted in this regard, though, that getting to and from the islands from the boats requires some balancing skills if there are waves.

What to bring to Ang Thong
Swimwear. You'll really want to jump in!
A sarong or a quick-dry towel (adlinks) for drying and chilling on the beaches.
Sun protection; a hat, sunglasses, light covering clothes and an eco-friendly sunscreen (adlink).
Hiking shoes or sneakers if you want to walk to the viewpoint or to the cave.
You own snacks (you can also buy some on the boat or at the restaurant by the headquarters of the national park at Koh Wua Talap).
Thai baht in cash for the restaurant on Koh Wua Talap.
Headlamp or flashlight if you want to hike before sunrise or after sunset.
If you stay for one night or more, you might also want to bring mosquito spray.
Don't bring your drone. Drones aren't allowed in the national park.

Minimise your impact
To minimise your impact when visiting the Ang Thong National Marine Park, follow these guidelines:
Bring your own drinking water in a refillable bottle (adlink).
Avoid single-use plastics, including straws.
Dispose of waste properly. Preferably take anything you bring to the national park back with you.
Check your sunscreen. Many brands contain oxybenzone and other chemicals that are harmful to corals.
Take only photos, leave only footprints. Let shells and corals stay in their natural home.
Be considerate of other visitors.
Respect any wildlife you might encounter. Don't feed the monkeys.
Also, consider going beyond minimising your impact by joining the Adventure Bag Movement and pick up some trash during your exploring.
Thanks for reading
We hope this travel guide to visiting Ang Thong National Marine Park has been useful.
What do you think about the viewpoint of viewpoints?
If you've been to Ang Thong, it would be awesome to hear about your experience in the comments below.
If you haven't been yet but would like to, please don't hesitate to ask us anything. We're only glad if we can help.



Our favourite travel resources:
Our camera gear: