A Complete Travel Guide to Phu Quoc: 15 Best Beaches & Things To Do
Everything you need to know including where to stay, what to do and where to eat in Phu Quoc
A tropical Vietnamese island
In 2013, we visited Vietnam for the first time.
We travelled for three weeks from Ho Chi Minh City to Hanoi and saw the big cities as well as the rural areas.
Since then we have regretted not going to Phu Quoc and especially Victoria has been talking about the island for years.
When we were in Thailand at the beginning of 2019, Phu Quoc suddenly didn't seem that far away.
We still dreamt about visiting the Vietnamese paradise island so we decided to get the full experience and go there for a month!
(Don't worry, you definitely won't need a month to explore Phu Quoc).
As we work while travelling, we found a great place to stay with a desk, kitchen, wifi connection and heaps of rabbits.
From there we could go on adventures a few days a week.
In this guide, we will tell you everything you need to know about Phu Quoc island in Vietnam.
Where to stay in Phu Quoc:
Adlinks
Luxury: JW Marriott – Probably the craziest, most creative place we've ever stayed.
Value for money: Garden House – We stayed here for a month.
Budget: Le Forest Resort – Cheap place with a pool.
Search for the best value accommodation in Phu Quoc here (adlink).

Why visit Phu Quoc
Phu Quoc archipelago consists of 22 small islets and islands with Phu Quoc being the biggest one. It's also known as "Pearl Island".
You should visit Phu Quoc for the white sand beaches and the authentic Vietnamese food.
Apart from its beaches and tropical weather, Phu Quoc is most famous for supplying the Vietnamese (and tourists) with pepper, pearls and fish sauce.
During our time on the island, we mostly saw Vietnamese tourists, other Asian tourists and Russians, but there aren't as many tourists compared to the rest of Vietnam or other paradise islands.
Yet…
This relatively undiscovered part of Vietnam is becoming a tourist hotspot and more and more hotels are built each year.
So if you're planning to go, consider visiting Phu Quoc before it gets completely overdeveloped.


Phu Quoc orientation
Phu Quoc is the biggest island in Vietnam and is located in the Gulf of Thailand.
On a map, it's actually in what appears to be Cambodian waters and much closer to Cambodia than to Vietnam.
Nonetheless, you will have no doubt that you are in Vietnam when visiting Phu Quoc.
Conical hats are ubiquitous, banh mi and pho are sold from small stands everywhere and the look and feel of the people, the clothes and the temples are very much Vietnamese.
Phu Quoc is a part of the Kien Giang province and more than 100,000 people live on the island.
It's covered by dense rainforest and a mountainous landscape with 99 peaks.
Scuba diving, snorkelling, fishing and exploring the pristine forests and beautiful beaches are the activities people come looking for.
Map
The main town of the island is Duong Dong, located just below the middle of the island facing west.
From here, Long Beach spreads out southwards almost all the way down to An Thoi and the smaller islands south of Phu Quoc.
Long Beach is the most developed beach with a whole array of resorts and restaurants dotting the coastline with the highest concentration in the northern part.
The northwest of the island is developing fast with lots of resorts opening.
The northeast is mostly a national park along with some smaller fishing towns.
Click the icon in the top left corner of the map to find the places we have mentioned in this guide.
When to visit Phu Quoc
When is the best time to visit Phu Quoc?
Phu Quoc has a tropical climate and it's hot all year.
However, because of the rain, you should pay attention to the different seasons if you plan to spend time on the gorgeous beaches.
Generally speaking, the island experiences three seasons: high season, shoulder season and low season.
High season from November to March has glorious weather but you can be rather lucky in the shoulder season from April to June, too.
The month of October counts as a shoulder season/month?? as well and some people say that this is the best month to visit.
As with any other place, the weather can change from year to year.

High season (November to March)
During the high season, the weather is often perfect.
From November to March you can expect sunshine, sunny skies and around 30°C (86ºF) throughout the day.
As the season indicate, most people will travel to Phu Quoc in this period.
Accommodation rates rise in these months and it's recommended to book in advance if you have a special hotel or area in mind for your stay.
Shoulder season (April to June + October)
April, May and June are considered shoulder season.
Phu Quoc will be visited by less and less people, partly because the weather is getting more humid.
Expect both sunny days and days with rain.
During our one month stay in Phu Quoc from mid-March to mid-April, we mostly experienced sunny days and very few cloudy days. It only rained one or two evenings.
April and May are the hottest months.
Be aware that lots of Vietnamese tourists come to the island for vacation time in June which means fully booked hotels, crowded beaches and many tour buses on the road.
If you have the opportunity, October is perhaps the ideal month to visit.
After the rain stops in September, the tourists are yet to come and you can score pretty good hotel deals in this period.

Low season (July to September)
Expect it to rain. A lot. Especially in the late afternoon.
The weather is still pleasant but the dirt roads can get pretty muddy and slippery.
If you like running streams and cheap accommodation, this could be fun, but try not to get your hopes up about sunny beach days, watersports and scuba diving.
Areas of Phu Quoc
Duong Dong
The main town on the island is called Duong Dong.
It's located on the west side, just south of the island's midpoint.
Duong Dong is very much a Vietnamese city and feels refreshingly untouristic. People just generally go about their own business.
As we lived just a few minutes ride north, we visited Duong Dong frequently.
This is where you'll find the greatest concentration of local eateries including most of the island's fully vegan restaurants.
There are also a few temples, markets (including the night market) and hefty traffic.


The northern part of Phu Quoc
In the north is where you'll find the gigantic Vinpearl resort along with their theme park and safari.
Starfish Beach is also located in the north.
Apart from that, the northern part of Phu Quoc is sparsely developed and most of the northeast is a protected nature reserve.


The southern part of Phu Quoc
The southeast of the island is where you'll find Phu Quoc's most beautiful beaches at Sao Beach and Kem Beach.
Long Beach also stretches all the way south with lots of newly (or currently being) built resorts.
The town of An Thoi on the southernmost tip is the jumping off point for the cable car as well as boat tours to the southern paradisiac islands.


Ong Lang
Ong Lang is the next biggest touristic area in Phu Quoc after Long Beach with lots of resorts and hotels.
It's located a few kilometres north of Duong Dong.
On the road leading down to the ocean, there are many restaurants, bars, souvenir shops, massage parlous and the like.

What to do in Phu Quoc
Sao Beach
Bai Sao, or Sao Beach, is probably the most famous beach in Phu Quoc.
It's known for its pristine beauty with pure white sand and clear blue water and many say that Sao Beach is the best beach on the island.
If you want a photo with a swing for your Instagram this is the beach. We saw more than four pairs of swings on this beach.
It's close to An Thoi town in the southern part of the island.
In our opinion, it was really pretty but it was difficult not to be distracted by the massive piles of plastic bottles, plastic bags and all kinds of plastic trash. Unfortunately, this is a big problem in Vietnam.




Long Beach
As the name implies, Long Beach is long. Like really long.
In fact, it starts just south of Duong Dong and stretches for more than 20 kilometres to the south of the island.
Most of the action happens around the main town which is the most developed area with lots of restaurants and accommodation options.
Sunsets are wonderful here!


Starfish Beach
In the north, there's a beach called Rach Vem and on the eastern end of that beach, you can find Starfish Beach.
The beach itself is nice, but as you may have guessed, the starfish are the real attraction here.
At low tide, you can spot red and orange starfish in the shallow water.
This beach was only discovered by tourists recently but now there are already tour companies going there with groups of people.
When we arrived at the beach to admire the magical creatures, we were disappointed. Not by the starfish but in the people who were there.
So many people were touching the starfish, lifting them above water or moving them around to arrange them for a perfect photo for their feed.
It's wrong, it's irresponsible and this simple action can be fatal for the starfish.
Please, if you read this guide and go to Starfish Beach, tell other people to respect nature and let the starfish be.
Also, the water was a little dirty, we found a lot of plastic on the beach and there weren't that many starfish – all because of tourists, we guess.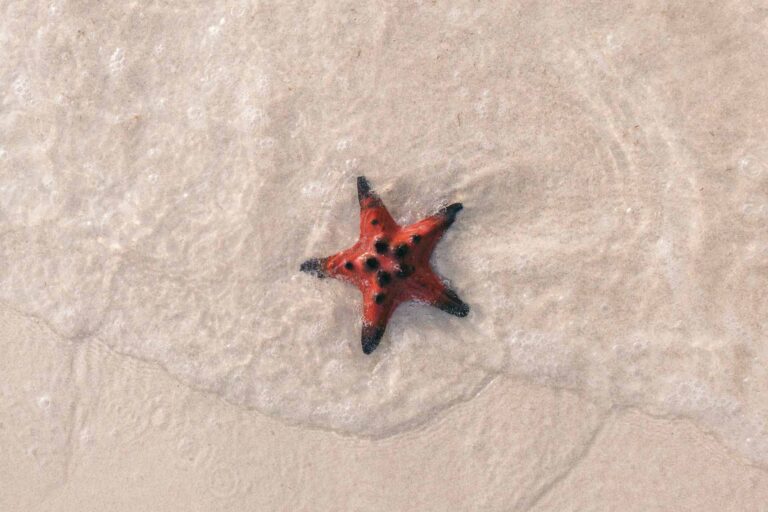 Cable Car
If you like seeing things from above, consider jumping on the Phu Quoc Cable Car for a unique ride.
The Cable car connects the island's second biggest town An Thoi to the archipelago's second biggest island Hon Thom, or Pineapple Island.
At 8-kilometres, it's the longest cable car in the world.
The 15-minute ride takes you above two other islands, spectacular waters and lots and lots of fishing boats.

Boat tour to paradise
Going on a boat tour to the tropical islands south of Phu Quoc is one of the most popular activities to do.
While many opt for a full tour package from their resort/hotel and back, we drove ourselves to the pier at An Thoi.
Quickly we got offered a deal at 1,200,000 VND (~ 51.6 USD / 46 EUR) for a private boat (without lunch) taking us to four islands.
In reality, it turned out to be three islands and a snorkelling stop, but we didn't complain.
The islands are just mesmerising.
The water is as clear as we've ever seen and the beaches are marvellous.
Unfortunately, there were some trash problems, but all in all, we had a grand experience.
Try to go early (or late) in the day to avoid the crowds.



Markets
Buy fresh and cheap produce at a market or stroll through one to soak up the lively vibes.
They're usually at peak activity around 6-7 AM, so you have to get up early for the full experience.
We had a kitchen during our stay and it was amazing to get vegetables and fruits from the markets.
Just a warning: you might see living animals like shrimps and fish in tanks. Obviously, we think this is a horrible way for the animals to be treated.


Fishing villages
If you like colourful fishing boats and local life, consider visiting a fishing village.
Ham Ninh fishing village is the oldest in Phu Quoc and it's located on the southeast side of the island.
Night Market
For a truly Vietnamese experience, you should visit the Dinh Cau Night Market in Duong Dong.
It's open every evening from around 5 to 10 PM and you will find lots of food options (both weird ones and yummy ones), clothes, souvenirs and much more.


Dinh Cau Temple
Dinh Cau Temple is a small Chinese temple and lighthouse built on a rugged cliff beside the Duong Dong River.
Inside, there are some shrines and you can enjoy the view over the northern part of Long Beach and Duong Dong harbour.
There's not much to do, so expect to spend around 5 or 10 minutes here.
The harbour is a beautiful sunset spot and many locals come here in the evening.
Only a few meters away, there's another small, but colourful temple called Dinh Ba Thuy Long Thanh Mau.
If you love temples, you should also consider visiting The Nguyen Trung Truc Temple in Ganh Dau.
The temples are free to visit. Remember to dress appropriately.


Phu Quoc Prison
Not far away from Sao Beach, you can find Phu Quoc Prison, also known as the Coconut Tree Prison or Nha Tu Cay Dua.
Thousands of communist soldiers and political prisoners from North Vietnam were held and tortured in this prison during the Vietnam War until the fall of Saigon in 1975.
Today, Phu Quoc Prison is a museum serving as a reminder of the past.
It is exhibiting artefacts and life-sized mannequins showing some of the brutal torture scenes that have happened in the prison.
Phu Quoc Prison is free to visit.
Visit a pepper farm
When driving around the north of the island, you will see many pepper farms along the roads.
The pepper from Phu Quoc is known to be among the best pepper in Vietnam and even in the world.
Stop and admire how pepper is cultivated or visit a pepper farm if you want to know more about this incredible spice.
Waterfalls
Waterfalls and streams are popular everywhere – and in Phu Quoc as well.
Suoi Tranh Waterfall and Suoi Tien are the most famous waterfalls on the island.
You can find Suoi Tranh between Duong Dong and Ham Ninh fishing village and Suoi Tien a bit north of Ham Ninh. The latter can be hard to find so ask the locals for help.
They are not as tall or grandiose as other waterfalls in Asia (especially Indonesia or the Philippines) but they could be worth a visit if you have the chance.
Suoi Da Ban is well-known for its numerous rock pools and it's mainly visited by locals from Duong Dong who apparently go there to party and sing karaoke.
We heard that you should skip this waterfall as it's flooded with rubbish. If you do go there anyway, bring mosquito repellent.
As there's almost no water in the waterfalls in the dry season, we didn't go to explore any of them.
If you want to see waterfalls with running water it's best to visit in the wet season or right after (approximately May to September).
As far as we know the admission fee is 1,000 VND (~ not even half a dollar or euro) and another 1,000 VND for parking a motorbike. It's not always enforced or collected though.
Diving or snorkelling
The warm waters around Phu Quoc are amazing if you are into scuba diving or snorkelling.
Diving conditions are best between October and April and it usually takes place northwest of the island or around the An Thoi archipelago south of the island.
Take a course and get PADI certified or go on a dive trip if you already have the certification.
Diving and snorkelling trips can easily be arranged at one of the many dive shops and tour operators in Duong Dong town and along Long Beach.
Note: Most dive shops close at the end of April and open again in late September.

Water sports
If you want more action on your vacation, try some water sports in Phu Quoc.
Activities such as kayaking, kitesurfing, jet skiing and parasailing can be experienced on the island.
Work out
One of the first things Alex always searches for when we're moving to a new place is whether or not there is a good gym.
It turned out that there are two gyms in Phu Quoc; one in the main city and one at Long Beach.
During our stay, Alex joined the Phu Quoc Gym in Duong Dong.
For a month he paid 500,000 VND (~ 21.5 USD / 19.1 EUR). Daily or weekly options are also quite affordable.
The equipment was in good condition and featured most of the machines and free weights you'll need.
With no air conditioning, it got very hot inside the gym, so it's a good idea to bring a towel!

What not to do in Phu Quoc
You will find the following three activities in many other guides to Phu Quoc.
Here we will explain why you shouldn't go.
Vinpearl Land and Vinpearl Safari
Vinpearl Land is a 170,000 m² "small" amusement park in the northwest of Phu Quoc.
There's a shopping street, roller coasters, games, rides and even a water park.
The reason we do not recommend this park is because of its dolphin shows.
If you love animals, do not support this cruel form of entertainment.
The Vinpearl Safari across the road shows performing animals too, so we recommend that you skip everything Vinpearl.
And speaking of pearls, read on…
Pearl farms
Phu Quoc is famous for its pearl farming.
Naturally, there are shops selling beautiful jewellery with pearls everywhere, but before you buy a new necklace or a pair of pearl earrings, we will tell you something we just recently learned ourselves.
In nature, only one in 10,000 oysters form a pearl.
The pearl is formed when an irritant enters the oyster. Because of the stress that the irritant causes, the oyster coats it with a crystalline substance called nacre.
In other words, pearls are created when the oysters are stressed out.
Pearl farmers want to "produce" as many pearls as fast as possible, which means they have to open each oyster shell surgically to insert an irritant and stress them on purpose.
Many of the animals die or get discarded in this stressful process.
And yes, oysters are living animals.
Long story short: don't buy pearls.
Furthermore, the aquaculture contributes to pollution and overharvesting of natural pearl oyster beds – so it's not good news for the environment, either.
If you want, you can read more about why the pearl farming industry is unethical here.
Fish sauce
If you know just a little bit about Vietnamese food, you will know that fish sauce is one of the key ingredients in the cuisine. It's in almost every dish.
Phu Quoc island is renowned for traditionally produced fish sauce without chemical additives and so of course, you can visit a factory making fish sauce.
Fish sauce is basically fermented fish so it will probably not smell good.
Personally, we have stopped eating animals (including fish) for ethical reasons so this was out of the question for us.
Where to stay in Phu Quoc
It's possible to stay comfortably at every budget level in Phu Quoc.
As most places are still quite newly built, the standard is high. The competetion is quite fierce which helps drive prices of accommodation down.
Read on to learn about the best luxury, value for money and budgets hotels in Phu Quoc.
Search for the best value accommodation in Phu Quoc here (adlink).
5-star Luxury
JW Marriott
If you're looking for a one-of-a-kind experience while staying in Phu Quoc, look no further.
JW Marriott in the island's southeast is a completely unique resort that is best explained as a luxurious European university campus on a dreamy beach.
We loved staying here and really enjoyed the whole fantasy part of it as well as the incredible facilities and natural splendour.
Check prices and availability at JW Marriott (adlink).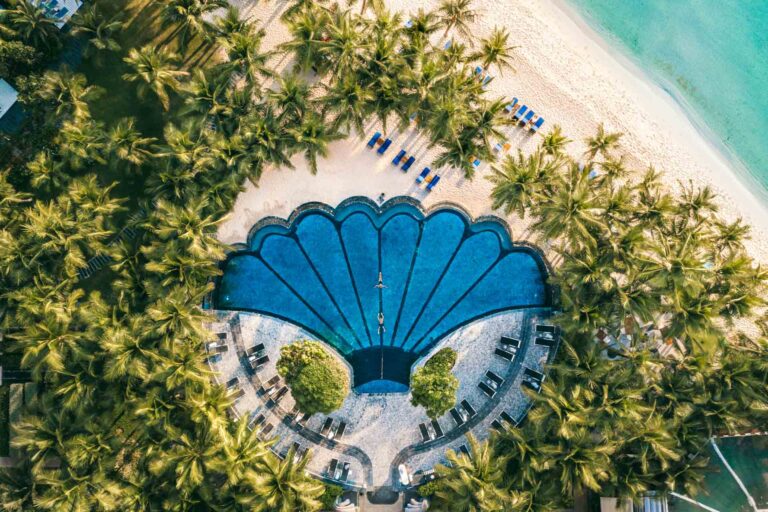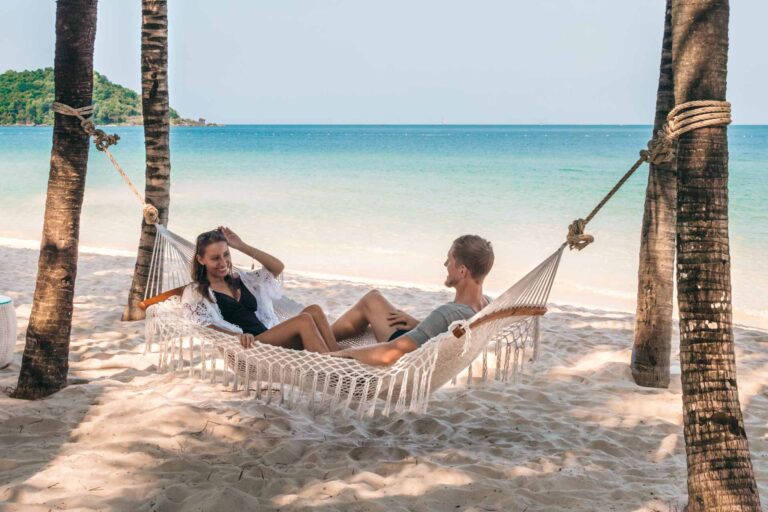 Radisson Blu
When you're thinking about a 5-star resort, something like Radisson Blu in the island's northwest is probably what comes to mind.
It's polished with perfect cleanliness and high ceilings, the staff wear suits and there's just nothing to put at fault.
While Radisson Blu in Phu Quoc is very much to the point, there's also lots of room for play and to stay comfortable.
For example, you can kayak on the water or choose between the two large pools before enjoying the sunset from the rooftop bar.
Children will also love the huge waterpark.
The rooms are super spacious, and you're spoilt for choice at the breakfast buffet.
Check prices and availability at Radisson Blu (adlink).




La Veranda
Stepping into the lush garden at 4.5-starred La Veranda, you're instantly transported from the hustle and bustle of Long Beach to an era long gone.
The centrepiece is the 1920s French colonial-style mansion, providing views to the resort's beautiful garden as well as to the azure ocean.
Each of the 70 rooms is designed in the charming style and comes with wifi, flatscreen, work area, turn down service and organic bathroom amenities.
Apart from the lavish rooms, there's also a pool, a fitness centre and an organic day spa. The private part of the beach is stunning.
If you want to stay near the action of Long Beach but want to be able to withdraw and enjoy unmatched hospitality, La Veranda is a great choice for accommodation in Phu Quoc.
Check prices and availability at La Veranda (adlink).


Value for money
Cassia Cottage
Cassia Cottage is a 4-star beachfront eco-boutique resort on Long Beach.
The big pool is overlooking the ocean and the private part of the beach.
The garden is nicely maintained and they even grow their own organic produce for use in the restaurant Spice House – which we ate at one evening.
The rest of Long Beach's many eateries is only a short stroll away.
As an added bonus, there's a free daily yoga class.
Check prices and availability at Cassia Cottage (adlink).

Garden House
We stayed a month at the Garden House in our own house with a kitchen and a desk to work from, but you don't need to cook or work in order to enjoy the great facilities.
The resort is a working pepper farm (albeit rather small) and is also home to a whole range of animals including some of the cutest bunnies you'll ever meet.
The green surroundings are so peaceful and the staff was just lovely.
There are two pools; the small one was very quiet and great for tanning and reading while the big one offered opportunities for swimming and playing.
Check prices and availability at the Garden House (adlink).


Mango Bay Resort
We dined at Mango Bay one evening and the resort's high level of hospitality clearly shined through even on our short visit.
The grounds are beautifully set coast side at Ong Lang north of Duong Dong with a splendid view to the sunset.
There are two private beaches to choose from and the rooms all come with free wifi and a private bathroom.
Check prices and availability at Mango Bay (adlink).

Budget
Le Forest Resort
Le Forest Resort is set about one kilometre inland from Long Beach amidst nature, close to the airport.
There's a nice pool and the rooms look clean and comfortable.
For the price, Le Forest Resort seems like a nice place to stay if you want quiet settings but only a very short ride to the attractions of Long Beach and Duong Dong.
Check prices and availability at Le Forest Resort (adlink).

Bamboo Cottages
If you want a budget-friendly and remote escape in Phu Quoc, Bamboo Cottages on the island's northwestern coast might be a great fit.
It's eco-friendly (read: rustic) which has its charm, but you have to be prepared for no air conditioning, outdoor bathroom and limited electricity (they rely on solar power and turn off the electricity at night).
We had lunch one day at Bamboo Cottages and enjoyed the food. The restaurant has quite a few vegan and vegetarian options.
Check prices and availability at Bamboo Cottages (adlink).

Where to eat in Phu Quoc
Ong Lang
Mai Jo
There's some real passion for making your experience as a customer at Mai Jo a delight.
The staff is wonderfully smiling, and thankfully the food followed in line.
We visited three times and tried appetizers like lemongrass tofu, summer rolls and spring rolls (the best we had in Phu Quoc) as well as an absolutely delicious curry and a big portion of vegan pho. Their mango juice was heavenly.
To make some of the vegetarian dishes fully vegan, opt out of the honey and you're all good.
Mai Jo is located in Ong Lang up by the main road.




Bird of Paradise
Bird of Paradise is located just next to Mai Jo and also offers vegetarian and vegan Vietnamese dishes.
We had two lovely passion fruit juices, a yellow curry with rice and vegetables with roasted cashew nuts.
Bird of Paradise is located in Ong Lang up by the main road.

Mango Bay
Mango Bay is a romantic resort at Ong Lang on the western part of Phu Quoc.
We stopped in for dinner and had some mixed appetizers, banh xeo (crispy mung bean pancake with turmeric) and a really good red Thai curry.
The number of vegan options wasn't overwhelming but we liked the service a lot and the food was all appetising.
Mango Bay is also a well-regarded resort which you can read more about here.
Mango Bay is located in Ong Lang by the beach.


Long Beach
The Embassy
This nice little café in Long Beach is great if you're craving smoothie bowls.
Which we do pretty often.
We tried two smoothie bowls served in coconut shells topped with plenty of cashew nuts and fruits. They were a bit runny but tasted great.
The decor is super stylish and we very much felt at home. Turned out, the owner is from Sweden, so it all made sense!
The Embassy is located in Long Beach up by the main road.


Spice India
We definitely hadn't expected to find perfect dosa on Long Beach, but Spice India proved to be a true Indian eatery with lots of authentic dishes.
Apart from masala dosa, we also had chana masala and roti. We were very happy.
Spice India is located in Long Beach up by the main road.

Nan n Kabab
Although we could probably never tire completely of Vietnamese food, we also do love our falafel and hummus.
Thankfully, Nan n Kabab delivered!
We had two falafel wraps (without mayo) and a plate of hummus. It was all gratifying and the bread was superb.
Nan n Kabab is located in Long Beach up by the main road next to The Embassy and Spice India.

Spice House
We loved the fact that Spice House has a special dietary menu with clearly labelled vegan, vegetarian and gluten-free options.
We dined with a great view of the sea and had two tasty (but a little too spicy for Victoria) curries as well as two fresh mango juices.
Spice House is the restaurant at Cassia Cottage, a 4-star beachfront eco-boutique resort on Long Beach.
Spice House is located on Long Beach.

Duong Dong
Khanh Ly
After a long run or a tough workout, what's better than a fully vegan Vietnamese buffet?
Not much, if you ask Alex.
Khanh Ly is open from morning to evening and offers a buffet with lots of exciting and very tasty dishes.
You'll be especially happy if you like mock meats, but there are also lots of vegetables, soups and rolls. It's (usually) possible to order bánh mì.
Prices depend on what and how much you choose.
It seems like the pricing structure is kind of intuitive, but as you probably won't be billed more than 100,000 VND (~ 4.3 USD / 3.8 EUR), we'd say there's no need stressing about it.
Khanh Ly is located in Duong Dong close to the night market.


QuangHD
Unfortunately, visiting QuangHD was a bit of a hit-and-miss affair.
The two times when there actually was a buffet, the food was super tasty (and healthier than Khanh Ly!).
The other times (and there were plenty), there wasn't any food. Or at least not a buffet.
It seemed like you might be able to order a hot pot, though.
QuangHD is located in Duong Dong on the main road south of the river.

Loving Hut Thai Duong
The first day we arrived in Phu Quoc we felt like we had a travel hangover after travelling from Koh Samui to Phuket to Ho Chi Minh City and then finally to Phu Quoc.
We decided to try Loving Hut Thai Duong and we were so happy they had lots of fried options.
This was definitely not our most healthy meal, but the fried eggplant, fried tofu and spring rolls were soooo good.
On top of that, Alex also had a pho noodle soup, a dish which he had very much missed since last visiting Vietnam.
The restaurant is 100% vegan and when writing this, we are kind of regretting not going there more than once!
Loving Hut Thai Duong is located in Duong Dong close to the night market.


Rest of the island
Bamboo Cottages Restaurant
On the way home from (another) rabies shot, we stopped in at the eco-friendly restaurant at Bamboo Cottages for lunch.
We enjoyed the view of the ocean and played backgammon while waiting for our food.
The Vietnamese food was beautifully presented and the taste was also great.
They serve meat, but there was also a lot of vegan options.
The only downside was the fact that water from cooler was only available for resort guests. Apart from that, Bamboo Cottages is easily recommendable.
Bamboo Cottages is located on the south facing side of northwestern Phu Quoc.

(Vegan) street food
The Vietnamese definitely eat more than three meals a day and many of them are at small roadside street food stalls.
You'd be amazed at what can be dished up in seemingly minuscule kitchens. Banh mi is super popular as are classics like pho and chao long.
Menus are seldom offered, so you have to get by on Vietnamese and sign language.
Alex had luck finding a vegan street food place selling noodle soup in Duong Dong, denoted by the word "chay" on its banner.
At just 20,000 VND (~ 0.9 USD / 0.8 EUR), it was quite a steal.
To be sure the "chay" wasn't "cháy", which means fire/burn, but vegan, it helped showing the nice lady the following sentence:
"Tôi là người ăn chay. Tôi không ăn chút thịt, thịt gà, cá, hải sản hay bất kỳ sản phẩm nào từ động vật, bao gồm tất cả các sản phẩm sữa, trứng và mật ong".
(Good luck pronouncing that!)
It translates into something like "I am a vegan. I do not eat any meat, poultry, fish or seafood or any animal products including all dairy products, eggs and honey".
Thanks to Agogoeats.


Supermarkets
There aren't any big American-style supermarkets on the island, which is actually rather charming. Most grocery shopping is done at roadside stalls.
If you are looking for more western products, try paying a visit to K+Mark. There is one at Ong Lang, one closer to Duong Dong and one at Long Beach.
Fresh fruit
Do yourself a favour and buy as much fresh exotic fruit from the fruit stalls as you possibly can while staying in Phu Quoc.
Mango, banana, papaya, pineapple, dragon fruit, mangosteen, rambutan are all so delicious and very affordable.
Everything is paid by the kilo.
Try bringing your own bag, as you'll otherwise receive at least one plastic bag per fruit you buy. Phu Quoc doesn't need more trash.

How to get around in Phu Quoc
Public transportation is pretty much non-existent in Phu Quoc.
However, motorbikes and scooters can be rented from small shops everywhere on the island.
Prices typically range between 100,000 VND and 250,000 VND (~ 4.3 to 10.7 USD / 3.8 to 9.5 EUR) depending on the type of motorbike, the season and where you rent it.
Be prepared to bargain – especially if you are renting the motorbike for more than a few days.
We rented an automatic motorbike from our resort, The Garden House Phu Quoc Resort, and we paid 3,712,000 for 27,5 days (~ 160 USD / 140 EUR).
It's around 135,000 VND per day (~ 5.8 USD / 5.2 EUR).
In contrast to other Southeast Asian countries like Thailand, the locals wear helmets in Vietnam.
We wondered why so many actually wore them but then learned that it's illegal to drive a motorbike without wearing a helmet in the country.
From what we saw the helmets were pretty thin and some just wore bicycle helmets.
Nonetheless, you should definitely get a helmet when you rent a motorbike. And wear it!
In Vietnam, you drive on the right side of the road.
Traffic is not as bad as in mainland Vietnam (or busy places like Koh Samui and Bali).
Most roads are quiet, but beware that some bigger cars and buses can zip by you, forcing you out into the shoulder.
Also, at most traffic lights, the other motorbikes will not hold back so even if you are going straight ahead, people may drive in front of you to drive left.
Just be super careful and you'll most likely have a good time renting a bike in Phu Quoc.


How to get to Phu Quoc
In short, there are three ways you can go to Phu Quoc: by airplane, by bus or by motorbike.
By plane
The easiest and fastest way to get to Phu Quoc is by plane.
Phu Quoc International Airport opened in 2012 and it's only about 20 minutes from the main town of Duong Dong by car.
International flights go to and from Bangkok, Kuala Lumpur and several big cities in China. There aren't many just yet but in the future, the island will definitely be connected with more destinations.
We travelled from Phuket International Airport in Thailand and, unfortunately, there weren't any international flights to Phu Quoc so we had to have a stopover in Ho Chi Minh City for a few hours.
It's common to travel to the mainland of Vietnam before going to Phu Quoc.
Luckily, several airlines fly to Phu Quoc from Ho Chi Minh City every day and the prices are fair.
Search for the cheapest flights to Ho Chi Minh City on Momondo here (adlink).
By bus and boat
As you might have guessed, you can't drive all the way to an island.
If you want to take the bus it can be a bit more complicated but definitely doable.
You can take a bus to a city in Kien Giang province, either to Ha Tien or to Rach Gia.
Usually, it's a sleeper bus driving for six or seven hours. If you are as tall as Alex (1.87 m) it might not be the most comfortable way to sleep as the seats/beds are more …Asian in size.
From there, you can take a ferry or a fast hydrofoil to reach Phu Quoc.
By motorbike and boat
If you have the time you can also travel to Phu Quoc on a motorbike.
Drive to Rach Gia or Ha Tien in the Kien Giang province and take the ferry or hydrofoil.
Some people choose to do this as a two-day trip to see more of the mainland.
Can Tho City is a popular stop because of the floating market.
Our best tips for visiting Phu Quoc
The electrical outlets in Phu Quoc generally feature two round prongs, fitting both most European and Asian appliances as well as the flat prongs of USA and Japan. The standard voltage is 220 or 240 volts.
How long to stay in Phu Quoc really depends on your travel tempo. You can see the highlights in a few adventure-filled days or spend weeks relaxing on the beaches. Most people spend between two days and a week which we will recommend if you aren't working while travelling like us.
Phu Quoc is beautiful. Make sure to bring a good camera! Here's our guide to lightweight photography gear for high-quality travel content.
Wifi in Phu Quoc is pretty good. Most hotels and restaurants are connected and the speed is generally fast. If you need to stay connected while on the road, consider buying a local SIM card with data.
The sun is strong. Remember your sun protection!
Credit cards are mostly used at upscale places, so you'll need to carry cash for restaurants, shops and services. You'll seldom be far away from an ATM and/or a place to exchange money. Usually, it's cheapest to withdraw money in Duong Dong. Because of fees, try to limit your amount of withdrawals and go for your daily max each time.
Should you have any medical issues while visiting Phu Quoc, you will be happy to know that there are several hospitals. We went to International Hospital Vinmec Phu Quoc a few times as Alex needed rabies vaccinations and they were very professional.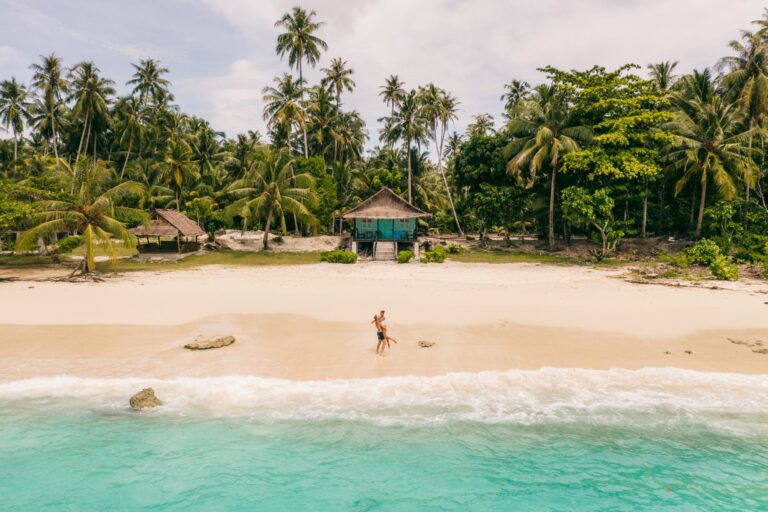 The Phu Quoc trash problem
As we have hinted at a few times in the article already, Phu Quoc has a trash problem.
A huge one, in fact.
Proper waste management is near non-existent on the island, and as Phu Quoc attracts more and more visitors every year, the garbage dumps only grow taller.
And even worse: A lot of trash ends up in nature, polluting the soil and the ocean.
While a true long-term solution requires investment in better facilities (and education) from the Vietnamese government, you can minimize your negative impact as a tourist by following a few simple tips:
Say no to plastic bags. Bring a bag or a tote when shopping.
Say no to plastic bottles. Bring your own reusable water bottle and fill it with filtered water from larger containers.
Say no to straws. Many places offer reusable bamboo straws. Also, consider bringing your own.
In general, try to minimize the amount of non-organic trash you create.
Follow the 3 R's: reduce, reuse, recycle.
Putting something in the bin unfortunately doesn't mean it won't add to the problem. Out of sight shouldn't be out of mind.
Sorry for the bummer, but this issue is too important not to highlight.
Thanks for doing your part for a cleaner Phu Quoc!

Thanks for reading along
Thanks for getting all the way to the end!
We hope this Phu Quoc guide has been useful.
What do you think about it?
If you've been to Phu Quoc already it would be awesome to hear your best tips in the comments. If you haven't been yet, please don't hesitate to ask us anything.
We're glad to help.



Our favourite travel resources:
Our camera gear: