Vegan Eating Guide to Malmö in Sweden: The Best Restaurants & Cafés
Everything you need to know about finding the most delicious vegan and vegetarian places in Malmö, Sweden
Are you a vegan or vegetarian visiting Malmö?
Then you're in luck! Because Malmö is one of the best cities in Sweden for vegan and vegetarian food.
There are overwhelmingly good plant-based options in the city ranging from smoothie bowls, salads and sweets made with local organic ingredients to fine raw dining, faux shawarma, vegan burgers that could fool anyone and some of the best pizzas ever.
In Malmö, the vegan chefs put a lot of heart into their creations and we loved strolling around the city sampling their delicious dishes.
Even though we tried, in almost four full days we didn't have enough time (or room in our stomachs!) to try every vegan or vegetarian restaurant. Malmö is full of them so there's definitely something for everyone.
Update: We have been to Malmö a few times since, so the guide has been expanded over time with even more delicious places we have tried.
As Malmö is a small and compact town, most places are just a few minutes of walking away.
Another plus about vegan dining in Malmö: it's cheap!
The city is, on average, cheaper than Stockholm and aided by the difference in currency, Malmö is a lot cheaper than eating out in nearby Copenhagen.
The scene for vegan and vegetarian food in Malmö just keeps on getting better and better.
Find all of the mentioned restaurants and cafés on a map at the bottom of the article.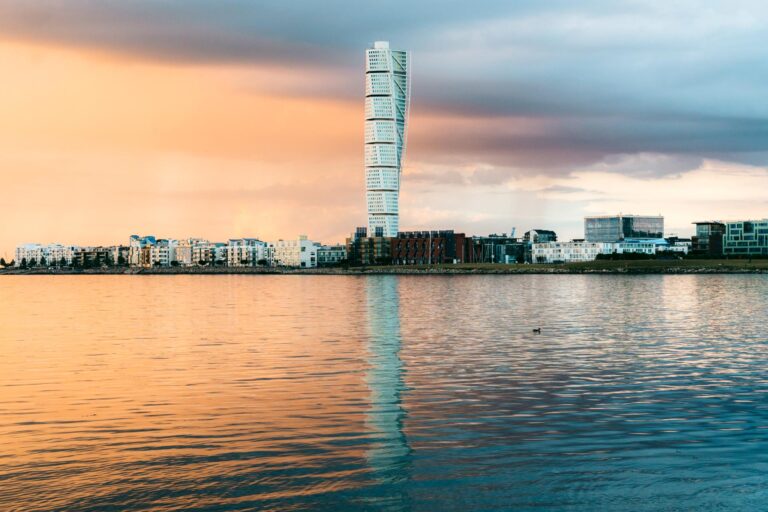 Where to stay in Malmö
Search for the best value accommodation in Malmö here.

Farm2Table
This gorgeous and very Instagram friendly café serves vegan brunch all day.
In fact, everything on the menu is vegan – yay!
Farm2Table has smoothie bowls, overnight oats, bagels or sourdough toasts with yummy toppings, waffles and lots of sweets.
It's no secret that we are crazy about smoothie bowls (we make them every day for breakfast!) and we had to order the spirulina bowl with blue spirulina, pineapple and banana topped with blueberries, banana, granola, coconut flakes and mint.
We like our smoothie bowls cold (almost frozen), thick and creamy. This one had the perfect consistency and temperature!
We would have loved to try the lox bagel made from pickled carrots as well but unfortunately, it was sold out.
Instead, we opted for the Belgian choco banana waffles (we added an extra waffle) with chocolate cream, banana, coconut flakes, cacao nibs and chocolate sauce. So tasty!
The golden latte with organic turmeric, ginger, cinnamon, black pepper and agave was delicious too.
Farm2Table is 100% vegan.
Davidshallsgatan 19, 211 45 Malmö.

Bageri Leve
OMG. We wish Leve would open a bakery in Copenhagen.
We had heard that they had a few vegan options, so when we asked them which baked sweets from their display were plant-based we got shocked when they said "all of them". For real? What a dream!
The croissants are the best vegan ones we've ever had and up there with the best non-vegan versions we've had in Paris, the croissant capital. Flakey, buttery (they use Naturli' vegan block) and airy. Heaven.
Victoria loves her cinnamon rolls and Leve's take on the Swedish classic blew her socks off. After eating one you feel like you might need to go on a diet. After eating just one more.
Apart from baked sweets Leve also sells loaves of bread that looks awesome.
Every time we are in Malmö, we have to stop by Bageri Leve. Every time.
Leve has lots of vegan options.
Östra Rönneholmsvägen 6, 211 47 Malmö.




Jord
Breakfast all day long? Count us in!
Jord is 100% vegan and super inviting with cosy seating options inside and outside.
We had a tofu scramble with potatoes, amazing grilled bread and seasonal greens.
Victoria also really enjoyed the latte made with oat creamy milk and beans from Solde, a local coffee favourite.
When we visited Jord again in December 2022, they had expanded the menu, so this time we got a blue spirulina smoothie bowl with mango and pineapple topped with fresh fruit, blueberries, granola, nut butter and seeds and a sinful French toast with syrup, fresh raspberries and whipped cream. So good!
For the sweet tooths out there there's a counter display with enticing options and we've heard good things about the vegan kladdkaka (a Swedish dense and compact brownie-like chocolate cake).
Jord is 100% vegan.
Falsterbogatan 1, 211 58 Malmö.



The Vegan Bar
In 2020, spotting a vegan burger on a restaurant menu isn't totally unique (thankfully!)
But an all-vegan burger bar? That's still pretty unique. And The Vegan Bar in Malmö is a superb one at that.
Besides being free from animal cruelty, they are also GMO and palm oil-free and if you want, the burgers can be gluten-free, too.
We arrived on a Saturday night and the crowd was mid-to-late-twenties, primarily in groups. Lots of beer drinking and people looked like their nights were just starting.
Ours was more like ending, so even though we enjoyed the lively atmosphere, keep in mind that it might not be the best place for a quiet, romantic date on Fridays and Saturdays.
We both ordered the mustard and mayo burger with vegan cheddar cheese, "bay kuhn" (you know, bacon…) and mustard marinated fried yellow onions as well as sweet potato fries.
Holy guacamole, it was awesome!
The Vegan Bar is 100% vegan.
Södra Skolgatan 45, 214 22 Malmö.


Far i Hatten
Far i Hatten (meaning father in the hat) is a cosy restaurant in the cool public park Folkets Park and it's mostly known for its amazing pizzas.
The restaurant is unfortunately not vegan but selected pizzas can be made with vegan options and all pizzas are available gluten-free.
Neapolitan style pizzas (from authentic wood-fired ovens) are our favourite kind of pizzas and we simply had to try Far i Hatten.
We ordered a classic pizza with tomato sauce, vegan mozzarella, vegan parmesan and basil as well as a white pizza with vegan ricotta, lemon, arugula, parsley pesto and vegan stracciatella.
It was some of the best vegan pizzas we have ever tried!
All the vegan cheeses tasted absolutely wonderful and you wouldn't be able to tell the difference from cheese made from cow milk.
The vegan pizza future looks very bright!
Far i Hatten serves meat but they have several vegan pizza options.
Folkets Park, 214 36 Malmö.


The Raw Kitchen Malmö
The Raw Kitchen is a kind of fine dining restaurant in Malmö – and it's 100% raw and vegan as well as gluten-free and sugar-free.
That's a pretty interesting combination as most raw and/or vegan places don't exactly offer 5-course menus. But The Raw Kitchen pulls it off effortlessly.
We didn't go for the whole shazam but instead shared a cheese plate and a cheesecake. Both can be highly recommended.
The Raw Kitchen Malmö is 100% vegan.
Brogatan 11, 211 44 Malmö.



Hummusson
Hummusson is Malmös first dedicated hummus bar, and it's a good one!
We shared a mixed plate for lunch consisting of magnificent hummus (of course!), baba ganoush, a huge falafel, beans, a loaf of fluffy pita bread and salad.
It was all delicious and we could easily see ourselves coming back here again.
If you're a hummus fan, Hummusson is a must.
Update: Since our visit, Hummusson has opened a cozy café on the second floor, where they sell baked goods and hot drinks. We'll have to try that next time!
Hummusson is 100% vegan.
Södra Förstadsgatan 43, 211 43 Malmö.


Café Holmgången
In a somewhat secret thoroughfare called Holmgången between the shopping street Södra Förstadsgatan and Davidshallsgatan (where, among other things, Farm2Table is located), you will find the small personal Café Holmgången.
Here you can get vegan brunch, lunch and a large selection of cakes and sweets.
We got a great grilled sourdough sandwich with cheese, a mini smoothie bowl, a cookie, a shot with ginger and orange as well as a huge cup of coffee.
It tasted wonderful and we could easily see ourselves returning!
Café Holmgången is 100% vegan.
Södra Förstadsgatan 23A, 211 43 Malmö.


Möllans Falafel
Malmö's unofficial dish, falafel, is everywhere in the city but if you're vegan, you will want to try Möllans Falafel.
They have all the grill bar classics in vegan versions!
Alex got a "shawarma" wrap and Victoria had the falafel wrap with eggplant and they were both great.
It's possible to sit inside and outside but it's not a particularly "nice" place to dine and customer service isn't a huge priority. It's quick though!
If the weather allows it, we can recommend bringing your food with you to the nearby Folkets Park – an awesome public park with green spaces and lots of activities for children (and adults).
Möllans Falafel serves meat but they have vegan options, too.
Bergsgatan 14, 211 54 Malmö.


Lotta Love Superfoodbar
Vegan food, smoothie bowls and raw sweets are served at Lotta Love Superfoodbar – a cool little café and shop selling superfruits, books and more.
We ordered a latte and a matcha tea along with two bowls: Açai and Cajá – both topped with fruits, shredded coconut and crunchy granola.
The açai one was our favourite of the two; the flavour of cajá is really nice and tropical, but the (presumably unfrozen) banana taste was a little bit overpowering.
Personally, we like it better when the smoothie bowls are made with frozen bananas.
Both portions were big and filling and the topping was really good.
We wanted to try the grilled sourdough bread with avocado, tomatoes, baby spinach and vegan cheese as well but they didn't have any more sourdough bread on that particular day. Next time!
Lotta Love Superfoodbar is 100% vegan.
Davidshallsgatan 25, 211 45 Malmö.


Flax
Flax is a lovely little vegan café next to Folkets Park.
Apart from being vegan, everything they sell is local and produced on a small scale.
Come by to have lunch or a coffee and pastry (from Leve!).
You can also buy fermented veggies and different growing and sprouting kits. Pretty cool.
Flax is 100% vegan.
Sölvesborgsgatan 10, 214 36 Malmö.

Slottsträdgårdens Kafé
Slottsträdgårdens Kafé, meaning the Castle Garden's Café is located in the beautiful Slottsträdgården – an open, organic garden in the middle of Malmö.
The café is not particularly vegan but the plants and flowers surrounding the place make for a beautiful lunch break.
Sit outside in the garden which is a part of Malmö's oldest park, Kungsparken, or sit inside the romantic greenhouse.
When we visited, they offered a vegan burger, vegan cookies and raw cakes but the menu might change with the seasons.
Slottsträdgårdens Kafé serves meat but they have a few vegan options, too.
Malmöhusvägen 8, 211 18 Malmö.

Vegegården
Forget about fine dining and fancy Instagrammable portions at Vegegården.
This restaurant is for you if you are into all you can eat-buffet with Asian food – think rice, noodles, vegetables with tofu, three different curries, "lamb", spring rolls and fried sweet potatoes, pineapples, "beef" and "shrimps".
Everything in the buffet is vegan!
Vegegården is 100% vegan.
Rörsjögatan 23, 211 37 Malmö.


Bastard Burgers
On another day trip to Malmö, we tried Bastard Burgers for the first time, which has a restaurant quite centrally in the city.
The quality is better than at the usual fast food burger chains, and we were positively impressed by their large vegan selection and delicious sweet potato fries.
They use Beyond Meat or crispy "no chicken" fillets for their vegan patties and all dips are plant-based.
The burgers aren't that big, but we were still full after the meal – and the prices are also quite ok, especially when compared with burger prices in Copenhagen.
Bastard Burgers serves meat, but they have many vegan options.
Kalendegatan 28, 211 35 Malmö.

AB Småland
We didn't eat at AB Småland but this place is too cute not to mention.
This green lifestyle shop is filled with vintage furniture, cool green plants, beautiful ceramics, sustainable clothes, interior design and it's probably Victoria's favourite shop in Malmö.
In the store, there's a green café.
They mostly work with organic and local produce and you can come here for your breakfast, the vegetarian (but vegan and gluten-free friendly!) buffet, coffee or cake.
AB Småland's café is vegetarian with vegan options for breakfast, lunch, snacks and sweets.
Södra Förstadsgatan 25-27, 211 43 Malmö.



Acai & Poké
Acai & Poké is exactly what it sounds like – a place serving acai bowls and poké bowls!
Not all of the acai bowls are vegan (look out for honey, Nutella and waffles) but the non-vegan items are easily avoidable.
The same goes for the poké bowls. Just choose tofu instead of salmon or chicken.
We shared the big bowl with a base of acai and banana (not very flavourful, unfortunately), topped with lots of crunchy granola, banana, strawberries, blueberries, raspberries, cacao nibs, peanut butter and coconut flakes. The toppings were great.
Acai & Poké is not vegan but they have great vegan options.
Amiralsgatan 10, 211 55 Malmö.

Malmö Saluhall
Malmö Saluhall is an upscale food hall located in an old goods warehouse on Gibraltargatan.
We had a vegan cinnamon roll at St. Jakobs Stenugnsbageri and also spotted several other vegan options at the other stalls.
It's possible to sit down and dine close to all of the stalls.
Most food stalls at Malmö Saluhall serve meat but some have vegan options.
Gibraltargatan 6, 211 18 Malmö.


Coffee Shops
We love coffee!
In fact, we have made a documentary film about coffee and how to produce it sustainably.
When visiting cities, we love to try some of the best specialty coffee shops.
Here are three coffee shops in Malmö that we recommend if you love coffee, too.

Solde
Solde is one of, if not the best specialty coffee shop in Malmö.
They roast their own beans locally and only source coffee that is traceable to a single farm or washing station. This is great.
Buy the beans and take them home with you or enjoy a fresh cup at Solde's small café where they also serve baked goods. Unfortunately, they aren't vegan but they do offer plant milk for your coffee.
Solde is not vegan but you can choose plant milk for your coffee.
Regementsgatan 2, 211 42 Malmö.


Cafe No. 6
This cute café serves up beans from Solde which you can enjoy inside the small space or in their "garden" on the opposite side of the street.
The perfect place to feel like a true local in Malmö.
Cafe No. 6 is not vegan but you can choose plant milk for your coffee.
Mäster Henriksgatan 6, 211 58 Malmö.


Lilla Kafferosteriet
Lilla Kafferosteriet, meaning "the little coffee roastery", is a charming and popular café in Gamla Staden in central Malmö serving great specialty coffee and baked sweets (unfortunately no vegan ones as far as we could tell).
Despite the name, it's quite spacious with sittings on two floors inside and a lovely backyard.
Lilla Kafferosteriet is not vegan but you can choose plant milk for your coffee.
Baltzarsgatan 24, 211 36 Malmö.


Map
Here's our Malmö, Sweden map with all of the restaurants and cafés mentioned in the vegan eating guide. They're all marked with a light green icon.
Click the icon in the top left corner of the map to navigate using a list.
Hungry for some vegan food?
We hope this restaurant & café guide has made you hungry for the vegan and vegetarian food in Malmö, Sweden's vegan hotspot.
Check out the Malmö, Sweden map on Happycow for an updated overview of all the animal-friendly places to eat.
Have you tried any of the above-mentioned places?
Or do you know of any restaurants or cafés in Malmö that we should eat at the next time we visit the city?
Let us know in the comments.
Thanks for reading!



Our favourite travel resources:
Our camera gear: